Sooo many people ask me for recipes that are not only gluten free, but vegan and low FODMAP too. Impossible, right? My stuffed and baked aubergine recipe begs to differ!
So, what are they? I packed my aubergines full of chopped olives, cherry tomatoes, Violife's Greek white block and topped them with gluten free breadcrumbs, fresh chives and even more dairy free cheese. Sold? Here's my stuffed and baked aubergine recipe…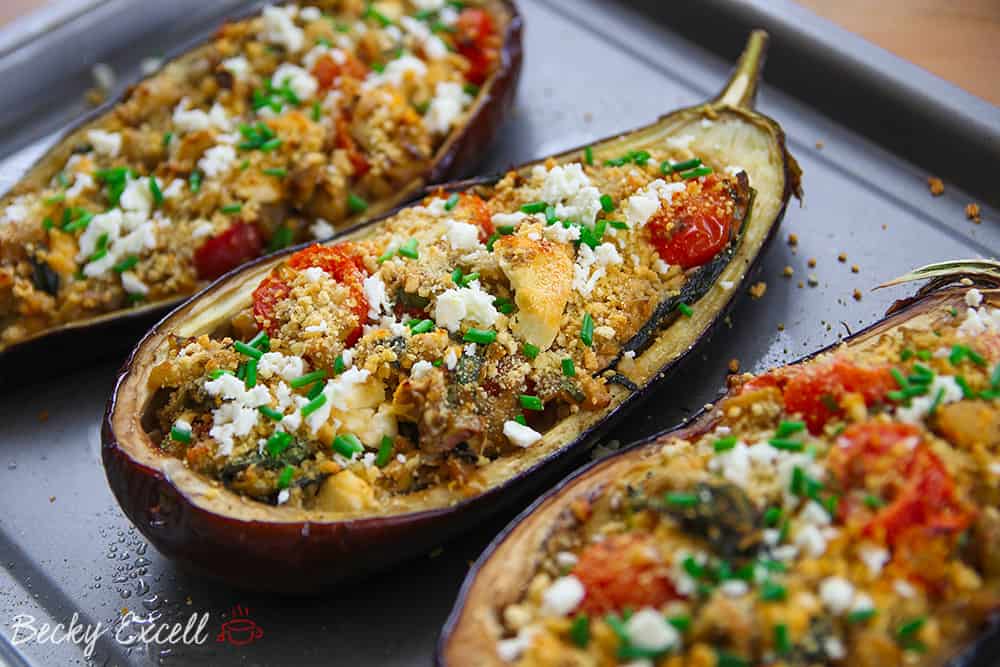 People who say that vegan food lacks flavour have definitely never tried this recipe. The punch of olives paired with Violife's distinctive Greek white block is a match made in heaven.
That's not even mentioning the lovely, soft aubergine flesh, bursting cherry tomatoes and finally, freshly cut chives – it's a perfectly tuned harmony of flavours.
Of course, adding a little extra Violife Greek white block on top is the icing on the cake.
(or the slightly lesser used idiom – the dairy free Feta on the stuffed aubergine. I think it could catch on!)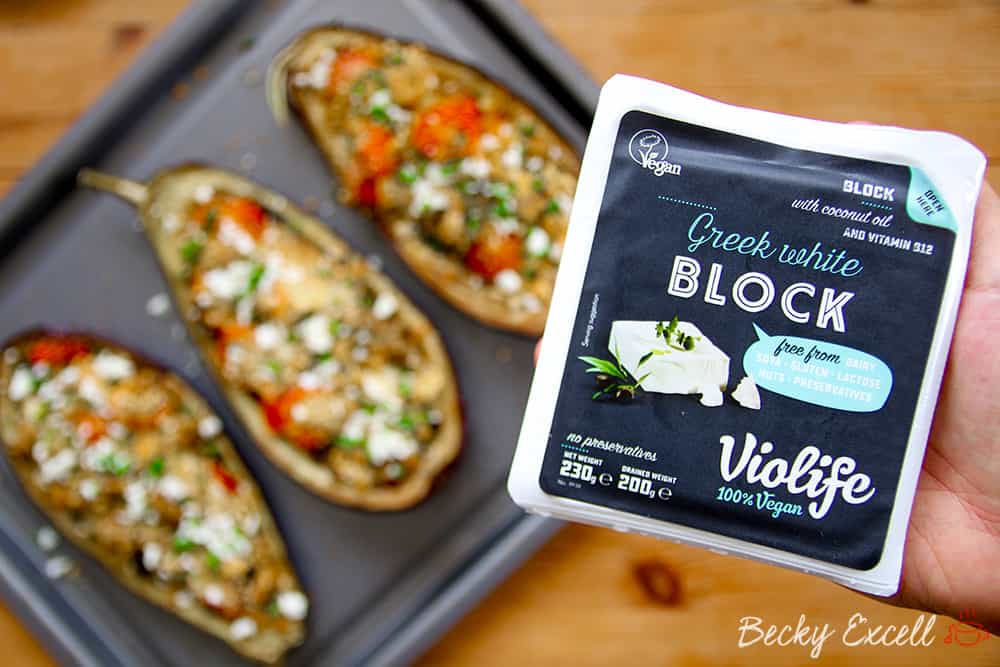 Having been regular buyers of dairy free cheese for several years now, there's one mega-important thing we look for apart from taste – meltability.
(is that a word? I just can't imagine a serious scientist saying it with a straight face)
Back in the day, Mark and I used to look on with disappointment as our vegan cheese actually became crispy instead of melting. We felt cheated!
It was quite simply a 0/10 on the meltability scale.
(now that's clearly something a scientist would most definitely say.)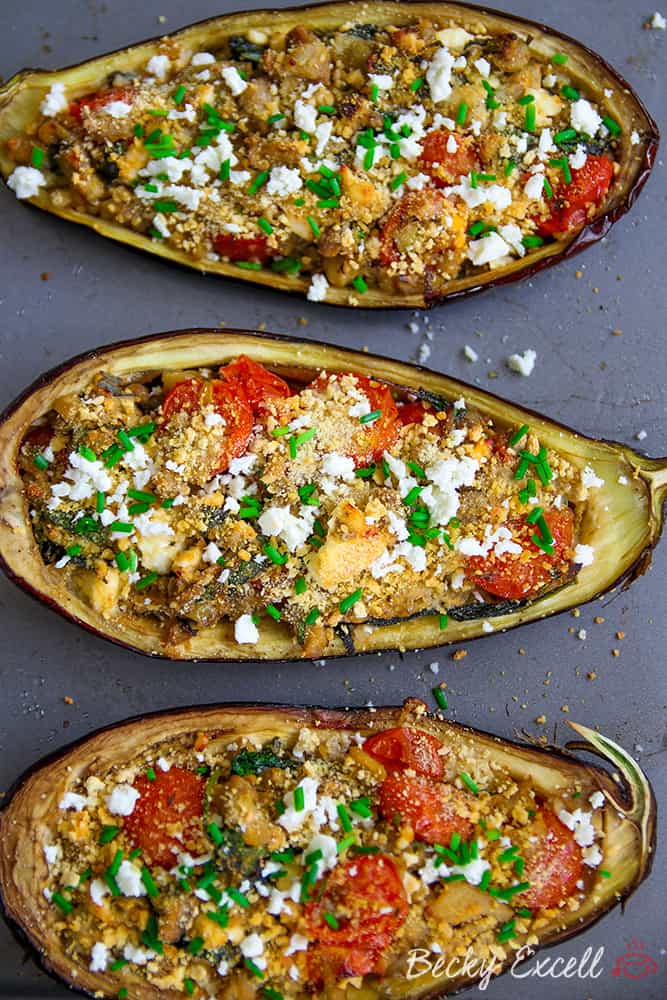 Luckily, Violife has nailed the meltability factor and every type of cheese we've ever bought from them melts like an absolute dream. Mark even used to take a bag of grated Violife with him when we went out for a pizza!
(a cheeseless pizza is a crime according to Mark)
But yeah – you'll have wonderful melty chunks of cheese hidden inside your stuffed aubergine and if you haven't eaten the rest of the block whilst making this recipe (quite hard not to do) then you'll be able to crumble some on top too.
I know it sounds silly, but it's such a joy to finally find dairy free cheese that can be used like actual cheese! What can I say? It melts, it crumbles and it tastes like real cheese.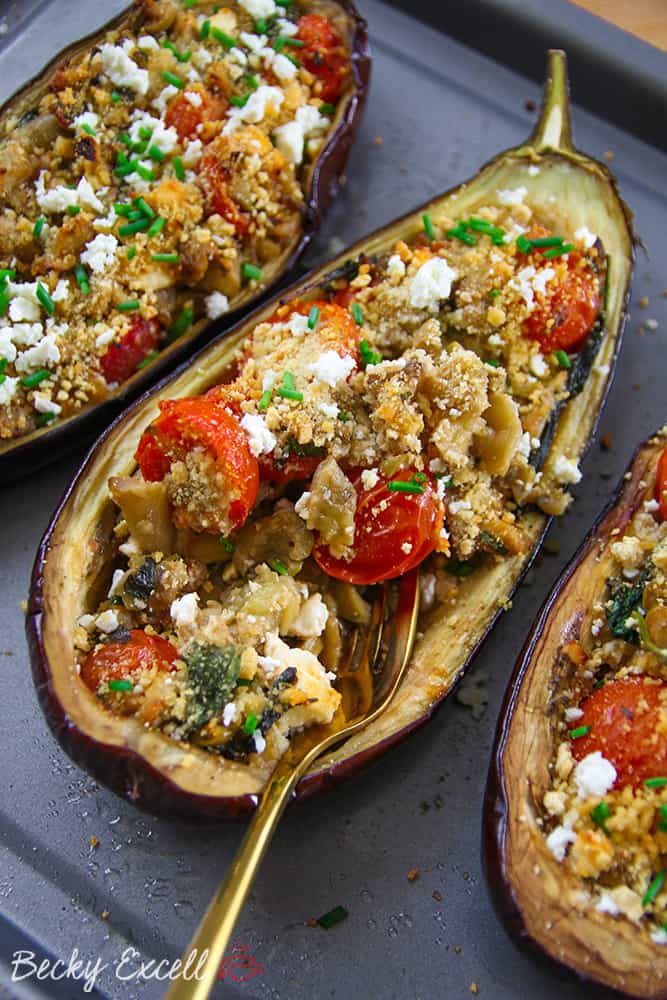 Mark and I always have a 'meat free Monday' once a week (even though it seldom happens on a Monday!) so this recipe is now one of our go-to midweek meals for life.
Here's how to make my gluten free stuffed and baked aubergine recipe!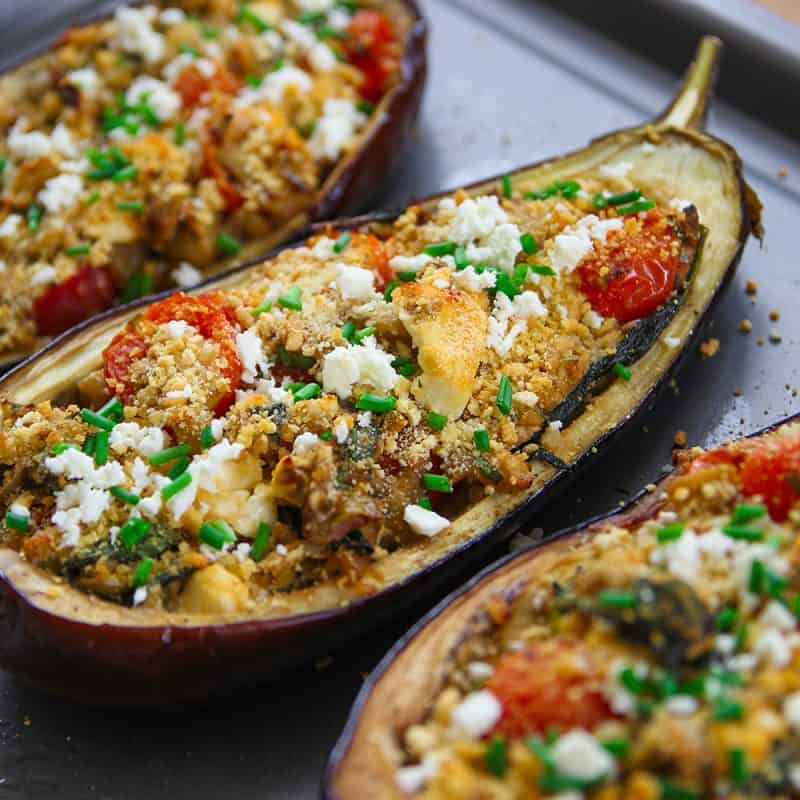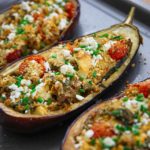 My Gluten Free Stuffed + Baked Aubergine Recipe (Vegan, low FODMAP)
Say hello to my gluten free stuffed and baked aubergine recipe! It's vegan and low FODMAP too and it's the perfect mid-week meal.
Ingredients
2 medium sized aubergines

if large, increase the filling size accordingly

garlic infused oil

handful of basil leaves

chopped

14 cherry tomatoes

halved

55g pitted green olives

chopped

100g Violife Greek white block

handful fresh chives

chopped

2 handfuls of gluten free breadcrumbs

fresh or from a packet

salt and pepper
Instructions
Preheat your oven to 200C.

Prepare your aubergines. Cut them both in half and scoop the flesh out. Leave about 1cm of flesh around the outside and also don't scoop your aubergines flesh out too aggressively - we don't want to come closer than 1cm of the skin!

Brush a little garlic infused olive oil on them and season with salt and pepper. Place on a baking sheet covered in foil and pop in the oven for 20 minutes.

Whilst your aubergine shells are in the oven, prepare your filling. Chop up your aubergine flesh and pop it in a frying pan with some garlic infused oil until cooked through and soft.

Add your cherry tomato halves and continue to cook for 4-5 minutes.

Add your olives, Violife chunks, basil, chives, salt and pepper to the pan and stir in. Remove from the heat.

Once your aubergine shells are ready (they should be softer), remove from the oven. Fill each shell with some of your filling and then finish off by topping with a healthy sprinkling of gluten free breadcrumbs and a little more garlic infused oil. (Feel free to add some extra cheese at this point too!)

Place back in the oven for 15 - 20 minutes until the breadcrumbs have turned golden. You don't need the foil anymore.

Finish with a sprinkling of fresh chives and some more crumbled Violife. Enjoy!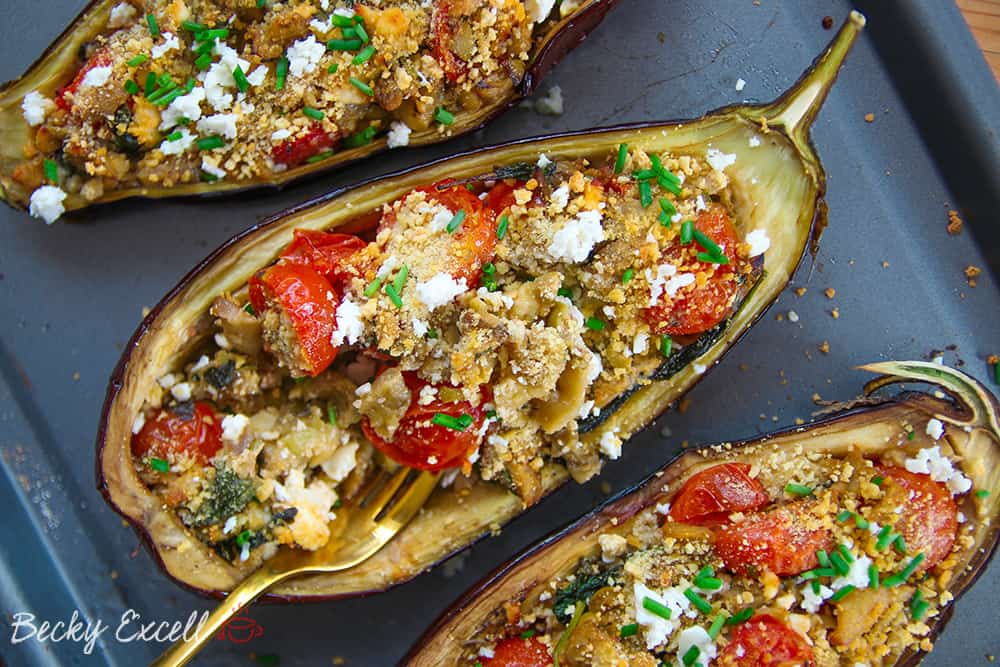 Thanks for reading how to make my gluten free stuffed and baked aubergine recipe! If you make it, I'd love to see how it turns out. So absolutely make sure that you send me a pic using my social media links below…
Any questions about the recipe? Please do let me know by leaving a comment below or on Facebook / Twitter / Instagram!
Thanks for reading,
Becky xxx
This is a sponsored post in partnership with Violife.
Oh and don't forget to pin this for later!