Gluten free millionaire's brownie recipe – how good does that sound?! OR you might like to call them what I call them: brillionaires! These are super easy to make and nobody would ever know that they're gluten free.
My gluten free millionaire's brownie recipe is the ultimate twist on two classics: Millionaire's shortbread and gooey chocolate brownies. But surprisingly, my brillionaire's don't taste like either… they're a totally new creation!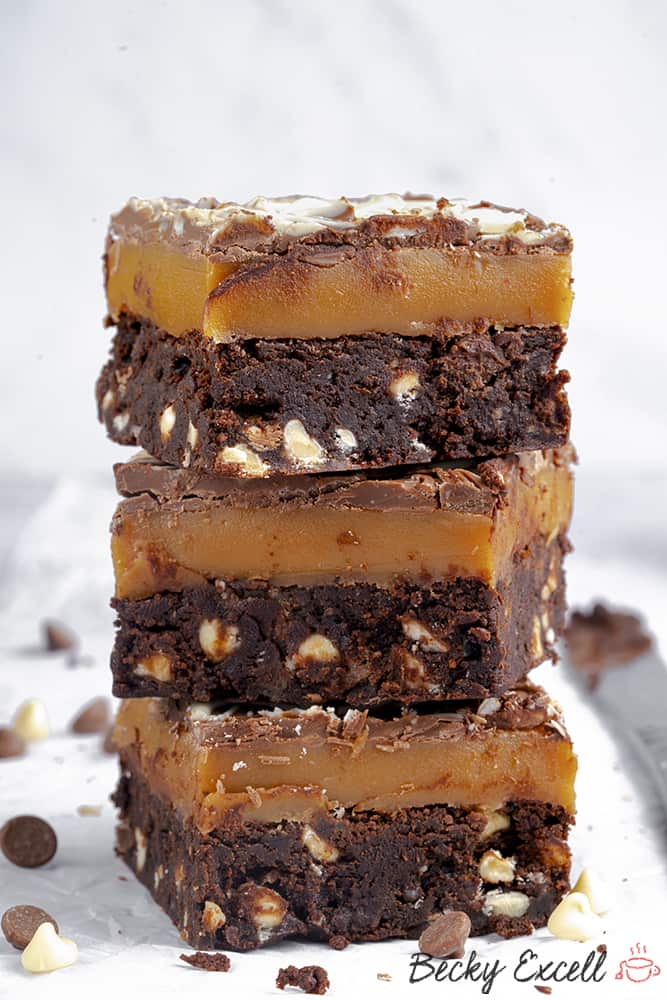 Ok, let me break down my gluten free millionaire's brownie recipe first of all!
Imagine a millionaire's shortbread. (Wow, this is turning into a really weird mindfulness exercise already) It's got a shortbread base, a layer of golden caramel and a milk chocolate layer on top, right?
(In fact, you don't really need to imagine them, because you can just go look at my gluten free millionaire's shortbread recipe over here)
They're insanely indulgent, sweet, chocolatey and buttery – one of my fave treats of all time. But imagine if you then replaced that shortbread layer… with a freshly baked chocolate brownie.
Well, a white chocolate chip chocolate brownie to be more specific. I know, my mind is a little blown at the thought too! It totally transforms this from being a millionaire's shortbread OR a brownie. It can only be called a 'brillionaire'!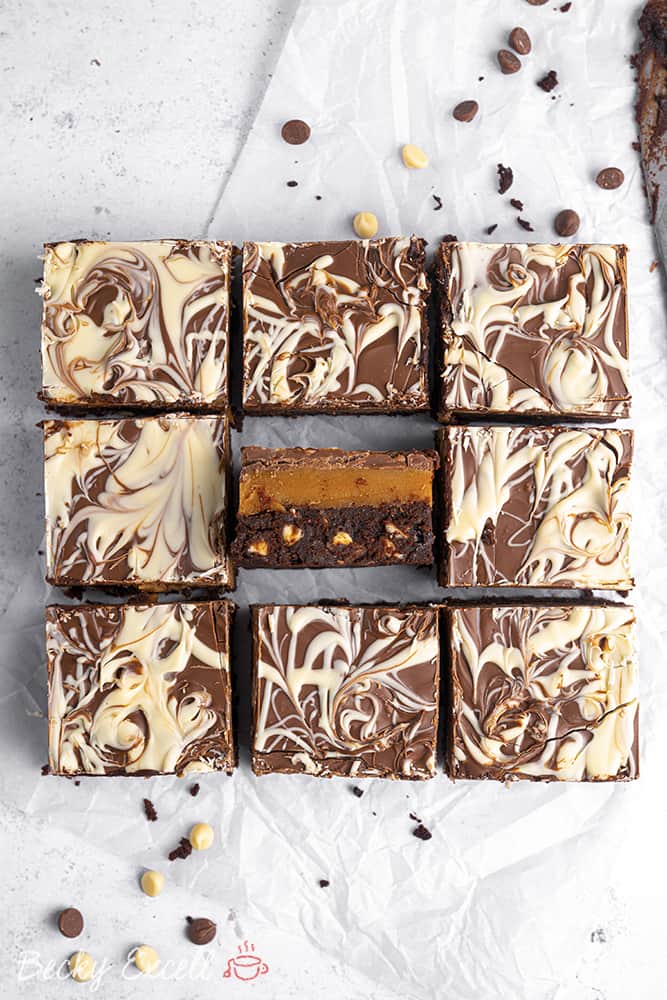 Of course, I then had to swirl white chocolate into the milk chocolate layer on top too. After all, if you're a brillionaire, you can clearly afford it ?
(I'm guessing that being a 'brillionaire' doesn't equate to owning a specific sum of money, but hey ho!)
So what do they taste like? Ok, let me just get myself prepared as this isn't easy! The first thing that hits you is that sweet, golden caramel and creamy milk chocolate on top.
The chocolate has a lovely 'crack' when you bite into it and the caramel is lovely and squidgy, but slightly sticky. Then, when you're expecting a hard, crunchy biscuit base, you get a nice, big bite of gooey, fudgy, chocolate brownie.
Shortly followed by a little crunch from those white chocolate chips! My brillionaire's are seriously indulgent and for hardcore indulgent baking/dessert fanatics only. I'm not sure this one would be for my Mum for example ?
But if you like to walk on the wild side a little, my gluten free millionaire's brownie recipe is definitely for you! And of course, it's dangerously easy to make.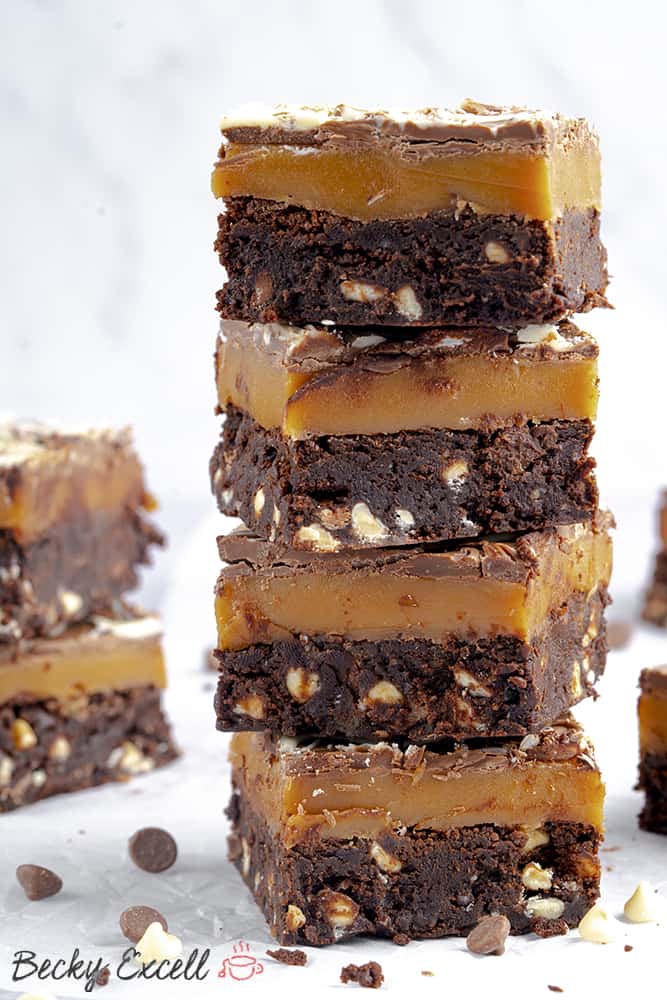 Ok, so here's what you'll need for my gluten free millionaire's brownie recipe – this'll be your shopping list! If you want the method, keep scrolling down until you see the recipe card ??
Ingredients for my gluten free millionaire's brownie recipe
For the brownie layer
90g gluten free plain flour
50g cocoa powder
200g butter
200g chocolate
3 eggs
280g caster sugar
150g chocolate chips (white and/or milk)
For the caramel layer
175g butter
165g light brown sugar
60ml golden syrup
1 tin of condensed milk (tin is 397g)
1/4 tsp salt
For the top chocolate layer
250g milk chocolate
125g white chocolate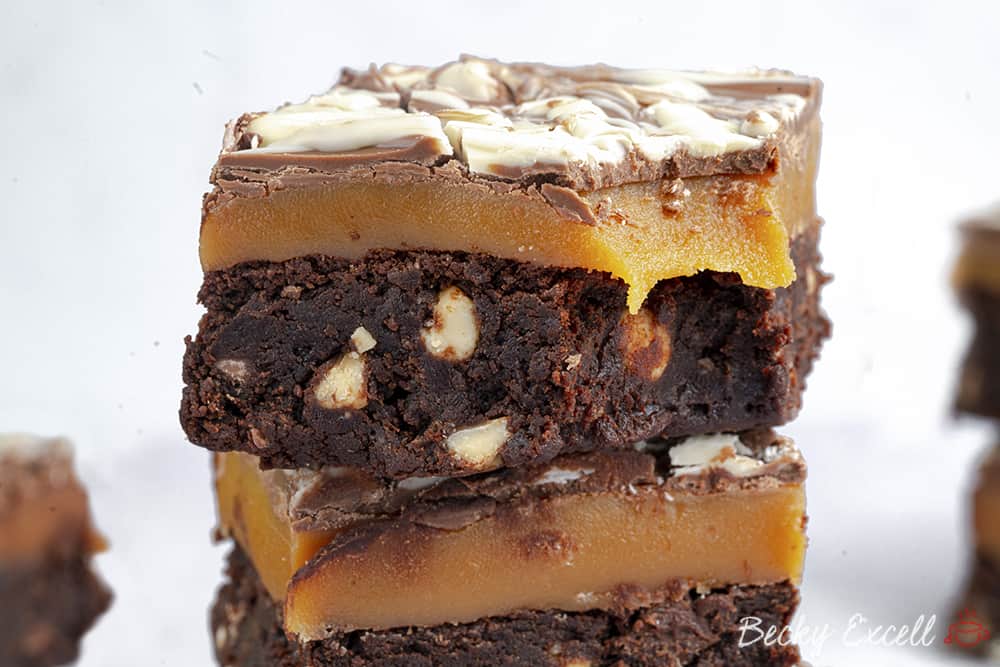 Oh and here's a few tips and frequently asked questions to make sure that you pull off my gluten free millionaire's brownie recipe perfect, first time…
Can I make this recipe gluten free? Is it suitable for Coeliacs?
It is gluten free, though nobody would know just by tasting it – trust me!
And yes, if you use gluten free flour, check all your products for 'may contain' warnings/gluten-containing ingredients AND safely prepare your cooking area and equipment correctly – it is suitable for Coeliacs.
Bear in mind that minimising cross-contamination is hugely important if you're Coeliac or making this for someone who is. Here's some tips from Coeliac UK on minimising the risk of cross contamination:
Wipe down all cooking surfaces
Thoroughly clean your pots and pans with soap and water
Standard washing up liquids are fine to use or using your dishwasher will remove gluten
You do not need to use separate cloths or sponges to clean utensils and cookware
Use separate chopping boards to keep gluten free food and gluten food separate
Use a separate toaster or toaster bags for toasting any bread
Use clean oil or a separate fryer if you're frying gluten free food
Use separate utensils and dishes for condiments, jams and spreads. Never 'double dip' your utensils if spreading onto food containing gluten!
Make sure that all ingredients used don't have any gluten-containing ingredients. Then make that that they also don't have a 'may contain' warning for gluten, wheat, rye, barley, oats (which aren't gf), spelt and khorasan wheat (aka Kamut).
Here's some more info from Coeliac UK on identifying safe gluten free products.
Can I make your gluten free millionaire's brownie recipe dairy free?
Most of my recipes are really easy to make dairy free with a few simple swaps, but unfortunately, it's not so simple with this one.
First of all, my original brownie recipe that I used for the base can easily be made dairy free. You can do this by using dairy free chocolate and Stork hard margarine instead of butter. Also, make sure your cocoa powder is dairy free just in case!
The caramel layer is where things aren't so easy. I'm still in the experimental stage of finding a dairy free replacement for condensed milk that works the same. So far when I've tried with df alternatives, the caramel doesn't set and it just becomes a total mess when I remove it from the baking tin!
The chocolate layer is easy as it's just a matter of replacing chocolate with dairy free chocolate. But once I've mastered that caramel layer, I'll get back to you!!
Can I make your gluten free millionaire's brownie recipe vegan?
Not at the moment, sadly – but I am working on it!
I have successfully made my original brownie recipe vegan by following the steps in the question above to make it dairy free. Lastly, for replacing the eggs, I've successfully used an egg replacer like Orgran, which is gluten free too.
But as I said, making the caramel layer dairy free (and vegan) hasn't gone well so far! So you can't make this vegan just yet, but I'll let you know when I've mastered that dairy free caramel layer.
Is your gluten free millionaire's brownie recipe nut free?
Yep, this is a nut-free recipe as far as ingredients go, BUT make sure you check the ingredients label on ALL the products you use to bake this cake just to be safe.
Even if the products don't contain nuts, they may have a 'may contain nuts' warning due to being produced in a factory that handles nuts.
You can never be too careful so always read the labels on everything first.
Is your gluten free millionaire's brownie recipe low FODMAP?
Sadly, because of the high dairy content, this recipe isn't suitable for the elimination phase of the low FODMAP diet.
However, if you've successfully reintroduced dairy during the reintroduction phase then this might still be a suitable option for you later in the diet.
Can I make your gluten free millionaire's brownie in a food processor or standing mixer?
A food processor isn't so necessary here, but a standing mixer can come in handy. For this recipe, I personally don't use either.
I actually use an electric hand whisk – here's a link to the electric whisk I often use. I use this because you actually only need the assistance of an electric appliance to whisk the eggs and caster sugar. You can however use a standing mixer with a whisk attachment to do this too.
Thereafter, I just use a spatula to fold the mixtures together. There really is no need to use a standing mixer or electric whisk for any other part of this recipe.
Can I make your gluten free millionaire's brownie without any kind of electric mixer/appliance at all?
You can, of course, bake this without any assistance from any appliance – just a good ol' fashioned wooden spoon/spatula and a balloon whisk will do.
I actually make 95% of this recipe by hand. The only part I use an electric mixer for is to beat air into the sugar and eggs to make them nice and frothy.
You can easily do this by hand with a whisk, but make sure you give it lots of welly until it becomes pale and frothy. This can take some time!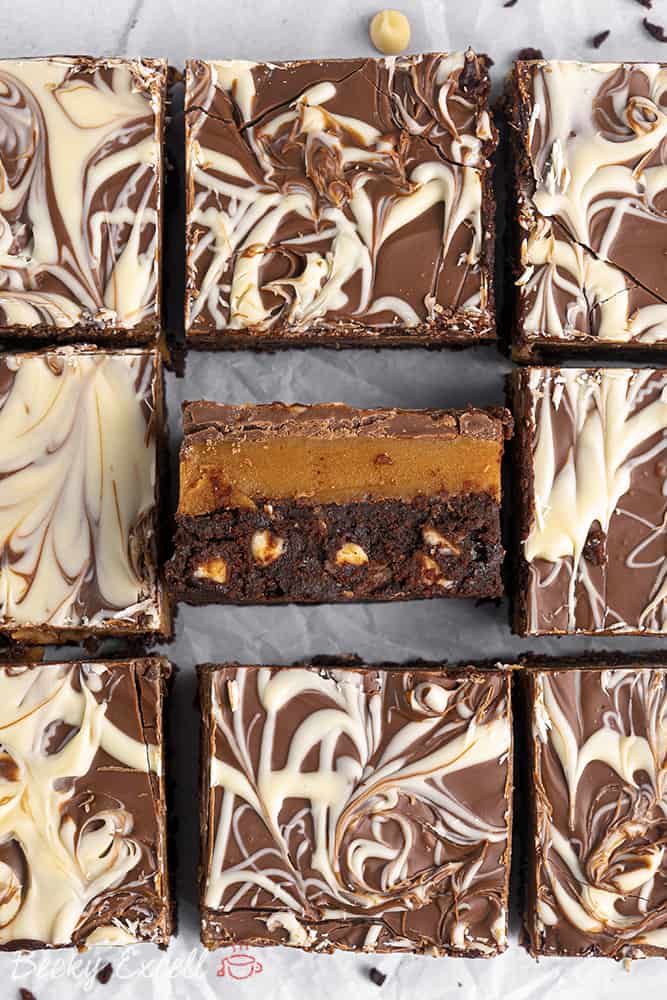 Do I need any special equipment to make your gluten free millionaire's brownie recipe?
Certainly not! As I mentioned, a standing mixer or electric whisk will cut down on prep time, but they're not mandatory.
What you will need however is a 9″ square baking tin – here's the one I use. Apart from that, you'll just need a little baking paper and that's about it!
Can I make this recipe without xanthan gum?
There's no xanthan gum in recipe as it's not required to compensate for gluten in this particular bake.
You'll see xanthan gum in a lot of my recipes as it's an essential ingredient in gluten free baking – in cakes and biscuits, it helps to replace gluten by binding the texture together.
Otherwise you can end up with a very crumbly bake. Fortunately, that doesn't apply here!
Can I make this recipe using other gluten free flours like buckwheat flour or coconut flour?
There's a big difference between 'gluten free plain/self-raising flour' and a *singular* type gluten free flour. When I say 'gluten free plain or self-raising flour' in a recipe, I mean a BLEND of gluten free flours, not just one, singular flour.
Most gluten free flour you buy in the supermarket typically contains a blend of rice flour, potato flour, maize flour, tapioca flour AND buckwheat flour. That's a lot of different flours!
In gluten free self-raising flour, there's usually even a little baking powder and xanthan gum in it too which always helps.
So to replace it with just one specific type of flour… that's not going to cut it at all. Definitely go for a gluten free flour blend.
Do I need weighing scales to make your gluten free millionaire's brownies?
In short… yes, yes and yes! And I wouldn't advise attempting any my recipes without them. One of the worst things you can do in any recipe is alter the quantities by mistake or on purpose.
(unless you know what you're doing of course)
Why? Well, you're sort of just gambling with the recipe and praying that it turns out ok, don't you think? And I've generally already done the hard work there for you, so you don't have to do the guesswork with measurements!
A lot of work went into fine tuning ratios and quantities so I wouldn't mess around with them unless you really know your stuff.
I'd recommending using digital cooking scales like these so you know you're getting an accurate measurement and replicating my recipe as accurately as poss.
Can I make your gluten free millionaire's brownie without sugar or with less sugar?
I can understand the need to reduce sugar in our foods, but this recipe is one where I wouldn't recommend it. It needs sugar to work!
Why? first of all, there's sugar in the brownie layer which is integral to its structure and final bake.
Plus, you can't make caramel without sugar as far as I know!
How long can I keep your gluten free millionaire's brownie for?
Keep this in an air-tight container and it should last around 4-5 days – you can also keep this covered with clingfilm on a plate too.
It will generally last a few days longer than that, but mine always seems to be eaten before then!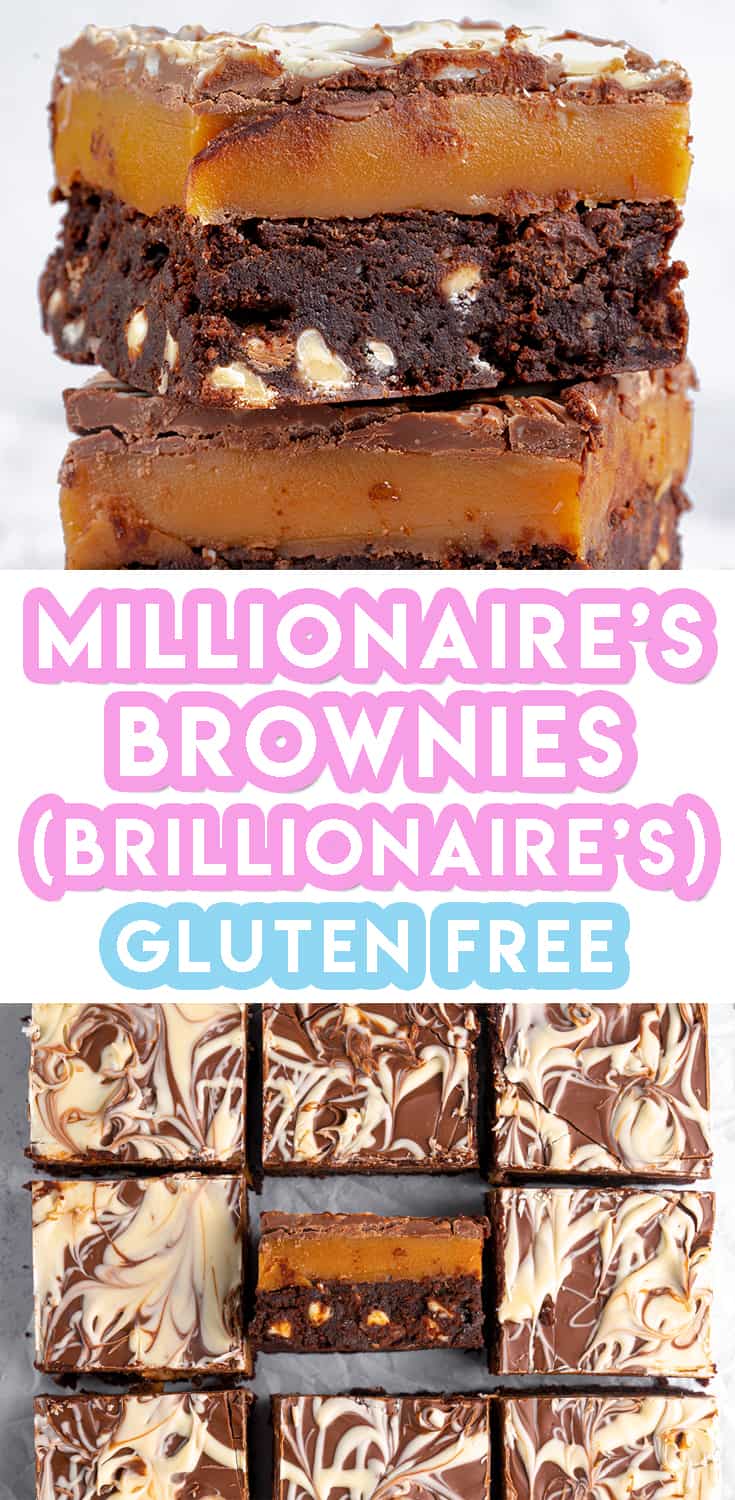 Can I freeze your gluten free millionaire's brownies?
Of course! I've frozen them for up to 2-3 months no problem.
I'd recommend slicing them up first – otherwise it'll take an age to defrost! That way, you can also defrost a few slices at time instead of defrosting the whole slab, which you might not be able to eat all at once.
When you want to eat them, a slice should take around 3 hours to defrost at room temperature.
Can I print your gluten free millionaire's brownie recipe?
Of course! Just hit the print button located on the recipe below ?? (otherwise you might end up printing this entire post which would probably make your printer go into early retirement)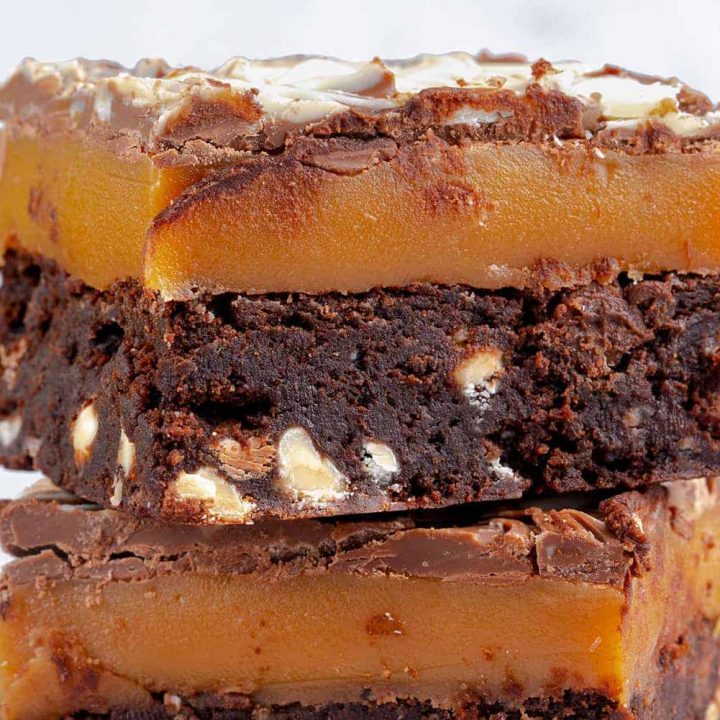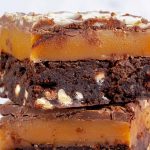 Gluten Free Millionaire's Brownie Recipe (Brillionaire's!)
Gluten free millionaire's brownie recipe - aka brillionaire's! These are super easy to make and the ultimate indulgent treat with a twist.
Ingredients
For the brownie layer
90

g

gluten free plain flour

50

g

cocoa powder

200

g

butter

200

g

chocolate

3

eggs

280

g

caster sugar

150

g

chocolate chips

white and/or milk
For the caramel layer
175

g

butter

165

g

light brown sugar

60

ml

golden syrup

1

tin of condensed milk

tin is 397g

1/4

tsp

salt
For the top chocolate layer
250

g

milk chocolate

125

g

white chocolate
Instructions
For the brownie layer
Preheat your oven to 160C Fan / 180C and prepare a 9x9inch tin with baking paper. Make sure you have excess baking paper coming up over the sides of the tin to make it easier to lift your bake out later.

Melt together your butter and dark chocolate over a bain marie (or in the microwave, make sure you stir every 20 seconds or so to ensure the chocolate doesn't burn) until completely melted . Mix together and leave out to cool down to nearer room temperature.

Sieve together your cocoa powder and gluten free flour in a bowl. Mix briefly until combined, put to one side.

In another bowl crack 3 eggs and pour in your caster sugar. Beat together (I use an electric hand whisk) until pale in colour and almost a little frothy.

Once the chocolate and butter mixture is cooled a little, pour it into your egg/sugar mixture. Fold it in, it will initially marble and then turn super chocolatey.

Next fold in the your gluten free plain flour and cocoa powder mix. Ensure it's fully folded in before folding in your chocolate chips

Pour/spoon your brownie mixture into a prepared tin, smooth it over so it's even and level. Bake in your preheated oven for about 25 minutes. Remove from the oven and allow to fully cool in the tin.
For the caramel layer
To make your caramel, put your condensed milk, butter, sugar, golden syrup, and salt into a saucepan. Heat so that the butter melts completely and the sugar dissolves. Keep stirring throughout.

Bring your mixture to the boil and then simmer it for a further 10 minutes (stirring all the time) until the caramel has thickened and become a slightly darker colour.

Pour the caramel carefully and evenly over the cooled brownie base and place in the fridge for about 2 hours to set.
For the chocolate layer
Once the caramel is set, melt your chocolate (either in the microwave or in glass bowls over a saucepan of boiling water). Melt the milk and white chocolate separately.

Pour the milk chocolate over the top of your caramel, help it to spread all over. Then quickly pour over the white chocolate (not all in the centre but randomly all over the top). Swirl the chocolate together to make a pattern using something like a cocktail stick.

Place back into the fridge until the chocolate has fully set (this takes about an hour and a half usually, be patient!)

Lift the chilled millionaires brownie out of the tin. Allow it to warm up a little prior to slicing, this reduces the chances of the top cracking, not that it matters! Carefully slice into pieces using a large sharp knife.

Enjoy as they are or slightly warmed up to make the brownie really gooey!
Nutrition
Serving:
1
g
|
Calories:
774
kcal
|
Carbohydrates:
88
g
|
Protein:
8
g
|
Fat:
46
g
|
Saturated Fat:
28
g
|
Polyunsaturated Fat:
14
g
|
Trans Fat:
1
g
|
Cholesterol:
126
mg
|
Sodium:
320
mg
|
Fiber:
3
g
|
Sugar:
74
g
Thanks for reading all about my gluten free millionaire's brownie recipe! If you make it, I'd love to see how it turns out so don't forget to take a snap of your creations and tag me on Instagram!
Any questions about the recipe? Please do let me know by following me on Instagram and leaving me a comment on a recent photo!
Thanks for reading,
Becky xxx
Oh and don't forget to pin this for later!