Crispy roast potatoes recipe, anyone? You know, the kind that are crisp and golden outside, but fluffy in the middle? Well, that's how I've made my roast spuds for YEARS!
Crispy roast potatoes recipe – what more could you want? And guess what? For my best ever crispy roast potatoes recipe, you actually only really need 2 ingredients – potatoes and oil. Obviously that makes this recipe gluten free, vegan, dairy free and low FODMAP too. Ok, let's start with my quick and easy recipe!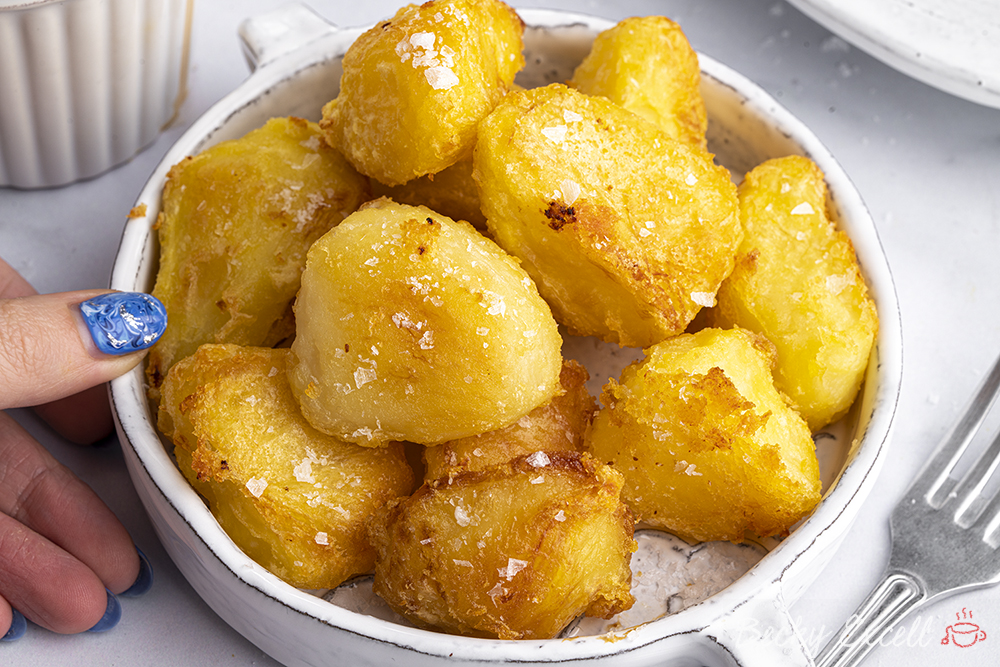 What's a roast dinner without a generous serving of roast potatoes? Just a plate of meat and veg, right?
Those gloriously golden spuds are sooo important when it comes to serving up a hearty roast. So you might as well go and make them the best thing on the plate!
And my idea of the perfect roast potato is one that's really crisp and golden on the outside, but then, also really light and fluffy in the middle. And that's exactly what you'll get if you use my crispy roast potatoes recipe!
I'm gonna show you aaaall my secrets in this recipe on how to turn something as simple as potatoes and oil, into your fave part of any roast.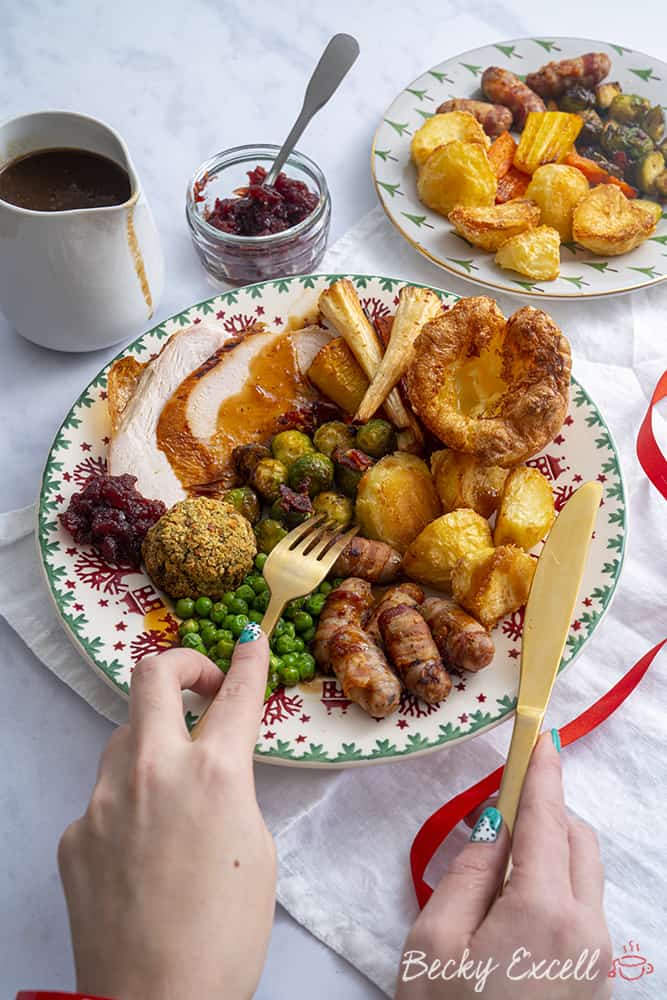 I know roast potatoes might seem like a pretty obvious thing you wouldn't need a recipe for. But everyone seems to do theirs slightly different!
Jamie Oliver's takes 2 hours to prepare and involves roasting them in garlic (which I can't tolerate anyway!) and Gordon Ramsay seems to add turmeric and chilli flakes for some reason.
I'm sure they're both really nice to eat, but first of all – my ideal roast potato doesn't have turmeric or chilli anywhere near it. Anyone else on the same page there?!
And also, I don't want to have to take two hours to make some roast potatoes. I've still got all the other stuff on my roast dinner plate to cook, you know Jamie! Some recipes even instruct you to use flour, which is totally not necessary at all.
So that's why I really wanted my roast potato recipe is be as *quick* as possible, as *simple* as possible and taste as *AWESOME* as possible. Sound good?!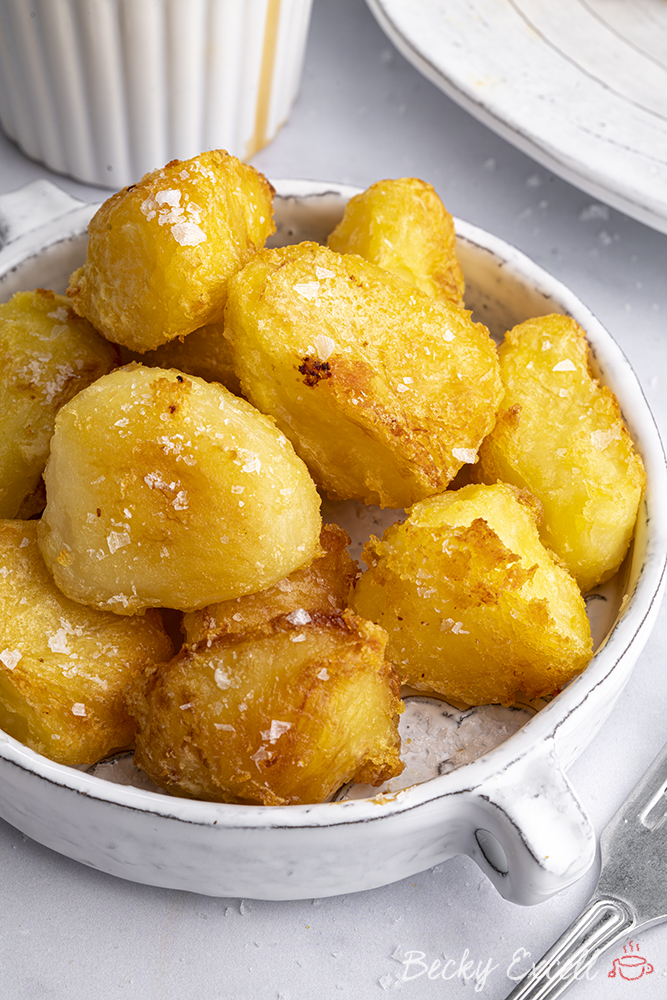 So before we get to my super crisp roast potato recipe, I thought I'd create the ultimate guide which hopefully answers all your questions.
I said I'd reveal my secrets to cooking the BEST crispy roast potatoes ever, so here's all you need to know…
Should you boil potatoes before roasting?
Yes, definitely! First of all, it makes cooking roast potatoes much quicker as you're partly cooking them before popping them into the oven. And as we all know with a roast, the quicker, the better – especially as you usually have so many other pans on the go.
Secondly, boiling the potatoes before roasting is the BEST way to get a really nice and crispy finish.
For example – in step 4 of this recipe where you shake the potatoes to give them a nice, fluffy exterior before roasting, this only works if you parboil them first.
And basically, shaking them around like that after boiling is the key to getting a nice crispy roast potato!
How long should you parboil potatoes before roasting?
Once your water is boiling, you should parboil your chopped and peeled potatoes for 10 minutes. This gives them just enough time to cook a little, without turning into mashed potato.
Any less than 10 minutes and you might not get that those nice fluffy edges when you shake them around in the saucepan. And as I said, that's the key to making the BEST crisp roast spuds!
How do you make roast potatoes really crispy?
It's a combination of three important stages. Firstly, parboiling your chopped and peeled potatoes for 10 minutes.
Secondly, giving them a good shake in the saucepan (after parboiling and draining them) to fluff up the edges.
And lastly, making sure the oil is reeeeally nice and hot before roasting them in the oven. If you can pull off those three simple steps, you're golden. And your roasted potatoes will be golden and crispy too!
What kind of potatoes are the best for roasting?
It's pretty widely agreed that Maris Piper, King Edwards and Desiree red potatoes are the best for roasting in that order. Why?
Well, it's because Maris Piper and King Edwards are more of a floury potato instead of being more 'waxy'.
Desiree potatoes are a little more waxy but still work ok as an all-rounder.
Floury potatoes are better for roasting because when you shake them after parboiling, they go really nice and fluffy at the edges.
And that's where the crispy exterior will come from. More waxy potatoes hold their shape better after cooking, so won't fluff up as well.
If you're a bit sad like I am, you can read about all the different kinds of potatoes and what you should use them for here!
Are baking potatoes ok for roasting?
As long as they're a more floury potato, any average baking potato would be fine for roasting.
Most baking potatoes are usually russets which are quite nice and starchy and fluffy, so ideal for making roast potatoes. But check on the label to see what variety it is if you can first!
Can you reheat roast potatoes?
You certainly can! If you made them earlier in the day and they're at room temperature, simply pop back in the oven at 200C for 10 minutes. They'll still be as good as when they first came out of the oven.
If you've kept them in the fridge, make sure they're in an air-tight container first of all. Ideally, let them reach room temp again before roasting for 10 minutes at 200C. If you cook them straight from the fridge, they'll need a little longer.
They might not be as crisp as they once were, but you can get them back to be somewhere near perfection.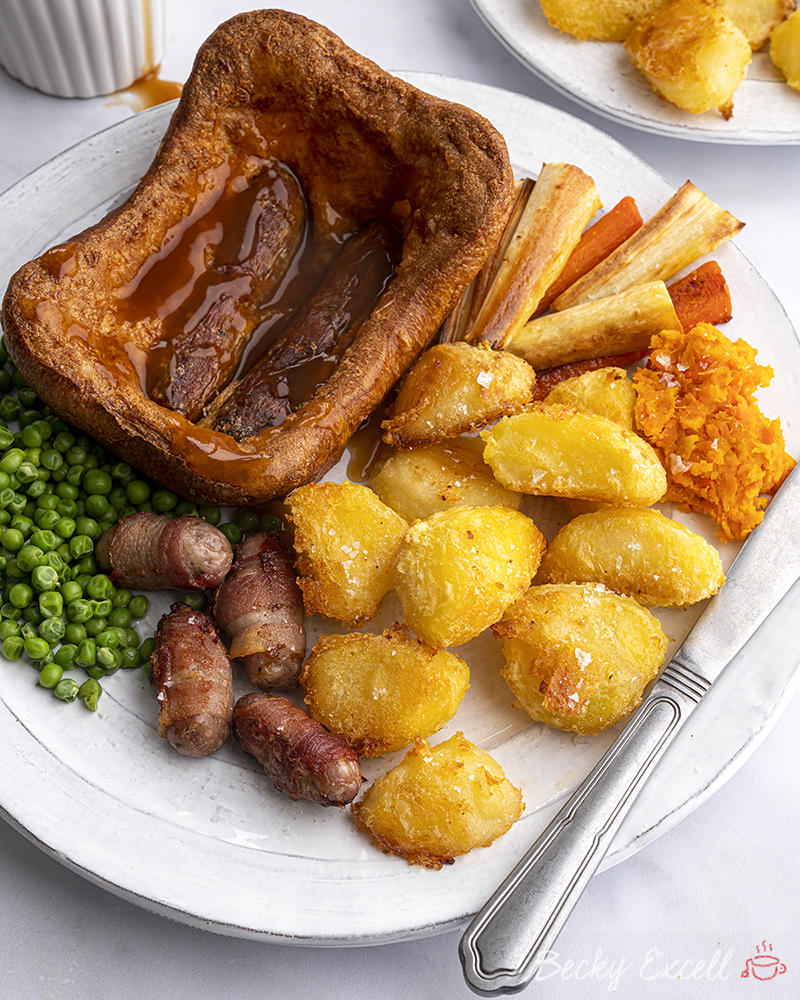 Can you reheat roast potatoes in the microwave?
Obviously you can, but I can guarantee that they will totally lose their crispiness. So because of that, I don't recommend it.
Can you boil the potatoes the night before?
Yes, you can! But of course, leaving wet potatoes in a bowl can mean they spoil and turn black due to their sogginess.
Some people recommend leaving them in the water they were parboiled in overnight, but I find that they become quite waterlogged overnight.
So instead, I'd recommend that you thoroughly drain them, then shake them to get the fluffy edges, then place onto a flat tray that will fit in the fridge.
Drizzle them with a little oil and cover with clingfilm ready to be roasted the next day.
I've found that this can be a great way to get a bit of prep done and it doesn't affect their overall crispiness either.
On the day you want to cook them, just try and take them out of the fridge and allow them to return to room temp before roasting. Otherwise they can take much longer to cook as they'll be cold from the fridge.
Can I freeze roast potatoes?
Yes you can! But you will risk losing a little of that crispiness when you reheat them as freezing often involves results in added moisture.
Then when you want to enjoy them, simply leave out of the fridge at room temperature for 3-4 hours to defrost.
After defrosting, I'd recommend drizzling them with a light coating of oil as this will help them become crispy again on their second cook. Whack them in at 200C for around 10-15 minutes.
I've never tried cooking these straight from frozen so let me know in the comments below if it's possible without losing their crispiness!
Which oil is best for roasting potatoes?
I've always used vegetable oil/rapeseed oil to get the best results.
You can also use dripping from the turkey or beef you've been roasting too which adds even more flavour.
But in reality, any oil works fine! Goose fat is basically the ideal fat here, but obviously it's not then vegan if you want it to be.
Is it ok to roast potatoes with olive oil?
Yes, you can! It really doesn't overly matter what oil you use.
But if you really want that garlic taste like Jamie Oliver raves about, but you can't eat garlic like me, (I'm low FODMAP) then you can always use garlic-infused olive oil.
I've used this before and they always come out super crispy and it adds a subtle taste too that everyone always loves.
Why is goose fat the best for roast potatoes?
Goose fat is one of the first choices for roast potatoes because first of all – it tastes nice! It has a really rich flavour compared to your more common vegetable oils.
It's a bit like how cooking your roast potatoes in dripping from your turkey can add more flavour to your spuds too – they're both animal fats.
But also, goose fat has a high smoking point, meaning it's less likely to start burning and setting off your smoke alarm whilst you're heating it up to high temps.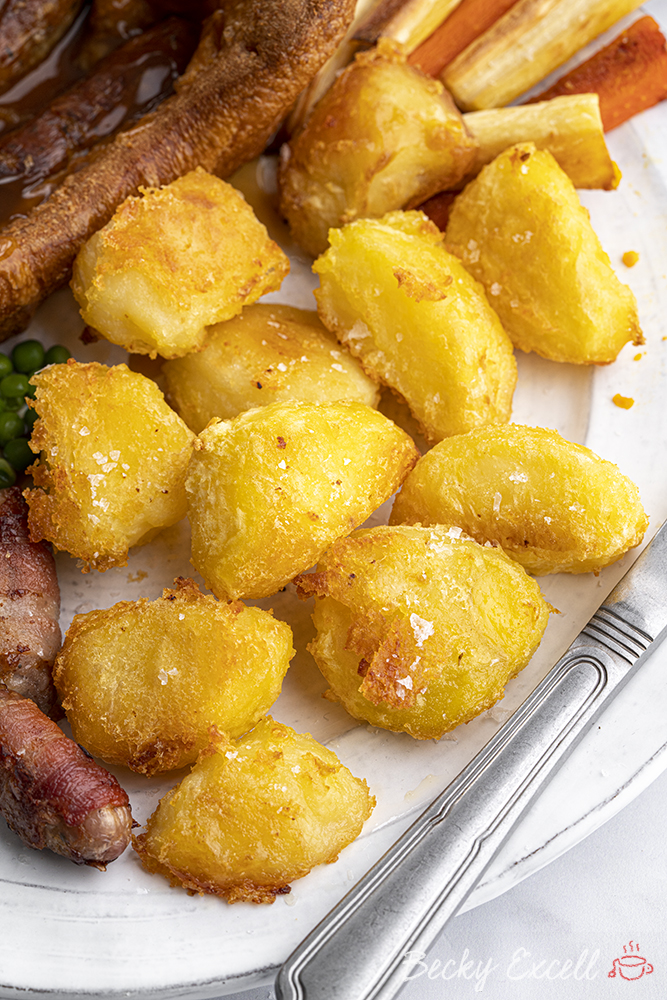 My best gluten free/low FODMAP roast dinner recipes:
Can I print your crispy roast potatoes recipe?
Of course! Just hit the print button located on the recipe below ?? (otherwise you might end up printing this entire post which would probably make your printer go into early retirement)
BEST EVER Super Crispy Roast Potatoes Recipe
Crispy roast potatoes recipe, anyone? These are my BEST EVER spuds that are quick and easy to make perfect every time. You only need 2 ingredients!
Servings
20
roast potatoes
Ingredients
1

kg

Maris Piper potatoes

vegetable oil

garlic-infused olive oil or goose fat

fresh rosemary and/or fresh thyme

optional

salt

optional
Instructions
Preheat your oven to 200C Fan / 220C. Place a large baking tray into the oven with a generous amount of oil (or goose fat) in it. Allow this to heat up.

Peel your potatoes and chop them into chunks. I tend to chop mine in half or into thirds depends on the size on the potato.

Place the potatoes in a saucepan of boiling salted water for about 10 minutes from the point at which the water is bubbling and boiling. The potatoes should be softer but not breaking up.

Drain the water off the potatoes and put them back into the saucepan with the lid on. Shake the saucepan a good few times so they get bashed about (you can't be too violent!!). This helps to get the crispy exterior.

Place your potatoes on your preheated oiled tray. Make sure they are in a single layer. The potatoes should sizzle as they hit the oil. Either quickly turn the potatoes over on the baking sheet so the oil is covering all sides or drizzle a little extra oil on top. Place in the oven for 40 minutes.

After 40 minutes check your potatoes, they should be nearly done. Turn them over, sprinkle with fresh rosemary and/or thyme (optional) and pop them in the oven for a further 10-15 minutes until they are crisp and golden.

Season with a little salt to serve.
Thanks for reading all about my crispy roast potatoes recipe! If you make them, I'd love to see how they turned out so don't forget to take a snap of your creations and tag me on Instagram!
Any questions about the recipe? Please do let me know by following me on Instagram and leaving me a comment on a recent photo!
Thanks for reading,
Becky xxx
Oh and don't forget to pin this for later!