Say hello to my gluten free chilli con carne recipe! It's a mid-week wonder when it comes to dinner and it's dairy free and low FODMAP too.
You just can't beat a good gluten free chilli con carne. It's so quick and easy to make after a long day – no packet spice mix required! In fact, I'm pretty sure you probably have the spices you need in your cupboard already. So let's get going!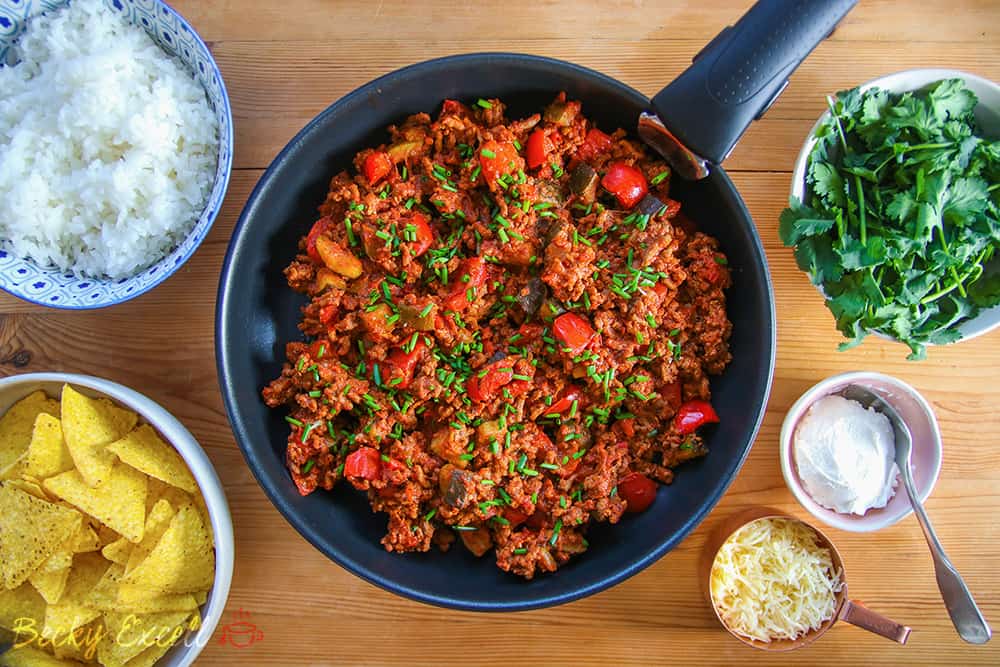 So for me, what's in a good chilli con carne? Well, I love mine extra chunky so it's packed with red peppers, courgette and chopped tomatoes to give it that real, beautiful texture.
Of course, you wouldn't get far without your 'carne' which is fairly lean British beef. Mark struggles with really rich, red meat and we find that one with 5% fat seems to be ok!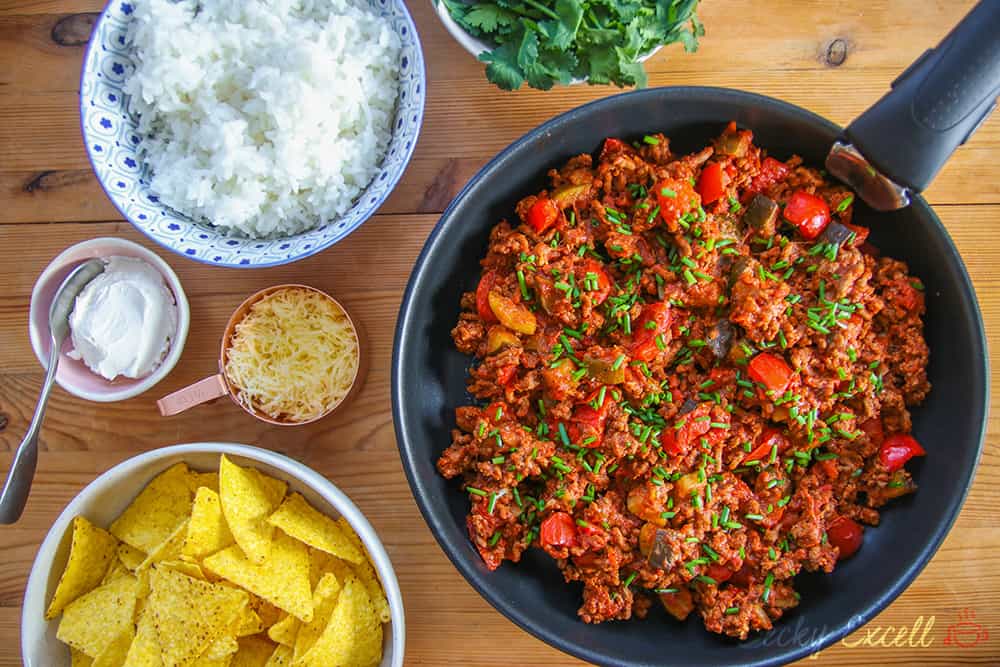 But what isn't in my gluten free chilli con carne? Gluten! No, that's pretty obvious – I'm talking about the dreaded kidney beans. Like most people, beans just do not agree with me whatsoever.
(trust me, you don't want further elaboration here)
Of course, they give a chilli a great chunky texture and that'd be a shame to lose – which is why I've opted for some chunky courgette instead.
They soak up so much flavour and make a perfect super-sub for kidney beans.
But if you really love kidney beans, you can still throw in half a can too if you're not following the low FODMAP diet.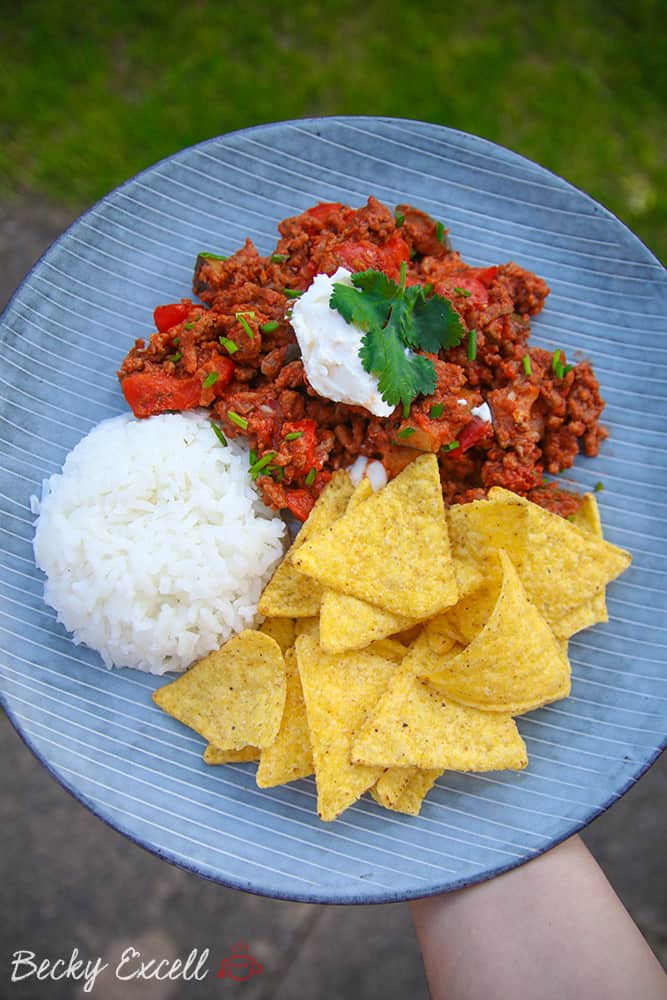 And as you can see, I do love to serve my gluten free chilli con carne with a few accompaniments.
(let's just assume that rice is always involved – that doesn't count!)
I love having mine with gluten free tortilla chips as they're absolutely amazing with a dollop of chilli on top.
Instead of sour cream, we add a dollop of lactose free mascarpone which is so incredibly creamy and cooling against my hot chilli. Of course, a little lactose free grated cheese goes a long way too.
Feel free to substitute in dairy free cheese where mentioned if necessary!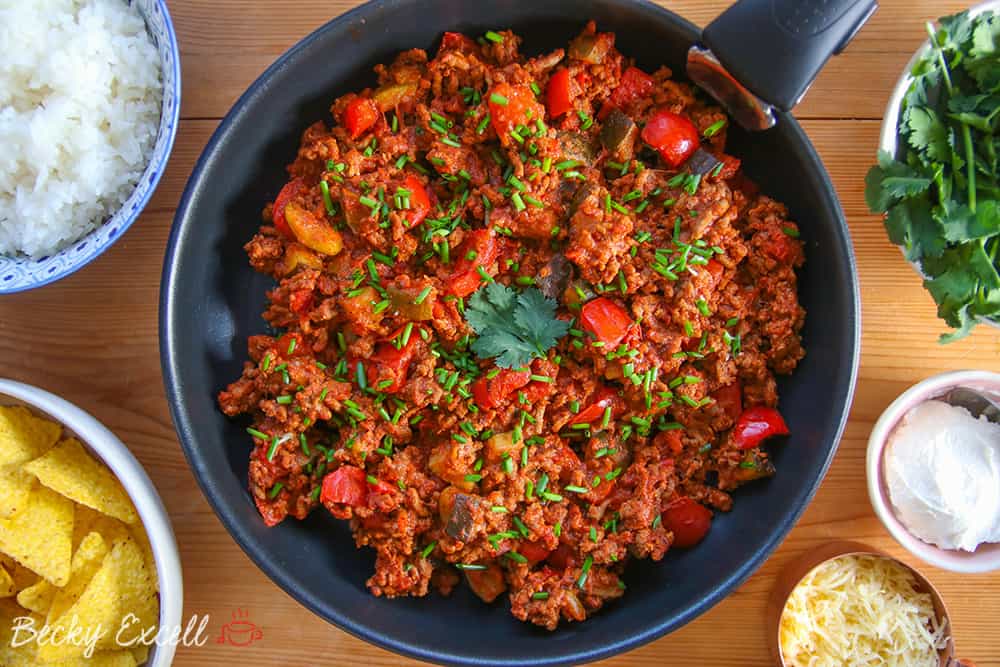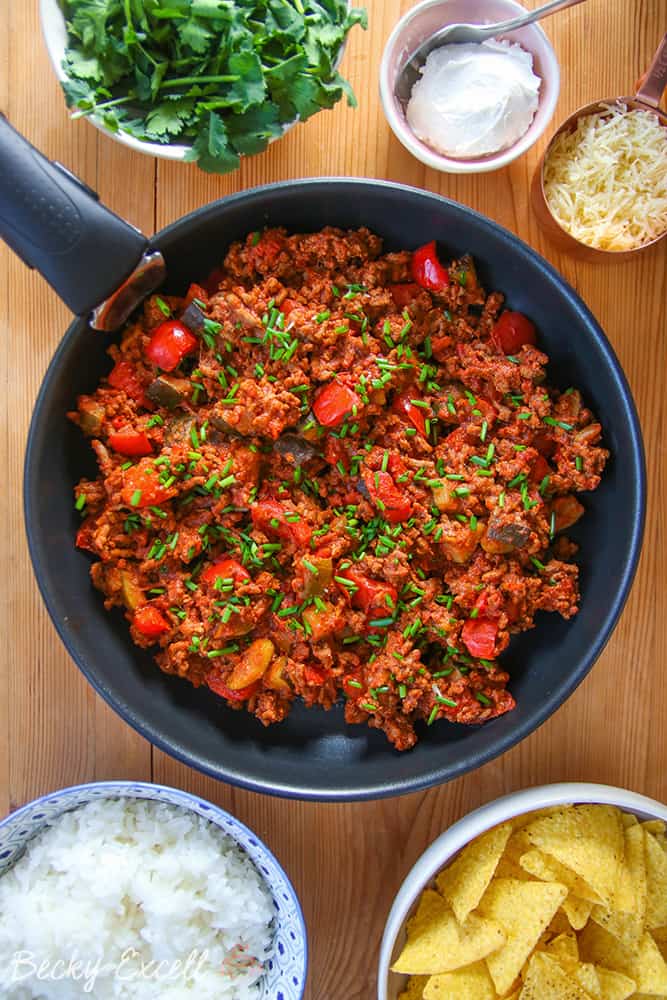 So now you know what's in it (and around it), here's my gluten free chilli con carne recipe! I should probably mention that it's a pretty mild chilli, so don't worry about it blowing your socks off.
If you like it a little more spicy, then just add a bit extra chilli and taste as you go!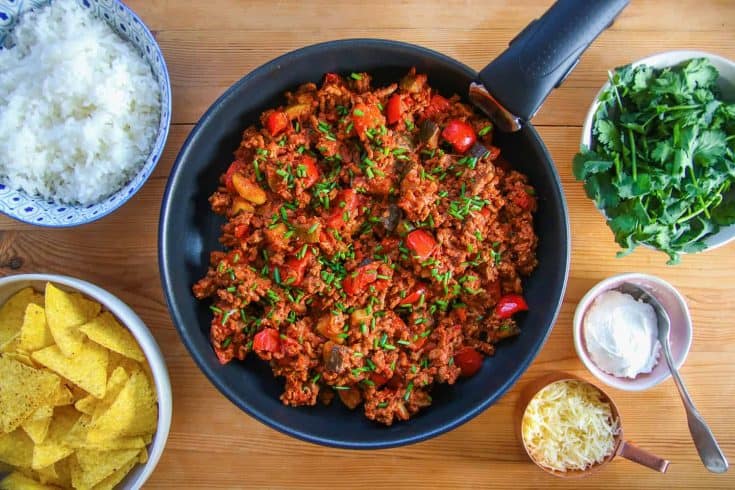 Yield:

2
My Chunky Gluten Free Chilli Con Carne Recipe (dairy free, low FODMAP)
Say hello to my gluten free chilli con carne recipe that's dairy free and low FODMAP too! A quarter of this dish is a low FODMAP serving size.
Ingredients
500g beef mince
1 courgette, chopped
1 red pepper, chopped
1 tsp crushed chilli paste
2 tsp oregano
1 tsp cumin
1/2 tsp asafoetida, make sure it's gluten free or use onion powder if you're NOT on the low FODMAP diet
400g chopped tomatoes
1 tbsp tomato puree
1/2 stock cube with 150ml water, or 150ml of stock pre made. Make sure it is low FODMAP if needed
salt and pepper
fresh chives, chopped
garlic infused oil, to cook in
Serve with
rice
cheese, lactose free, dairy free or low FODMAP if needed
tortilla chips
lactose free mascarpone, dairy free cheese if needed
Instructions
Chop your red pepper and courgette and fry in some garlic infused oil until slightly softened.
Add in your beef mince and continue cooking.
Next add your chopped tomatoes and tomato puree. Stir in and continue cooking.
In a small dish, mix together your crushed chilli paste, oregano, cumin and asafoetida. You can add a little water to make it a bit more paste-like. Add this into your pan and mix into your chilli con carne. Continue to cook.
Soon after, add your stock. Bring to boil and then down to a simmer until the chilli con carne has reduced. It usually takes mine about 15 minutes.
Once reduced remove from the heat. Season with salt and pepper, and top with freshly chopped chives.
Serve up with rice, gluten free tortilla chips, cheese and a low FODMAP cheese. Enjoy!
Notes
A quarter of this dish is a low FODMAP serving size.
Of course, if you are not following a low FODMAP diet feel free to also add kidney beans to the recipe.
Nutrition Information:
Yield:
4
Serving Size:
1
Amount Per Serving:
Calories:

583
Total Fat:

35g
Saturated Fat:

13g
Trans Fat:

1g
Unsaturated Fat:

17g
Cholesterol:

137mg
Sodium:

426mg
Carbohydrates:

24g
Fiber:

3g
Sugar:

6g
Protein:

42g
Nutritional info is estimated and not always accurate.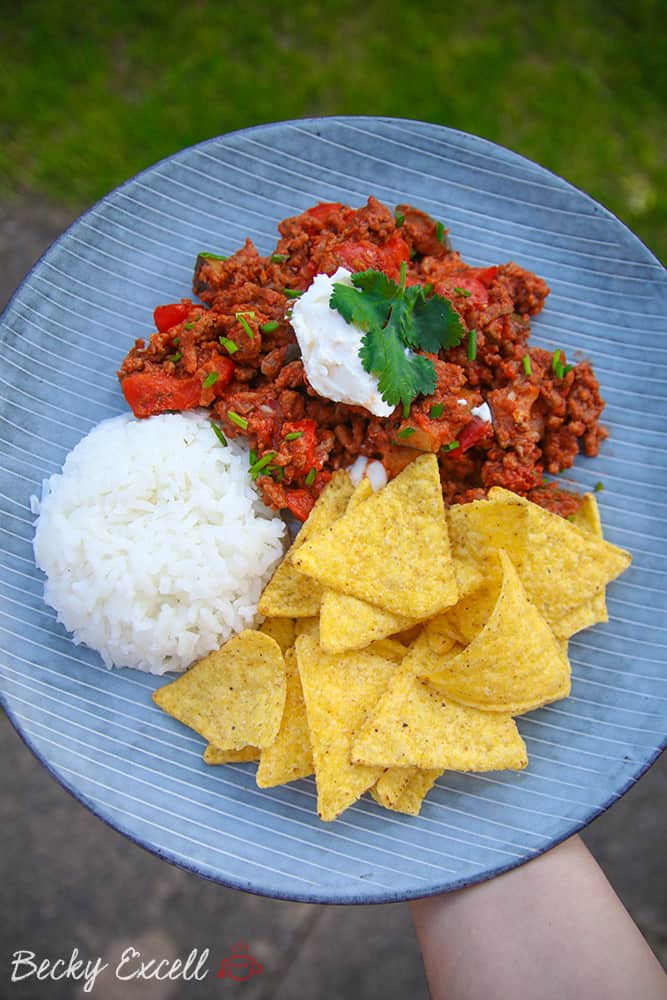 Thanks for reading how to make my gluten free chilli con carne recipe! If you make it, I'd love to see how it turns out. So absolutely make sure that you send me a pic using my social media links below…
Any questions about the recipe? Please do let me know by leaving a comment below or on Facebook / Twitter / Instagram!
Thanks for reading,
Becky xxx
Oh and don't forget to pin this for later!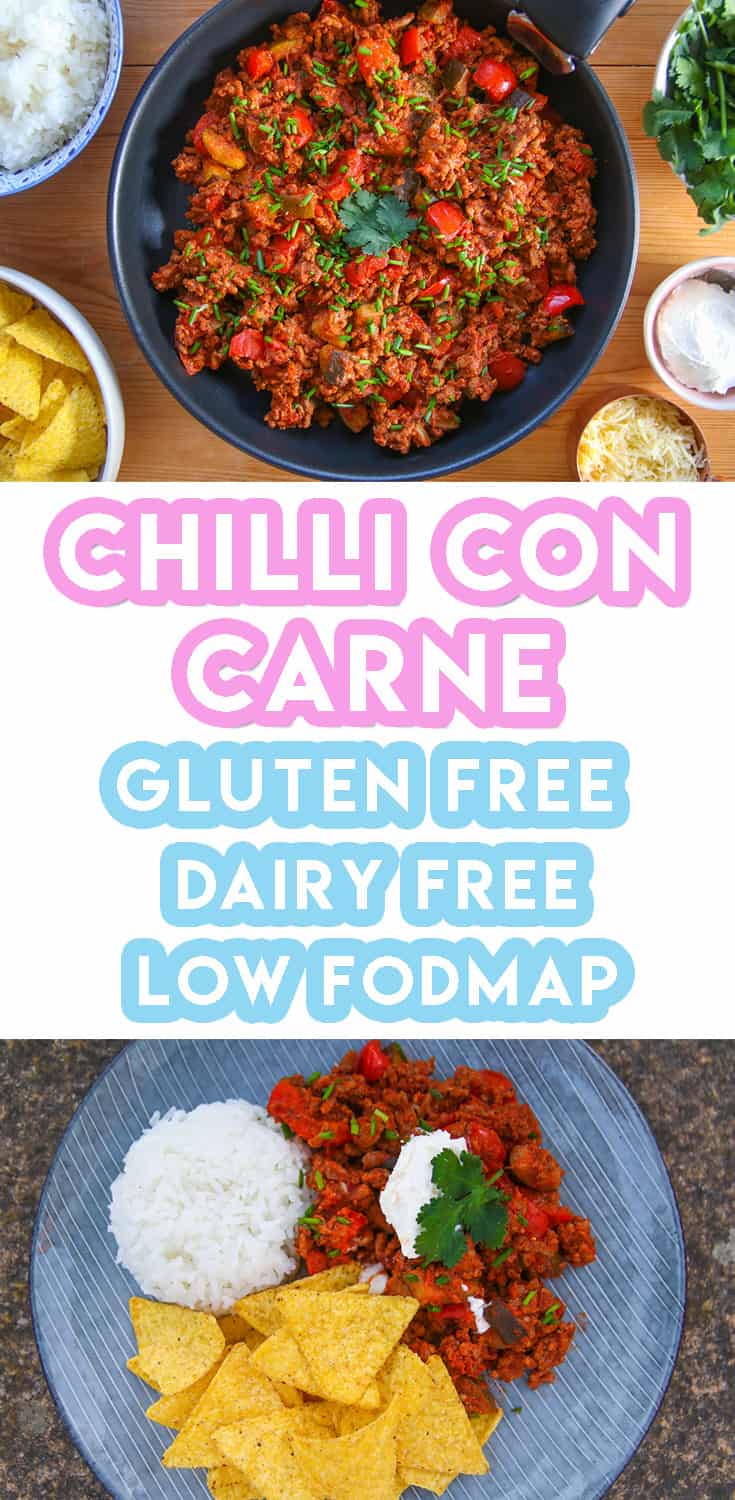 Comments