My Instagram DMs have been overflowing simply with the word 'YES!!!' after asking if you guys would like my top secret gluten free KFC recipe. Well here it is! It's low FODMAP and dairy free too.
Now I've more than updated this recipe for 2018, as the old recipe needed a little tweaking. This new and improved gluten free KFC recipe tastes even better, it's easier to throw together and it's now LOW FODMAP too. Let's do this!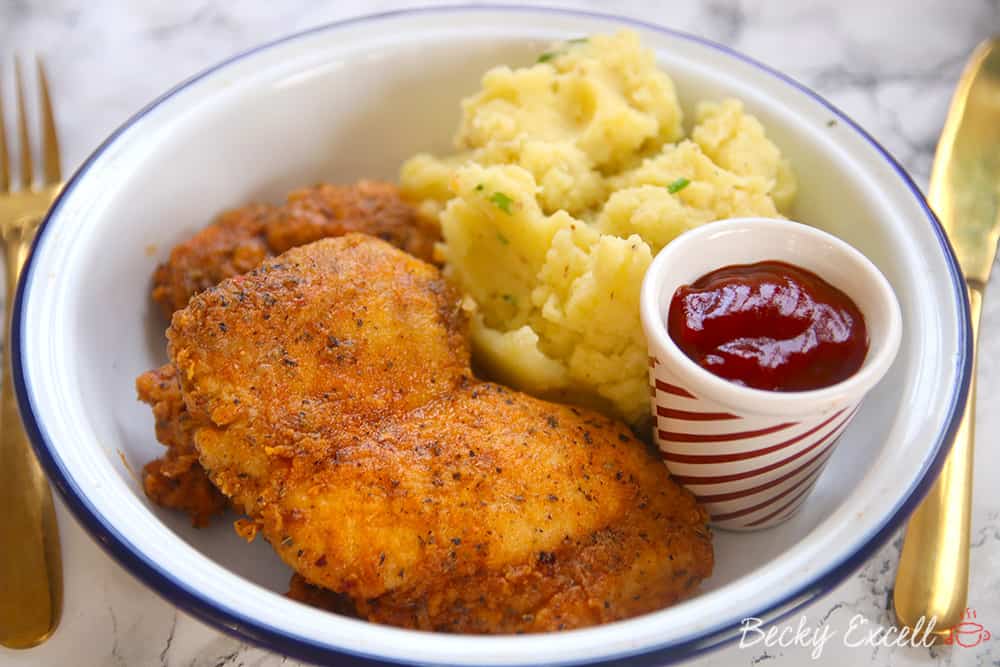 First, before we even get started, let's talk chicken!
In the photos, I've opted for boneless, skinless chicken thighs. Boneless just because they cook quicker, skinless because it gives you the ultimate crispy coating (no soggy skin underneath) and chicken thighs because they're so incredibly tender.
I'd recommend that you do the same too!
If you're going for the most authentic gluten free KFC, on-the-bone cuts of chicken are an option too, but bear in mind that these will take considerably longer to cook.
This recipe requires a decent amount of prep, so I've tried to streamline the speediness and convenience of this recipe as much as poss!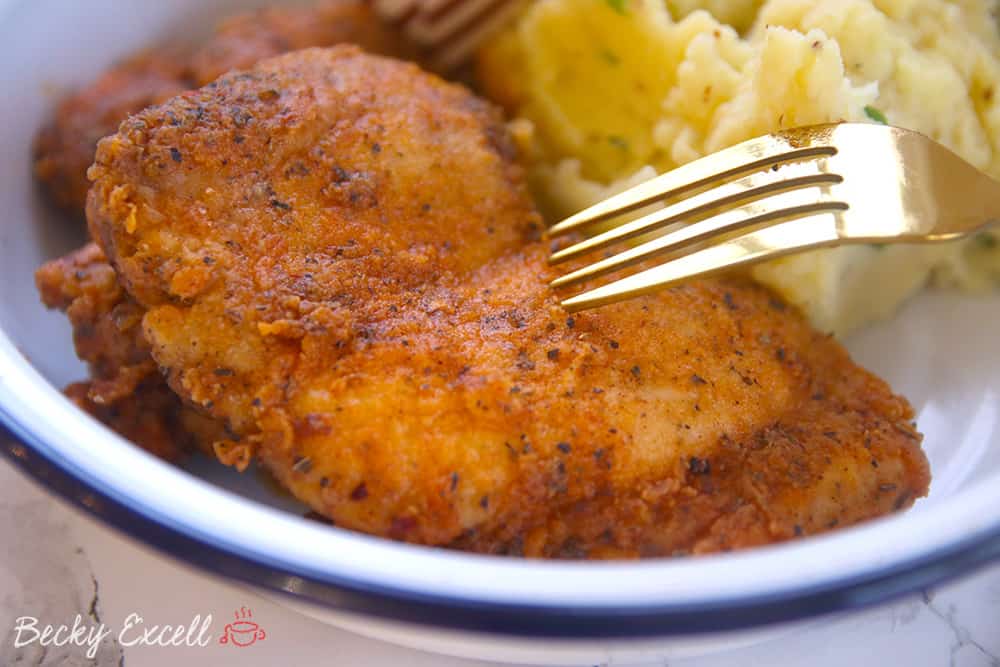 You've also got two options in terms of balancing speediness and authenticity. Deep-frying or shallow frying.
If you want the most authentic gluten free KFC, then of course, deep-frying is your number one route.
But I've found that shallow frying, followed by a quick blast in the oven to be quicker, less messy (and with less oil waste), whilst still leaving you with the exact same result.
Especially when using boneless chicken, this recipe can be so quick and convenient (on-the-bone chicken has a lot of nooks and crannies that are hard to reach by shallow frying).
I'll leave it up to you to decide!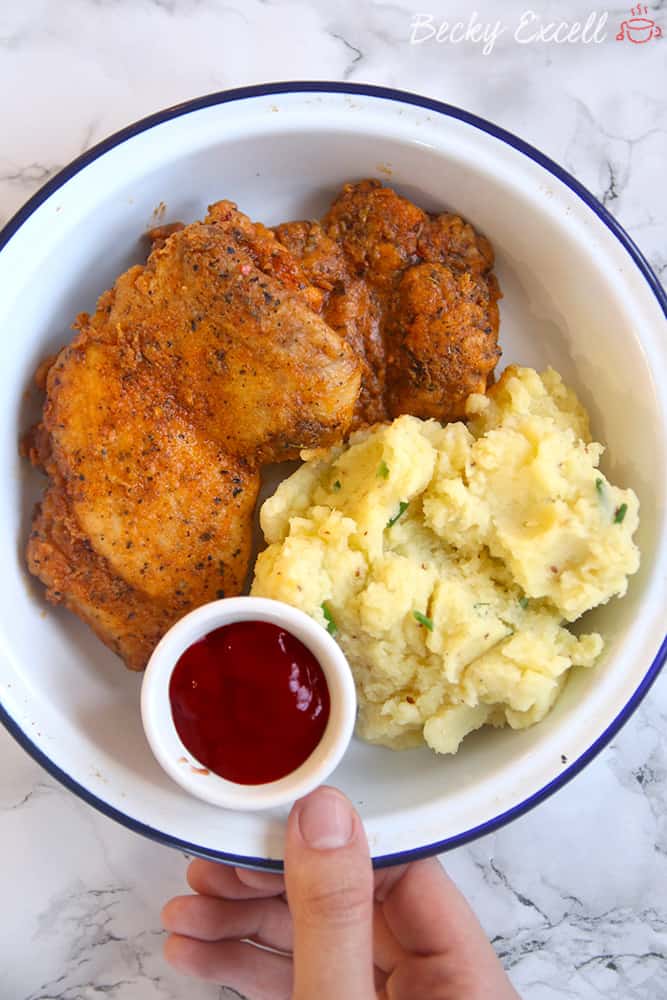 Sooo my gluten free KFC spice blend has been perfected by Mark over quite a few years. No exaggeration!
There's some great copy-cat, fakeaway KFC recipes out there, but they all tend to vary somewhat, making you wonder which (if any) are actually correct. Turns out Colonel Sanders is pretty tight-lipped about his recipe!
Thankfully for you, Mark has tried them all, then adapted them to actually taste like KFC (not a requirement when calling a recipe a KFC recipe apparently), made them low FODMAP and here we are!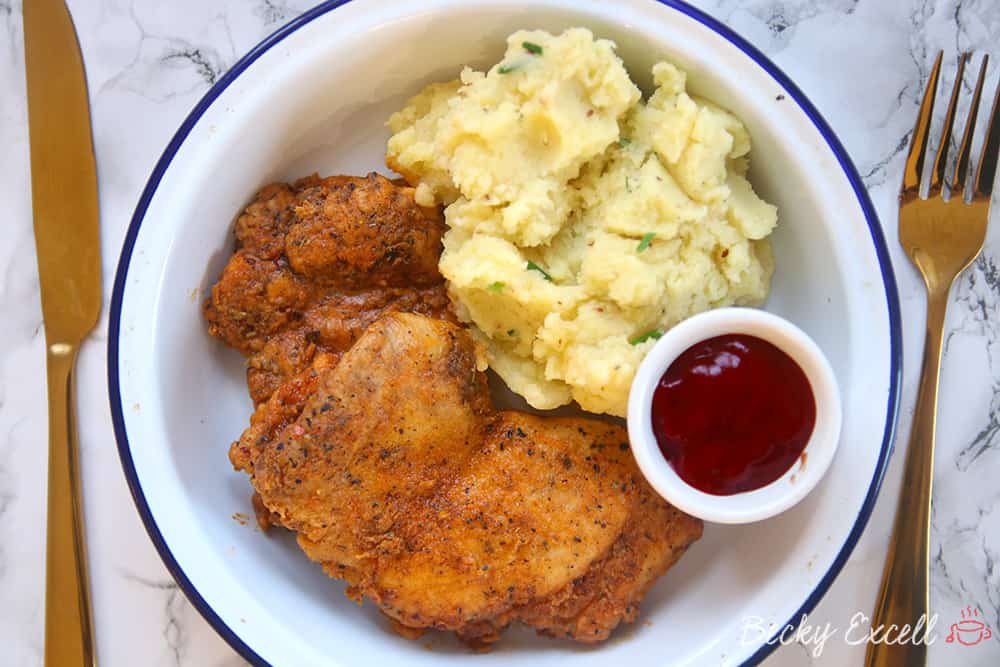 Now this spice/flour blend contains a lot of herbs and spice, so get your shopping list ready!
If you want to make things easier for you mid-week, I'd highly recommend making the spice mix in one enormous batch by multiplying all the spice mix ingredients by four. Then just keep it in a big jar.
That way, it takes about the same amount of effort to make but you'll likely have enough to make this meal four to five times in the future. Cooking from scratch doesn't have to always be a pain!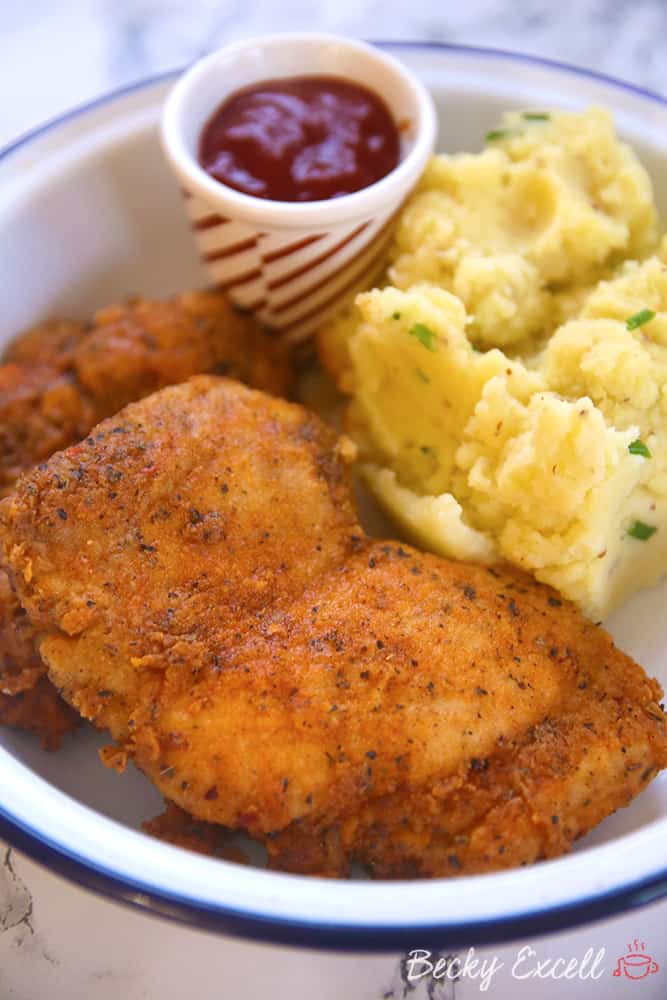 Have I even mentioned the taste? I promise you, this actually does taste like KFC. It's golden, it's crispy, there's a mild heat with a harmony of all those different herbs and spices.
I hadn't eaten KFC in years and the first time Mark made me this, it made me so happy. And he's made it even better since then too!
So here's the big reveal… my gluten free KFC recipe that's low FODMAP and dairy free too. Enjoy!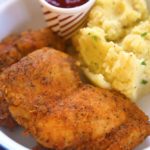 My Ultimate Gluten Free KFC Recipe (low FODMAP, dairy free)
My gluten free KFC recipe tastes just like real KFC and it's dairy free and low FODMAP too!
Ingredients
6

skinless

boneless chicken thighs

Garlic-infused olive oil for frying

1

egg for coating your chicken
For your spice blend
110

g

plain gluten free flour

2

tsp

oregano

2

tsp

sage

2

tsp

basil

2

tsp

marjoram

4

tsp

smoked paprika

1

tsp

chilli flakes

1

tsp

asafoetida

or onion powder if you don't care about FODMAP

1

tsp

salt

1

tsp

pepper
Instructions
Pre-heat your oven to 200c.

Start creating your spice blend by mixing all the dry ingredients in a big mixing bowl.

Beat an egg in a separate bowl too.

Heat some garlic-infused olive oil in a frying pan at a medium heat. There should be enough oil to thinly cover the entire frying pan.

Take a skinless, boneless chicken thigh, dunk it in the beaten egg mixture, then roll it in the spice mixture bowl until well coated.

At this point, you could deep-fry the chicken until golden. If shallow-frying, place the coated chicken thigh into your garlic-infused olive oil in a frying pan.

Fry it for about 30 seconds each side. Bear in mind that you don't want the coating to look all nice and golden like in the photos yet. We're not trying to cook the chicken or the coating here either, we're just sealing it until no floury patches are left.

Flip it over and add a little more garlic-infused olive oil if the pan is looking dry. Be generous!

Once both sides look yellow with no white floury patches, place on a baking try and repeat for all other chicken thighs.

Then place in the oven at 200c for 10-12 minutes until crispy and golden.
Recipe Notes
If you fry your coated chicken too long and they look nice and golden before they even go in the oven, they'll likely come out looking a little darker than you'd like!
The more coated chicken you fry with the same oil, the more your frying pan will begin to become a little bit sludgy-looking from all the flour. If you intend to fry more than 6 pieces of chicken in the same oil, I'd recommend wiping all the sludgy bits out half way with kitchen roll first. Do it before they start burning and smoking!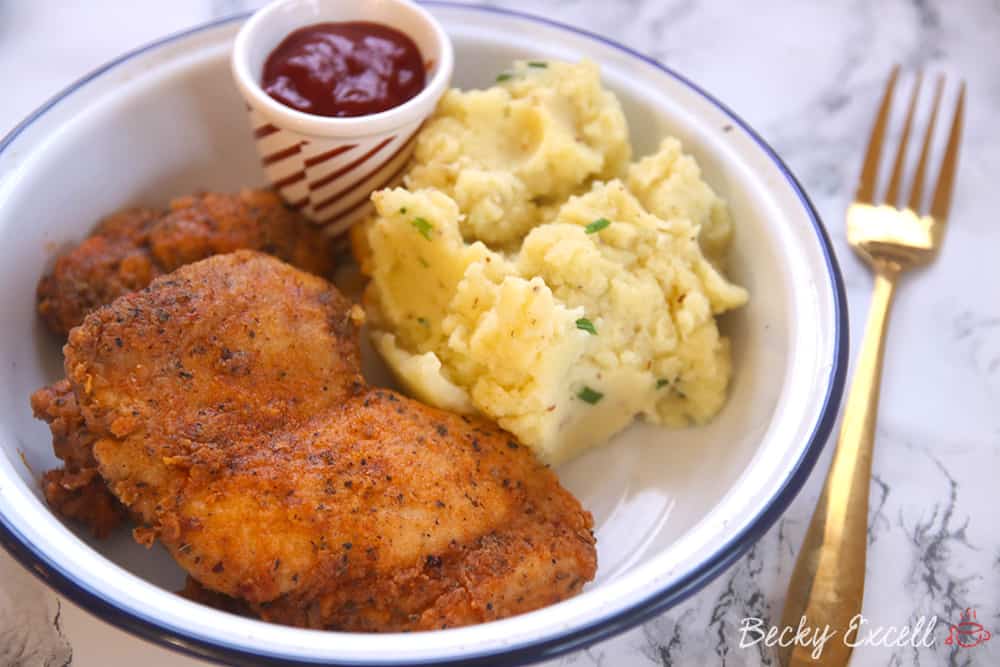 Thanks for checking out my gluten free KFC recipe! If you recreate this recipe, I'd love to see how it turns out. So absolutely make sure that you send me a pic using my social media links below…
Any questions about the recipe? Please do let me know by leaving a comment below or on Facebook / Twitter / Instagram!
Thanks for reading,
Becky xxx
Oh and don't forget to pin this for later!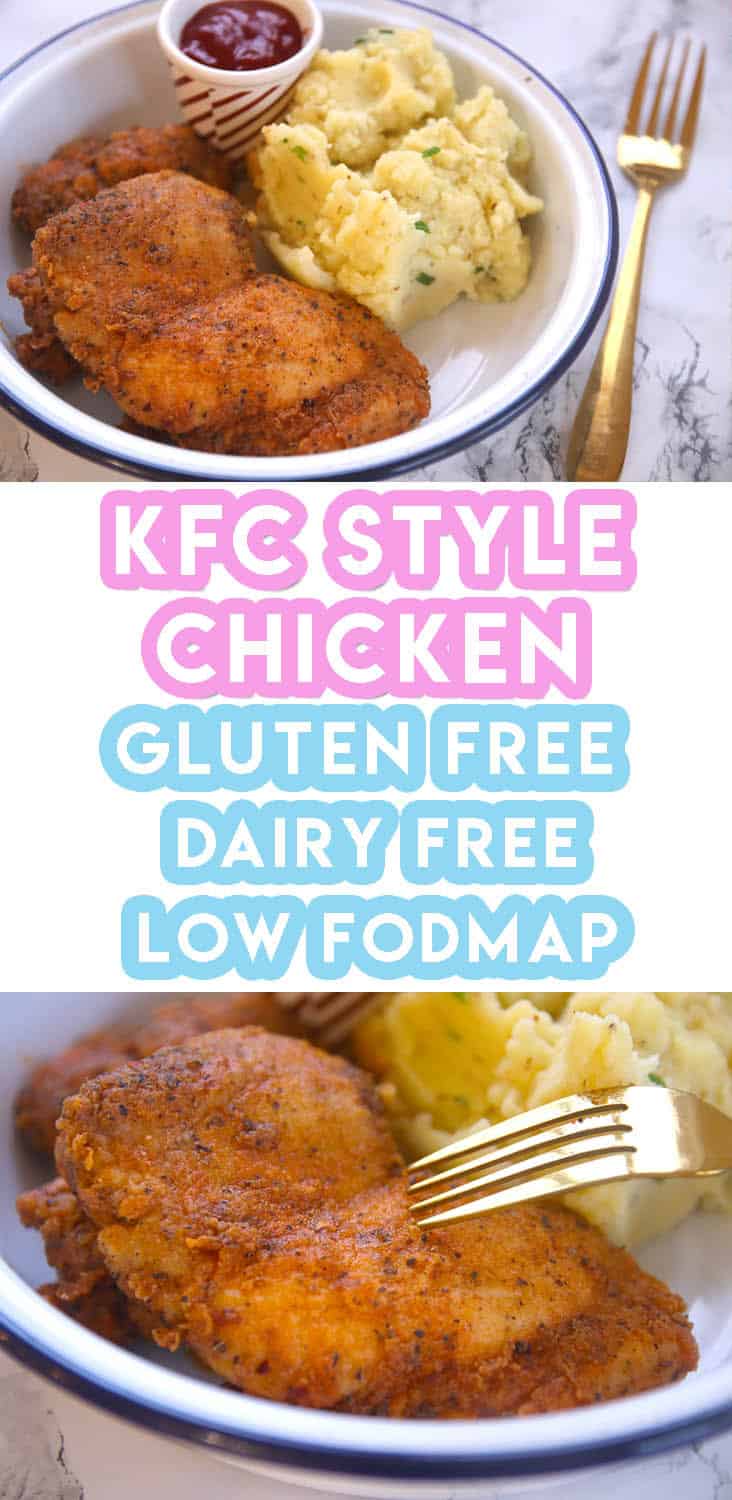 Comments