Yep, it only takes 4 ingredients to make my homemade lemon curd recipe! (it's erm… simply the zest!) Oh and it's gluten free and you can even make it dairy free too if you fancy.
You just can't beat the taste of homemade lemon curd – it's sweet, zesty, a little creamy and soooo good in cakes or just on toast. So that's why I thought I'd finally post my lemon curd recipe…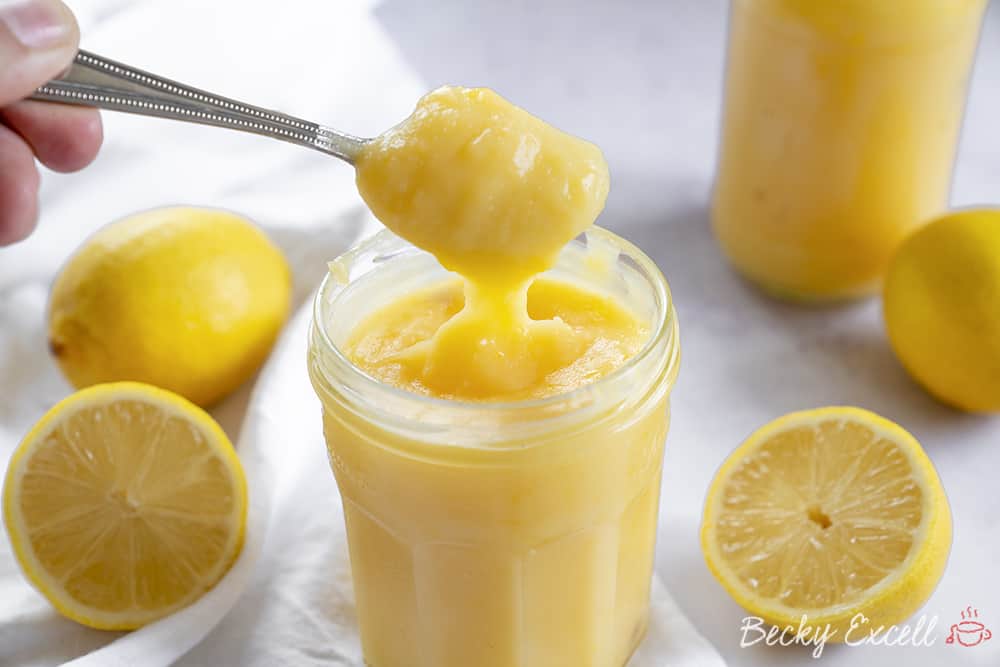 Lemon curd is just one of those things you take for granted because it's so easy to buy in a jar in the supermarket.
But guess what? Just like everything in life (food and non-food related!) it's always sooo much better if you make your own! And not just because it tastes a million miles better… but because you get the satisfaction of being like 'this tastes awesome – and I made it myself!'
Honestly – I never knew lemon curd was supposed to taste like this… because until I started making my own, I never knew any different.
And like I said, it's great on toast, but it's *even better* in baking. I used it in my gluten free lemon sponge cake which I posted recently ??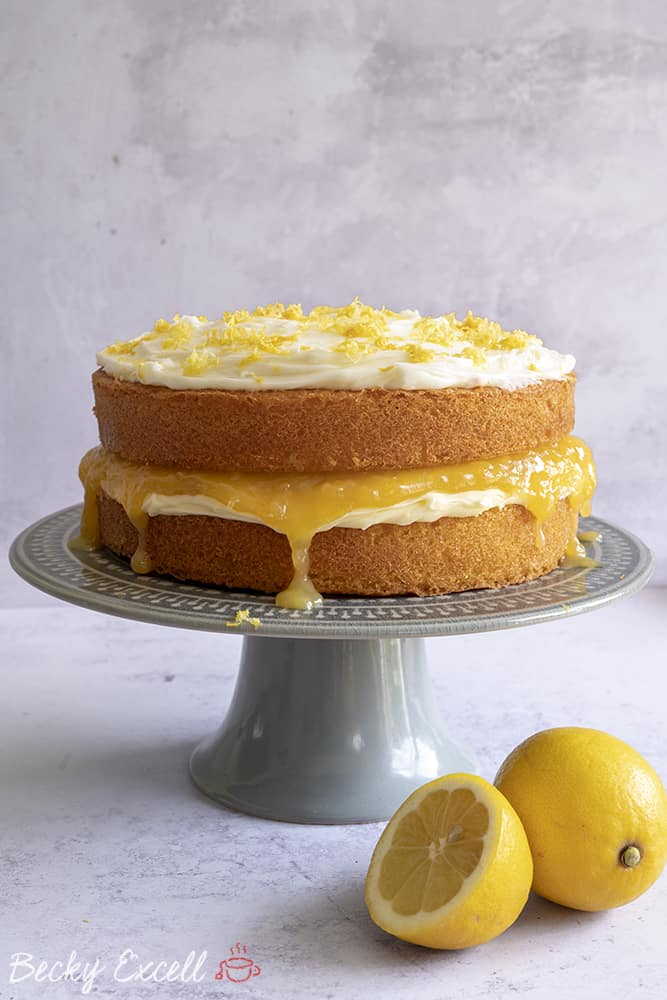 You can find the recipe for that cake here if you fancy giving it a go. It's so simple to make, but sososo good!
And whilst buying a jar will always be easier, I have to say, making your own homemade lemon curd is ALMOST as easy as buying a jar in the supermarket.
(well, I am factoring in driving there, getting a trolley, grabbing the curd, going to the self-service checkout, realising you've forgotten your purse, driving home and then repeating the process)
Ok, I may have over-exaggerated a little in my brackets, but when all you need to do is whisk some eggs and bung the rest in the saucepan until it's done… it's not exactly rocket science is it?!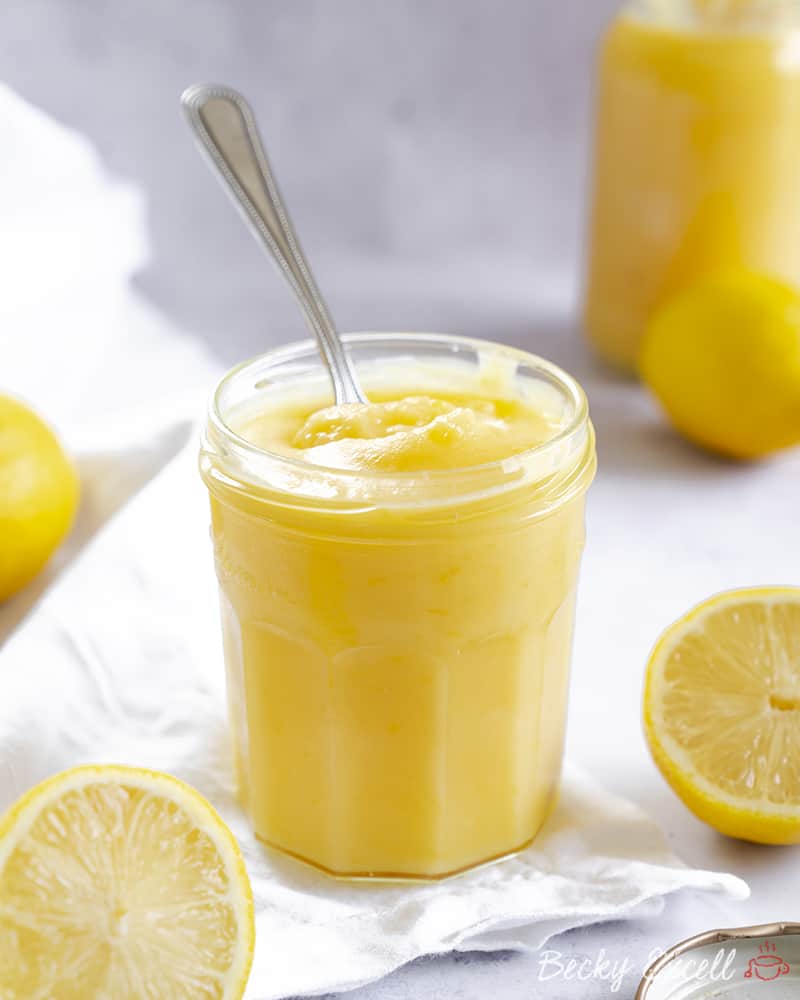 I've kept my curd for up to a month, in the fridge in jars no problem – it might even last longer than that, but I've usually eaten it long before then.
I also use this curd in my lemon cupcakes which I haven't quite finished perfecting yet, but I will bung a photo of it in just before the recipe so you can admire it!
If anyone wants the recipe for those cupcakes, just let me know – they taste divine.
Ok, so here's my 4-ingredient lemon curd recipe!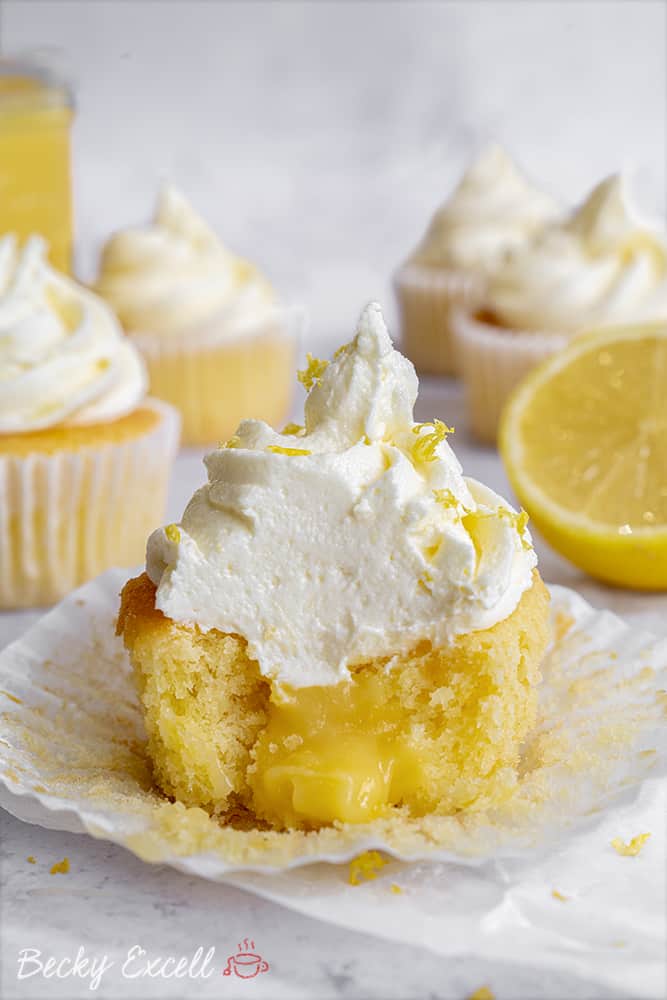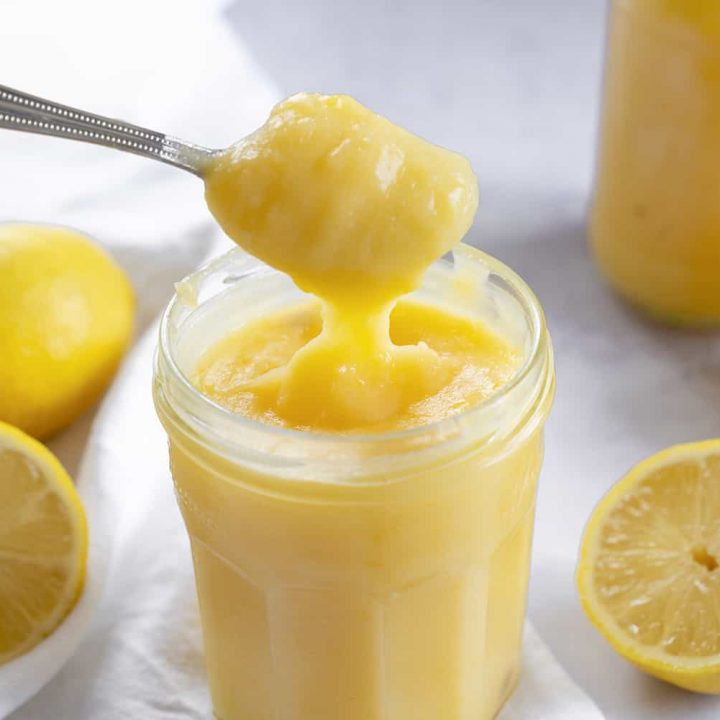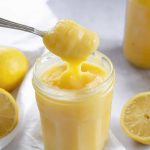 My 4-Ingredient Homemade Lemon Curd Recipe (gluten free + dairy free option)
Here's my lemon curd recipe that only needs 4 ingredients! It's also gluten free, low FODMAP and easy to make dairy free too.
Ingredients
4

lemons, zest and juice of all 4

4

large eggs

225

g

butter (a dairy free hard margarine or block if necessary)

320

g

caster sugar
Instructions
Crack your eggs into a small/medium saucepan. Off the heat, whisk them together.

Add the rest of your ingredients and pop it on a medium heat. Whisk your mixture, allowing the butter to melt and then continue to mix for a further 10 minutes (approx) until the lemon curd starts to thicken slightly. (Don't let it boil)

Leave to cool completely before popping it into a glass jars to thicken further in the fridge.

This makes about 2 jam jars worth of curd and will last for a few weeks in the fridge. Use it in baking recipes or spread it on toast. Enjoy!
Notes
If you want to thicken up the lemon curd even further you can simply add a little cornflour when you add the rest of the ingredients, about 2 tsp would be perfect.
Thanks for reading how to make my lemon curd recipe! If you make it, I'd love to see how it turned out so don't forget to take a snap of your creations and tag me on Instagram!
Any questions about the recipe? Feel free to leave a Facebook comment below this post ??
Thanks for reading,
Becky xxx
Oh and don't forget to pin this for later!