This is something I've been baking for YEARS! Here's my gluten free apple and rhubarb crumble recipe – it's also vegan and dairy free too.
Mark asked me to make this for him recently for a bit of a random reason that I'll get into in a mo ? But trust me, if Mark likes it, you'll definitely like my gluten free apple and rhubarb crumble recipe too!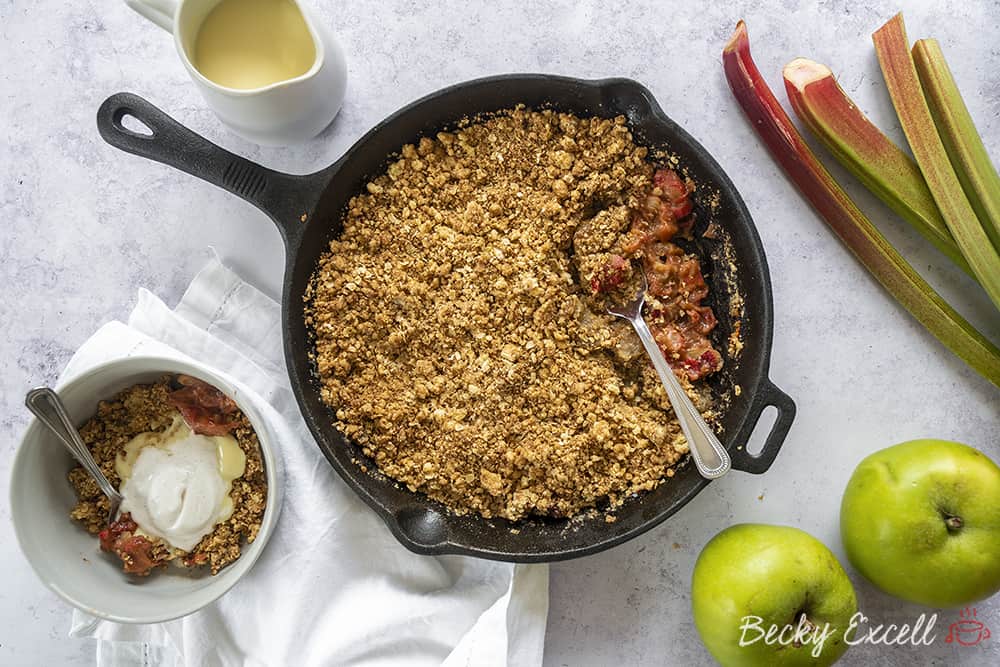 Basically, Mark is growing both rhubarb AND Bramley apples in the garden this year.
(yes, even though we have a tiny garden, it is possible! He has a dwarf Bramley apple tree in a pot and apparently it can grow full-sized apples!!)
But sadly… those Bramleys aren't gonna be ready any time soon – they're currently tiny! Plus, his rhubarb has only been in the ground for a year, so it's not really thick enough for a crumble…
So all in all, a bit of a disaster as far as making a crumble goes ?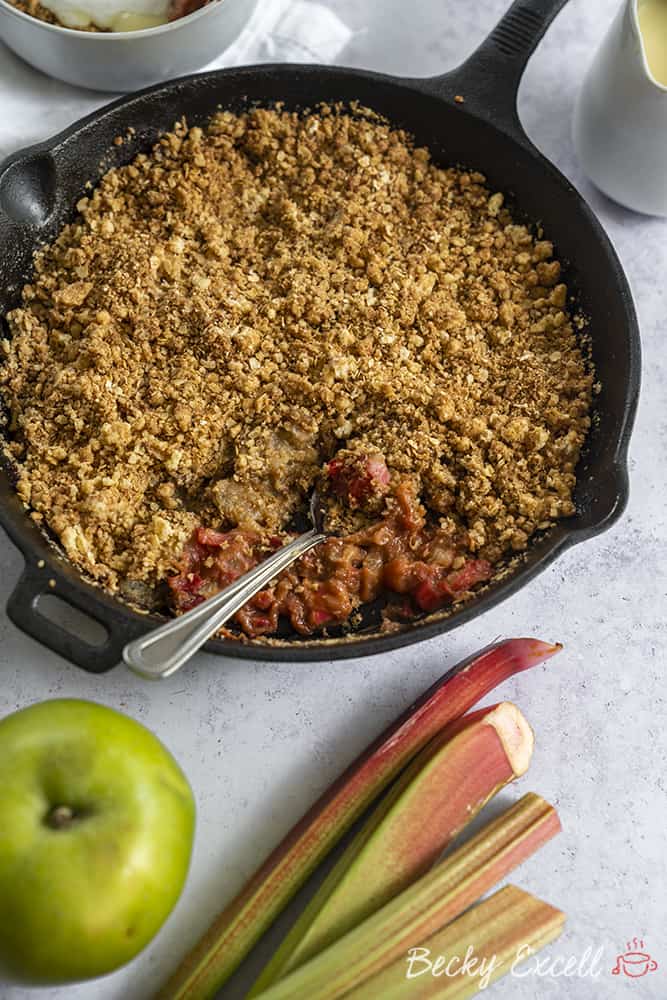 So out of pure impatience, Mark just went and bought Bramley apple and rhubarb from the supermarket ? I mean, I guess it's quicker, right?!
Hopefully next year, you'll see a photo of an apple and rhubarb crumble that was totally home grown… but just not yet.
(Mark might need to milk a few dairy free cows for his custard too!)
But in trying to grow our own ingredients for fun, we did learn that the pink colour in rhubarb isn't an indicator of ripeness or sweetness.
Some varieties of rhubarb are more pink than others, so the colour basically just indicates what type of rhubarb it is. There's a fun fact for you!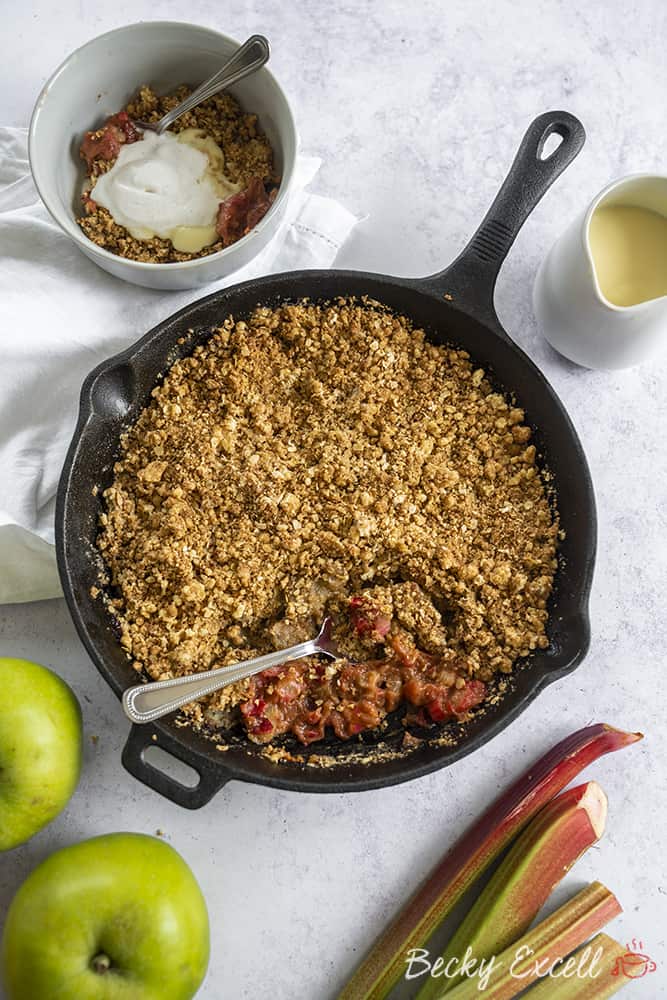 And the result?
Well, if you love the combo of caramelised apples and cinnamon with some lovely sharp rhubarb thrown in – oh and crispy, crunchy, buttery crumble on top, then you're defo in the right place!
Just serve it up with custard and some ice cream (vegan or dairy free if you need them to be) and the job's a good'un.
I was saying this earlier, but this really is a dessert that you just can't mess up! There's no worrying if it'll set or not, whether it'll rise – will it fall apart when I remove it from the baking tin?
Nope, it's just stress free baking as its finest!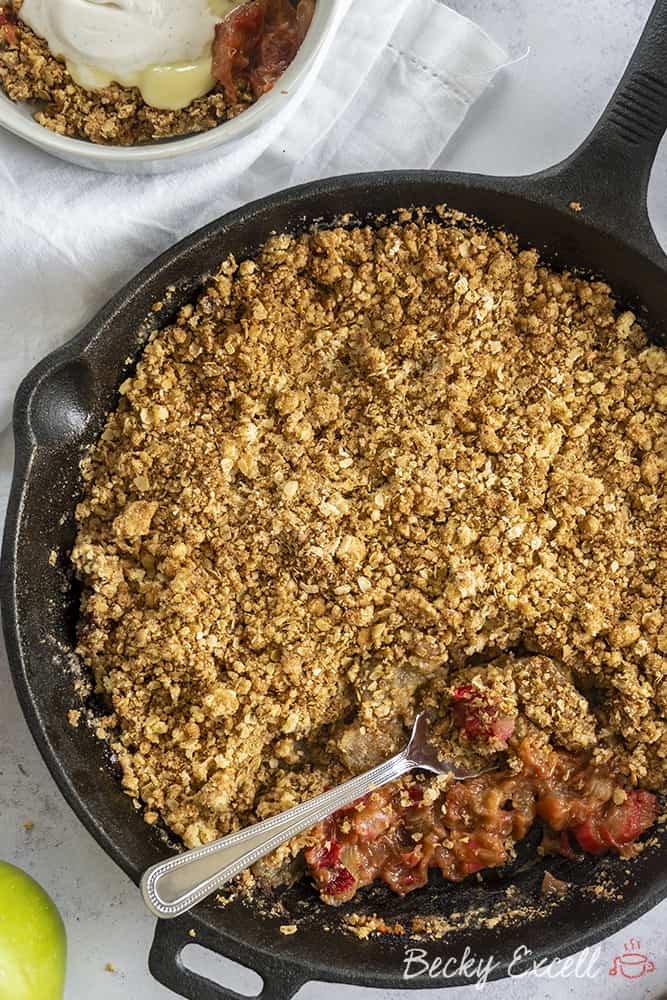 Of course, if you have eyes, you'll be able to note that I made my crumble in a skillet.
If you don't have one, it's not a big deal – I just used one because I love how it looks in photos! You can happily use a regular large-sized, oven-proof baking dish of any size or shape instead.
Ok, so here's my gluten free apple and rhubarb crumble recipe ??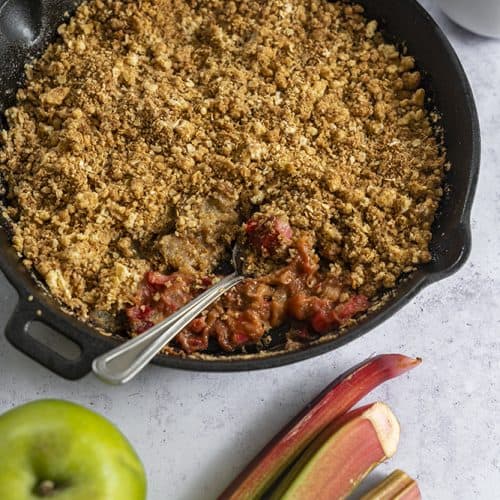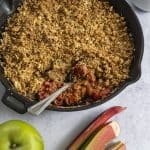 Gluten Free Apple and Rhubarb Crumble Recipe (vegan + dairy free)
My gluten free apple and rhubarb crumble recipe is fool-proof and also vegan/dairy free too.
Ingredients
For the crumble
170

g

gluten free plain flour

85

g

dairy free hard margarine

cubed and chilled (or butter if not dairy free/vegan)

70

g

dark brown sugar

3

tsp

cinnamon

50

g

gluten free oats
For the fruit
350

g

fresh rhubarb

2-3

Bramley cooking apples

30

g

light brown sugar

1/2

tsp

cinnamon

30

g

hard margarine

or butter if not dairy free
Instructions
Rub together your hard margarine (or butter) and gluten free plain flour. Do this until it forms a breadcrumbs texture.

Stir in your sugar, cinnamon and oats. Put to one side whilst you tend to your fruit.

Peel and chop your apples and rhubarb. (The smaller you chop them the more of a compote texture you'll get. I tend to leave mine a little chunkier, but they still totally soften once cooked).

Place your 30g hard margarine (or butter if not dairy free) and 30g sugar into a saucepan and gently melt them together. Once melted leave on a medium heat for a couple of minutes so it starts to try and caramelise a little.

Then add your chopped apples and 1/2 tsp of cinnamon. Stir in for 2-3 minutes before adding your rhubarb. Cook for a further 2-3 minutes.

Pop your oven on 180C Fan.

In your ovenproof dish (I used a skillet but any dish could be fine) place all your fruit and any juices. Top with your crumble mixture evenly and place in the oven for 25-30 minutes. The top should be a little golden and the fruit all cooked.

Serve up with your choice of custard, ice cream or cream. There are dairy free options of all of these available. I like to make my own custard  

Enjoy!
Nutrition
Serving:
1
g
|
Calories:
292
kcal
|
Carbohydrates:
39
g
|
Protein:
3
g
|
Fat:
15
g
|
Saturated Fat:
2
g
|
Polyunsaturated Fat:
12
g
|
Trans Fat:
2
g
|
Sodium:
258
mg
|
Fiber:
4
g
|
Sugar:
17
g
Thanks for reading how to make my gluten free apple and rhubarb crumble recipe! If you make it, I'd love to see how it turned out so don't forget to take a snap of your bakes and tag me on Instagram!
Any questions about the recipe? Feel free to leave a Facebook comment below this post ??
Thanks for reading,
Becky xxx
Oh and don't forget to pin this for later!