Rome is one of the most architecturally beautiful cities I have ever visited. But did you know that it's also one of the best cities for gluten free in the world? (no, me neither!) Here's 11 gluten free travel tips you need to know before going to Rome…
You might think that the home of pizza and pasta would be a troublesome place for someone who cannot eat gluten… but with these tips, you'll quickly find that that's defo not the case! So here's 11 gluten free travel tips you need to know before going to Rome…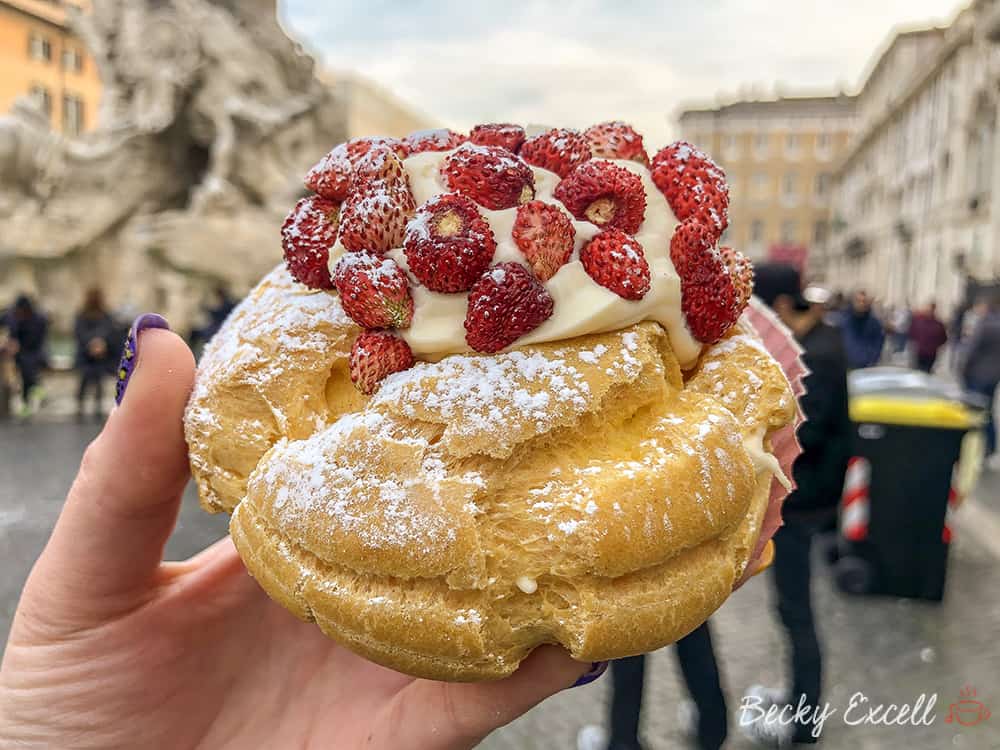 1. Learn a few important gluten free phrases and words in Italian.
Ok, I know this sounds a lot like homework! But there is a handful of simple phrases that you should defo learn before visiting Rome as a gluten free (or lactose free) eater.
Firstly, 'senza glutine' – pronounced sensa gluten-ay' is probably your most important phrase – it means gluten free! Also 'farina di frumento' is wheat flour but it can also be listed as 'farina di grano' Also, barley is 'orzo'.
These are particularly handy so you can still confidently read ingredients on packaging when needed.
Also, 'senza lattosio' (pronounced as you'd read it) unsurprisingly means 'lactose free' which is handy if you're lactose intolerant like Mark is.
For me, I learnt what onion and garlic are too (cipolla e aglio) as I can't tolerate those either. I should probably mention that 99% of people understood English really well in Rome, so no need to go overboard here!
Do you ever wish that you had a radar for gluten free restaurants?!
The Italian Coeliac Association (abbreviated to AiC) are probably one of the main reasons why Rome is so incredibly accommodating when it comes to gluten free. Luckily for us, they have an app for your smartphone – just search 'AiC' on the app store.
(FYI – it's a free app, but you'll need to sign up and create an account first (which is also free) before you can log in and use it)
So what does the app do? It's basically a gluten free restaurant/cafe/bakery finder! The app has a map showing the locations of all of the AiC accredited, gluten free restaurants across Italy.
So when you're in Rome, you can launch the app and it'll show you aaaall the places nearby which they've pre-approved.
AiC accredited restaurants have to abide by certain strict standards (like about cross-contamination, ingredients, etc.) and are monitored regularly. This app is an absolute lifesaver, so I'd highly recommend you download it and have signed up for an account before you even leave the UK.
3. Learn how to spot gluten free food.
But… surely, you'd need a super-power to be able to spot gluten free food just by looking at it, right? How do you do that?!
Well, firstly, all AiC accredited restaurants have a red sticker on the door with their logo – sometimes the restaurants even had a huuuge version of the logo on their restaurant, like in the photo above.
So that's your first way to spot somewhere that serves gluten free food!
Secondly, there's no need to play that game of 'have they served me the right food?' when your food arrives at your table. All AiC restaurants have a clear way of indicating that your food is gluten free, so you can spot which is yours confidently.
The most common way of distinguishing which food was gf, was with a little country flag like in the photo below. But also in some restaurants, gluten free food was presented to us on a different coloured plate (for instance in Mama Eat, gluten free food came on clear, glass plates).
The only exception to this is usually when the entire place is 100% gluten free and there's no need to distinguish gluten free food… because it all is!
4. Don't be afraid to ask for gluten free options in regular restaurants.
Obviously I've already provided an extensive gluten free guide to Rome with tons of AiC approved places that you NEED to go to. But what if you find yourself facing any old, random restaurant?
Well, that still doesn't necessarily mean that you'll have to go hungry.
As gluten free seems to be so much better understood in Italy, I noticed that tons of restaurants seemed to stock gluten free pasta. All you had to do was ask them if they have it!
5. Lactose free doesn't always mean dairy free.
If you're gluten free AND dairy free, or vegan, just remember that lactose free doesn't always mean dairy free. For example – mozzarella cheese and Pecorino cheese are naturally lactose free, but obviously, they're still made from milk.
The reason I mention this is because the phrase 'dairy free' doesn't really exist outside of the UK and in Italy (much like in France), lactose free is the preferred term. So if this applies to you, don't assume that they mean the same thing – they don't!
FYI – dairy free pizzas are definitely available and quite a few of the bakeries we visited had options that contained no milk/dairy too.
6. Download the 'mytaxi' app for getting to those gluten free places that seem a little too far to walk.
Whilst Rome is a walking friendly city, there are some amazing gluten free places that are a little further out of the centre of Rome. So instead of having to hunt for the nearest taxi rank or trying to hail a cab by the roadside, the 'mytaxi' app requests a taxi to your exact location.
It works a little like Uber but makes use of the officially licensed white taxis in Rome. When you reach your destination, you can either pay the driver in cash or pay through the app. It's pretty simple!
(I wouldn't overly recommend using Uber in Rome btw as it's sort of frowned upon and works in a bit of a weird way)
Prices are really reasonable and there are always taxis available to pick you quickly. It was so handy being able to pay via the app rather than using up our euros as well.
7. Look out for gluten free options at both of Rome's main airports.
The main airport in Rome is Fiumicino, which is where the vast majority of flights seem to land and depart. Luckily for us gluten free folks, Fiumicino Airport has a vast amount of places to eat that offer gluten free options and you can check out your options over on their website.
However, Some of the low cost airlines also fly into Ciampino airport (we flew in here with Ryanair from London Stansted). Ciampino is a much, much smaller airport and definitely is more limited in it's offerings and amenities.
However, we still found chillers in both sides of security which had gluten free pre-packaged sandwiches and plenty of them. It absolutely made my day!
8. Your average supermarket can be a gluten free lifesaver in a pinch.
If you're out and about and you just need a little pick me up, definitely give one of Rome's many supermarkets a look. Every single one I went in either had a special 'senza glutine' section or senza glutine products scattered around the aisles.
Obviously some of the items might not be too useful unless you're staying somewhere with a kitchen – like gluten free bread, pasta, cereal etc.
But I found that they had tons of nice little Italian cakes and biscuits that were great for carrying around with me!
We found a Conad in Travestere (where we were staying) which had a very large gluten free section which was great. The likes of Panorama, Auchan, larger Carrefour Eurospin and Lidl are slightly further out of the centre but all will have gluten free products.
As I mentioned in my gluten free guide to Rome however, if you want a purely gluten free supermarket check out Celiachiamo – the Celiachiamo Lab is especially incredible.
9. Try and stay in a self-catered apartment.
We always stay in an Airbnb these days as we find the idea of having a full-kitchen quite comforting when you may not know initially what/where you'll be eating!
But there's loads of unrelated food reasons we love staying in apartments too, like…
I like to be able to live more like a local person.
Having extra space (not just a hotel room with a bed is a bonus).
They are usually much better value than a hotel for what you're getting.
But yeah, being gluten free, staying in an Airbnb just gives me peace of mind that I can cook for myself if I need to, or if my stomach is playing up we can have an easy meal in rather than going to a restaurant.
Just make sure that you wash utensils well before using them in case of cross contamination! Here's a little guide I made to help you choose a great Airbnb.
10. Give an AiC accredited hotel a go!
But if you do prefer the ease of staying in a hotel then it's always good to know you've chosen one that caters well for gluten free. In such a huge tourist city there are obviously thousands of hotels so finding the best one for your needs, and in your budget is super important.
The AiC is again amazing here as they have a list of accredited hotels as well as restaurants and cafes etc.
These will be hotels who have had to to abide by certain strict standards and are monitored regularly. Whilst a hotel (and a holiday in general) are not all about the food, food does play a massive part, so to find a place that the AiC actually recommends is a winner in my opinion.
If you've found this post first and are looking for places to eat may I direct you to my gluten free guide to Rome – its a huge list of all my favourite places to eat in Rome.
From pizza, pasta, gelato, fried fish, arancini, tiramisu etc – I could go on!
So my biggest tip is to head over there by clicking here! If you do have any questions as well pop over to my Instagram as I tend to be most active over there!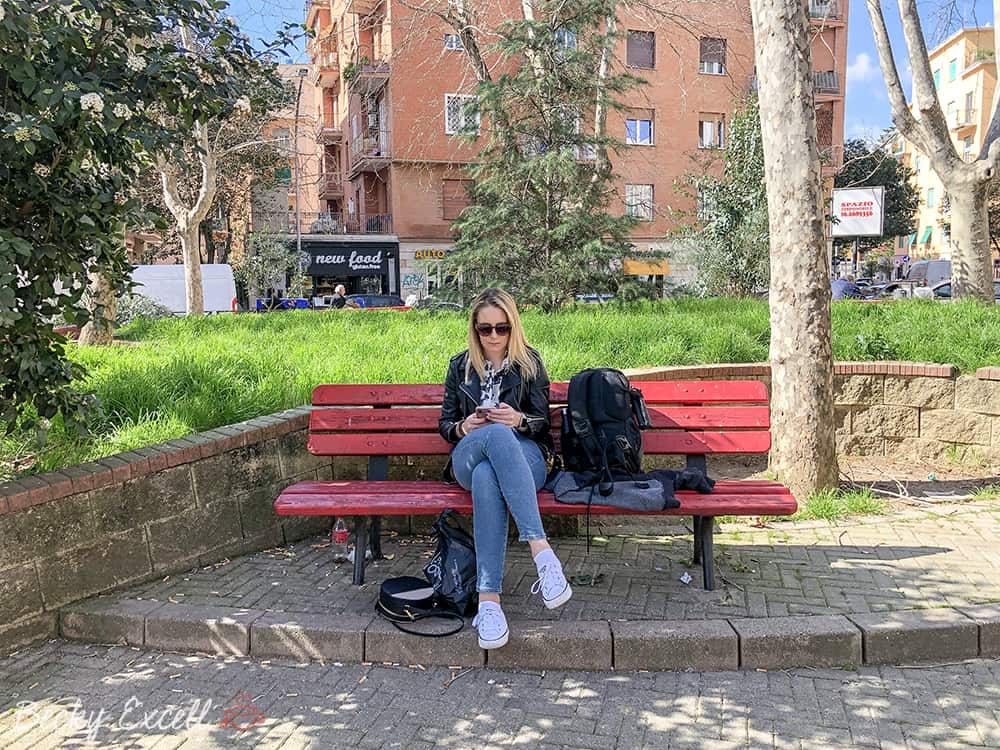 Thanks so much for reading my 11 gluten free travel tips you need to know before going to Rome! Did I miss anything out? Have you got any tips for Rome or gluten free travel tips in general? Let me know by leaving a comment below!
If you fancy keeping up with my gluten free travels across the world then defo make sure you follow me on Instagram!
Thanks so much for reading and happy travels,
Becky
xxx