Now, it was a tough choice to pick the BEST gluten free pizza I had in Rome. It was a tie between two places and La Soffitta Renovatio in Rome was definitely one of them! So here's 5 reasons you need to eat gluten free at La Soffitta Renovatio in Rome
But it wasn't just the pizza that made gluten free at La Soffitta Renovatio so awesome (but it helped!!) So I thought I'd do a little round-up of why it was just so good.
(oh and if you're looking for the location/address of this place, just check number 4 in my gluten free guide to Rome by clicking here)
1. The huuuge AiC accredited sign outside the front door.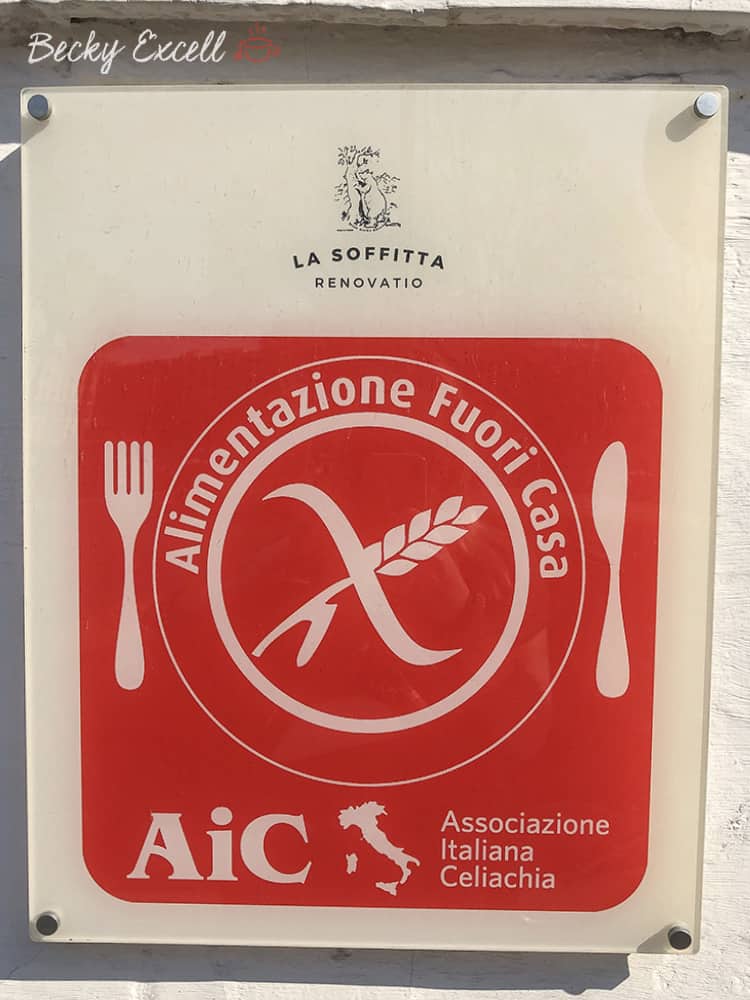 La Soffitta Renovatio is AiC accredited (by the Italian Coeliac Association) which means that it's a safe haven for us gluten free eaters.
Every single place that totally blew my gluten free mind always had that wonderful AiC logo on the door as you went in. So really, it's no surprise that every single one of those places…
a) had AMAZING gf options/the entire place was 100% gluten free
b) I felt safe eating there because they totally understood cross contamination
c) you'd never know that the food was gf because it's just THAT GOOD.
But La Soffitta Renovatio wins because they decided to make their AiC logo enormous AND have a big chalk board with gluten free written on it in huge letters, surrounded by loads of smily faces.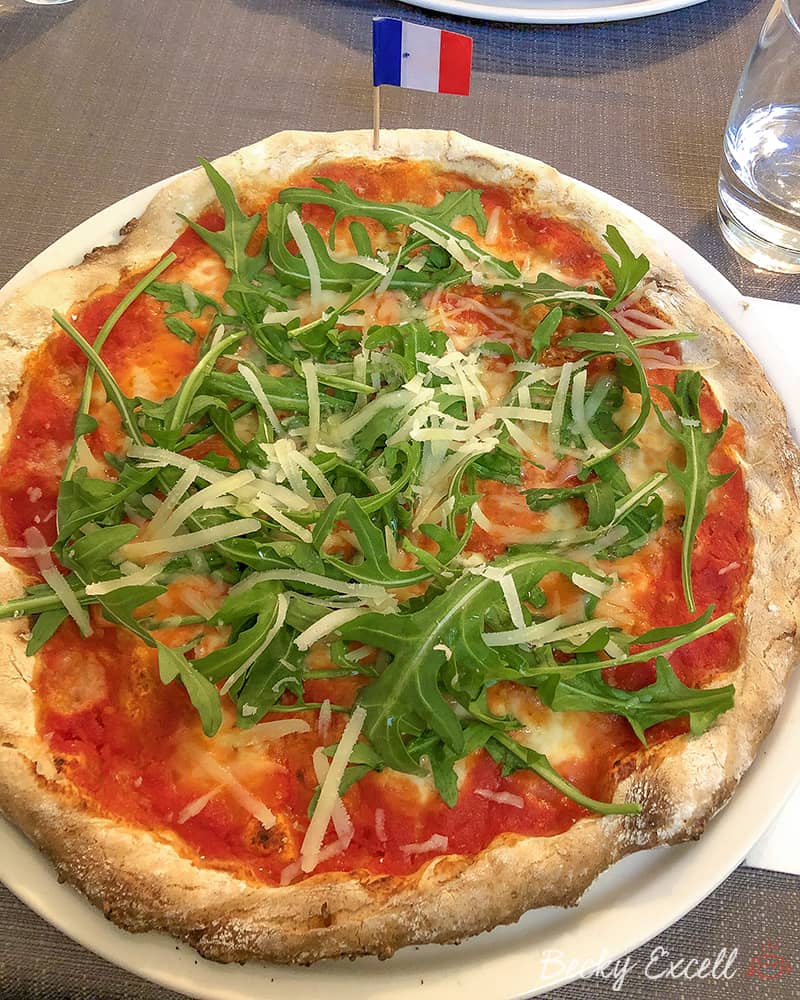 2. The homely setting and friendly staff.
When I think of Italy, I think of loads of little traditional, family-run Italian restaurants and that's exactly what La Soffitta Renovatio is.
You're warmly welcomed in like it is someone's home and it's so cosy and intimate inside.
The staff were really friendly and welcoming too, cracking jokes and going through extra gluten free options after realising I was gf. Like asking if I want a gluten free beer!
I wish we could have gone back more!!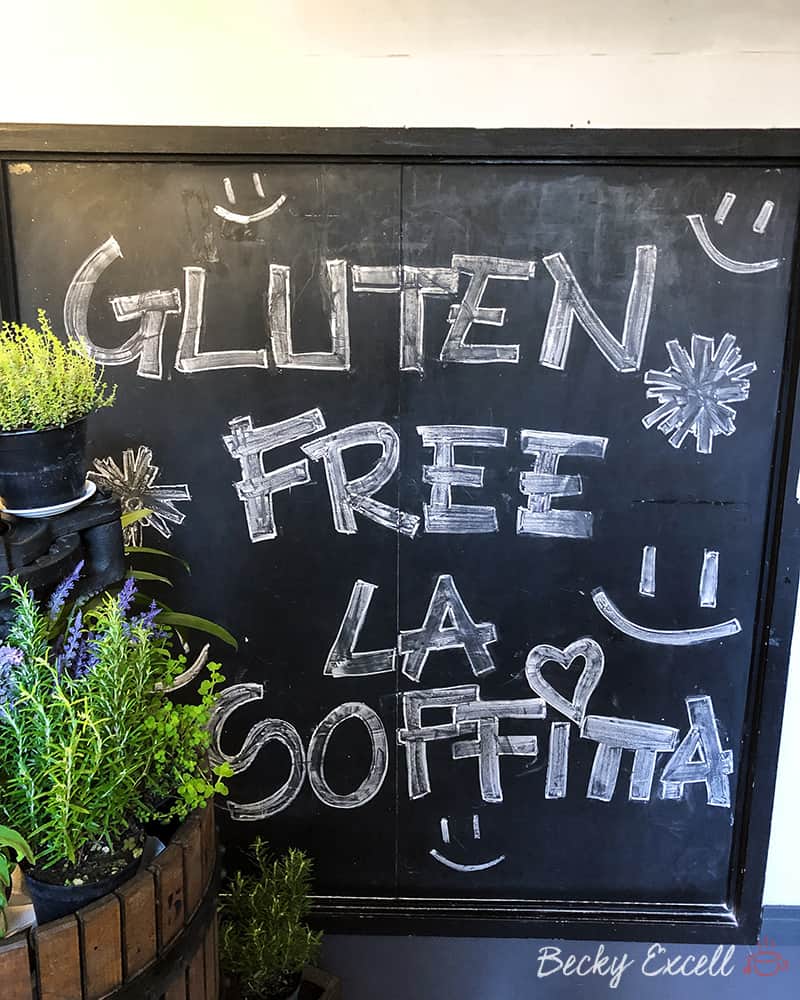 3. The pizza bases are UNREAL.
As I said at the beginning, La Soffitta Renovatio was tied with Voglia di Pizza for the best pizza in Rome.
(honestly, they were both just good in different ways and you would NEVER know that either was gf!)
It was mega crispy but with an almost sourdough-like crust. I mean… it actually looked like the pizzas that had gluten in it!
Fortunately, they stick a little country flag in your food if it's gf so that you know it's gluten free. That's definitely integral when the pizza tastes and looks like a normal pizza!
Just trust me on this – you need to go try it for yourself.
4. It's right near St Peter's Square in the Vatican City.
If you're doing the tourist stops in Rome, it's very likely you'll find yourself in Vatican City, right by St. Peter's Basillica in St. Peter's Square.
Well La Soffitta Renovatio is only a 10 minute walk from right outside there.
So after a day of sightseeing, walking (and lots of queueing!!) make sure you stop off for a gluten free pizza for a pit stop!
5. And the dessert selection is amazing.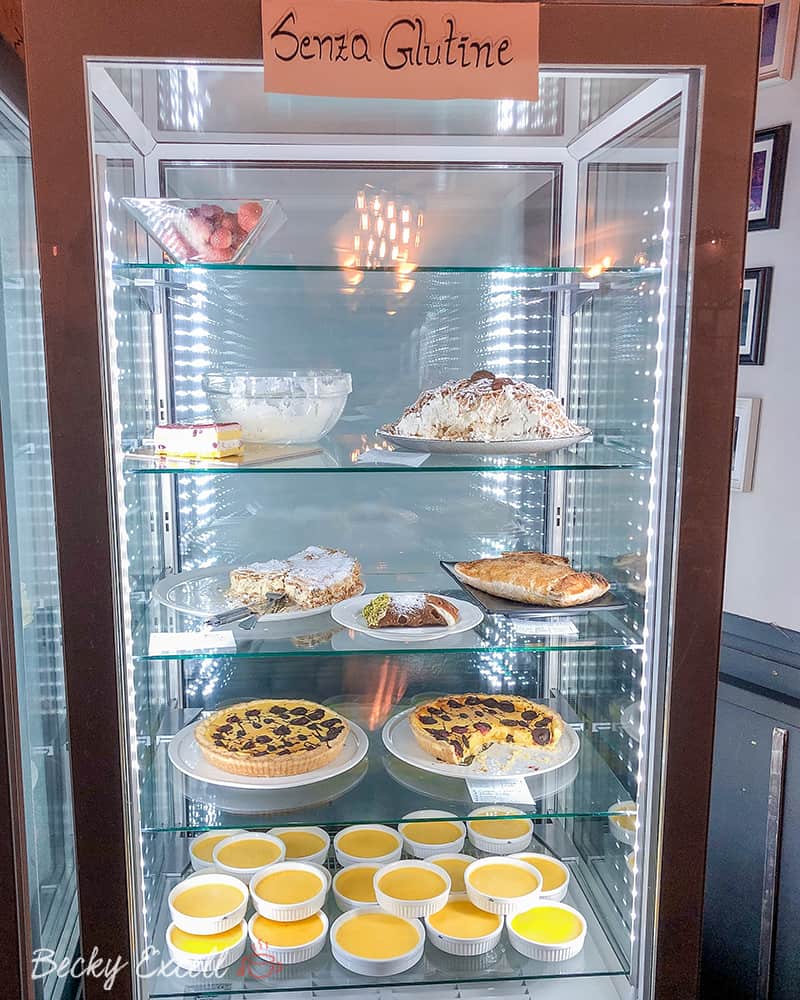 Oh my god.
I wouldn't normally have dessert after eating lunch but once I looked at at the dessert selection in the special 'senza glutine' fridge, that all changed!
We had a tiramisu to share (it was lactose free too) and it was absolutely divine.
No where else had the insane dessert selection that La Soffitta Renovatio had, so make that most of it!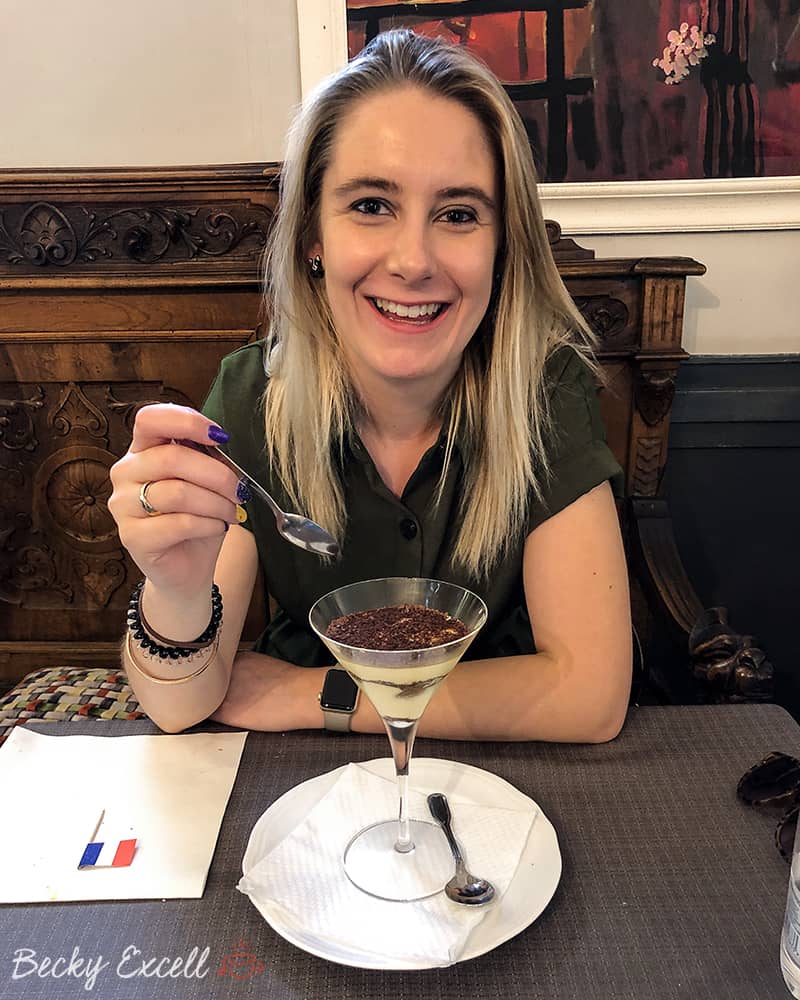 Thanks for reading about my experience with gluten free at La Soffitta in Rome! If you find anymore places that you would recommend I visit, just drop me a message in the comments below, or on Facebook / Twitter / Instagram. Also, if you've been here, let me know your review in the comments below – hopefully this post will be a good guide for those thinking of visiting themselves!
I really can't wait to go back to experience some more gluten free in Rome asap! Don't forget to check out my post of the 30 BEST places for gluten free in Rome for 29 more places to eat.
Thanks for reading,
Becky xxx
Oh and don't forget to pin this for later!