I think it's pretty safe to say that we bloody love sweet chilli sauce as a nation. So this dish is dedicated to all you lot – it's Mark's gluten free crispy sweet chilli chicken recipe! It's low FODMAP and dairy free too.
Since everyone loved Mark's gluten free sweet and sour chicken, I convinced him to make something similar, but totally different – gluten free crispy sweet chilli chicken!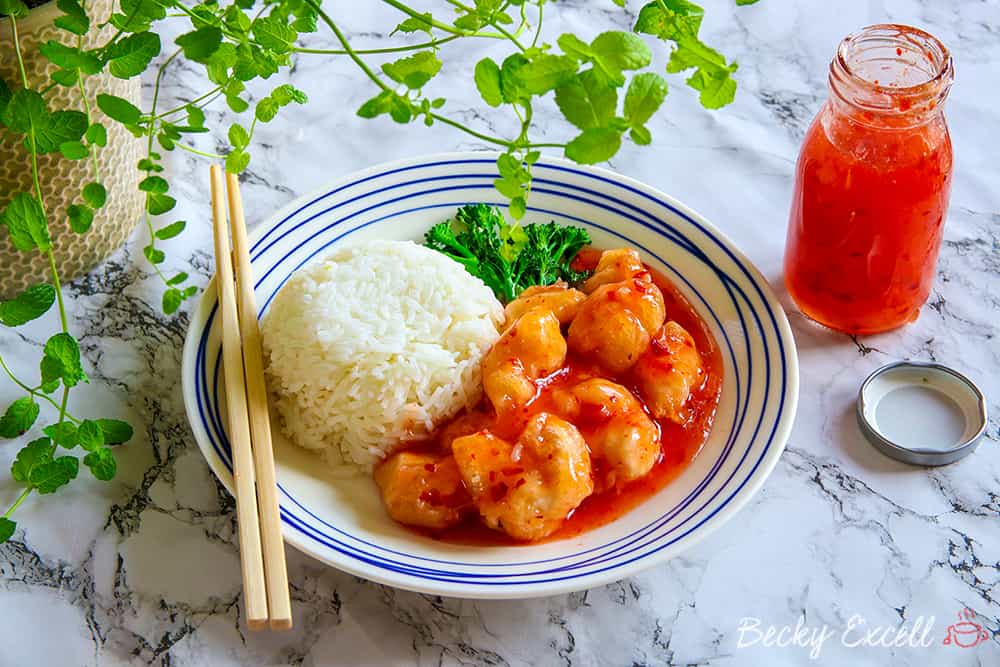 To be quite honest, I'd happily take Mark's gluten free crispy, battered chicken and eat it with any sauce in the entire universe.
(I'd also eat it with no sauce FYI)
So why not combine my sweet chilli sauce recipe (spoiler alert: which Mark made too) and combine the two?
Well… here we are!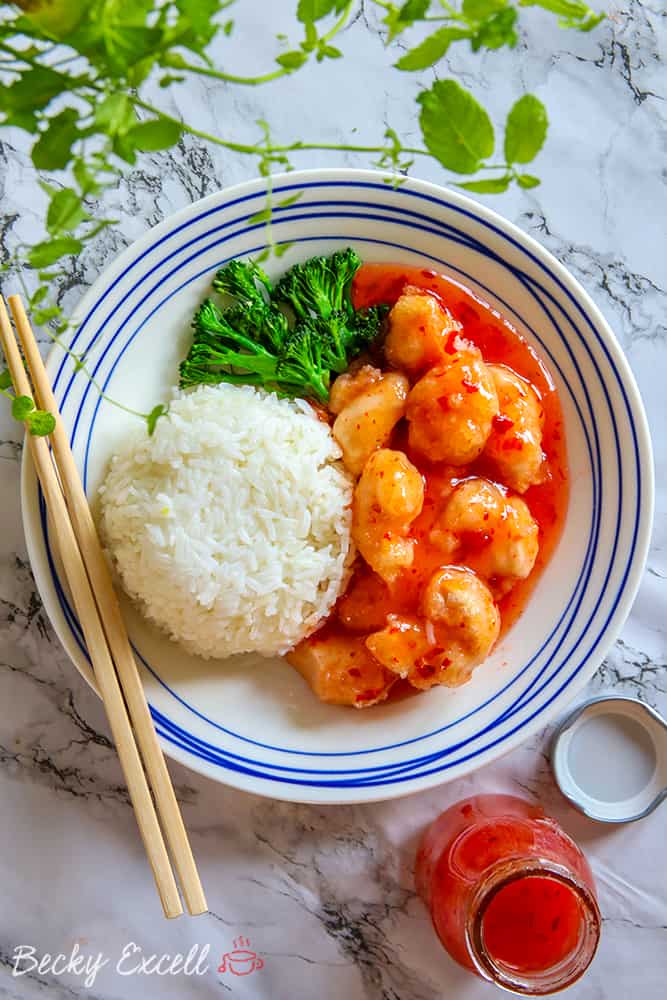 The result is actually a little mind-blowing.
You've got tender chicken in light and crispy batter, then this striking, sweet and spicy sauce in every bite. It really is pure food goals!
You can actually also serve this up separately and use the sauce as a dip if you'd prefer too.
But trust me, it's sososo good all mixed up and served with boiled rice!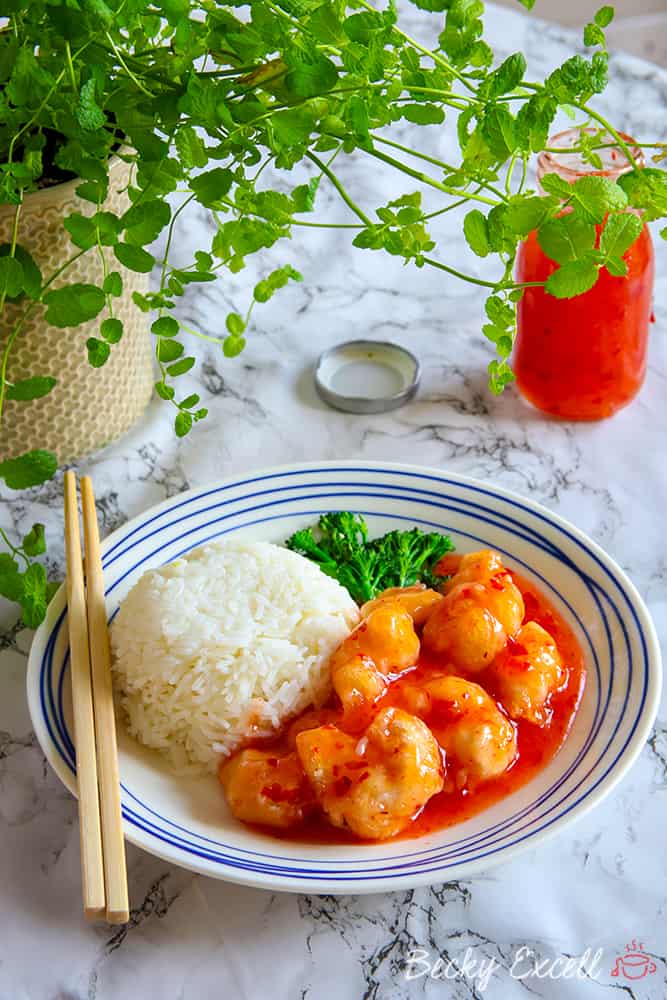 Mark said he'd usually make this recipe with prawns, but he (and I quote) "didn't feel like it". There's a little insight from the man himself there!
Just make sure that you if you do use prawns, ensure that they're raw and don't cook them for quite as long. Once the batter is golden, then they should be good to go!
Of course, it's all totally low FODMAP and if you serve it up like we did with Tenderstem broccoli, just make sure it's less than 1/2 cup (roughly 80g).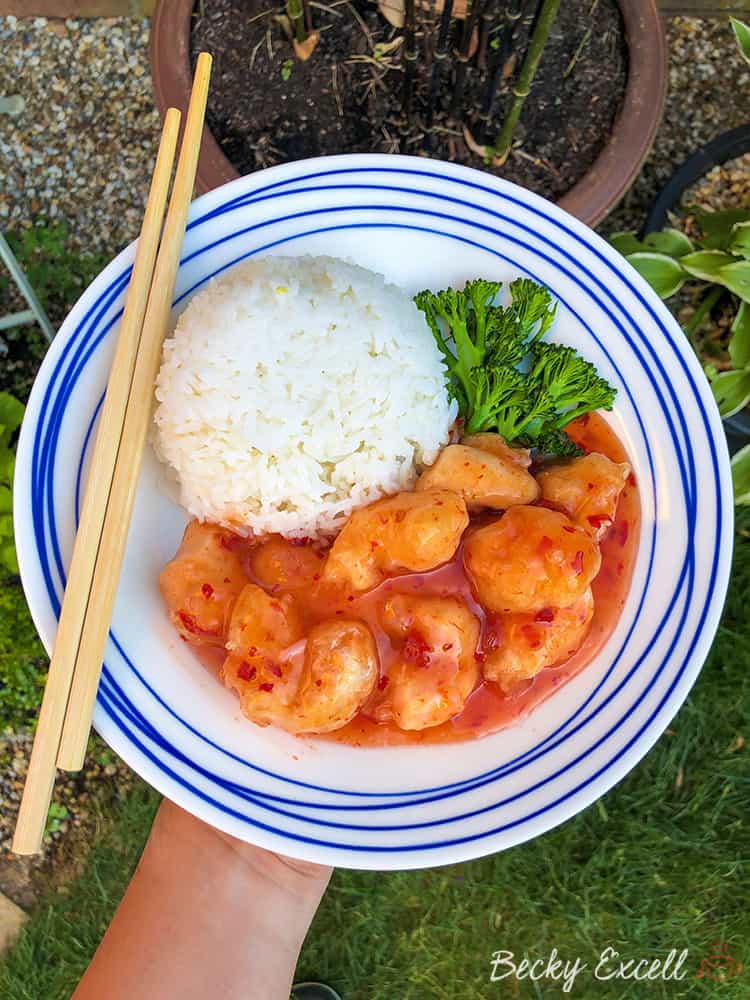 Looking for more of Mark's gluten free Chinese takeaway recipes? Check out this blog post here: 10 gluten free Chinese takeaway recipes you won't believe you can eat.
Without further ado, here's how to make Mark's gluten free crispy sweet chilli chicken!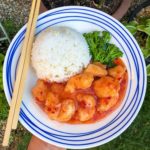 Gluten free crispy sweet chilli chicken recipe (low FODMAP, dairy free)
Mark's gluten free crispy sweet chilli chicken recipe is low FODMAP, dairy free and so easy to make at home!
Ingredients
2

chopped chicken breasts
For the sauce
100ml boiling water

100ml rice vinegar

90g sugar

1/2 tbsp garlic-infused olive oil

1 tsp of cornflour mixed in 2 tsp water

1 tsp ginger purée

1 tsp chilli purée

Add 3 tsp for medium spice or 4 tsp for hot spice

1 tsp low FODMAP ketchup

use 1 tsp of double concentrated tomato purée if you can't find any
For the batter
60g gluten-free self-raising flour

30g corn flour

1/2 tsp baking powder

1/4 tsp salt

150ml water
Instructions
Start by making the sauce. Add your boiling water and rice vinegar to a medium sized saucepan and bring to the boil.

Add your sugar, garlic-infused olive oil, ginger purée, chilli purée and low FODMAP ketchup and stir for 1 minute.

Simmer for 10 minutes and then stir in the cornflour mixture.

To make the gluten free batter, mix all of the dry batter ingredients in a bowl and slowly add the water until it's the consistency of single cream (not too thin/watery, not too thick and gloopy).

Mix your chopped chicken breast in the gluten free batter mix until well coated and put to one side.

Time to heat your oil. If you don't have a deep-fryer (it's not mandatory!) start by pouring your vegetable oil into a decent-sized saucepan. You want around 1-1.5 inches of oil in your saucepan. Heat this at a medium heat until it reaches 190c or 375f. If you don't have a cooking thermometer then just drop a little batter in occasionally - if it sizzles and browns quickly, it's good to go. If it sizzles but doesn't brown, it's not hot enough. Smoke and violent bubbling means it's too hot!

Once it's reached the desired temperature, carefully lower each chicken chunk into the oil one at a time and be wary of splashing the oil (I use chopsticks to do this, but anything apart from your fingers will do). The oil should be lively and bubbling around each chicken chunk, but not noticeably spitting at all. Don't put too many in at once (I put 6-7 in at once max in a large saucepan) and try to use a slotted spoon to separate them early on if they stick together. Cook each chicken chunk for around 4-5 minutes.

After 4-5 minutes, they should be nice, light and airy and a light, golden colour. Remove them from the oil with a slotted spoon and drain them onto kitchen paper. Repeat until all of your gluten free battered chicken is cooked.

Put your gluten free battered chicken into your sauce and serve immediately. Enjoy!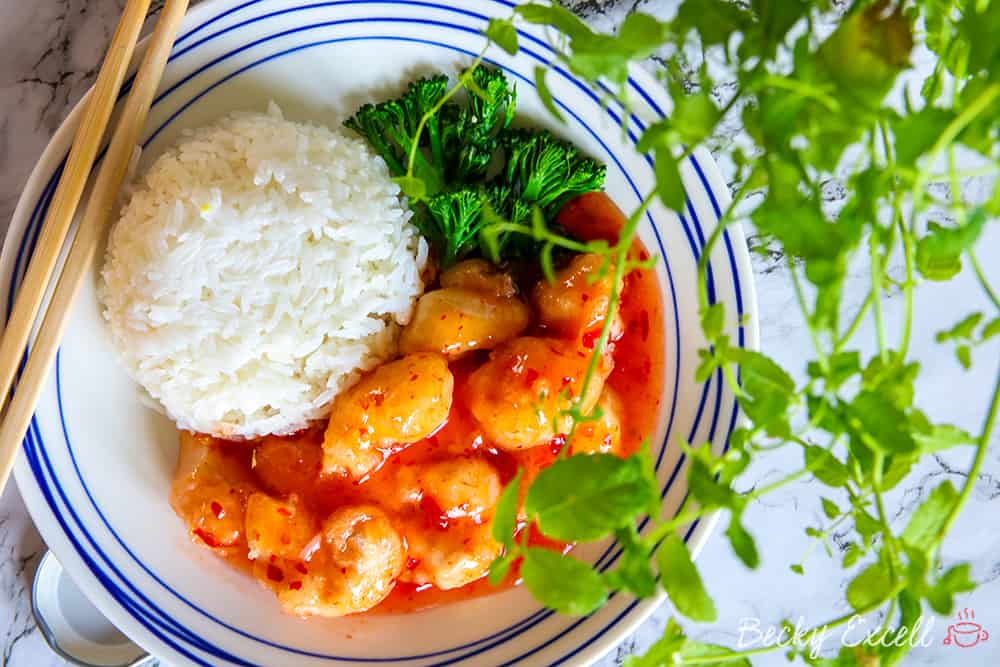 Thanks for reading how to make Mark's gluten free crispy sweet chilli chicken! If you make it, we'd love to see how it turned out. So absolutely make sure that you send me a pic using my social media links below…
Any questions about the recipe? Please do let me know by leaving a comment below or on Facebook / Twitter / Instagram!
Thanks for reading,
Becky xxx
Oh and don't forget to pin this for later!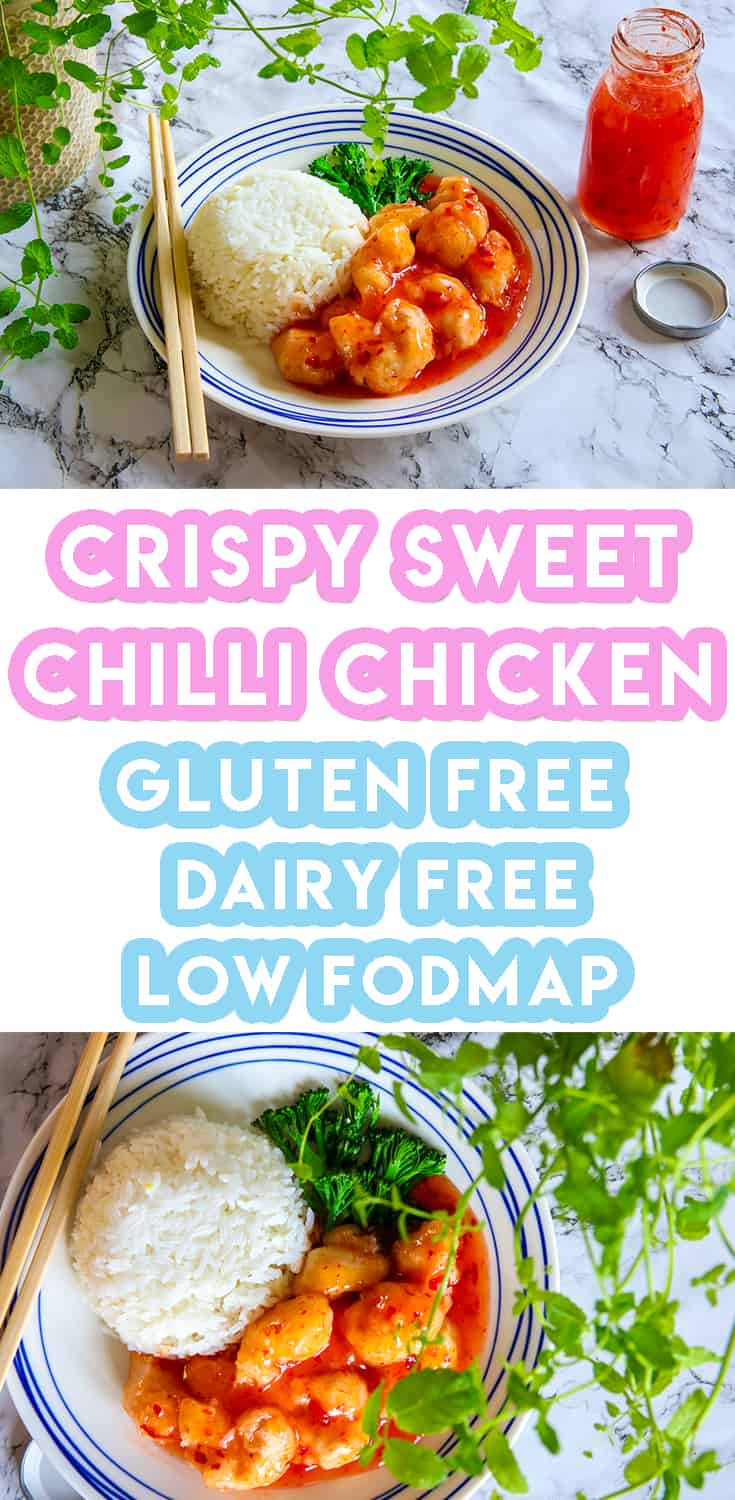 Comments