11 gluten-free recipes for everyone who misses travelling – raise your hand if that's you! During lockdown when a sunny holiday feels like an impossibility, your kitchen can be a little escape from the UK with the right recipe. So here's 11 of them!
I hope you guys are coping well in a world turned upside-down. But if you've got the travel blues like I do (I'm supposed to be on holiday right now!) then here's 11 gluten-free recipes for everyone who misses travelling. So get ready to be taken on a food tour of the globe, right in your very own kitchen – just tap the titles to go to each individual recipe.
First stop on our travels is my creamy, gluten-free (and vegan) Masala curry.
It's so thick, indulgent and full of flavour that you'd never believe it was made without any dairy or cream.
Then, combine that creaminess with a lovely, mild spice and harmonious blend of different spices in my homemade curry paste.
The roasted sweet potato only makes things even better as that in itself is pretty creamy in texture too!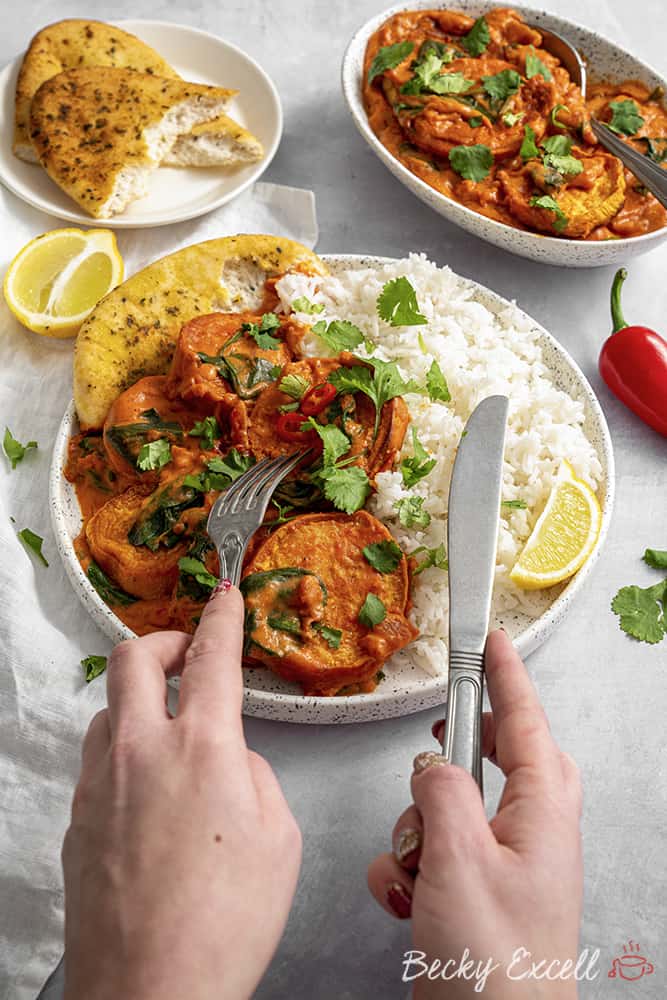 And what would a curry be without a lovely gluten-free naan bread to mop up all that sauce?
It's lovely and crisp on the outside, slightly chewy, but with that soft, fluffy texture inside that's perfect for mopping up a curry.
And the best part is that because you're making them yourself, you can flavour them however you like! I went for garlic oil and coriander (low FODMAP FYI!) but you can happily flavour these however you wish.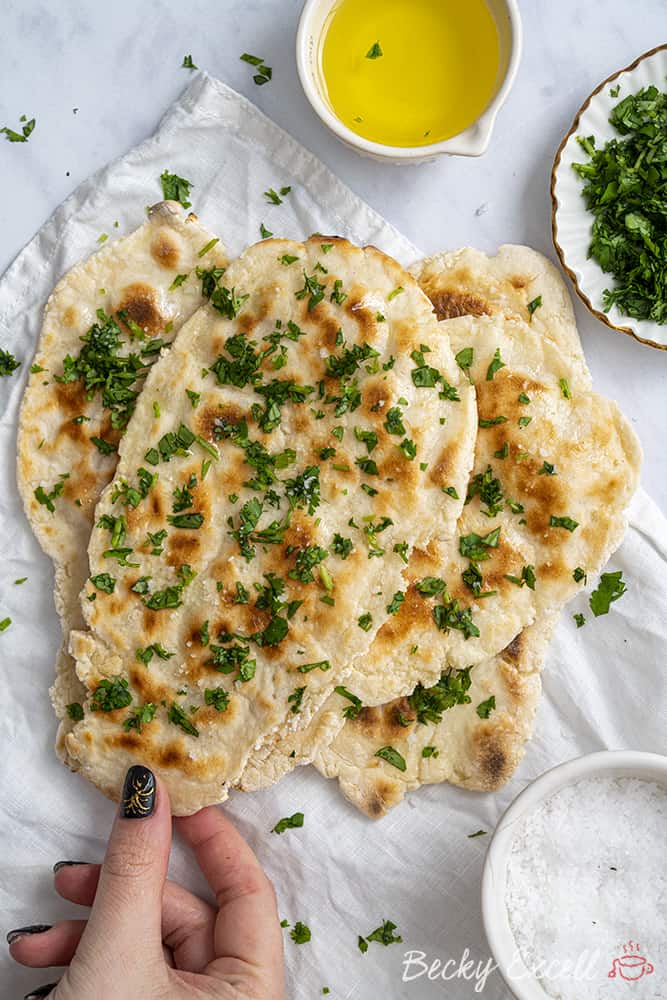 After I went to Rome last year and ate some of the best gluten-free pizza EVER, I absolutely had to come home and make my own.
It's thin with a lovely, crispy crust and a taste just like freshly baked white bread. The texture is just like a thin and crispy gluten pizza base and if you ate it without knowing it was gf, you'd DEFINITELY be very suspicious it wasn't gluten free. Honestly, I wouldn't lie to you guys!
I've had a lot of awesome pizza bases in Italy last year and this is seriously up there with some of the best. And of course, it's gf, vegan, dairy free AND low FODMAP too. That's why I'm especially proud of this one, everyone can enjoy it, no matter what you can or can't eat.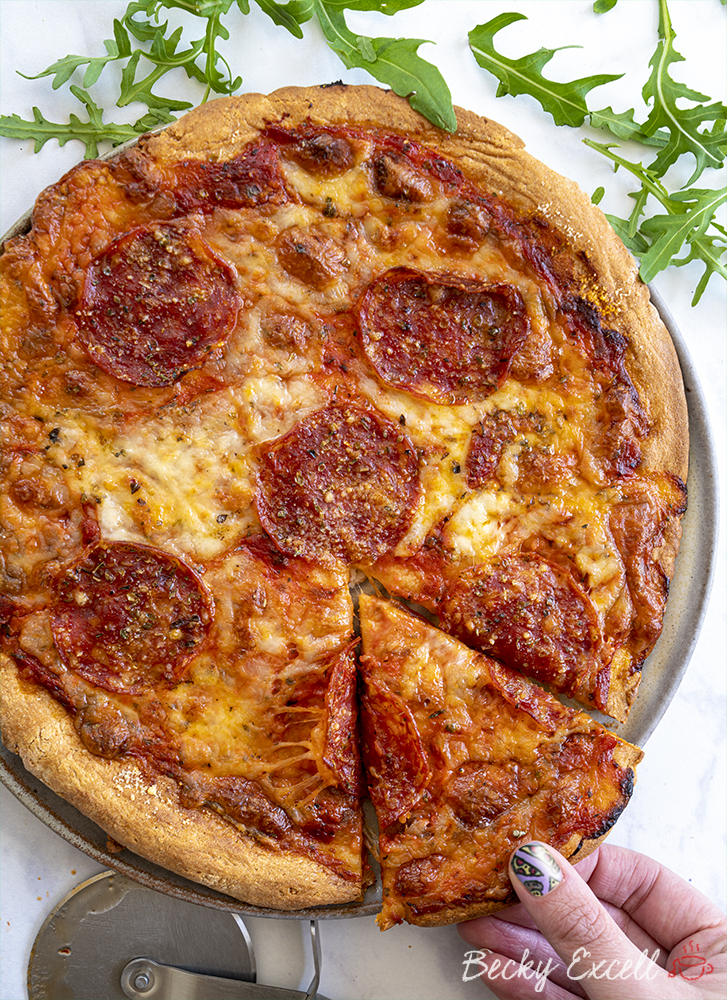 These cookies were inspired by the New York Levan bakery-style cookies I've constantly been craving.
They're crisp on the outside and chewy/gooey in the middle, packed with white chocolate chips and soft cooke dough.
The flavour is instantly recognisable as red velvet – a subtle chocolatey taste, with a hint of vanilla and the creamy-ness of white chocolate working that 'cream cheese frosting' angle.
I realise that I say 60% of all my recipes are my 'best ever' recipe, but these are probably the best cookies I've made so far.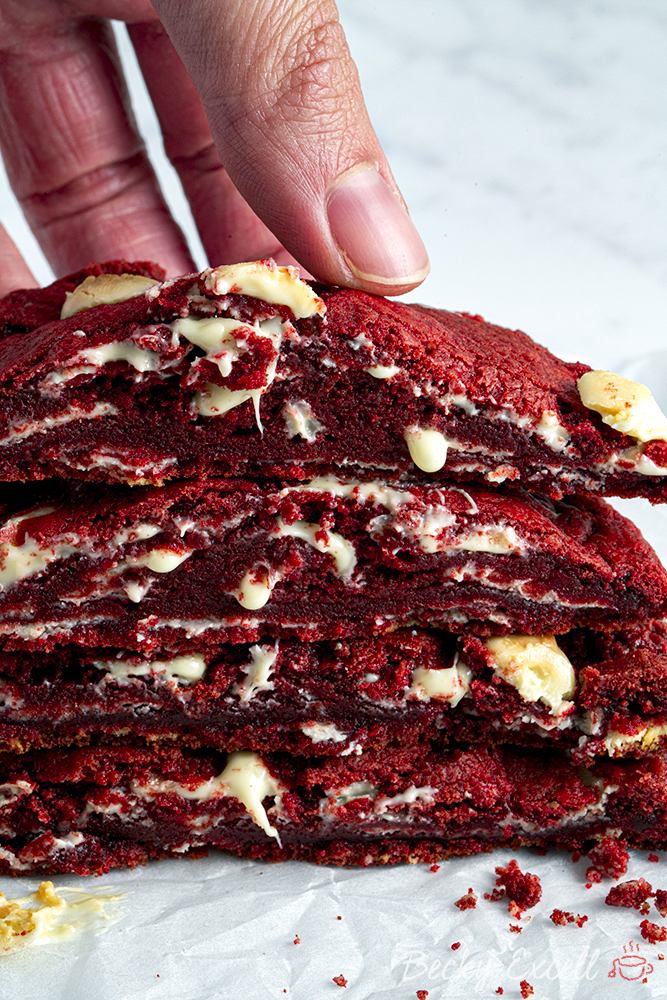 Next stop on the tour is Mark's Thai red curry!
It's warm, mildly spicy and incredibly creamy thanks to that coconut milk.
Also, there's a little nutty note in there from the groundnut oil AND some wonderful sweet and sour flavours thanks to the fish sauce against lime juice/palm sugar.
And the beautiful thing is that the aubergine then absorbs ALL of that flavour and then some… honestly, this might be one of the best things Mark has ever made!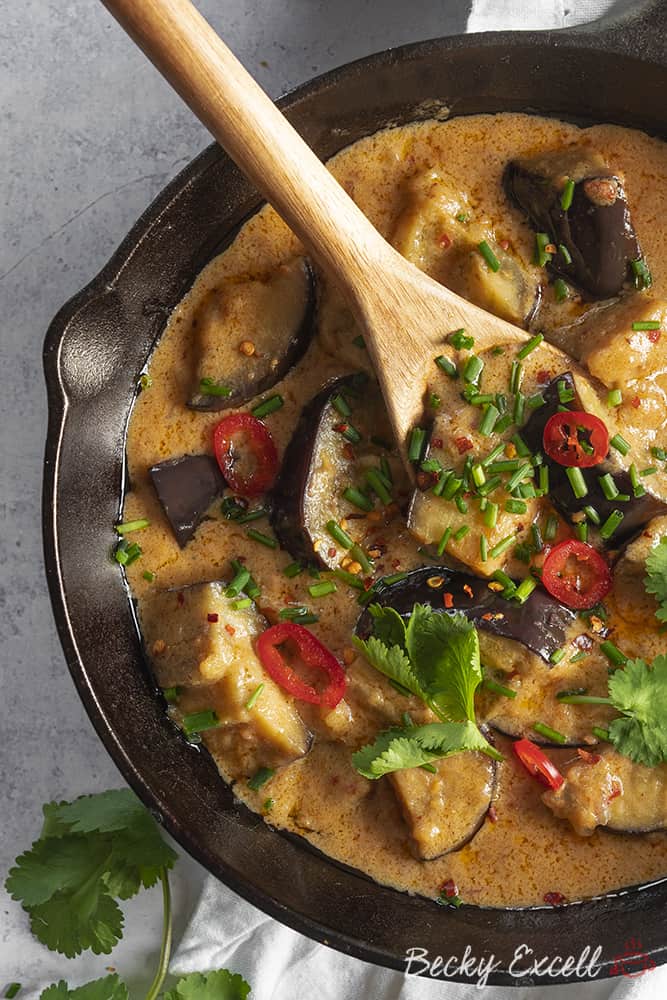 I've always wanted to go to Japan and with how crazy everything is at the moment, I might have to just enjoy this at home for a little while longer!
Of course, traditionally, Katsu chicken is made using Panko breadcrumbs, but there really isn't a gluten free equivalent that matches up.
So instead, I'd recommend picking up some gluten free breadcrumbs from the supermarket, or failing that, just whizz some gluten free bread in a food processor until fine.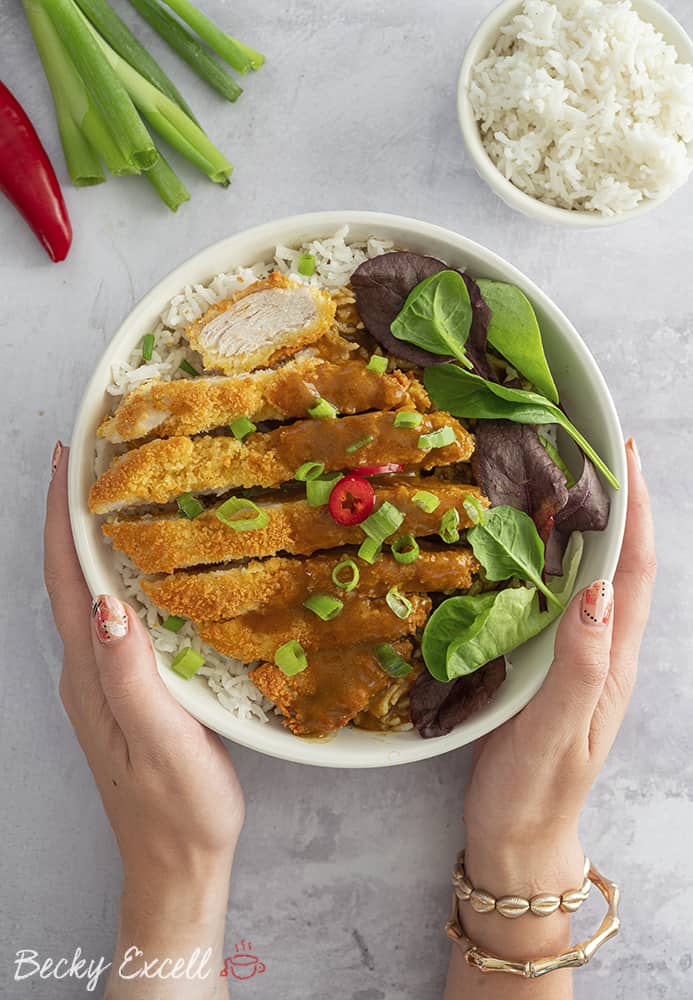 We were hoping to go back to Paris in 2020, but those plans are definitely on hold. Until then, I'll have to stick to our own in-house creperie!
These beautiful, light, crispy and thin pancakes can be rolled up, topped with fruit or just eaten with a little sugar and lemon.
I'm only here to tell you how to make them, not how to eat them! But while we're talking toppings, Nutella isn't a bad one, is it? That's what I had when I was last in Paris!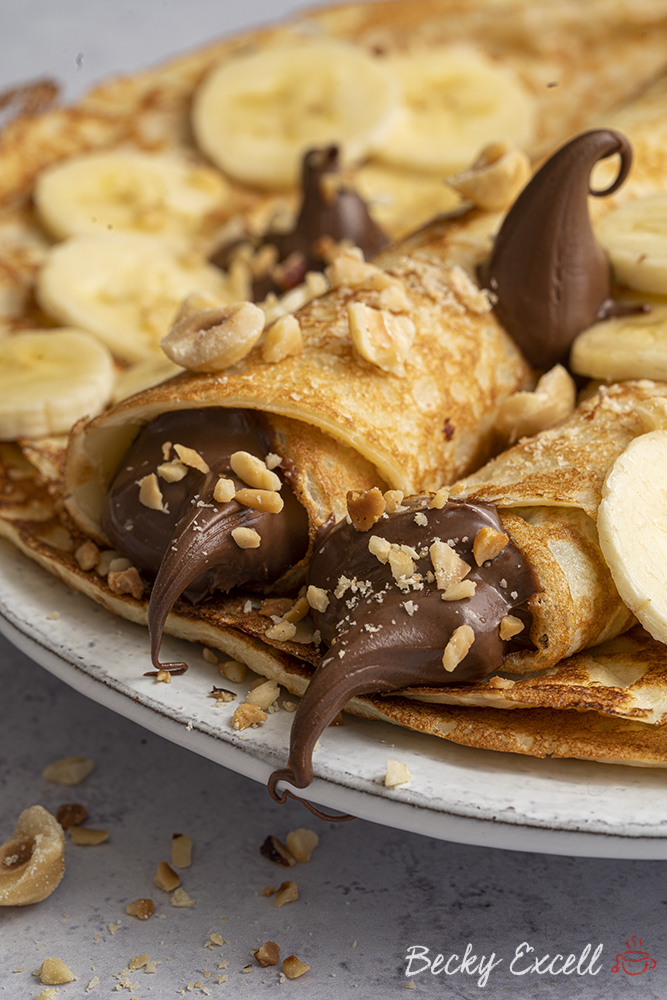 I've really been craving Mexican-style food and it's not something on our meal plans often, for some reason. So here's a little sunshine food to brighten your day!
I serve up my gluten free veggie chilli tacos with a little smashed avocado, grated cheese (vegan if you need it to be) and freshly chopped coriander.
Oh and a few gluten free tortilla wraps that I lightly toasted in a dry frying pan too!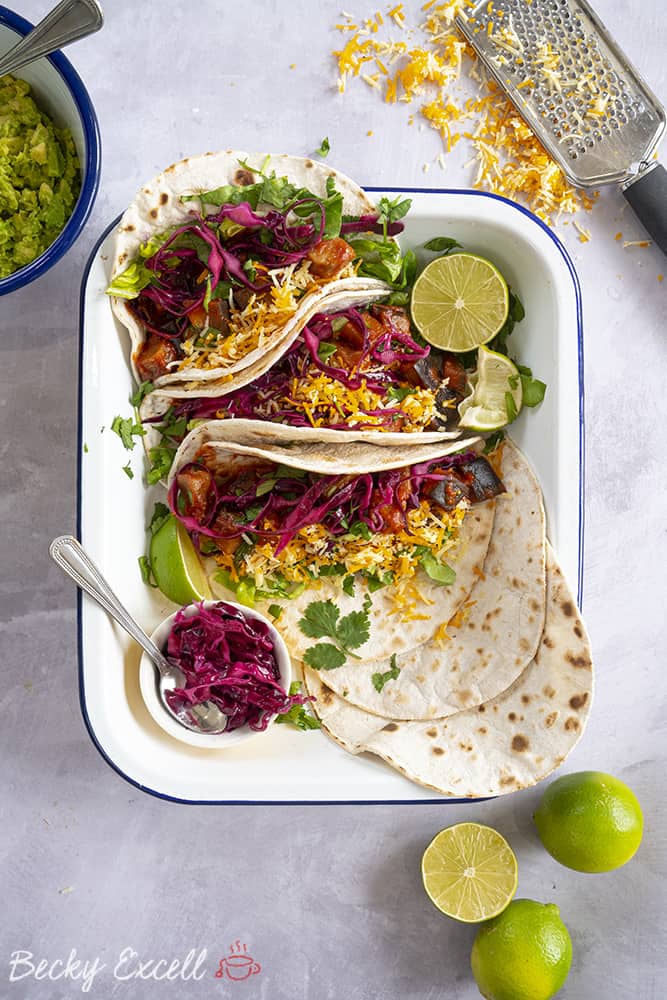 There's nothing like a biryani to take you on a culinary journey right in your very own kitchen.
It's a bowl full of spice – and I don't mean that in a 'heat hot' kind of way. This recipe uses my own homemade biryani spice blend full of warming cinnamon, aromatic ground coriander, smoky paprika and so many more spices that will fill your kitchen with an amazing smell!
The rice soaks up soooo much flavour, plus there's lovely chunky bits of carrot and chickpeas throughout too. Throw on my crispy fried courgette and cooling mint raita and you've got the dinner of my dreams!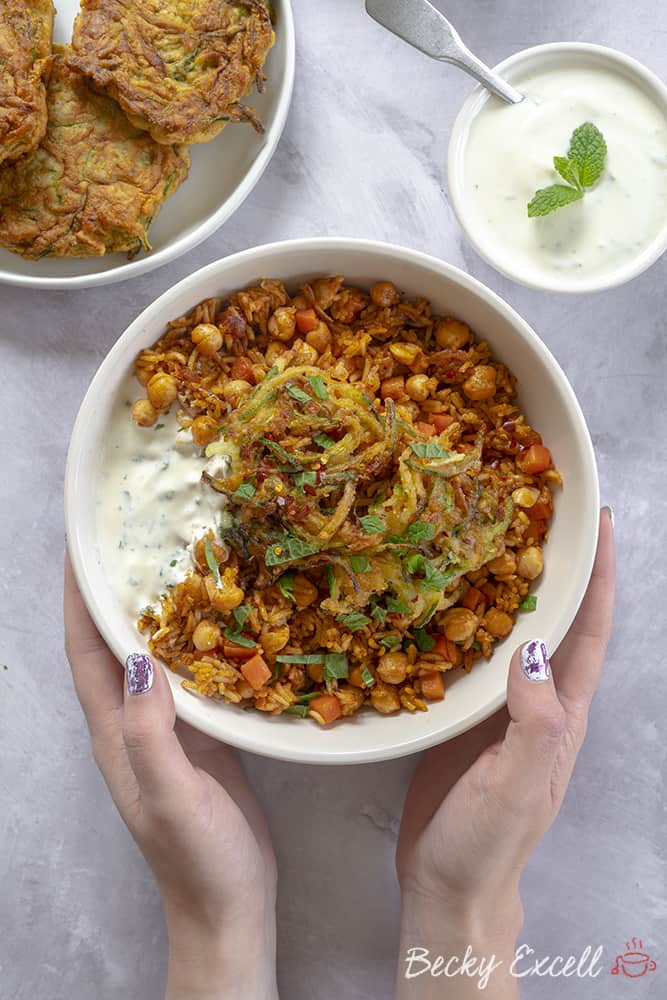 Nailing choux pastry was something that was top of the list after my last trip to Paris.
Despite being gluten-free, there was absolutely zero compromise in the choux pastry across all the eclairs and profiteroles I enjoyed on that trip.
And after a lot of tinkering around, I think I've finally perfected my own recipe. And best of all, they're so dangerously easy to make!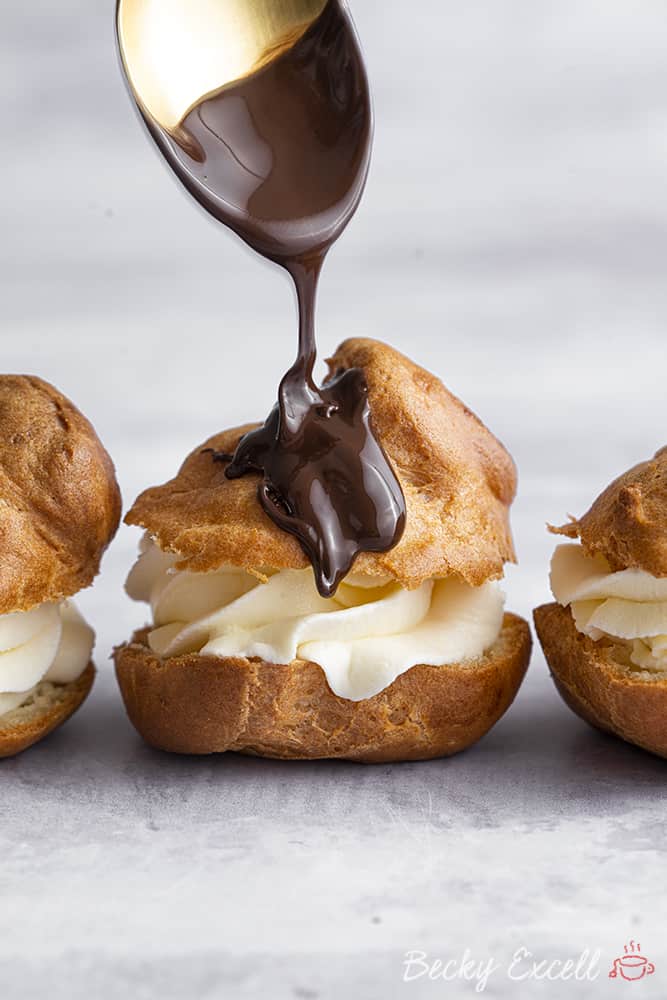 The photo below isn't something I would ever look at and think 'that's gluten-free'. So in a sense, I know I've done my job there!
As I said, I'm a huge fan of Mexican-style food and combining my love of southern-fried chicken with my passion for quesadillas was a great choice.
Just grab some gluten-free tortilla wraps (you can find them down the free from aisle in most supermarkets) and have your own fiesta!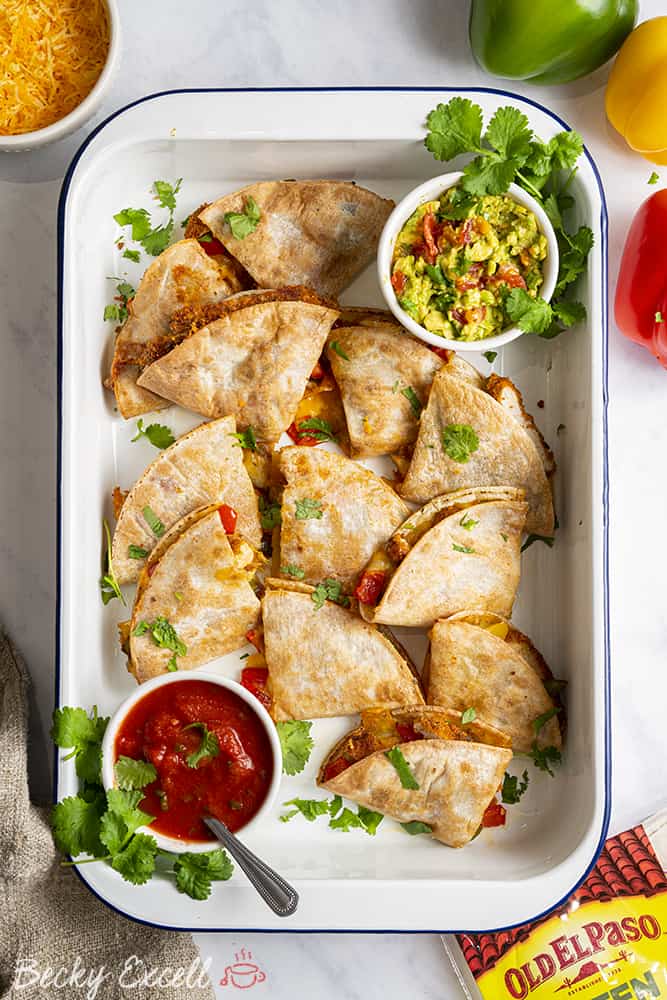 Thanks for reading all about my 11 gluten-free recipes for everyone who misses travelling! If you make one of these recipes, I'd love to see how they turned out so don't forget to take a snap of your creations and tag me on Instagram!
Any questions about the recipes? Please do let me know by following me on Instagram and leaving me a comment on a recent photo!
Thanks for reading,
Becky xxx