Vegan masala curry recipe – the perfect meal for all those meat-free Mondays in 2020! It's super creamy, mildly spicy and made for meat-eaters and meat-dodgers alike. It's gluten free, dairy free and you can even make it low FODMAP too – see the guidance notes in the FAQ fellow FODMAPers!
My vegan masala curry recipe is super easy to make at home, entirely from scratch. This recipe shows you how to make your own tikka masala curry paste too with no blender/food processor required!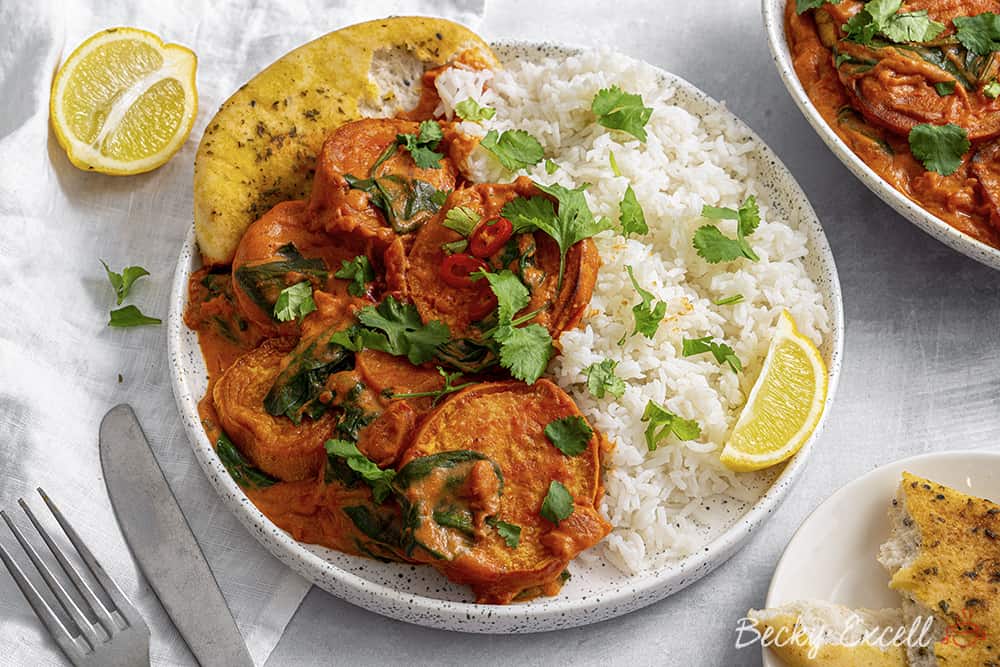 When we usually make a curry at home, it's always been chicken tikka masala, chicken korma, Thai red chicken curry…
(I'm not sure we even know that other types of meat exist sometimes ? – though to be fair, Mark struggles to tolerate red meat!)
But it wasn't until Veganuary was around that corner that I thought… why always chicken?! We do eat it in our house A LOT without even thinking about it. Especially when it comes to curry.
So with my vegan masala curry recipe, we wanted to break that cycle, and not with a different meat either. By making it entirely meat-free.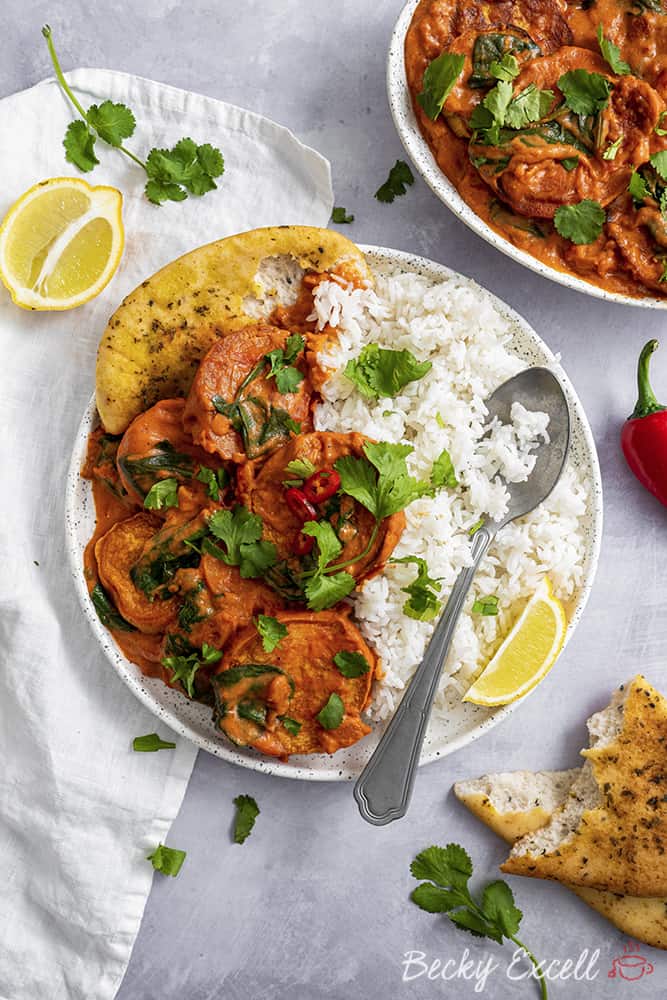 I'm not gonna get into a big debate over whether avoiding meat is healthier or better for the environment etc. We'd be here all day and that's not exactly the point for me. But for starters, it's usually much cheaper!
The main headline here however, is that you can make a meal like this without meat and enjoy it just as much, if not more. Trust me, it is possible! And we're two of the biggest meat eaters I know and always have been.
If you ever see any vegan recipe on my blog, then always remember that it's made by a meat-eater for meat-eaters. That's super important, so I just wanted to throw that out there!
So what's my vegan masala curry recipe like?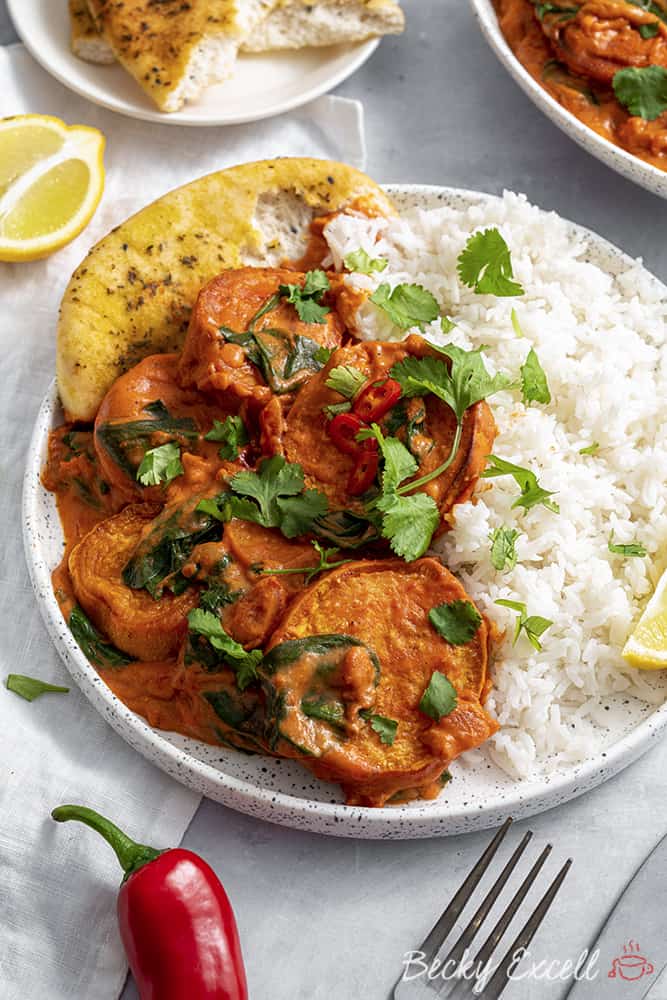 Well, first off – this is one of the creamiest curries I've ever made. It's so thick, indulgent and full of flavour that you'd never believe it was made without any dairy or cream.
Then, combine that creaminess with a lovely, mild spice and harmonious blend of different spices in my homemade curry paste.
The roasted sweet potato only makes things even better as that in itself is pretty creamy in texture too! As someone who seems to make every single meal with chicken, I'm pretty surprised to say that I didn't miss the meat at all.
Nope, not one bit! And neither did Mark.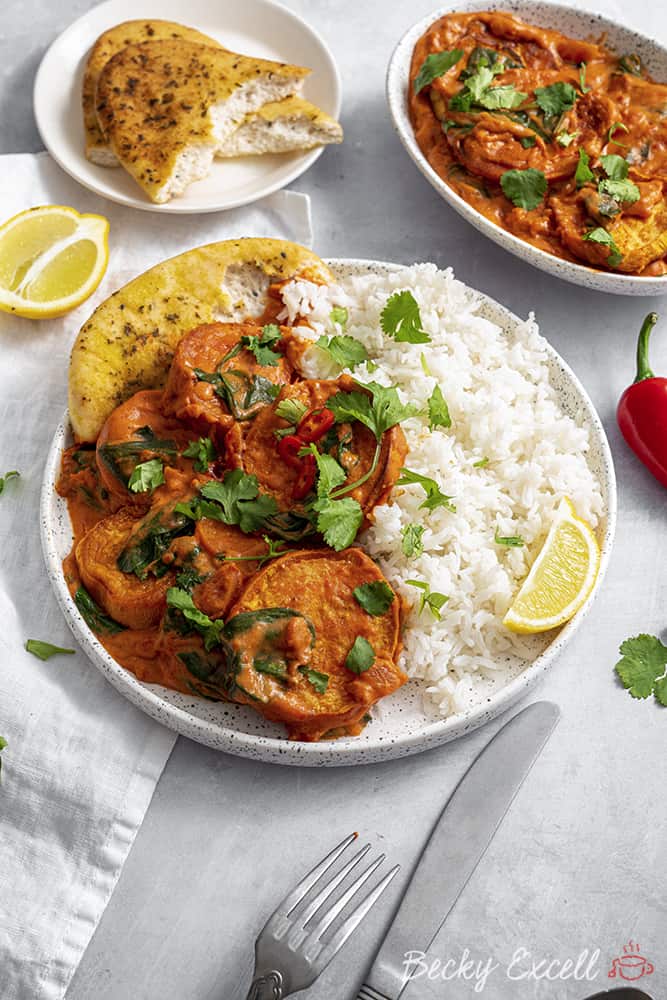 My vegan masala curry recipe all starts with one really important thing: my homemade curry paste.
Yeah, you can buy masala curry paste in a jar and it's convenient, but is it really even that good? No seriously, is it good? Because I wouldn't know!! I can't eat *any* curry pastes you buy in supermarkets, or anywhere for that matter.
Thanks to my IBS, I'm intolerant to onion and garlic, two of the MOST common ingredients in ALL curry pastes. So guess what? I make my own!
As I use pastes like ginger paste, chilli paste etc., you won't even need a blender/pestle and mortar to make this. It's literally a case of throwing it all into a bowl and mixing it – so you literally have no excuse not to make this.
Oh and when I say ginger paste, I mean something like this. And here's what we use for chilli paste too. You can buy both of these in any supermarket!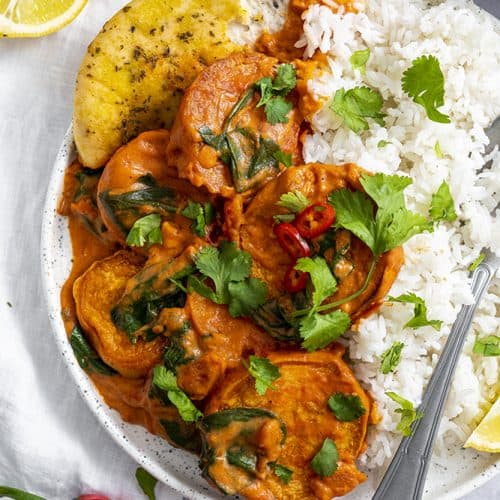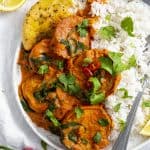 Tikka Masala Curry Paste Recipe (low FODMAP, vegan)
Here's the recipe for my Tikka Masala curry paste - no blender or pestle and mortar required! This recipe makes enough paste for 4 meals and each of those 4 meals serves 2-3 people.
Ingredients
4

tbsp

of ginger paste

2

tsp

of chilli paste

2

tbsp

ground nut oil

2

tsp

of garlic-infused oil

2

tsp

ground coriander

2

tsp

cumin

2

tsp

cayenne pepper

2

tbsp

smoked paprika

2

tsp

garam masala

4

tbsp

tomato puree

1

tbsp

desiccated coconut

4

tbsp

ground almonds
Instructions
Combine everything together in a small bowl.

Divide it into quarters and portion it out into tupperware and keep in the fridge or freezer. This should last around a month in the fridge or 3-6 months in the freezer.
Nutrition
Serving:
1
g
|
Calories:
219
kcal
|
Carbohydrates:
12
g
|
Protein:
5
g
|
Fat:
19
g
|
Saturated Fat:
2
g
|
Polyunsaturated Fat:
16
g
|
Cholesterol:
1
mg
|
Sodium:
81
mg
|
Fiber:
4
g
|
Sugar:
3
g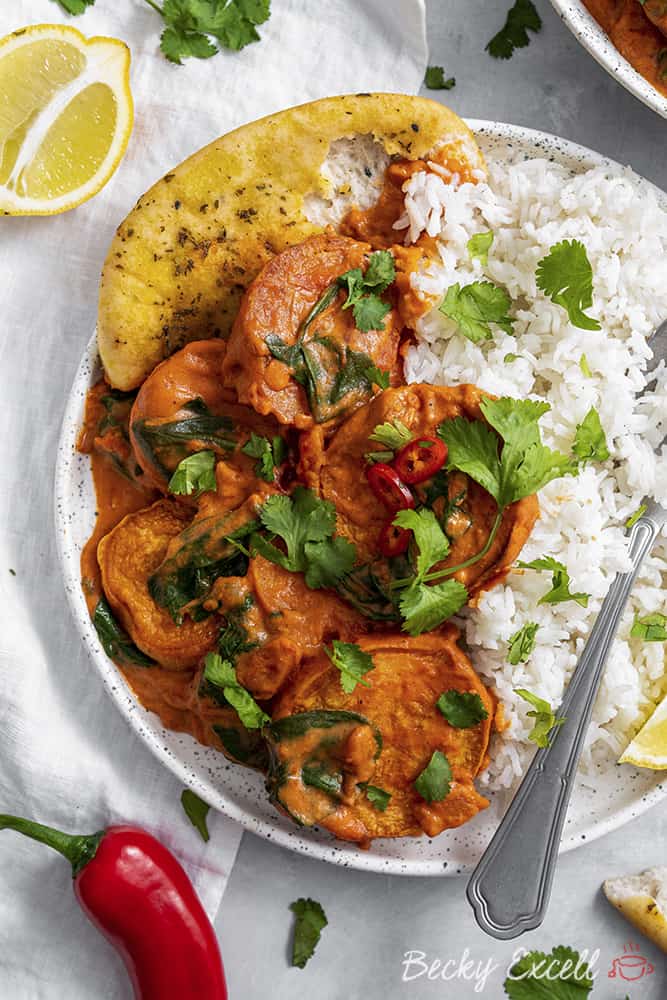 Ok, so now you've got my secret homemade tikka masala curry paste, the good news is that it makes enough paste for FOUR meals.
Yep, that's four separate vegan masala curries which serve 3-4 people. So whilst I know that making the paste is more effort, you should only have to make the paste once every few months.
You can either freeze your paste for up to 6 months, or keep it in the fridge for 1-2 months until you want to use it.
But what do you actually do with the paste now that you've made it? Well, keep scrolling for my full vegan masala curry recipe…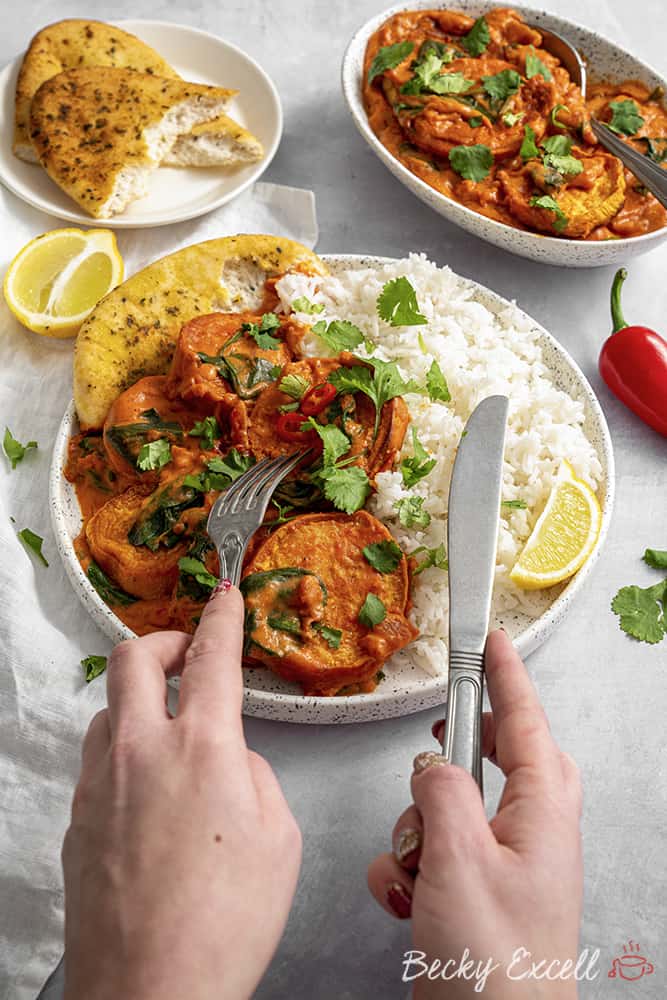 By making my homemade tikka masala curry paste, you've essentially done all the hard work already. You can then literally cook this meal in about 20-25 minutes.
It's just a matter of peeling/chopping and roasting your sweet potato. Then you simply add your curry paste to a large saucepan, add in your gluten free flour, full fat coconut milk, chopped tomatoes, spinach, and simmer.
Then, lastly, just add your roasted sweet potato in at the end. Simple!
I thought I'd throw in a few frequently asked questions about my vegan masala curry recipe before we get to the main recipe. Hopefully this clears up any questions you might have!
Can I make this recipe gluten free? Is it suitable for Coeliacs?
It is gluten free, though nobody would know just by tasting it – trust me!
Bear in mind that minimising cross-contamination is hugely important if you're Coeliac or making this for someone who is. Here's some tips from Coeliac UK on minimising the risk of cross contamination.
Also, make sure that all ingredients used don't have any gluten-containing ingredients. Then make that that they also don't have a 'may contain' warning for gluten, wheat, rye, barley, oats (which aren't gf), spelt and khorasan wheat (aka Kamut).
Here's some more info from Coeliac UK on identifying safe gluten free products.
Is your vegan masala curry recipe dairy free?
Yep, this recipe is dairy free!
Can I make your masala curry recipe vegan?
It is vegan!
Is your vegan masala curry recipe low FODMAP?
It can be! If you reduce the amount of coconut milk you use, this recipe can be suitable for the elimination phase of the low FODMAP diet. Instead of using the full 400g of canned coconut milk, simply use 200g of coconut milk and 200ml of water or low FODMAP stock.
As a result, a safe low FODMAP serving size would be a quarter of this meal when cooked. Wanna know why? A quarter of this meal falls within or under the limits of these recommended serving sizes by Monash University.
Here's the break-down…
92g of tinned tomatoes is low FODMAP
60g of canned coconut milk is low FODMAP
70g of sweet potato is low FODMAP
24g of ground almonds is low FODMAP (it's in the curry paste)
Remember, these specific restrictions only strictly apply during the short-term elimination phase of the low FODMAP diet. Once you start the reintroduction phase of the diet with your dietician, you can then start to hopefully increase the amounts of the above foods again, depending on your tolerance.
Hey, can I make this recipe using chicken?
I would highly implore you to give my version a go with sweet potato first – trust me, it's awesome without meat!
But if you wanted to make a chicken tikka masala, you can of course just use cooked chicken and add it at the point you'd add your roasted sweet potato at the end.
Obviously it won't be vegan then ?
Can I make your vegan masala curry recipe using light coconut milk?
You can! But it'll lose that creamy texture that makes this recipe soooo good. It can also result in the sauce being a lot thinner, which will mean it needs to reduce and cook for a lot longer too.
So yes, this recipe will work, but for best results, use full fat coconut milk.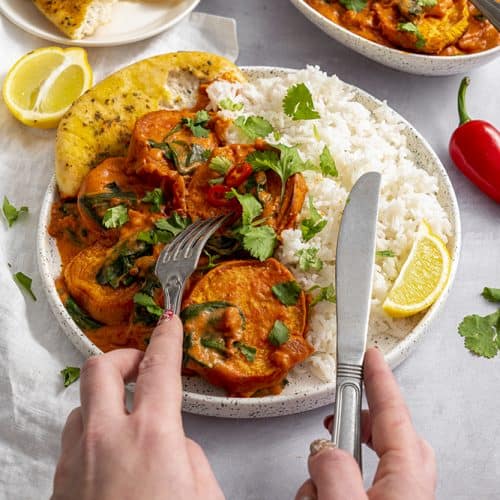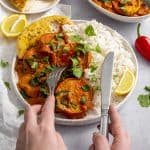 Vegan Masala Curry Recipe with Sweet Potato (dairy free, low FODMAP option)
Vegan masala curry recipe! It's based on my fave creamy, slightly spicy curry, but made with sweet potato. It's gluten free and dairy free too. Read the FODMAP guidance in the FAQs if it applies to you!
Ingredients
1/4

of my Tikka Masala Curry Paste

recipe above

200

g-300g sweet potato

roughly 3 medium-sized ones

2

tbsp

gluten free flour

400

ml

tin of full fat coconut milk

see FODMAP info in FAQs if you need to

400

ml

tin of chopped tomatoes

2

big handfuls of baby spinach

salt and pepper to taste
To serve
coriander

optional

180

g

basmati rice
Instructions
Pre-heat your oven to 180C or 200C (fan).

Start by peeling and chopping your sweet potato into discs around 1cm thick. Place onto a baking sheet that's pre-greased with some vegetable oil. Make sure both sides of the sweet potato get covered in oil. Pop in the oven for around 20 minutes.

Whilst they're roasting, begin lightly frying your tikka masala curry paste in a large saucepan on a low heat.

Next, add your gluten free flour and mix it around, allowing it to coat the curry paste as much as possible. Make sure you're still on a low heat or the flour can burn!

Once the flour has had around 20 seconds to coat the paste, add in your chopped tomatoes and mix the curry paste into it as much as possible. Break up any lumps as best you can.

After 30 secs-1 minute of mixing, add in your full fat coconut milk.

Bring to the boil and simmer until your curry reaches a nice thickness - this can take anywhere from 10-15 minutes. Add in your spinach and cook for a further couple of minutes until it's all wilted.

Add your roasted sweet potato discs in at the last minute so they don't go totally soggy.

Serve it up with basmati rice and throw some chopped coriander on top if you're feeling fancy.

Enjoy!
Nutrition
Serving:
1
g
|
Calories:
391
kcal
|
Carbohydrates:
28
g
|
Protein:
9
g
|
Fat:
30
g
|
Saturated Fat:
26
g
|
Polyunsaturated Fat:
3
g
|
Cholesterol:
14
mg
|
Sodium:
461
mg
|
Fiber:
5
g
|
Sugar:
7
g
Thanks for reading all about my vegan masala curry recipe! If you make it, I'd love to see how it turned out so don't forget to take a snap of your creations and tag me on Instagram!
Any questions about the recipe? Please do let me know by following me on Instagram and leaving me a comment on a recent photo!
Thanks for reading,
Becky xxx
Oh and don't forget to pin this for later!