Who fancies trying my gluten free southern fried chicken quesadilla recipe? Me! They're so cheesy, mildly spicy, sooo easy to make and you can make them dairy free too if you fancy.
My gluten free southern fried chicken quesadilla recipe is our new weeknight dinner of choice! There's nothing like making a big batch of these and sharing them with dips over a movie and some good company. If you want to share them at all, that is!!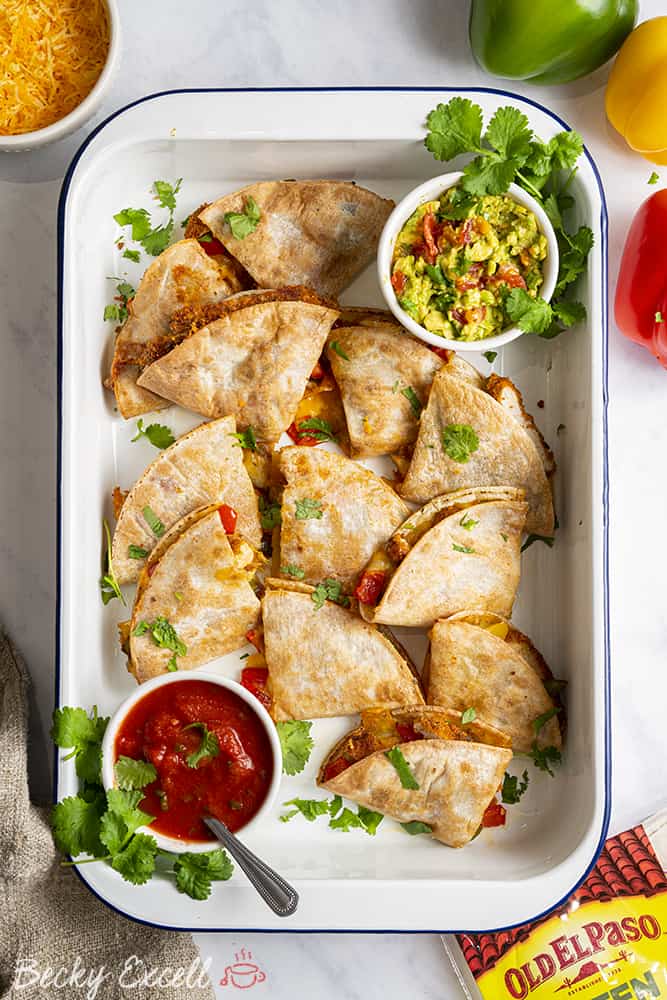 So how did my gluten free southern fried chicken quesadilla recipe turn out?
Well, here's a fun fact for you 'Queso' means cheese and 'dilla' is slang for dude in Spanish. So a quesadilla is basically a 'cheese-dude'. How awesome is that?
They're a little like a taco, but after putting your filling in your tortilla, you then add a generous amount of cheese and fry them on both sides to crisp them up. Soooo good!
Whilst I've never come across gluten free quesadillas while out and about, fortunately, you can easily make them yourself at home.
But before we even get started, what tortillas are gluten free? ?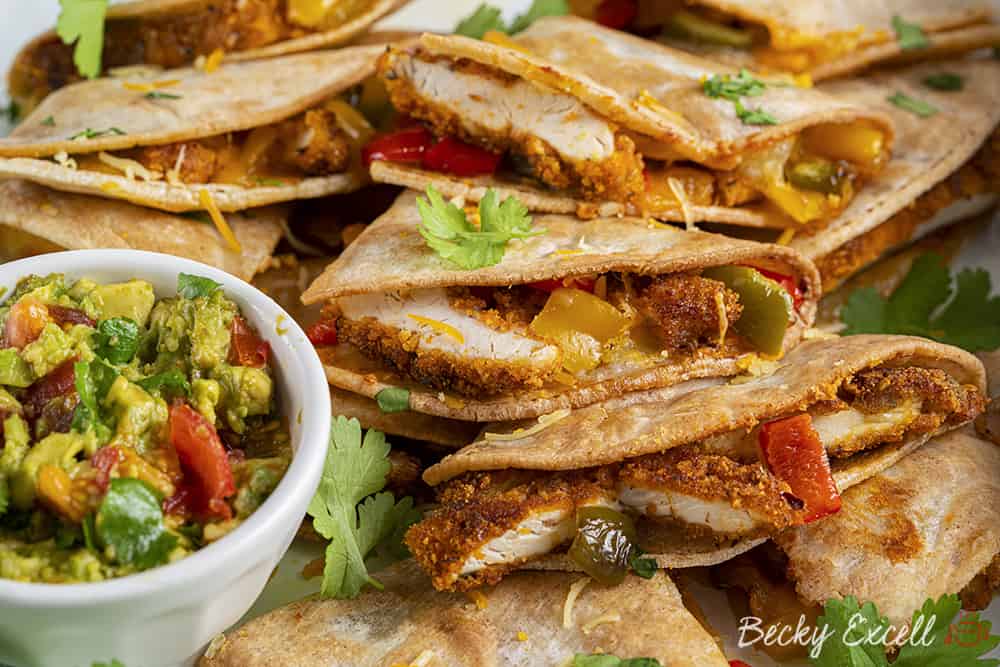 Well, when it comes to Taco Tuesday and Fajita Fridays, my go-to wraps are Old El Paso's Gluten Free Tortillas.
They're amazingly soft and flexible, they crisp up really well and most importantly of all… you'd never know they were gluten free – perfect for my gluten free southern fried chicken quesadilla recipe.
I think the best compliment I could give them is by telling you that Mark will happily eat them… and he can eat gluten. And he definitely won't go near most of my gluten free food!
(which isn't always bad – more for me ?)
But because he'll happily eat these, it means we can actually share the same food… which is something of an occasion for us!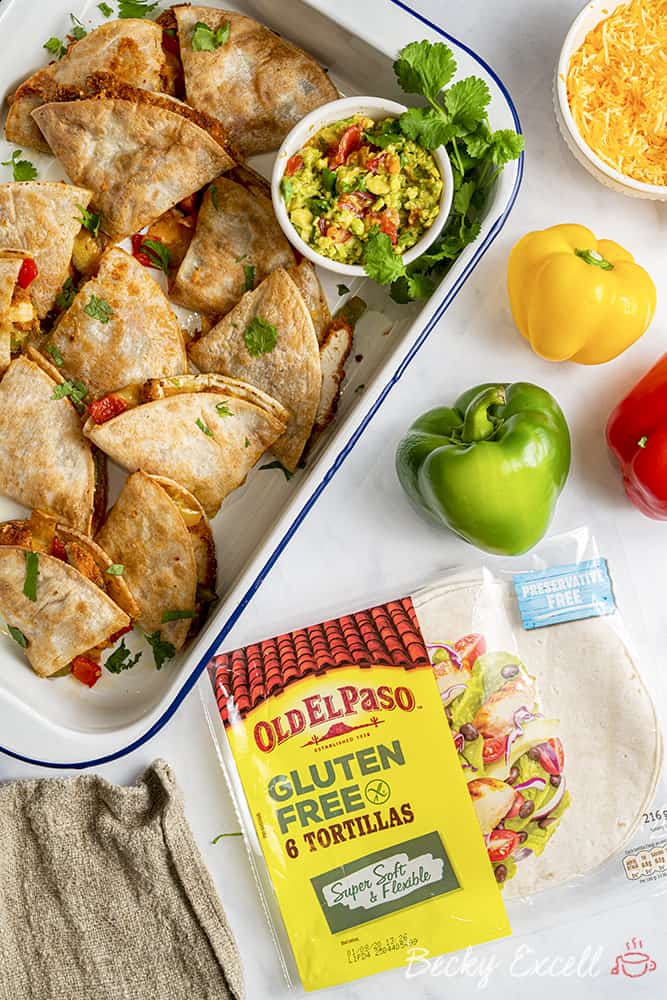 So now you've got your gluten free tortillas sorted, what about your filling?
Well, we wanted to go all out so we went for homemade southern fried chicken… which turned out to be a great life choice!
That crispy, golden breadcrumb coating is packed full of flavour and it's a little spicy too which worked so well in our quesadillas. Topped with melty, cooling cheese and fried peppers, it really was a flavour combo to be reckoned with.
But who here has ever fried a quesadilla? Hands up! Well, don't worry if not, because it's actually really simple…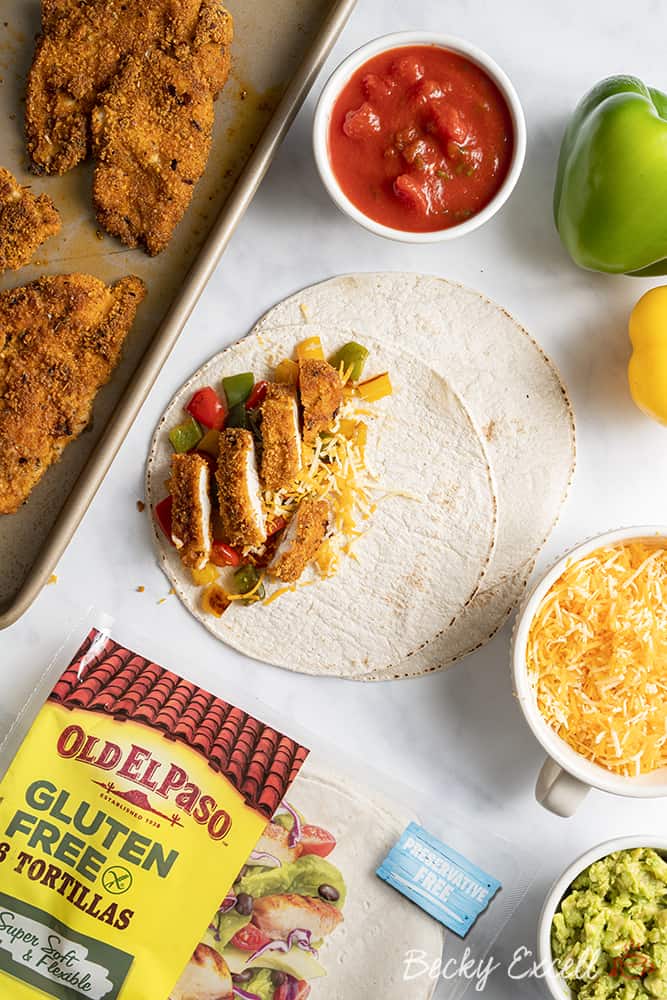 All you need to do is half-fill your tortillas like in the photo above and then fold it shut like a book.
(I usually make a few of these ahead of time, so when I come to fry them, I can do a few at a time in a big frying pan)
Then, lightly cover the surface of a large frying pan in oil and let it heat up. Once it's nicely heated, lay your first quesadilla in the pan until it's nicely golden on one side.
Then, carefully use a spatula (I actually used one spatula supporting each side so I didn't throw them around too much) to turn them over without losing any of the filling. Easy!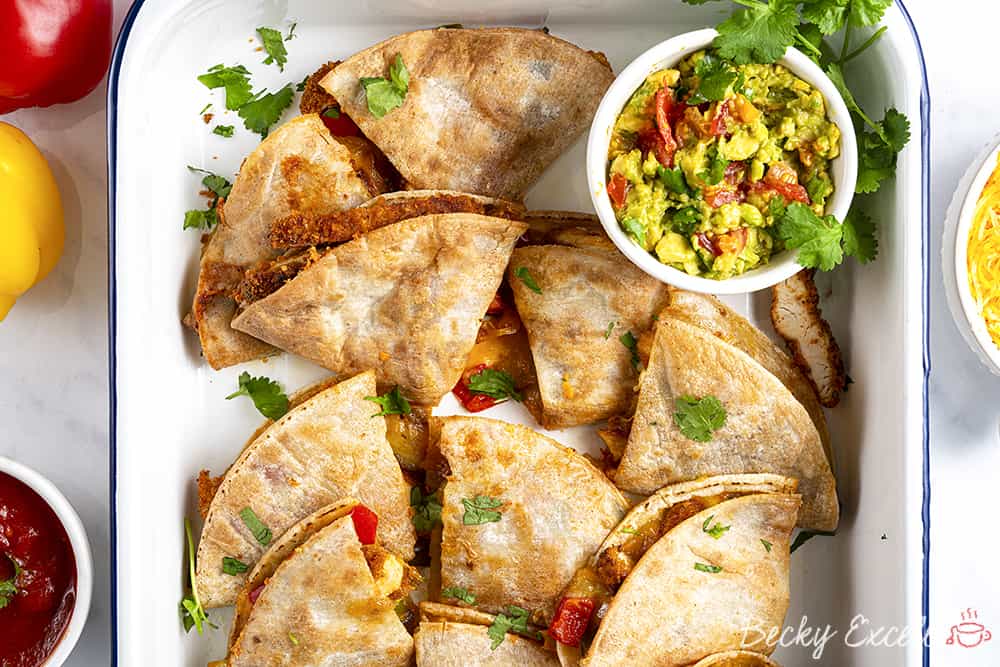 Ok, so here's my gluten free southern fried chicken quesadilla recipe ??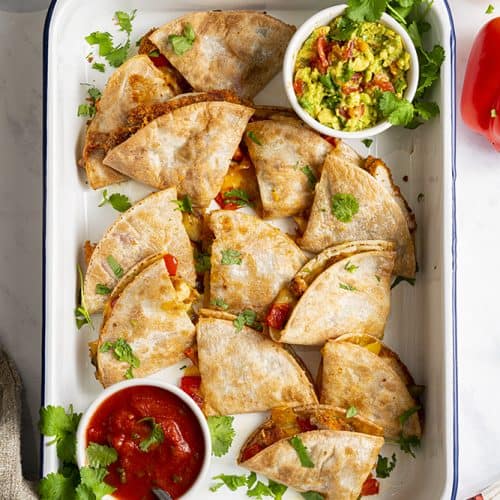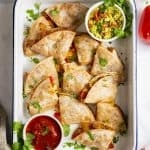 My Gluten Free Southern Fried Chicken Quesadilla Recipe (dairy free option)
Ingredients
1

pack of Old El Paso Gluten Free Tortillas
For the southern fried chicken coating
70

g

gluten free breadcrumbs

1

tsp

oregano

1

tsp

chilli flakes

1

tsp

smoked paprika

1

tsp

salt

1

tsp

black pepper

1

egg

30

g

gluten free plain flour
Everything else
2

chicken breasts

2

red/green/yellow peppers

diced

100

g

red leicester cheese

sub for dairy free if needed

100

g

monterey jack cheese

sub for dairy free if needed

Oil for frying

Salsa and guacamole to serve
Instructions
Start by finely dicing your red/green/yellow pepper. Fry it in a little oil until slightly browned and set to one side for later.

For your southern fried chicken, grab three bowls. In one, crack in your egg and beat until nicely mixed. In the other, add your gluten free plain flour. In the final bowl, add your gf breadcrumbs and spices.

Butterfly your chicken (check out the technique on YouTube if you've never done it before!) then place it between two sheets of clingfilm and pound until really nice and flat. This will mean it'll cook quicker, so trust me, it's worth the effort!

Take your butterflied chicken breasts and first dredge them in the bowl of gf plain flour.

Then dredge them in the beaten egg bowl.

Then finally dredge them in the breadcrumb/spice mix bowl.

Place your chicken into a frying pan at a low-medium heat in a generous amount of oil. Make sure it's nice and hot before you put them in - you wan't them to sizzle as soon as they touch the pan. Flip when the underside is nice and golden.

If you butterflied your chicken and pounded it flat, your chicken should be cooked through. If not, you can always pop it in the oven at 200c for up to 8 minutes just to make sure. Once slightly cooled, chop into bite-sized strips.

Now it's time to assemble your quesadillas! Start by grating all your cheese and mixing it together.

Grab an Old El Paso Gluten Free Tortilla. Place your diced pepper onto half of the wrap, leaving other half completely empty. We'll be folding them like a book, so we only need to place the filling on one side only! See the photo below for an idea:

Then add your chopped strips of southern fried chicken on top.

Then add as much cheese as you fancy - the more the better! Fold it in half like a book.

Lastly, grab a large frying pan and make sure the entire pan has a nice thin layer of oil. Heat this to a low heat and allow the oil to heat up for a minute or two.

Place your constructed quesadilla into the hot frying pan and fry on each side for 30 seconds or until golden. Definitely use a spatula for this and be gentle as you don't want the filling to fall out!

Repeat with as many quesadillas as you fancy - you should have enough filling to use up all 6 tortillas.

Serve with salsa as a dip and guacamole. Throw on some fresh coriander if you fancy. Enjoy!
Nutrition
Serving:
1
g
|
Calories:
505
kcal
|
Carbohydrates:
31
g
|
Protein:
37
g
|
Fat:
26
g
|
Saturated Fat:
11
g
|
Polyunsaturated Fat:
12
g
|
Cholesterol:
145
mg
|
Sodium:
1211
mg
|
Fiber:
3
g
|
Sugar:
2
g
Thanks for reading all about my gluten free southern fried chicken quesadilla recipe! If you make it, I'd love to see how it turned out so don't forget to take a snap of your creations and tag me on Instagram! You can also tag @oldelpasouk and hashtag #oldelpasouk.
Any questions about the recipe? Please do let me know by following me on Instagram and leaving me a comment on a recent photo!
You can grab Old El Paso gluten free tortillas from Asda, Tesco, Ocado and Amazon.
Thanks for reading,
Becky xxx
Oh and don't forget to pin this for later!