With my stupidly long list of dietary requirements, dinner time can be tough… but it's been made a lot easier lately thanks to my one-pot gluten free biryani bowl recipe! It's also low FODMAP too and depending on your stock cube, can be made vegan!
Ever since waaay back in Veganuary, I told you guys about how I've been trying to cut back on how much meat I eat… and despite my struggles, I'm still here trying! Here's another meal making that slightly more possible for me – my one-pot gluten free biryani bowl recipe…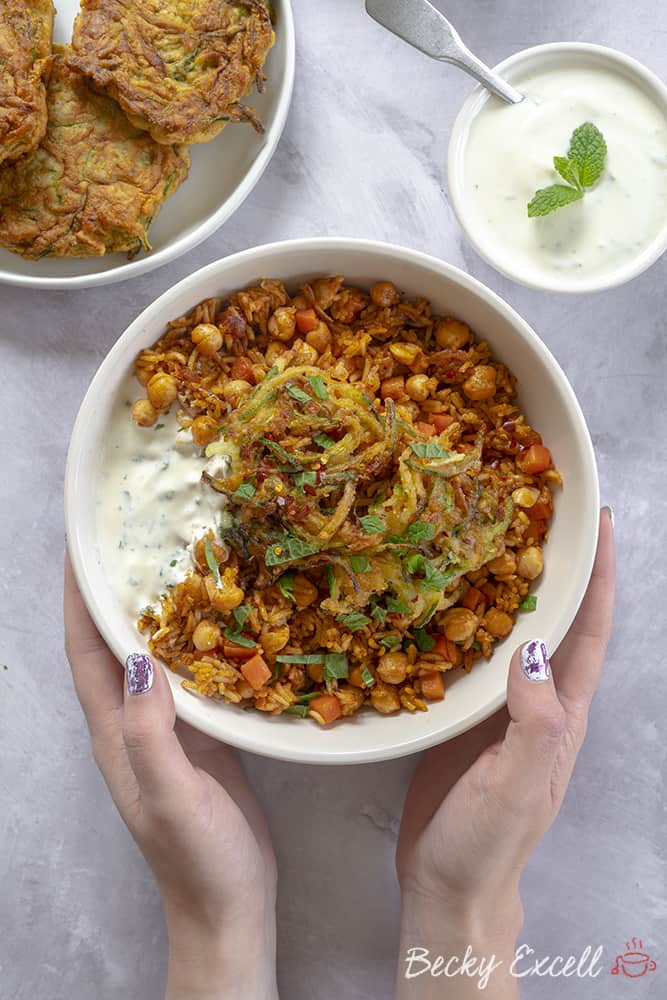 It's a bowl full of spice – and I don't mean that in a 'heat hot' kind of way. This recipe uses my own homemade biryani spice blend full of warming cinnamon, aromatic ground coriander, smoky paprika and so many more spices that will fill your kitchen with an amazing smell!
(I won't charge you extra for the lovely smell)
The rice soaks up soooo much flavour, plus there's lovely chunky bits of carrot and chickpeas throughout too. Throw on my crispy fried courgette and cooling mint raita and you've got the dinner of my dreams!
And yep, you can make it all just using one pot, one large saucepan or frying pan… which is pretty awesome because it means it's easy to make and much less washing up!!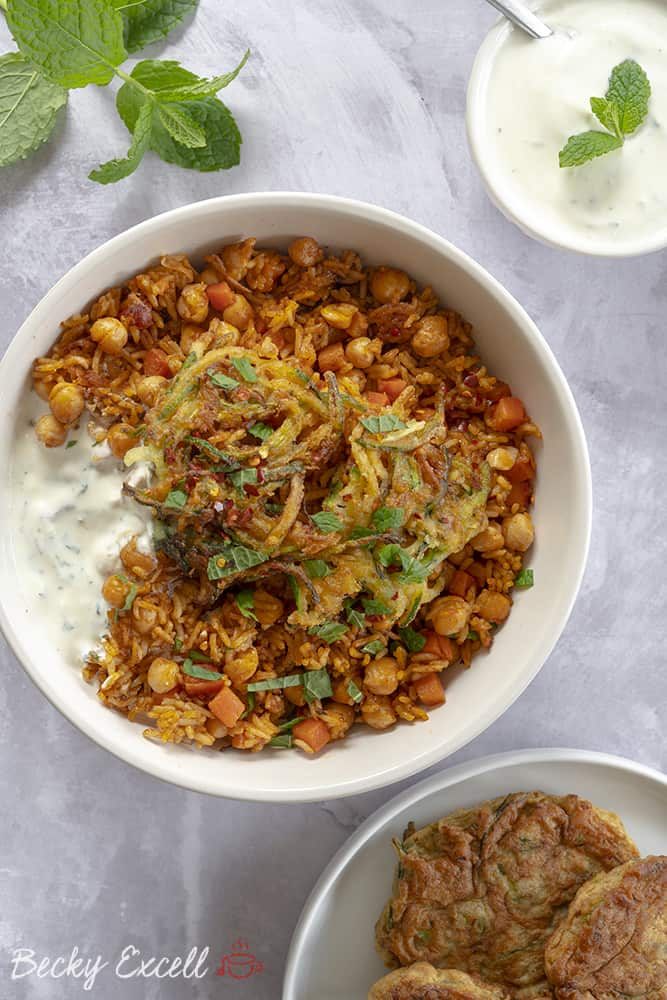 I guess if I had to try reeeeally hard to look on the bright-side about not being able to eat gluten, onion, garlic (the list goes on), I'd have to say that's made me infinitely more creative in the kitchen.
And I think my one-pot gluten free biryani recipe is the perfect example of that. I'm really proud of it!
I mean, who else on planet Earth would top their biryani with crispy fried courgette? Oh, just me probably, because a traditional biryani often has lovely deep fried crispy onions on top.
Who else would make 'no-onion bhajis' with spiralised courgette? Yep, just me again I suppose! But you know what? My little substitutions taste absolutely amazing – I'm not saying they're better than the original onion-including versions… they're something totally new and different and I LOVE that.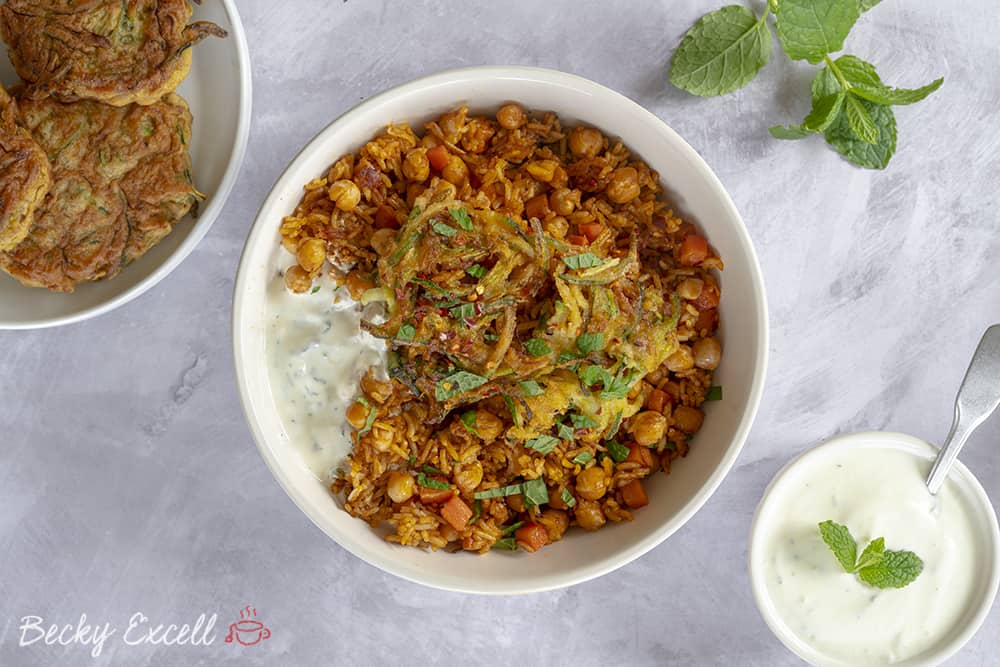 Oh and if you're looking at these photos and you fancy a bite of my bhajis (is that rude?) then head over to here to my no-onion bhaji recipe.
Here's the FODMAP info for those of you who need it:
Gluten free stock cubes can be hard to find on the low FODMAP diet, especially if you want it to be low FODMAP and vegan too. But here's a link to a stock cube that's both low FODMAP and vegan. (that's an affiliate link btw)
Here's another gluten free and low FODMAP stock cube that's NOT vegan, but easier to find in Tesco and Sainsburys. (From the brand Knorr)
Chickpeas have a limit of 42g per person during the elimination phase of the low FODMAP diet, so if you're making this recipe for two people, use 84g of chickpeas and only eat half.
Lactose free yoghurt is low FODMAP.
Ok, so here's my one-pot gluten free biryani bowl recipe ??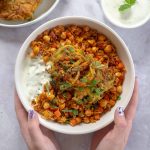 Gluten Free Biryani Bowl Recipe (vegan, low FODMAP)
My gluten free biryani recipe only needs one-pot and it's vegan, dairy free and low FODMAP too... but you'd never know it was!
Ingredients
200

g

basmati rice

1

stock cube

(veggie if vegan - see blog post above for low FODMAP stock cubes)

170

g

cubed carrot

1

400g tin

chickpeas

(you're only allowed 42g of chickpeas per person during elimination phase low FODMAP)

pinch

saffron

1

tbsp

double concentrated tomato puree

1

tsp

minced ginger
For your spice blend
pinch

turmeric

pinch

cinnamon

pinch

cayenne pepper

2

tsp

smoked paprika

1

tsp

garam masala

1

tsp

ground coriander

1

tsp

cumin

1

tsp

salt
Mint Raita
200

g

Greek yoghurt

(use dairy free to make it vegan or lactose free if low FODMAP)

7

leaves

fresh mint

1/2

tsp

cumin

1/2

long, thin green chilli
Crispy fried courgette
200

g

spiralised courgette

50

g

gluten free plain flour

2

tbsp

garlic-infused olive oil

(if low FODMAP, make sure it has no bits of actual garlic in it)
Instructions
Take your spiralised courgette, place into a mixing bowl and add the gluten free plain flour. Give it a mix until it's well coated.

Begin heating your garlic-infused olive oil in a large frying pan at a medium heat. Once heated, add a dollop of your courgette/flour mixture and flatten out as much as possible. Fry this at a medium heat until slightly brown and crispy on each side. Set this aside until later and add a little extra garlic oil to the pan.

Now for your biryani. Add your diced carrot to the frying pan and fry whilst regularly turning until slightly softened.

Add your spice mix to the pan and stir well to coat your carrot evenly.

Now add your chickpeas, minced ginger and tomato puree, then briefly give it a stir. Crumble in your stock cube and add your dry basmati rice and give it one last stir until everything is well coated in spices.

Add 700ml of boiling water to the pan and bring to the boil. Bring it down to a simmer until all the water has gone and the rice is well cooked. Make sure that you stir occasionally.

Whilst your biryani is reducing, place all the ingredients for your mint raita into the plastic cup that came with your hand blender and blend them altogether briefly until smooth. If you don't have a hand blender, then finely chopped will do - but do make sure it's as fine as poss!

Once your biryani has reduced, you might want to just warm up your crispy courgette a little in the oven. Serve up your biryani in a bowl, top with crispy courgette and a dollop of mint raita. Enjoy!
Thanks for reading all about my one-pot gluten free biryani bowl recipe! If you make it, I'd love to see how it turned out so don't forget to take a snap of your creations and tag me on Instagram!
Any questions about the recipe? Please do let me know by following me on Instagram and leaving me a comment!
Thanks for reading,
Becky xxx
Oh and don't forget to pin this for later!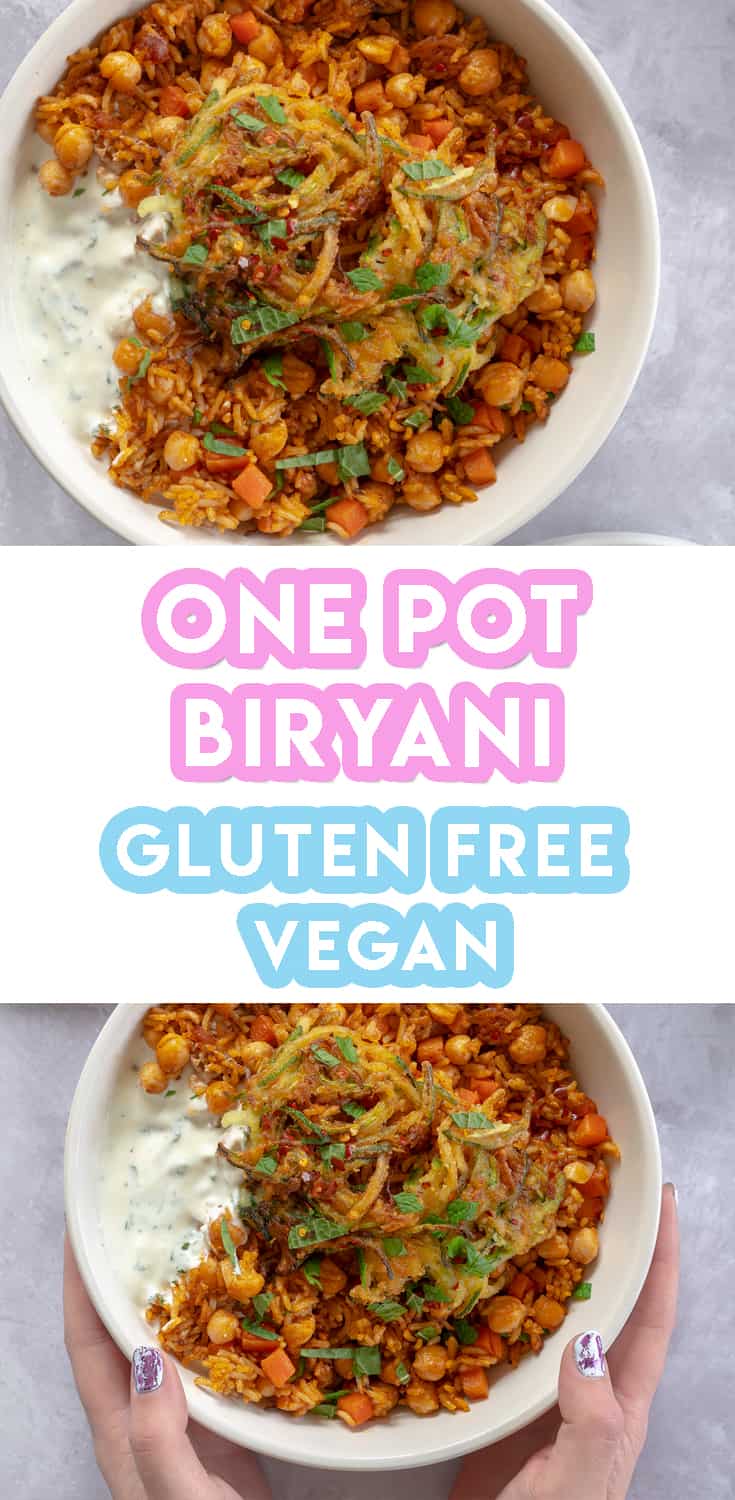 Comments