Do you ever get sick of walking into Starbucks and realising you can't eat anything? That's how my 5 ingredient gluten free chocolate chunk shortbread recipe was born! Plus, it's dairy free too.
I never share this much, but I started by blog out of frustration over not being able to eat nice things I'd see out and about. 5 years years later I'm still at it and a gluten free chocolate chunk shortbread recipe is next on my list!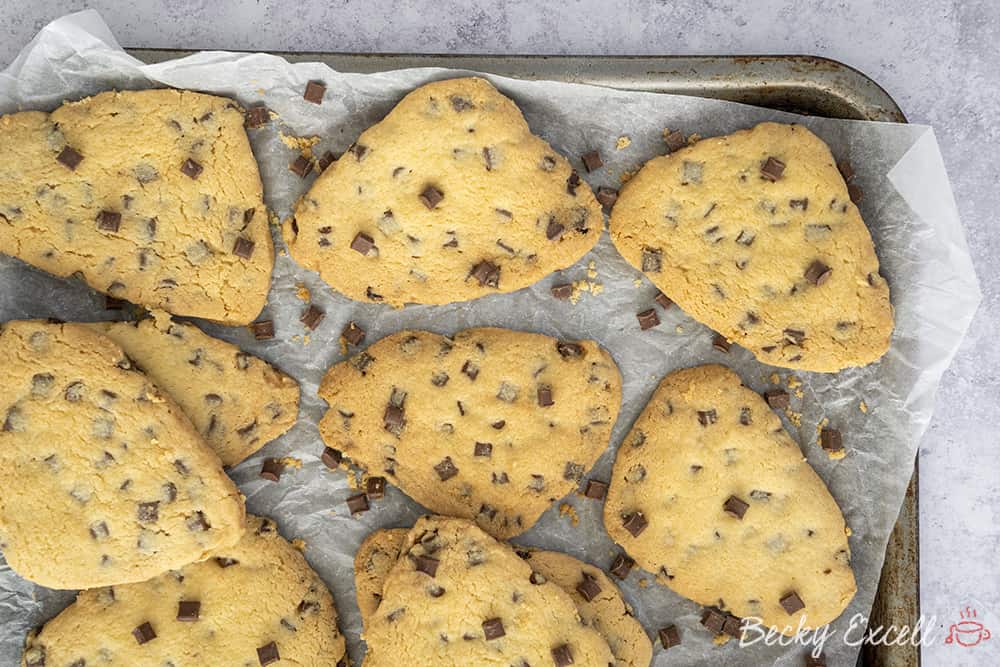 But in 2018, I never thought I'd really still be recreating things that I can't eat in places like Starbucks.
It's been 5 years since starting my blog – gluten free menus are now a thing, food allergy laws now exist, the free from aisle is bigger than ever…
Yet I'm still restricted to a gluten free brownie in a plastic wrapper at most coffee shops?
What happened there?
Don't get me wrong – coffee shops have improved a lot here in the UK in 5 years.
Nearly all of them have some sort of gluten free wrap/sandwich, which is great.
(Don't even get me started on the whole 'may contain gluten' oat milk they insist on using though…)
But when it comes to cakes, choice is sadly not a word that often goes with the phrase 'gluten free'.
I don't want the thin slice of rectangular cake in a plastic wrapper!! I want the good stuff, the stuff they display all nicely on the shelf and on cake stands!
But obviously, it's just never meant to be…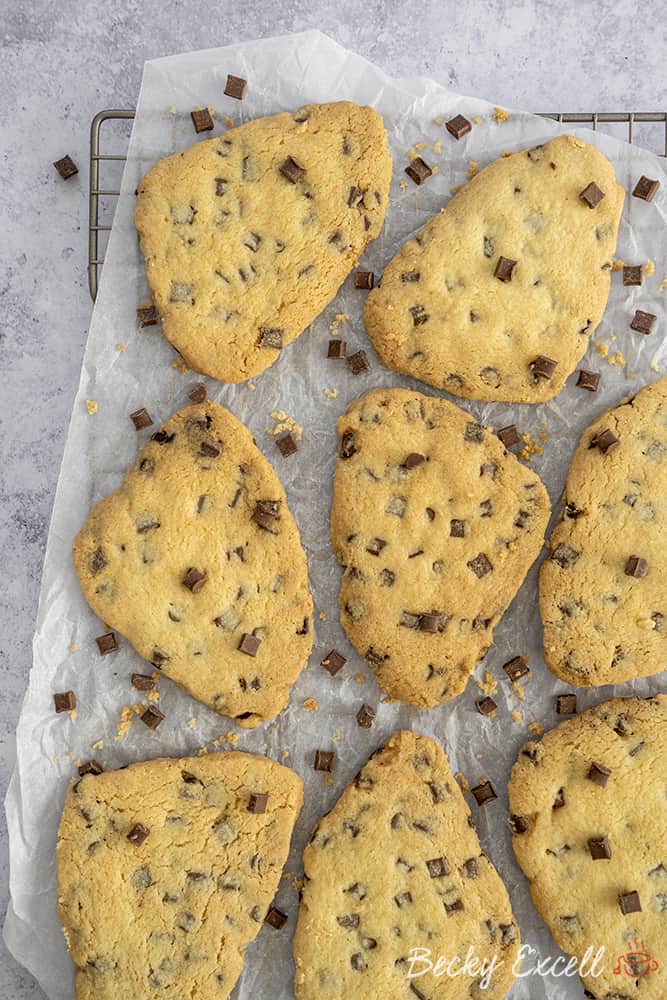 Until I just go right ahead and make my own!
I literally went into Starbucks the other day, saw their amazing looking shortbread, got hangry and left without even buying anything – I just went straight home and made these.
It literally requires 5 ingredients and it's soooo easy peasy that it's unreal. There really is no excuse Starbucks, c'mon!
Well, instead of holding your breath for these to appear in Starbucks, I think it's easier (and quicker) if you just make your own. They're so easy to carry around with you as well, I'd highly recommend taking one to Starbucks and seeing how it feels!
So here's my gluten free chocolate chunk shortbread recipe…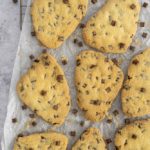 My 5-Ingredient Gluten Free Chocolate Chunk Shortbread Recipe (dairy free, low FODMAP)
My gluten free chocolate chunk shortbread recipe was inspired by the Starbucks version that I can NEVER eat. Mine's dairy free too!
Ingredients
250

g

hard margarine, room temp

(I use Stork Baking Block but you can use butter if you're not dairy free too)

110

g

golden caster sugar

360

g

gluten free plain flour

1/4

tsp

xanthan gum

200

g

dairy free chocolate chips
Instructions
Preheat your oven to 170C Fan.

Beat together your hard margarine and sugar until smooth. I use my Kitchen Aid standing mixer for this but you could also use a hand whisk.

Add in your flour and xanthan gum to your mix until it comes together.

Add in your chocolate chips and mix in evenly.

Lightly flour a surface and roll out your dough to 1 cm thick. Using a knife, cut out a 'wobbly triangle shape'!!! I made myself a little card template and cut around it so they were all similar size.

Keep cutting out your shapes and place them on a prepared baking sheet. Keep rolling your dough out and cutting it out until all the dough has been used up.

Place your baking sheet into the fridge to chill for 15 - 30 minutes.

Bake in the oven for about 20-25 minutes until they start to turn slightly golden.

Remove from the oven and leave to cool for a while on the baking sheet before transferring to a cooling rack. Enjoy!
Recipe Notes
You might like to dip them half in melted chocolate too and leave them to set!
Thanks for reading how to make my gluten free chocolate chunk shortbread recipe! If you make them, I'd love to see how they turned out so don't forget to take a snap of your bakes and tag me on Instagram!
Plus, I'm giving away a £50 supermarket voucher every month to my fave pic – result.
Any questions about the recipe? Please do let me know by following me Instagram and leaving me a comment!
Thanks for reading,
Becky xxx
Oh and don't forget to pin this for later!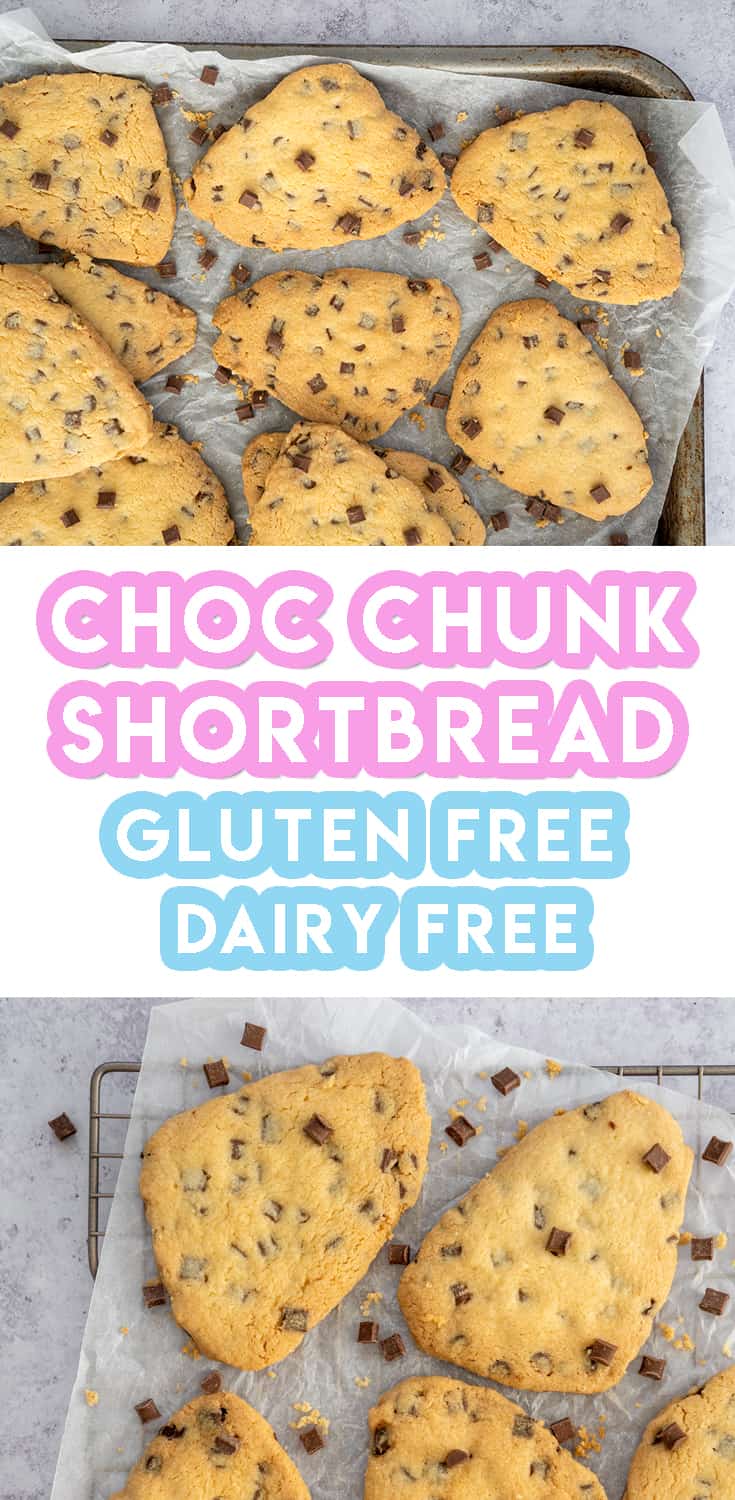 Comments