If you're looking for a gluten-free Christmas gravy recipe WITHOUT meat drippings, then you're in the right place! You can make this into chicken, beef or veggie/vegan gravy and it's gluten free and low FODMAP too.
That's right, you can make my gluten-free Christmas gravy recipe without meat drippings whenever you like. Because sometimes I don't want to roast an entire turkey just to make some gravy… in fact, 99% of the time, that's the case! You can even make it gluten free, low FODMAP and veggie/vegan if you want too.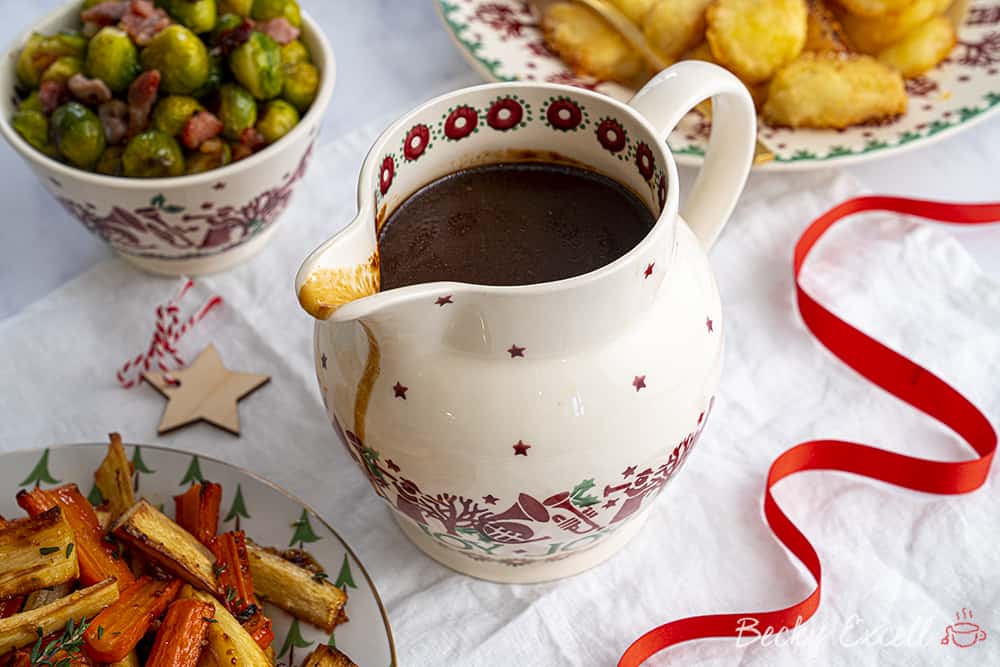 So why did I create my gluten-free Christmas gravy recipe without meat drippings specifically?
Well, like I said, since it's just Mark and myself at home, we very rarely roast an enormous turkey or huge joint of beef. It's way too much food for us and takes way too long to cook for a weeknight dinner.
But 99% of the recipes out there on the internet all start with: 'Step 1: Take the drippings from your meat…' and I'm just like… really? Do people never want gravy apart when they've just roasted a huge hunk of meat?!
I mean, clearly that's how proper gravy is made! But it's just not practical when you're not already roasting a full-sized turkey (which is basically never) and have likely already spent so much time cooking dinner already.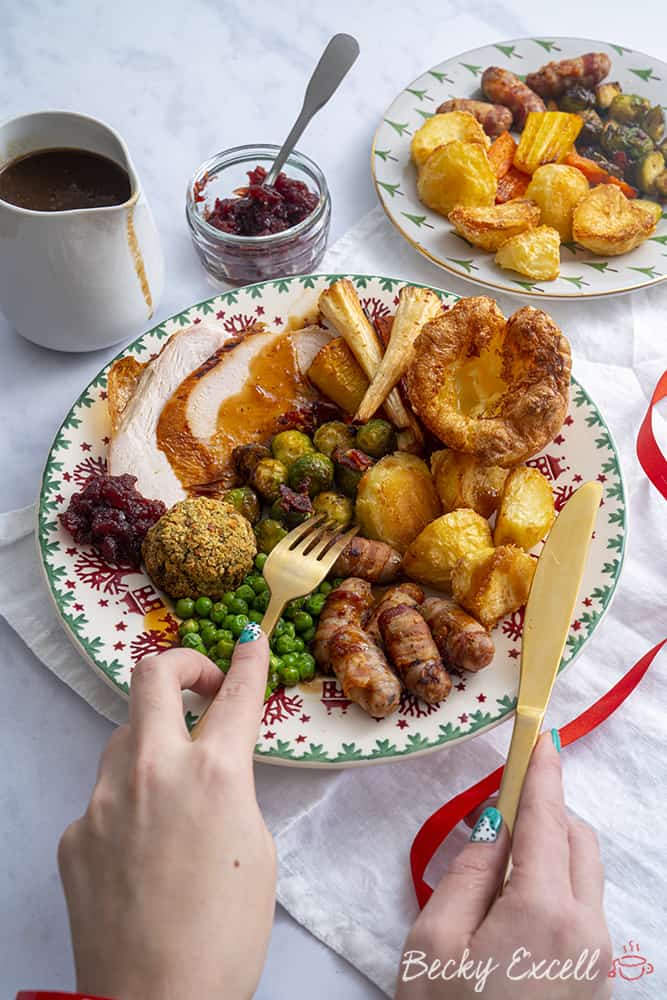 But guess what is practical for those situations where you're not having a full-on roast? Gravy granules! And that's what Mark and I used to use in those situations where we just fancied a bit of gravy with dinner.
I say used to use because the only gluten free gravy granules we could eat were discontinued a couple of months ago. And not surprisingly, the 'new recipe' version now contains onion – a massive no go for most people on the low FODMAP diet. Thanks for that.
If you didn't know already, due to FODMAP issues, neither of us can tolerate onion or garlic. And onion and garlic seems to be in every gravy ever created. EVER.
So with those gravy granules discontinued, we now faced a life of dry toad in the holes and roast dinners. So Mark and I started experimenting making our own… and after a few total fails, we made something even better what you'd get with gravy granules!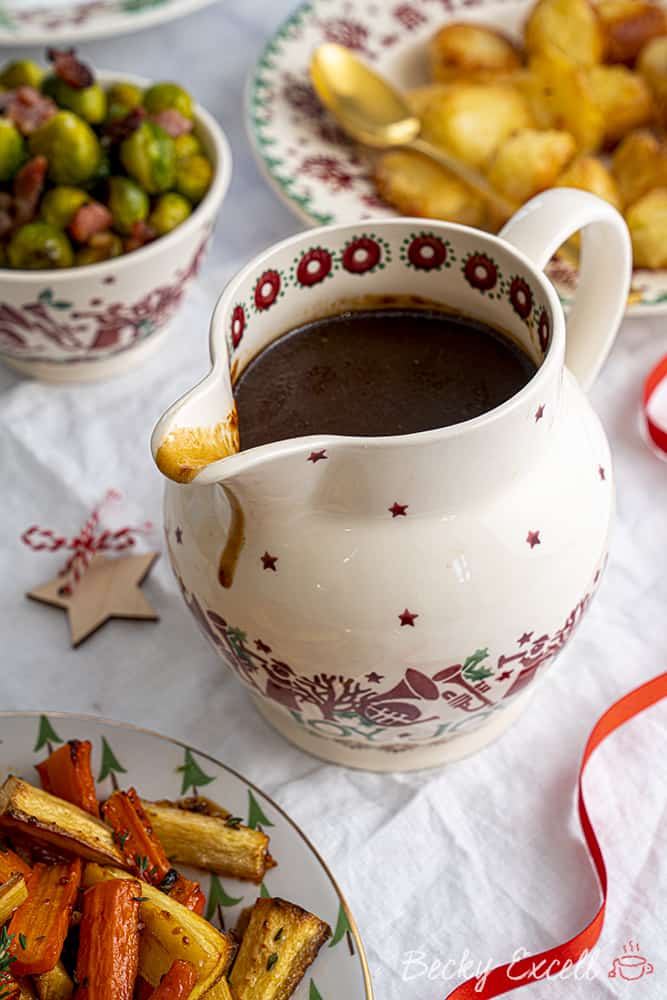 So that's when we came up with our all-singing gluten-free Christmas gravy recipe without meat drippings. Yep, you can easily make it at home with just 6 ingredients in about 15 minutes flat.
You don't need meat, bones or any meat drippings at all either. And because of that, that means you can make this recipe into beef stock, chicken stock, veggie stock, fish stock… or whatever you like.
All you need to have is the correct stock cube depending on the flavour gravy you want to make!
And of course, if you're low FODMAP, making this using FODMAP friendly stock cubes means instant no onion/garlic, FODMAP friendly gravy too. Here's some of the low FODMAP stock cubes you can use, all of them are gluten free too of course:
A list of low FODMAP stock cubes that we always use:
We actually use the Knorr Ham stock cubes for all our gravy as it has a lovely, smoky flavour. But it's mostly because it's more readily available and easily found in most UK supermarkets!
But the Massels 7 veggie stock cubes are pretty much the only stock cubes on Earth that don't contain onion. Plus, they're vegan too. So that's an amazing find for us.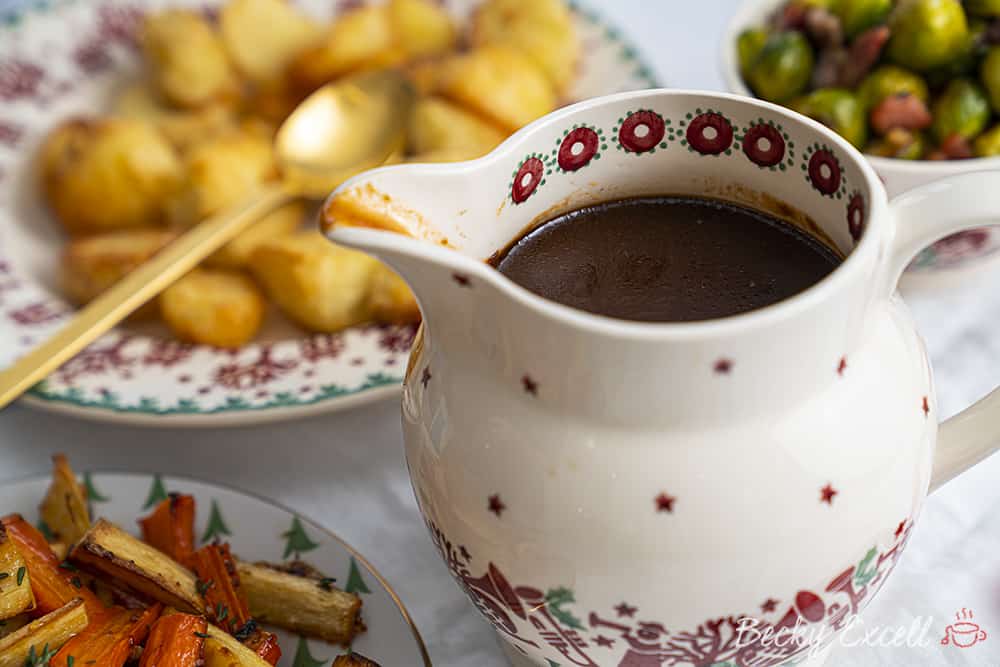 So yeah, it's pretty simple – use a beef stock cube for beef gravy, a veggie stock cube for veggie gravy etc.
But of course… without one super top secret ingredient, you can't just easily turn a stock cube into gravy. Stock is just really watery, has no colour and looks like a bit of a cloudy mess.
Not exactly what I'd want to pour straight onto my food!! So to combat this, we first make a roux out of butter and gluten free flour and THEN add the stock after.
(you can of course use dairy free hard margarine like Stork instead of butter to make this dairy free/vegan too)
That'll nicely thicken the stock so it's not the consistency of pure water. Plus, the fat in the butter/margarine kinda plays the same role as the fat you'd get from meat drippings. So it's really important step in making our gluten-free Christmas gravy recipe without meat drippings.
And that's as far as we got for a few months. It tasted a bit like gravy, it was fine to have with dinner, but it looked absolutely awful and it just tasted like stock. There was still something missing!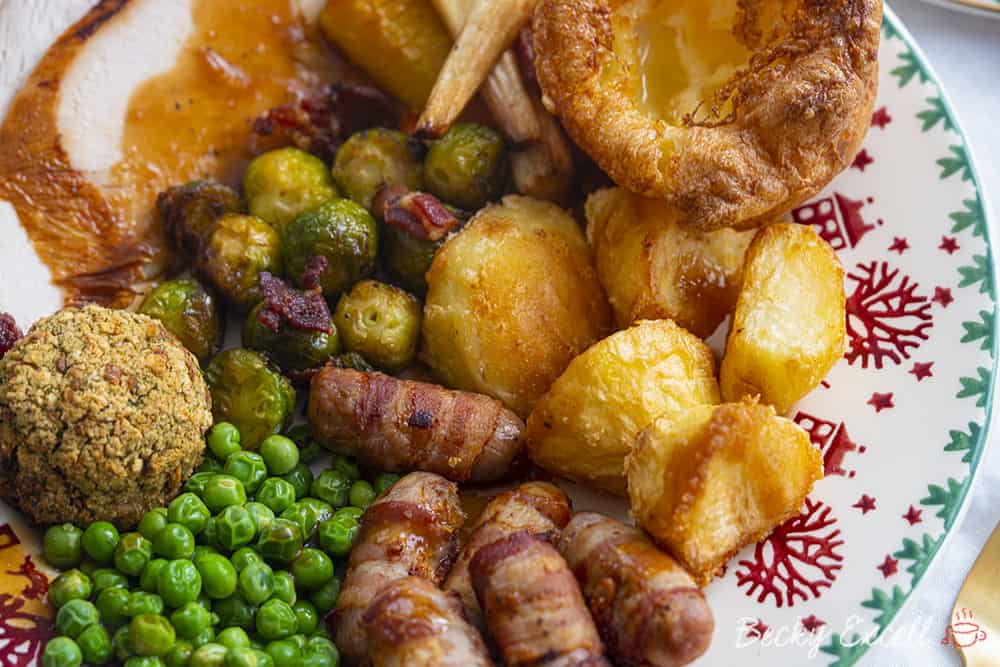 That's when we discovered this magical thing called 'gravy browning.' I know, it sounds awful! But it was the final secret ingredient that we really needed.
You can actually find this really easily in Tesco (not sure about other supermarkets) with all the instant gravy granules. It's gluten free and of course, it's low FODMAP too.
Here's a link to it in case you wanted to check it out and hunt for it on your next supermarket trip. With just 1 tsp of this bottle of magic, it transformed our thickened stock into gravy. Yes, actual gravy!!
Now, it was thick, it was brown like gravy should be and it added a nice bit of salty-ness that worked really well.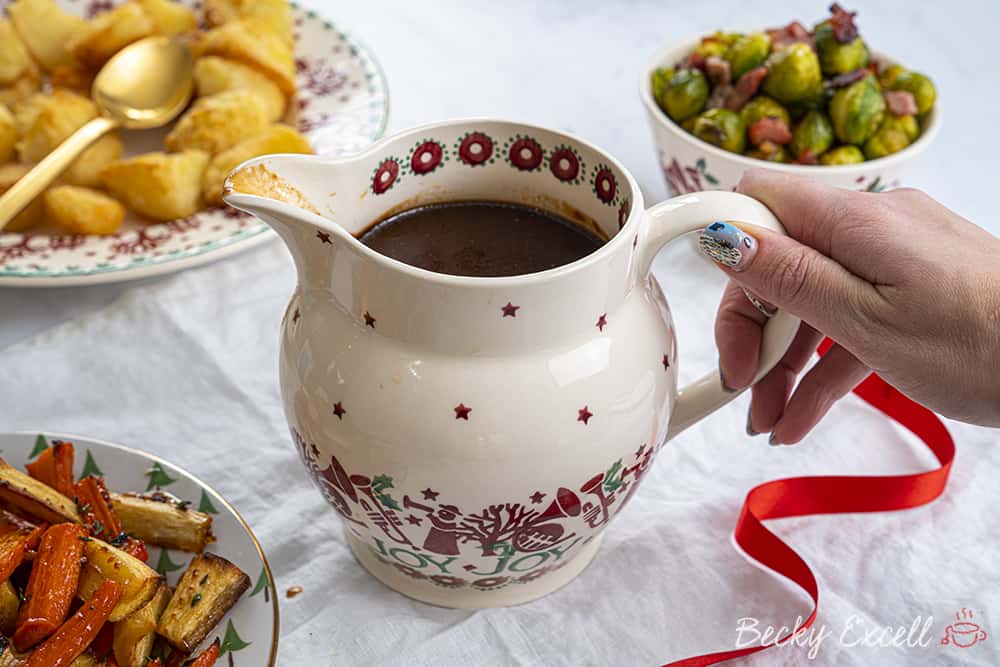 It still tasted a little like pure stock, but we were really happy with it! But the final icing on the cake was adding a tablespoon of tomato puree and a little bit of white wine.
Suddenly, we finally had it… gravy!! Not thickened stock, not brown thickened stock, but actual gravy. No meat drippings required.
And the best part of all was that it only takes something like 15 minutes to make it. So now, whenever we make a batch, we also freeze half of it too. That way, we can just get it out of the freezer, pop it in the microwave to defrost and it's just as convenient as having gravy granules.
My best gluten free/low FODMAP Christmas roast dinner recipes:
Here's our final gluten-free Christmas gravy recipe without meat drippings that's gluten free, low FODMAP and can even be made dairy free/vegan too…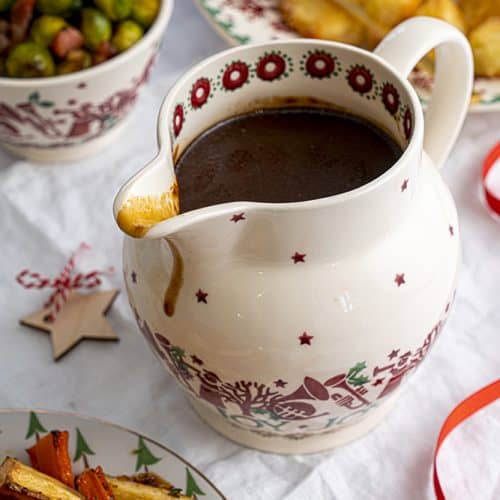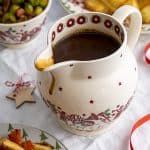 Gluten-free Christmas Gravy Recipe Without Meat Drippings (gluten free, low FODMAP)
My gravy recipe has no meat or drippings so you can make it whenever you like! You can make it into beef, chicken AND veggie gravy. It's low FODMAP too.
Ingredients
50

g

butter

or dairy free alternative

2

tbsp

gluten free plain flour

500

ml

stock

low FODMAP if necessary, read the post above for more information on options

1

tsp

gravy browning

see post above for link

15

ml

white wine

1

tbsp

tomato puree
Instructions
Melt your butter in a saucepan. Once melted add in your flour and whisk to combine to form a smooth consistency.

Add in your white wine and bring to a gently bubbling simmer for 2 minutes.

Add in your stock, browning, and tomato puree. Mix to combine.

Simmer to allow it to reduce to the consistency you like.
Nutrition
Serving:
1
g
|
Calories:
155
kcal
|
Carbohydrates:
8
g
|
Protein:
4
g
|
Fat:
12
g
|
Saturated Fat:
7
g
|
Polyunsaturated Fat:
4
g
|
Cholesterol:
31
mg
|
Sodium:
268
mg
|
Sugar:
2
g
Thanks for reading all about my gluten-free Christmas gravy recipe without meat drippings! If you make it, I'd love to see how it turned out with your roast so don't forget to take a snap of your creations and tag me on Instagram!
Any questions about the recipe? Please do let me know by following me on Instagram and leaving me a comment on a recent photo!
Thanks for reading,
Becky xxx
Oh and don't forget to pin this for later!