Introducing my gluten free passion fruit baked cheesecake recipe! I've posted a few no-bake cheesecakes recently, so it was about time I created another baked beauty…
And who could turn down a totally tropical passion fruit cheesecake? (I'm not a good person to ask because I never turn down any cheesecake, full-stop). So as resistance is clearly quite futile, let's get into my gluten free passion fruit baked cheesecake recipe!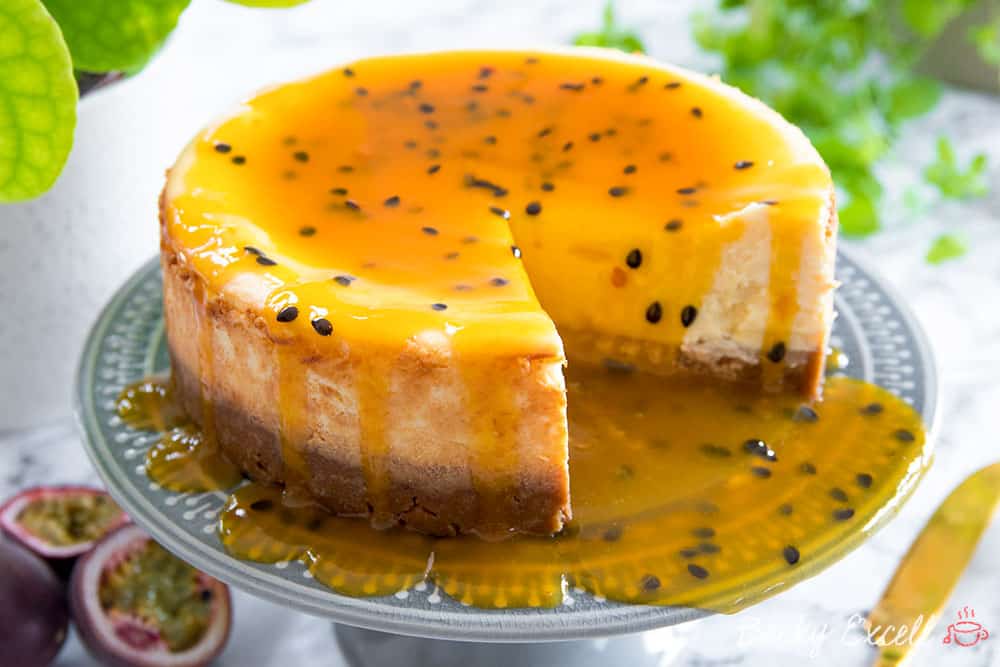 I don't want to blow your minds, but this is actually a baked lemon cheesecake with homemade passion fruit coulis on top.
"Say whaaaaat?!"
But before you report me for false advertising – allow me to explain!
Passionfruit is so sweet, with a little bit of a sourness to it too – whereas lemon is sweet and sharp. The combo of the two? Just pure AMAZINGNESS.
(I don't know if it's a real word, but we're not playing Scrabble here anyway so who cares?)
You actually only really taste the passion fruit, so the lemon just adds a little extra zing to balance out the sourness of the passion fruit. All in all, it's a tropical party in your mouth.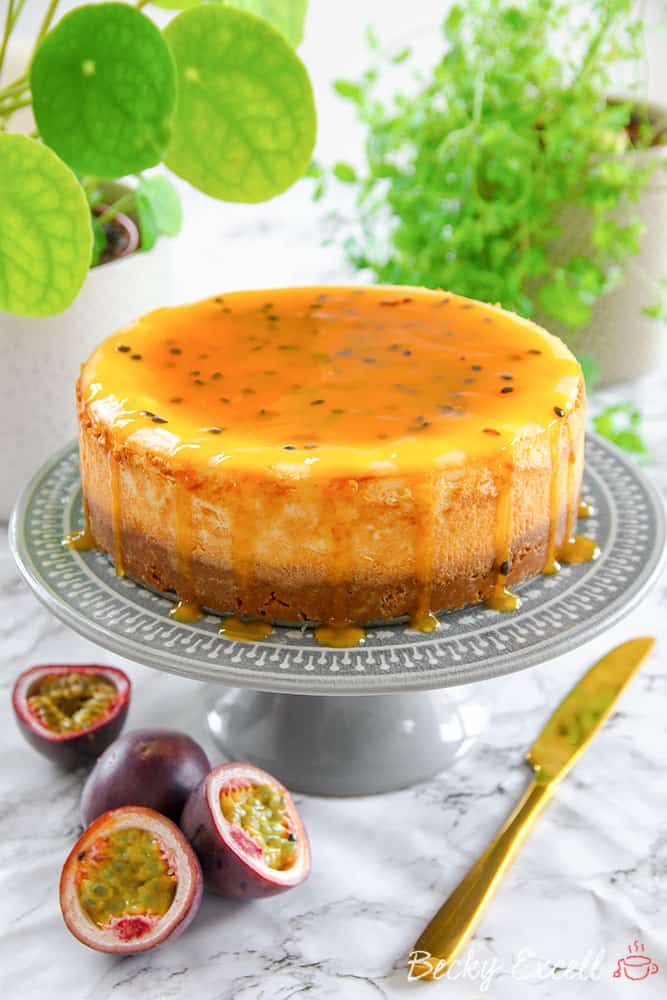 Also – why a baked cheesecake I hear you ask? What's the difference between baked and no-bake?
Well, the biscuit base is still the same, buttery layer that you've always loved in a cheesecake. The texture is also less 'jelly-like' than some of my no-bake cheesecakes because there's no gelatine required. This, alongside the eggs gives it more of a texture like a thick, set cream and it tastes more like it too.
I don't think I could pick between a no-bake or a baked cheesecake, so don't make me choose! They're both delicious to me 🙂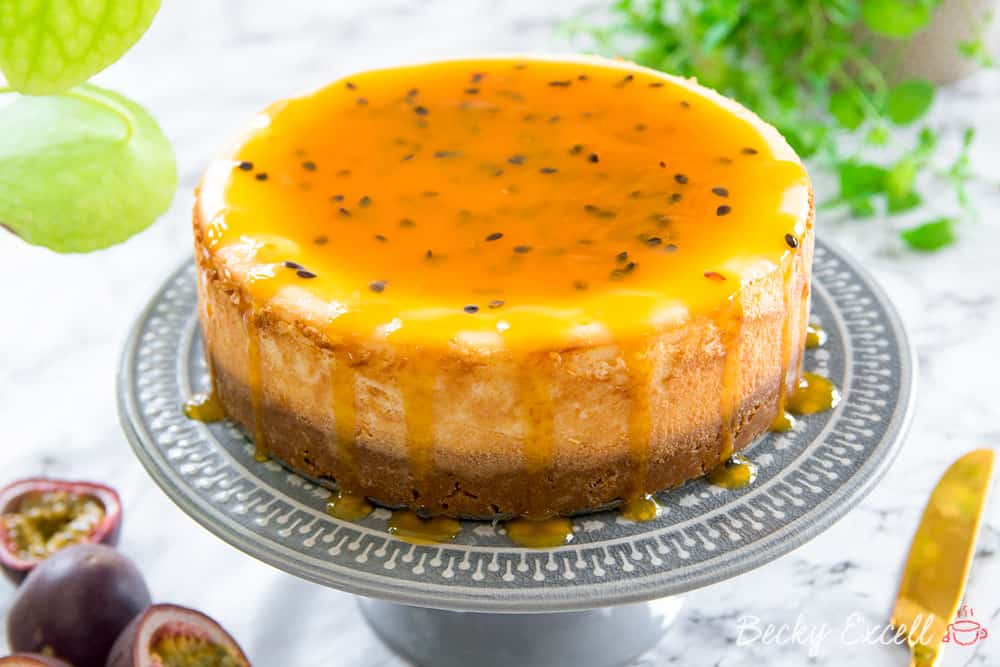 I always feel like cheesecakes fall into three categories… (correct me if I'm wrong!)
Fresh and fruity, rich and creamy and sweet and chocolatey. Is that about right?
So this one obviously falls into the fresh and fruity category, but it still has that creamy indulgence that all baked cheesecakes should have. It's a winning combo!
Anyway, here's my gluten free passion fruit baked cheesecake recipe. Enjoy…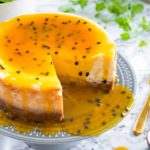 My Gluten Free Passion fruit Baked Cheesecake Recipe
If you love cheesecake, you'll love my gluten free passion fruit baked cheesecake recipe! A perfectly balanced flavour and a fab creamy texture too.
Ingredients
For the biscuit base
320

g

gluten free digestive biscuits

150

g

hard margarine / butter
For the cheesecake
600

g

cream cheese

(For this I used full fat Philadelphia for this one)

30

g

gluten free plain flour

200

g

caster sugar

2

lemons, juiced

3

lemons, zested

3

eggs

175

g

creme fraiche

(never a light version, I have used sour cream too for this but prefer the thickness of creme fraiche)
For the passionfruit coulis
6

fresh passion fruit

1.5

tbsp

icing sugar
Instructions
Crush your gluten free digestives. This time I placed mine in a mixing bowl and then crushed them with the top of my rolling pin. You can make them quite small or have some chunkier bits.

Melt your margarine or butter - I do this in the microwave.

Pour your melted margarine/butter into your crushed biscuits and mix together.


Press your biscuit mixture into the tin you are going to be making your cheesecake in. Press it down nice and firmly and pop in the fridge to chill.


Preheat your oven to 200C Fan.

For your cheesecake top place your cream cheese into your mixer (I use my Kitchen Aid stand mixer for this), mix for about a minute.

Mix your gluten free plain flour and caster sugar together and then gradually add it to your mixer whilst mixing it very slowly.

Beat your 3 eggs together so that you can very gradually add them to the mixer too alongside your lemon juice and zest.

Finally fold in your creme fraiche by hand.

Spoon your cheesecake mixture on top of your cheesecake base.

Place it in the oven for 10 minutes at 200C and then drop the temperature to 90C for a further 30 minutes. Once finished the cheesecake will be incredibly wobbly but might be browned a little round the edges. Don't remove it from the oven.

Instead of removing it - turn the oven off, leave the cheesecake in there and leave the door ajar to allow the cheesecake to cool slowly which will prevent cracking. I usually leave mine for about 2.5 - 3 hours.

I then cover the cheesecake in foil and leave in the fridge to set overnight.

Make your passionfruit coulis by cutting your passion fruits in half and scooping out the pulp and seeds into a saucepan alongside your icing sugar. Bring to the boil.

Reduce the heat and allow to simmer until it thickens a little. Once thickened turn off the heat and leave to cool. (You can add more icing sugar to taste, but I like it quite zingy. You can also sieve out the seeds if you don't like them, but I love how they look!)

When you are ready to serve very carefully remove the cheesecake from it's tin and pour over your passion fruit coulis.

Keep refrigerated any leftovers. Enjoy!
Recipe Notes
I use a 20cm loose bottom deep tin, but you could also use a springform tin.
You could buy your passionfruit coulis from the supermarket too if you wanted!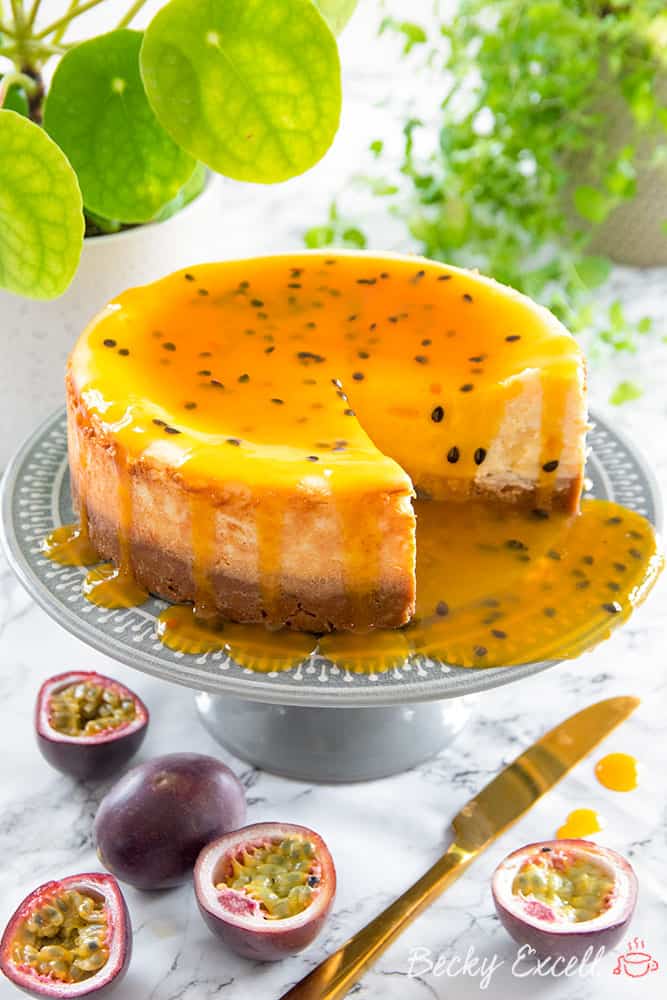 Thanks for reading how to make my gluten free passion fruit baked cheesecake recipe! If you make it, I'd love to see how it turned out so don't forget to take a snap of your bake and tag me on Instagram!
Plus, I'm giving away a £50 supermarket voucher every month to my fave pic – boom!
Any questions about the recipe? Please do let me know by following me Instagram and leaving me a comment!
Thanks for reading,
Becky xxx
Oh and don't forget to pin this for later!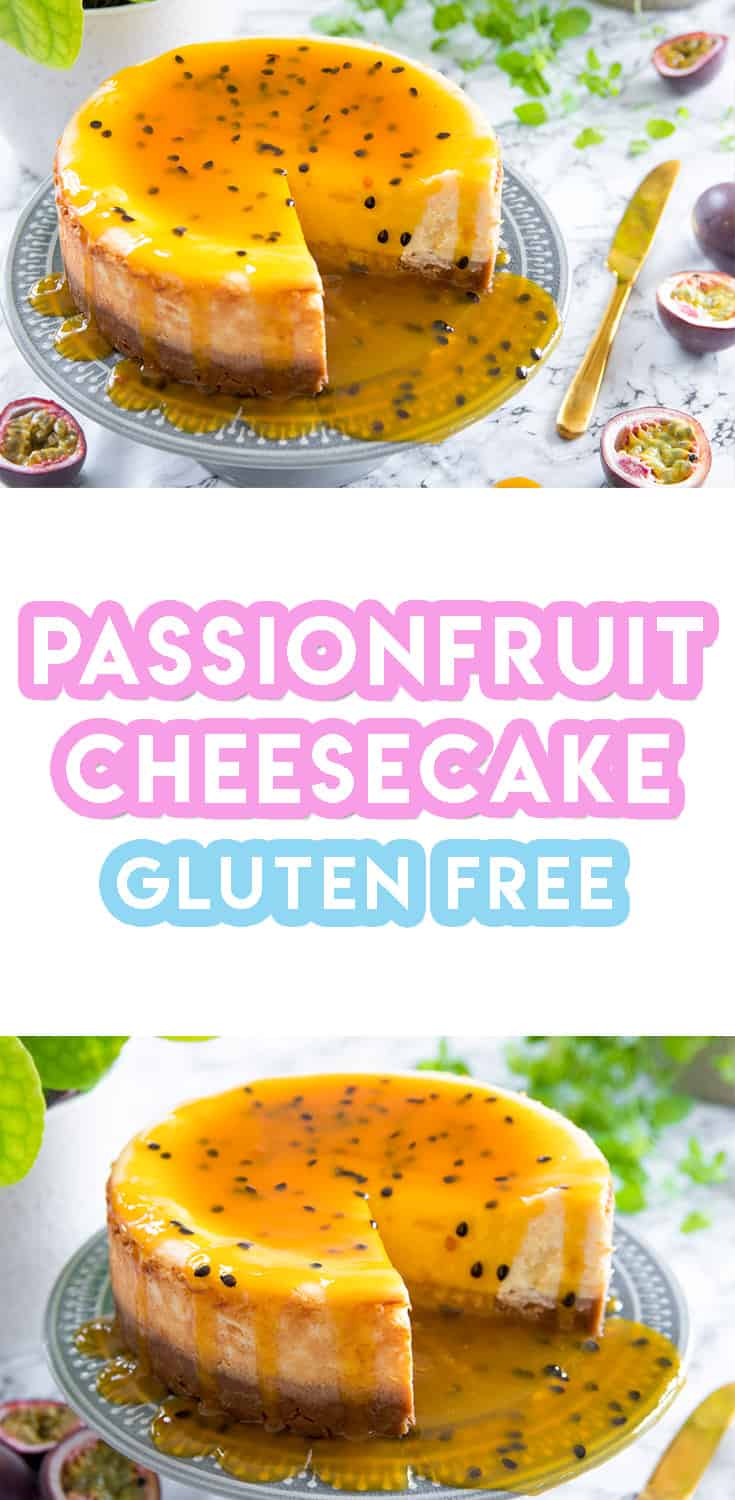 Comments