Yep, it's time to check out the Morrisons Gluten Free Christmas Range 2019! There's a ton of new products and some old faves too.
My local Morrisons is pretty awesome because the free from aisle is all in one place. That's chilled products, frozen products AND store-cupboard items all in the same aisle. So not surprisingly, that's where I found the Morrisons Gluten Free Christmas Range this year
Does your Morrisons have a free from aisle like that? Or is it spread all over the shop?
Oh and also make sure you're following me on Instagram where I post all my latest gf finds first – that way, you'll always know all the most recent finds and never miss any!
(I'll be keeping this post updated with prices and new products as Christmas approaches as there's at least 5-6 new products still to come, so keep checking back!)
Here's 25 NEW products in the Morrisons Gluten Free Christmas Range 2019 👇🏻
Make sure you let me know if you have any trouble finding any of these ✅
This post is constantly updated! Keep scrolling to the bottom for the NEWEST products 👇🏻
1. Morrisons Free From 12 Mini Pastry Tart Cases – Gluten free, wheat free
I've finally found them again at £3.60!
A lot of you guys were asking when these would make a come back, so here you go! Morrisons seems to be the only place stocking these this year.
I think these little mini pastry tart cases are awesome because you can actually create some fancy gf canapes with very little effort.
You could easily fill them with lemon curd and top with meringue, or go savoury and fill them with cream cheese and salmon. Let your creativity go wild!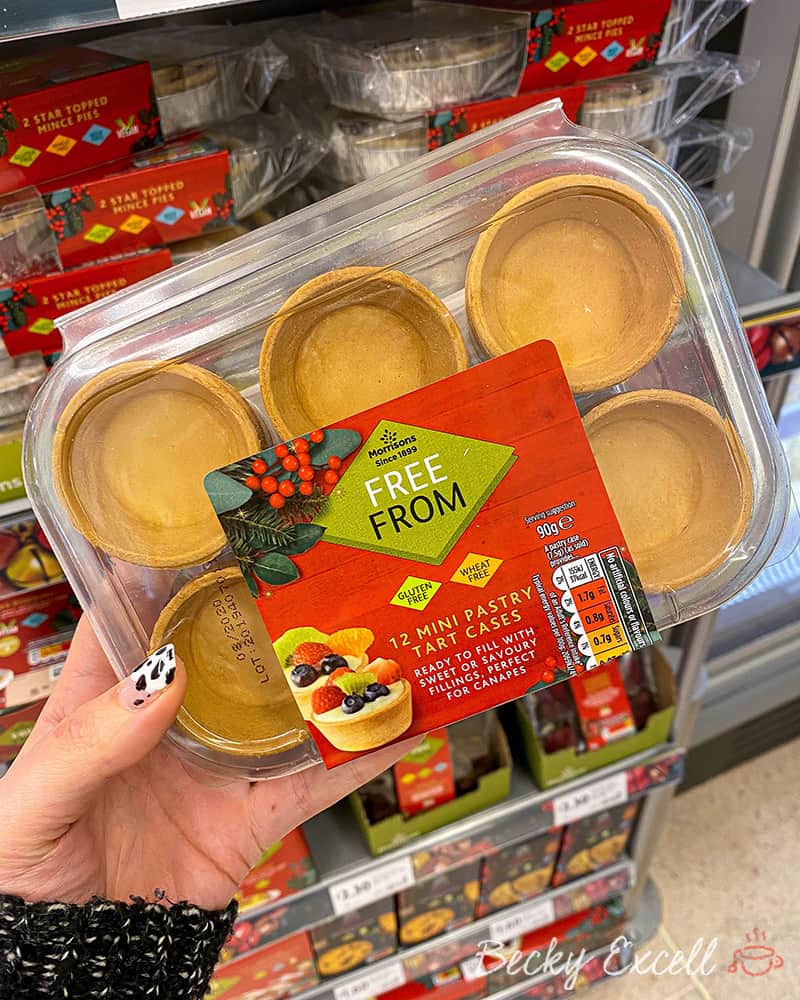 2. Morrisons Free From Oaty Cookie Selection – Gluten free, milk free, egg free
Here's one of the best festive tubes you'll find this Christmas for £3!
(I've actually saved the other one until the end of this post in case you're wondering)
This tube has 2 chocolate chip cookies, 2 ginger cookies and 4 plain ones.
Plus, they're gluten free, dairy free AND vegan too. Not a bad start to Morrisons gluten free Christmas range so far, right?!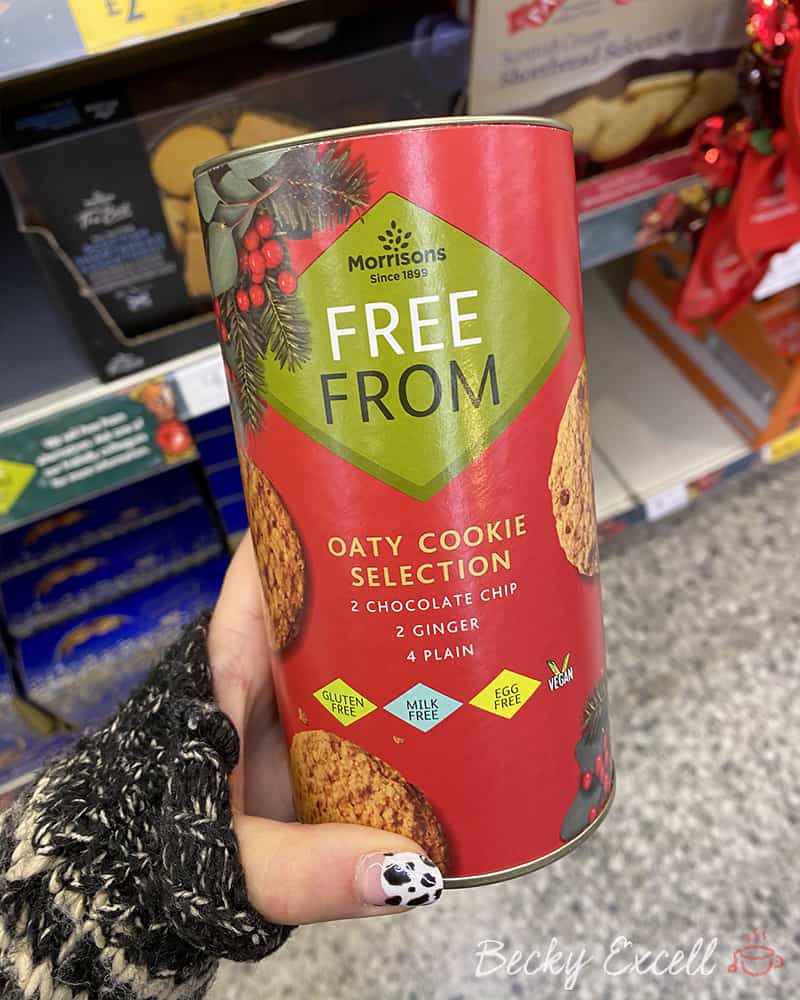 3. Morrisons The Best All Butter Cranberry and Clementine Shortbread – Gluten free
But if you fancy something a little special this Christmas, then I'd defo recommend giving Morrisons Cranberry and Clementine shortbread a go – they're only £1.60 too.
I don't get to try every product I put in these posts (otherwise I wouldn't be able to get through the door into Morrisons in the first place 😂) but these are one of my fave festive biscuits this year without a doubt.
They're lovely and buttery and the combo of cranberry and orange is lovely.
I've had Christmas music playing in my head ever since trying them – bad singing included at no extra cost.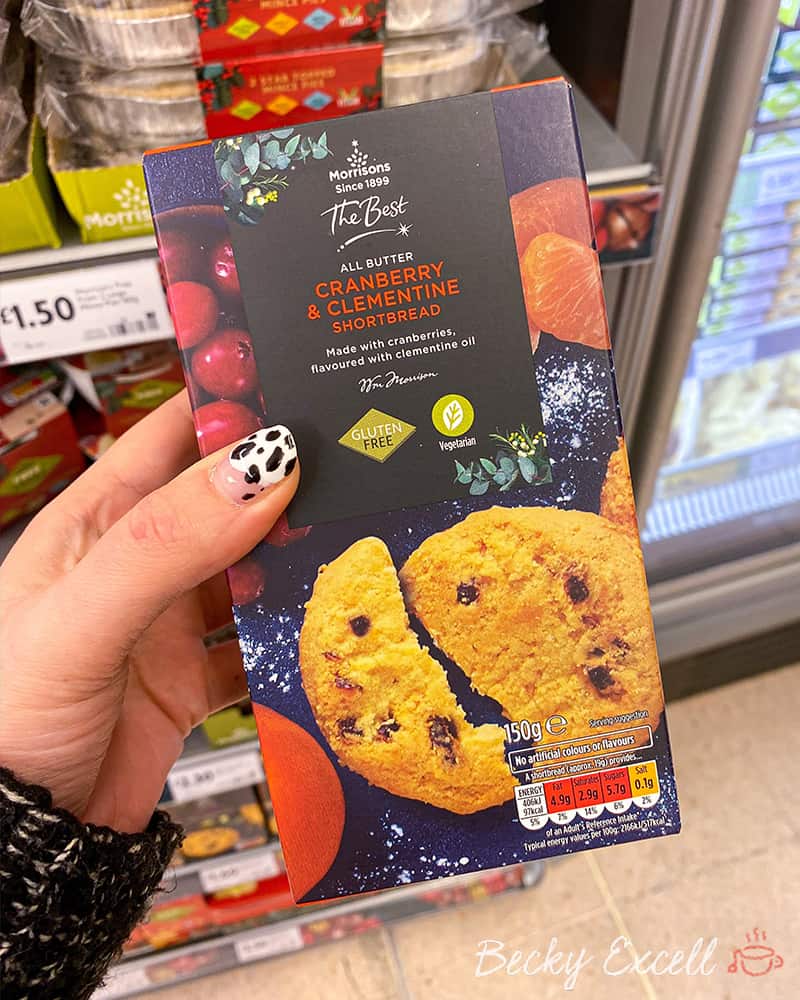 4. Morrisons The Best All Butter 8 Belgian Milk Chocolate Rum and Raisin Cookies – Gluten free
And what I'd really love to try next are the milk chocolate rum and raisin cookies 😍
I've never been a fan of raisins in biscuits, but I could certainly make an exception for these…
(I mean, rum and chocolate helps!)
If you get to try them before me, let me know what they're like! They're just £1.60 too.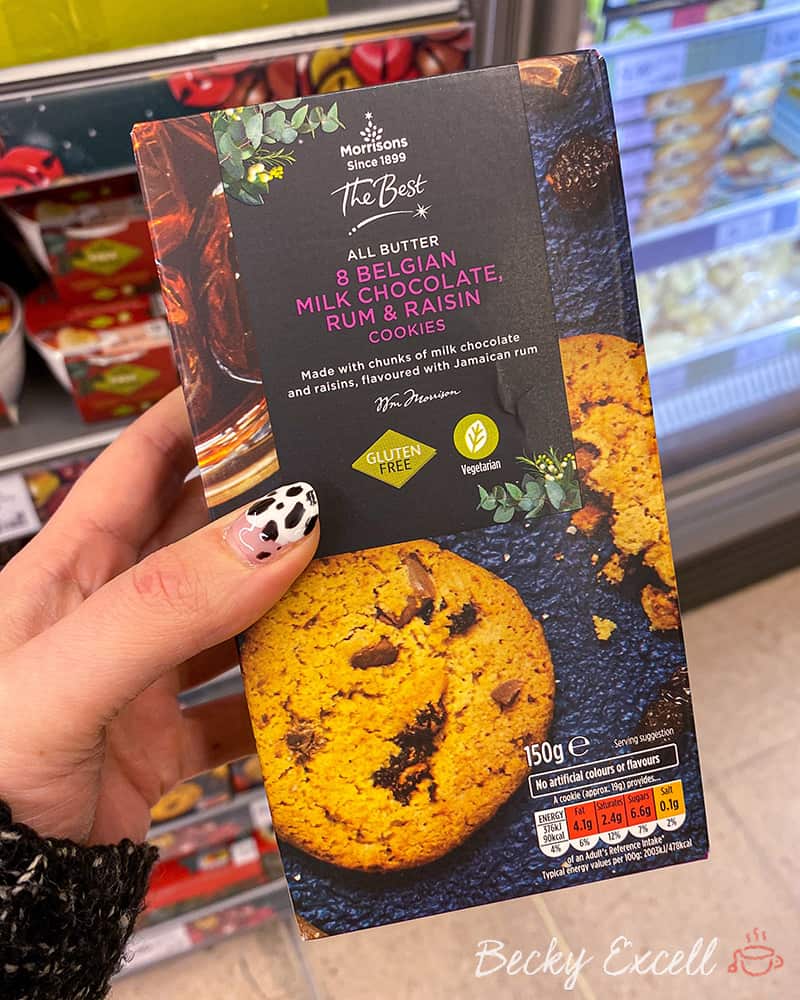 5. Morrisons Free From 4 Mince Pies – Gluten free, wheat free, milk free
And here's Morrisons famous free from mince pies for £2.
Why are they famous? Well, I'm pretty sure they won the Good House Keeping award last year? Which is no easy feat!
(I've just checked and they don't seem to have won this year, but they're still the same product I'm pretty sure)
Morrisons seem to have quite a few gluten free AND dairy free AND vegan products this year, so tell everyone who needs to know!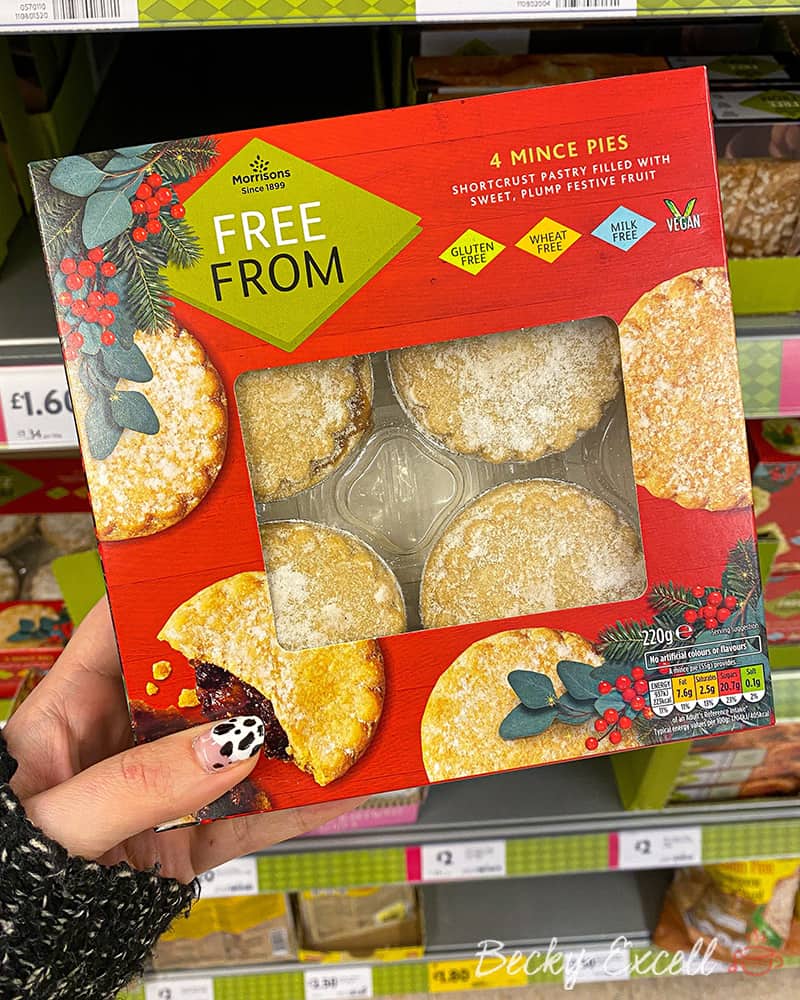 6. Morrisons Free From 2 Star Topped Mince Pies – Gluten free, wheat free, milk free, vegan
I personally love the shallow, star-topped mince pies over the deep-filled ones – they're £1.50 btw.
They're a little lighter and I much prefer the ratio of filling to pastry – anyone else agree?!
Either way, Morrisons have both, so I'll leave the decision down to you.
Oh and if you fancy baking your own festive treats this year, here's a little helping hand…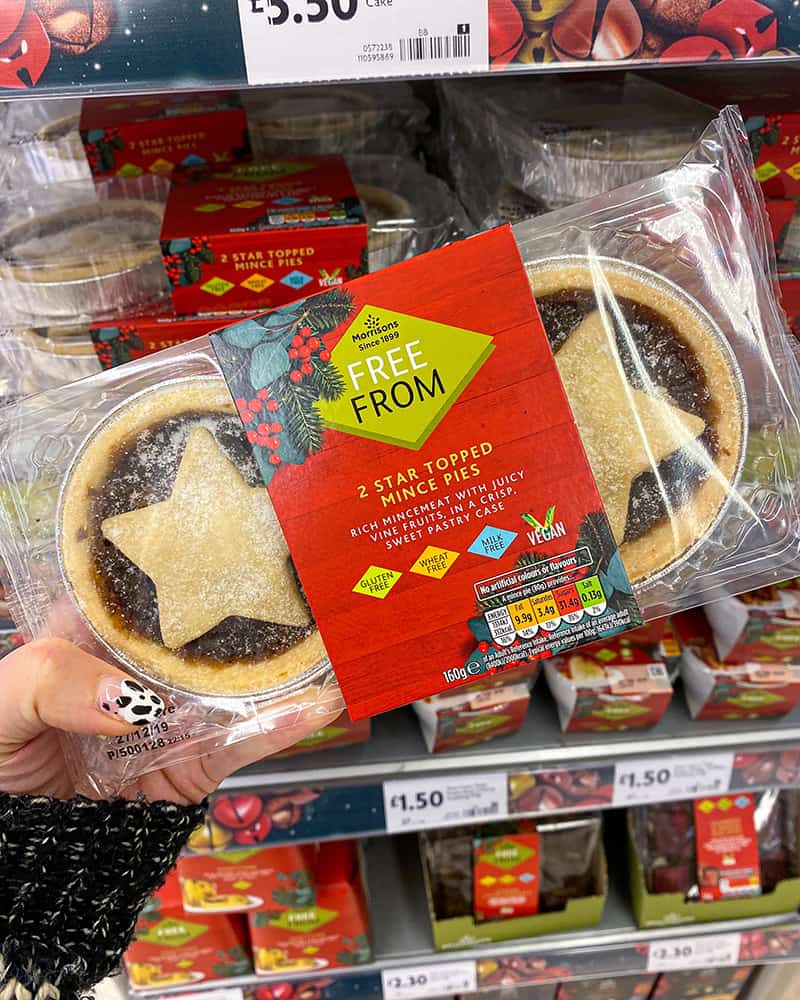 7. Morrisons Free From Chocolate Brownie Star Cookies – Gluten free, milk free
What do you think?! I think it's cool! It's £3.50.
These are basically little brownie-cookies that you shake icing sugar over to give it a little star decoration.
All you need to do is add oil and an egg to the kit and you're all set.
I haven't seen a lot of festive 'bake your own' kits this year, so make a mental note of this one if you fancy giving it a go.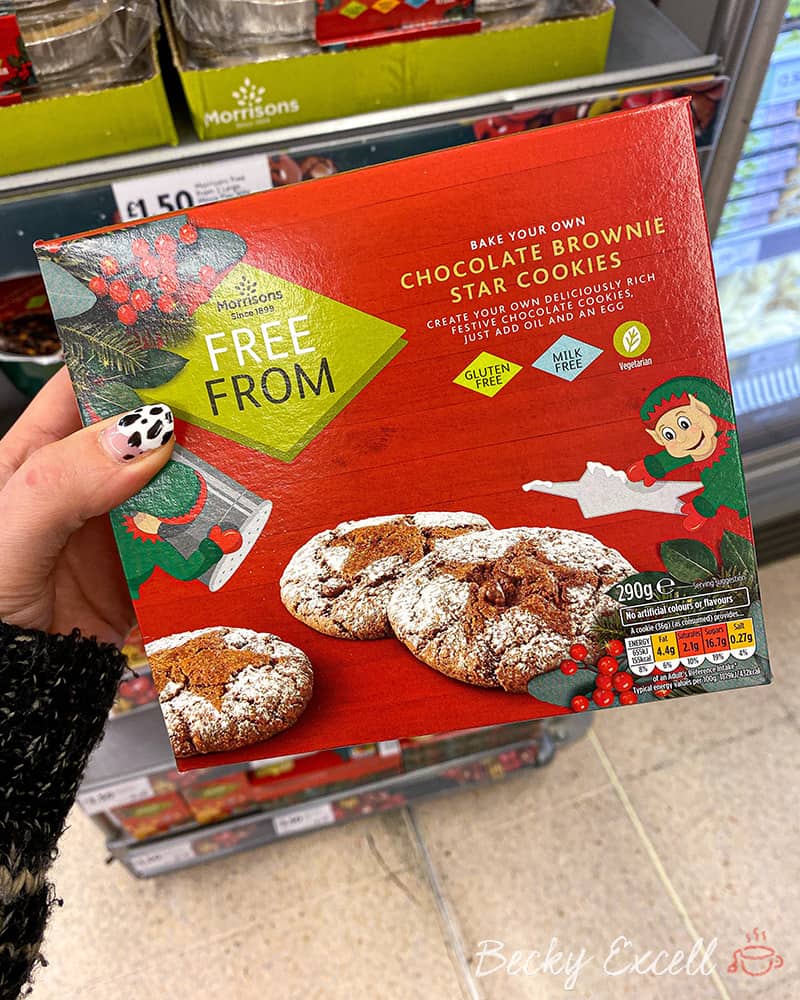 8. Morrisons Free From Cracker Selection – Gluten free, milk free, vegan
Onwards and upwards with the cracker selections!
Nairn's have quite a cool-looking one in Tesco this year that's gf, but this would be another good option too.
There's 10 sea salt and black pepper, 10 plain, 10 rosemary and 10 herb and onion crackers.
Oh and they're milk free and vegan too 👌🏻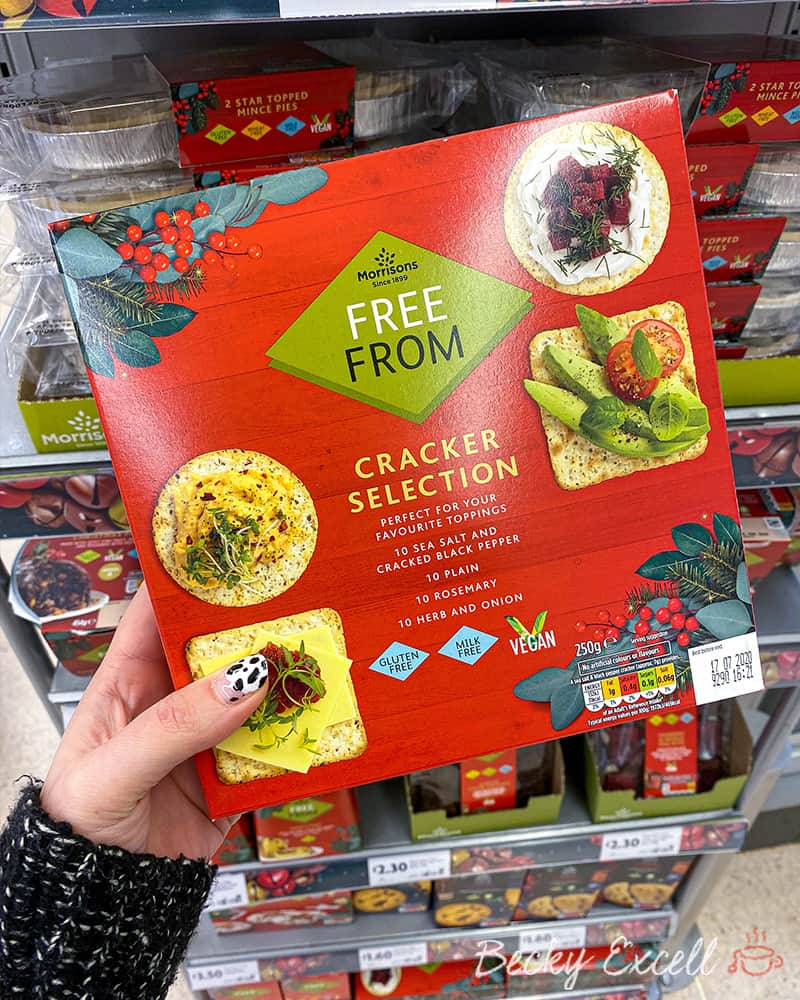 9. Morrisons Free From Christmas Pudding – Gluten free, milk free, vegan
This has been a staple in the Morrisons gluten free Christmas range for years now – it's the larger-sized one btw.
I love that they've made what the products are free from a little clearer by using a colour-coded labelling system and highlighting clearly when it's vegan.
Most supermarkets always put the vegan logo somewhere in the corner, so at least this is where it belongs now!
I don't actually like Christmas pudding though, so you don't want my opinion on how it tastes however 😂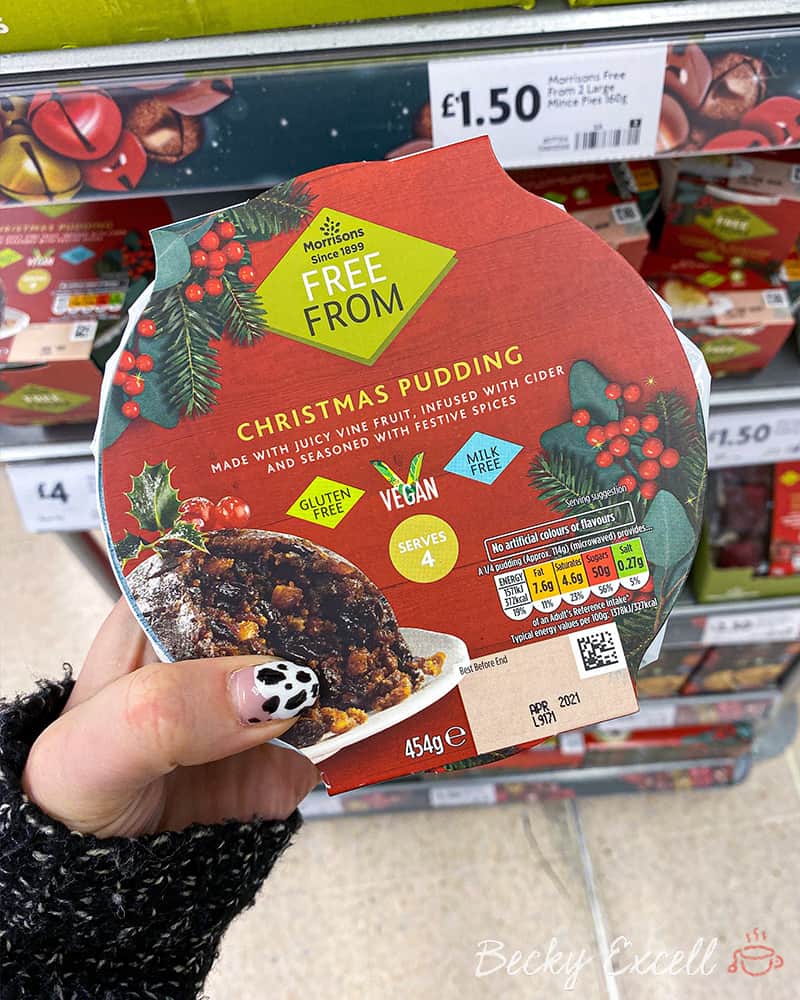 10. Morrisons Free From Sticky Toffee Pudding – Gluten free
And if you're looking for a little festive dessert for one this year, here's a few good options.
A good ol', proper sticky toffee pudding!
Options like these are great if you're the only gluten free person in the house, or you need to take a dessert option over to someone else's house.
Don't fancy this one? Here's another…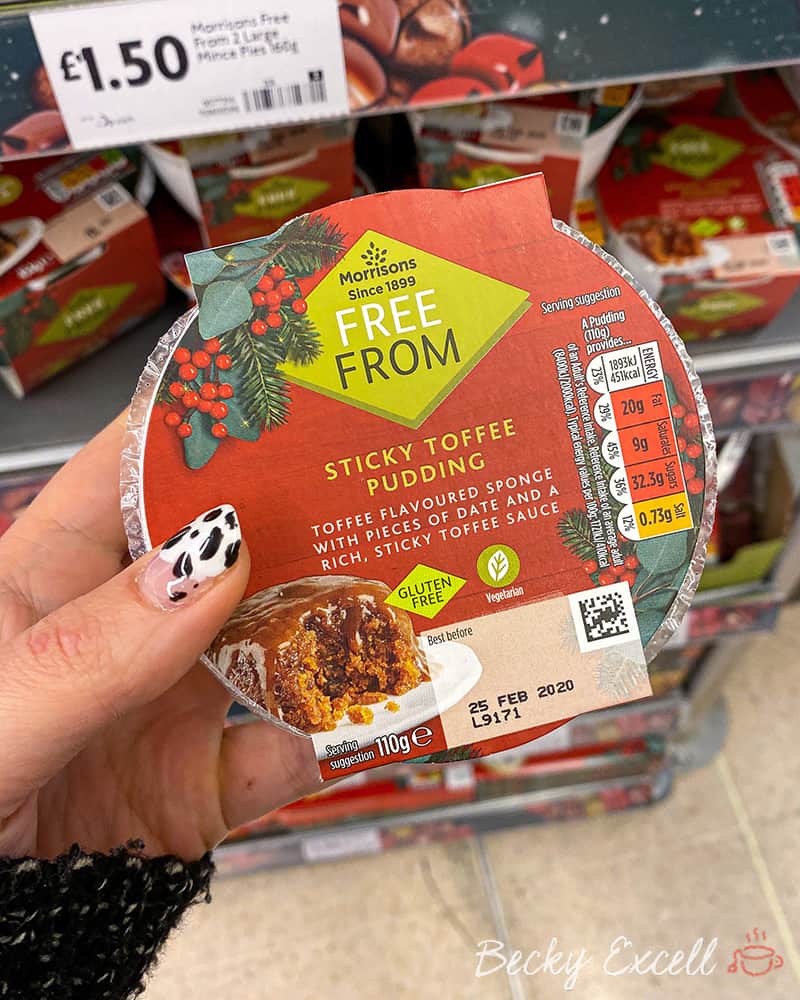 11. Morrisons Free From Cherry and Almond Sponge Pudding – Gluten free
Mmm, cherry and almond sponge pudding!
These cost £1.50 each (the sticky toffee pudding too) which isn't all too bad.
BUT… in Aldi, you can actually buy TWO gluten free sponge puddings for £1.69. Here's what they look like.
They are different flavours to these though, but just thought you might want to know.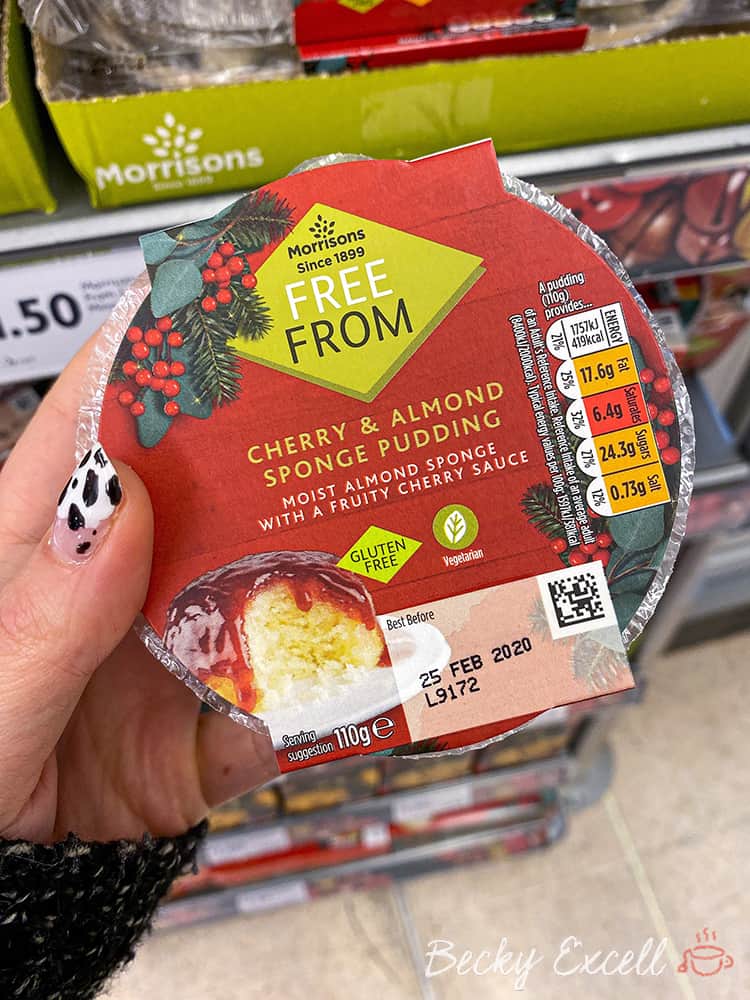 12. Morrisons Free From Christmas Pudding (mini) – Gluten free, milk free, vegan
Oh and here's the mini gluten free Christmas pudding.
The big one earlier serves four and this one is the perfect serving for one.
I remember a time when it was hard to come by a gf Christmas pudding…
And now every supermarket in the UK stocks a small and a large one without fail!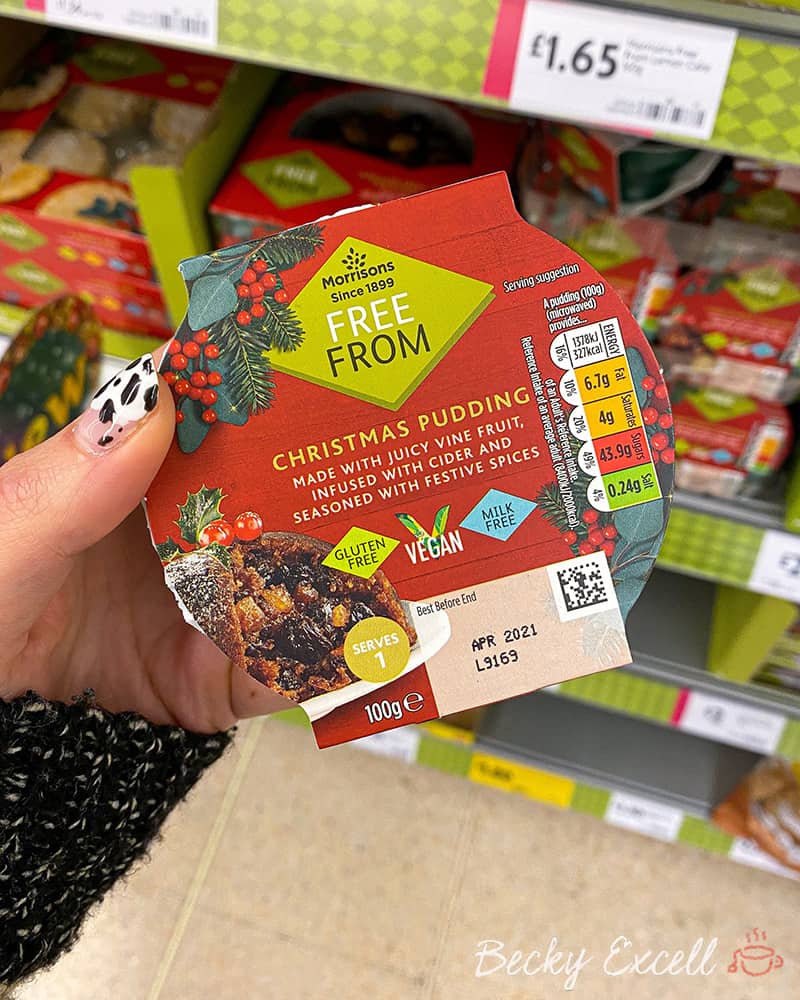 13. Morrisons Free From Panettone – Gluten free
I will never get tired of seeing more gluten free panettone options!
This is a smaller-sized panettone, but if you want a really huge one – they stocked those in Sainsburys FYI.
But I haven't heard good things about the taste and texture after asking a lot of you guys on Facebook for feedback.
Perhaps you should give this one a go instead?!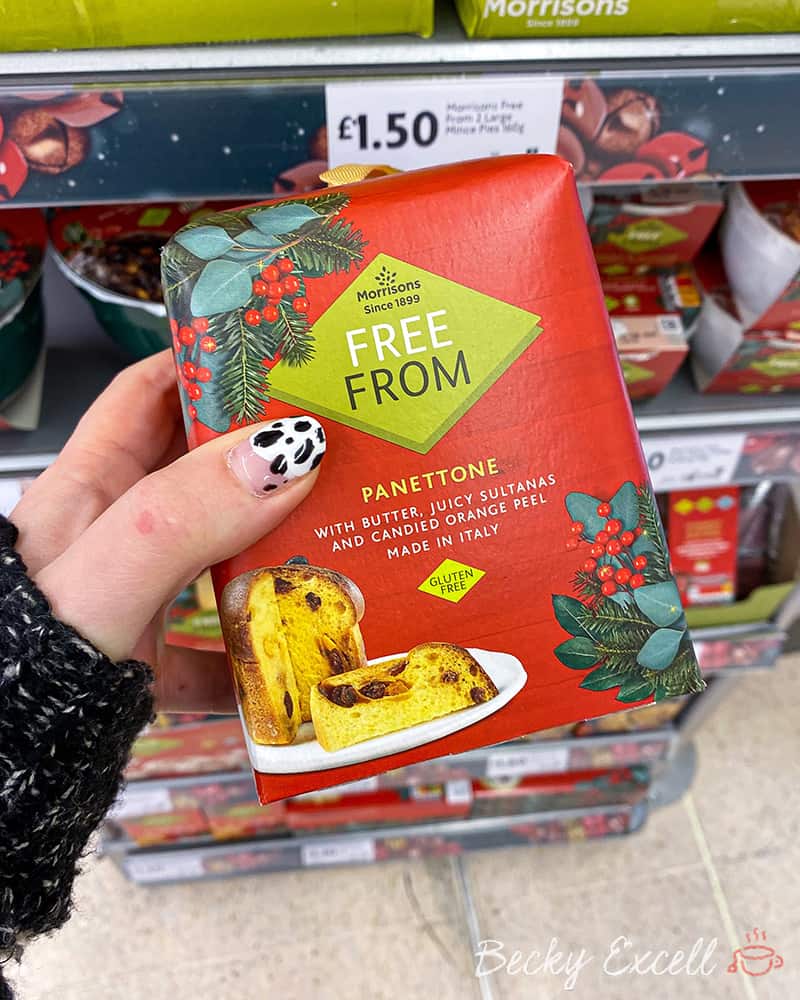 14. Morrisons Free From Jewelled Fruit Topped Christmas Cake – Gluten free, wheat free
This is probably the fanciest looking Christmas cake out of all the supermarkets.
Instead of having an icing top, it's topped with almonds, pecans and glace cherries – that's a bit more like it!
Most supermarkets have a free from iced fruit slab if this is too big for you, so make sure you keep your eyes peeled for those too.
Which is your fave product in this post? Let me know in the comments at the bottom of this post 👇🏻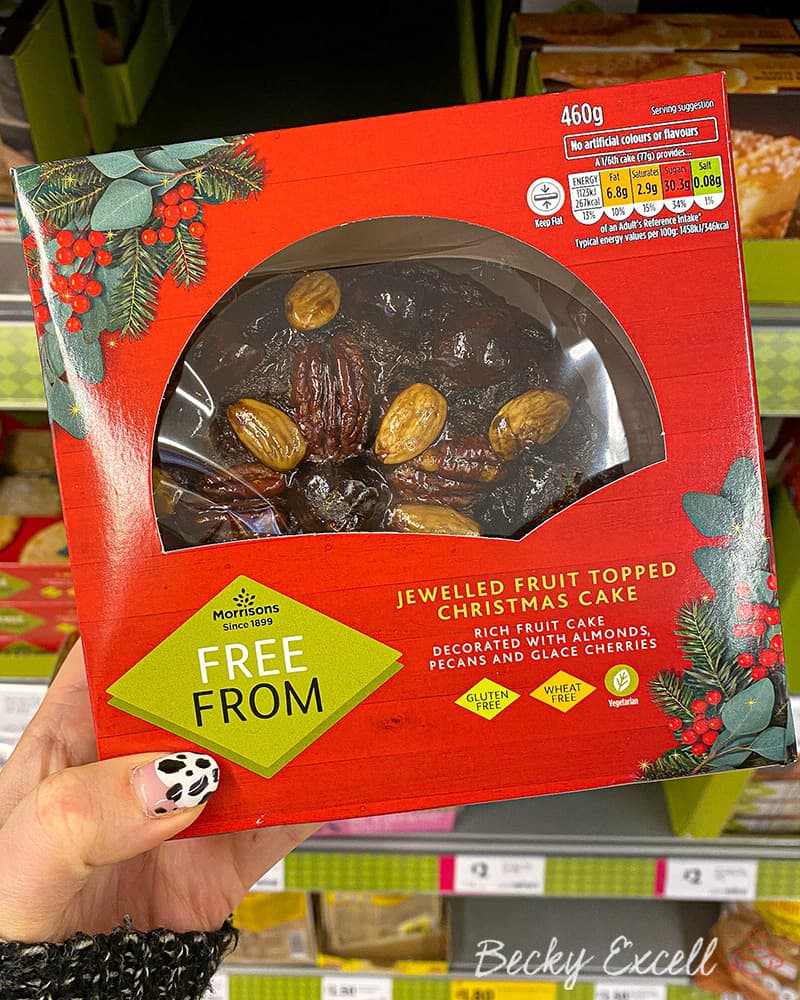 15. Morrisons Free From Mini Crackers – Gluten free, milk free, vegan
Oh and here's a selection of mini crackers if the previous cracker selection was a bit much for you!
They're dairy free and vegan too, like a lot of products in Morrisons gluten free Christmas range.
Having looked at a lot of supermarket free from ranges this year, Morrisons seems to have some of the best savoury options.
I'm gonna make a post on the best gf supermarket party food soon too, so watch this space!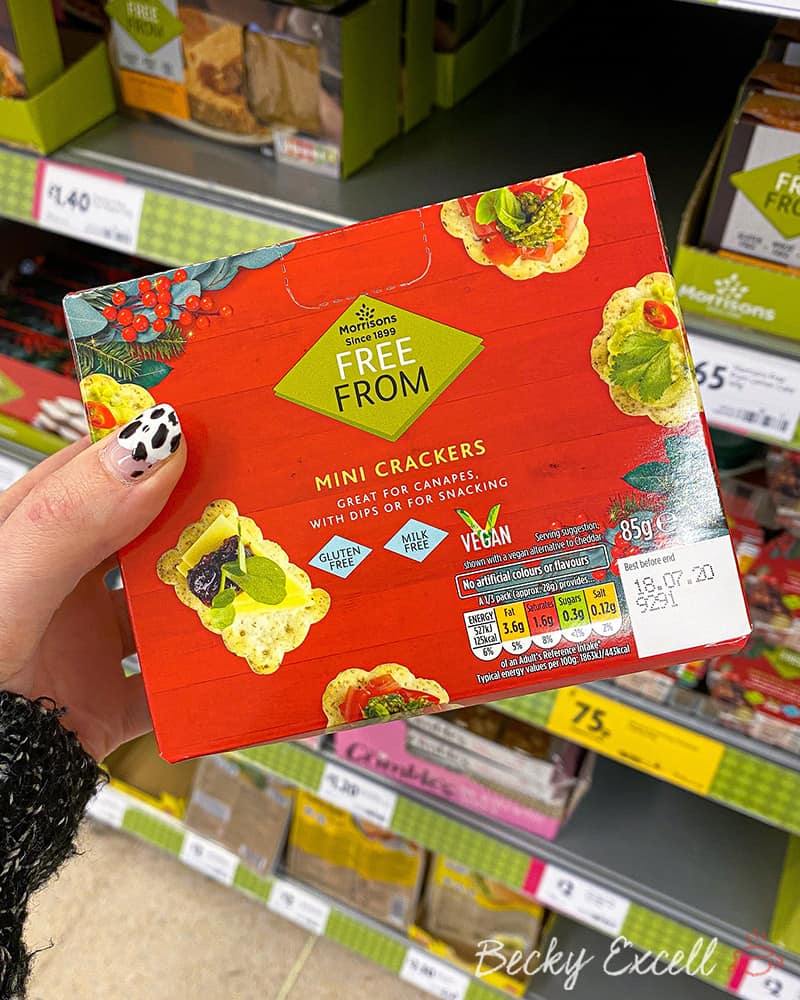 16. Morrisons Free From 6 Gingerbread Men – Gluten free, wheat free, milk free
And if one gingerbread man isn't enough…
(and you want your own gingerbread man army for example!)
Then here's a box of 6 full-sized gingerbread men that are gf and dairy free too.
Pick up some white icing and ice your own details on them if you fancy a bit of fun!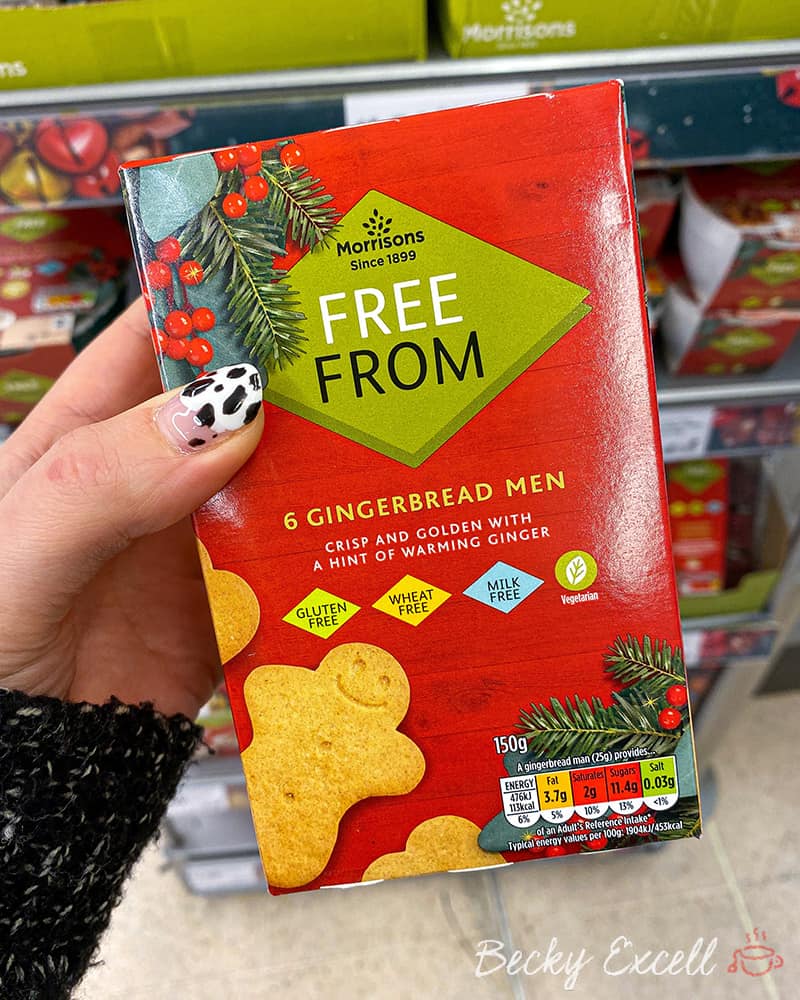 17. Schar Gluten Free Jaffa Cakes – Wheat free
And though Morrisons don't yet stock Schar's mind-blowing new products like their Lebkuchen or festive Lotus biscuits, they now have these!
(you can find those Schar products in Asda btw)
These are Schar's usual Jaffa Cakes but now in festive packaging, which I felt needed to be included in this post.
How do you rate them? Let me know in the comments below this post 👇🏻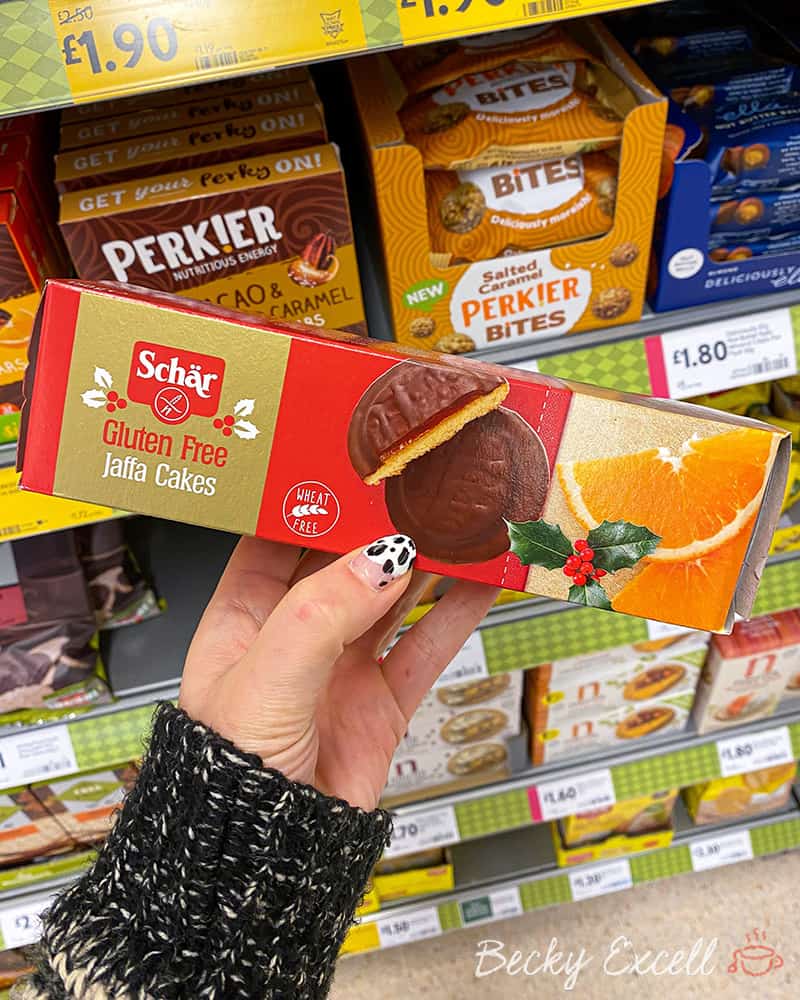 18. Morrisons Free From Cranberry and Orange Mini Bites – Gluten free, milk free, egg free, vegan
Everywhere seems to have their own selection of 'festive bites' and Morrisons has their own too.
The first one are their cranberry and orange mini bites which are £2.30.
They're also gluten free, milk free, egg free AND vegan too.
Don't fancy these? Why not try…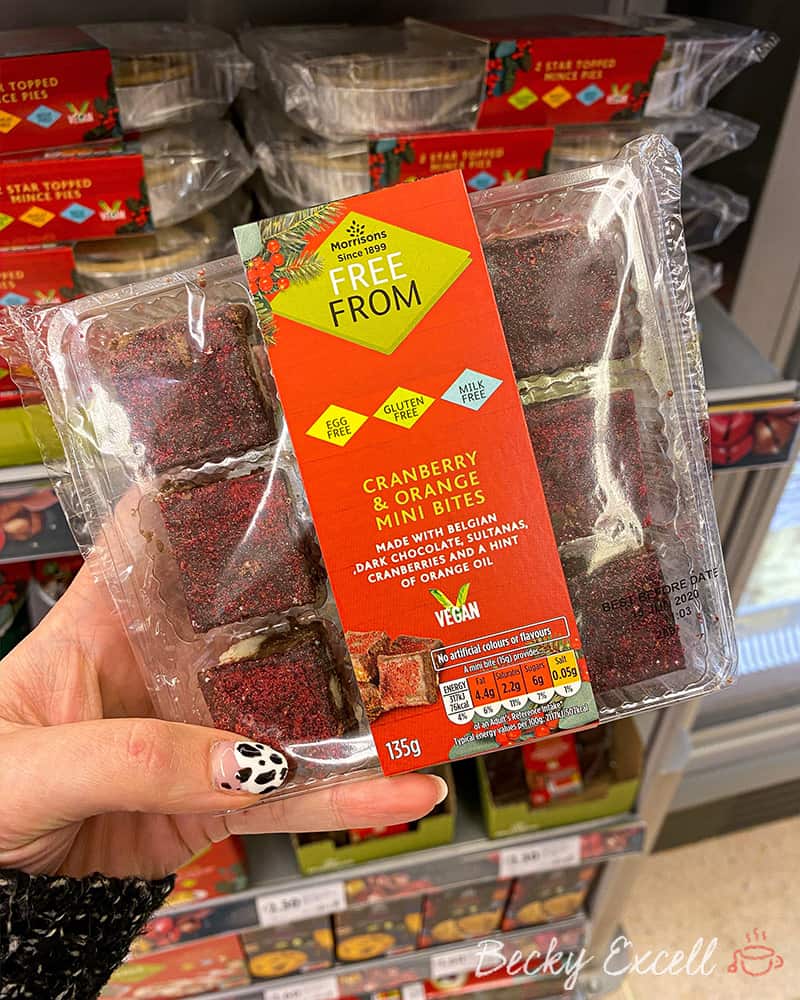 19. Morrisons Free From Ginger Tiffin Squares – Gluten free, milk free, egg free
Aaaand here's the ginger tiffin squares to go along with them!
Yep, they're also gf, dairy free, egg free, vegan and £2.30 too.
I'd be happy to turn up to a party and be able to have a few of these and I bet nobody would even know they're free from either.
Check out my Sainsburys post (links at the end of this post) to see what bites they're selling this year too.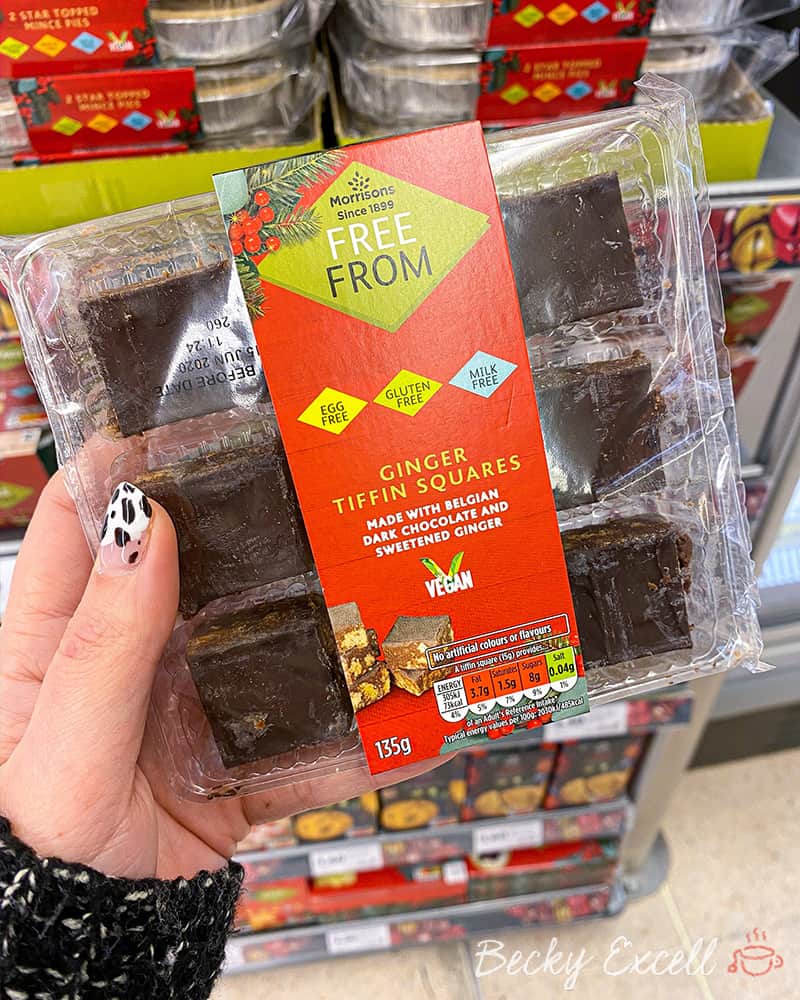 20. Morrisons Free From 5 Iced Fruit Cake Bars – Gluten free, wheat free, milk free
Aaand if the big fruit cake I post earlier was a little too much for you, these iced fruit cake bars are probably a decent option!
They're topped with marzipan and icing for a proper festive treat.
These are £2.20 – what do you think of the price? And how about the price of most free from products these days generally?
I'd love to know your thoughts on free from pricing these days!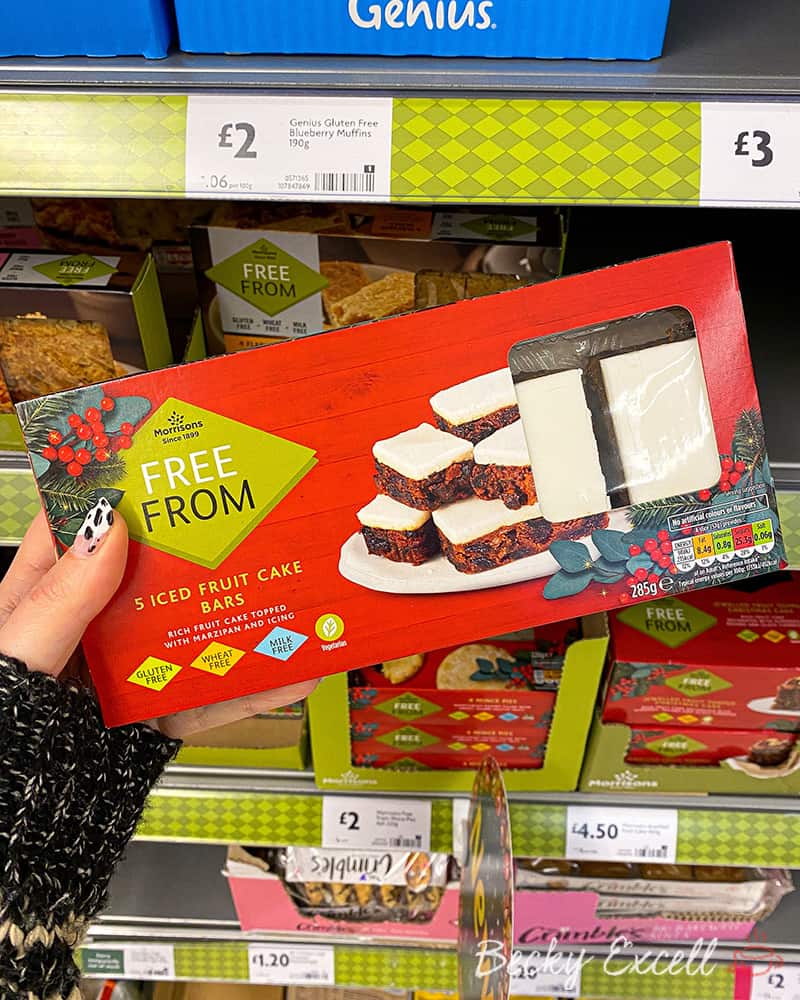 21. Morrisons Free From Belgian Dark Chocolate Truffle Selection – Gluten free, milk free, egg free, vegan
The dairy free chocolate options just seem to get better and better these days!
This is the exact same truffle selection I've spotted in Co-op… but instead of being £5, it's £4.50 in Morrisons!
Inside the box are 3 dark chocolate, 3 caramel and 3 raspberry truffles. They're not rock solid chocolate either, they're really soft, melty and lovely.
Mark was so happy when I brought this home… half of it seems to have disappeared already!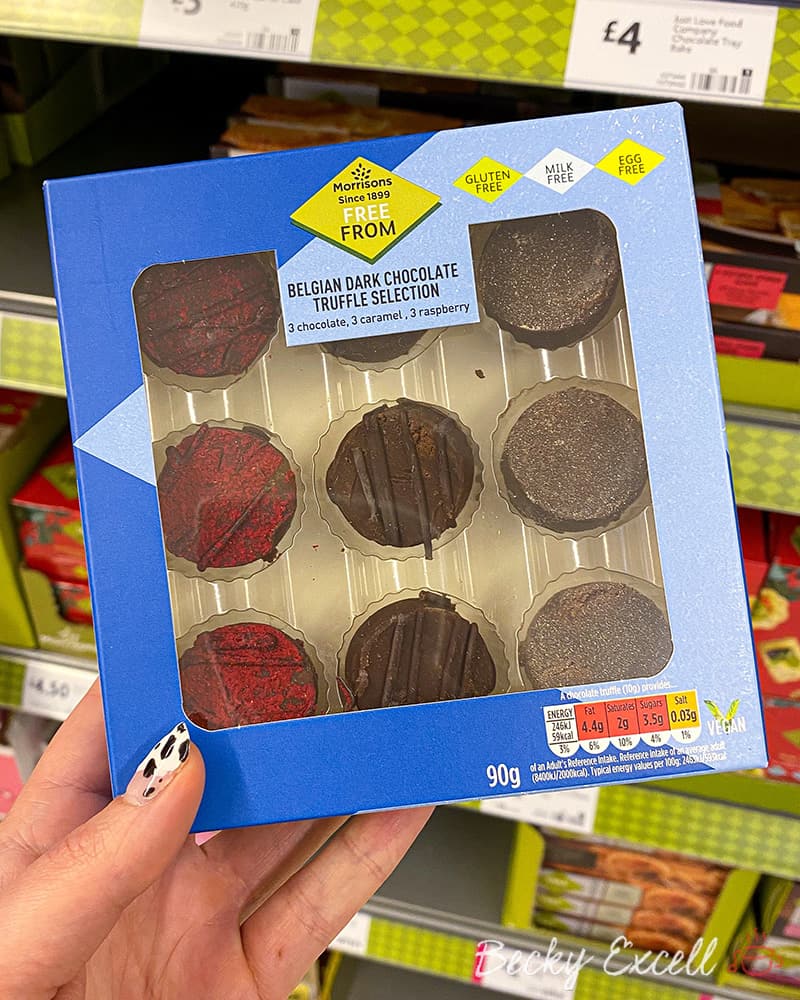 22. Morrisons The Best Belgian Chocolate and Orange Iced Cream Present – 'Accidentally' gluten free
Ok and now over to the freezer section in Morrisons (outside of the free from aisle) to spot some 'accidentally' gluten free desserts.
Up first is this awesome chocolate orange semifreddo mousse with chocolate meringue and a Belgian chocolate sauce centre… finished with a chocolate bow.
Yes, I said chocolate four times in one sentence!
Since Terry's chocolate orange have a 'may contain' for gluten, just eat this instead and enjoy!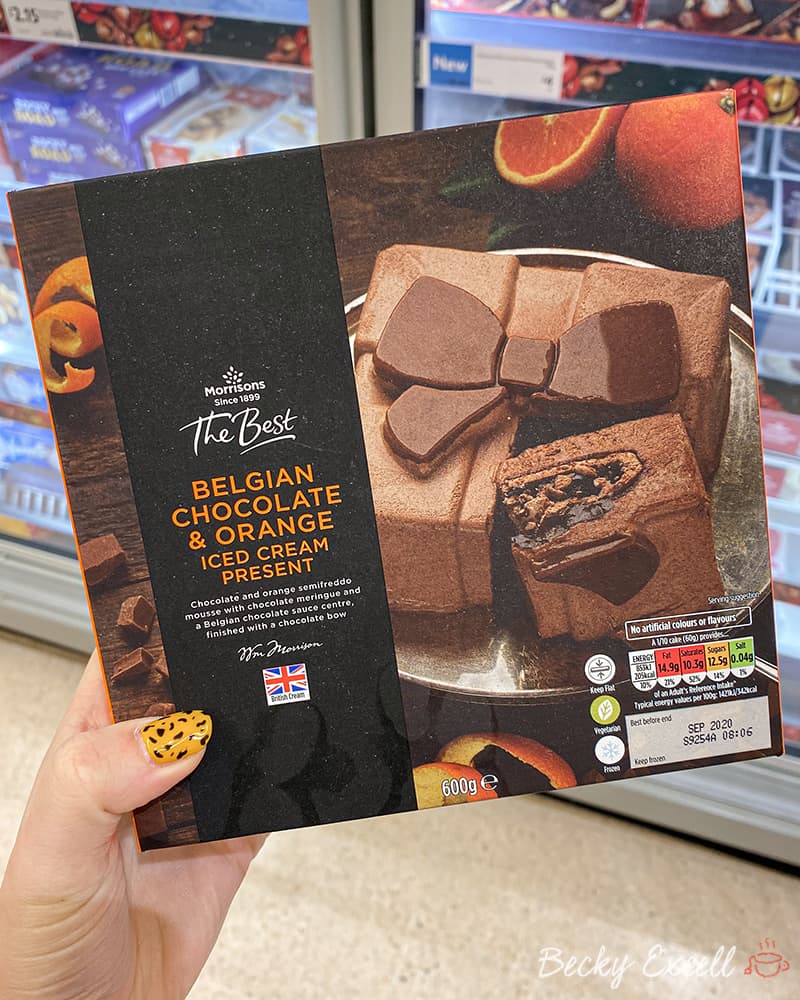 23. Morrisons The Best Hand Finished Salted Caramel and Pecan Pavlova Wreath – 'Accidentally' gluten free
I mean, out of all the meringue wreaths… this has to be the best looking one, right?!
First of all, you've got brown sugar meringue, topped with salted caramel, whipped cream and pecan pieces.
Then it's topped with a salted caramel sauce and a Belgian milk chocolate drizzle.
Thanks, I'll take 6!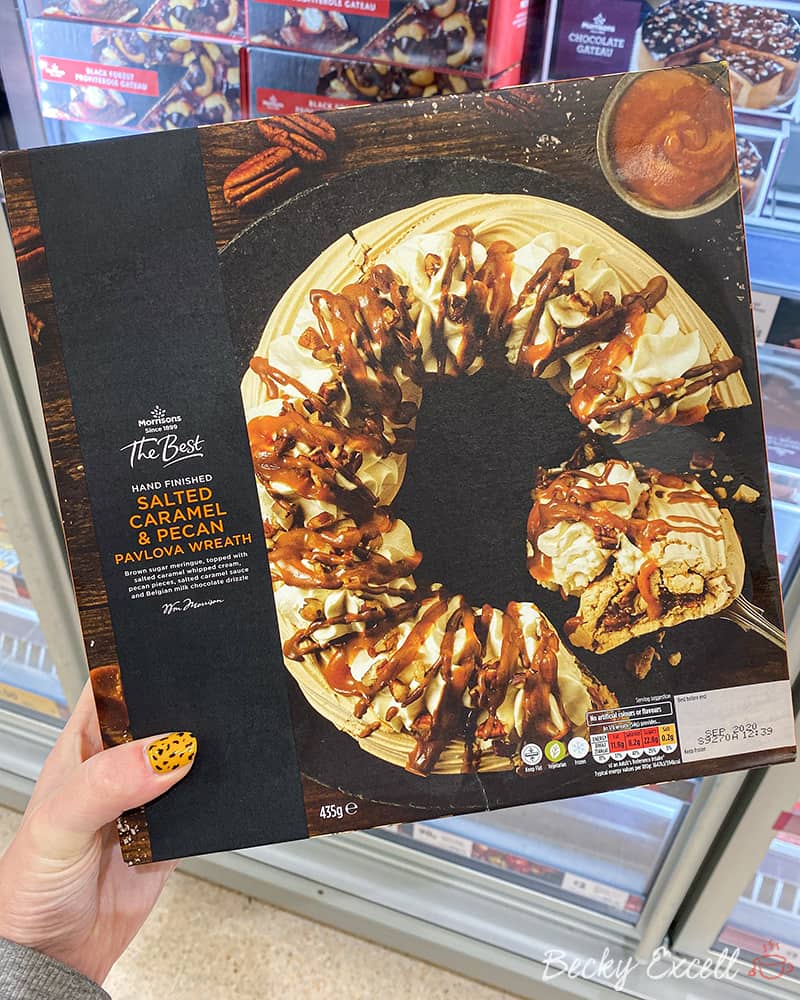 24. Morrisons The Best 2 Rhubarb and Pink Gin Roulades – 'Accidentally' gluten free
And out of all the mini roulades in this post, these are my fave by a mile!
These are hand rolled meringue roulades filled with a rhubarb sauce and cream blended with raspberry gin.
Morrison's don't have the widest selection of desserts like this, but the ones they do have sound amazing!
If these are only around for Christmas, I'll definitely be stocking up on these for the rest of the year.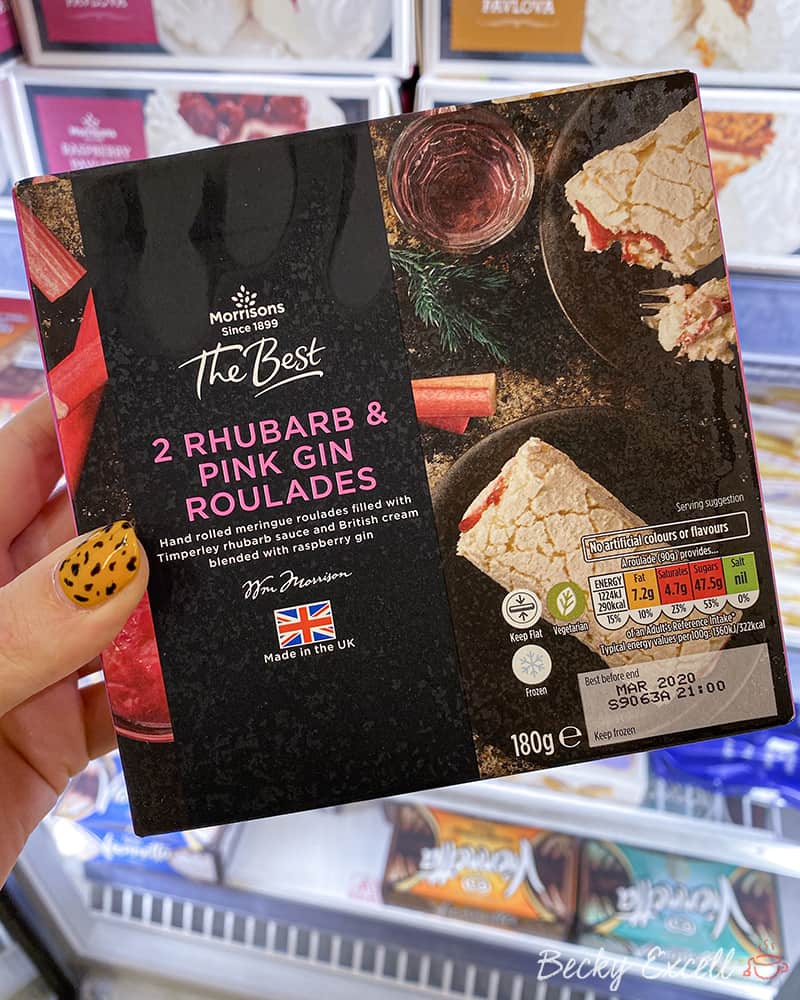 25. Schar Gluten Free Curvies Original/BBQ – Gluten free
And guess what?
In the free from aisle of my local Morrisons, I noticed that Schar's new gluten free 'Pringles' (aka Curvies) have found a home there.
They were just supposed to be in Asda for the time being, but hey-ho, here they are!
I absolutely LOVE these and a few tubes are definitely needed in every gf household this Christmas. The BBQ flavour is awesome.
26. Morrisons Rudi Sponge Yule Log – Gluten free, milk free
Say hello to Rudi!
I'm not sure if Morrisons have ever had their own reindeer-style cake (pretty sure they haven't!) but they certainly do now!
It's £5.50 and 50p from the sale of this Yule Log will be donated to CLIC Sargent, a charity who provide specialist care and support to children and young people during cancer treatment and beyond.
The name 'Rudi' was chosen by the families supported by CLIC Sargent. Hopefully Rudi will bring a lot of good to the world in many different ways this Christmas!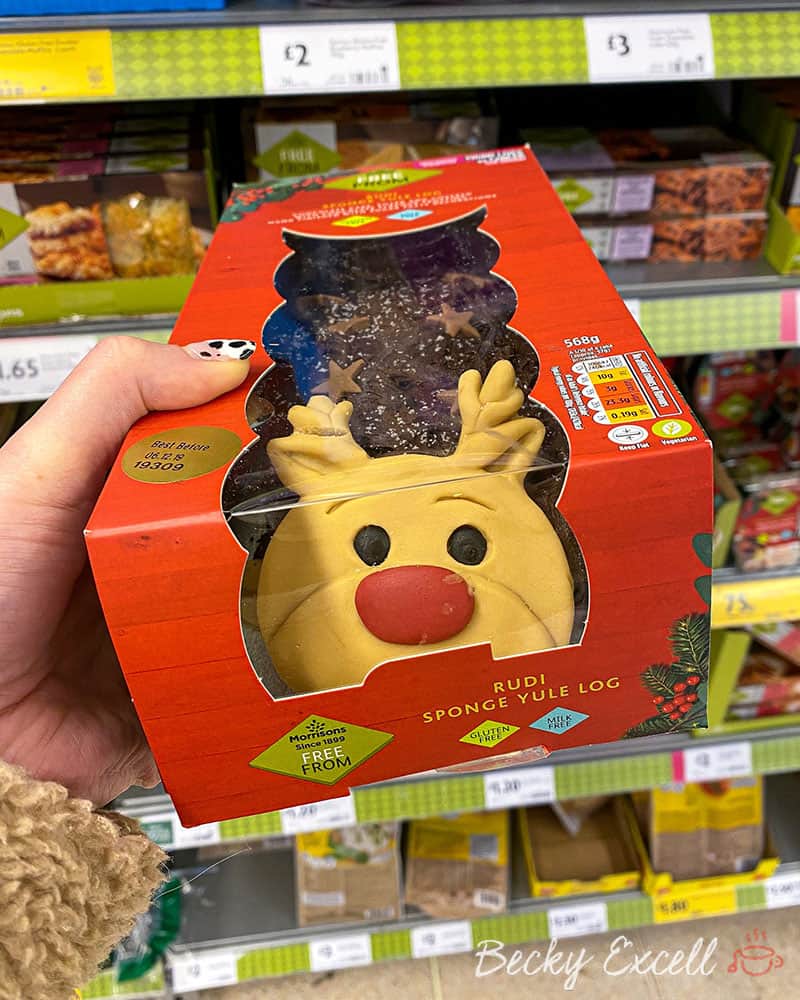 27. Morrisons Free From Choc Advent Calendar – Gluten free, milk free, vegan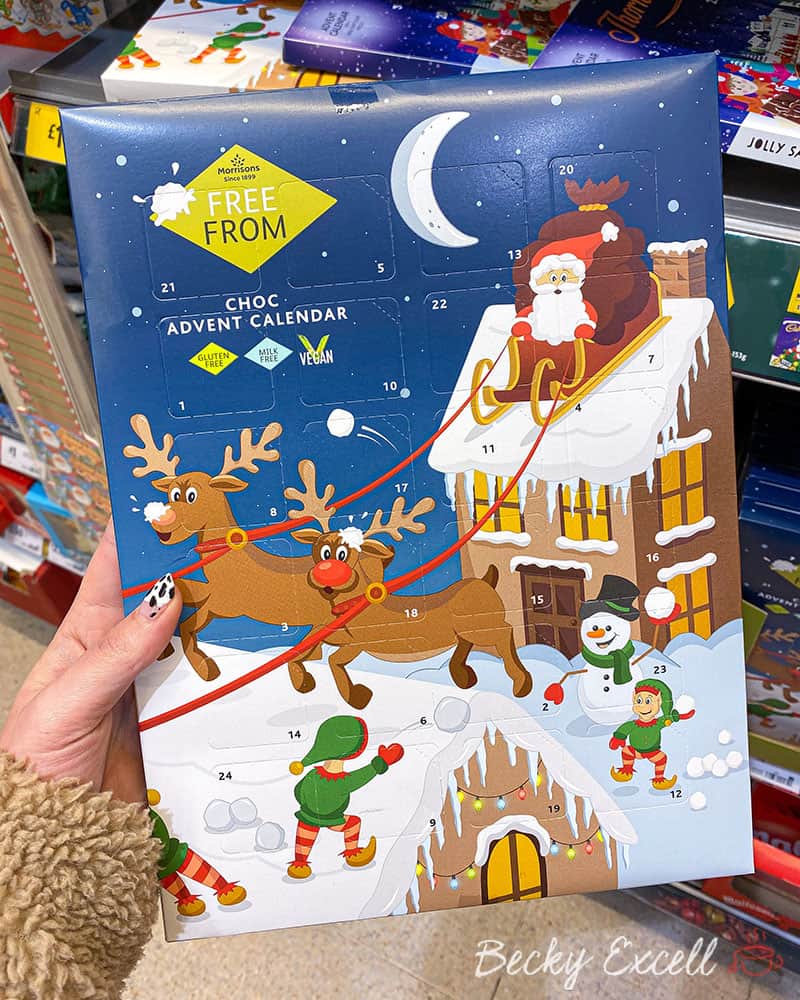 28. Morrisons Free From Choc Selection Box – Gluten free, milk free, vegan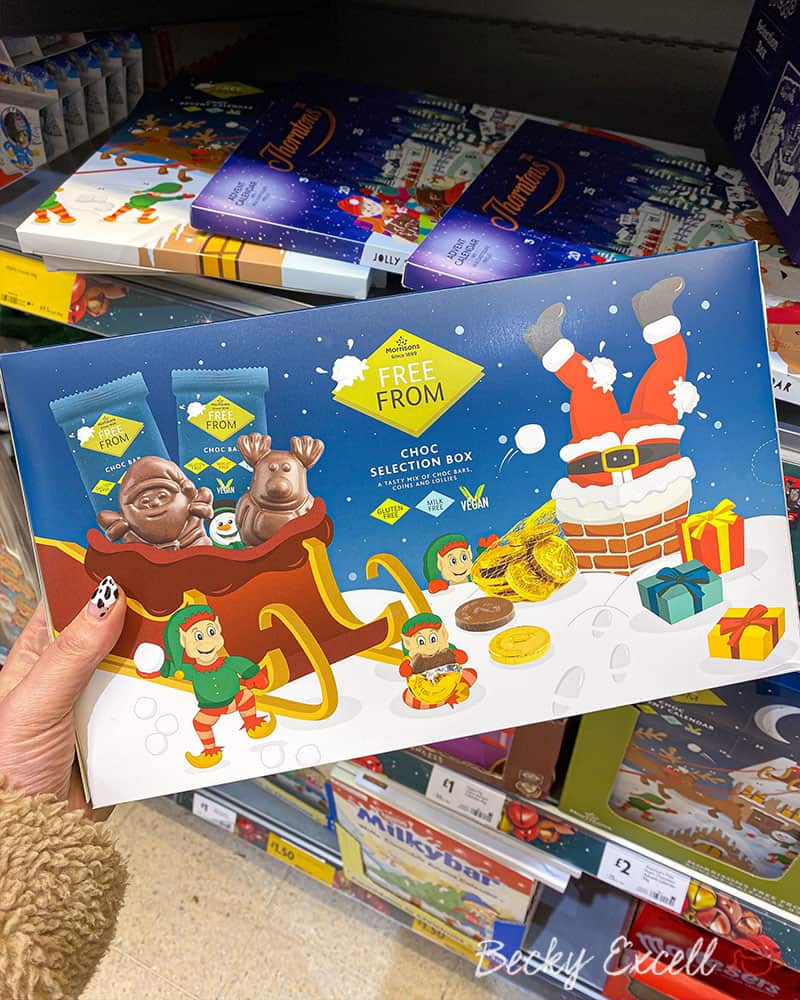 29. Morrisons Free From Gluten Free Profiteroles – Gluten free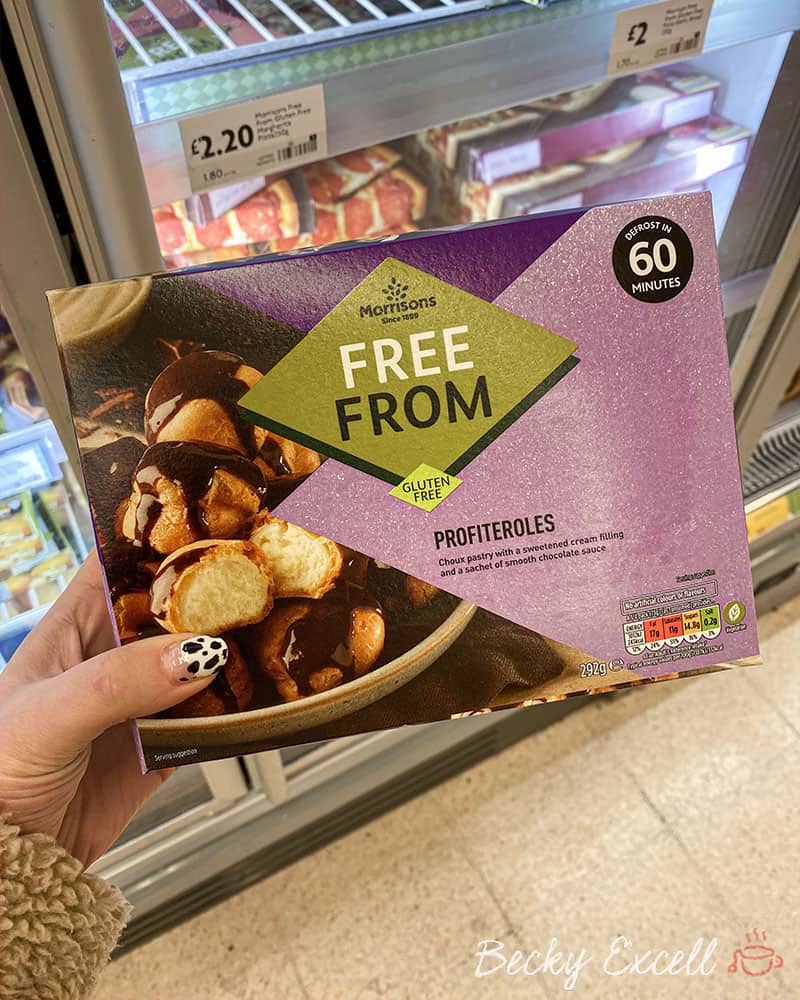 That's the 25 NEW products in the Morrisons Gluten Free Christmas Range 2019!
Thanks for joining me in checking out the Morrisons Gluten Free Christmas Range 2019! What did you think? Is it too early for Christmas products?! Which one was your favourite? What did you think of the prices? What are we still missing?
If you enjoyed this post, make sure you check out my Marks and Spencer gluten free Christmas range post, Tesco gluten free Christmas range post, Asda gluten free Christmas range post here OR Sainsbury's gluten free Christmas range 2019 post by tapping over here.
Please do let me know by leaving a comment below or by following me Instagram and leaving me a comment!
Thanks for reading,
Becky xxx
Comments