The Morrisons gluten-free Christmas Range 2020 is here! There's a ton of new products (and some old faves too) that are in store right now.
Morrisons gluten-free Christmas range 2020 – the ULTIMATE guide to everything you need for the big day. There's everything from shortbread, to an AWESOME rocky road dessert, mince pies and tons more.
DISCLAIMER: I am working with Morrisons to promote their gluten-free Christmas range over on Instagram. This is not a sponsored post, but I'm obliged to let you know that! Some of the products in this post were gifted to me as part of that collaboration.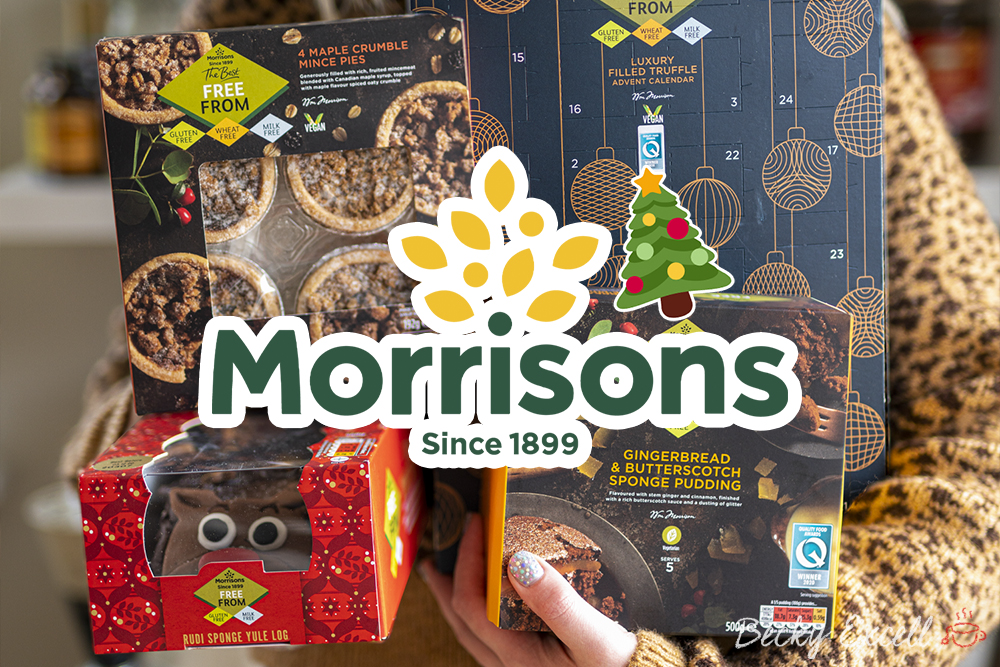 Here's 30 NEW products in the Morrisons gluten-free Christmas Range 2020
Apologies but, as its lockdown 2.0, I haven't been able to get out and about to take photos of all of these myself.
Instead I've included photos from the Morrisons website instead – hope you don't mind! Next time I'm able to get to Morrisons, I'll update this with photos of everything.
Make sure you let me know if you have any trouble finding any of these ✅ You'll find almost all of these down your local free from aisle in Morrisons, NOT the seasonal aisle.
This post is constantly updated! Scroll to the bottom for 9 new products, added 11/11/20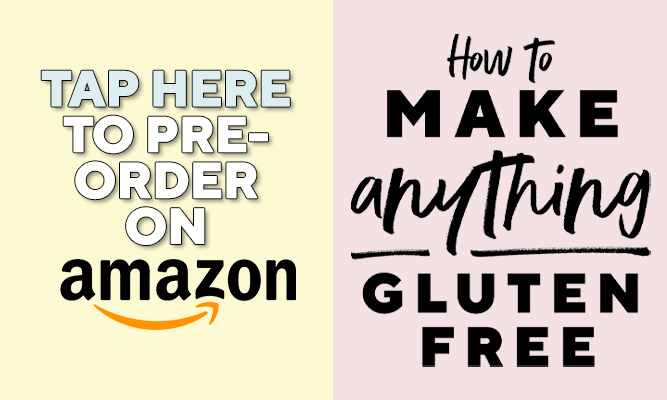 Oh and tap here to follow me on Instagram where I post all my latest gf finds first – that way, you'll always know all the most recent finds and never miss any!
1. Morrisons Free From Rocky Road Christmas Pudding
Now this is right up my street and believe it or not – it's also dairy-free and vegan too.
It's rocky road, but in the shape of a big ol' Christmas pudding!
Now there's no excuse not to have an epic gluten-free dessert come Christmas day.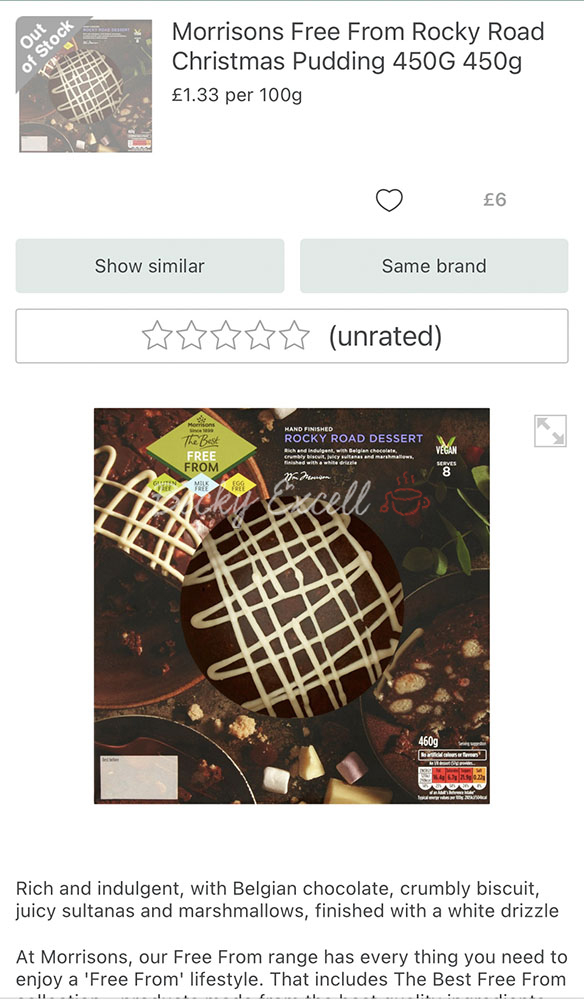 2. Morrisons Free From Oaty Cookie Selection
Here's one of two shortbread selections you'll find down the free from aisle this year.
There's 4 golden syrup flavour, 2 mincemeat and 2 rhubarb and ginger shortbread cookies inside. All dairy-free and vegan.
Plus, they're gluten-free, dairy free AND vegan too. Not a bad start to Morrisons gluten-free Christmas range so far, right?!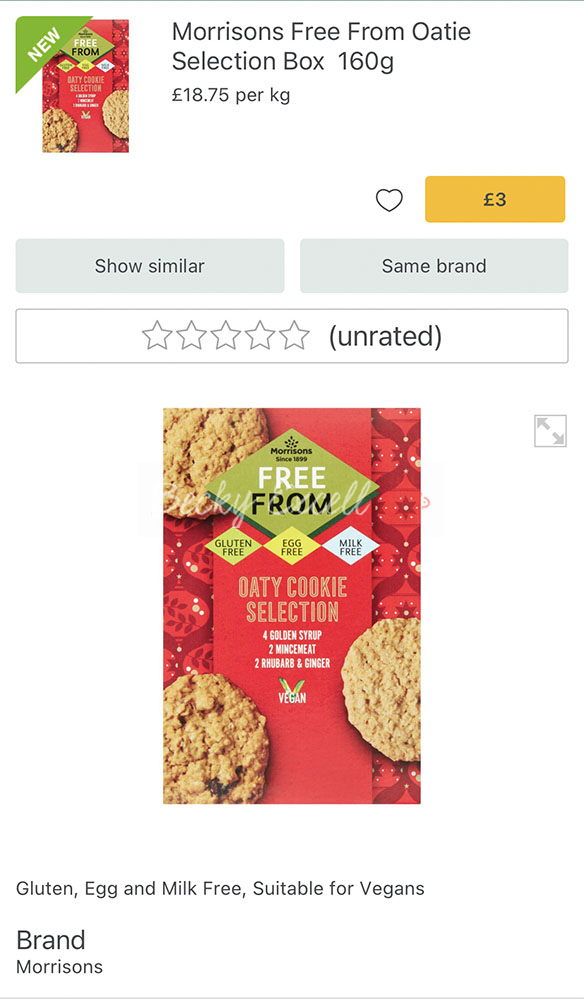 3. Morrisons Free From Shortbread Selection
And if you don't fancy cookies, you can always grab these 'proper' shortbread biscuits instead.
There's 4 classic shortbread and 4 Belgian dark chocolate chip shortbread inside. Also dairy-free and vegan too!
I've had Christmas music playing in my head ever since trying them – bad singing included at no extra cost.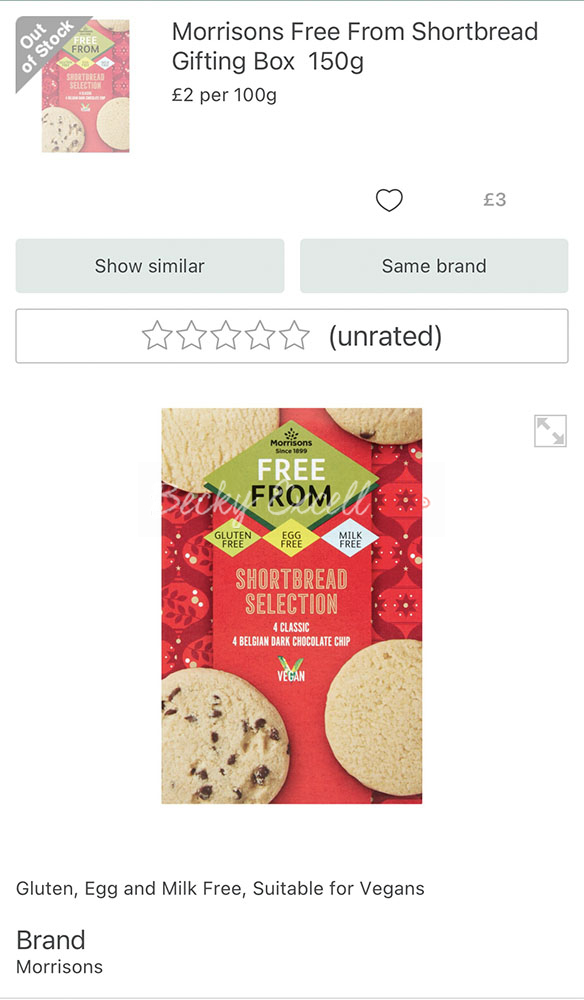 4. Morrisons The Best Christmas Pudding (serves 1)
Here's the fanciest of Morrisons three gluten-free Christmas puddings in-store this year.
You guys will have to be my taste testers and tell me whether it's worth getting this one from 'The Best' range, or stick with the regular one.
Let me know in the comments below this post if you've tried them!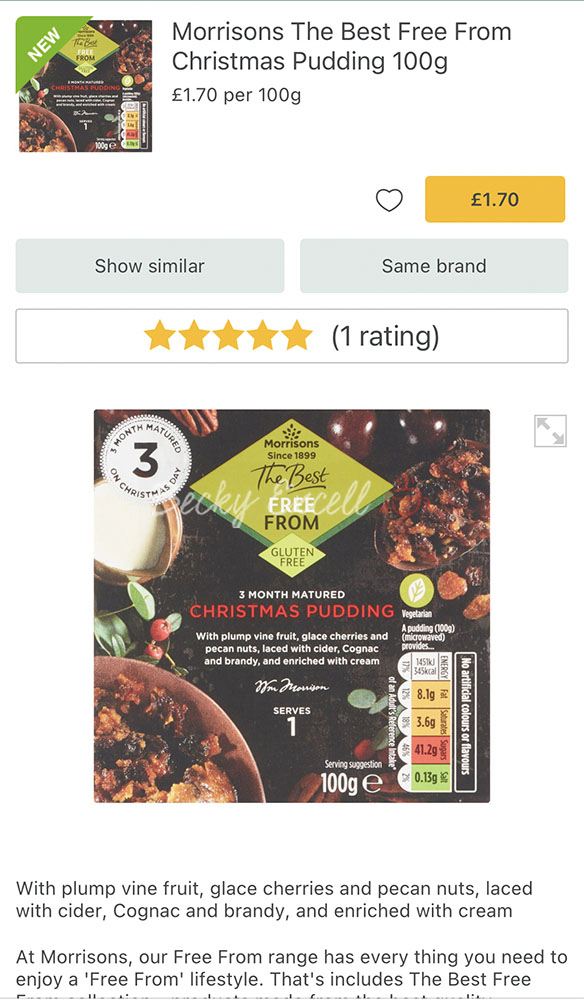 5. Morrisons Free From 4 Mince Pies
And here's Morrisons free from mince pies for £2.
Morrisons seem to have quite a few gluten-free AND dairy free AND vegan products this year, so tell everyone who needs to know!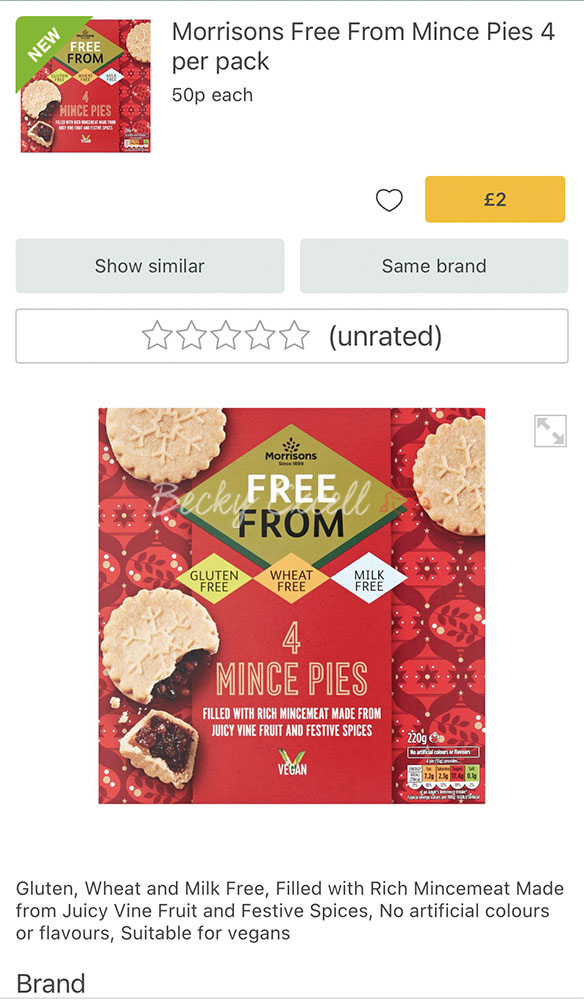 6. Morrisons The Best Free From 4 Maple Crumble Mince Pies
And if you fancy something a little… fancier! Then here's Morrison's gluten-free maple crumble mince pies.
I'm not a huge fan of tons of pastry with my mince pie, so the crumble top sounds right up my street.
Looking for another gluten-free dessert option? Here's a little helping hand coming up next…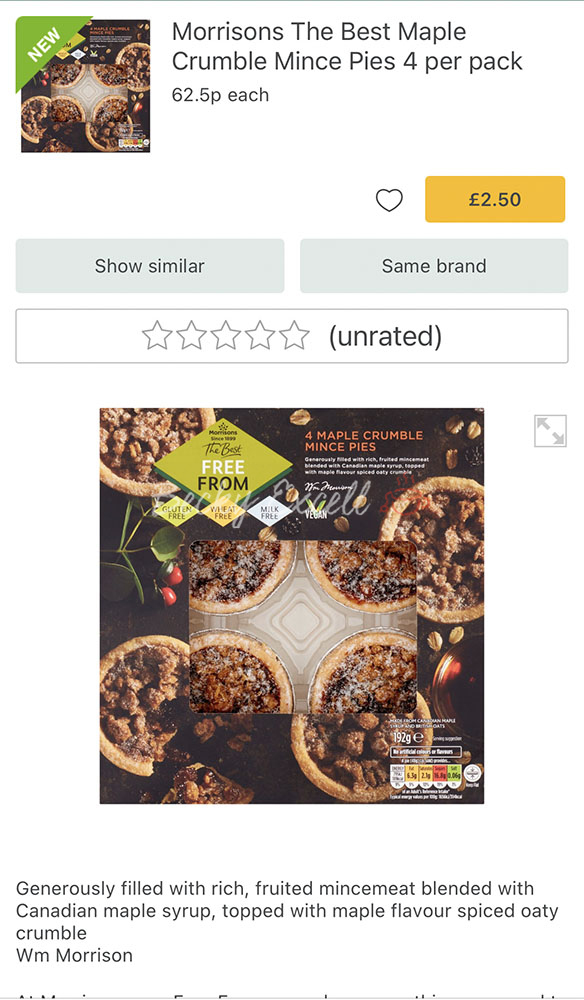 7. Morrisons The Best Free From Gingerbread and Butterscotch Sponge Pudding
This beauty serves 5 and is yet another great gluten-free dessert option on Christmas day.
Since the text is so incredibly small and you'd need 5 magnifying glasses to read it, here's what it says:
'Gingerbread and butterscotch sponge pudding flavoured with stem ginger and cinnamon, finished with a rich butterscotch sauce and a dusting of glitter.'
Sounds good to me!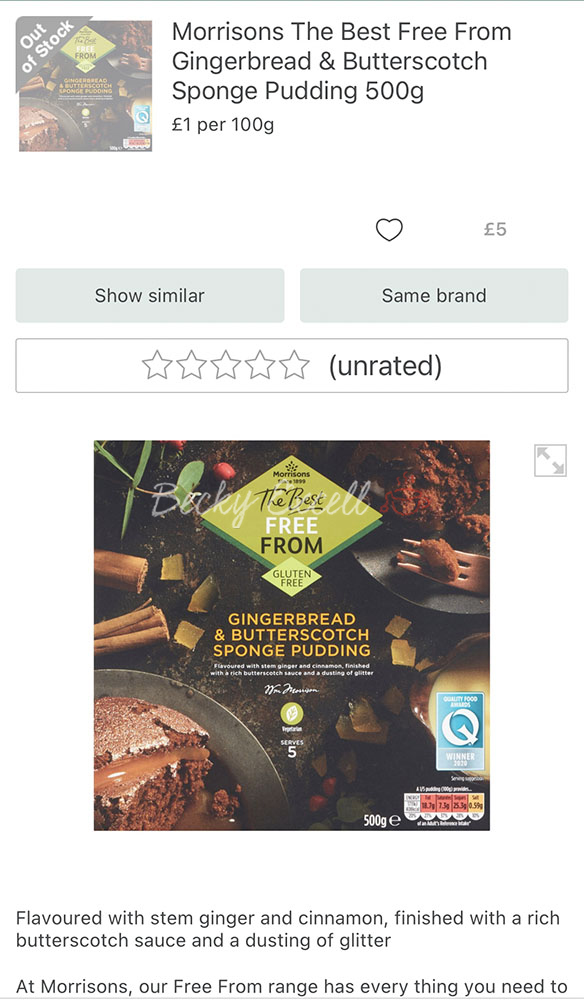 8. Morrisons Free From Savoury Biscuit Selection
Onwards and upwards with the cracker selections!
Nairn's have quite a cool-looking one in Tesco this year that's gf, but this would be another good option too.
There's plain, sea salt and black pepper, herb and onion and rosemary flavours on offer here.
Oh and they're milk free and vegan too!
9. Morrisons Free From Christmas pudding (serves 4)
This has been a staple in the Morrisons gluten-free Christmas range for years now – it's the larger-sized one btw.
I love that they've made what the products are free from a little clearer by using a colour-coded labelling system and highlighting clearly when it's vegan.
I don't actually like Christmas pudding though, so you don't want my opinion on how it tastes however!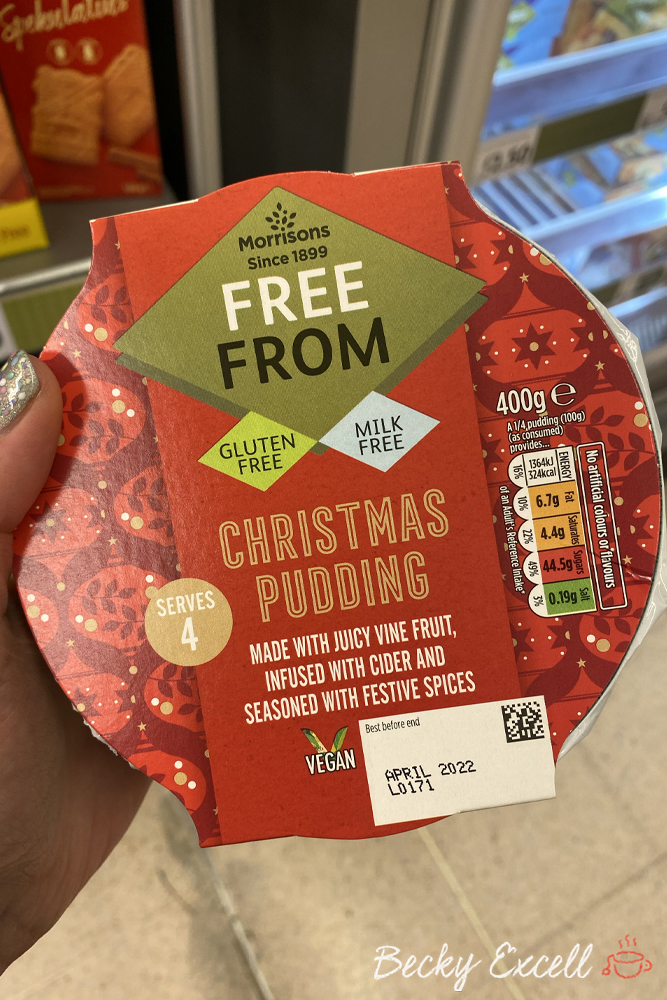 10. Morrisons Free From Salted Honeycomb and Raspberry Slab
Here's yet another new one for the festive season!
A big ol' slab of chocolate, packed with honeycomb and freeze-dried raspberry.
Believe it or not, this one is also dairy-free and vegan. Christmas has definitely come early for all the dairy-free folks out there!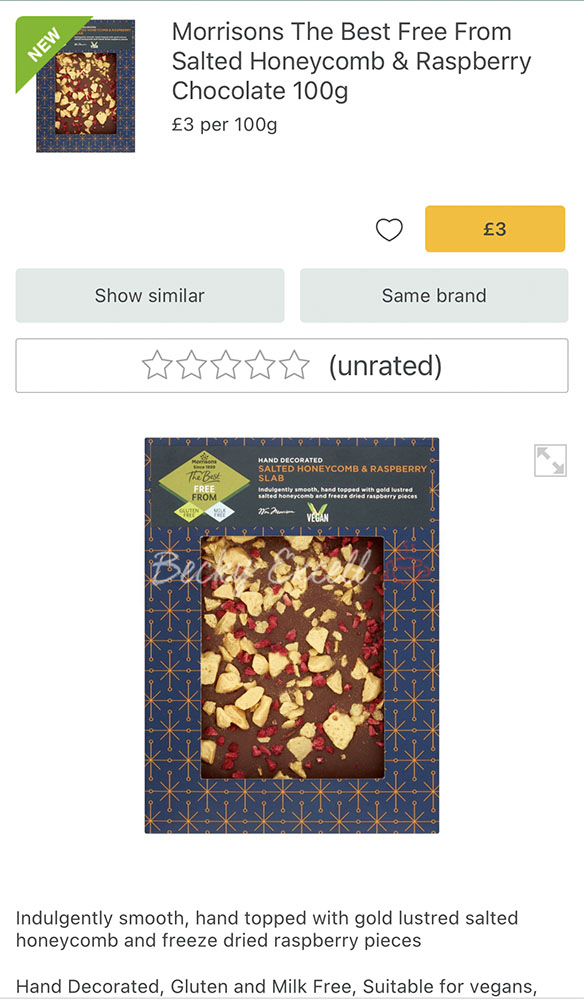 11. Morrisons Free From Fruit Candy Choccy Slab
And here's yet ANOTHER dairy-free chocolate slab – this time sprinkled with 'fruit flavour candy pieces', whatever those are!
I'm sure that Mark would happily try this, despite not quite not knowing exactly what's involved 😂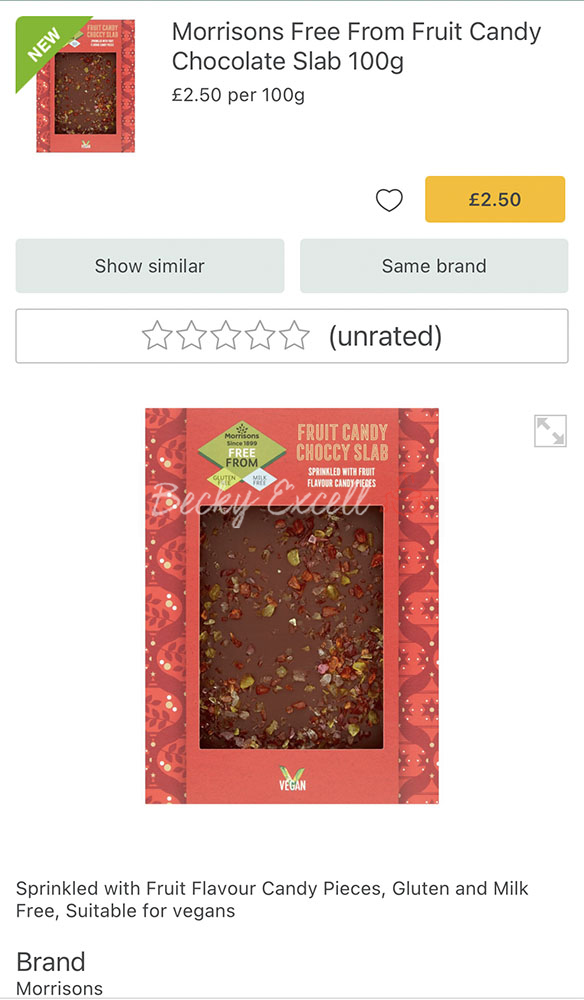 12. Morrisons Free From Christmas Pudding (serves 1)
Oh and here's the mini gluten-free Christmas pudding.
The big one earlier serves four and this one is the perfect serving for one.
I remember a time when it was hard to come by a gf Christmas pudding…
And now every supermarket in the UK stocks a small and a large one without fail. What a time to be alive!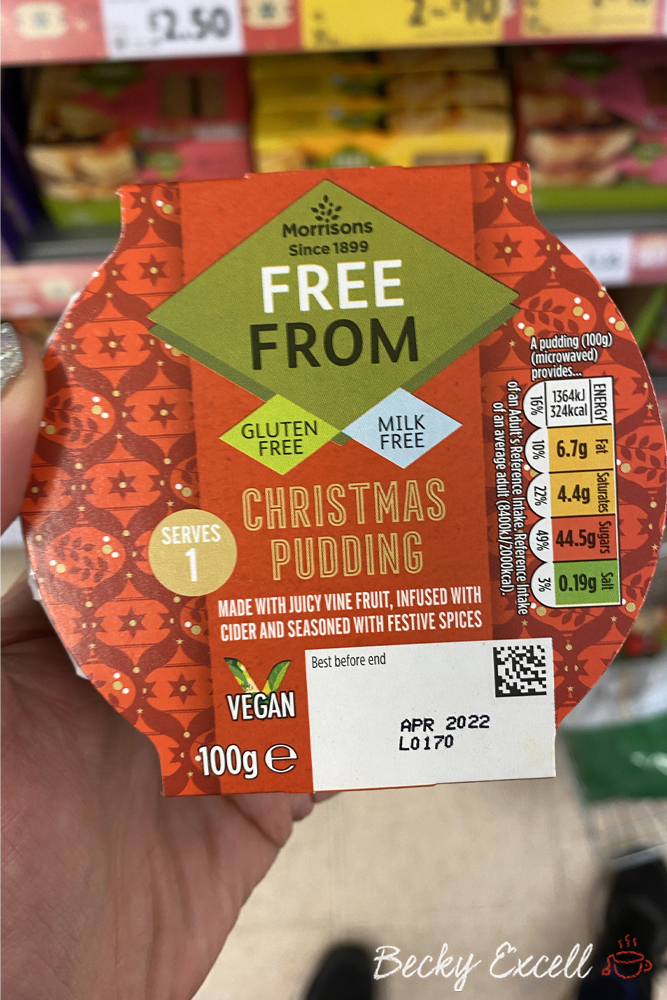 13. Morrisons The Best Free From Panettone
I will never get tired of seeing more gluten-free panettone options!
This is a smaller-sized panettone, but if you want a really huge one – they stocked those in Sainsburys last year FYI.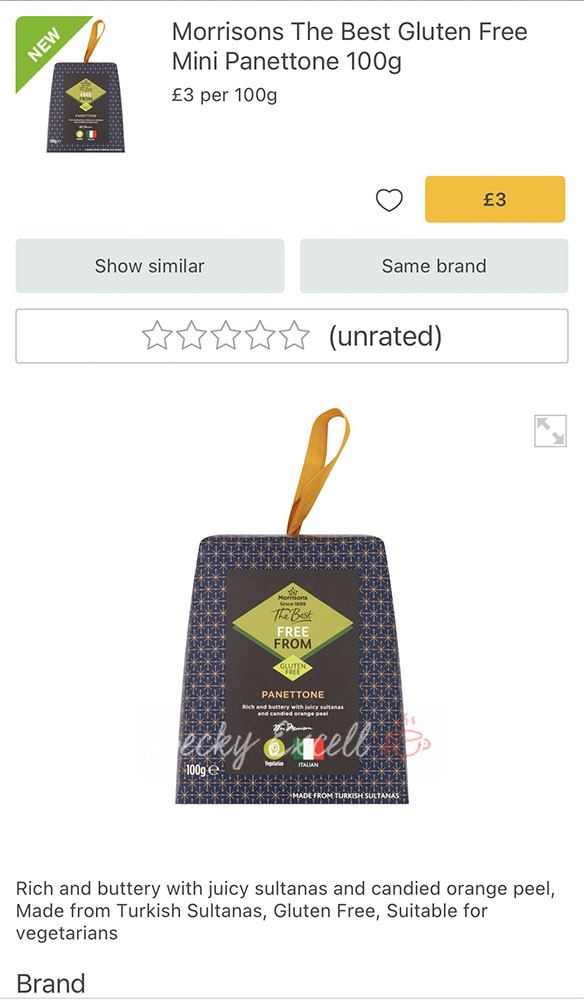 14. Morrisons The Best Free From Jewelled Fruit Cake
This is probably the fanciest looking Christmas cake out of all the supermarkets.
Instead of having an icing top, it's topped with almonds, pecans and glace cherries – that's a bit more like it!
Most supermarkets have a free from iced fruit slab if this is too big for you, so make sure you keep your eyes peeled for those too.
Which is your fave product in this post so far? Let me know in the comments at the bottom of this post!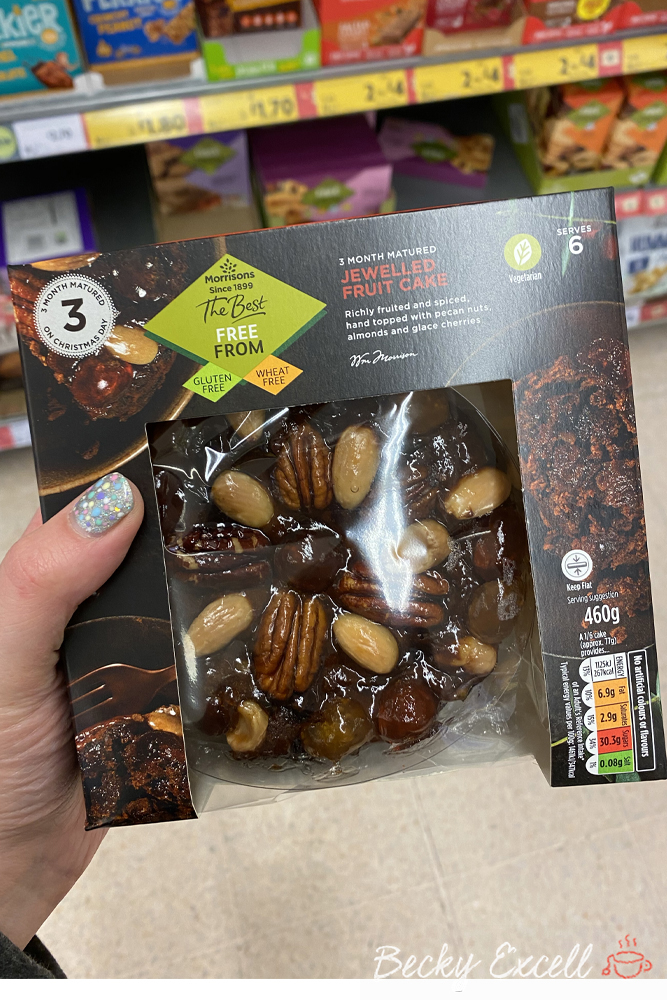 15. Morrisons Free From Mini Crackers
Oh and here's a selection of mini crackers if the previous cracker selection was a bit much for you!
They're dairy free and vegan too, like a lot of products in Morrisons gluten-free Christmas range.
Having looked at a lot of supermarket free from ranges this year, Morrisons seems to have some of the best savoury options.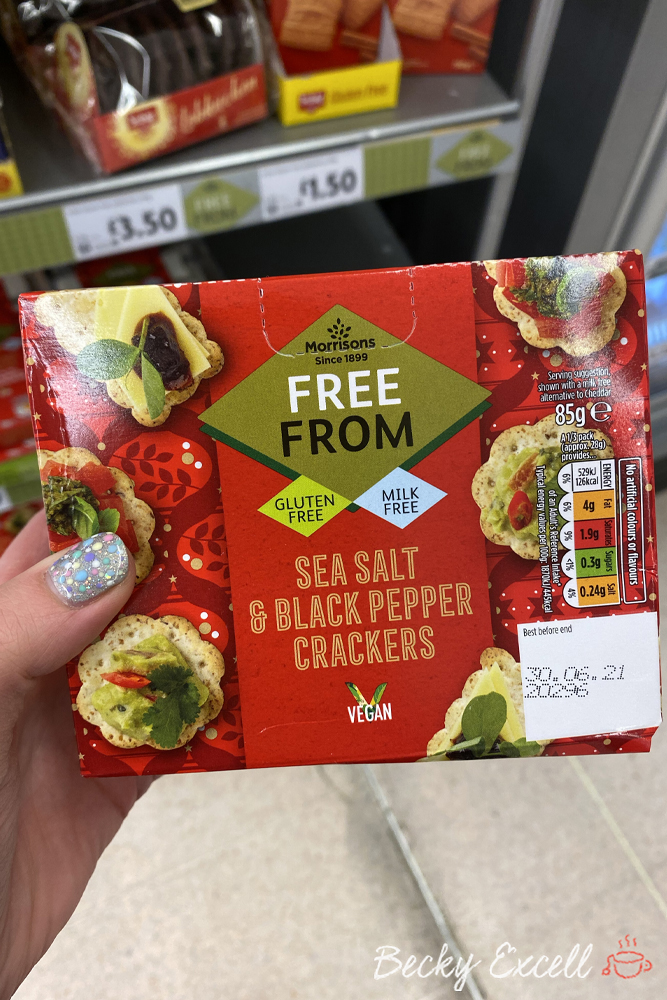 16. Schar gluten-free chocolate fingers
And yes, Schar are getting in on the festive action with Christmas branded chocolate fingers.
They're the same gluten-free chocolate fingers they sell all year round… but 100% more Christmassy!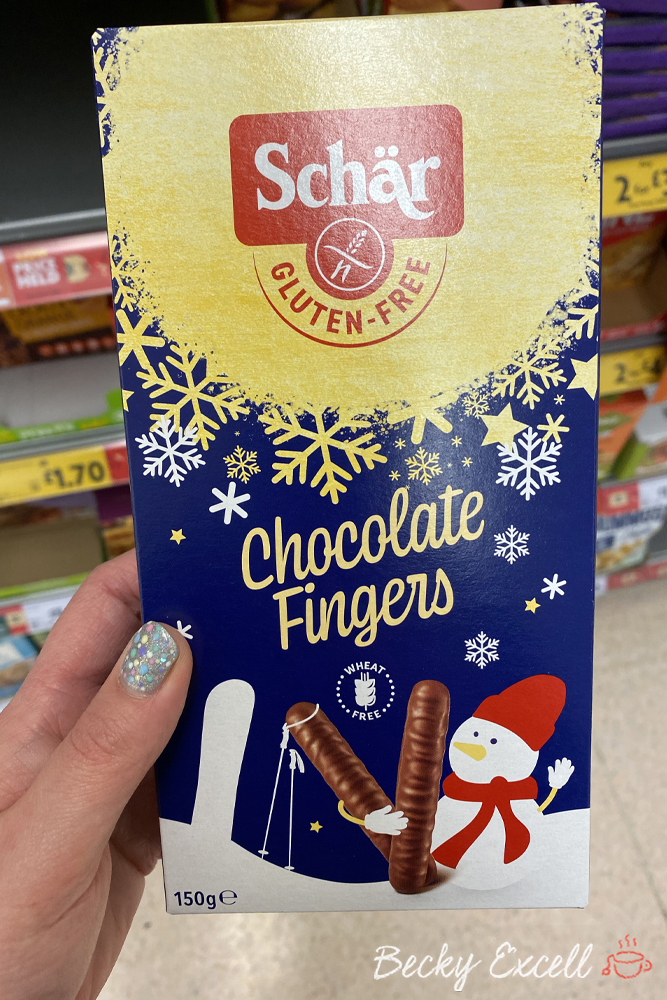 17. Schar gluten-free Jaffa cakes
And though Morrisons don't yet stock Schar's mind-blowing new products like their Lebkuchen or festive Lotus biscuits, they now have these!
(you can find those Schar products in Asda btw)
These are Schar's usual Jaffa Cakes but now in festive packaging, which I felt needed to be included in this post.
How do you rate them?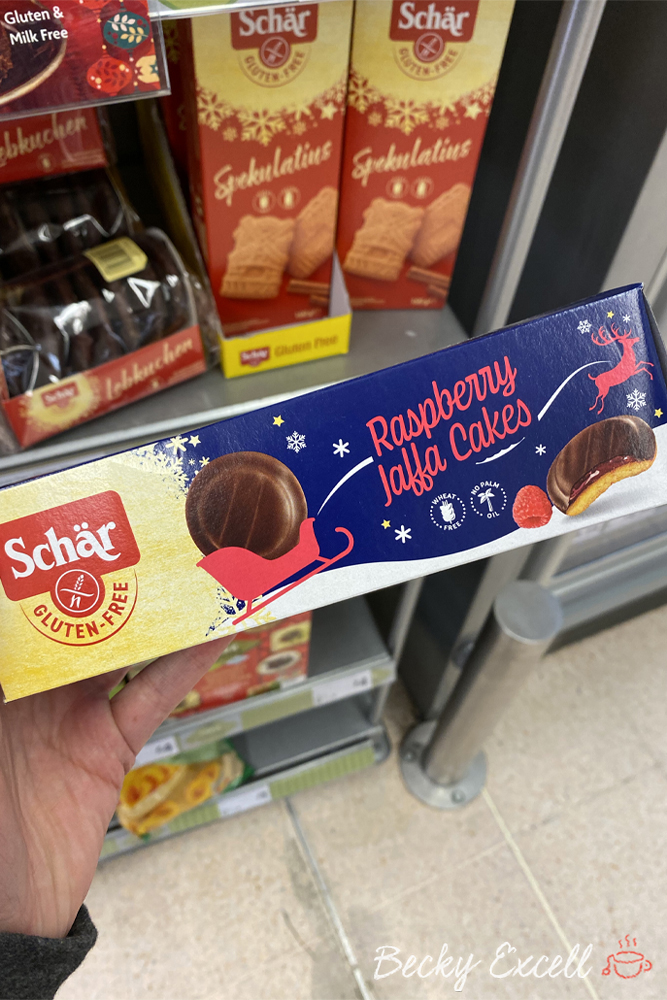 18. Morrisons Free From Choccy Coins
Coins, glorious (dairy-free) coins.
Perfect if you're looking for stocking fillers!

19. Morrisons Free From 9 Christmas Cake Bites
And if one big ol' Christmas cake is a little too much for you, how about 9 little bites instead?
I feel like I should stop saying 'oh and they're also dairy-free and vegan too' because so many of these products are.
But either way – oh and they're also dairy-free and vegan too! 😂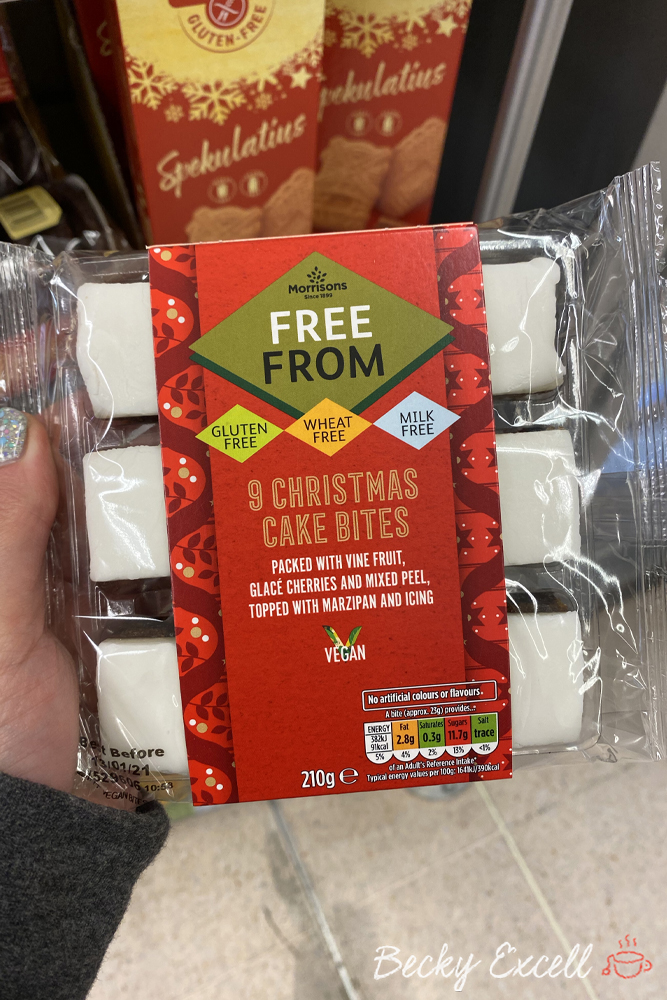 20. Morrisons Free From 5 Iced Fruit Cake Bars
Aaand again, if the big fruit cake I post earlier was a little too much for you, these iced fruit cake bars are probably a decent option!
They're topped with marzipan and icing for a proper festive treat.
These are £2.50 – what do you think of the price? And how about the price of most free from products these days generally?
I'd love to know your thoughts on free from pricing these days!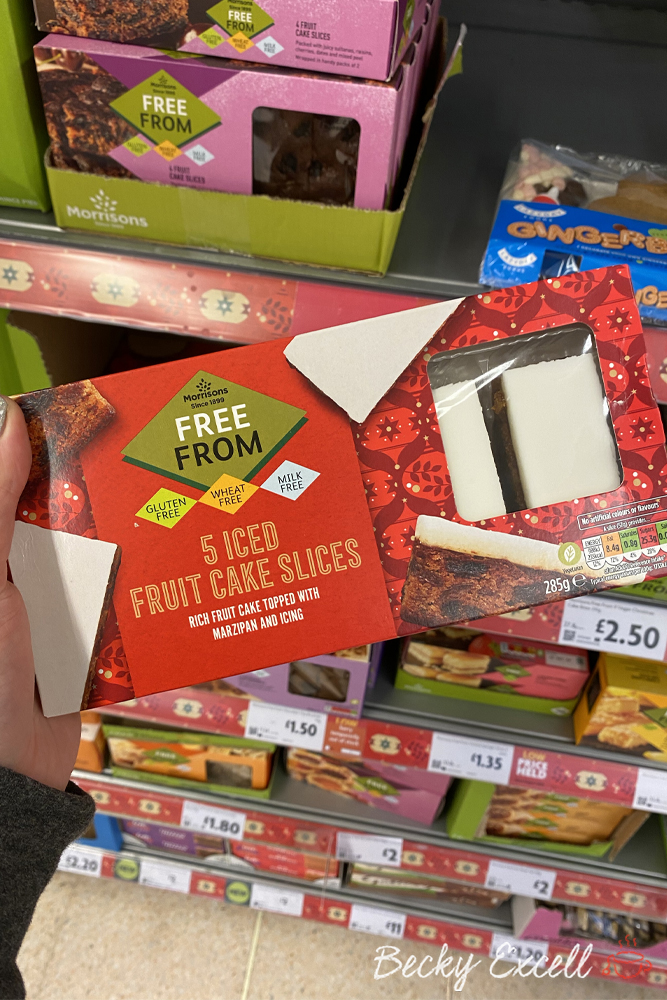 21. Morrisons Free From Choc Selection Box
The dairy free chocolate options just seem to get better and better these days!
In previous years, these used to be priced around £5 believe it or not, so I'll definitely take these for £3.
On the box it says 'a deliciously smooth collection of filled truffles and choc and white choc discs.'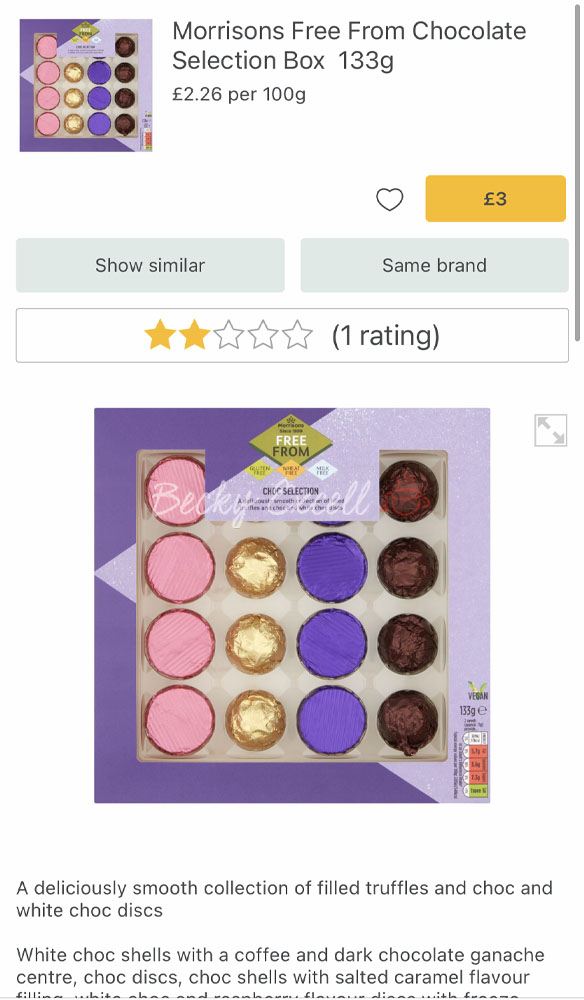 22. Morrisons The Best Christmas Cookie Selection
It doesn't say what's inside the box on the front, so allow me to elaborate:
Belgian White Chocolate & Limoncello Cookies – Packed with smooth Belgian white chocolate chunks and laced with Italian Limoncello and Sicilian lemon oil
Rhubarb Gin & Stem Ginger Cookies – Packed with chewy stem crystallised ginger and finished with a hint of British rhubarb gin
Belgian Milk Chocolate & Speculaas Cookies -Studded with smooth sweet Belgian milk chocolate chunks and seasoned with warming spices
'Enriched with butter and made with a selection of premium ingredients, in a trio of tempting flavours, Gluten free, Suitable for vegetarians'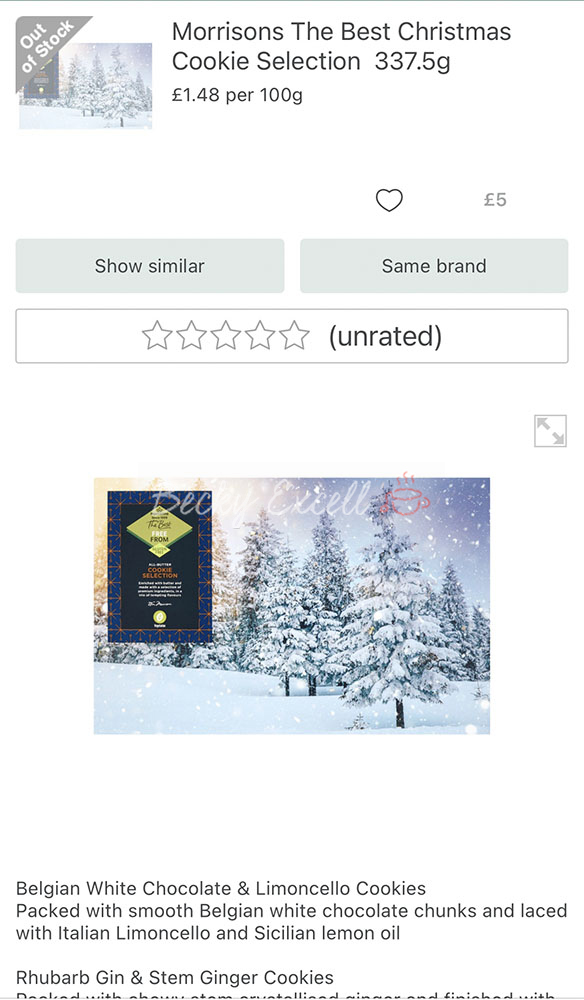 23. Morrisons The Best Hand Shortbread Selection
Again, it doesn't say what's inside the box on the front, so here you go:
Belgian Dark Chocolate & Clementine Shortbread- Studded with smooth Belgian dark chocolate and flavoured with Seville clementine oil
Black Forest Shortbread – Packed with Belgian dark chocolate chips and sour cherry pieces
Belgian White Chocolate, Apricot & Amaretto Shortbread – With Italian amaretto extract, white Belgian chocolate chunks, diced apricots and finished with a dash of almond flavour
'Deliciously crumbly and buttery, made with a selection of premium ingredients, in three indulgent flavours, Gluten free, Suitable for vegetarians'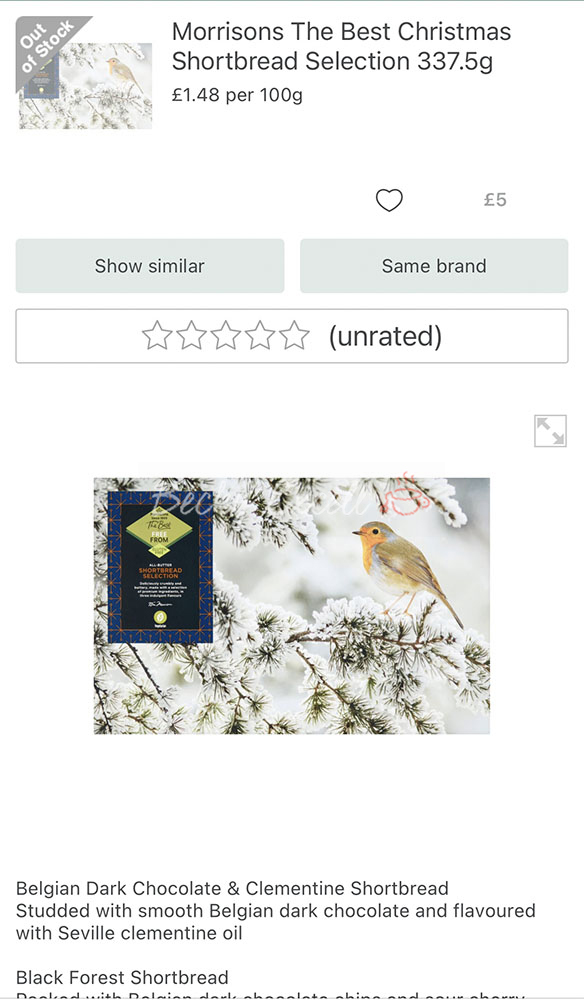 24. Morrisons The Best Cheesy Pigs in Blankets
And of course, Morrisons always clearly label when something is gluten-free if it's outside the free from aisle.
Well.. apart from these! 😂 But yes – they are actually gluten-free. Here's the link if you want to check for yourself.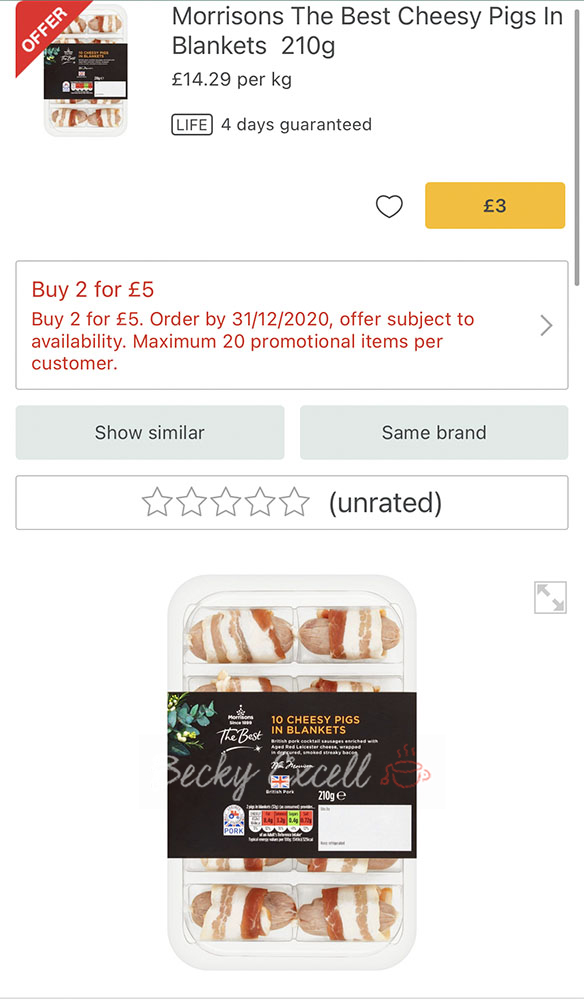 25. Morrisons The Best Chipolatas Wrapped in Bacon
The same goes for these too.
For me, the 'trimmings' are the best part of a Christmas dinner, so I'll definitely be getting these!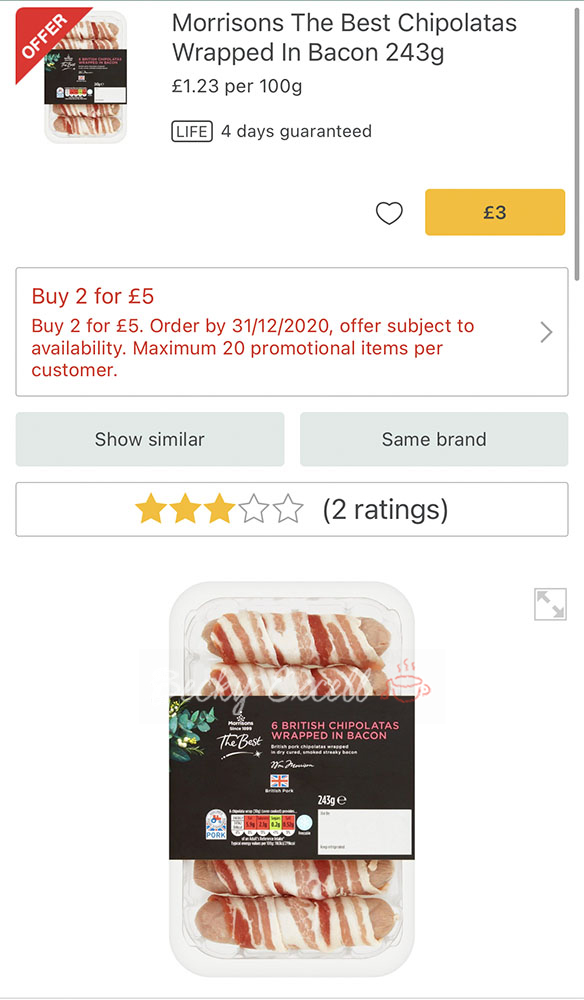 26. Morrisons Free From 'Rudi' Reindeer Yule Log Cake
Say hello to Rudi.
He was around last year, but now he's now just a chocolate cake… he's a chocolate yule log!
Again, dairy-free too, believe it or not!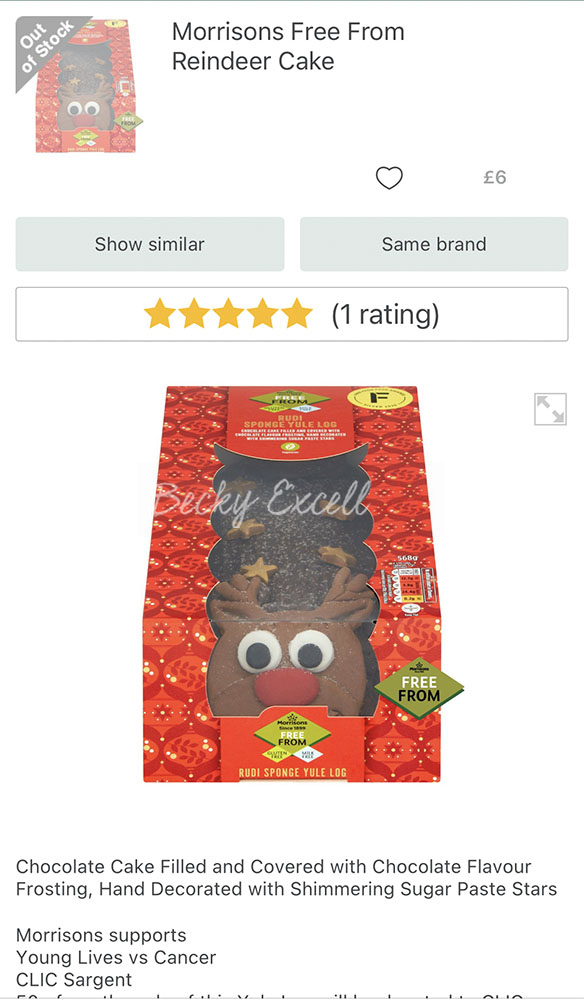 27. Morrisons Free From Choccy Advent Calendar
And Morrisons have a newly updated look to their gluten-fre eand dairy-free advent calendar this year.
But most excitingly, they also have something else very cool, advent calendar-wise. Keep scrolling too see!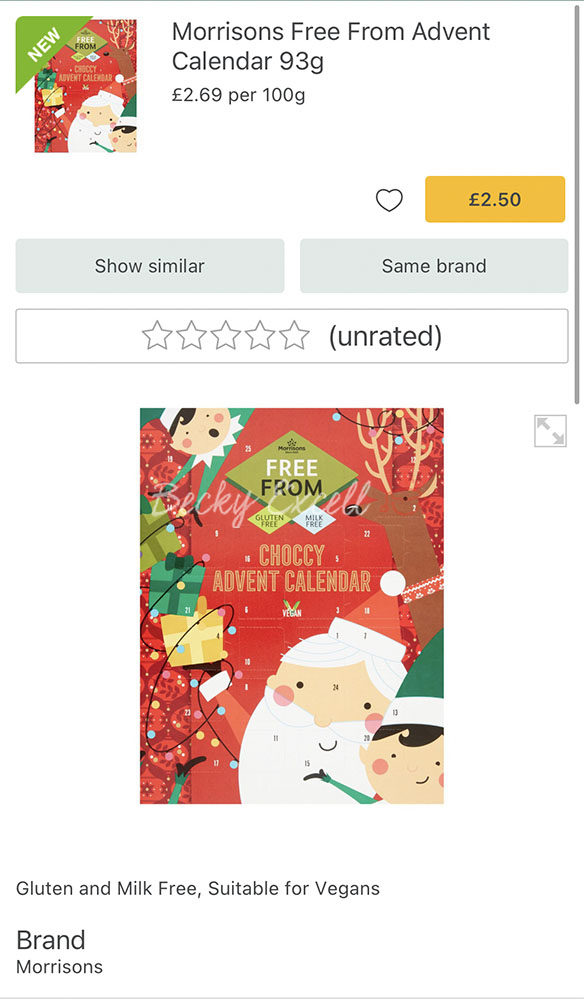 28. Morrisons Free From Luxury Filled Truffle Advent Calendar
And advent calendar for big kids like me! 😆 Again, also dairy-free too.
This advent calendar is full of filled TRUFFLES, instead of your standard advent calendar chocolate.
I'll definitely be getting one of these for Mark!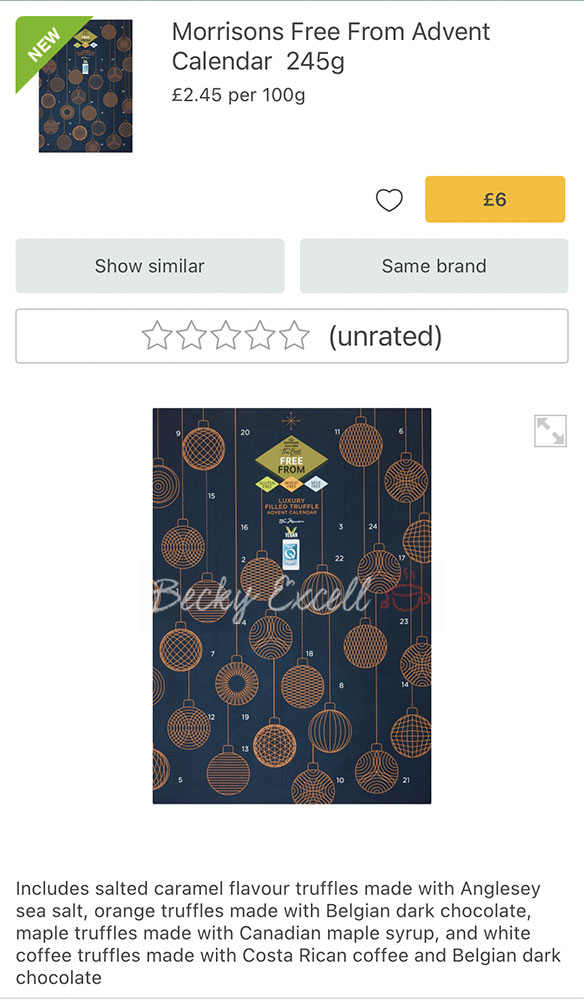 29. Morrisons The Best 18 British Pork Cocktail Sausages
And there you go – pork cocktail sausages adorned with that Morrisons gluten-free logo on the front.
It's next to impossible to find cooked gluten-free cocktail sausages, so just cook these and enjoy!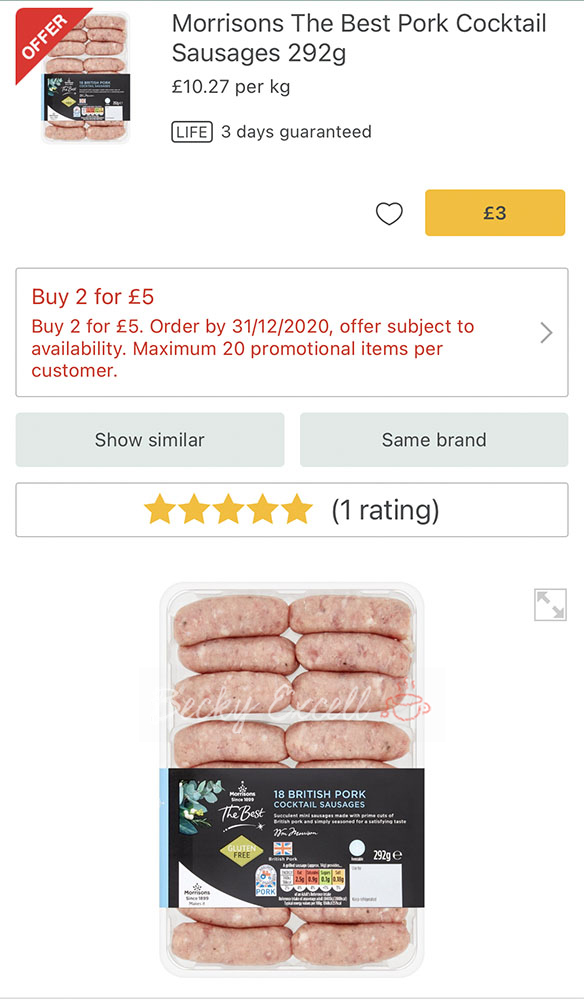 30. Morrisons The Best Sage and Onion Stuffing Balls
And who could forget the stuffing? Also clearly labelled as gluten-free!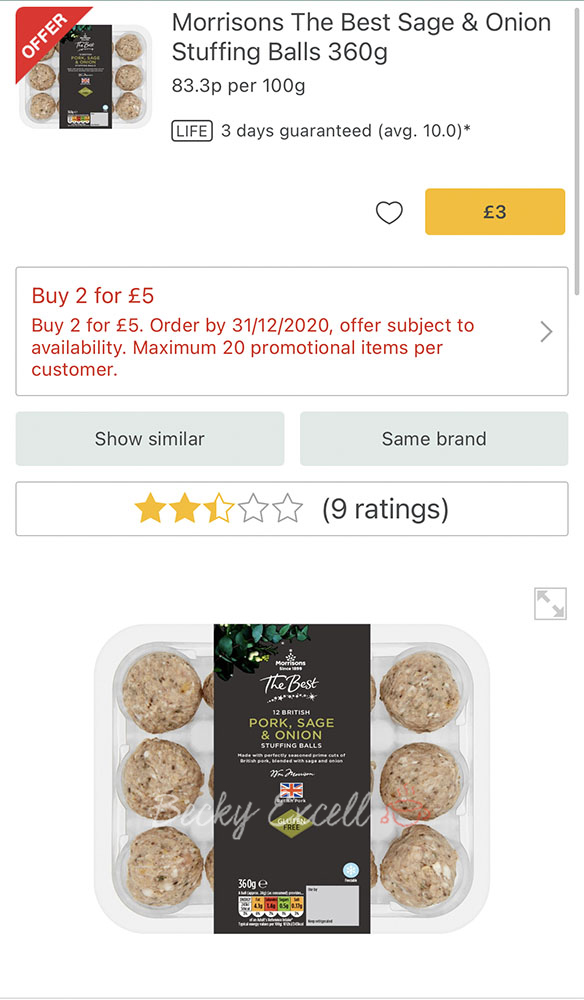 31. Morrisons Free From Shimmering Festive Deer Iced Madeira Cake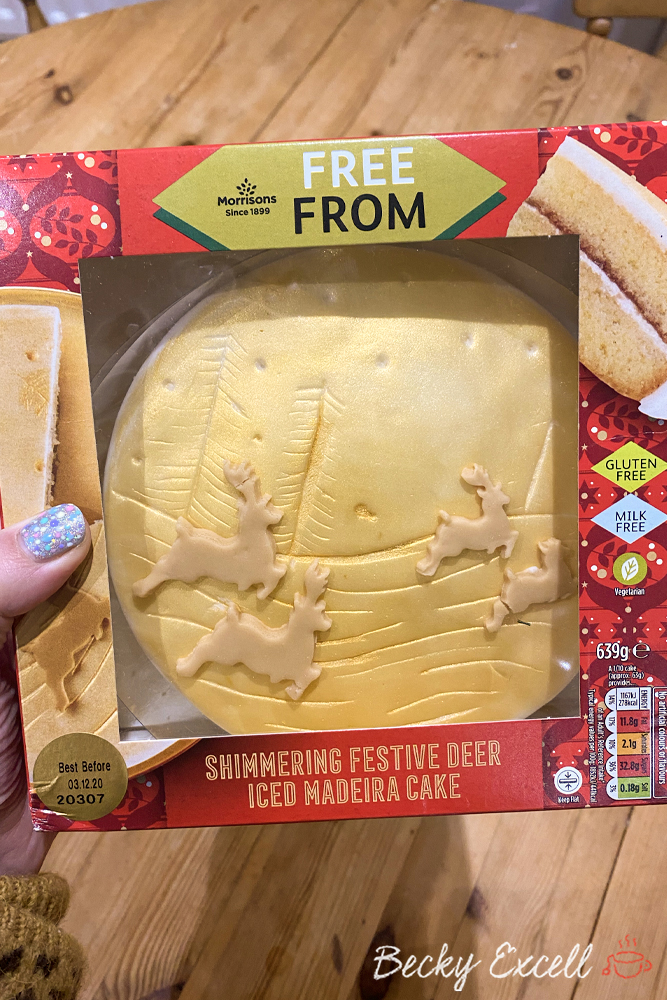 32. Morrisons Free From Dairy-free Christmas Tree Game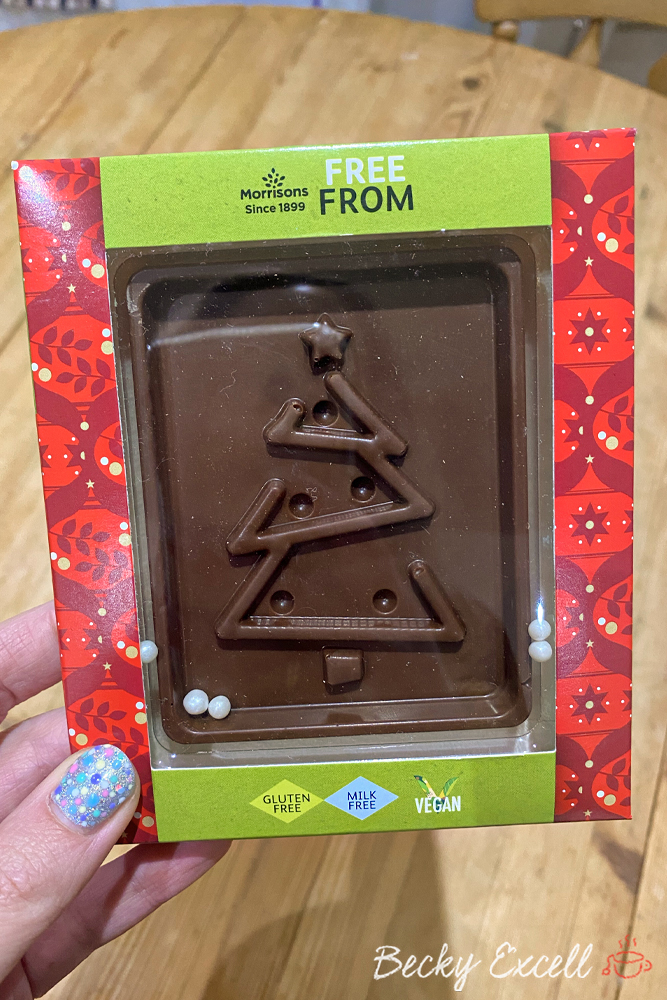 33. Morrisons Free From Onion Rings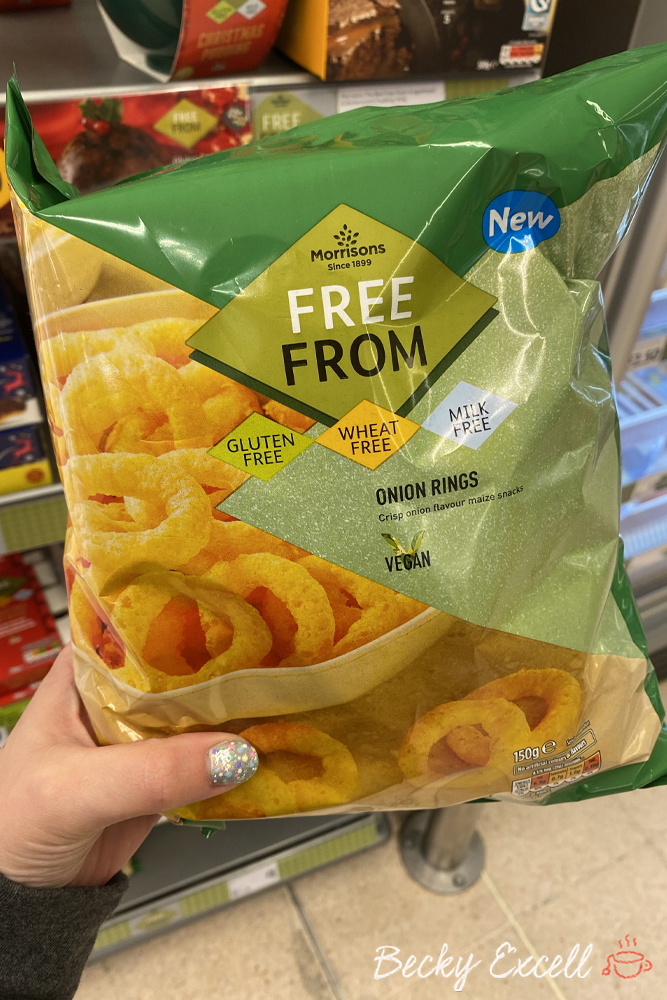 34. Morrisons Free From 9 Christmas Cake Bites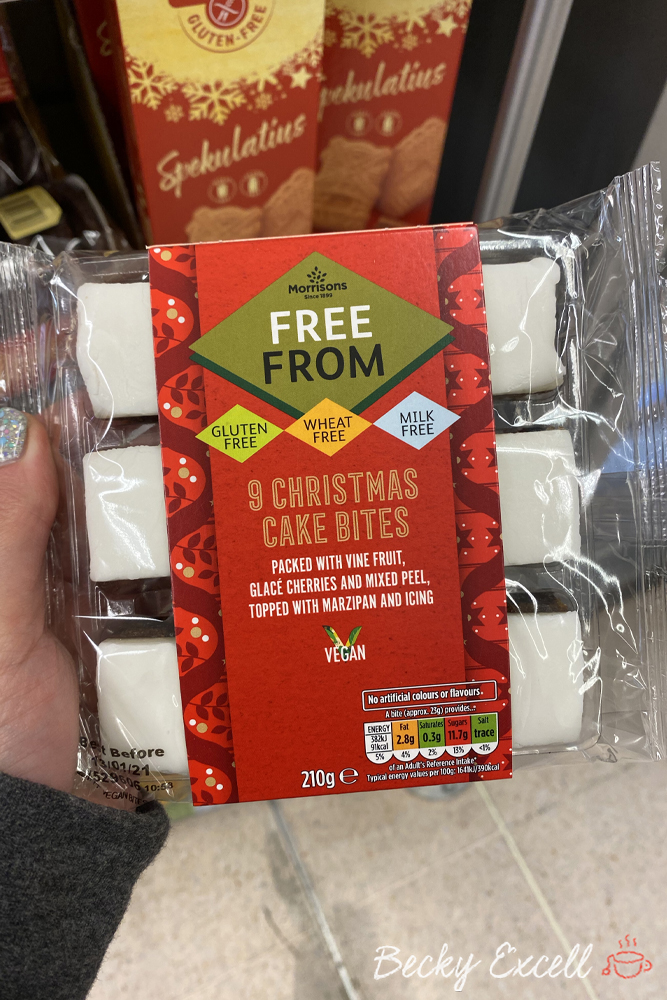 35. Schar Gluten-free Spekulatius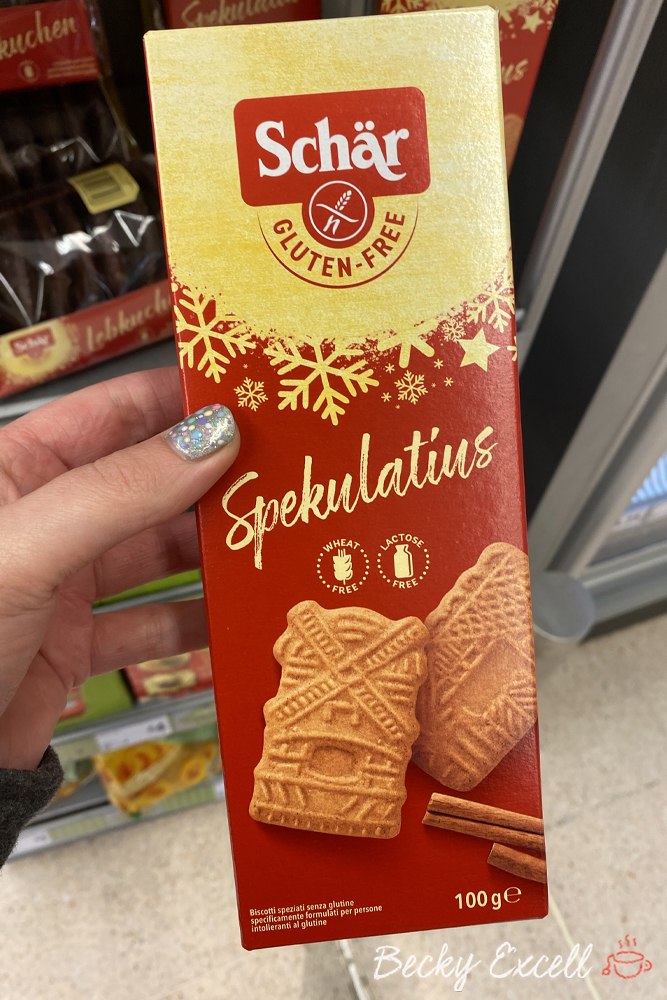 36. Everyday Foods 2 Decorate Your Own Gingerbread Biscuits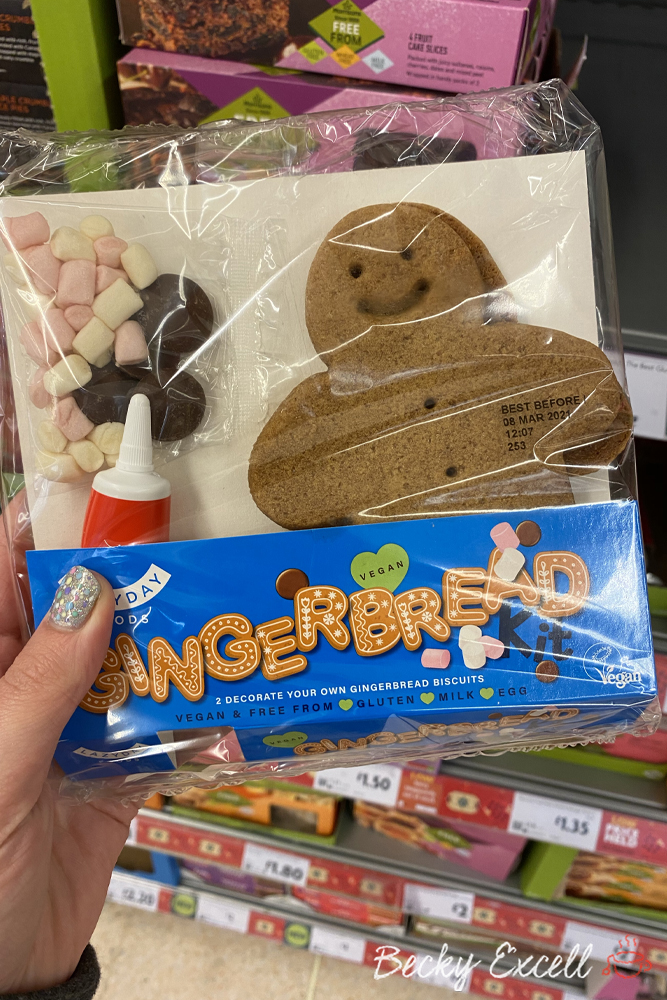 37. Violife Christmas Dairy-free Platter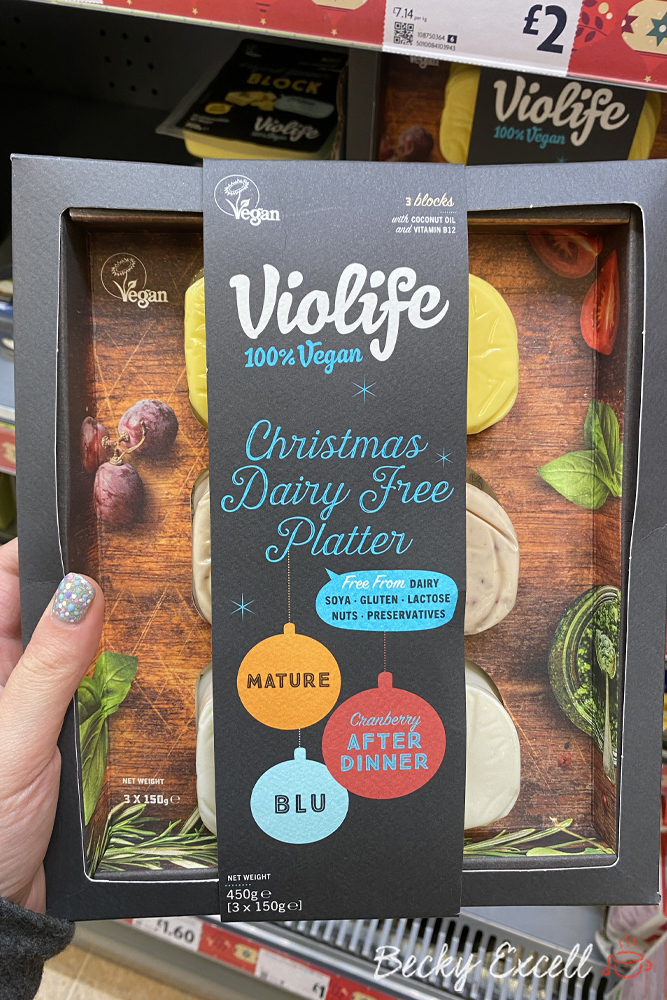 38. Morrison's Free From Bread Sauce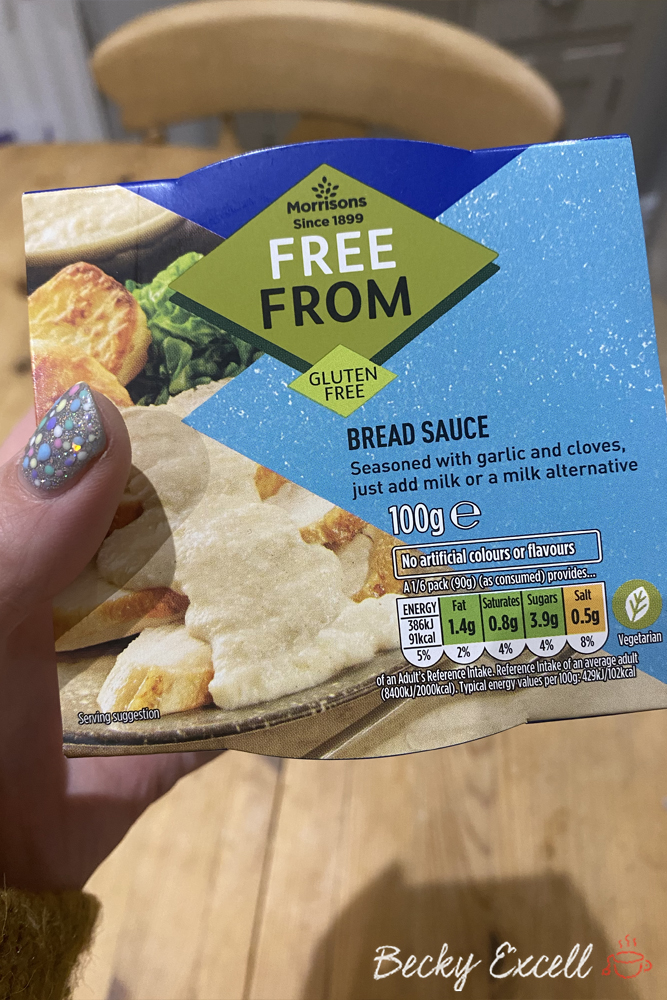 39. Morrison's Free From Mini Chocolate Yule Logs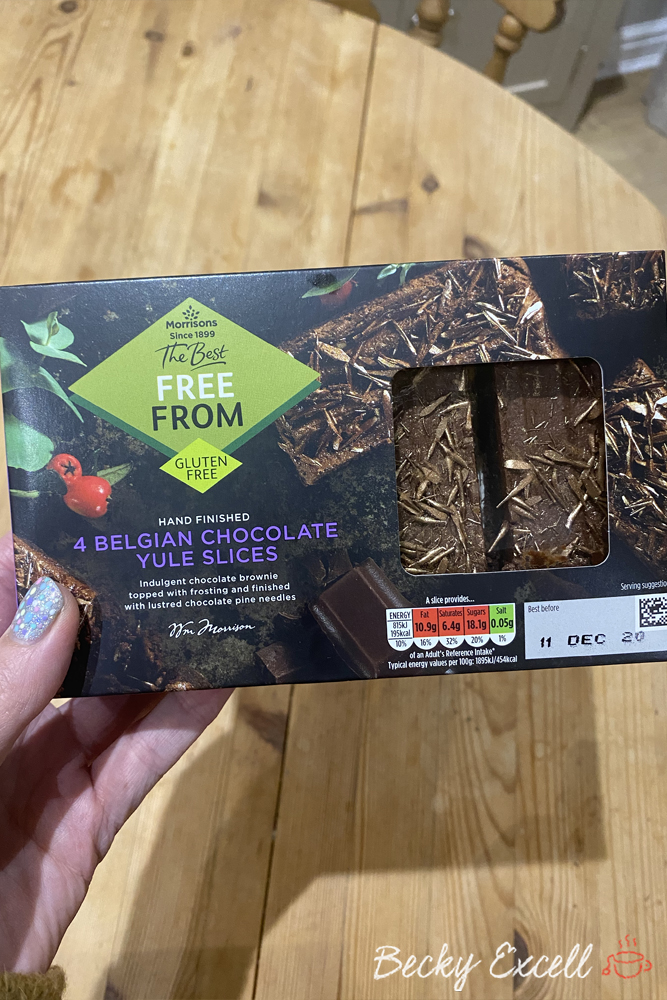 That's the 30 NEW products in the Morrisons gluten-free Christmas Range 2020!
Thanks for joining me in checking out the Morrisons gluten-free Christmas range 2020! What did you think? Is it too early for Christmas products?! Which one was your favourite? What did you think of the prices? What are we still missing?
If you enjoyed this post, make sure you check out my:
Please do let me know by leaving a comment below or by following me Instagram and leaving me a comment.
Thanks for reading – you don't know how much I appreciate it!
Becky xxx
Comments