They say that Christmas isn't complete without a trifle. But for me a trifle is the perfect dessert all year round. This gluten free trifle recipe is really simple, adaptable & also 100% a dairy free trifle too!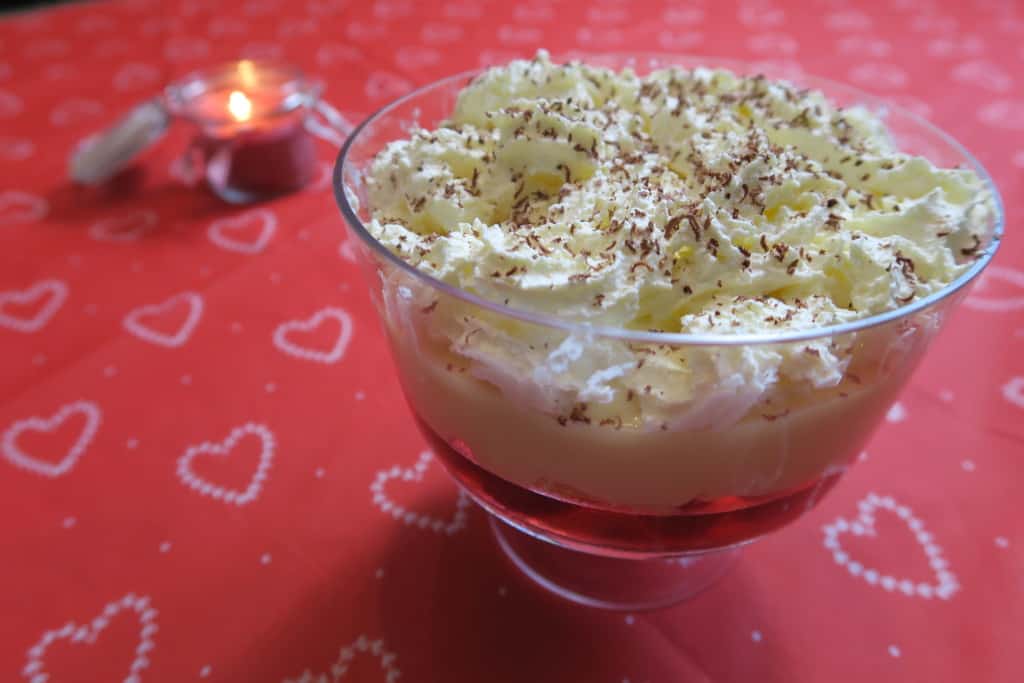 Hello, future Becky here! Make sure you check out my new gluten free trifle recipe I just posted. I'm gonna be updating this one soon too though!
A gluten free trifle is a rare sight in any shop. No, actually I am lying…. a gluten free trifle is non existent in shops and restaurants across the land. Add on top of that a dairy free trifle as well… well I think you will be searching a long, long time! But now it doesn't matter, I have solved this problem in a really simple, authentic & tasty way that is both gluten free & dairy free! Mark & I love trifle & over the past week, we have been enjoying our dairy free & gluten free trifle so so much, I thought I would share the simple recipe with you.
A trifle is all about the layers. Any of the layers in my gluten free trifle recipe can be altered if you wish, I know we all have slight differences in how we like our trifle, but this is a good base model recipe I think! For example, you might like a certain brand of jelly, you might even like making your own sponge fingers or have a special dairy free family custard recipe lurking around… I love creating dairy free custards! Oh & I know that most people soak their sponge fingers first in alcohol or even just the jelly whilst it sets… whilst that tastes great, for me personally I like to put the sponge fingers in after the jelly has set; that way the sponge fingers soak up more of the custard rather than jelly!
For me I believe I have found the very best gluten free sponge fingers ever… perfect for a gluten free trifle! They are also dairy free which makes them even better. They are from the wonderful Schär. They are called Savoiardi on the Schär Online Shop which basically means lady fingers, sponge fingers… or whatever you like to call the sponge in your trifle! They smell amazing, they taste amazing, they soak up all the softer elements of the trifle amazingly and I seriously don't think I will use anything else for the sponge element of my gluten free trifles again. Convenient & delicious all in one packet!
So this is exactly how I made my gluten free trifle. I personally wouldn't change a single thing… I don't think Mark would let me. Except to make it bigger & more often!!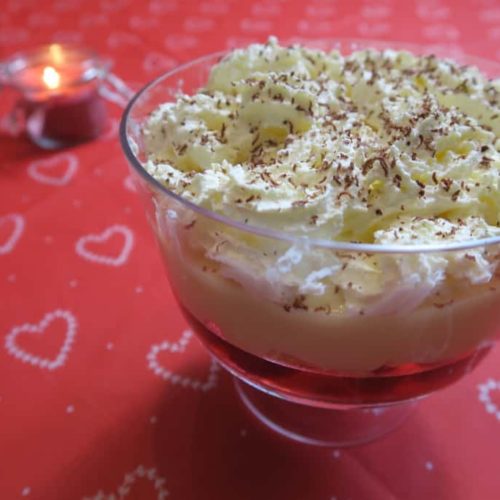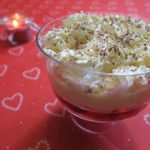 Gluten Free Trifle (Dairy Free)
Ingredients
Jelly

Again any flavour you like!

Fruit of choice

I used a punnet of fresh raspberries

Gluten Free Sponge Fingers

I use Schär's Savoiardi Fingers which are amazing & dairy free!

Dairy Free Custard

You can use Alpro Soya Custard or let me know if you want my recipe!

Dairy Free Cream for whipping

Provamel Soya Cream whips well

Grated Dairy Free Chocolate

I used Doisy & Dam's Maca, Vanilla & Cacao Nibs Dark Chocolate
Instructions
Make up your jelly as the packet instructs... for me that was placing my jelly in a jug, pouring hot water over it & then cold.

Pour your jelly mixture into your trifle dish (as much as you like, I thought of my dish as having 4 layers so basically had a quarter of the dish per layer!)

Drop some of your fruit into the jelly.

Place your jelly is the fridge to set. (This can take varying times depending on your jelly, mine seemed to take ages!)

Spread a little jam onto your gluten free sponge fingers and once the jelly is set place your sponges in a layer on top of the jelly.

Pour over your cold dairy free custard (again, as much as you like... I LOVE CUSTARD so lots!)

Whip your dairy free cream, this can be done using a hand whisk quite easily till it forms stiff peaks OR by using a Cream Whipper.. my favourite new gadget!

Spoon, pipe or squirt your cream on top in whatever style you wish.

Grate a little chocolate on top (I used Doisy & Dam's Organic Dark Chocolate)

Serve up & enjoy!
Notes
If Dairy is not and issue for you then feel free to use custards & creams containing dairy.
Also if you have a Lactose Intolerance rather than being fully Dairy Free.. the Lactofree Cream from Arla whips up very well.
*** There are no measurements for the ingredients just because it really depends on what size you want to make your trifle, your instinct will be right!!! ***
I mentioned in the recipe that I used a cream whipper to whip my cream. You can grab them online & until you try one you will never understand how good they are. You often see restaurants use them, and they work great with putting cream on hot chocolate too! They aren't very expensive so I would definitely recommend treating yourself to one!
So there you have it, my very simple, yet very delicious recipe for making a gluten free trifle which is also… a dairy free trifle! Everyone will enjoy this dessert, I guarantee it will be a winner in your household, whatever the occasion. As I said, a trifle is a very adaptable recipe, whereby you can change it to suit you & your families tastes if you wish! I would love to know what you think of my gluten free trifle recipe & if you make any changes to your own trifle recipes. Do you use different fruits or are you one for adding some sherry in?! Just drop a comment below, or on Facebook/Twitter… or even a photo on Instagram!
Thanks for reading,
Becky xxx