Mark's gluten free Singapore noodles recipe is perfect if you've been missing out on all those Chinese takeaway orders! This recipe is low FODMAP and dairy free too.
Every time a Chinese takeaway gets ordered at family get-togethers, Mark ends up making me something special so I never miss out. This is one of the first things he ever made for me so I thought I'd share his gluten free Singapore noodles recipe with you today!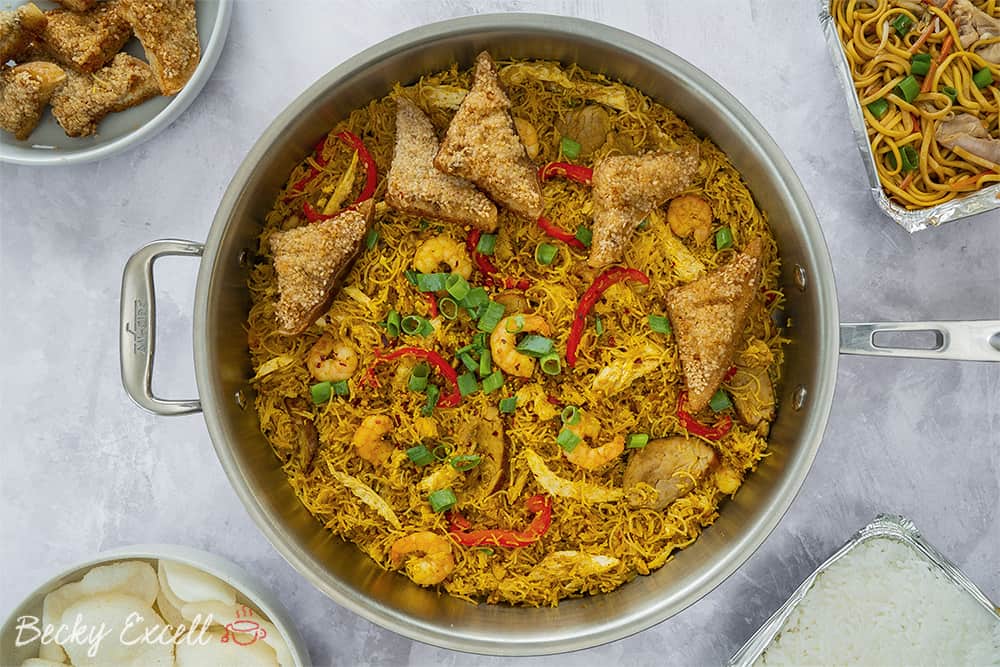 I first posted Mark's recipe back in 2015, but so much has changed since then.
(in my personal life and on the blog… in fact the two have sorted merged together!)
Even this recipe has changed and been updated over the year and I'm proud to say that after 4 years of making this dish… I think we've finally nailed it.
To be honest, the first iteration of this recipe really was a bit 'well, it sort of looks like it and the taste isn't far off'. But we can do better than that these days!
This isn't a 'fakeaway'… this is exactly what you'd order from a Chinese takeaway. You can even get someone to ring your doorbell and hand it to you if it makes you feel more normal!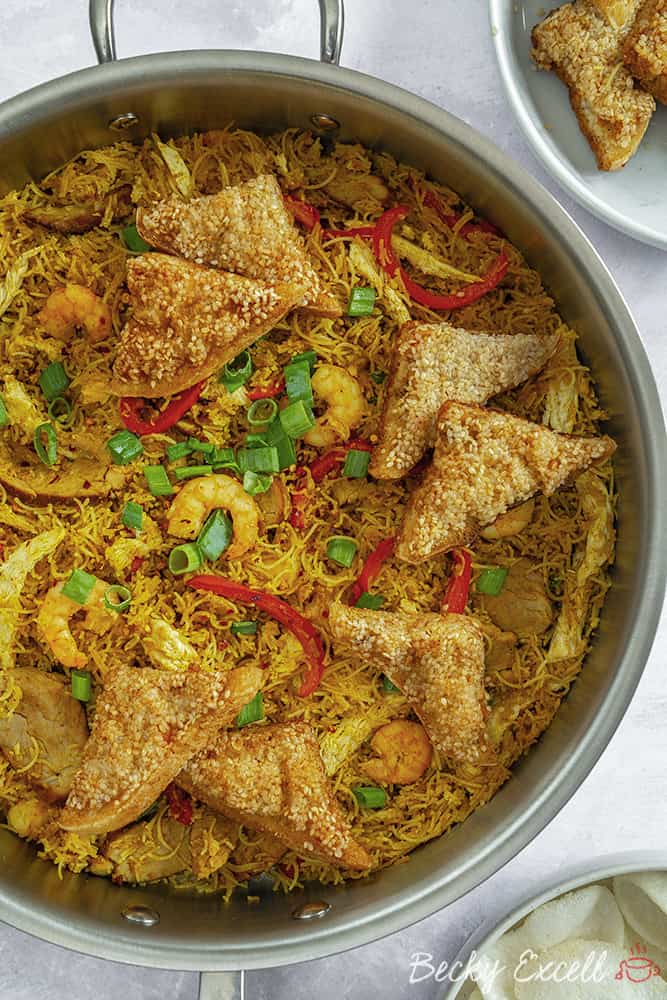 So since I based this recipe on them, what are my fave Singapore noodles like from my local takeaway?
(bear with me, it's been about 8 years since I've eaten them, sadly!)
IIRC, they're light and slightly crispy with a lovely spicy, curried flavour throughout. But then there's sooo much goodness hiding in those noodles too!
I remember hunting for red pepper, prawns, little sticky pieces of Char Siu pork, chicken and lovely fluffy bits of egg. Friday night perfection.
So what's Mark's version like?
It is that. I'm talking about the sentence above. No, the sentence above that! I promise you, it is just identical in almost every way.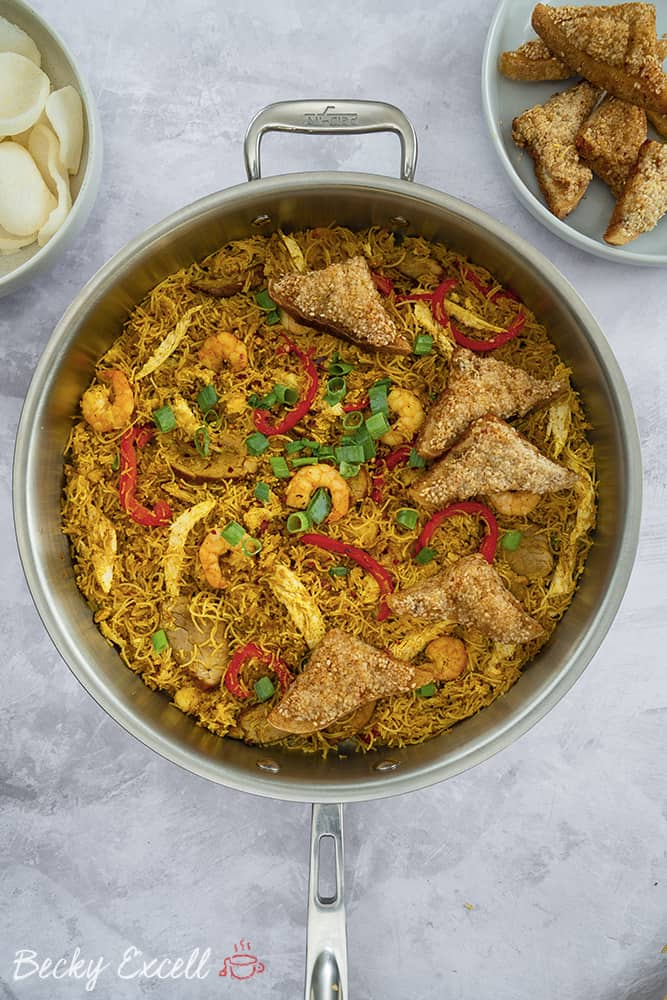 I actually have a separate recipe if you fancy creating your own gluten free Char Siu pork from scratch to throw in this recipe. But it's defo not mandatory if you just fancy a quick and easy dinner!
Oh and like the look of my prawn toast in the photos? Yep, they're 100% gluten free and made by Mark too – you can find his recipe for gluten free prawn toast here.
If you fancy making more of Mark's Chinese takeaway recipes then check out this post for more: 10 gluten free Chinese takeaway recipes you won't believe you can eat.
Can you make this low FODMAP? Yep, you certainly can – just use this low FODMAP curry powder from Sainsbury's or you can make your own low FODMAP curry powder here.
Ok, so here's my gluten free Singapore noodles recipe…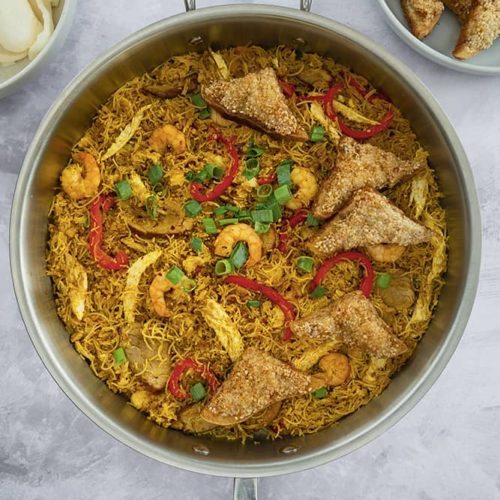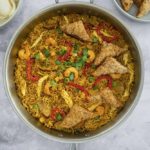 Gluten Free Singapore Noodles Recipe (low FODMAP)
Gluten free Singapore noodles recipe! This recipe is authentic and just like what you'd get from the takeaway. It's low FODMAP and dairy free too.
Ingredients
600

g

fresh vermicelli rice noodles

150

g

cooked prawns

6

slices

gluten free Char Siu pork

(optional - check the post above for the recipe)

1

green pepper

2

eggs

1

chicken breast

3

tbsp

garlic-infused olive oil

handful

beansprouts

handful

spring onion greens

(only the green parts if you're low FODMAP)
For the seasoning:
2

tsp

gluten free soy sauce

2

tsp

mild curry powder

(check the post above for low FODMAP options)

1

tsp

turmeric

1

tsp

minced ginger paste

1

tsp

sugar

1/4

tsp

salt
Instructions
Chop your green pepper into thin strips and chop your chicken breast as thinly as possible - this will help it cook quicker.

Beat your eggs in a bowl and add a pinch of salt. Measure out all your seasoning onto a plate - you'll be pleased you did it later!

Add 2 tbsp of garlic-infused olive oil to the wok at a medium heat.

When the oil is nice and hot, start frying your green pepper until slightly softened. Add your chopped chicken and fry until sealed - if your chicken isn't thinly chopped then give it a little longer to cook.

Add your beaten eggs to the wok and keep mixing around until it's all looking cooked. By constantly mixing it around, you should get nice chunks of egg.

Add your cooked prawns to the wok (and gf Char Siu if you made it) and keep mixing until they've both nice and hot.

Add in your fresh rice noodles and drizzle a little more garlic-infused olive oil over them before thoroughly turning/mixing for 2 minutes. Add a big handful of beansprouts.

Now for your seasoning - chuck it all in and keep mixing everything in until it's all nice and consistent. That's it!

Serve up immediately and chop fresh spring onion greens top. Enjoy!
Notes
*Check the blog post above for links to my gluten free and low FODMAP Char Siu pork recipe and my low FODMAP curry powder recipe.
Thanks for reading how to make my gluten free Singapore noodles recipe! If you make it, I'd love to see how it turns out. So absolutely make sure that you send me a pic using my social media links below…
Any questions about the recipe? Please do let me know by leaving a comment below or on Facebook / Twitter / Instagram!
If you liked this, then why not check out my gluten free sweet and sour chicken – cantonese style? Or my gluten free Chinese chicken curry?
Thanks for reading,
Becky xxx
Oh and don't forget to pin this for later!