I'm on a mission to recreate all of my fave takeaway dishes! Next up is the ultimate Friday night dish – gluten free Singapore noodles. This recipe is low FODMAP and dairy free too!
Now, when I say 'recreate', I don't just mean 'well, it sort of looks like it and the taste isn't far off', I mean literally recreating an authentic version from scratch – but without the gluten and FODMAPs! Here's my gluten free Singapore noodles recipe…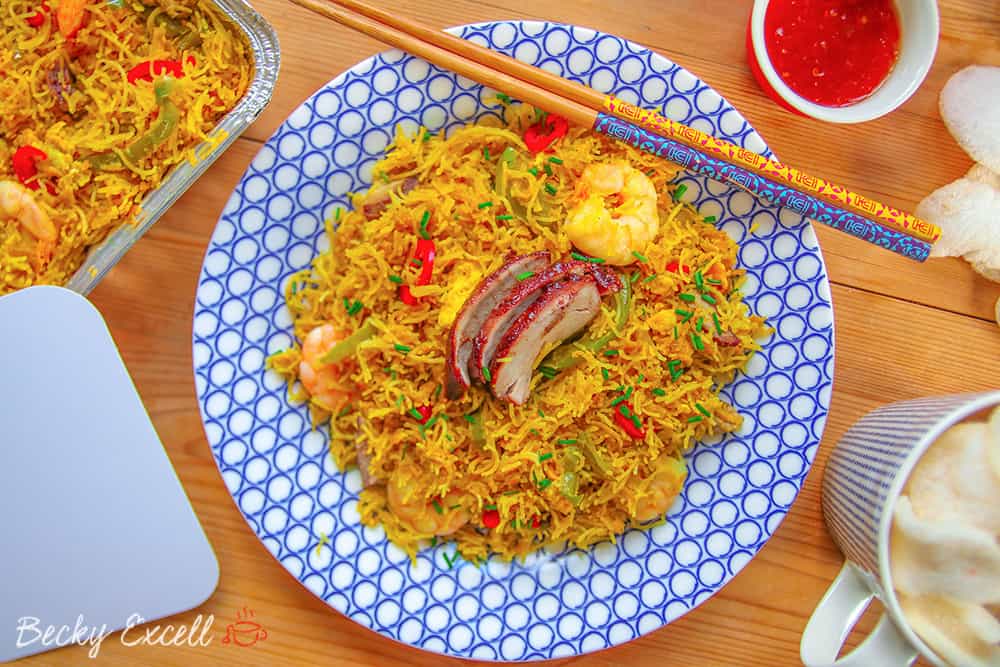 I first posted this recipe back in 2015, but so much has changed since then.
For one, I'm now a full-time food blogger instead of being a full-time 'gosh-I-wish-I-could-quit-my-job-and-become-a-food-blogger'.
(turns out it's dangerously easy to quit your job… but a billion times harder to make ends meet!)
But most importantly, this recipe has had a massive update and I'm proud to say that after 3 years of fine tuning, I think I've finally nailed it.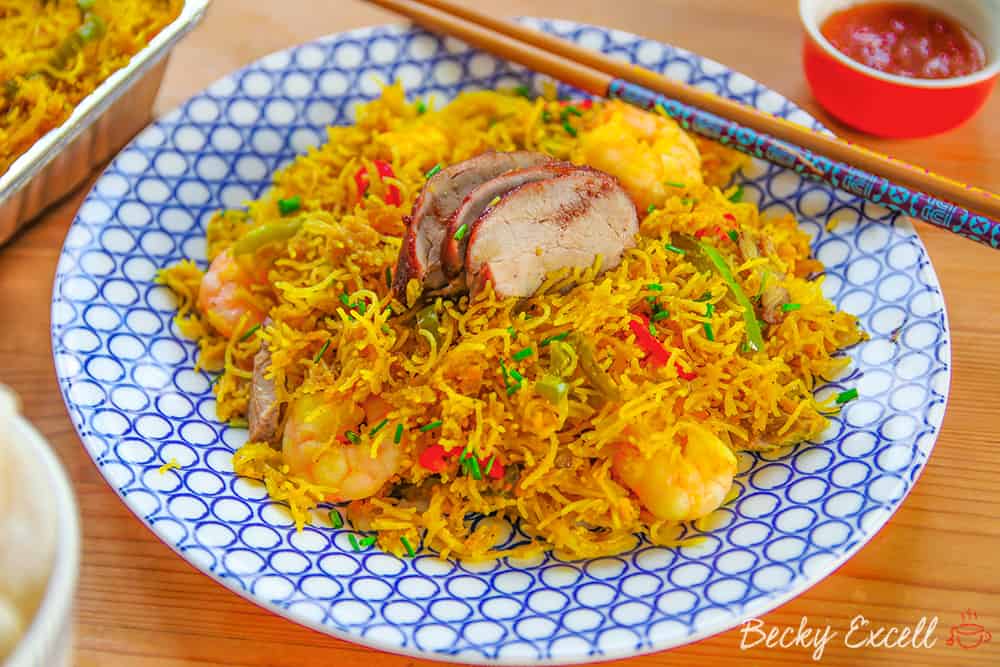 To be honest, the first iteration of this recipe really was a bit 'well, it sort of looks like it and the taste isn't far off'. But we can do better than that.
(well, I hope so or I may have to go crawling back to my former employer, who FYI, would never take me back!)
In those 3 years, Mark and I have really perfected this recipe to the point where I truly believe that nobody could tell the difference. I'm a firm believer that free from food can always be as good as any other food and this proves it.
The only difference is that you can actually eat this one without gluten or needing to pick out onions or garlic!
(FYI, if you're on the low FODMAP diet then please never eat food which has cooked onion/garlic in it full-stop. Picking it out does nothing – it's too late once it's cooked!)
Whilst I've got your attention FODMAPers, here's the link to my low FODMAP curry powder recipe which you'll absolutely need if onion and garlic powder is the bane of your life… you'll also need it for this recipe.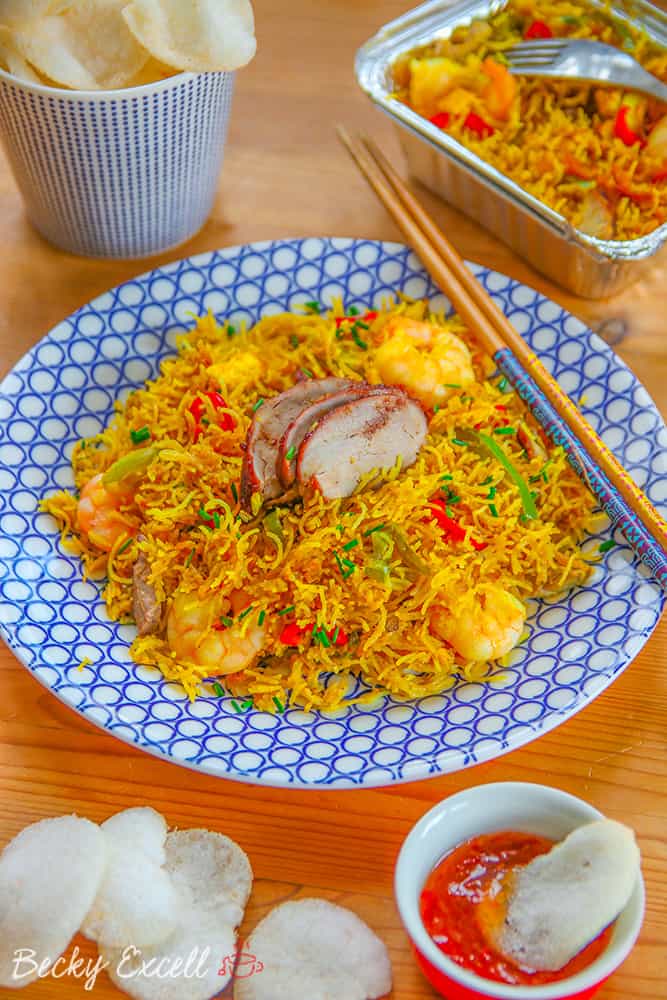 So since I based this recipe on them, what are my fave Singapore noodles like from my local takeaway?
(bear with me, it's been about 8 years since I've eaten them, sadly)
IIRC, they're light with a beautiful yellow hue and a lovely spicy, curried flavour throughout. But then there's sooo much goodness hiding underneath too!
I remember hunting for green pepper, prawns, little sticky pieces of Char Siu pork, hot red chilli (which I'd always avoid!) and lovely fluffy bits of egg. Friday night perfection.
So what's my version like?
It is that. I'm talking about the sentence above. No, the sentence above that! I promise you, it is just identical in almost every way.
But of course, that poses the awkward question… gluten free and low FODMAP Char Siu Pork… is it possible?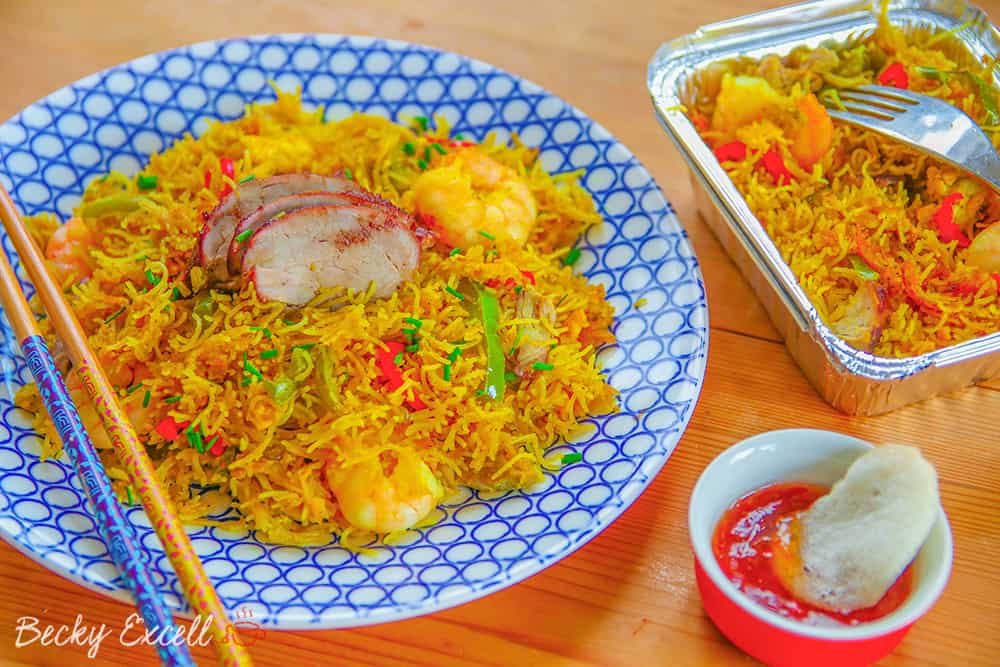 Yes, gluten free and low FODMAP Char Siu pork is absolutely possible! Well, it might not have been before we made it, but it certainly is now!
Click here to go check out the post so you can buy the ingredients for that too whilst you're at the supermarket.
The best thing about it is that it's soooo easy to make. I won't go into detail because that's what the Char Siu pork recipe is for, but trust me – my gluten free Singapore noodles wouldn't be the same without it!
It's just a matter of mixing up a marinade (you can easily find all of the ingredients in the supermarket) and roasting a pork fillet.
Job done!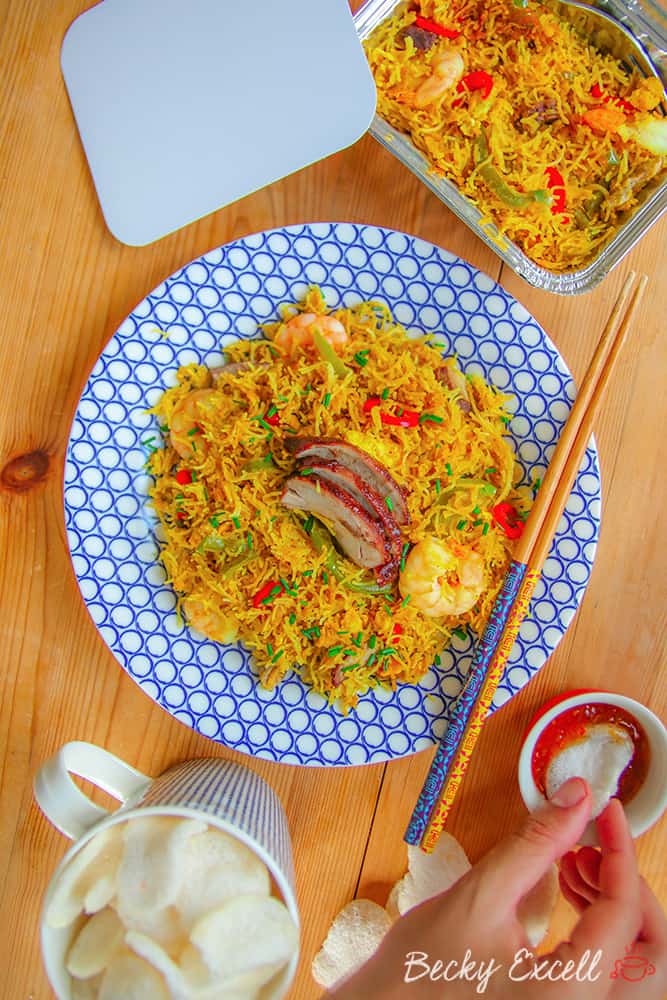 It might feel like effort to make Char Siu pork from scratch and then still have to make your gluten free Singapore noodles too…
(wow, you're really starting to think like I do if you agreed with that sentence)
But honestly, these noodles take about 10 minutes to cook and 5 minutes to prepare your ingredients.
You can basically whip this up while your Char Siu is roasting in the oven. Easy-peasy!
Anyway, here's my gluten free Singapore noodles recipe…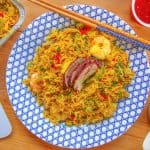 Gluten Free Singapore Noodles Recipe (low FODMAP)
Gluten free Singapore noodles recipe! This recipe is authentic and just like what you'd get from the takeaway. It's low FODMAP and dairy free too.
Ingredients
165

g

raw prawns

6

slices

of finely chopped gluten free Char Siu pork*

600

g

fresh vermicelli rice noodles

1/2

green pepper

garlic-infused olive oil

fresh chives

2

eggs

1

fresh red chilli
For the 'sauce'
5

tbsp

gluten free soy sauce

2

tbsp

rice/white wine vinegar

2

tsp

mild curry powder*

1

tsp

minced ginger paste

1/2

tsp

sugar

pinch

of black pepper
Instructions
Heat up 2 tbsp of garlic-infused olive oil in a wok at medium heat. Chop your green pepper into thin strips.

Mix your 'sauce' ingredients together in a bowl and set aside.

Fry your prawns in the oil until pink and set aside for later.

Add 2 more tbsp of garlic-infused olive oil to the wok and start frying your green pepper until slightly softened.

Add your rice noodles and drizzle more garlic-infused olive oil over them before thoroughly turning for 20 seconds.

Create a large well in the middle of the noodles and crack two eggs into the middle. Use a fork to beat the eggs and leave them to cook for 1 minute.

After 1 minute, try your best to turn the egg over to cook the raw-looking side for 30 seconds. Then just mix everything up so you have nice chunks of egg throughout.

Add your sauce mixture and mix thoroughly. I usually do this by tossing it a bit like a salad so you don't break your noodles too much.

Add in your now cooked prawns, cooked Char Siu pork pieces and chopped red chilli for a further minute.

Serve up immediately and chop fresh chives on top. Enjoy!
Recipe Notes
*Check the blog post above for links to my gluten free and low FODMAP Char Siu pork recipe and my low FODMAP curry powder recipe.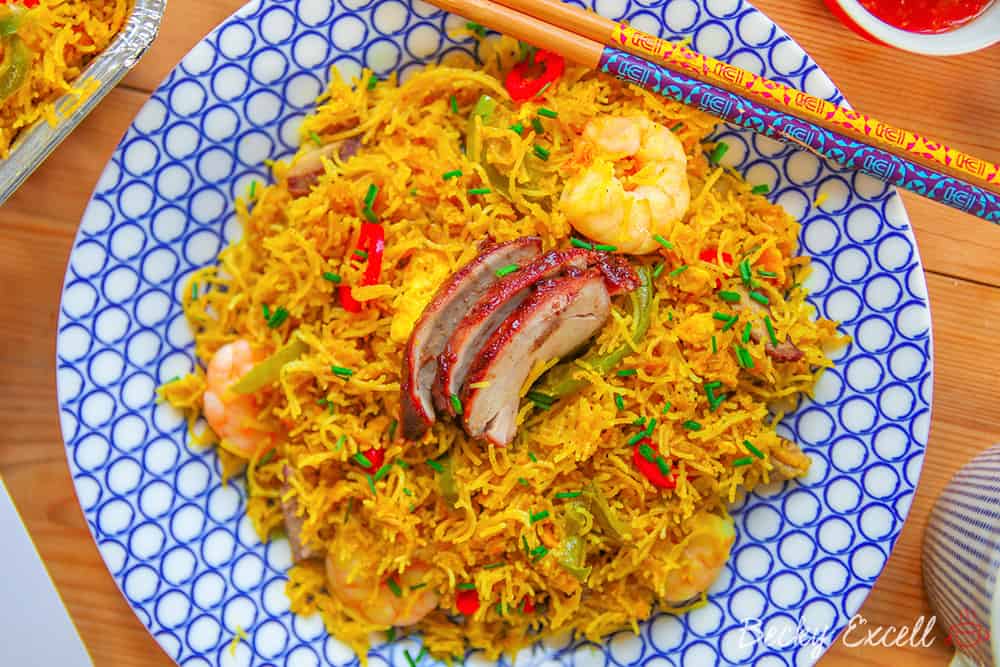 Thanks for reading how to make my gluten free Singapore noodles recipe! If you make it, I'd love to see how it turns out. So absolutely make sure that you send me a pic using my social media links below…
Any questions about the recipe? Please do let me know by leaving a comment below or on Facebook / Twitter / Instagram!
If you liked this, then why not check out my gluten free sweet and sour chicken – cantonese style? Or my gluten free Chinese chicken curry?
Thanks for reading,
Becky xxx
Oh and don't forget to pin this for later!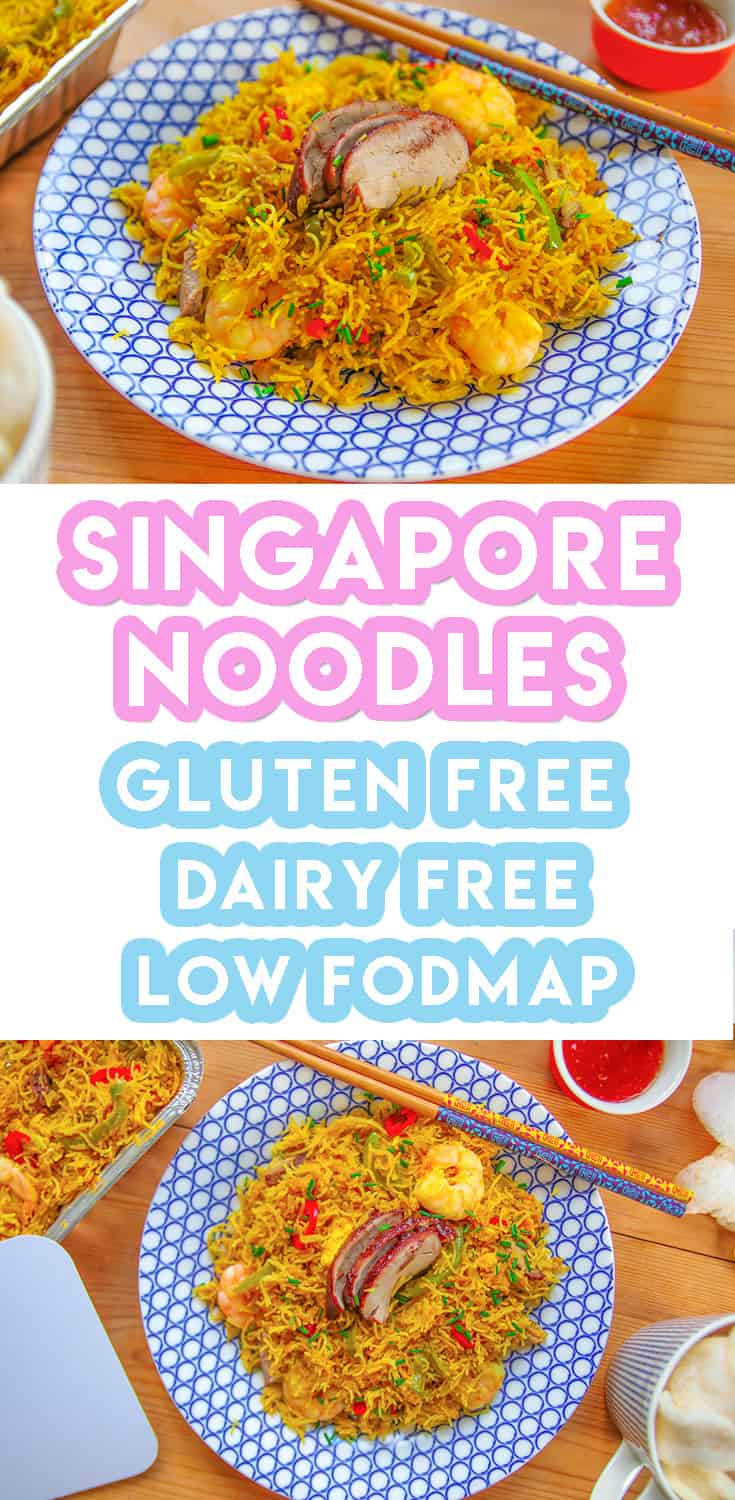 Comments