Gluten free prawn toast recipe, anyone? When I first posted this recipe back in 2016, I imagined that by 2019 we'd defo be able to buy gf prawn toast in supermarkets… I guess not! So what better time than now to revisit this recipe?! It's low FODMAP and dairy free too.
Yep, this post first went up in 2016, but I thought it was definitely time for a little bit of a revamp. We've simplified the recipe a little so it's not only easier to make, but it somehow tastes even better too. So let's talk about my gluten free prawn toast recipe!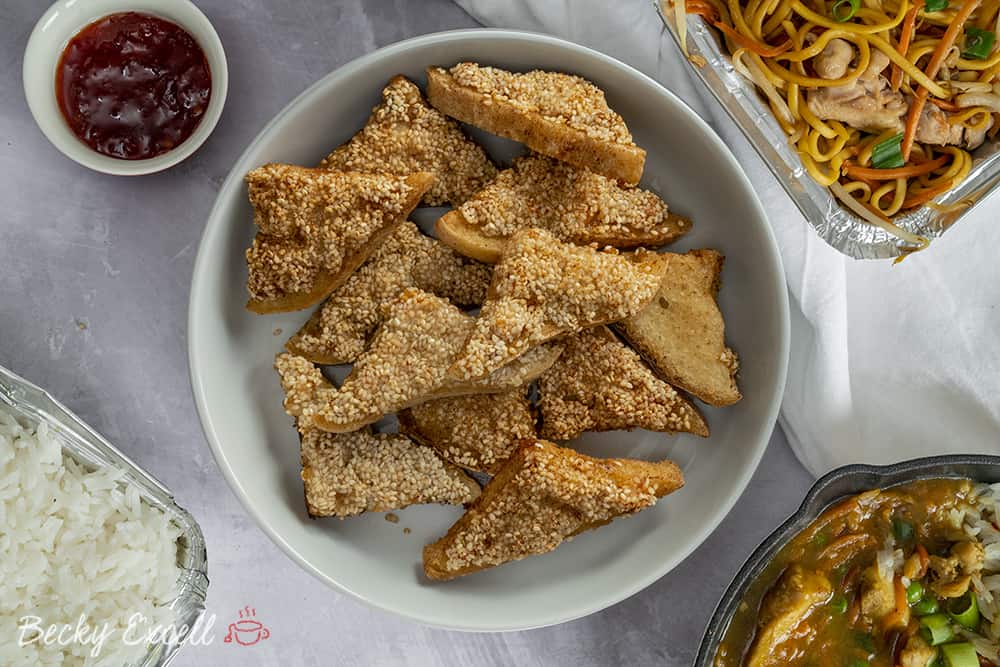 Well to be honest, it's actually Mark's recipe!
Over the years, he's created soooo many Chinese takeaway style recipes just purely because I can never eat Chinese food.
(gluten is a massive problem with Chinese takeaways, plus I can't eat onion or garlic ?)
And his recipes are always so great that I absolutely had to force him to write them all up against his will so I could share them with you guys. Thanks Mark!
I even created this post here (10 gluten free Chinese takeaway recipes you won't believe you can eat) to celebrate all the dishes he's made me over the years. So definitely make sure you head over there if you've been missing Chinese food as much as I used to.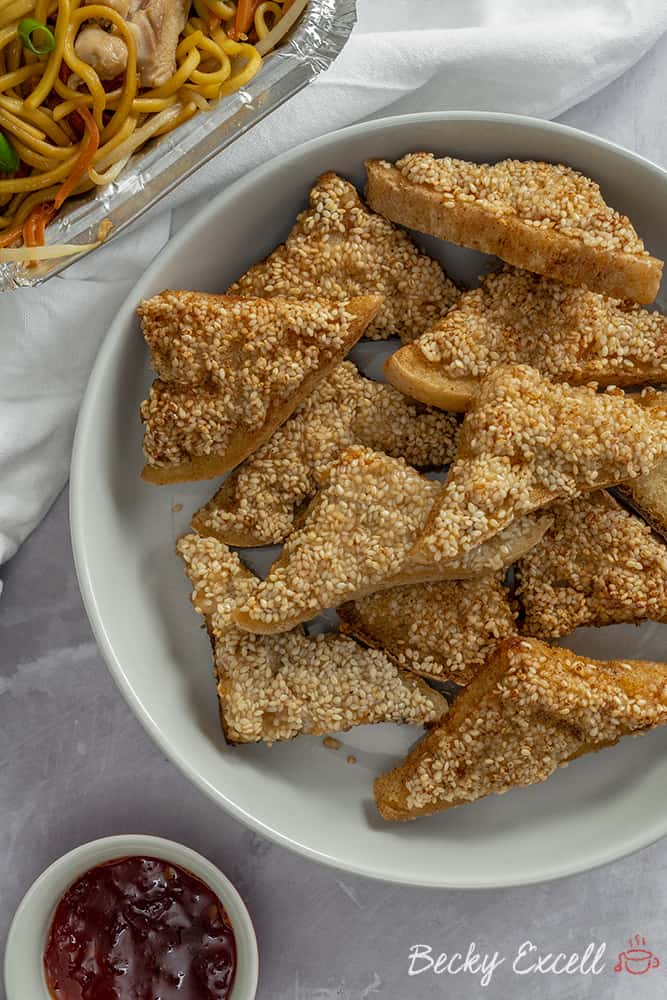 And this gluten free prawn toast recipe was one of the first things he ever made me, waaaaay back in 2016.
Back then, I hadn't eaten prawn toast in like… 5/6 years at least and tasting this was literally one of the best thing in my little gluten free life.
I still remember the happiness that it brought me when I first tried Mark's prawn toast and that's why I then went on to share it right here, 3 years ago.
Hopefully this recipe helps you guys to have a little happy moment of your own!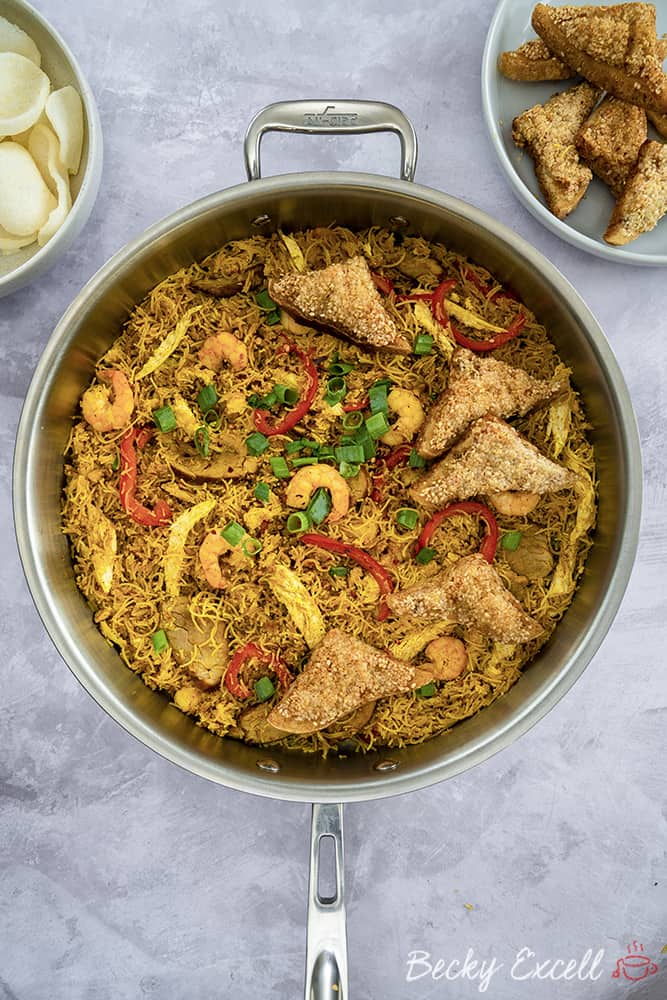 But yeah, I still can't believe that gluten free prawn toast isn't something that has ever been available to purchase in the supermarket.
So until then, I've got you covered with Mark's super simple recipe that tastes exactly like the prawn toast I used to love from the takeaway and Chinese buffets.
It's literally just a matter of spreading your homemade prawn mixture on gluten free bread, flopping into sesame seeds, frying it and finishing it off in the oven.
Easy! You can always just completely deep fry your prawn toast instead of shallow frying and baking them – it's up to you. We just find this method a lot quicker and easier.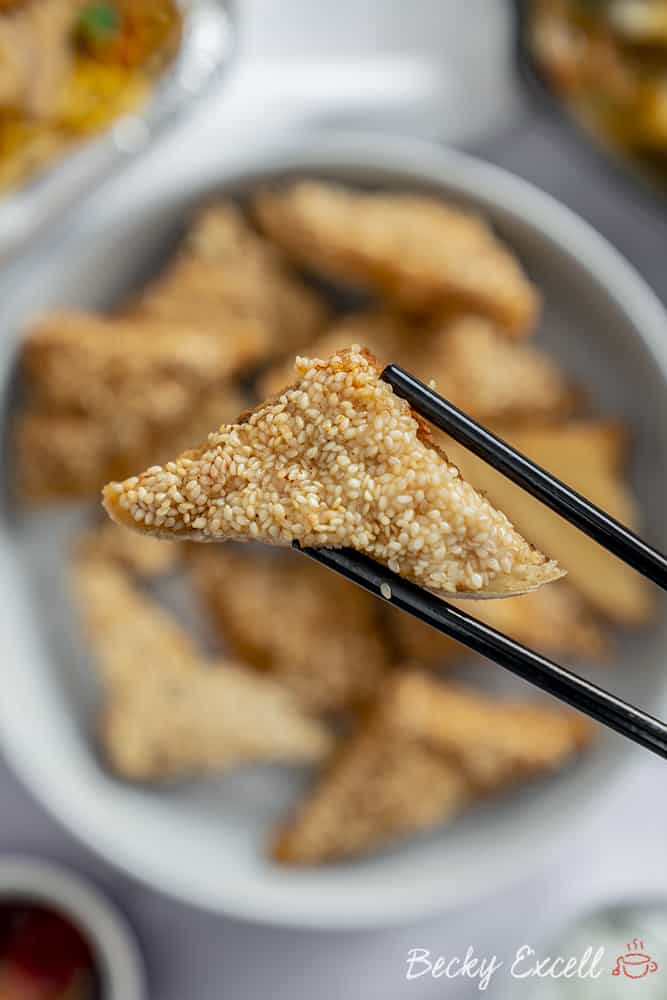 I should probably also mention that you can freeze your prawn toast once you reach step 5 in the recipe. Just place it into a lunchbox and keep for up to 2-3 months.
(that way, you don't have to cook prawn toast as a side AND a main AND something else like rice, all at the same time)
Then when you fancy some prawn toast with your dinner, simply continue from step 6 (straight from frozen) when you want to cook them in the future.
Just make sure that you cook them for more like 10 minutes instead of 5 during step 9.
Looking for more of Mark's gluten free Chinese takeaway recipes? Check out this blog post here: 10 gluten free Chinese takeaway recipes you won't believe you can eat.
Ok, I'll hand it over to Mark for his gluten free prawn toast recipe…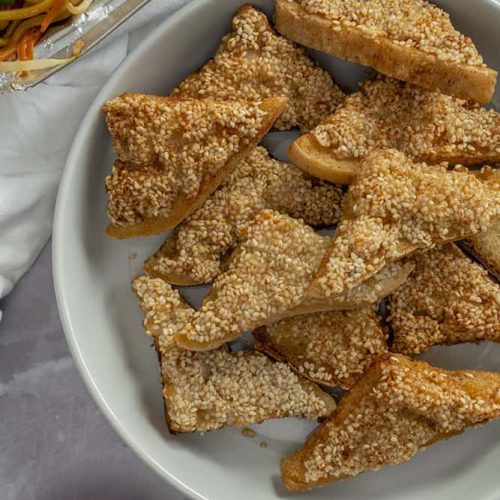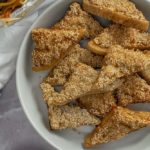 Gluten Free Prawn Toast Recipe - Takeaway style
Mark's gluten free prawn toast recipe is so simple to make and it's low FODMAP and dairy free too.
Ingredients
3

slices of gluten free bread

200

g

white sesame seeds
For your prawn mixture
175

g

Fresh raw prawns

1

Tsp

minced ginger

1/4

tsp

sugar

1/2

tsp

salt

1/2

tsp

black pepper

2

tbsp

water

1

tbsp

gluten free soy sauce
Instructions
Very finely chop up your raw prawns (it should look a little mushy really!)

In a mixing bowl, combine all of the ingredients for your prawn mixture. Mix together until well combined.

Spread this mixture across each slice of bread and make sure you go right up to the edges.

Spread your sesame seeds onto a flat plate. Then place your bread prawn-side down into the sesame seeds. Repeat for all slices of bread. Sprinkle a little extra sesame seeds into any areas where there are gaps.

Cut your bread into triangles.

Heat your oven to 180C fan.

Heat a generous amount of oil (4 tbsp in a medium frying pan) of oil in a frying pan on a medium heat (the more oil the better to be honest!) Place your prawn toast in, face down for around 1-2 minutes or until the sesame seeds are nice and golden.

Flip them over until the other side is nice and golden too. After cooking 3-4 prawn toast triangles, add 4 tbsp more oil to the pan and repeat as necessary.

Place all your fried prawn toast straight onto a baking sheet and place in your preheated oven for 5 minutes or so.

Remove from the oven, plate up and enjoy!
Thanks for reading all about Mark's gluten free prawn toast recipe! If you make them, I'd love to see how they turn out so don't forget to take a snap of your creations and tag me on Instagram!
Plus, I'm giving away a £50 supermarket voucher every month to my fave pic, so get cooking!
Any questions about the recipe? Please do let me know by following me on Instagram and leaving me a comment!
Thanks for reading,
Becky xxx
Oh and don't forget to pin this for later!