Gluten free Chinese Chicken curry recipe, anyone?! I thought that might get your attention! It's just like what you used to order from your local Chinese takeaway. It's also dairy free and low FODMAP btw.
Well, that's if you can even remember the last time you ordered a Chinese takeaway… if you ever had the chance to in the first place! You can just never be sure what is and isn't in food from the Chinese takeaway, so I decided to create my own gluten free Chinese chicken curry recipe at home. Here it is!

I loved having a Chinese takeaway when I was younger. We didn't have one very often, but that just made it even more special.
We had our dishes that we would always order… sweet and sour fish, egg fried rice, chilli beef, chow mien and… Chinese chicken curry!
For me, not being able to have a Chinese takeaway ever again was a disastrous thought. Not only is Chinese takeaway food very often ladened with gluten but for those who have IBS and might follow the low FODMAP diet, onion and garlic is everywhere!
But not here…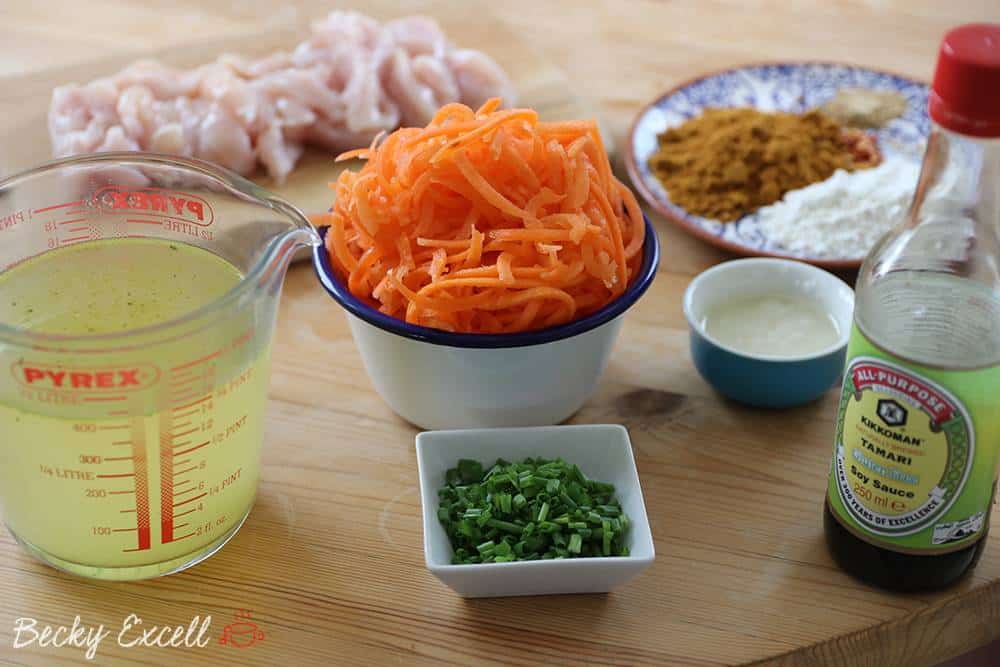 So what's it like?
Well, if you've ever ordered a Chinese chicken curry from your takeaway before being gluten free… it's exactly like that!
If you've never had the pleasure of trying it before, then it's a lovely, mildly spicy curry – the kind that you'd just love to dip your chips in.
(well, I'd love to anyway!)
The chicken is so incredibly tender and soft, with the carrot and peas soaking up all that lovely flavour. This recipe is basically everything I used to love about Chinese chicken curry, but I can actually eat this one!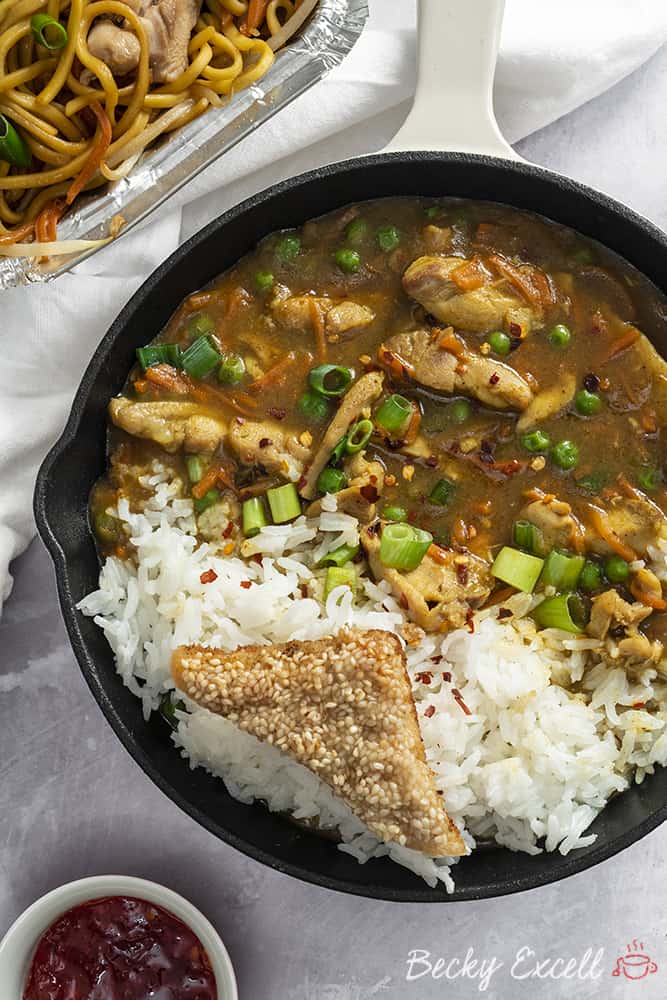 But as you might have seen by the title, I can't really take the credit for this recipe… as it's one of Mark's!
Being half-Malaysian, he absolutely loves this style of cooking, so I just let him get on with it and steal all of his recipes ?
(well, I do steal them to share with you guys so I guess that makes it ok, right?!)
Every time it's my birthday, Valentine's, our anniversary etc. he'll always make me some sort of Chinese dish that I can NEVER eat. And this was one of the first he ever made for me!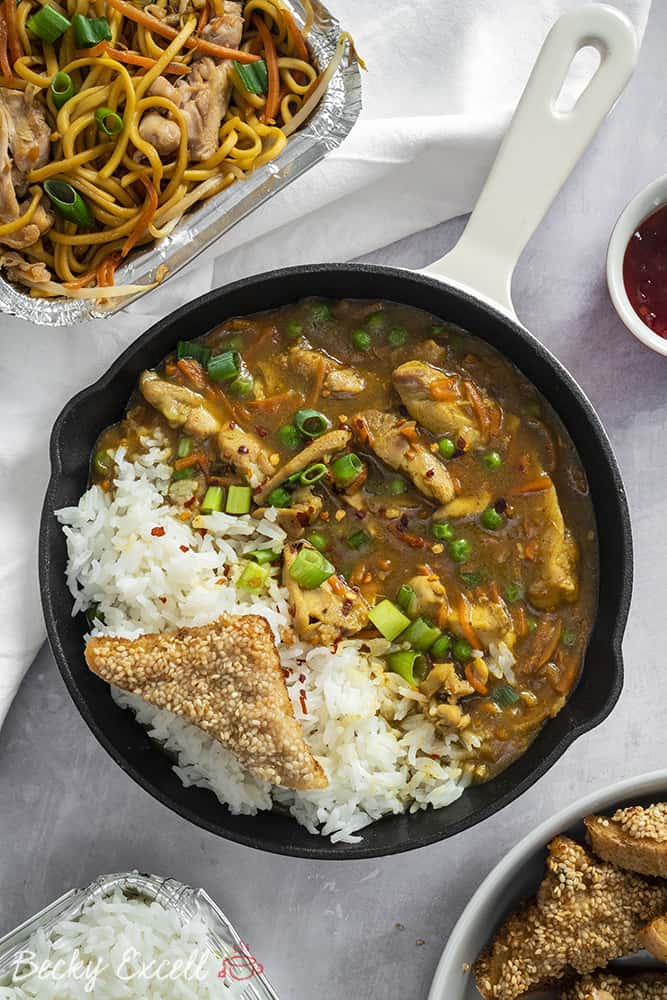 As you can see in the photo above, he also made me gluten free prawn toast AND gluten free chicken chow mein… it was probably the best eating day of my life!
The gluten free prawn toast recipe is actually already up here and when I steal his chow mein recipe, I'll post the link here too.
I think we all have a lot of happy memories sharing a Chinese takeaway with family, so it was suuuuuper kind of Mark to cook this for me. It just made me feel normal again.
And obviously, I then had to try and do the same for you lot by sharing his gluten free Chinese chicken curry recipe right here!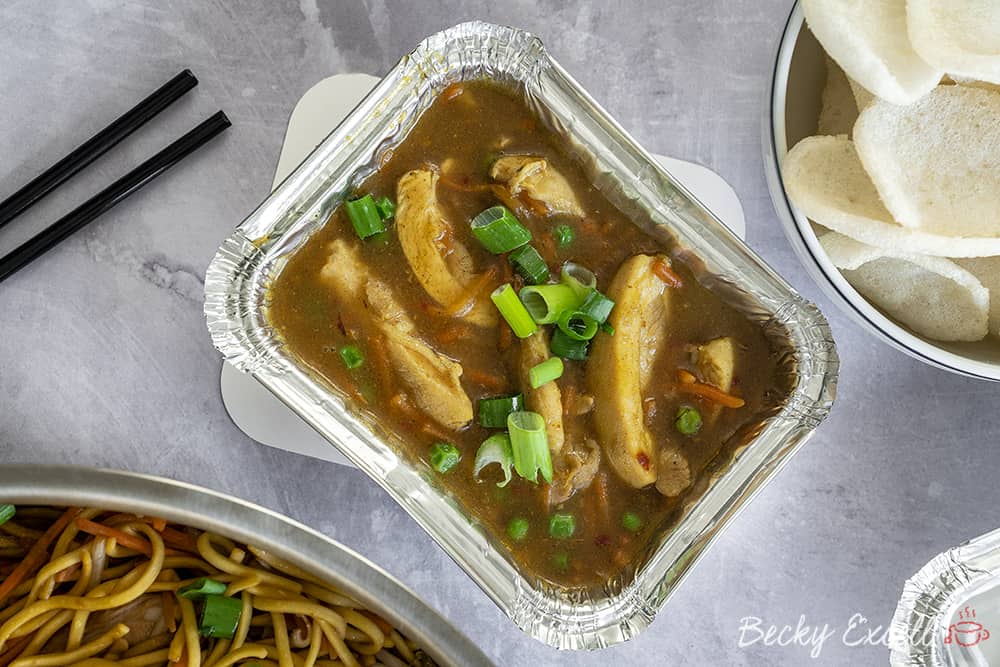 Here's a couple of tips straight from the man himself:
Poaching your chicken in boiling water might seem a little weird, but it's so incredibly quick to cook and the meat comes out really tender. It's how they do it in actual Chinese takeaways.
If you're not following the low FODMAP diet for IBS, then you can happily throw in a quarter of a white onion instead of the carrot.
Btw, if you're looking for a low FODMAP vegetable/vegan stock cubes, then click here and thank me later. Here's a low FODMAP curry powder too from Sainsbury's.
Looking for more of Mark's gluten free Chinese takeaway recipes? Check out this blog post here: 10 gluten free Chinese takeaway recipes you won't believe you can eat.
Right, on with the recipe!
Gluten Free Chinese Chicken Curry Recipe - Takeaway Style!
Gluten free Chinese chicken curry recipe, anyone? It's just like what you'd get from your local Chinese takeaway and it's low FODMAP too.
Ingredients
3 skinless, boneless chicken thighs

Spring onion greens*

chopped
For the sauce
2 tbsp coconut oil

200g grated carrot

2 carrots

A dash of gluten free soy sauce

400ml gluten free chicken stock

check the link above for low FODMAP chicken stock cubes

15

g

frozen peas
For your spice mix
2 tbsp gluten free plain flour

2 heaped tsp of mild curry powder

check the link above for low FODMAP curry powder

1/2 tsp chilli flakes

optional and more or less depending on how hot you want it!

1/2 tsp ground ginger

pinch ground cumin
Instructions
Start by bringing some water to the boil in a large saucepan. Once it's boiling, add your skinless, boneless chicken thighs, whole. Cook for around 8-10 minutes. Set aside to cool a little and then chop into bite-sized strips.

Now for the sauce. Prep your carrot - it doesn't have to be grated, but spiralised works great too. If you'd prefer, chopped carrots are a-ok - they just take longer to cook.

In your wok, heat your coconut oil. Once melted, add your carrots and fry until slightly softened.

Add your flour, curry powder, chilli flakes, cumin and ginger to the wok and coat the carrot.

Pour over your chicken stock and add a dash of gf soy sauce.

Allow to simmer for around 10 minutes and then add your cooked, chopped chicken thighs. The sauce should be lovely and thick by this point and ready to serve.

Serve on top of a bed of sticky jasmine rice and sprinkle some fresh spring onion greens on top.
Notes
* Green parts only for low FODMAP
So there you have it – my gluten free Chinese chicken curry recipe! It's very simple to make and tastes sooo much like the Chinese chicken curry I used to order from the takeaway.
Let me know if you get the chance to try this recipe and if you have any other Chinese takeaway dish requests. I'm more than happy to give some more a try! Just leave a comment below, or on Facebook/ Twitter/ Instagram.
Also, if you would like to check out my low FODMAP curry powder recipe, you can find it by clicking right here.
Thanks for reading and happy gluten free Chinese chicken curry eating!
Becky xxx
Oh, and don't forget to pin this before you leave!