One thing the world needs more of is gluten free Char Siu pork (it's sometimes called Chinese BBQ pork too). Mark's recipe is also low FODMAP and dairy free!
But it's not just the world that needs more of it. More specifically, my gluten free Singapore noodles recipe needs it too! Mark really delivered on this one, so I convinced him to share his top secret gluten free Char Siu pork recipe with you guys…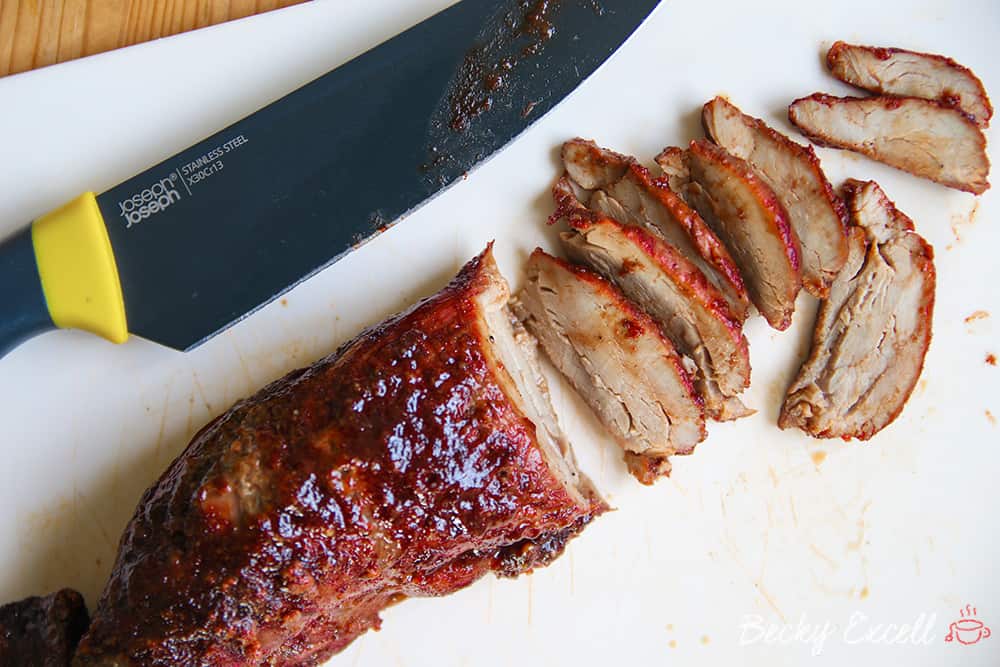 Char Siu pork is Mark's ultimate fave Chinese food. He used to go to Malaysia every couple of years since he was born to visit his Mum's family and I'm told he basically survived on Char Siu pork.
(as a fussy kid he didn't like seafood from then up until he was about 20!)
To this day, he will still devour several Char Siu buns without restraint and who can blame him? Now that I've tried some for the first time in 10 years… I already want some more!
Side note: who wants us to make gluten free Char Siu buns?! Ok better not get sidetracked here, where were we?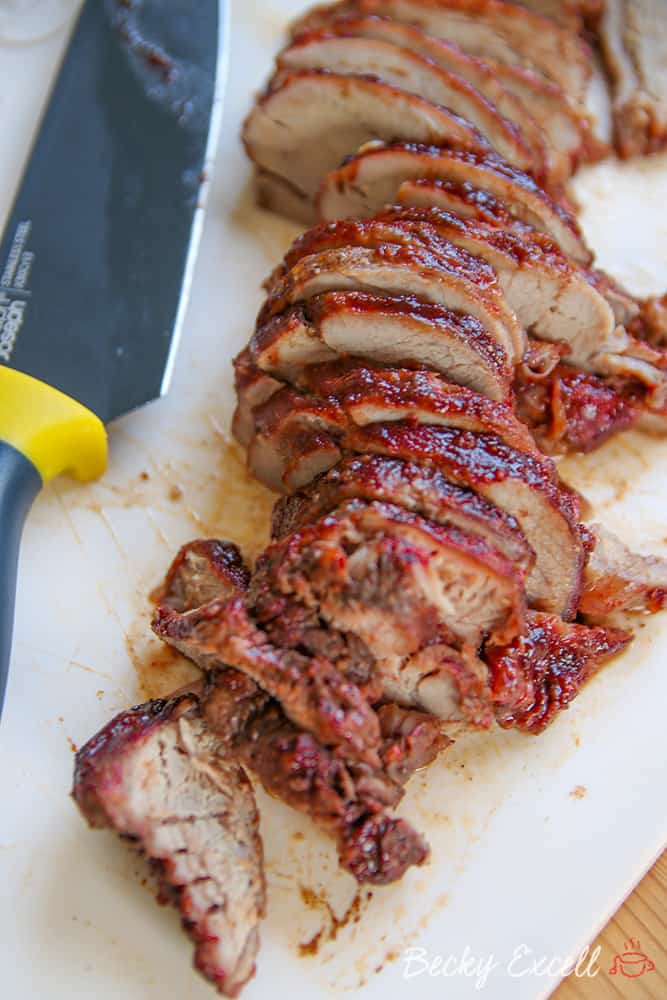 Ok, it looks good, but what is it exactly? Well as I mentioned, it's sometimes known as Chinese BBQ pork too, which pretty much is what it says on the tin.
Char Siu pork is sweet, it's sticky and it has this deep, rich marinade that makes it absolutely irresistible. It's so incredibly flavoursome that you could honestly just serve it up with boiled rice and some pak choi.
But I haven't even mentioned the actual pork yet! Oh, it's just so gosh darn tender, soft and one pork fillet goes such a long way.
It's actually a really healthy cut as there's next to no fat on there. I just can't say enough good things about it, really! You'll commonly find it in Char Siu buns or in Singapore noodles, but you really can eat it with anything.
When I was trying to create an authentic gluten free Singapore noodles recipe, Char Siu had to be in there. I mean, what is a Singapore noodles recipe without it?!
It's that eclectic mix of prawns, Char Siu, peppers and egg that makes it sososo good for me! Lose any of those and it might as well be a different dish.
But I'm really proud of how that dish turned out and thanks to this recipe by Mark, it honestly tastes exactly like what you'd get from your local takeaway.
(apart from the fact that you can probably eat this one!)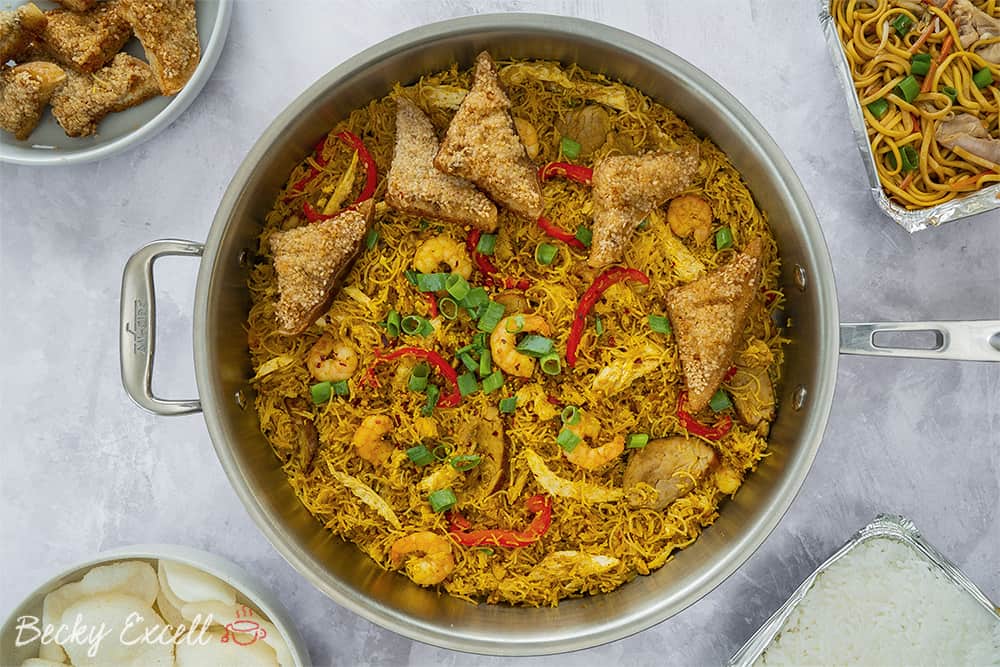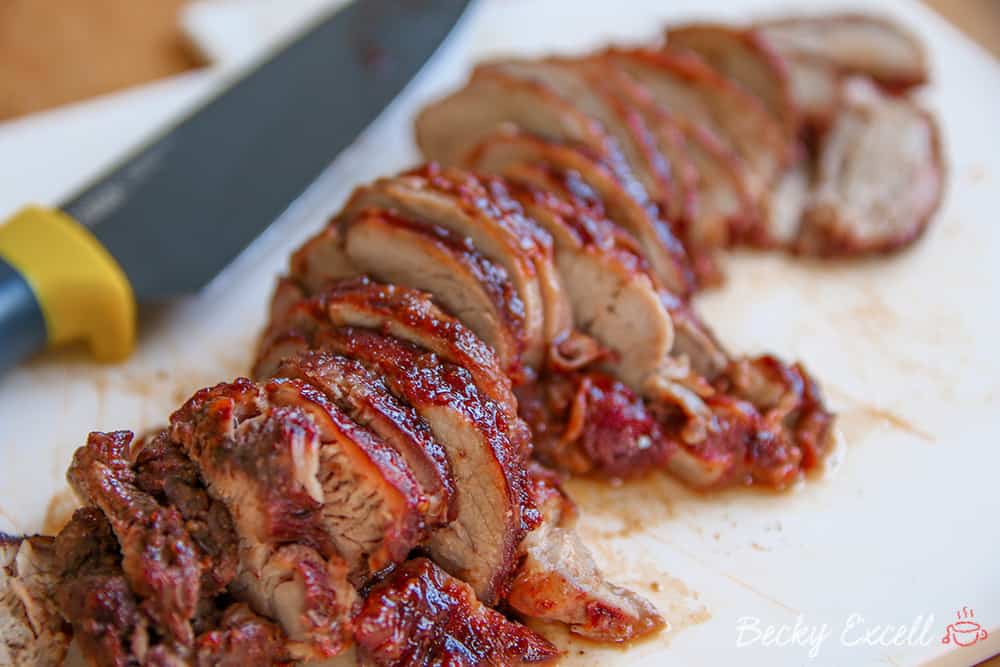 Mark assures me that this is such an easy recipe to make, because all you have to do is make a marinade, leave your pork to marinate and then cook it. It really isn't that much bother!
Plus, he's used ingredients that are all super-easy to find in the supermarket. Of course, Char Siu usually has a distinctive red hue to it and in place of red bean paste, we just added a few teaspoons of red food colouring.
It's not totally necessary to add the colouring if you're making this just for yourself, but if you're making this to impress or for friends and family, the colour definitely makes all the difference. For some reason, it just feels like it tastes better – trust me on this one!
Looking for more of Mark's gluten free Chinese takeaway recipes? Check out this blog post here: 10 gluten free Chinese takeaway recipes you won't believe you can eat.
Anyway, I'll hand you over to Mark for his gluten free Char Siu pork recipe…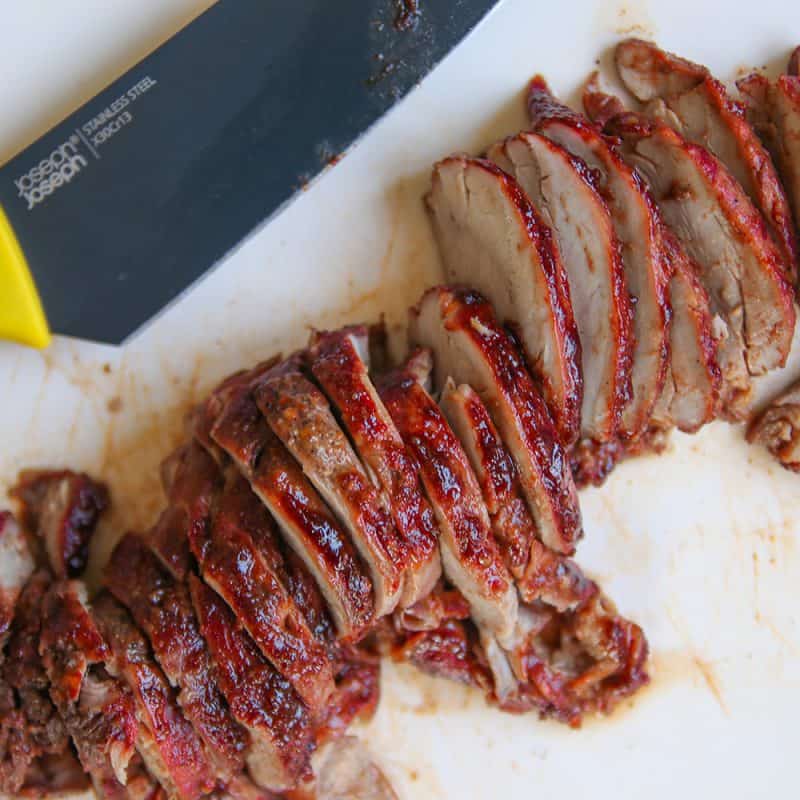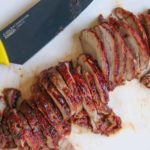 Gluten Free Char Siu Pork Recipe (low FODMAP, dairy free)
Who knew that gluten free Char Siu pork could be made so easily at home and be low FODMAP too? This recipe is so simple, authentic and easy to make at home.
Ingredients
330g pork fillet

aka pork tenderloin
For the marinade
2 tbsp gluten free soy sauce

1 tbsp smooth peanut butter

1.5 tbsp black treacle

1.5 tbsp light brown sugar

4 tsp red food colouring

1 tsp red wine vinegar

1 tsp sesame oil

1 tsp five spice

1/2 tsp garlic-infused olive oil

pinch of black pepper
Instructions
Mix all of the marinade ingredients together in a bowl and mix until consistent and smooth.

Place your pork fillet into a dish and cover in the marinade. Flip it over a few times to make sure it's well covered.

Place in the fridge for a minimum of 2 hours, but ideally overnight. Trust me, the longer you leave it, the better it will be. If you can, take it out of the fridge periodically to spoon more marinade on top of the pork.

Preheat your oven to 200c. Take your marinated pork fillet out of the dish and place into a new oven-proof dish. Spoon more marinade on top and dispose of any leftover marinade.

Place in the oven for 10 minutes at 200c, then turn it down to 170c for the remaining 20-25 minutes.

Remove it from the oven. If you have a digital cooking thermometer, the internal temperature of the pork should be 65c. The best way of checking if it's cooked otherwise is to just cut it in half. If there's no pink in the middle then it's done.

Serve it up in Singapore noodles, chopped up in stir fries or fried rice. Enjoy!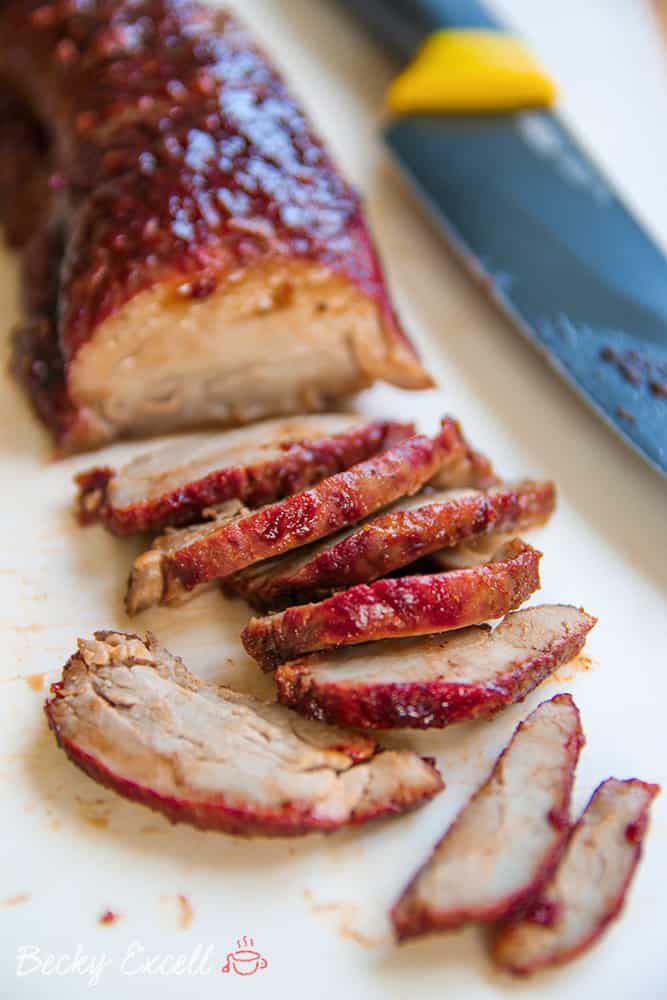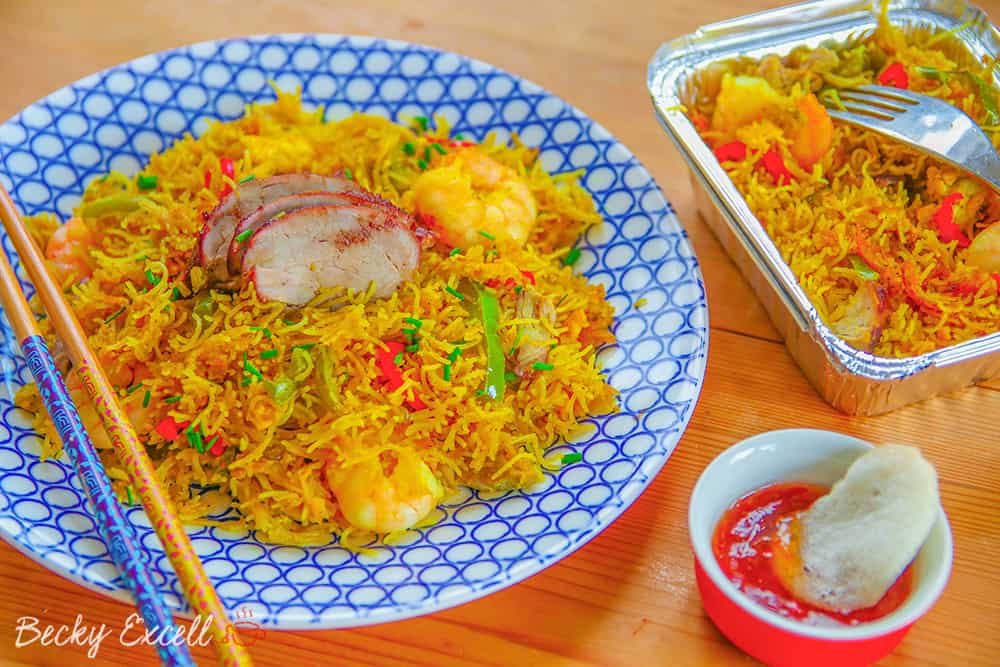 Thanks for reading how to make Mark's gluten free Char Siu pork recipe! If you make it, I'd love to see how it turns out. So absolutely make sure that you send me a pic using my social media links below…
Any questions about the recipe? Please do let me know by leaving a comment below or on Facebook / Twitter / Instagram!
Thanks for reading,
Becky xxx
Oh and don't forget to pin this for later!