My sage and chive low FODMAP stuffing recipe is the answer to all your festive problems! Not only is it low FODMAP, but it's gluten free and dairy free too.
I honest don't remember the last time I had stuffing with my Christmas dinner. It's been several years to say the least! If that sounds familiar to you, I hope my low FODMAP stuffing recipe is a happy reintroduction for you too this Christmas.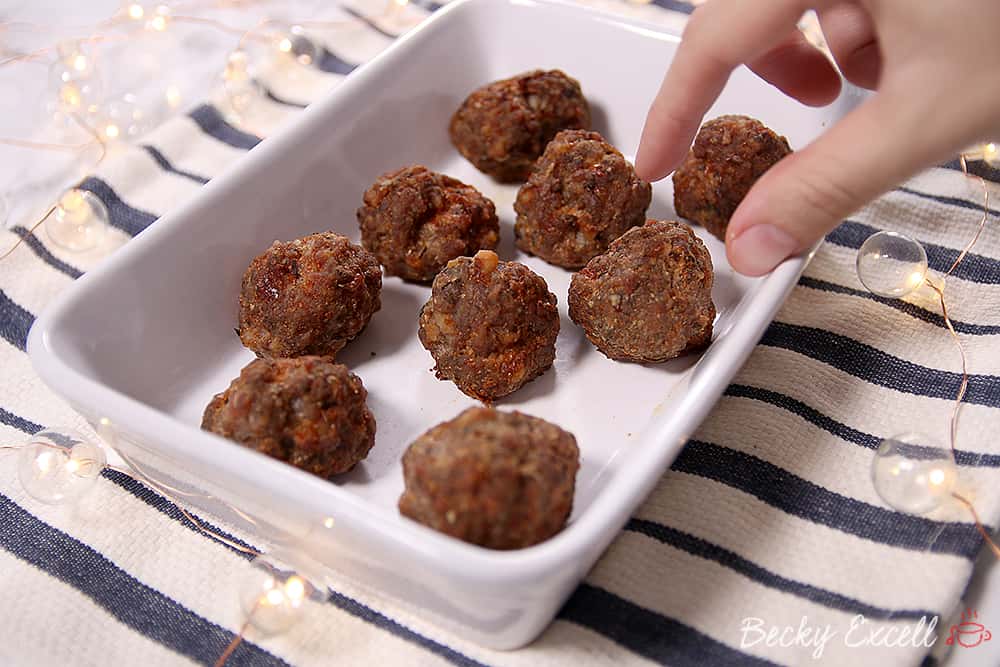 Of course, there isn't a ready-made gluten free stuffing in the entire world that doesn't have onion in it (a total no-go if you're on the low FODMAP diet).
And making it from scratch seemed like waaaay too much effort given how much other food you often cook on Christmas day. *cue a sad montage of me longingly staring at the stuffing every Christmas since 2010*
But I was in the supermarket the other day and I realised something pretty mind-blowing. I found that all the 'fanciest' gluten free stuffing was just well seasoned sausagemeat. "Well… I could make that" I thought… so I did!
Looks like it's time to buy some plain sausagemeat for my low FODMAP stuffing recipe then!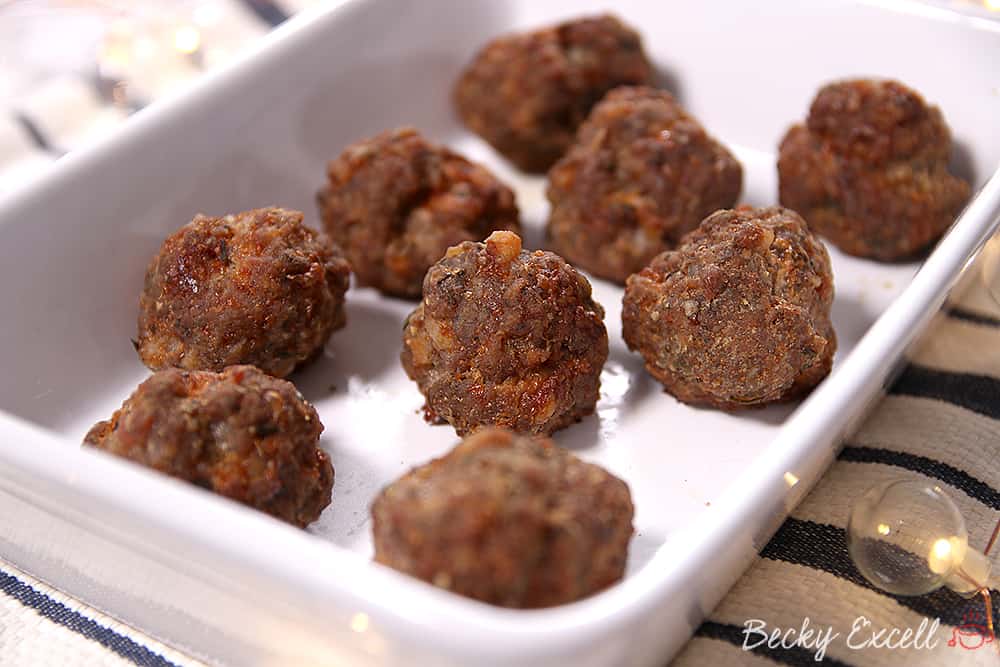 But be wary when you're out shopping for the plain sausagemeat to make this recipe. Though you can pick up (seemingly plain) gluten free sausagemeat in most supermarkets, it'll still likely be seasoned with onion powder at the very least… why?!
Unless you can pick it up unseasoned from the butchers, I'd suggest doing what I did…
I just simply bought gluten free, unseasoned sausages and removed the sausagemeat right from the sausage skins. The gluten free sausages I used were only seasoned with a little salt and pepper and there was no onion or gram flour in sight, making it low FODMAP. Boom.
Looks like we're ready to make low FODMAP stuffing!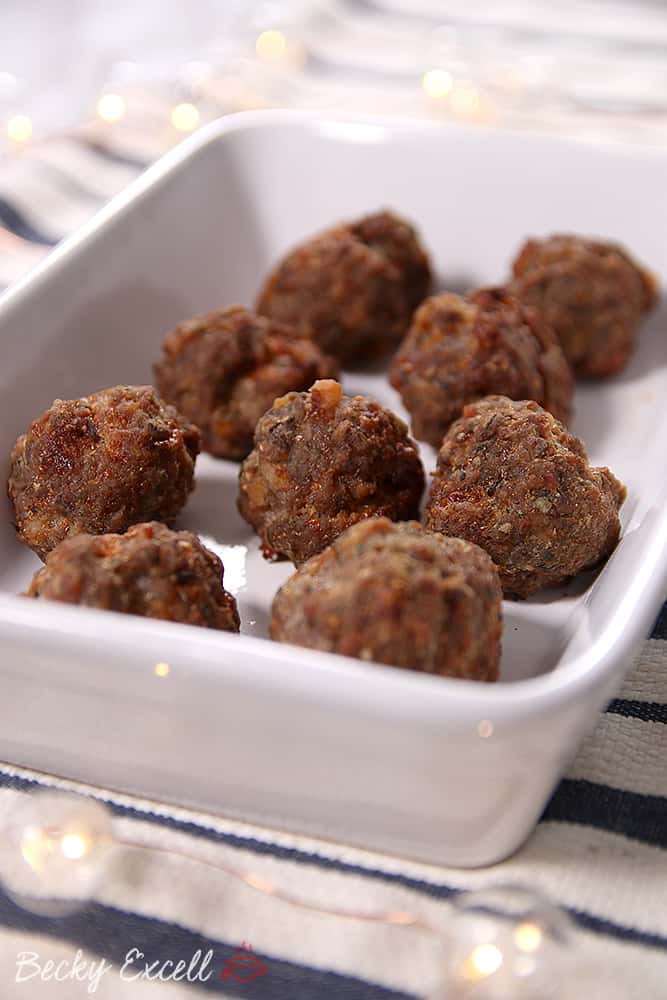 Now you've got your sausagemeat ready to go, it's simply a matter of adding your herbs and spices, then rolling them into little balls of festive joy.
The chives are such an amazing replacement for onion and the smell as they're cooking is absolutely divine. Using cornflour makes them gluten free too of course and there's no need to worry about any dairy in this recipe anyway.
So without further ado, here's how to make my sage and chive low FODMAP stuffing recipe…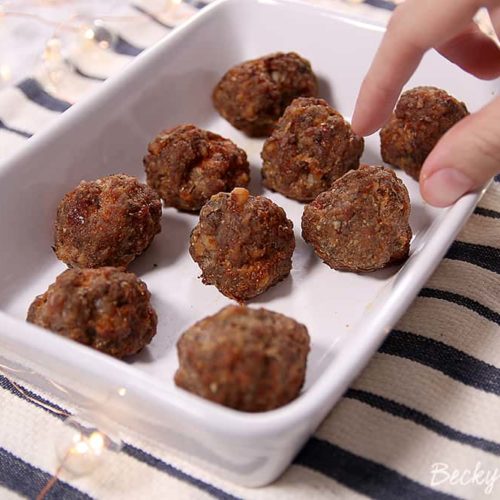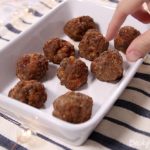 Sage & Chive low FODMAP stuffing recipe
A wonderfully flavoursome stuffing recipe that's low FODMAP, gluten free and dairy free.
Ingredients
400

g

sausagemeat

gluten free & low FODMAP

1/4

tsp

salt

1

tbsp

dried sage

1

tbsp

freshly chopped chives

1/2

tsp

dried parsley

1/4

tsp

nutmeg

1/2

tsp

garlic-infused olive oil

1

tsp

cornflour
Instructions
Pre-heat your oven to 180c.

Take your sausagemeat and place it into a bowl. (Remove the sausagemeat from the sausage casing now if you're going down that route)

Add all of the ingredients to your sausagemeat and mix/bind together well with a fork. Make sure that everything is evenly mixed in for a few minutes.

Roll your seasoned sausagemeat into balls and place on a pre-greased baking tray.

Place in the oven for 25 minutes or until golden.
Notes
My sausagemeat was already seasoned with a little salt and pepper. If yours is totally plain, feel free to add half a tsp of both.
Thanks so much for checking out my low FODMAP stuffing recipe! It really is so simple to make this in the festive frenzy of making a Christmas dinner.
Plus, it's just sooooo worth it! What's a Christmas dinner without stuffing, after all? I'll definitely be making loads of these little beautiful balls all throughout the year too.
Did you try this recipe? Any questions? How did it turn out? Please do let me know by leaving a comment below or on Facebook / Twitter / Instagram.
Thanks for reading and Merry Christmas,
Becky xxx
Oh and don't forget to pin this for later!