Gluten-free mini yule logs recipe – *extremely* light, fluffy and chocolatey. Best of all, nobody could EVER tell that they're Coeliac-friendly and wheat-free.
Gluten-free mini yule logs recipe, anyone? And no, these aren't 'cop out' mini yule logs without a swirl… they have a full-on swirl just like a yule log should, but it's mini!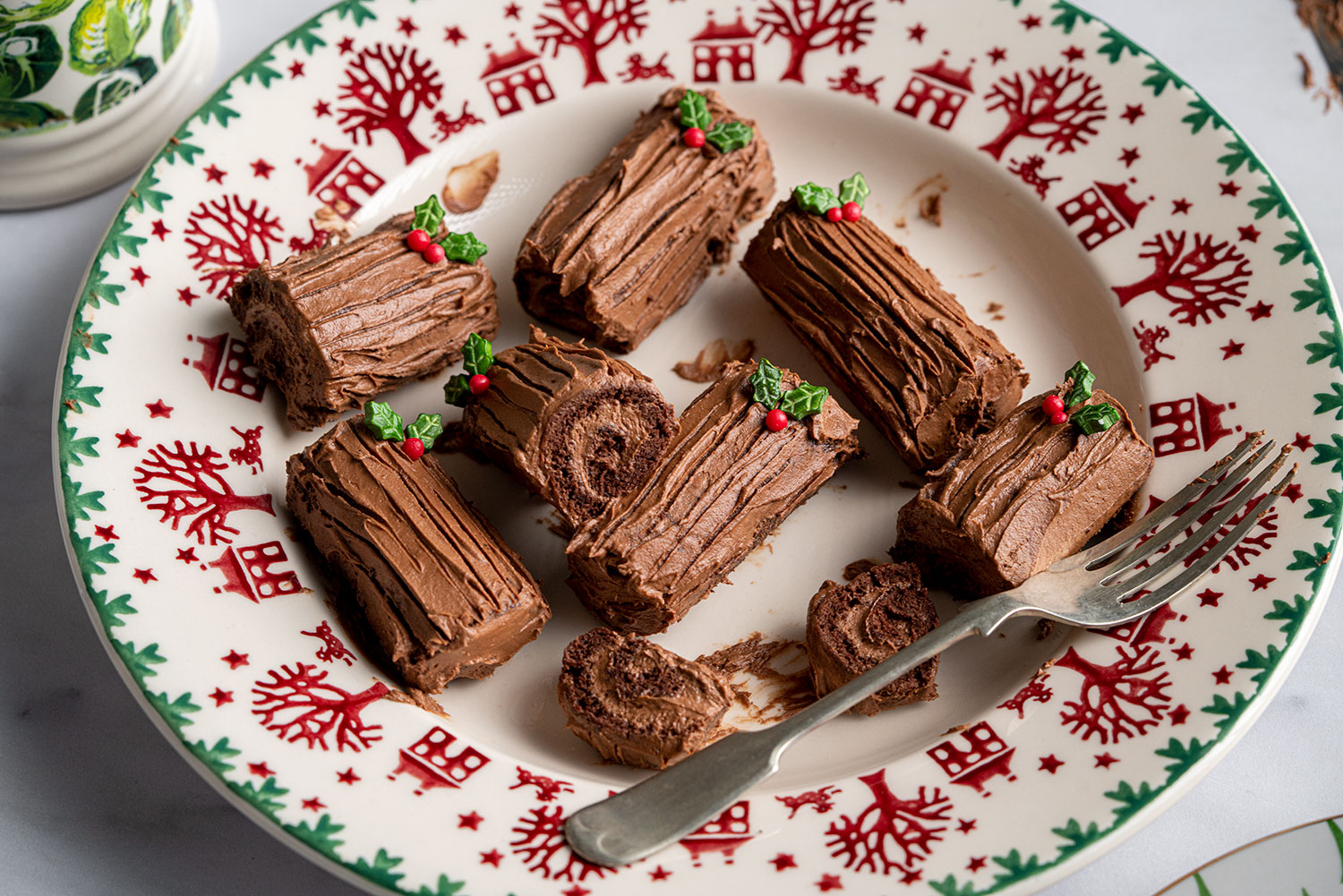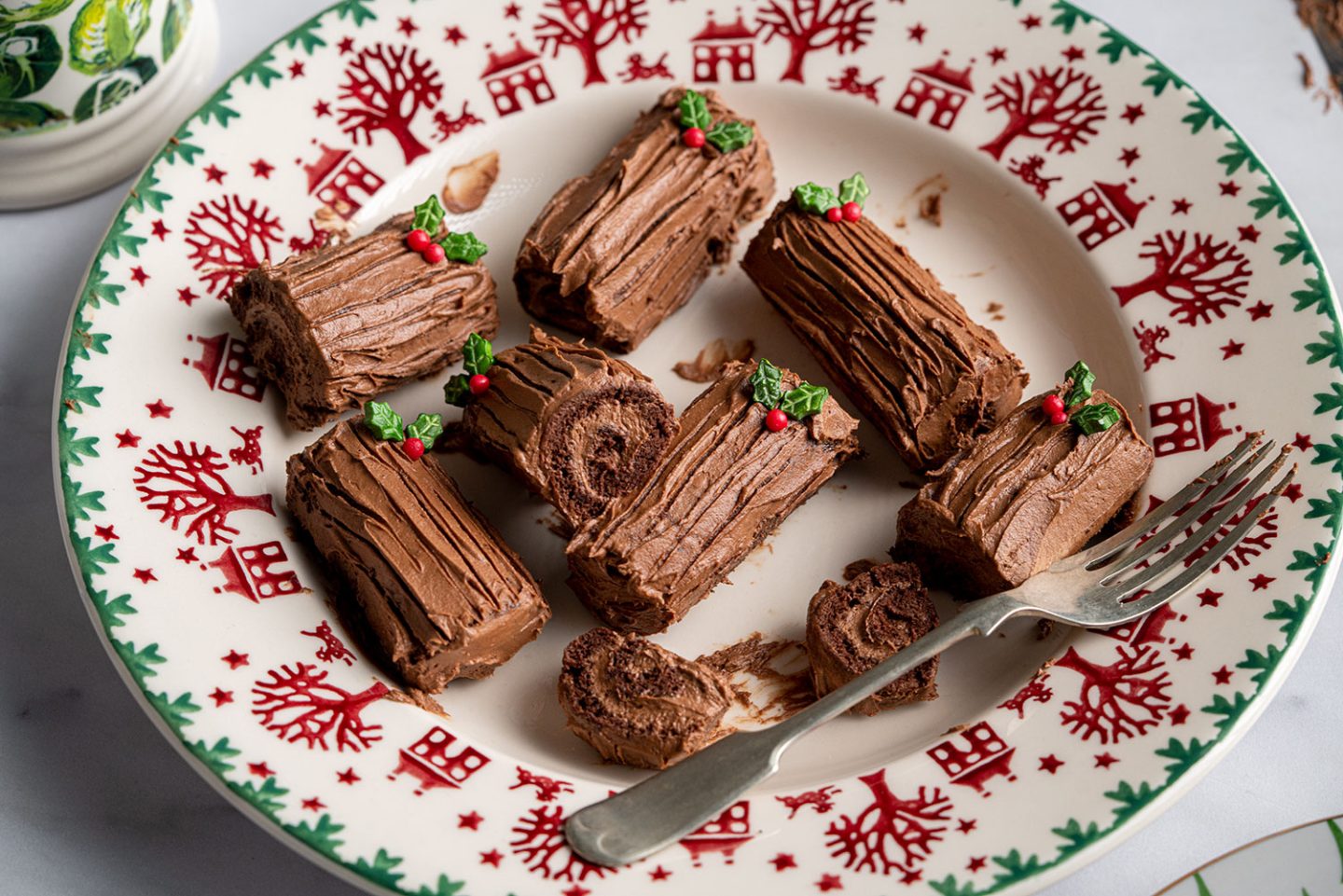 Yes, that's right! This is a festive remix of my gluten-free mini rolls recipe but with a crucial difference.
Instead of a vanilla buttercream in the middle and a set chocolate coating on top, these have a light and fluffy chocolate ganache inside AND outside.
(of course, with a suitable 'loggy' finish on the outside that can easily be achieved by using a simple fork!)
Here's everything you'll need for this recipe:
Gluten-free mini yule logs recipe: What you'll need…
Medium eggs: I used medium eggs, so to ensure yours turns out the same, I'd recommend you do too (though large eggs should be fine). Unfortunately, you cannot make this recipe egg-free due to the amount of eggs required and the fact that they'll need to be separated.
Caster sugar: In a swiss roll sponge, sugar is incredibly important, so don't reduce the amount, or even worse, remove it entirely – it won't work!
Vegetable oil: Vegetable oil keeps the sponge super moist and is incredibly important considering there's actually no butter in the sponge.
Vanilla extract: A little goes a long way when combined with cocoa powder in terms of flavour – a good quality one helps massively too.
Milk: The protein in milk helps give a gluten-free sponge structure, so don't skip this even though it might seem like you can!
Gluten-free plain flour: I use Doves Farm's FREEE gluten-free plain flour blend that you can find in the supermarket. Can't find it in your part of the world? You can always use my homemade gluten-free plain flour blend.
Cocoa Powder: This is what makes the sponge chocolatey!
Xanthan Gum: This is a binder and incredibly integral to ensuring that a gluten-free sponge can be rolled up without cracking or breaking. Don't even think about leaving this out!
Butter: Make sure yours is softened when making buttercream. Do not substitute for a spreadable margarine you'd put in a sandwich! If using margarine, it must be a hard block.
Icing sugar: Of course, you can't use caster sugar for the icing – that's what icing sugar is for!
Dark chocolate: Don't worry if you're not a dark chocolate fan – the butter and icing sugar makes it taste like milk chocolate, but with a stronger, richer flavour.
Gluten-free festive sprinkles: Of course, any festive sprinkles will do as long as they're gluten-free! See the FAQ section for the link to what I used in the photos.
So here's the fun part for me: describing what my gluten-free mini yule logs taste like!
Each mouthful is like taking a bite out of a chocolate cloud. The sponge is *incredibly* light and fluffy and so is the chocolate ganache in the middle and on top.
And obviously, a few little Christmas sprinkles go a long way in adding a festive finishing touch. I think I may even prefer these than a proper big ol' yule log.
Gluten-free mini yule logs recipe: Frequently Asked Questions
Can I make this recipe gluten-free? Is it suitable for Coeliacs?
It is gluten-free, though nobody would know just by tasting it – trust me!
Bear in mind that minimising cross-contamination is hugely important if you're Coeliac or making this for someone who is. Here's some tips from Coeliac UK on minimising the risk of cross contamination.
Also, make sure that all ingredients used don't have any gluten-containing ingredients. Then make sure that they also don't have a 'may contain' warning for gluten, wheat, rye, barley, oats (which aren't gf), spelt and khorasan wheat (aka Kamut).
Here's some more info from Coeliac UK on identifying safe gluten-free products.
Can I make this recipe dairy-free?
Yes! Here's the simple swaps you need to make:
Use dairy-free milk
Use dairy-free hard margarine (like a Stork baking block) instead of butter for the icing – do NOT use margarine like you'd spread on toast for icing.
Use dairy-free milk/dark chocolate for the decoration.
Can I make your gluten-free mini yule logs recipe vegan?
Unfortunately, because this recipe involves separating eggs, egg replacements aren't possible here and I haven't been successful in making this one vegan so far.
Is this recipe low FODMAP?
To make this low FODMAP, simply use lactose-free milk and lactose-free milk/dark chocolate. Then, this recipe is suitable for the elimination phase of the diet.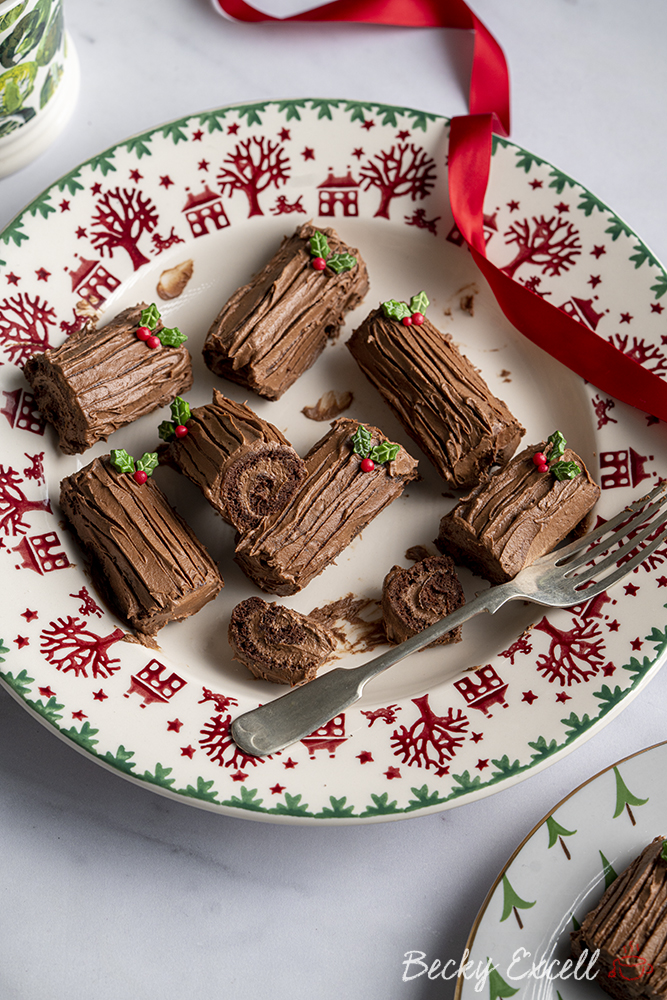 What did you use to decorate your gluten-free mini yule logs?
I used these gluten-free Christmas sprinkles by Cake Decor from Sainsburys.
Do I need any special equipment to bake your gluten-free mini yule logs recipe?
Certainly not! What you will need however is a swiss roll tin – I use this one by Mary Berry and Lakeland, it's 35cm by 25cm.
If you're in a bit of a pinch and don't have a swiss roll tin, you can easily use a baking tray instead as long as it's roughly the same size and sides aren't too low.
Oh and make sure you have some baking paper – I use Bacofoil. You'll definitely need this to successfully roll up your sponge.
Does this recipe need xanthan gum?
You'll see xanthan gum in a lot of my recipes as it's an essential ingredient in gluten-free baking. And that's exactly the case here.
How else would a gluten-free sponge be able to perform the miraculous feat of rolling up without breaking? Xanthan gum is the star here!
So yes, if you can tolerate xanthan gum, please ensure that you use it.
Can I make this recipe using other gluten-free flours like buckwheat flour or coconut flour?
There's a big difference between 'gluten-free plain/self-raising flour' and a *singular* type gluten-free flour. When I say 'gluten-free plain or self-raising flour' in a recipe, I mean a BLEND of gluten-free flours, not just one, singular flour.
Most gluten-free flour you buy in the supermarket typically contains a blend of rice flour, potato flour, maize flour, tapioca flour AND buckwheat flour. That's a lot of different flours!
In gluten-free self-raising flour, there's usually even a little baking powder and xanthan gum in it too which always helps. So to replace it with just one specific type of flour… that's not going to cut it at all. Definitely go for a gluten-free flour blend.
Do I need weighing scales to bake your gluten-free mini yule logs recipe?
In short… yes, yes and yes! And I wouldn't advise attempting any of my recipes without them.
A lot of work went into fine tuning ratios and quantities and for me, baking is all about consistency and precision. I want you to make this recipe and for it to turn out EXACTLY like mine did.
I'd recommending using digital cooking scales like these so you know you're getting an accurate measurement and replicating my recipe as accurately as poss.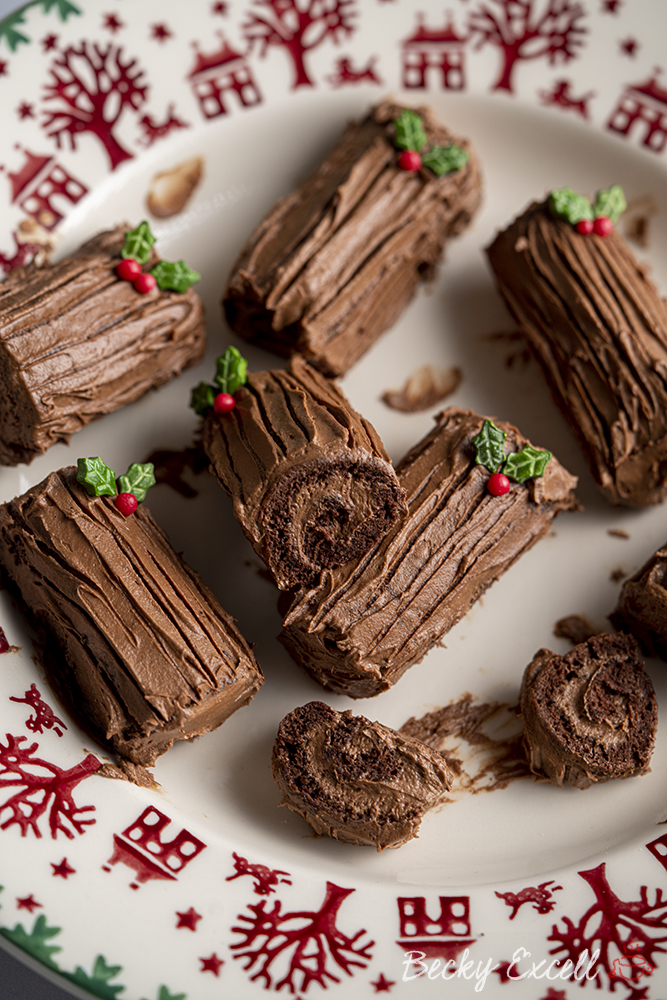 Gluten-free mini yule logs recipe: Tips for perfect bake every time
You must roll up the sponge when it's still warm, fresh out of the oven. When it's warm, it's more malleable, if you let it cool, then try to roll it… well… you don't want to find out!
Ensure you spread the buttercream on your sponge evenly. There shouldn't be tons of buttercream in one place, then a thin scraping of buttercream in another. Otherwise you won't get an even swirl!
Be gentle when peeling off the baking paper. It's likely that the outer layer of the sponge will stick to the paper as you peel it off, but if you're too violent, you might take more than just the outer layer!!
Spoon the ganache on top of the mini yule logs and then spread them with a palette knife. They're small and delicate, so be careful when you ice them!
Use a fork to create the lovely yule log pattern. It's quicker than using a knife to create lots of individual lines.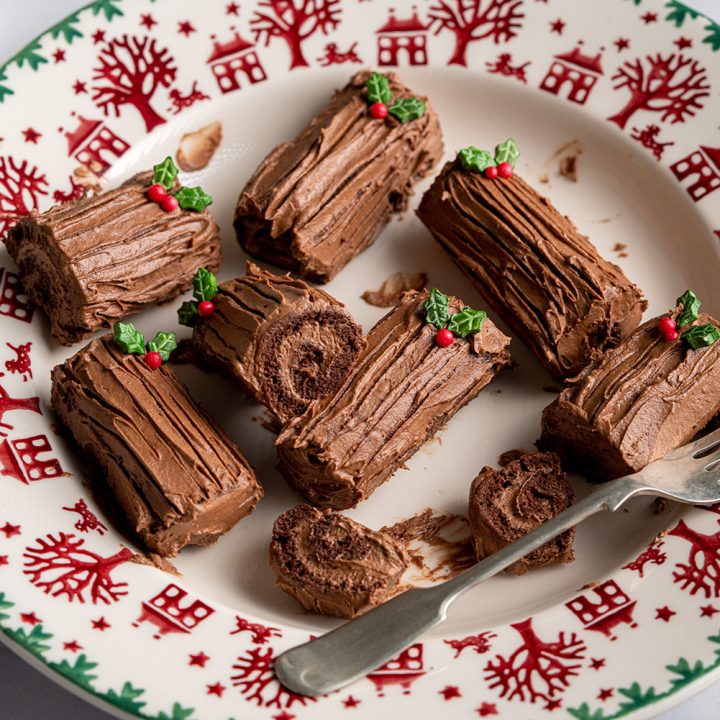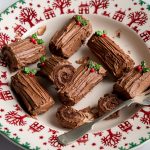 Gluten-free Mini Yule Logs Recipe (dairy-free option)
Gluten-free mini yule logs recipe – complete with a perfect chocolatey swirl. Nobody would ever know they're Coeliac-friendly and wheat-free!
Ingredients
For the sponges:
2

medium eggs

separated

50

g

caster sugar

1

tbsp

vegetable oil

1

tsp

vanilla extract

1

tbsp

milk

dairy-free if necessary

20

g

gluten-free plain flour

10

g

cocoa powder

ensure dairy-free if needed

pinch

of xanthan gum
For the filling and coating:
250

g

butter

softened (use Stork hard margarine if dairy-free)

250

g

dark chocolate

melted and cooled (dairy-free if necessary

250

g

icing sugar

gluten-free festive sprinkles

see FAQ section
Instructions
For the sponge:
Preheat your oven to 180°C fan / 200°C. Lightly grease your Swiss roll tin and line with non-stick baking paper.

Separate your eggs into two small bowls – egg whites in one and yolks in the other.

In a larger mixing bowl, add your egg yolks and half the caster sugar (25g). Whisk together until combined, then add your vanilla extract, milk and oil and whisk once more. Sift in the flour, cocoa powder and xanthan gum, and mix in until well combined, thick and glossy.

In a separate bowl, whisk your egg whites (using an electric hand whisk or stand mixer ideally) until they start to turn white and frothy. Gradually add the remaining caster sugar (25g), whisking until you have medium peaks.

In 2-3 stages, add your egg white mixture to your egg yolk mixture, folding it in carefully between each addition using a silicone spatula. Once all the egg white mixture is fully folded in, pour your mixture into your prepared tin. Spread it out gently to make sure it's nice and even and bake in the oven for 8 minutes until cooked through.

Place a piece of non-stick baking paper on your work surface and dust it with the icing sugar.

While your sponge is still warm, loosen it from the tin and flip it out onto the baking paper. Carefully peel off the baking paper on top that once lined the tin – don't worry if you lose the outer layer of the cake because it sticks to the paper as you peel it off, that's totally normal, but do be more careful as its a very thin sponge. Using your baking paper, roll the sponge up from the long end – the paper should be inside it as you roll. Try to roll fairly tightly, then leave the sponge to cool fully while rolled up. I prop something up against it to stop it from unrolling itself.

For the chocolate filling and coating:
Whilst your sponge cools, make your icing for the inside and out. Place your butter in a stand mixer (or in a bowl with an electric hand whisk if you don't have a stand mixer), mix on its own on a high speed for about 3-5 minutes. The butter should change from a more yellow colour to being a lot more pale.

Add your icing sugar gradually to the butter (I do this in two stages). I mix each addition of icing sugar for a couple of minutes before adding the second half.

Now add in your melted, cooled chocolate and mix until fully combined. It should be the right consistency at this point.
To assemble:
Carefully unroll your sponge. Fortunately I never find the sponge cracks using my recipe, but if it does a little, it doesn't matter – it will all be covered in icing – just be delicate!

Spread a very thin layer of of your filling on the unrolled sponge (I leave about a half cm gap on the long edges – otherwise you will have too much filling in your mini rolls.

Tightly roll your sponge up again (from the long side once more) but this time, stop half way. Then, roll the opposite long side to meet the part you just rolled. Then use a sharp knife to cut down the middle so you have two long rolls.

Cut each roll into 5 smaller mini rolls – push them to be a bit more round if they have flattened slightly from your cutting. Place them on a board and chill briefly in the fridge (this isn't super necessary but I think it helps a little).

Take each mini roll and spoon a small amount of icing onto each and spread it so they are all nicely covered. You can use a fork or sharp knife to go over each to make a wood like pattern.

Finish with some festive sprinkles and optionally some icing sugar dusted. Enjoy!
Notes
If you prefer you can dip the yule logs in a melted milk chocolate coating and allow to set.
Nutrition
Serving:
1
g
|
Calories:
453
kcal
|
Carbohydrates:
43
g
|
Protein:
3
g
|
Fat:
31
g
|
Saturated Fat:
18
g
|
Polyunsaturated Fat:
10
g
|
Trans Fat:
1
g
|
Cholesterol:
89
mg
|
Sodium:
181
mg
|
Fiber:
2
g
|
Sugar:
37
g
Thanks for reading all about my gluten-free mini yule logs recipe! If you make it, I'd love to see how it turned out so don't forget to take a snap of your creations and tag me on Instagram!
Any questions about the recipe? Please do let me know by following me on Instagram and leaving me a comment on a recent photo!
Thanks for reading,
Becky xxx
Don't forget to pin this for later!