My gluten free yule log recipe is here! Since sooo many of you guys requested it on Instagram, here's my very own version that's dairy free and low FODMAP too.
I never thought I'd see the day when there would be gluten free yule logs available in nearly every supermarket… it used to be a struggle to find a mince pie!! But you can't beat the smell or taste of fresh baking and that's why I'm here to share my gluten free yule log recipe…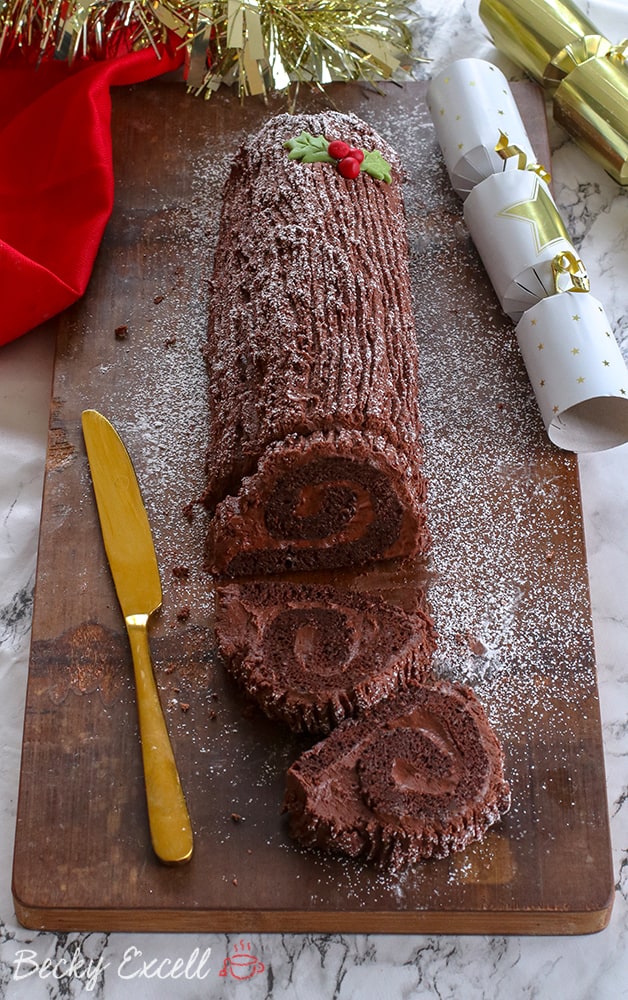 I mean, let's be real for a minute and just appreciate how much the selection of gluten free products has improved – especially at Christmas.
Gluten free panettone? Yule logs? Stollen? And more recently, party food now as well?
(if you told me all of this would exist in 2018 about 5 years ago, I'd have probably fainted and only just come around!)
Now if only we could improve upon the price then we'd be sorted haha!
But as much as much as convenience is amazing, nothing beats the satisfaction of baking something from scratch yourself. Plus – good things come to those who bake!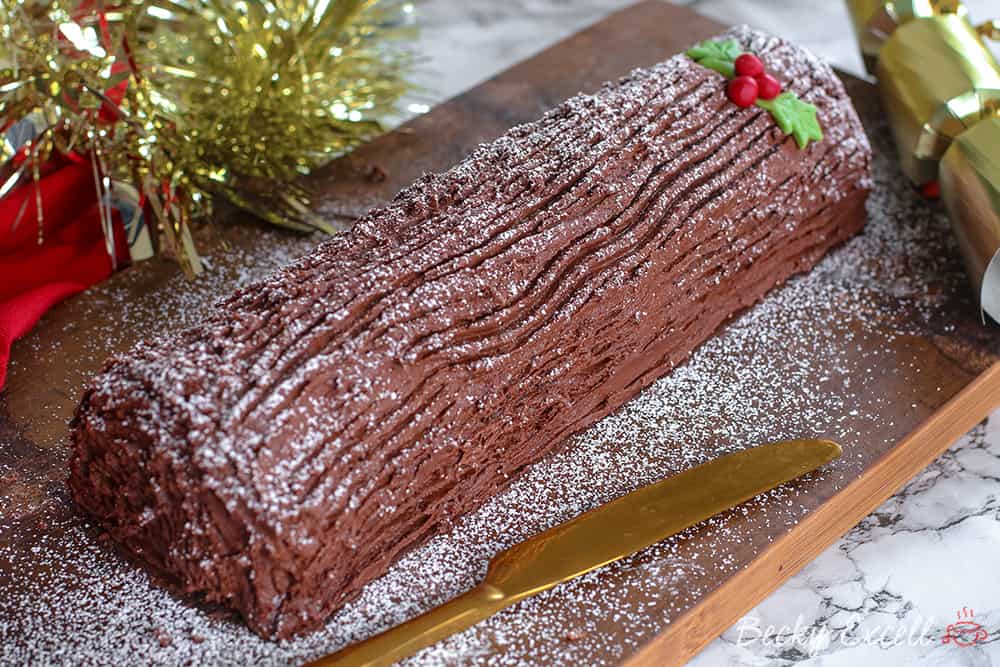 So, what's the secret to pulling off my gluten free yule log recipe?
Well, you'll need a swiss roll tin first of all to bake a nice, flat sponge which is the perfect shape for rolling up. You can use any old baking sheet as long as it has sides that are about 1.5cm high, or you can buy the one I used here.
I guess my biggest tip is to remember to try and maintain a nice cylindrical shape when you're rolling up your sponge layer. It's waaay too easy to roll up your sponge and press down on it too much from above, leaving you with quite a flat, more of a cuboid shape.
(does anyone remember learning about cuboids at school?!)
Then, when you cut your yule log, instead of getting a nice swirl in the middle, it'll look a lot more angular. It'll still taste the same of course though!
Ok – I think you're now ready to get stuck into my gluten free yule log recipe! Here goes…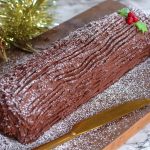 My Gluten Free Yule Log Recipe (dairy free, low FODMAP)
Gluten free yule log recipe! It's dairy free and low FODMAP too and easy easy to make at home this Christmas. The holly is optional!
Ingredients
For the sponge
100

g

caster sugar

4

eggs

(large ideally)

65

g

gluten free self raising flour

1/4

tsp

xanthan gum

(in a recipe like this, xanthan gum is really important to hold the sponge together when rolling it)

40

g

cocoa powder

(ensure it is both gluten and dairy free)
For the icing
675

g

icing sugar

45

g

cocoa power

(ensure it is both gluten and dairy free)

65

g

dairy free spread / margarine, room temperature

(I used Pure)

2

tsp

vanilla extract

85

ml

dairy free milk

(I always have unsweetened almond milk in the fridge so I used that but ANY milk would work)
Optional
red and green fondant icing

(for the holly decoration)
Instructions
Prepare your swiss roll tin by greasing it and then placing baking paper onto it. Make sure it fits really well as you want the full shape of the tin.

Preheat your oven to 180C Fan.

Using an electric hand whisk, whisk together your sugar and eggs until light and a little frothy. It should only take a few minutes.

Sift in your gluten free flour, xanthan gum and cocoa powder (always sift cocoa powder otherwise it can be quite lumpy). Fold this into your mixture carefully until fully combined.

Pour/spoon the mixture into your tin, ensuring it spreads right to the edges.

Bake in the oven for just under 10 minutes. The sponge should have come away a little bit from the sides of the tin and be slightly risen.

Remove the sponge from the oven and very carefully invert it (turn it upside down!) onto another piece of baking paper on a flat surface. Carefully peel off the baking paper that was on the bottom of it in the oven.

Cut off a tiny slither of each edge to make them all straight and even and lightly score a line along the longest side (about an inch in). Now, whilst the sponge is still warm, roll the sponge up with the paper inside it as you roll. Put your rolled up sponge to one side and leave it to cool completely.

Whilst your sponge cools, make your icing for the inside and out. Add all your ingredients to a standing mixer (I use my KitchenAid) and sift in the icing sugar and cocoa powder.

Start the mixer on low and then increase to a higher speed as it all comes together. If it's not coming together, add a little extra dairy free milk very slowly.

It should be lovely and thick but still able to be spread. If you want it to be thinner, then add a little milk, and if you want it more thick then sift in some extra icing sugar (mine is always perfect or a little too thick, never too runny).

Now to put the Yule Log together. Carefully unroll and remove the baking paper. Fortunately I never find my sponge cracks using my recipe, but if it does, it doesn't matter - it will all be covered in icing!

Spread about a third of your icing on the unrolled sponge (I leave about a half cm gap around the edge). Carefully roll the sponge back up and transfer it to the serving board.

Cover the rolled up sponge with the remaining icing and use a fork to go over it to make a wood like pattern. Dust with icing sugar and to finish you can add a holly decoration - I make mine by using some red and green fondant icing.
Recipe Notes
The Yule Log is quite long so if you did want to make it with a branch coming of the side you could easily do this! All you would need to do is cut about a quarter of the log off (ideally before you ice it) and position it against the side of the main log. Then put all your chocolate icing over the top of both.
I keep mine stored in an airtight container and it keeps really well. The icing doesn't need to be chilled like a lot of other dairy free icings I make.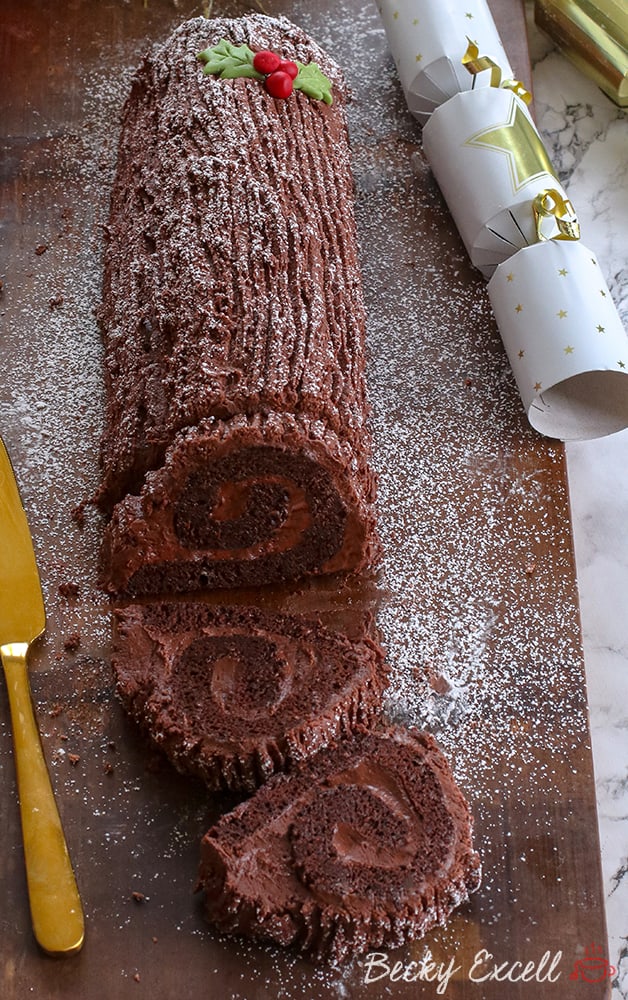 Thanks for reading how to make my gluten free yule log recipe! If you make it, I'd love to see how it turned out so don't forget to take a snap of your creation and tag me on Instagram!
Plus, I'm giving away a £50 supermarket voucher every month to my fave pic, so get baking!
Any questions about the recipe? Please do let me know by following me on Instagram and leaving me a comment!
Thanks for reading,
Becky xxx
Oh and don't forget to pin this for later!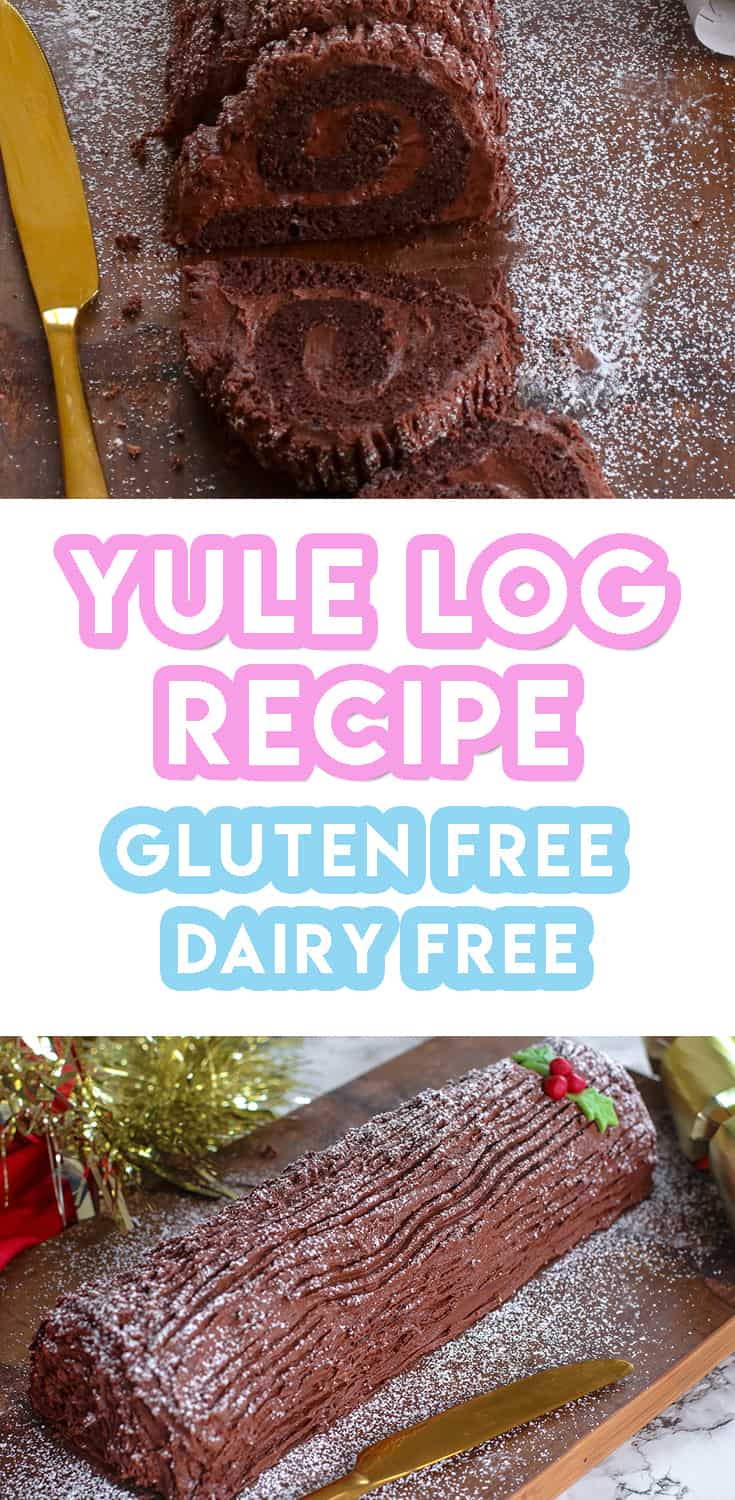 Comments