Gluten-free pesto and mozzarella Christmas tree recipe – all you need are 5 simple ingredients and just 30 minutes. Best of all, nobody would ever know it's Coeliac-friendly and wheat-free.
Gluten-free pesto and mozzarella Christmas tree recipe, anyone? The pastry is light, crisp and puffy with lots of cream cheese and pesto sandwiched in the middle. What more could you ask for?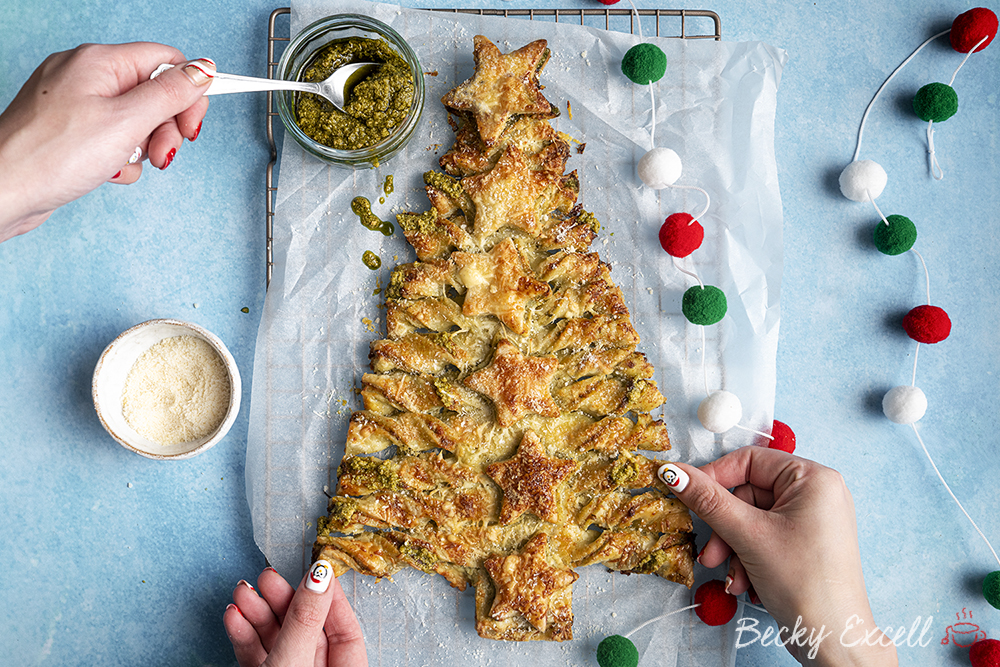 This recipe is the ultimate festive people-pleaser.
Us gluten-free folks never get to enjoy anything that could be remotely described as 'tear and share'… the sharing part is usually something we never to do!
And yes, this is a super quick and easy recipe thanks to the use of ready-made gluten-free puff pastry. If you've never tried it before, then trust me, you need to!
Here's everything you'll need for this recipe:
Gluten-free pesto and mozzarella Christmas tree recipe: What you'll need…
Gluten-free puff pastry: I used gluten-free Jus-Rol pastry for this recipe which you can find in chilled free from sections in Tesco, Waitrose and Sainsburys. Remember: you'll need two rolls (two packs) for this recipe.
Cream cheese: Full-fat or low-fat is fine for this recipe.
Green or red pesto: Just a small jar will do – fortunately, you'll find these are naturally gluten-free, but check the ingredients label anyway first!
Mozzarella: Make sure it's grated as you'll need a lot for sprinkling on top. I sprinkle a little parmesan too, but that's totally optional.
Egg: This is just for egg wash, so small, medium or large is fine here.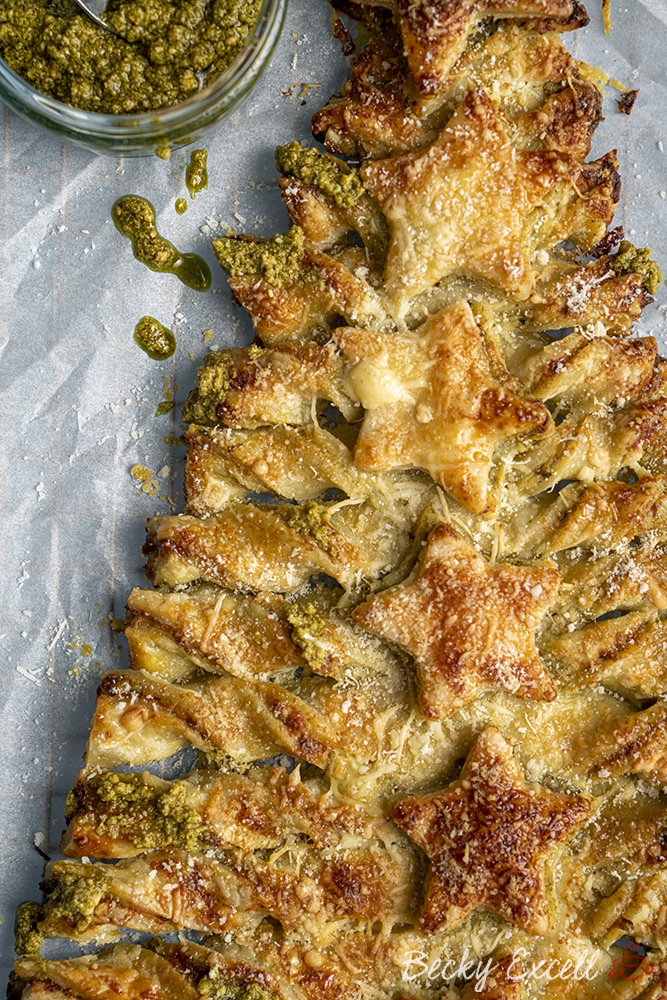 One important tip I should impart here is that Jus-Rol gluten-free puff pastry really shines when you cover it with foil after around 10-12 minutes.
After 10-12 minutes in the oven, it's usually perfect, light and golden – any longer than that and it can turn browner (not burnt per se!) and can become quite crunchy.
But with a little foil intervention once it's looking lovely and golden, the top layer stays crisp and the inner layers stay light and delicate. Trust me, it's worth doing!
Gluten-free pesto and mozzarella Christmas tree recipe: Frequently Asked Questions
Can I make this recipe gluten-free? Is it suitable for Coeliacs?
It is gluten-free, though nobody would know just by tasting it – trust me!
Bear in mind that minimising cross-contamination is hugely important if you're Coeliac or making this for someone who is. Here's some tips from Coeliac UK on minimising the risk of cross contamination.
Also, make sure that all ingredients used don't have any gluten-containing ingredients. Then make sure that they also don't have a 'may contain' warning for gluten, wheat, rye, barley, oats (which aren't gf), spelt and khorasan wheat (aka Kamut).
Here's some more info from Coeliac UK on identifying safe gluten-free products.
How do I make this recipe dairy-free?
Easily, with a few simple swaps!
Use a dairy-free cream cheese that bakes well in the oven. Some dairy-free cheeses totally melt to liquid when heated, so results may vary!
Use a dairy-free pesto from the free from aisle.
Use grated dairy-free cheese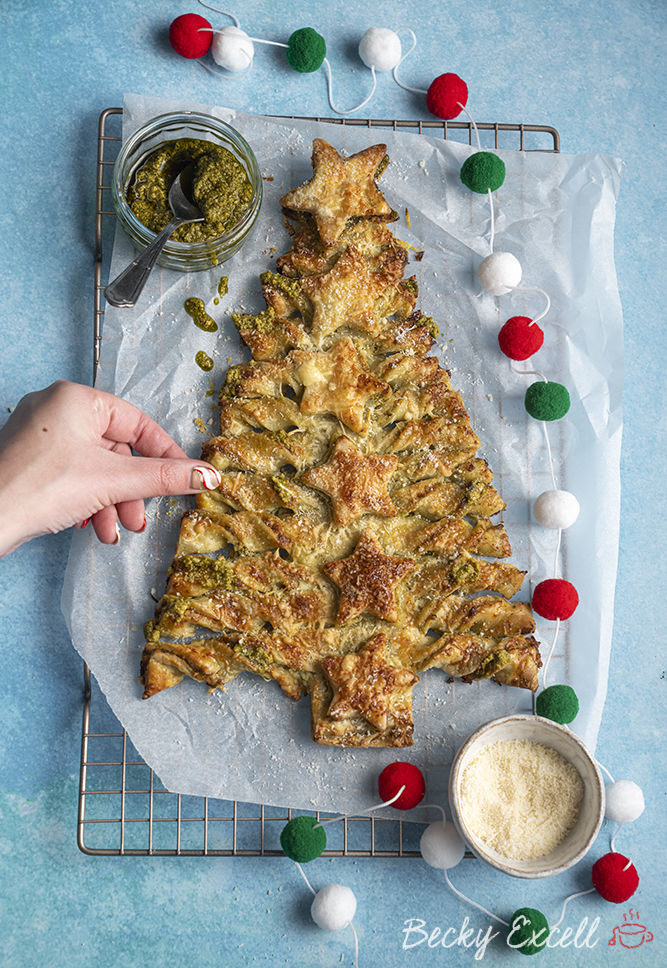 Can I make your gluten-free pesto and mozzarella Christmas tree recipe vegan?
Yep! If you follow the instructions above to make this recipe dairy free, then all you've got left to contend with is the egg.
Instead, use 3 tbsp of dairy-free milk mixed with 1.5 tsp of maple syrup and brush on as 'egg wash'. Simple!
Is this recipe low FODMAP?
This recipe isn't easy to make low FODMAP as it uses jarred pesto. And finding a jar of low FODMAP pesto isn't an easy task!
I'm open to any solutions here – if you make it low FODMAP then please let me know!
Where can I buy gluten-free Jus-Rol puff pastry?
You can buy it in Tesco, Waitrose and Sainsburys in the chilled free from sections.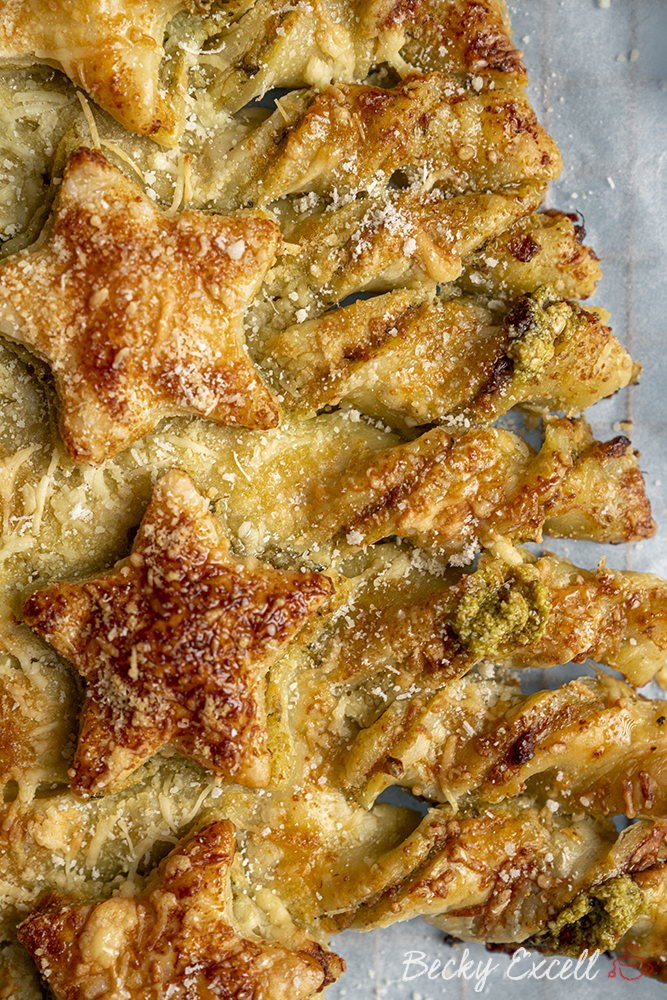 Gluten-free pesto and mozzarella Christmas tree recipe: Tips for perfection!
Don't go crazy when spreading the pesto/cream cheese mixture – a little goes a long way!
Preheat your oven and wait for it! Puff pastry puffs more when plunged straight into a hot oven.
Egg wash matters! That beautiful golden shine comes from the egg wash so don't expect it without it.
Cover with foil after 10-12 minutes of baking. Once it looks golden and beautiful – cover it so the pastry on top doesn't get overdone.
Enjoy with your favourite dip. Trust me, a good dip is the perfect finishing touch!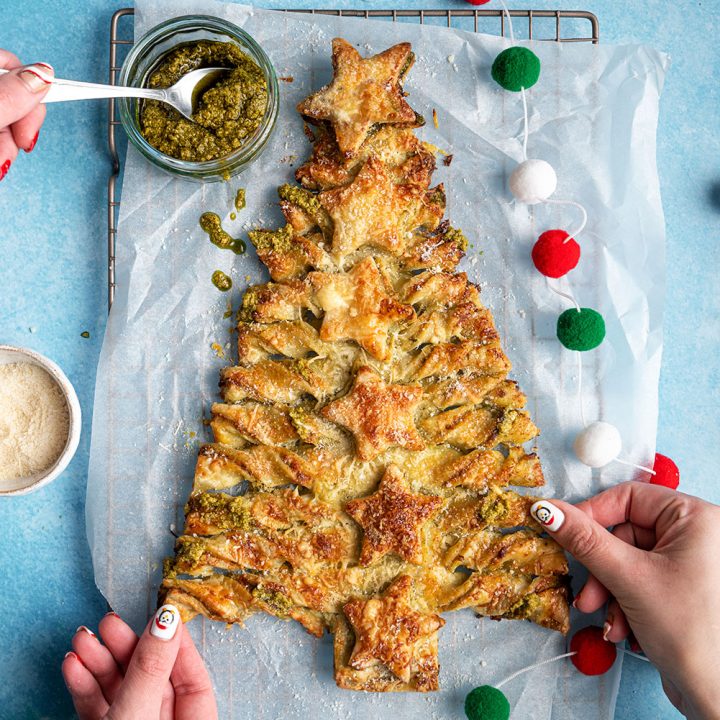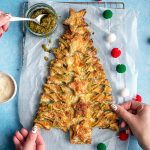 Gluten-free Pesto and Mozzarella Christmas Tree Recipe
Gluten-free pesto and mozzarella Christmas tree recipe – using only 5-ingredients and takes just 30 minutes! You'd never know it was Coeliac-friendly and wheat-free.
Ingredients
2

gluten free puff pastry sheets

I used Jus-Rol

3

tbsp

cream cheese

3

tbsp

green or red pesto

a big handful of mozzarella cheese

grated

1

egg

for egg wash
Instructions
Preheat the oven to 200C Fan / 220C. Line a baking sheet with baking paper. Unroll one of the puff pastry sheets and place on the baking sheet.

Mix together your cream cheese and pesto in a bowl. Then spread over the puff pastry sheet. Unroll the second puff pastry sheet and place on top.

Cut the layered pastry into the shape of a Christmas tree with a wide base and trunk. Use a star-shaped cutter to cut out stars for decoration from the excess. Then pull away the spare pastry – make puff pastry presents with it so as not to waste it.

Cut branches into both sides of the tree. Don't cut all the way into the centre, leave a gap for the trunk.

Twist each branch a couple of times, so they look like mini cheese twists.

Place the pastry stars on top of the tree and down the centre. Brush the tree with beaten egg and sprinkle with more grated cheese.

Bake for 20 minutes, or until risen and golden brown – cover with foil around 10 minutes if it starts to get too brown.

Transfer to a serving board and enjoy!
Nutrition
Serving:
1
g
|
Calories:
360
kcal
|
Carbohydrates:
6
g
|
Protein:
5
g
|
Fat:
13
g
|
Saturated Fat:
4
g
|
Polyunsaturated Fat:
8
g
|
Cholesterol:
75
mg
|
Sodium:
140
mg
Thanks for reading all about my gluten-free pesto and mozzarella Christmas tree recipe! If you make it, I'd love to see how it turned out so don't forget to take a snap of your creations and tag me on Instagram!
Any questions about the recipe? Please do let me know by following me on Instagram and leaving me a comment on a recent photo!
Thanks for reading,
Becky xxx
Don't forget to pin this for later!