My gluten free chocolate mini rolls recipe is waaaay overdue. I haven't had one in years! Fortunately, mine are dairy free and low FODMAP too!
If you're like me, you might not even remember what a mini roll tastes like… so it sounds like you may need a reminder! Cue my gluten free chocolate mini rolls recipe, please…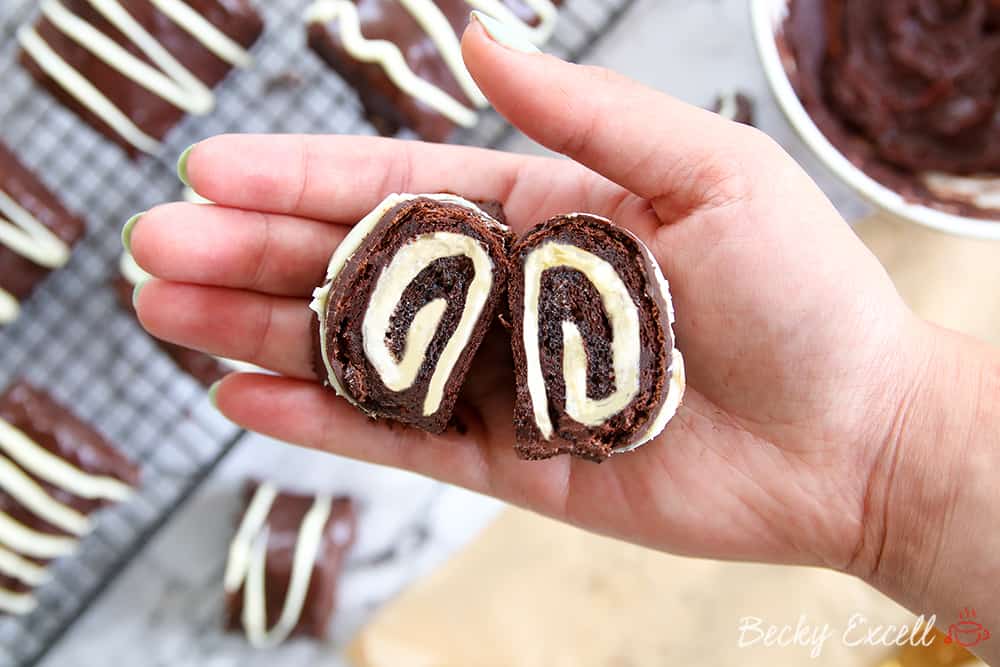 My earliest memory of mini rolls was probably piling about three of them onto a paper plate at a birthday party along with tons of party rings.
(yep, I also made a gluten free version of party rings here too!)
But then I'd also have one in my lunchbox every day at school and it was the one thing I'd never trade for anything else!
Notice how all my memories of mini rolls are when I was a kid? Well, it's mainly because I don't think I've ever eaten one since then!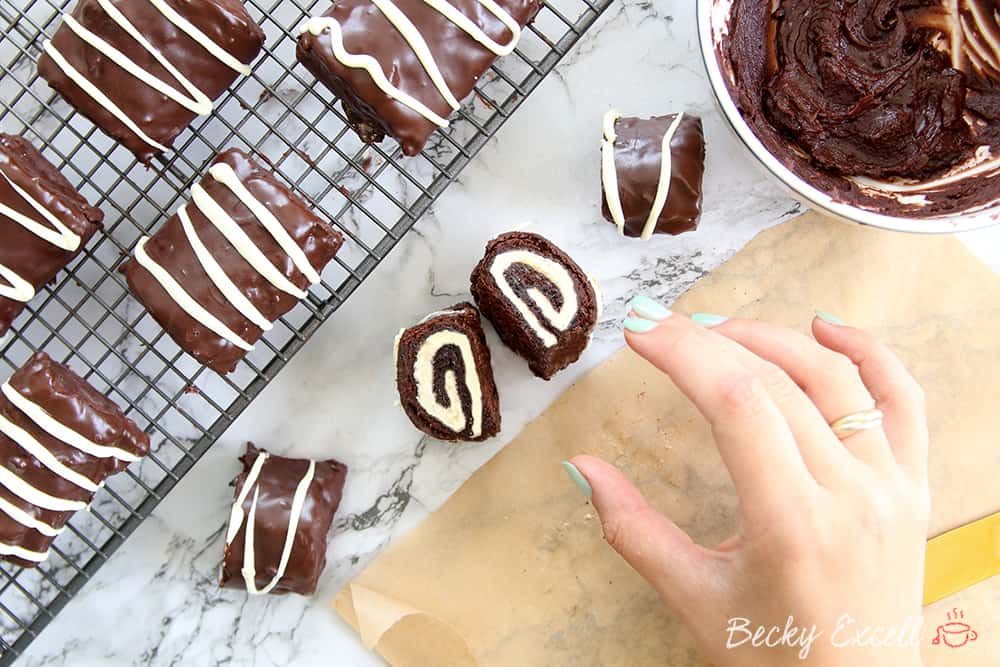 I guess when you're a kid, a mini roll is pretty big to you. But when you grow up, they're the type of thing that you could eat in one mouthful.
Then, rather tragically, I couldn't eat gluten from around the age of 18 and that's where my love affair with mini rolls ended… or is it to be continued?!
Yep, almost a decade later, I'm back with my own gluten free chocolate mini rolls recipe, so let's get rolling!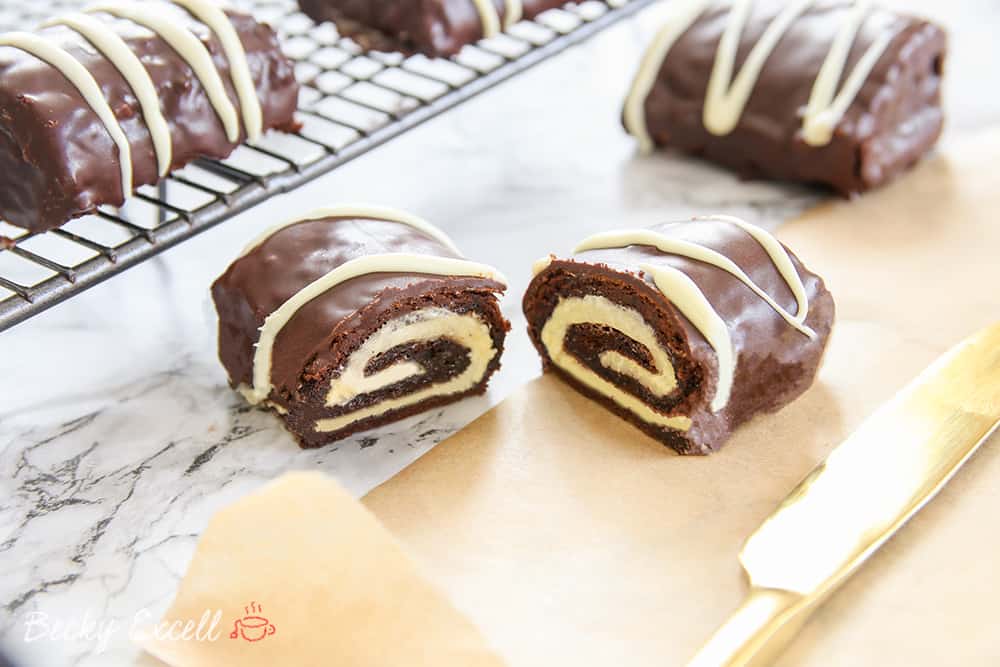 My gluten free chocolate mini rolls are so simple to make and so satisfying when you bite into one and get that beautiful swirl in the middle.
The chocolate layer on the outside has a lovely bite and the middle is just pure chocolate heaven with a sweet buttercream filling. Mmm – someone pass me my paper plate!
In this recipe you can either make a chocolate cream filling (for a double choc experience) or the classic cream filling – it's up to you! This recipe assumes you're making half choc in the middle and half vanilla, but feel free to just make them all one or the other.
The best thing about this recipe is that it's not just a 'gluten free' recipe… there is no flour in the recipe. You basically never need flour to make these – no matter what anyone tells you.
So I can guarantee that your average muggle will absolutely adore these too! Here's how to make them…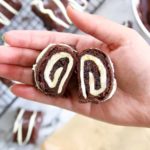 My Gluten Free Chocolate Mini Rolls Recipe (dairy free, low FODMAP)
Say hello to my gluten free chocolate mini rolls recipe - they're dairy free and low FODMAP too and so easy to make yourself at home!
Ingredients
For the sponge
60g cocoa powder

ensure it is milk free if necessary

30g dairy free spread / margarine

melted

1 tsp vanilla extract

4 tbsp boiling water

150g caster sugar

6 large eggs
For the vanilla filling
75g dairy free spread / margarine

150g icing sugar

1/2 tsp vanilla extract
For the chocolate filling
75g dairy free spread

125g icing sugar

20g cocoa powder

ensure it is milk free if necessary

1/2 tsp vanilla extract
For the chocolate covering
400g dairy free dark/milk chocolate

100g dairy free white chocolate
Instructions
Preheat your oven to 170C.

Prepare 2 swiss roll tins - grease them and line the bottom with NON-STICK baking paper (my tins were 32cmx23cm so something around this size would be ideal).

Sieve your cocoa powder into a bowl (it's always important to sieve this to avoid lumps) and add your melted spread, vanilla extract and boiling water to the bowl. Mix together - it will form a stiff paste.

Separate all your eggs and place the yolks and whites in separate bowls.

Whisk together your egg yolks and 100g of caster sugar until thicker but nice and light. Then add your chocolate mix and whisk more until combined.

In another bowl whisk your egg whites together to form stiff peaks, then add in your 50g of caster sugar and continue to whisk until combined.

Whisk in about a third of the egg white mixture into the chocolate mix and then carefully fold in the rest, keeping it light and airy.

Spoon the mixture into your two tins and place in the oven for about 12 minutes. (I popped mine on the middle shelf and did them one after the other as my oven couldn't fit them both on the middle shelf)

Once cooked, remove from the oven and leave to cool completely in the tin on cooling racks.

You have the choice of making two types of buttercream filling - chocolate or vanilla. For the vanilla, cream the butter and then gradually mix in the icing sugar and vanilla extract. For the chocolate icing, cream the butter, mix in the icing sugar, vanilla extract and cocoa powder. (For me it's ESSENTIAL to pop these in the fridge or freezer briefly when dairy free to help solidify first - they can be too runny otherwise)

Take your now cooled sponges and turn them upside-down onto baking paper on a flat surface. Start by peeling off the baking paper stuck to the back of the sponge.

With the shortest side facing you, score a 4cm line across the width of the sponge. This will help it roll easier in a minute. Do the same at the other end too.

Spread your buttercream filling (chocolate or vanilla) over the sponge evenly until it's about equal thickness to your sponge.

Ready to roll? We're going to make two rolls out of each sponge. Start with the shortest side facing you and just roll it up until halfway. Then leave that there for a mo and do the same with the opposite shortest side too. They should meet in the middle, where you can then cut and separate them into two long mini rolls.

Repeat this for your other sponge so you end up with 4 long mini rolls. You should then be able to cut them into thirds and end up with 12 mini rolls ready to be coated in chocolate.

Place the mini rolls in the fridge, seam side down until you are ready to cover them in chocolate. (I leave mine for about 20 minutes minimum)

Melt your dark/milk chocolate and drizzle/spoon it over the top of each of your mini rolls, aiming to completely cover them. I found the chocolate being really hot helped. I also had my mini rolls on a cooling rack with baking paper beneath to catch the excess chocolate. Once done, return to the fridge to allow the chocolate to completely set hard.

Finally, melt your white chocolate and either drizzle lines or use a piping bag to pipe lines of white chocolate across each mini roll. Allow to briefly set and then enjoy!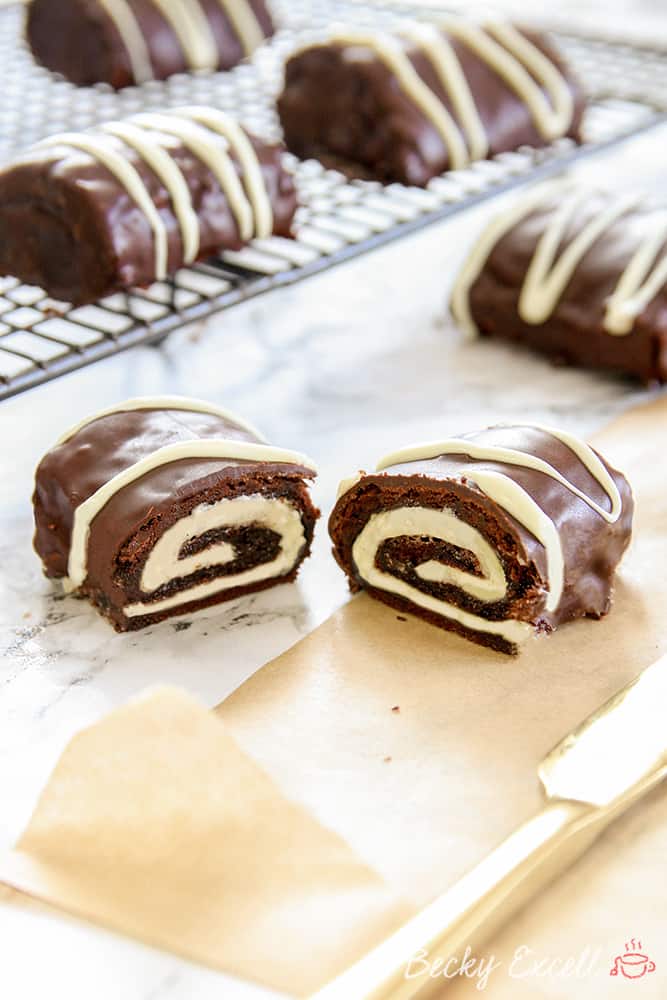 Thanks for reading how to make my gluten free chocolate mini rolls recipe! If you make them, I'd love to see how they turned out. So absolutely make sure that you send me a pic using my social media links below…
Any questions about the recipe? Please do let me know by leaving a comment below or on Facebook / Twitter / Instagram!
Thanks for reading,
Becky xxx
Oh and don't forget to pin this for later!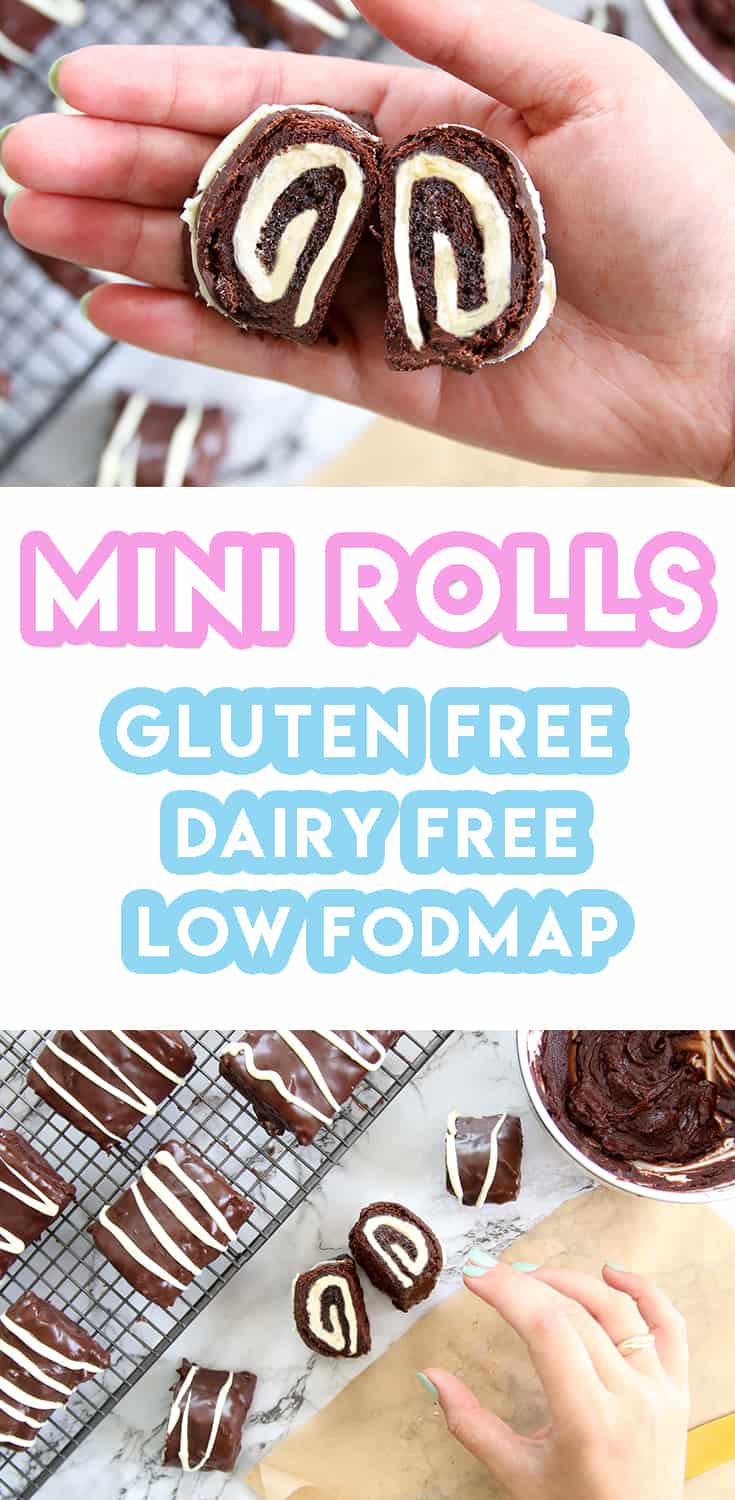 Comments