Crispy smashed potatoes recipe – vegan, dairy free, low FODMAP and gluten free too! After all… there's only three simple ingredients. Some of the best free from recipes are the simplest in my opinion!
Crispy smashed potatoes recipe, anyone? Hands up! I'm expecting a long line of people for this recipe considering sooo many of you guys loved it when I posted it on Instagram.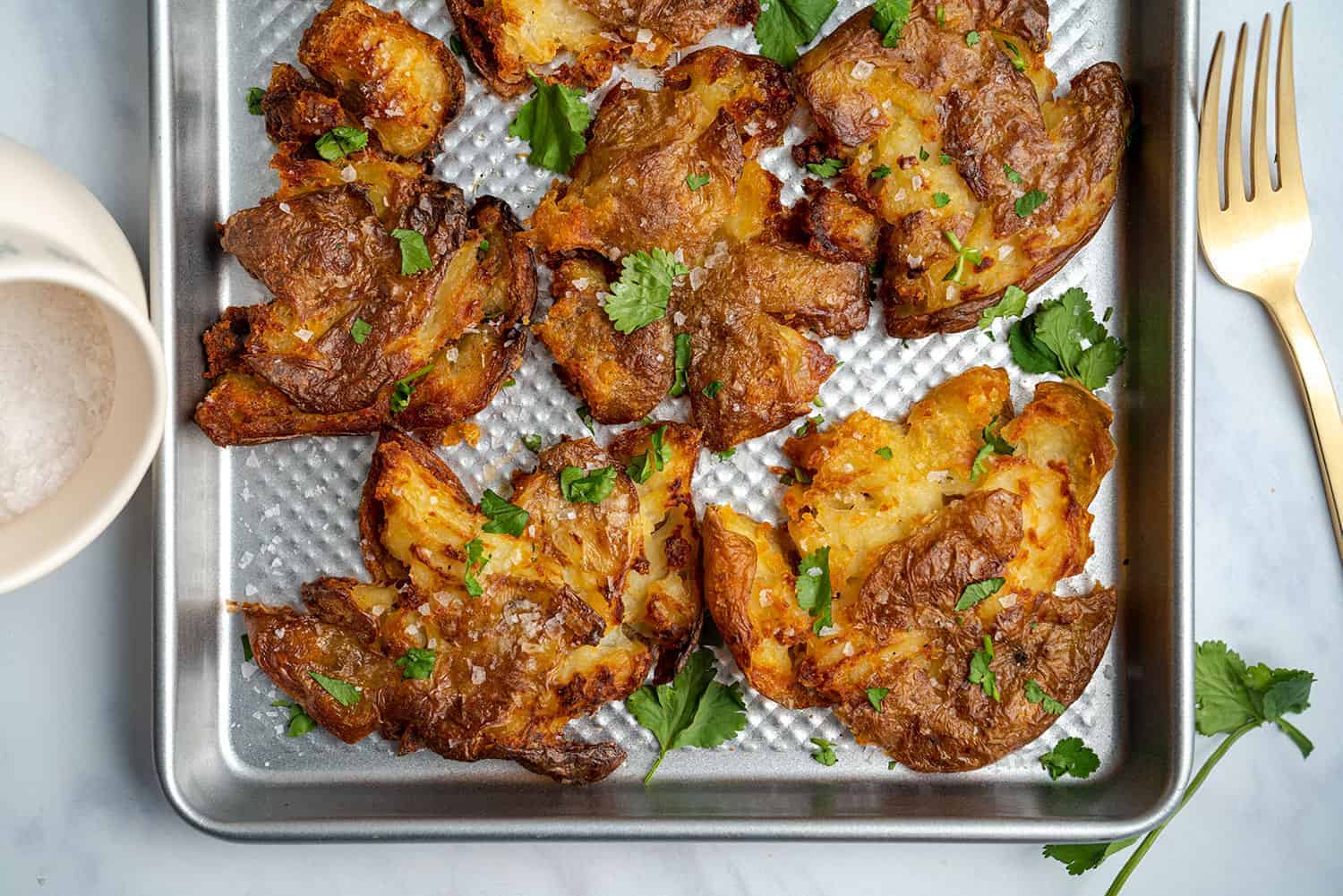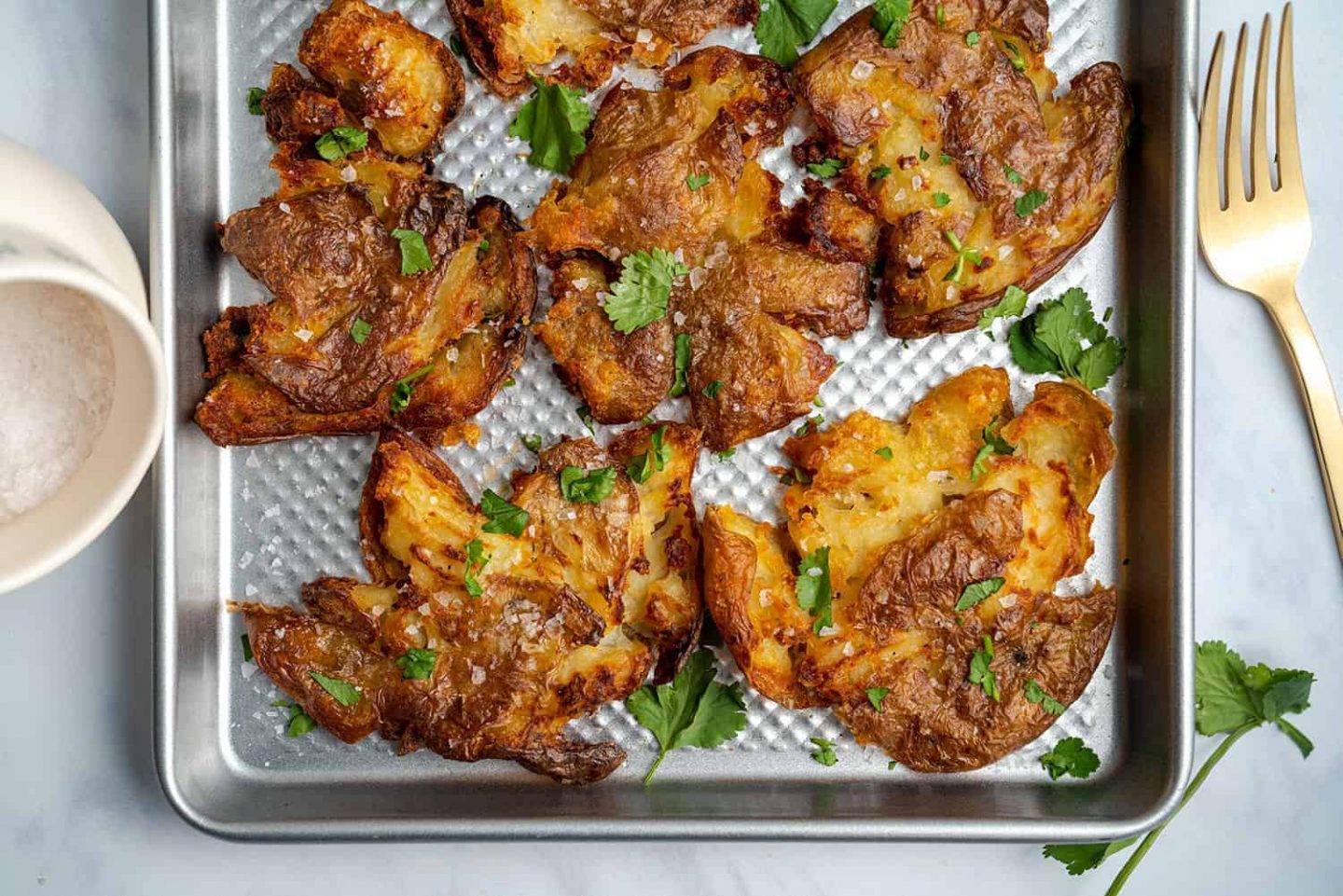 These are probably my FAVE way to enjoy the humble potato. I was only saying to Mark the other day how much I really disliked eating plain, boiled new potatoes as a kid.
And when you can have have potatoes like this instead, it's hard to imagine that they were the exact same vegetable. Needless to say, I haven't had a plain, boiled new potato in a very long time now!
Fortunately, I haven't needed to. There's a billion and one ways to serve up the humble potato and there's a lot higher up in my list, like my crispy smashed potatoes recipe!
So first of all, what are they?! How do you smash a potato? Do you need super-human strength to do so?!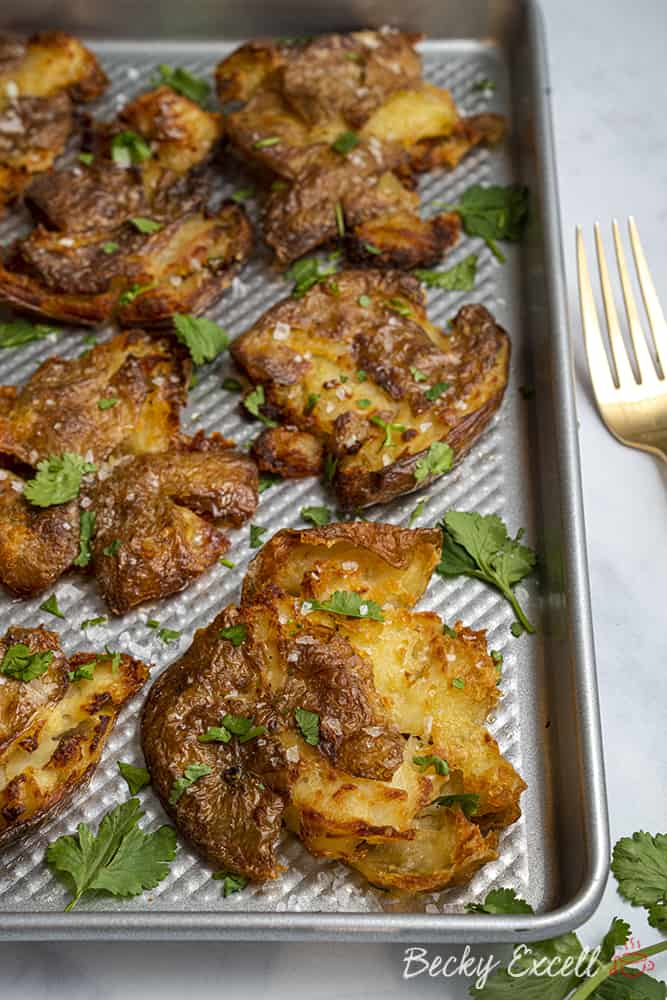 Nope – no super-human strength required because you simply par-boil them and THEN smash them!
Basically, they are probably the crispiest form of potato on the planet and because they're not peeled, they have the crispiest skin too. Picking the right potato helps with that crispy skin too – I avoid using baby potatoes as they usually have a really thin skin.
But then on the inside, they're absolutely packed with fluffy, light mash… it's so simple but soooo good! Just add a little salt and any herbs you fancy and enjoy.
We've had these my crispy smashed potatoes with roast dinners and gravy, curries, chilli con carne… they just go with EVERYTHING. And somehow, just like with a roast, they become my fave part of any meal!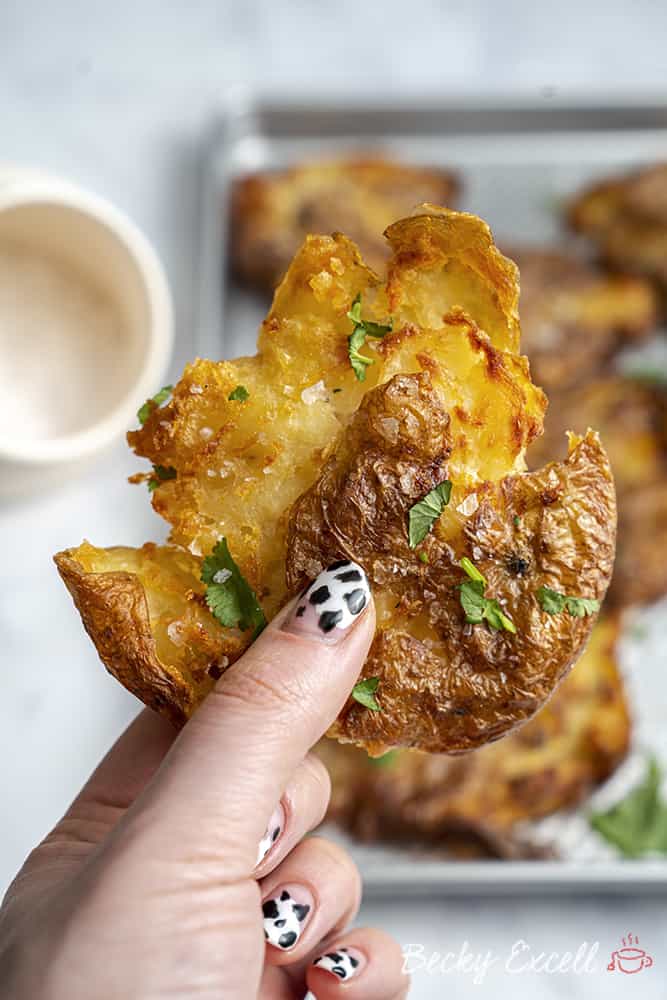 Ok, so here's what you'll need for my super crispy smashed potatoes recipe… get ready, it's a really long list!
Ingredients for my crispy smashed potatoes recipe
small / medium potatoes (not baby/new potatoes)
garlic infused olive oil
salt
Yep… that's it! You can happily add any herbs or whatever during or after roasting, but they're totally optional. Trust me, these spuds taste just amazing on their own with a little salt.
You can of course use baby potatoes if you fancy, but the skin won't come out as crispy. Baby potatoes usually have a bit of a thin skin – still nice, but not as insanely crispy as mine!
If you do happen to use baby potatoes, bear in mind that they'll probably be a lot quicker to cook, so maybe don't pop them in for as long. Ok, so here's my to make my crispy smashed potatoes recipe.
For the brief version with minimal scrolling, keep scrolling down this post until you see the recipe card ??
1. First of all, fire up the oven to 200C (fan) or 220C for a non-fan oven. Make sure it's fully pre-heated before you even think about putting anything in there! It'll give you the best chance of getting a crispy finish.
2. Start by scrubbing your potatoes and giving them a rinse if they need it. Then, pop the kettle on and boil up a full-kettle's worth of water. Grab a large saucepan and pour in the boiling water, followed by your potatoes.
Bring it to the boil and cook your potatoes for about 25 minutes. I guess this isn't really par-boiling them as we're essentially totally cooking them through! But you don't want to cook them to the point at which they start to break-up.
As soon as you can poke a fork in one without any resistance, they're done.
3. Drain your potatoes using a colander and leave briefly to dry up a little. Be careful not to toss them about too aggressively as you don't want to break any of your potatoes before you even get to smash them!
4. Grab a large baking tray and place your potatoes on one-by-one with a little space in between each. Now's the time for the fun part! Using a potato masher, squash each potato so that it looks pretty flattened, like in my photos. The flesh should burst out and the skin should go nice and squashed.
5. Drizzle each of your potatoes with a little garlic-infused olive oil, be generous but don't soak them! Get a little on the tray too if you can. Add a pinch of salt on each one.
6. Place your baking tray into the oven for 30 minutes or until they're looking reeeally super golden and crispy. If the flesh still looks pale instead of looking golden, they're probably not done. Be patient as the crispyness is king here!
7. Enjoy your super crispy smashed potatoes! I sprinkled a little coriander over mine, but chives, rosemary or thyme work really well too. Either fresh or dried work fine.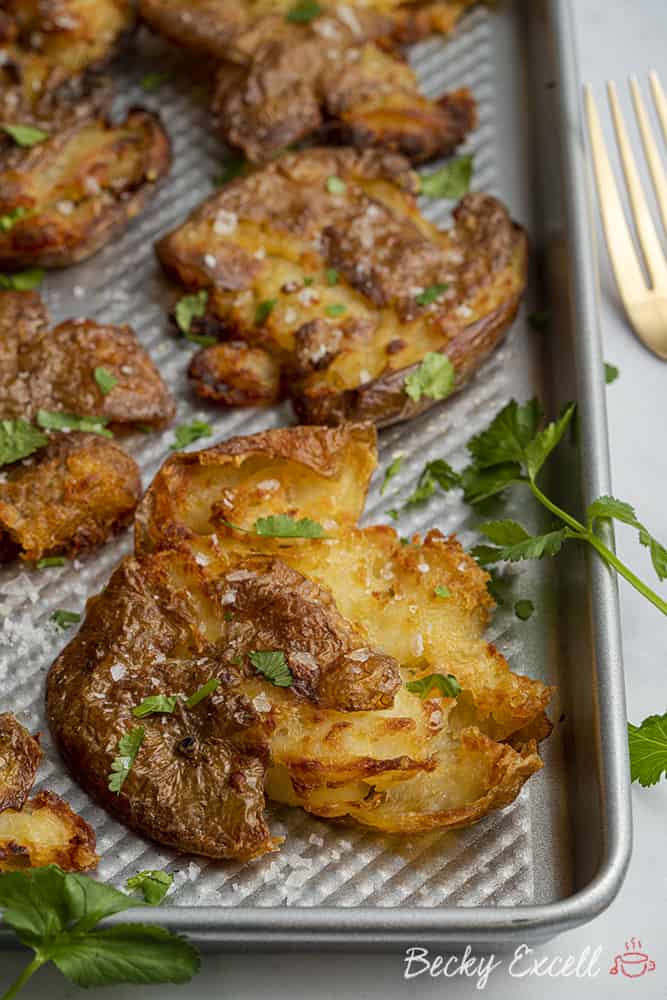 And that's all there is to my crispy smashed potatoes recipe. It really is incredibly simple to make and I mean c'mon… you only need 3 ingredients as well!
Not sure what to serve them with? Here's a few recipes you could definitely have them as a side with:
Hopefully that's a few ideas to get you started! Oh and here's the recipe if you're on mobile and don't want to keep scrolling constantly – it's a little more condensed. Please share this recipe with a friend who might love it if you enjoyed it. It really helps!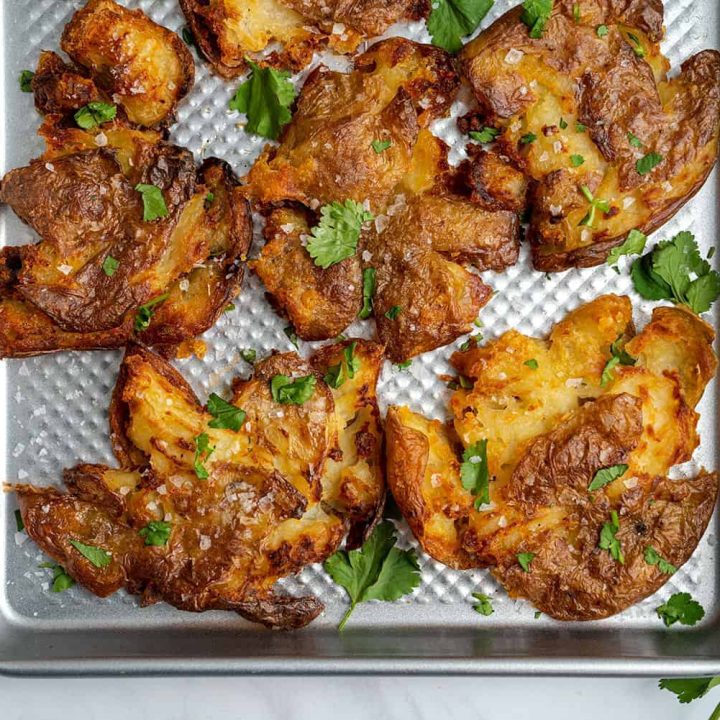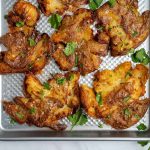 Crispy Smashed Potatoes Recipe (vegan, dairy free, low FODMAP)
Crispy smashed potatoes recipe with 3 ingredients! So simple and easy to make AND it's vegan, dairy free and low FODMAP too.
Ingredients
9

small / medium potatoes

not baby/new potatoes

garlic infused olive oil

salt
Instructions
Preheat your oven to 200C Fan / 220C.

Boil your whole potatoes in a large saucepan of salted water for about 25 minutes. Make sure you judge this yourself - you want to be able to put a fork through them but you don't want them to break up. They should be tender not super soft.

Drain your potatoes and leave briefly to dry up a little.

Place your potatoes onto a large baking sheet with space between each. Using a potato masher push down on each potato so that it looks smashed! Its nice to have a mix of skin and flesh showing.

Drizzle each with some garlic infused oil and some salt.

Bake in the oven for about 30 minutes or until you are happy with their golden crispiness! Sometimes I leave them in a little longer to go super crispy!

Sprinkle with some herbs and a little extra salt if you fancy. Enjoy on their own or as part of a meal 🙂
Nutrition
Serving:
1
g
|
Calories:
320
kcal
|
Carbohydrates:
66
g
|
Protein:
8
g
|
Fat:
4
g
|
Saturated Fat:
1
g
|
Polyunsaturated Fat:
3
g
|
Sodium:
177
mg
|
Fiber:
7
g
|
Sugar:
4
g
Thanks for reading all about my crispy smashed potatoes recipe! If you make it, I'd love to see how it turned out with your roast so don't forget to take a snap of your creations and tag me on Instagram!
Any questions about the recipe? Please do let me know by following me on Instagram and leaving me a comment on a recent photo!
Thanks for reading,
Becky xxx
Oh and don't forget to pin this for later!