Guess what? We finally have our own gluten free 'Pringles' thanks to Schar! Their own version are called 'Curvies' and they're everything we've been waiting for…
Pringles are just one of those things that you have to say goodbye to when you stop eating gluten. You can find some gf Pringle-like crisps in Lidl, but they don't truly have that authentic taste and texture in my opinion. So can Schar's Curvies fill that Pringle tube-shaped gap in our lives?!
(also, don't forget to follow me on Instagram where I post the newest gluten free finds before they even make it to my blog or Facebook!)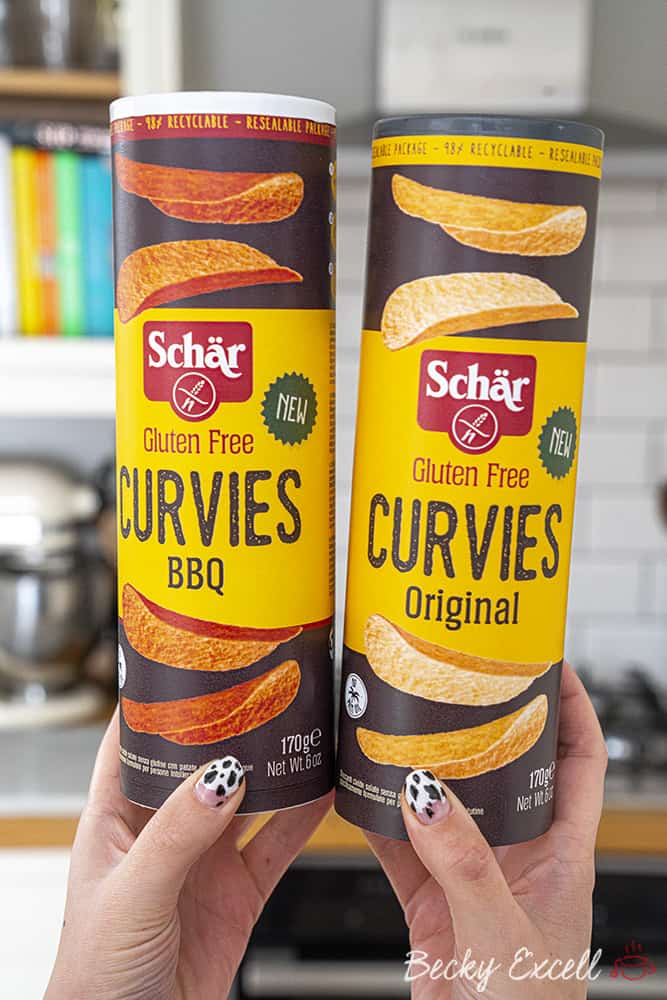 Here's everything you need to know about Schar's Curvies…
(disclaimer: I have worked with Schar in the past, but this is *not* a sponsored post! They kindly gifted me the products to post about today ❤️)
1. The ingredients.
Of course, just like with every gluten free or free from product, it's probably a good idea to read the ingredients first, so here you go:
Curvies Original:
INGREDIENTS: Dehydrated potatoes 57%, sunflower oil, rice flour, glucose syrup, potato starch, salt, emulsifier: mono-and diglycerides of fatty acids; rapeseed oil.
May contain traces of milk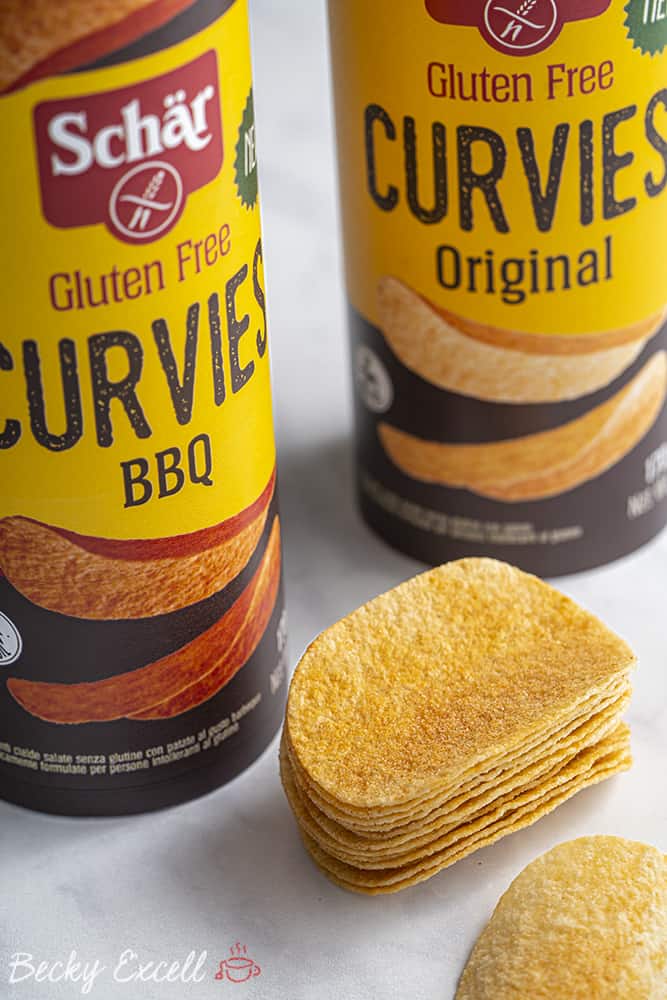 Curvies BBQ flavour:
INGREDIENTS: dehydrated potatoes 55%, sunflower oil, rice flour, glucose syrup, potato starch, flavour, emulsifier: mono- and diglycerides of fatty acids; rapeseed oil, salt, colour: paprika extract; smoke flavour.
May contain traces of milk.
I know a lot of you guys will be disappointed that they're not dairy free because of the 'may contain' warning, I think it's massively important that you let Schar know your thoughts on this if so!
But has anyone else clocked that there's no onion or garlic in either? ? That's a massive win for me and loads of us who can't tolerate either!
2. Where to find them.
You'll be able to find them in Asda for the time being. Oh and also a little side note – they'll be in Asda's seasonal Christmas aisle, NOT the free from aisle.
(I didn't want you to go rushing around the supermarket searching for them like on Supermarket Sweep ?)
Shortly after they launch in Asda, it'll be very closely followed by a launch in both Tesco and Morrisons' free from aisle. So that's good news for us!
But don't head out immediately and start looking just yet – keep reading on if you want to know when they'll be rolled out to Asda's all across the UK… it's sooner than you think!
3. The price.
If you fancy a packet of gluten free 'Pringles', Schar's Curvies will set you back just £2.50 for a tube.
Before I say, what I'm about to say next though, what do you think about the price? Would you buy them? How often?! Do you think £2.50 is expensive?
Well, the reason I wanted to ask those questions before I said this next bit is because *actual* Pringles cost £2.50 too. So now knowing that, do you still think they're expensive?!
However, a tube of 'Curvies' is 170g whereas a tube of Pringles is 200g. So you'll have to weigh all that up (excuse the pun!) when you hopefully find them in the supermarket.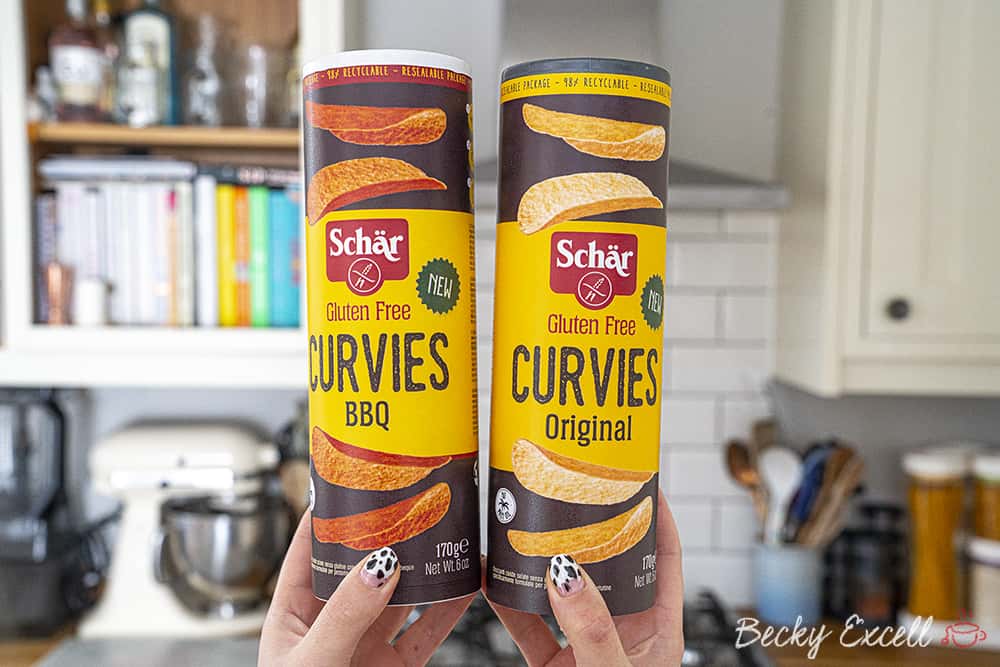 4. The taste.
But I guess deciding whether they're worth the price depends on a lot on how they taste! So… how do they taste?
In my opinion, they're actually really good! And FYI, I'm judging them based on how much they do or don't taste like *real* Pringles (from what I remember). I'm pleased to report…
They do taste A LOT like actual Pringles. I've shared some 'accidentally' gluten free Pringles I found in Lidl this year as you'll see in the photo below ??
BUT, actually, Schar's new 'Curvies' actually are a lot closer in taste and texture to Pringles from what I can remember!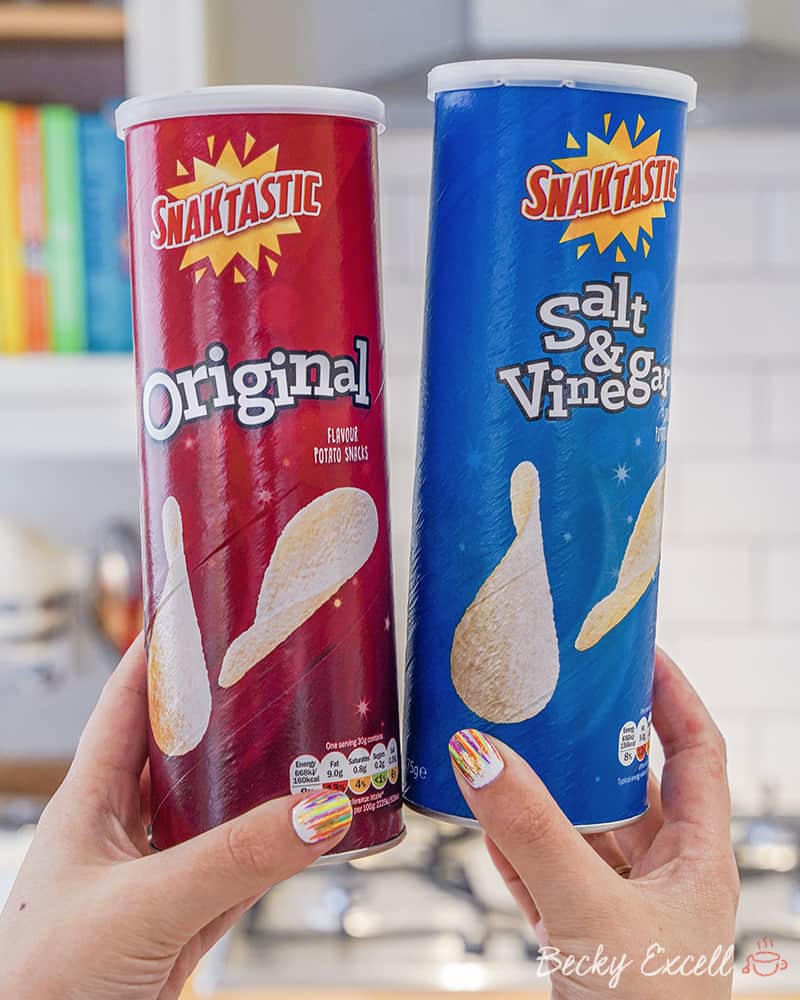 Plus, the BBQ flavour is to die for and that also tastes extremely like the BBQ Pringles I remember eating years and YEARS ago.
Throw in the fact that the BBQ flavour is onion and garlic free and that's full-marks from me!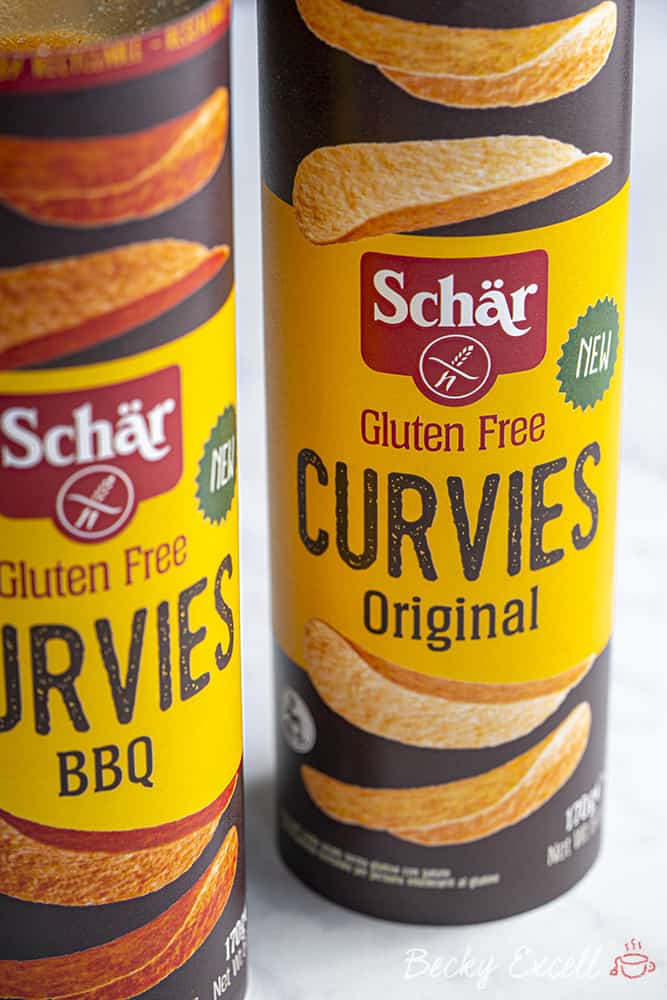 5. They're hitting the shelves this week!
Yep, Schar's Curvies will be rolling out in Asda's across the UK from today!
But as I'm sure you all know, all supermarkets can vary massively with when products pop up, so keep your eyes peeled. Who's rushing out to search for them today?!
Either way, make sure you give them a try and let me know your thoughts by coming back and leaving a comment below on this post.
Schar are great at making gluten free versions of stuff we really miss and I have to say… I think they may have done it again ✅
As always, feel free to keep the discussion going in the comments down below ??
Thanks for reading,
Becky xxx