This is a bit of a simple recipe for Mark, but it's only easy if you know how! So I twisted his arm into sharing his gluten free special fried rice recipe with you guys – it's low FODMAP and dairy free too.
Mark has been recreating all my fave takeaway dishes for a veeery long time, but this recipe always seemed to get overlooked… until now! So here's his gluten free special fried rice recipe – it's simple, fast and if your rice is pre-cooked, it'll only take you 15 minutes to prepare.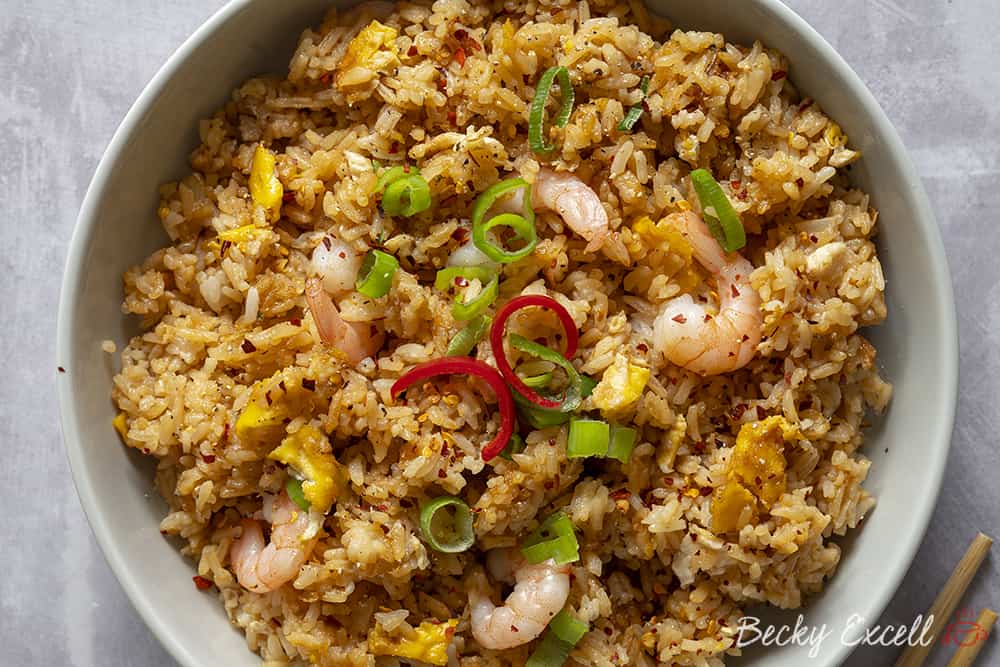 First of all – what's in Mark's gluten free special fried rice?! And what about in special fried rice from takeaways in general?
Well, it turns out… that anything goes really! And depending on where you order your takeaway from, they'll probably all be slightly different.
But as a general rule of thumb in the UK, it's basically egg fried rice with anything from prawns, to char siu pork, chicken and whatever veg they fancy.
You'll often see peas, spring onions in there too, but really, whatever you want to throw in is fine. Just make sure it's thinly sliced so it cooks quick!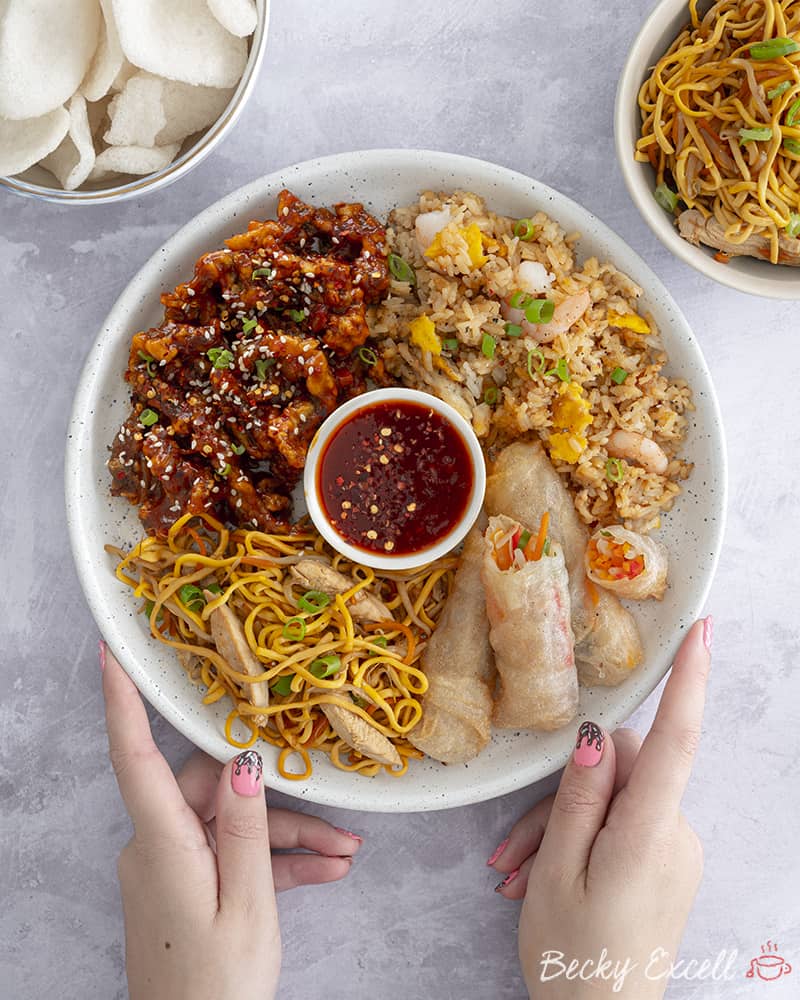 And what Mark puts in his special fried rice seems to change whenever he makes it!
(he basically uses whatever we have lying around the fridge and any leftovers available)
This is such a great recipe for using up all those leftovers – he has been known to use leftover ham, bacon, any veg that's almost past it's best… anything goes really.
So if you don't fancy prawns, just stick to chicken. If you're veggie, just throw in more veg instead – finely chopped carrot, courgette, mange-tout… anything works perfectly!
BUT! I asked Mark for his top tip everyone should know when recreating his gluten free special fried rice recipe and this is what he had to say…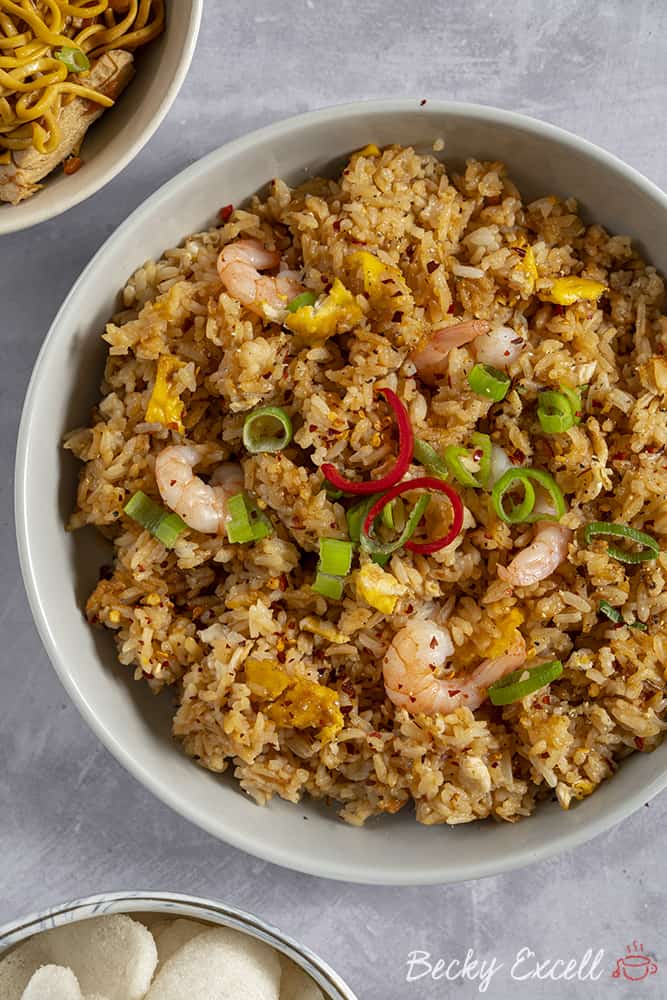 'Put your rice on to cook a few hours before you plan on making this for dinner, then allow it go cold. In a few hours, it'll be ready for you when you start this recipe later.'
There you go, that's Mark's top tip! He said it's because ALL good fried rice will always be done this way. Why? Well, leaving the rice to cool allows it to harden up a bit instead of being all soft and fluffy like freshly cooked rice often is.
(he sometimes even cooks his rice the day before and leaves it in the fridge overnight for best results)
So then, when you go to fry it, you can really get that awesome fried rice texture – a little crisp and with a nice bite. You definitely don't want your fried rice to have the same texture as regular boiled rice – it'll taste nice, but the texture will be all wrong.
But don't worry if you haven't got the time to cook your rice and allow it to cool ahead of time. Just make sure you fry your cooked rice for longer so it'll dry out during the prolonged cooking period.
If you can do it ahead of time though, trust me, Mark's original method is the best by far and the proper way to make awesome fried rice.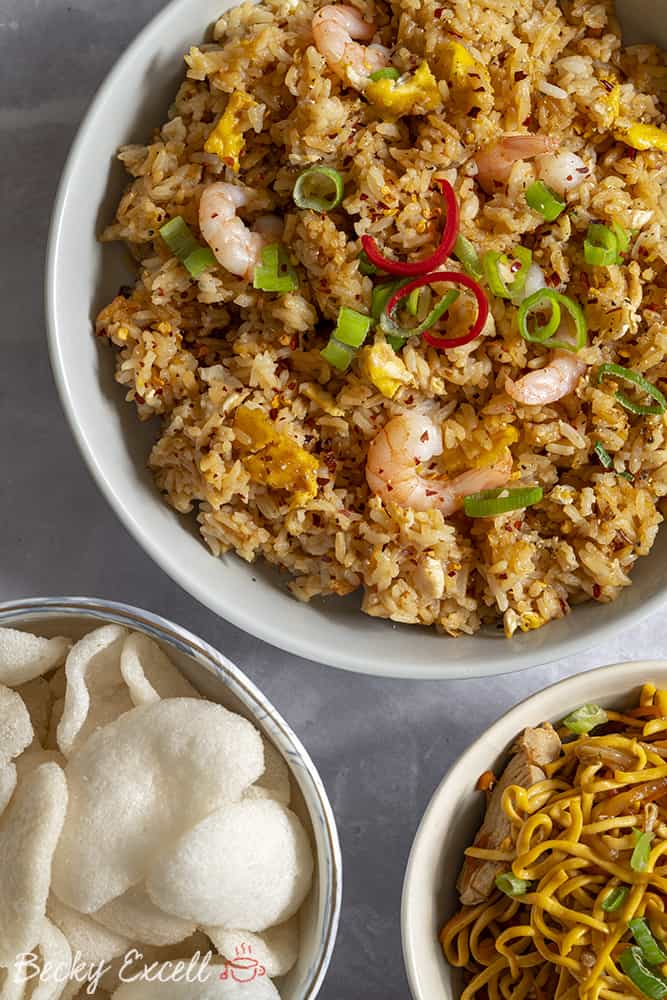 Here's everything you'll need for Mark's gluten free special fried rice recipe…
Ingredients for Mark's Gluten free special fried rice recipe:
200g rice
2 eggs
5-6 prawns (cooked or raw is fine)
1 chicken breast
handful of frozen peas
2-3 tbsp garlic-infused oil (if low FODMAP, make sure it has no pieces of actual garlic in it)
1 tbsp sesame oil
2 tbsp gluten free soy sauce
handful of chopped spring onions (green parts only if low FODMAP)
We often have most of these ingredients in the cupboard/fridge/freezer at all times, so this is one of our go-to meals when we haven't had time to do a proper shop.
Although in some of the photos above, we've had this alongside Mark's crispy chilli beef, gluten free spring rolls and gluten free chow mein, we actually eat this fried rice on it's own 90% of the time.
And trust me, it's definitely good enough to eat alone in a bowl with nothing else!
Oh and as Mark's so good at recreating these dishes that I miss so much from the Chinese takeaway – I made a blog post sharing all of the Chinese takeaway recipes he's made for me here: 10 gluten free Chinese takeaway recipes you won't believe you can eat. You can thank me later for that post!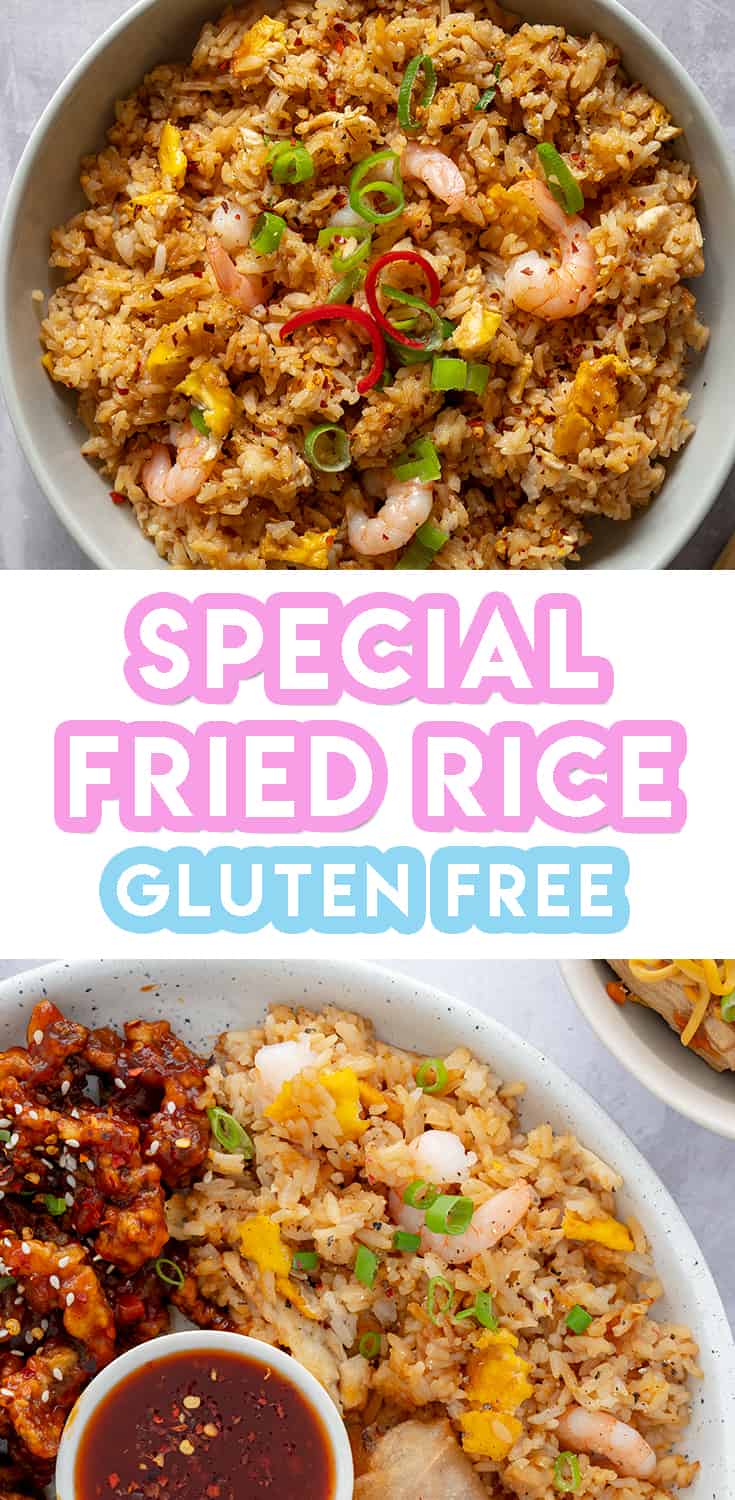 Anyone here fancy making a vegan version of this recipe? It's easy!
Obviously, you're gonna have to lose the eggs in this recipe and the protein too. To replace the chicken/prawns, Mark recommends frying some cubes of gluten free tofu coated in cornflour until the outside is nice and crispy..
Then use the crispy fried tofu instead of chicken in the recipe and make sure it soaks up all the lovely garlic-infused oil flavour.
Instead of the egg, you can always throw in extra veg – whatever you fancy really, as long as it's fairly thinly sliced so it cooks quickly. As I said earlier, you really can experiment with this dish, so hopefully that's given you a few vegan-friendly ideas to get you started.
Ok, so here's how to make Mark's gluten free special fried rice recipe! ??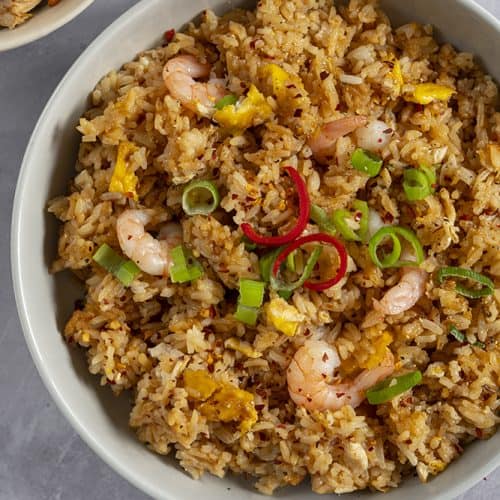 Mark's Gluten Free Special Fried Rice Recipe (low FODMAP, dairy free)
Looking for a gluten free special fried rice recipe? You've found it! It's super easy to make and tastes like what you'd get from the takeaway!
Ingredients
200

g

rice

2

eggs

5-6

prawns

cooked or raw is fine

1

chicken breast

handful of frozen peas

2-3

tbsp

garlic-infused oil

if low FODMAP, make sure it has no pieces of actual garlic in it

1

tbsp

sesame oil

2

tbsp

gluten free soy sauce

handful of chopped spring onions

green parts only if low FODMAP
Instructions
To start this recipe, you ideally want your rice cooked ahead of time and totally cold. So cook your 200g of rice, allow it to cool (ideally let it sit in the fridge overnight) and come back for step 2!

Add your gluten free soy sauce to your cold rice and mix around until well-coated.

To a wok, add your garlic-infused oil and heat to a medium-high heat. Add your spring onion and fry for 30 seconds.

Then add your finely sliced chicken breast (the thinner it's chopped the quicker it'll cook) and once the chicken is sealed, add your prawns. If the prawns are raw, don't move onto the next step until they turn mostly pink. Keep constantly stirring for this step!

Immediately add your 2 pre-beaten eggs to the wok and let everything sit until the underside of the egg starts to look like an omelette. Then, using a spatula, try and flip the omelette so the other side is cooked too. Once both sides are cooked, break it up using your spatula.

Throw in your cold rice coated in gluten free soy sauce, frozen peas and sesame oil. Keep constantly stirring again and regularly pressing the rice flat to the wok using your spatula.

Once the rice is nice and warm again and starting to get a little bit of a crispy texture to it, you're done!

Throw on a few extra spring onions on top and some chilli flakes if you fancy. Enjoy!
Nutrition
Serving:
1
g
|
Calories:
345
kcal
|
Carbohydrates:
29
g
|
Protein:
24
g
|
Fat:
14
g
|
Saturated Fat:
3
g
|
Polyunsaturated Fat:
11
g
|
Cholesterol:
179
mg
|
Sodium:
778
mg
|
Fiber:
2
g
|
Sugar:
2
g
And that's Mark's gluten free special fried rice recipe!
Thanks for reading how to make Mark's gluten free special fried rice recipe ✅ If you make it, I'd love to see how it turned out so don't forget to take a snap of your bakes and tag me on Instagram!
Any questions about the recipe? Feel free to leave a Facebook comment below this post ??
Thanks for reading,
Becky xxx
Oh and don't forget to pin this for later!