Wow. How did we manage to make gluten free vegetable spring rolls?! Well, I say we, but it actually was Mark's idea! Our recipe is low FODMAP and dairy free too.
I know I often say 'I haven't eaten x in years'. But I haven't eaten spring rolls in years!! If you're in the same boat as me, then you'll love our gluten free vegetable spring rolls…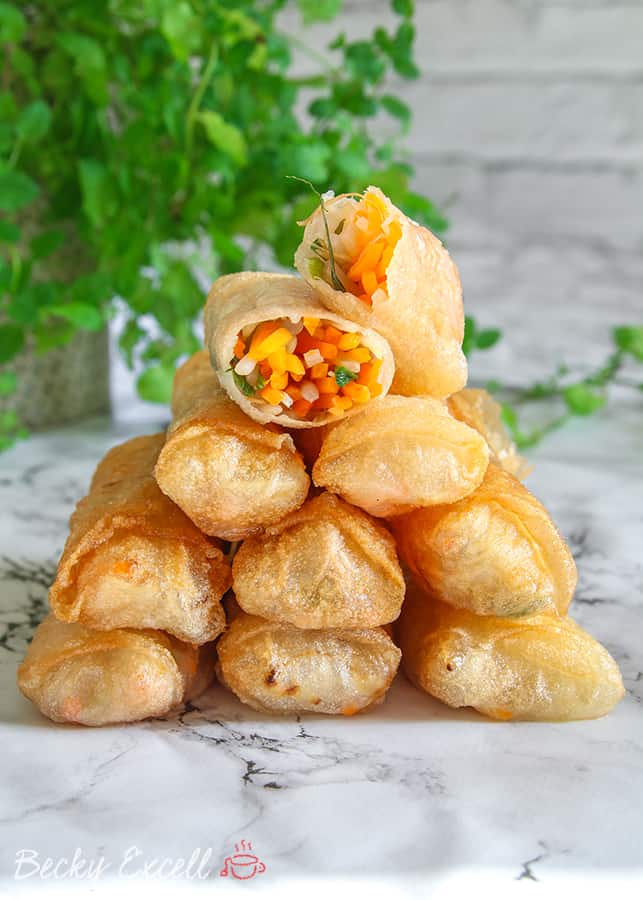 Yep, we've cracked it!
Even though there still isn't such a thing as gluten free filo pastry (the go-to wrapper for normal spring rolls) there is an authentic alternative that's naturally gluten free…
Rice paper! (aka rice pancakes/spring roll wrappers) Of course, they're 100% gluten free.
Never heard of them? Well I actually found these in Waitrose with all the other Chinese food. But if you can't find these ones specifically, then you can also find them in Chinese supermarkets (they're a bit better value too as they give you tons).
You can also order the Chinese supermarket version from Amazon here and here too. Make sure you check the ingredients first just in case things change.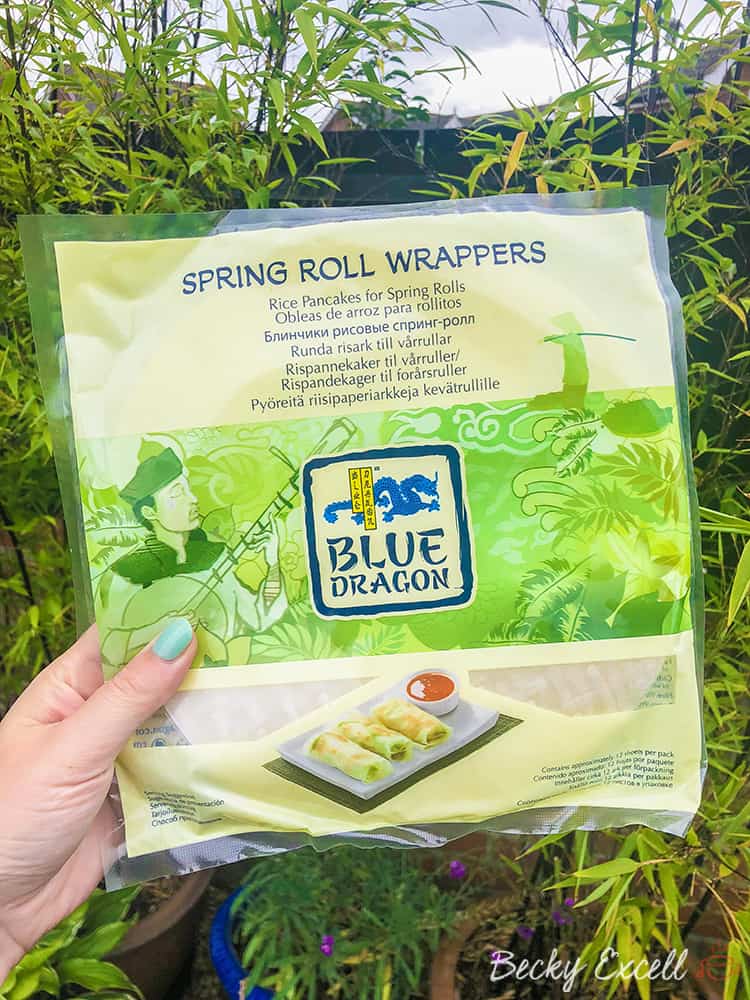 Fortunately, rice paper is a naturally gluten free alternative for spring rolls with no gluten containing ingredients whatsoever. There's no 'may contain' warning either – result. But wait – is it really gluten free if it doesn't say it on the packet?
Well luckily for you, I already asked Coeliac UK and here's their answer…
According to Coeliac UK: 'If there are no gluten containing ingredients and no 'may contain gluten' (or similar) statement, then the product would be suitable for a gluten-free diet.' So you can rest assured that these are 100% safe.
Rice paper is actually what they use in Vietnamese cuisine for spring rolls, so you won't be surprised to hear that they work perfectly.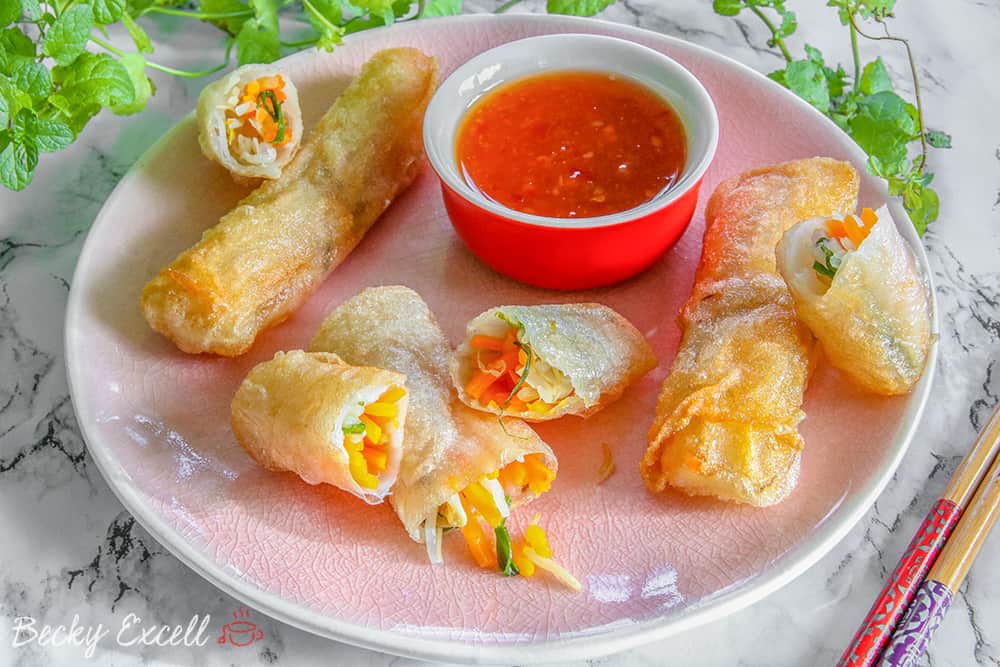 Phew, now we've got the small print out of the way, let's talk gluten free vegetable spring rolls!
The filling is a combo of what Mark and I both love in spring rolls – carrot, white cabbage, spring onion and beansprouts. That's it, and that's all it needs.
Soooo many recipes always tell you to put in rice noodles in your spring rolls… but honestly, I've never had a spring roll with rice noodles in it in my life – have you?! So in the end, we made an executive decision to not put them in. I don't know what they would really add anyway?!
Honestly, just trust us on the filling, it'll be exactly what you expect from a veggie spring roll.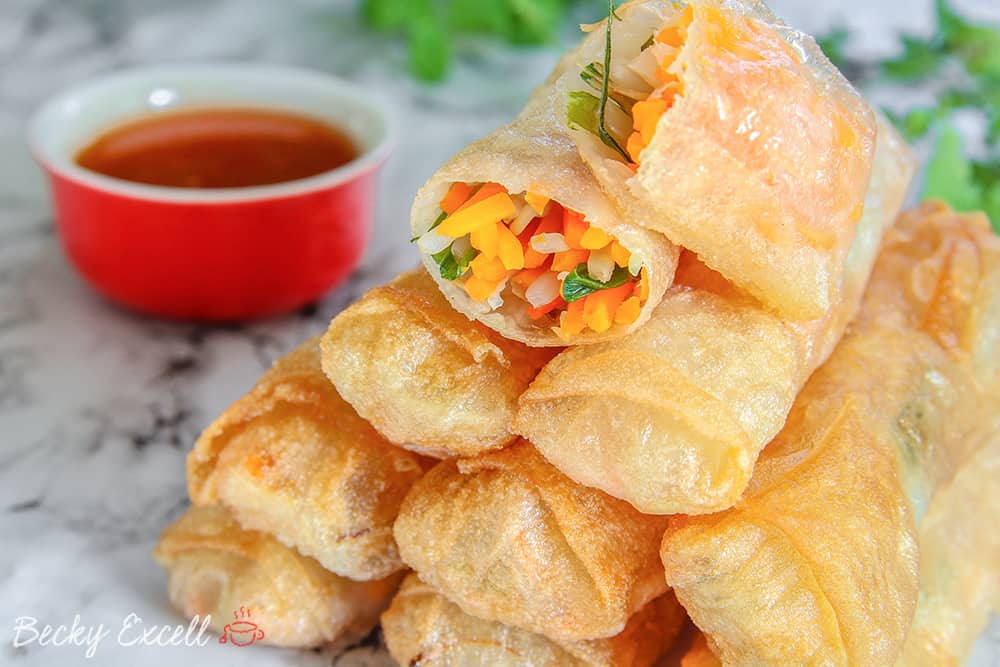 You're gonna need a dip for your spring rolls too, so why not make our low FODMAP sweet chilli sauce recipe while you're at it?
(I realise that only 0.01% of people reading this will actually make both of these things, but you will earn massive bonus points if you do!)
Looking for more of Mark's gluten free Chinese takeaway recipes? Check out this blog post here: 10 gluten free Chinese takeaway recipes you won't believe you can eat.
Anyway, here's how to make our gluten free vegetable spring rolls…
My Gluten Free Vegetable Spring Rolls Recipe (low FODMAP)
My gluten free vegetable spring rolls recipe is low FODMAP, dairy free and nice and easy to make at home!
Ingredients
1

large

carrot

grated

1/4

white cabbage

shredded

4

spring onions in thin strips

green parts only if you're low FODMAP

300

g

beansprouts

you probably won't need this much, but that's how big a bag is!

12

rice paper spring roll wrappers

1

litre

vegetable oil

basically an entire bottle
Instructions
Start by pouring the entire bottle of vegetable oil into a large saucepan. Place it on the hob at a medium heat. We want it to reach 170c or 340f so having a cooking thermometer is very handy when making this!

While your oil is heating up, start making your first few spring rolls. Firstly, add some hot tap water to quite a wide, large bowl. Take one sheet of rice paper and dip it in for 5 seconds or so, immersing it completely. Then place the sheet onto a wooden or plastic surface where you'll roll your spring rolls.

Add your filling to your rice paper. I'd recommend equal parts of carrot, cabbage and beansprouts, but only maybe 5-6 strips of thin, sliced spring onion. Don't put too much in or it'll struggle to cook through! Check the photo for this step for a rough idea of amount and positioning of the filling.

Now your filling is on the rice paper wrapper, it should be nice and flexible and a little sticky - not hard and crunchy like it is out of the packet. Take the bottom of the rice paper wrapper and overlap the filling. Then roll it forwards into a sausage shape until half way. Then stop!

At half way, fold in both sides so that they form a nice straight line on each side.

Then, keep on rolling until you're done!

Hopefully you'll be left with a nice, tightly rolled spring roll with little to no tears in the wrapper. You might get a few tears in the wrapper at first, but a little practise will sort that out! As long as the filling isn't gaping out, it should still do fine when we cook them anyway.

Hopefully now your oil has reached 170c or 340f. I really would recommend a cooking thermometer for this! If you don't have one, try this little trick: dip the handle of a wooden spoon or a wooden chopstick into the oil. If the oil starts steadily bubbling, then the oil is hot enough for frying. If the oil bubbles angrily and spits, then the oil is too hot. If no bubbles pop up (or very few) then it's not hot enough.

Now your oil is hot enough, carefully lower in 2-3 spring rolls at a time into the oil. (Be careful they don't splash in please! The oil will be hot!) They should just gently bubble and float on the top. Cook them for around 5 minutes in the oil. If they brown heavily within the first minute, then the oil is too hot and the filling will be raw inside.

Because they float, you'll probably need to make sure you turn them half way - otherwise one side will be nice and golden, but the other side will be quite pale. They often like to float on one side more than the other, so I held mine down with a pair of tongs!

After 5 minutes, they should have a gentle golden tint to them. Take them out and place them on some kitchen roll on a plate and allow them to drain.

Repeat until you've made as many as you like.

Serve immediately and enjoy!
Thanks for reading how to make our gluten free vegetable spring rolls recipe! If you make them, I'd love to see how they turned out so don't forget to take a snap of your creations and tag me on Instagram!
Plus, I'm giving away a £50 supermarket voucher every month to my fave pic – it could be you!
(Remember when they used to say that on the lottery adverts all the time?!)
Any questions about the recipe? Please do let me know by following me Instagram and leaving me a comment!
Thanks for reading,
Becky xxx
Oh and don't forget to pin this for later!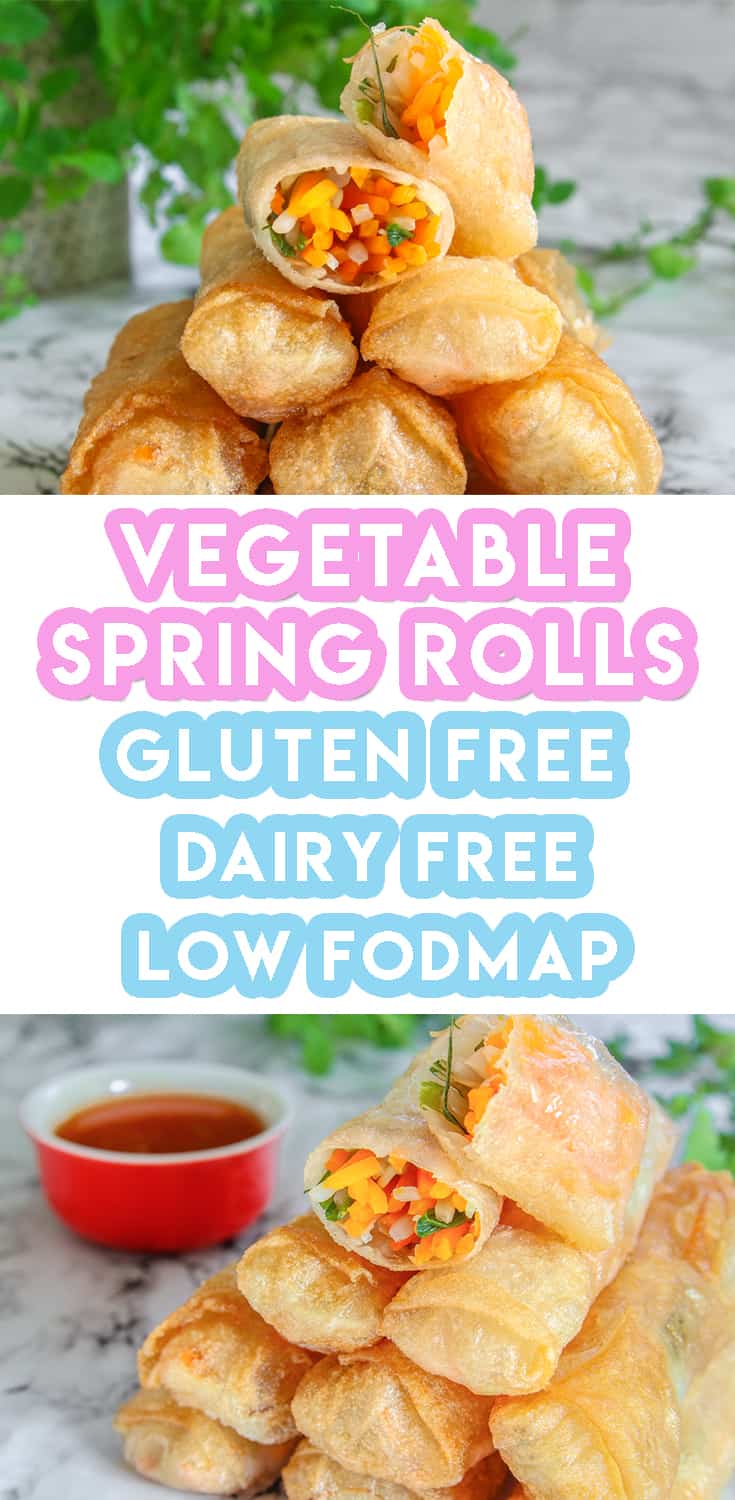 Thanks for supporting the blog by using some of the affiliate links above!