My DMs are currently full of different variations of 'when are you posting your gluten free custard cream blondies recipe?' So here it is! I've been working on these for *months*, so I hope you enjoy them as much as I do.
But what on Earth is a blondie, you might ask? Well, blondies aren't necessarily a white chocolate brownie (they don't NEED to have white chocolate in them) but that is exactly what mine are! Read on and I'll explain all about my gluten free custard cream blondies recipe…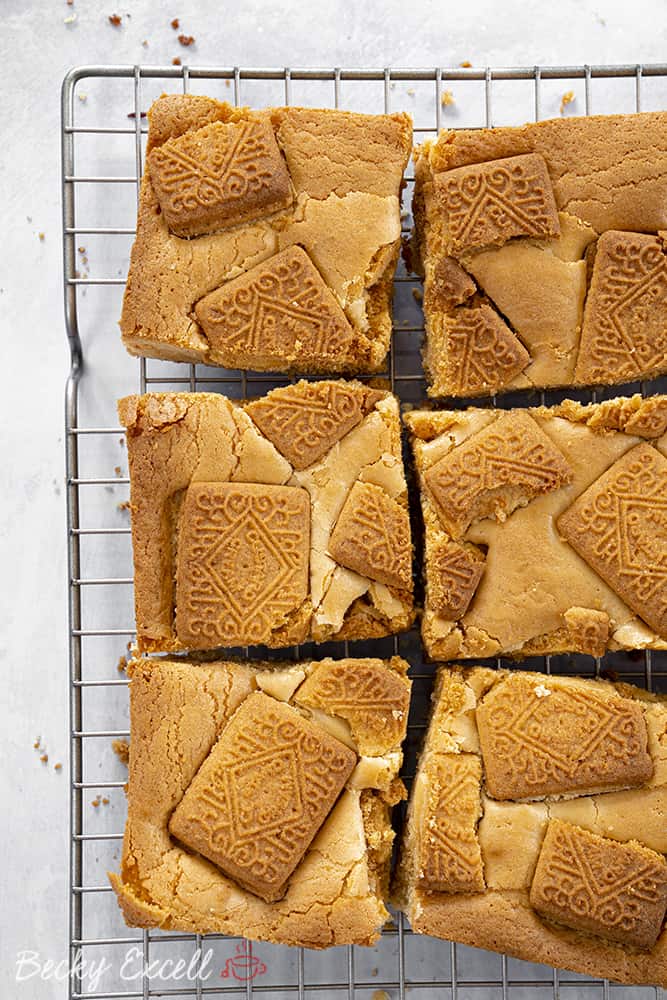 So first of all, in what way are my blondies like a brownie?
Well, instead of the deep, decadent chocolate-y flavour of my gluten free brownie recipe, there's much more of a sweet, buttery, creamy white chocolate flavour instead.
But otherwise, you've still got the exactly same texture you'd get in the world's most awesome-est brownie (my old English teacher would hate that sentence) – super fudgy and a little bit gooey in the middle.
Trust me, if you've never tried one before, now's the time to do it. I'm now totally in love with my gluten free custard cream blondies recipe!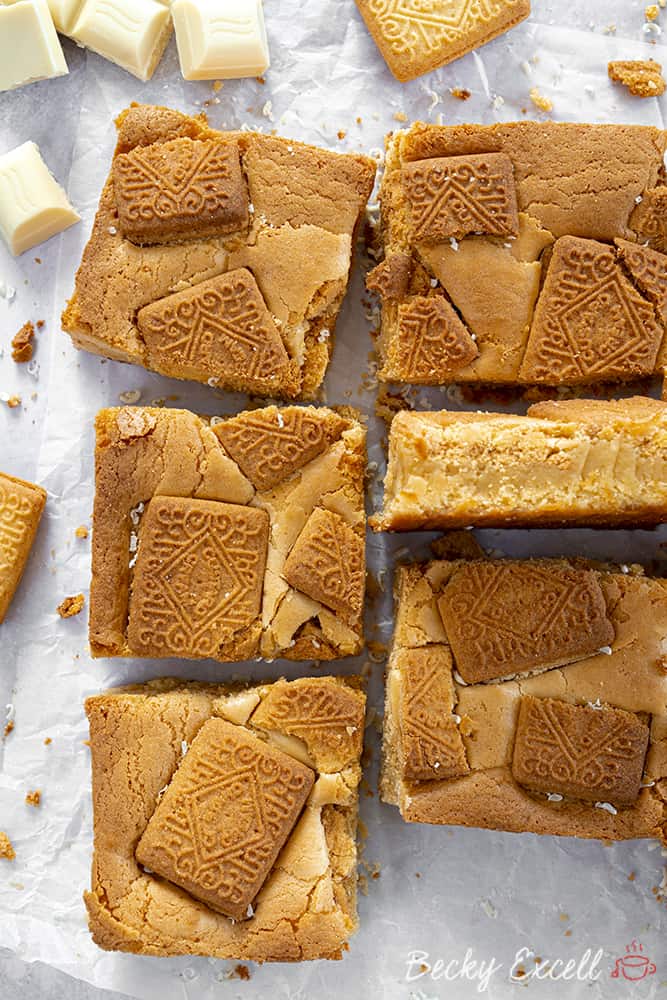 And what's with the custard creams I hear you ask?! Well… why not?! ?
When I was growing up, there was *always* a biscuit jar full to the brim of custard creams in the kitchen.
(I think my Mum and Dad have since stopped doing this now though after realising how dangerous it is to have a permanent supply of biscuits at all times)
Obviously they weren't gluten free back then, but fortunately for us, there's always gf custard creams down the free from aisle these days – the ones I used were by Schar. But not only are they one of my fave biscuits, they just work so well in a blondie.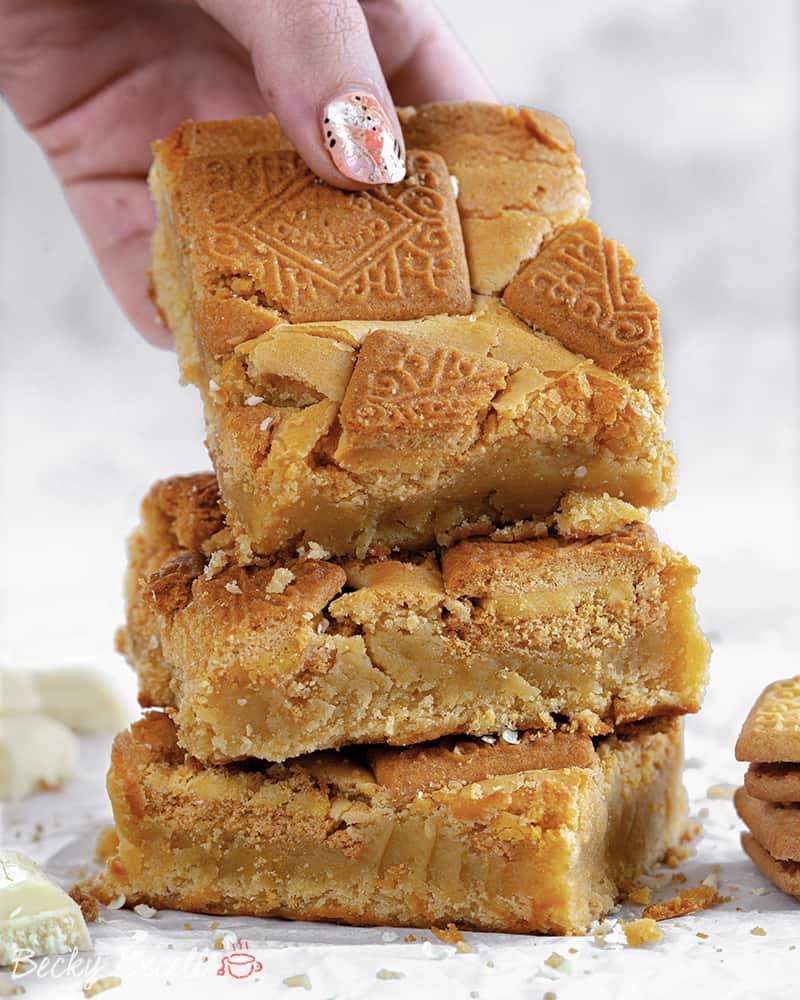 Trust me on this one – you haven't lived until you've had a gf custard cream that's been baked! They get a lovely tan that makes the biscuit part taste even better and the filling is sooo creamy and gooey.
It's hard to explain, so you'll just have to give this recipe a go and let me know what you think!
Plus, I just think it makes them look awesome, right? I mean, everyone seems to love these, so I hope you can impress your friends and family with this recipe too.
And this is (as I always say a billion times in every recipe) super easy to make. There's 10 ingredients and 10 steps in the recipe and you really can't go wrong! Oh and if you've ever made a brownie before, then you'll find this a total doddle.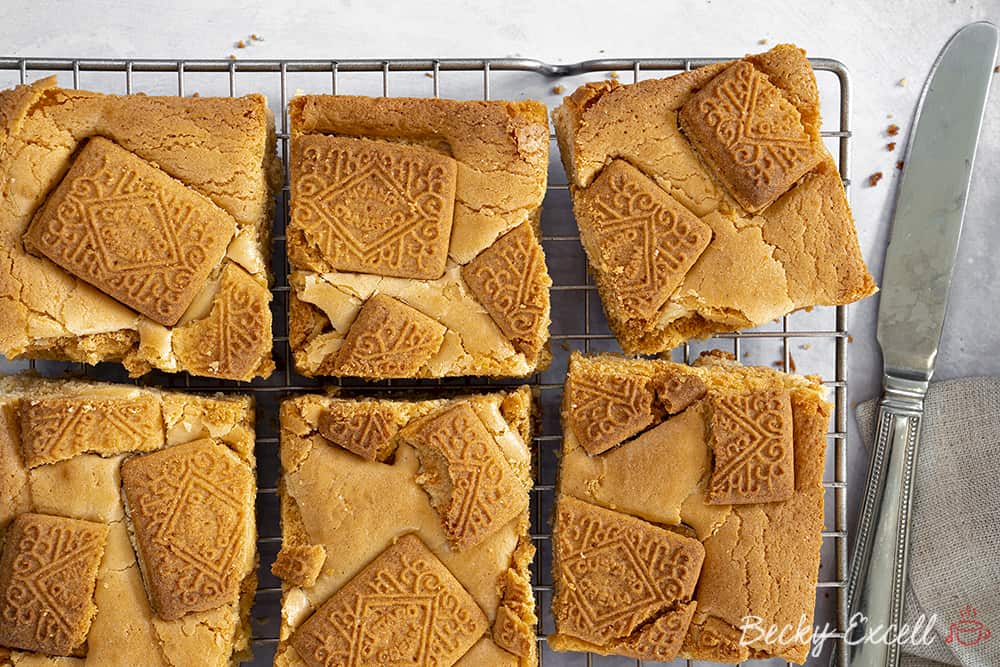 Ok, so here's my gluten free custard cream blondies recipe! ??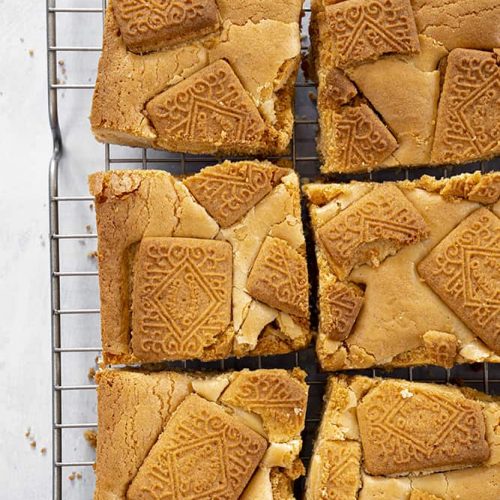 Gluten Free Custard Cream Blondies Recipe
My gluten free custard cream blondies recipe is so easy to make and I promise that you'll love them! Oh there might be a little white choc too...
Ingredients
200

g

butter, melted

125

g

light brown sugar

125

g

caster sugar

150

g

white chocolate, broken into cubes

1

tsp

vanilla

3

eggs

225

g

gluten free plain flour

1/4

tsp

xanthan gum

2

tbsp

custard powder

gluten free custard creams
Instructions
Preheat your oven to 180C (160 Fan) and prepare a 9x9inch square baking tin with parchment paper allowing overhang so you can pull them out once cooked.

Melt butter in a large saucepan with both the light brown sugar and caster sugar. Do this on a low heat.

Take off the heat and after a couple of minutes add in your white chocolate. Allow to melt in for a few minutes before stirring in. Pour into a mixing bowl and leave to cool on the side for 10 minutes. The mixture I find looks quite separated / too much butter, but don't worry it's absolutely fine!

Add your vanilla and your eggs one at a time, mixing with an electric hand whisk between each addition.

Next add in your gluten free plain flour, xanthan gum and custard powder - make sure you sieve the custard powder as it can be a bit lumpy! Mix again using the electric hand whisk until combined.

Spoon or pour the mixture into your pre-prepared tin. Place custard creams all over the top (no need to push them in hard). I did mine at random and broke some in half to make it not look too perfect or orderly!

Place in the oven for about 40 minutes. Check it after 30 minutes though, if the custard creams are going a little too brown then cover with some foil if it still needs another 10 minutes cooking.

Once cooked remove from the oven and allow to completely cool in the tin.

Once cooled, slice into squares. You can cut the edges off if you like - these I find aren't as fudgy as the rest as they were cooked the most!
Thanks for reading all about my gluten free custard cream blondies recipe! If you make it, I'd love to see how it turned out so don't forget to take a snap of your creations and tag me on Instagram!
Any questions about the recipe? Please do let me know by following me on Instagram and leaving me a comment on a recent photo!
Thanks for reading,
Becky xxx
Oh and don't forget to pin this for later!