I never thought I'd say this exact sentence but… there's gluten free bread at Subway across the UK from today. BUT WAIT! There's some vital cross contamination and safety info you need to know before heading down to try it…
I know we all have a tendency to get excited when we see the words 'gluten free' in a place we haven't eaten in years. But what's more important is knowing whether or not it's safe to eat first! So here's 5 things you MUST know before trying the gluten free bread at Subway…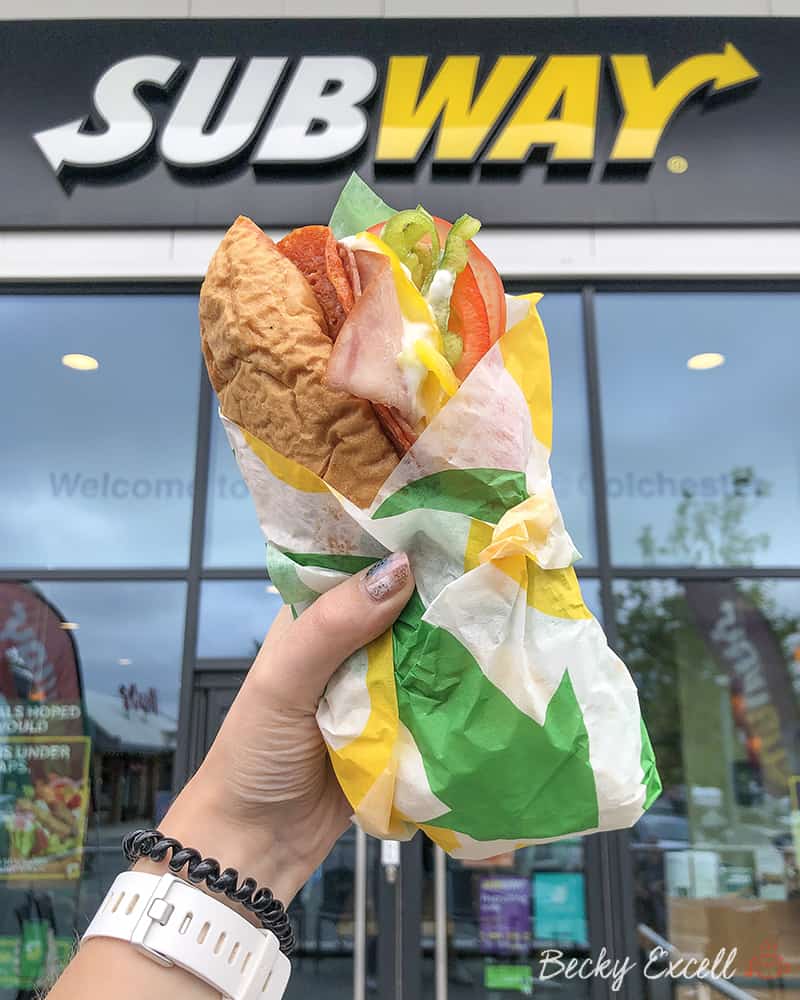 1. The gluten free bread at Subway comes in sealed packaging, BUT…
… once it's opened, you just simply can't call the end product gluten free anymore.
There's gluten crumbs everywhere!! As you all probably know, most Subways are tiny and the food preparation areas are very limited, which is never a good omen for preparing safe gluten free food.
That's why it's no surprise that…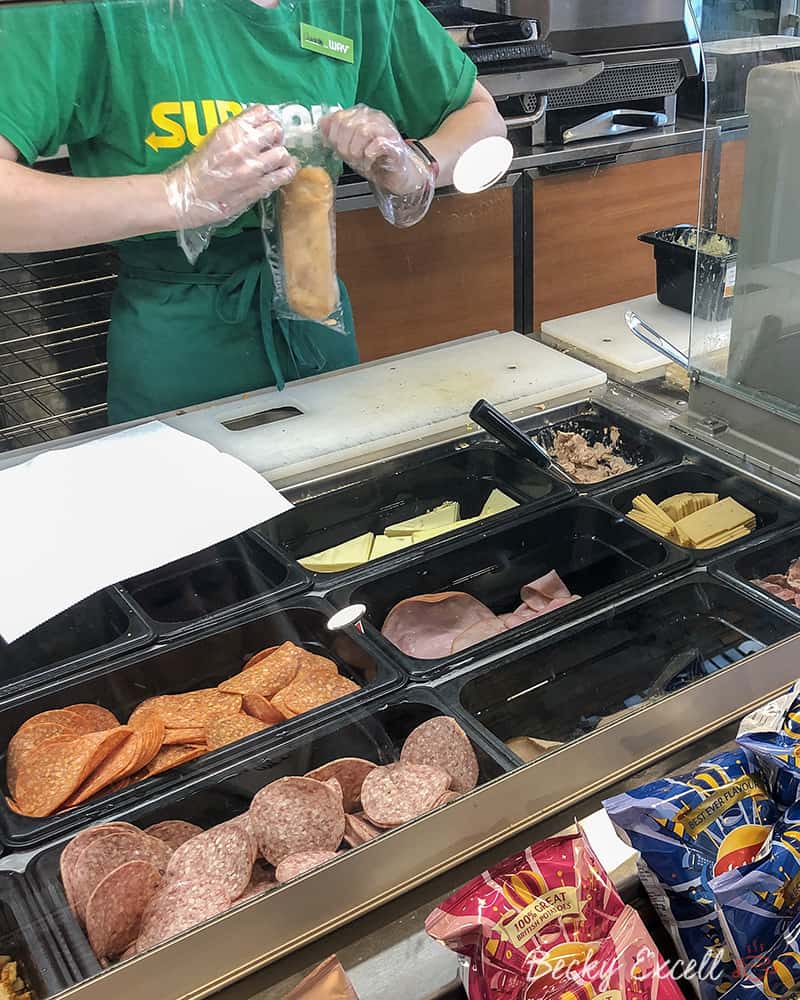 2. All the gluten free food is prepared in the exact same place as the gluten-containing food.
Yep, food is prepared in the same place as all the gluten-containing food and toasted in the same ovens ⚠️
Whilst the bread is placed on a piece of paper so it's never directly touching any surface whilst it's being prepared, there's signs of gluten all over the place.
They're not just preparing sandwiches containing gluten in the same area either – there's tons of gluten-bread cutting going on all the time too. Plus, it's likely that the sandwich fillings indirectly come into contact with gluten when staff are making regular sandwiches too.
A separate area to prepare and toast gluten free food is a MUST when it comes to minimising cross contamination, so if you're a Coeliac or very careful with cc, I would firmly avoid.
Here's Subway's take on the whole cross-contamination situation…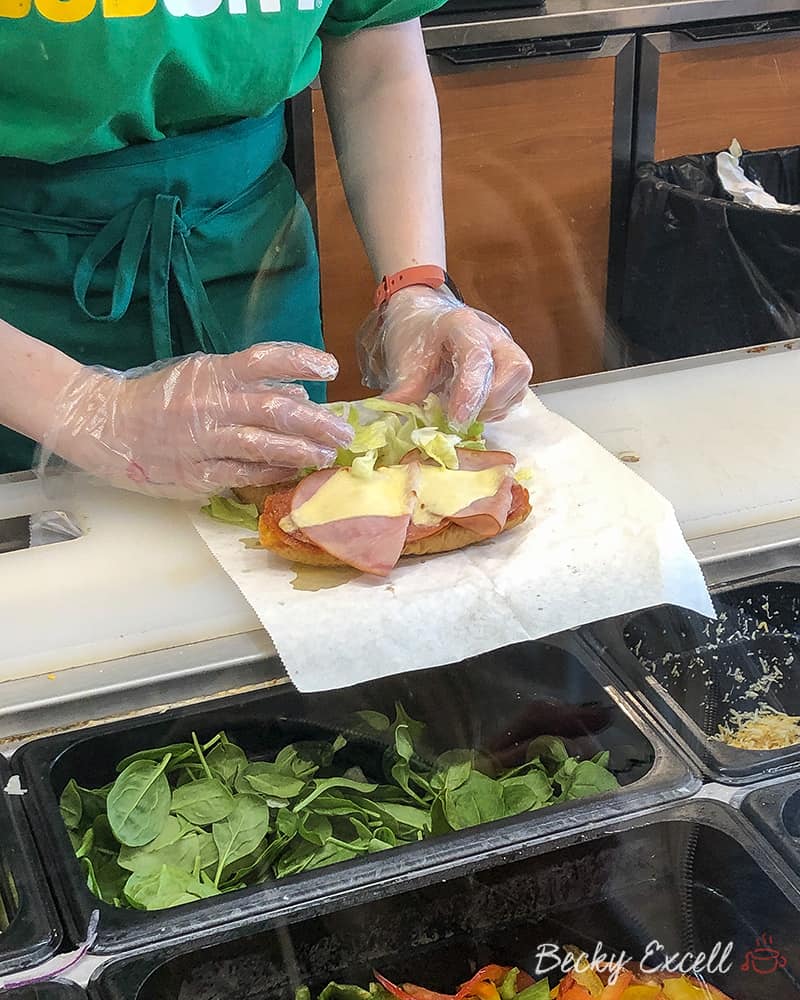 3. Subway do have measures in place to try and minimise cross contamination, BUT…
I asked Subway on Twitter how they would best attempt to minimise cross contamination when preparing gluten free products and here was their response:
Hi Becky!

Thank you for your message!

Our Sandwich Artists have been instructed to change their gloves and to clear and clean the build area before taking the gluten free bread out of the packaging. After this the bread is built and put into the toaster oven separately from any other gluten containing breads and on a fresh deli paper. However, we are constantly improving our operations and will be introducing more precautions and practices based on the feedback we receive.

These practices have been successful in multiple markets and we've received many thanks from our guests who suffer from coeliac disease and IBS.

Hopefully this was helpful! Have a lovely day. ?
So here's the BUT… when I went in to buy a sandwich to see how it was prepared, they did use a fresh pair of gloves to prepare my sandwich ✅ AND the bread did come in packaging ✅
But they did NOT clean the area before preparing it!! ❌Which is a HUGE issue…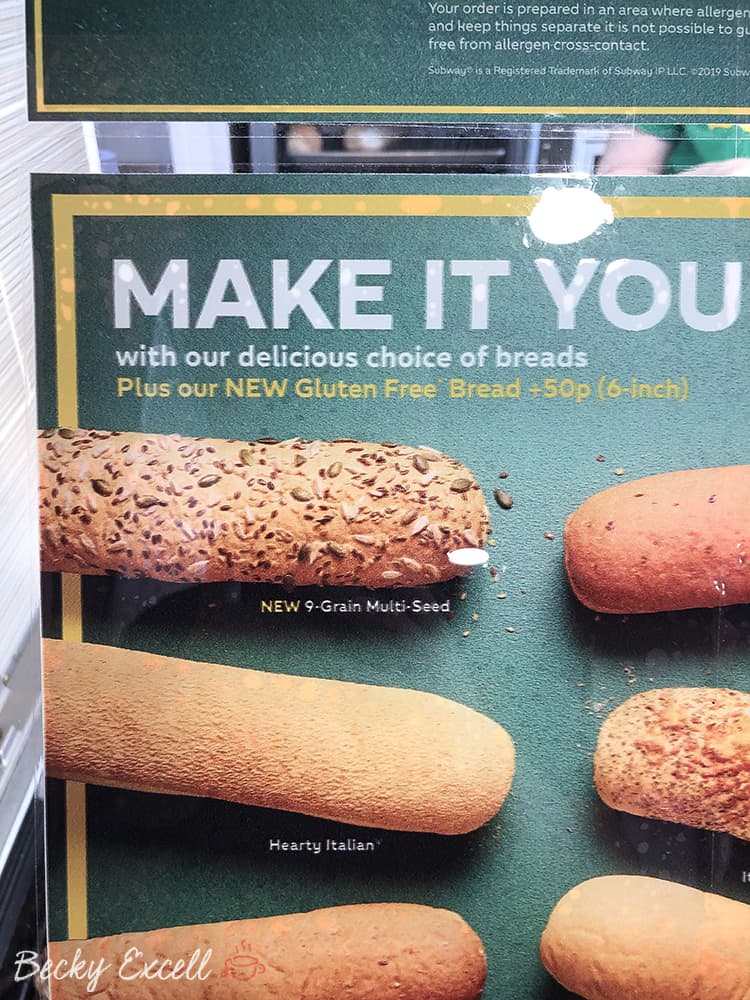 4. Their in store cross contamination policy is…
'Your order is prepared in an area where allergens are handled and while we try and keep things separate it is not possible to guarantee that any item is 100% free from allergen cross-contact'.
I think that says it all when it comes to cross contamination really. And as always, if you're not sure, don't risk it.
So though Subway are serving gluten free bread, the end product can't truly be called a 'gluten free sandwich'. At best, it's a non-gluten-containing sandwich, made in an environment which cannot be guaranteed to be free of allergens.
And I think that's a really important distinction to make.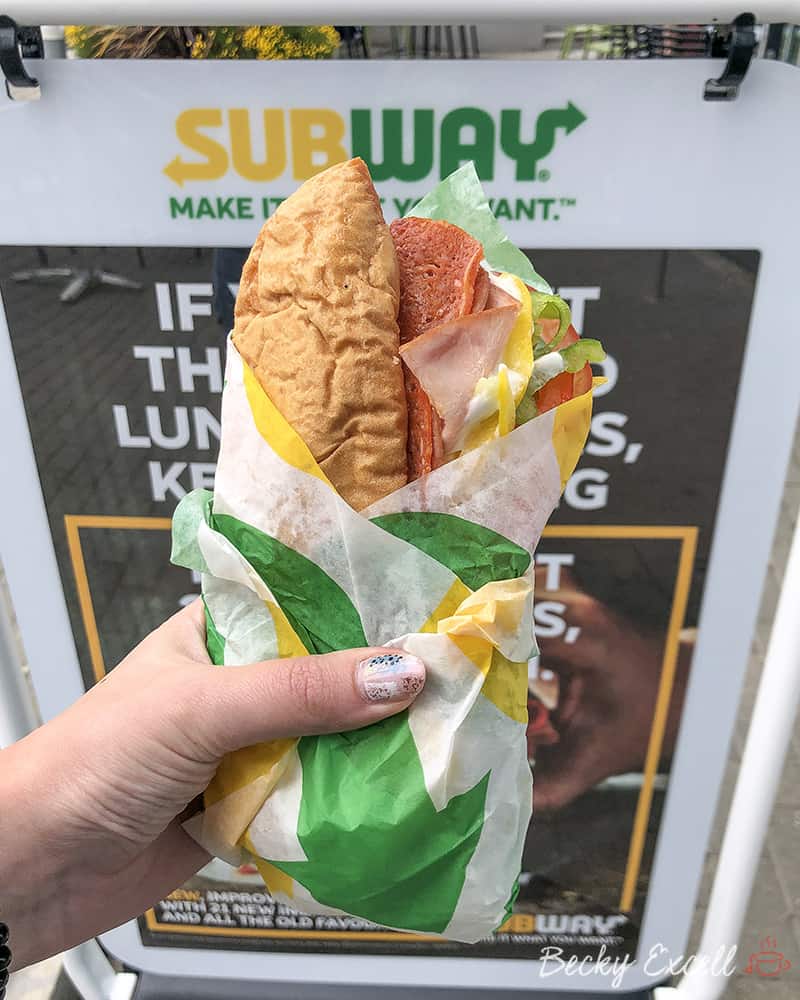 5. It's 50p extra for gluten free bread.
And if all that hasn't put you off already, then you should probably know that it's 50p extra for gluten free bread!
What are your thoughts on the gluten free bread at Subway situation?
Lastly, some of you might be wondering why I would post about the gluten free bread at Subway if it's not 100% safe… ??‍♀ Well, I feel it's my duty to inform you guys that this exists and then give you the lowdown on the cross contamination issues, as some folks may not REALISE it's unsafe.
Also, there's people (still for medical reasons) who don't eat gluten and don't have Coeliac disease who may find this info useful – and I never want to exclude anyone.
I've seen a lot of people online talking about how they're so excited to try it – I just wanted to make sure we're all informed of what you're letting yourself in for!! So what do you think? ? Let me know in the comments below this post.
Here's a few responses I've had on Instagram:
As someone with CD it's a hard pass. I've had people suggest that I could have the salads before the bread came out and nope. Pre-coeliac days whenever I had a subway I remember them brushing the crumbs into the salad/meat…not to mention that the person making the normie subs handle the bread with the same gloves they put into everything else transfering crumbs as they do. I rarely had a sub that didn't have a random bit of food I didn't ask for nevermind taking crumbs into consideration. ? – @audreykerr

Totally agree with this and brilliant that you highlight the warning. Fantastic that they are trying but the staff and those who run subway need to know it's more than just providing the products, the environment needs to be safe too. – @staciilr
Thank you for raising this. It took me embsrassingly long to realise I should stay away from Subway salads for the same cc reason – @glutenfreehorizons

Omg this is perfect for me! I just have an intolerance so this is great news. I'm sure the cc rules will come in time. It's one step closer! – @heatherc_87

They've started gf wraps here In aus… But I wouldn't chance it… Just the smell of subway makes me quisy ??… But the mount of breadcrumbs puts me off completely… They would need separate EVERYTHING to be safe… They use the knives to spread sauces, avo ect on the bread and then put it back in the tub! They touch the bread then touch the tomatoes or other fillings! … I'd avoid… It's nice they tried, but unless it's a whole other separate section it's not worth risking for coeliacs ??? –@ghetto.goodness
As always, feel free to keep the discussion going in the comments down below ??
Thanks for reading,
Becky xxx