Yep, that's right. Aldi have launched a new range of gluten free products which you can find in their special buy section… from today! But before you rush out you might wanna check out what's waiting in store for you first…
So I thought I'd post a full list of all 20-ish products in Aldi's new gluten free range, including photos of everything I've found so far! But Aldi's new gf range isn't a permanent thing – when it's gone, it's gone. So read this and then go rush down there ASAP!
1. Gluten Free Hobnobs, £1.69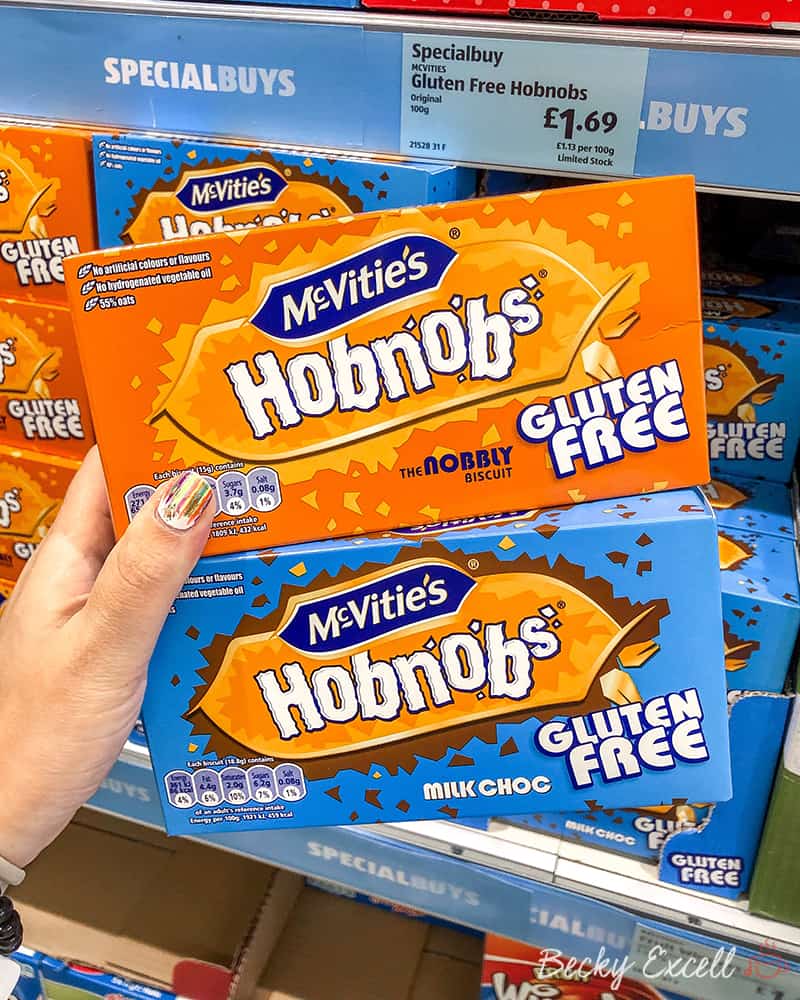 These have been around for a while now, but I still remember how excited I was when these first appeared in the free from aisle! They had both the regular hobnobs AND the milk chocolate ones at my Aldi too.
2. Prewett's Gluten Free Jammy Wheels, £1.49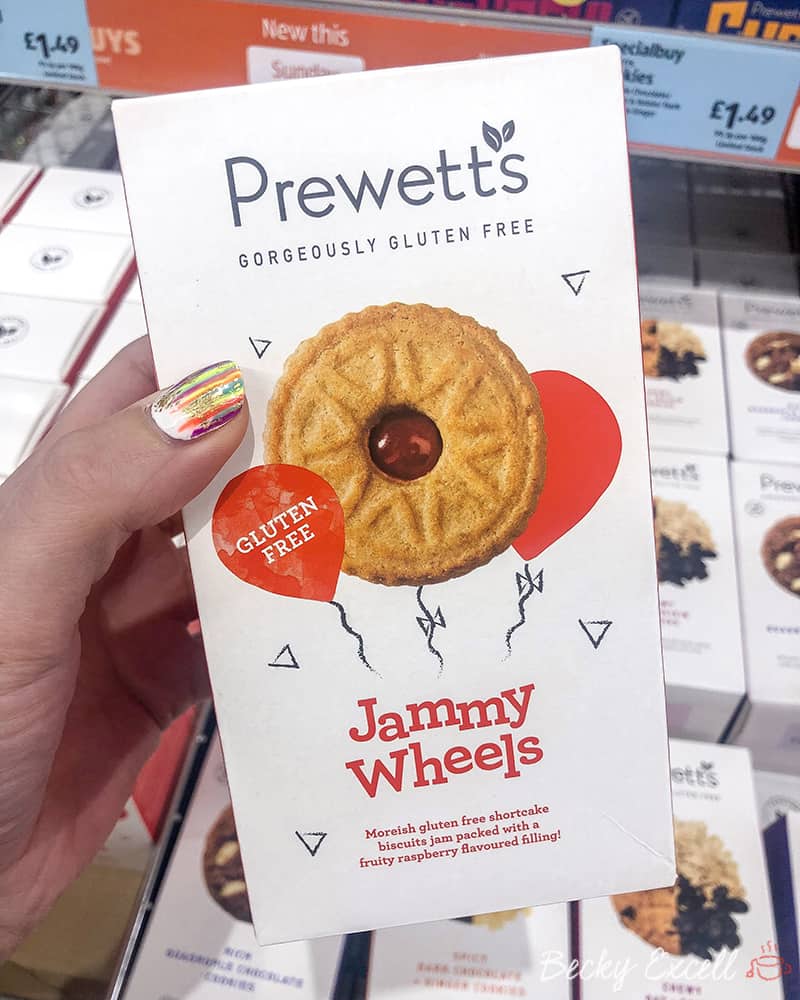 Obviously these are awesome – I always see them in Tesco so it's great that we can pick up gluten free Jammy Dodgers in Aldi now too!
3. Prewett's Gluten Free Cookies, £1.49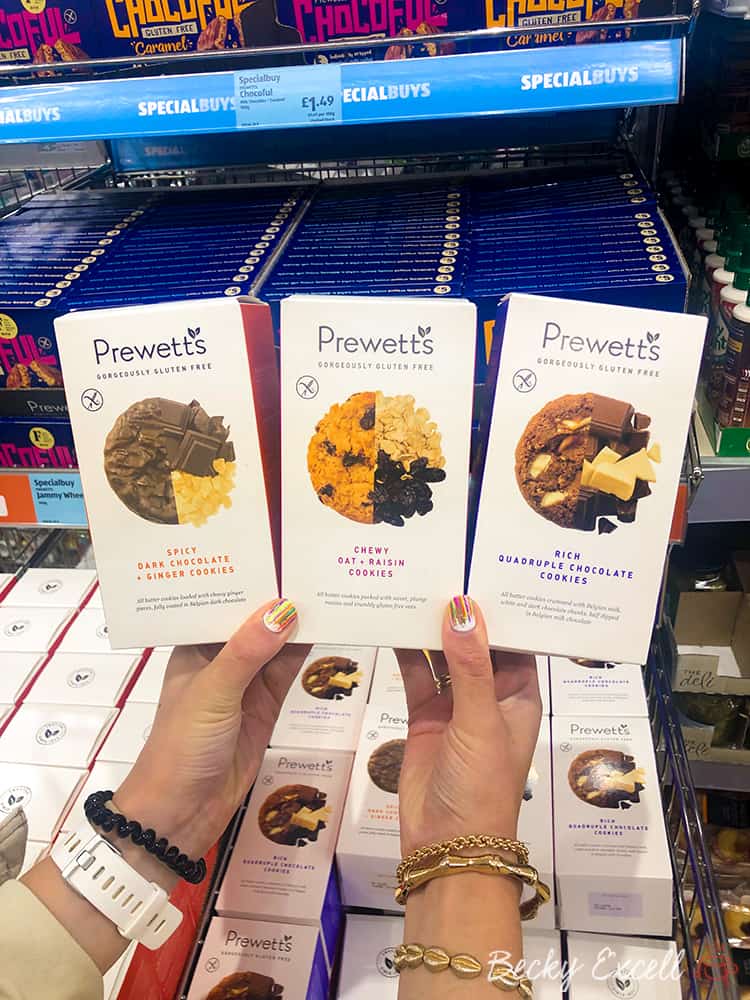 I'm pretty sure that these are the EXACT same biscuits which Tesco Finest use for their gluten free cookies. Bet you didn't know that!
(if you did, then bonus points for your intense knowledge of the free from aisle)
4. Prewett's Chocoful, £1.49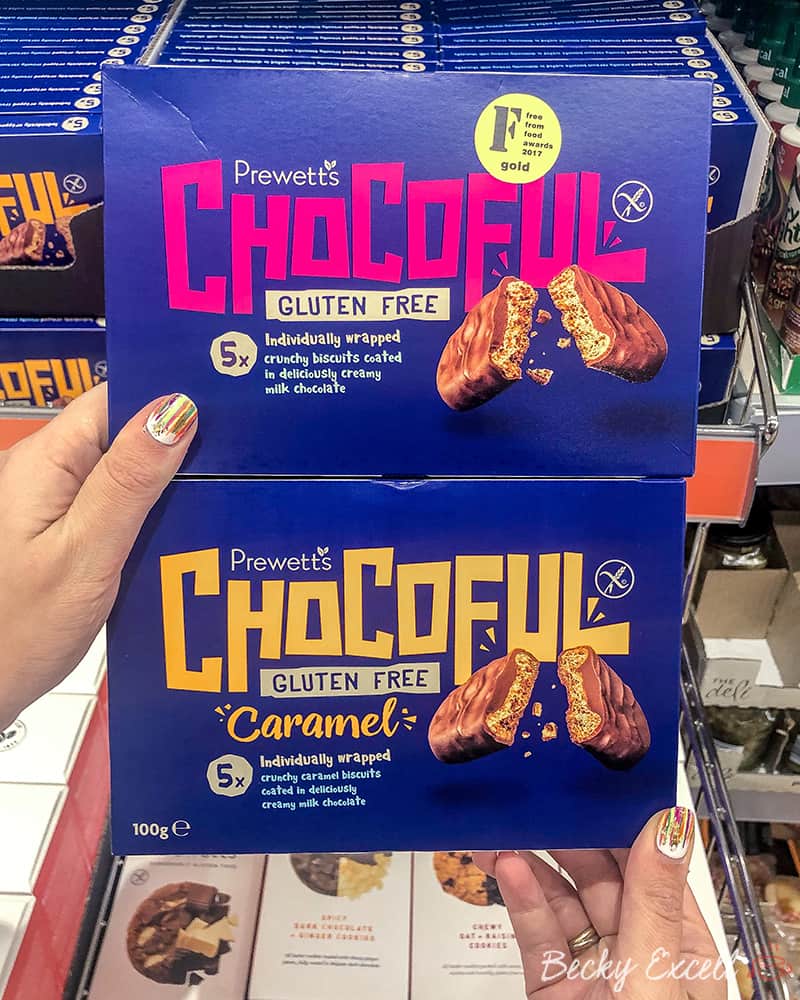 If you've never tried these then you absolutely NEED to! They're basically like a rocky bar (if you remember what those are!) and the caramel ones are especially awesome. I do love all of the Prewett's gluten free biscuit range – you just can't go wrong!
5. Old El Paso Gluten Free Fajita Kit, £2.99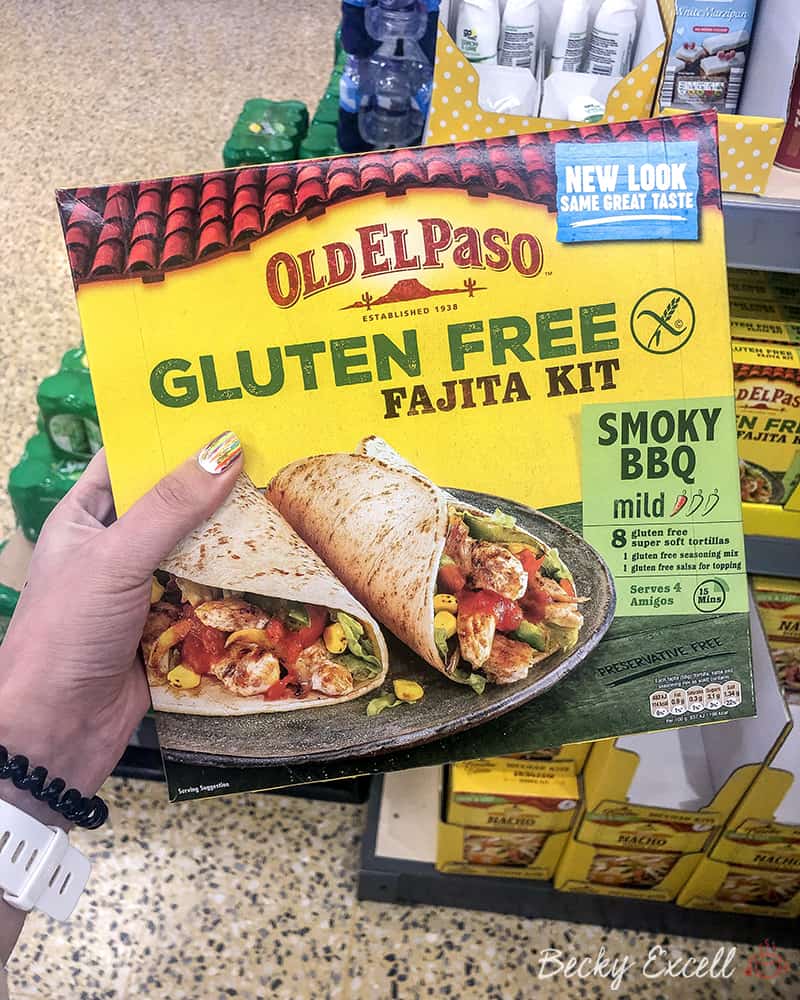 I can't believe that this Old El Paso gluten free fajita kit is only £2.99… it's such a good deal! Sadly I can't eat the seasoning mix or salsa because I can't eat onion/garlic but hopefully you guys can enjoy the whole thing.
6. BFree Sweet Potato Wraps, £2.99
I couldn't actually find the BFree wraps in my local Aldi, but they are definitely listed as being in the new Special Buys gluten free range. So let me know if you find them in your local Aldi in the comments below ??
7. Seabrooks Crinkle Cut Crisps, 99p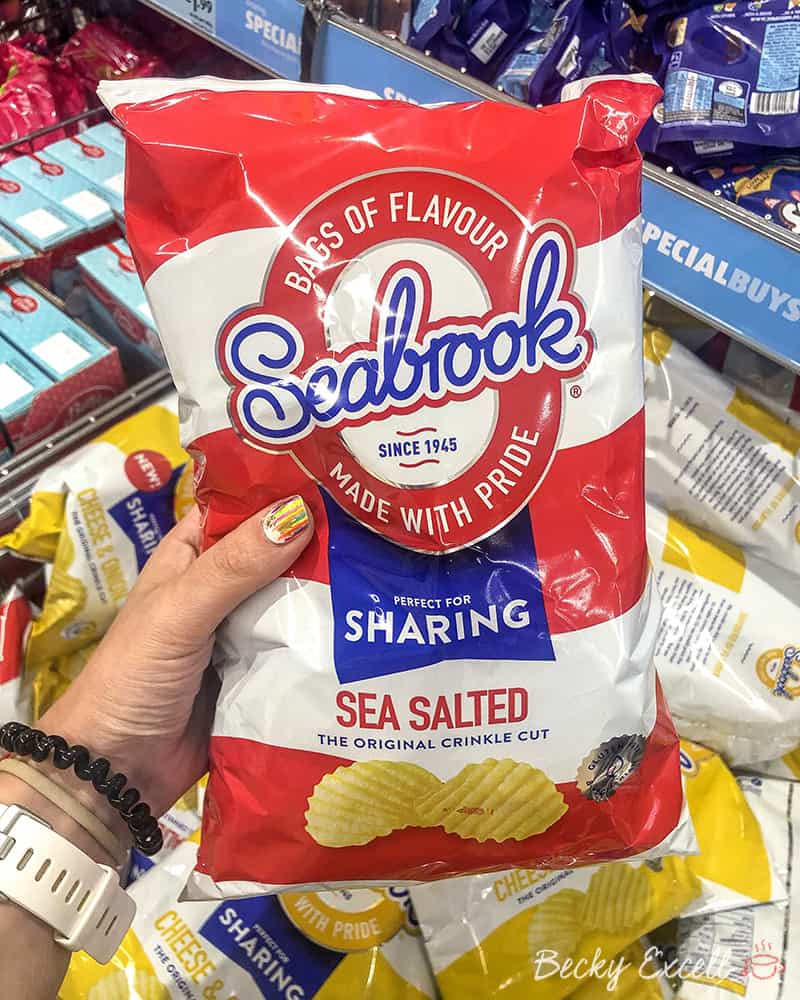 Oh and there's also a cheese and onion flavour in these Seabrook crisps too!
8. Gluten Free Dry Rice Noodles, 59p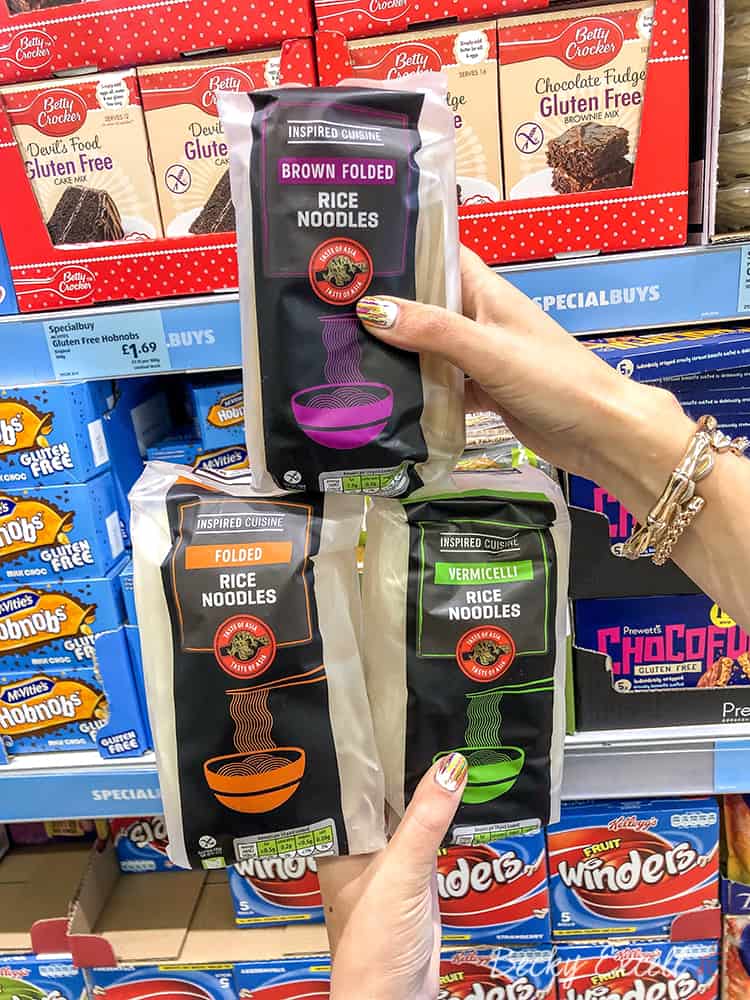 This was probably one of my fave finds out of everything because these rice noodles are only 59p!! They had flat ribbon noodles, vermicelli and brown rice noodles in stock at my Aldi.
Mark just submerges them in boiling water in a bowl and covers them with a plate. Give them 5 minutes and they come out ready to fry!
9. Gluten Free Snowballs, 99p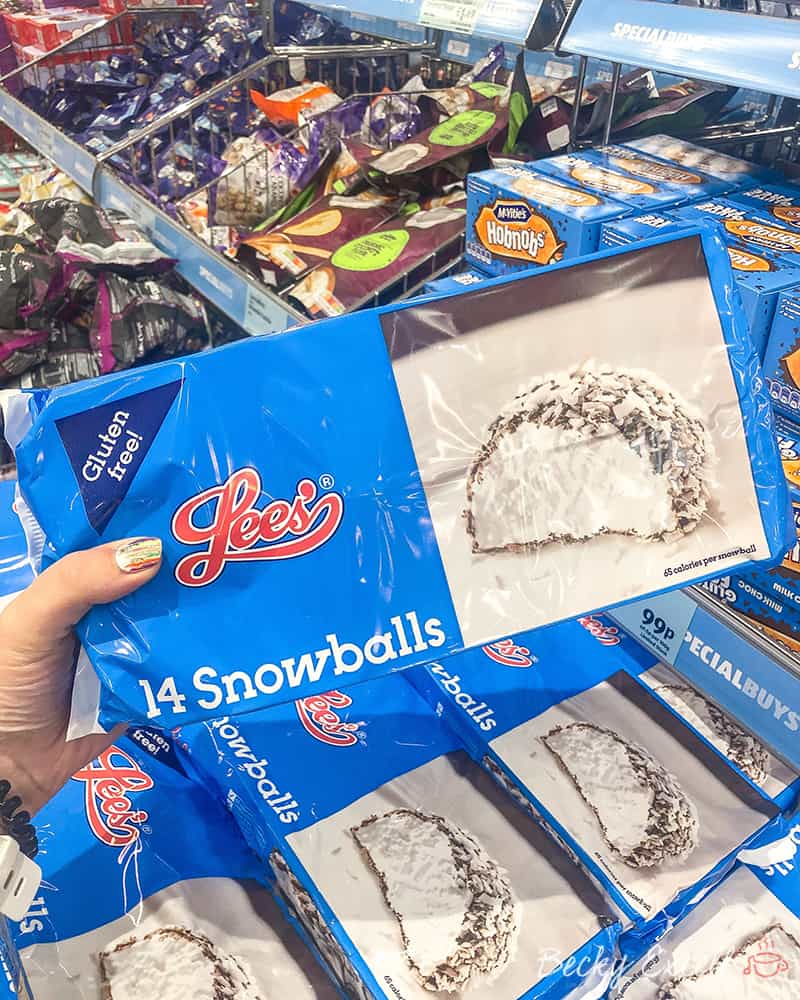 I had major childhood flashbacks when I found these chocolate and coconut snowballs ? Did anyone else used to have these as a kid in their lunchbox?! Well worth a trip down memory lane for 99p!
10. Eat Real Quinoa Chips, 99p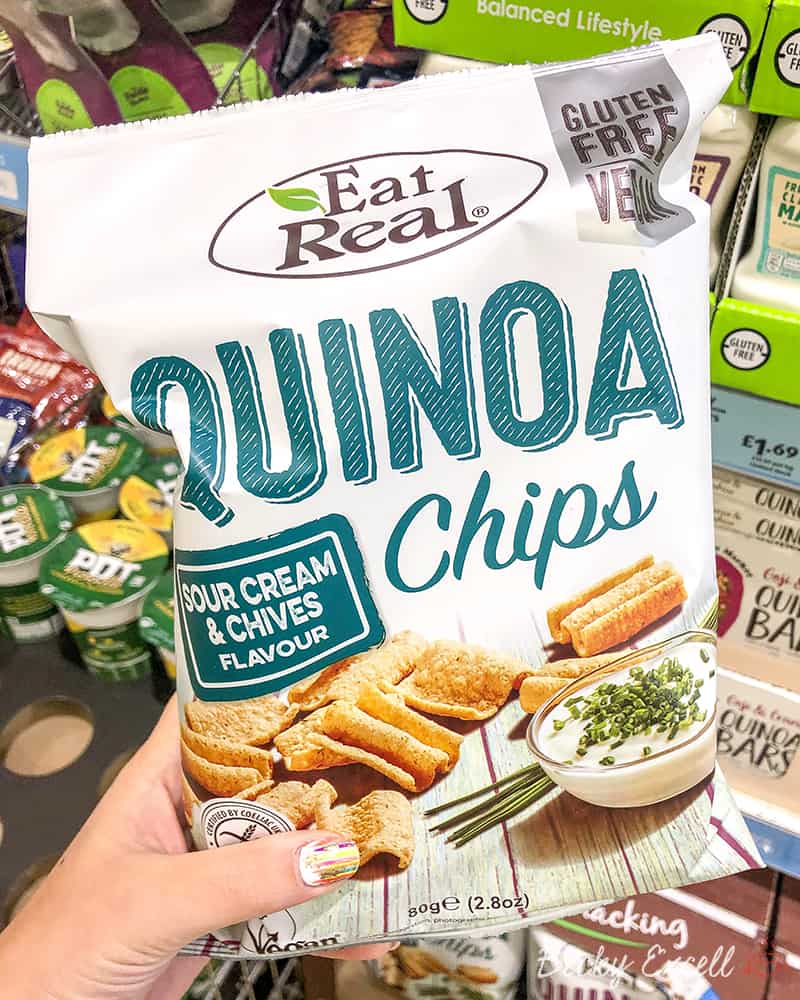 I used to LOVE these Eat Real Quinoa crisps, but sadly both have onion/garlic in for me ? But if you find them, trust me, they're lovely! Here's the sundried tomato and roasted garlic flavour…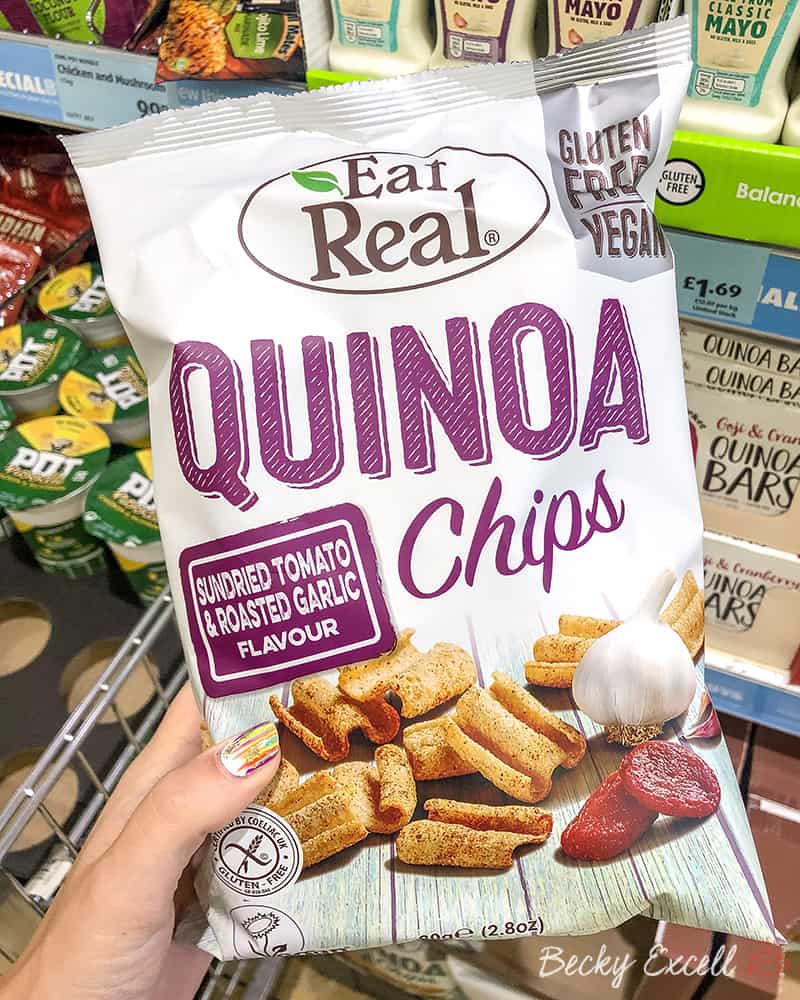 11. Betty Crocker Gluten Free Baking Mixes, £1.99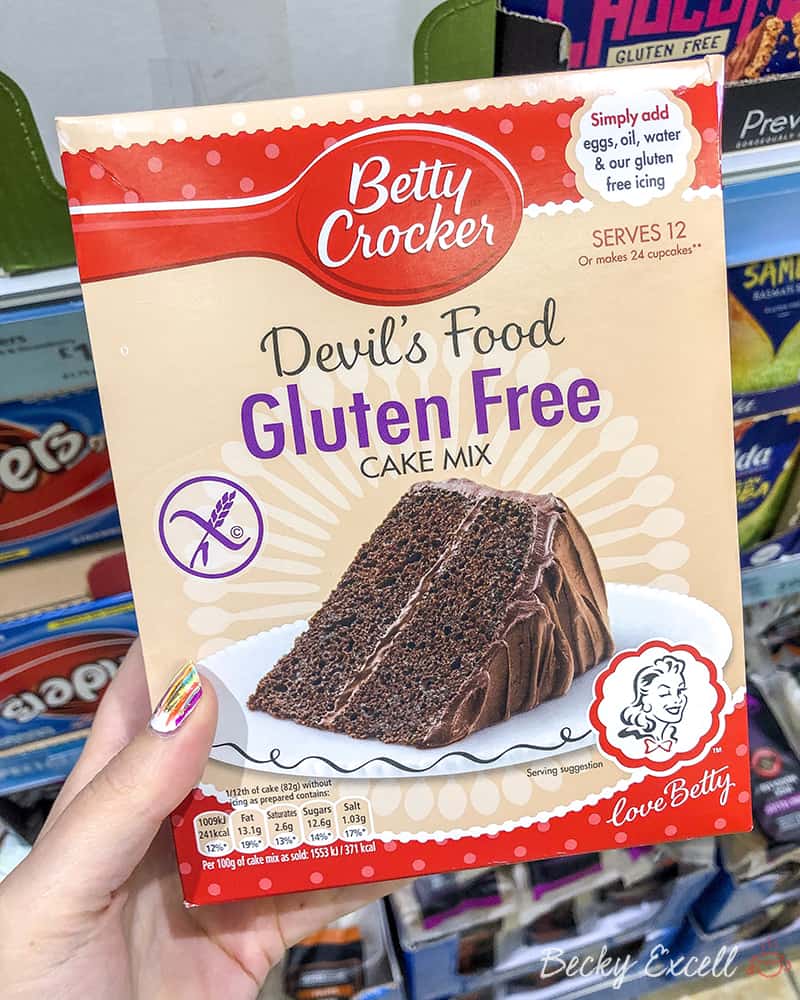 These Betty Crocker gluten free baking mixes are actually really good! They had a gluten free brownie baking mix too – not bad for a couple of quid at all.
12. BFree Pitta Breads, £2.25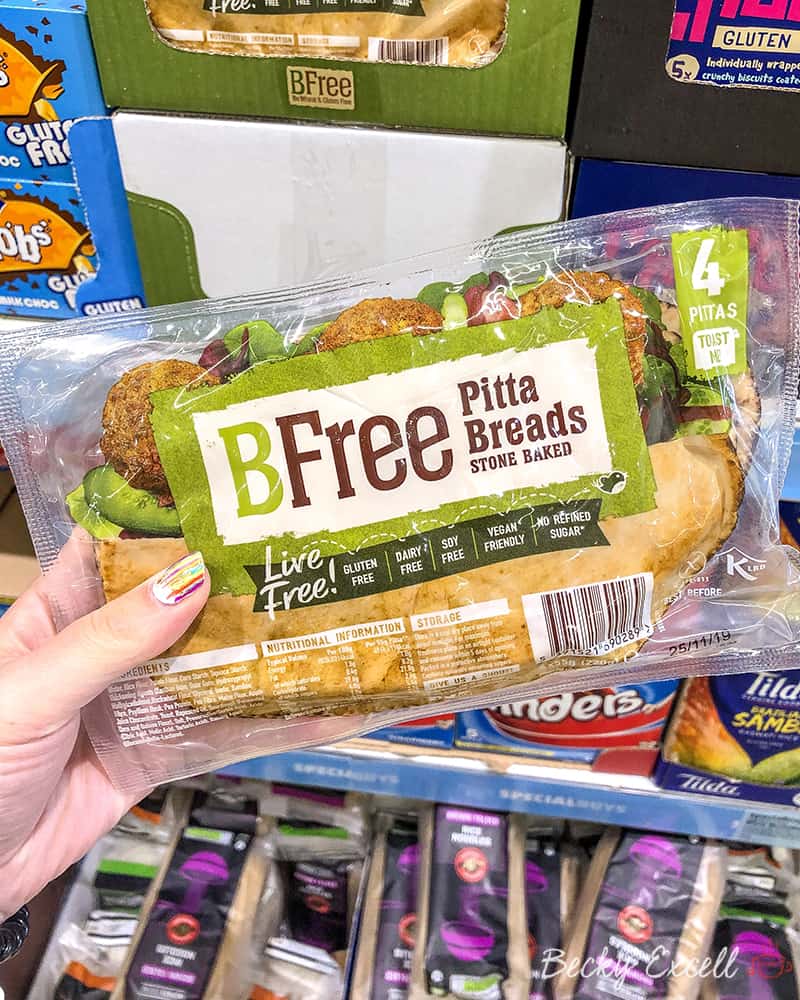 Hooray, I can actually buy gluten free bread (well kinda) in Aldi! It's always been one of my little niggles that whenever I go to Aldi there's NOTHING in terms of buying gf bread. These BFree pittas will do me just fine!
13. Tilda Brazillian Samba Rice, 85p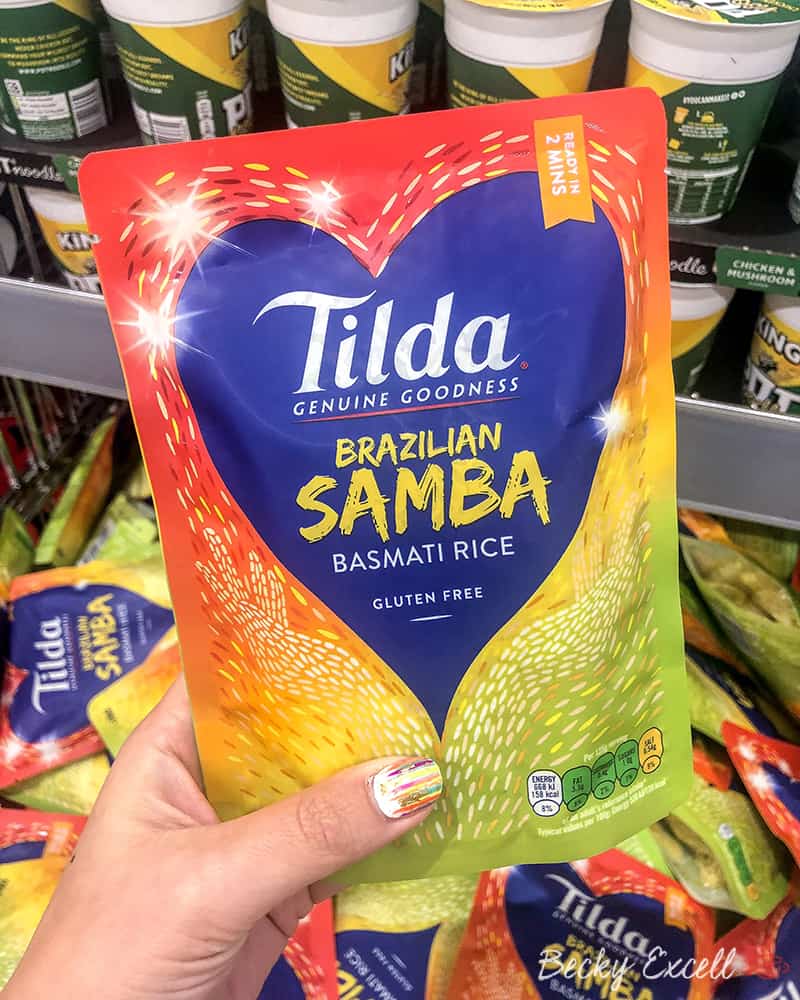 I'm pretty sure most of these types of rice pouches are gluten free, but this flavour might be worth a look for some of you! Can anyone here do the samba out of interest? ?
14. Prewetts Mini Cheese Biscuits, £1.59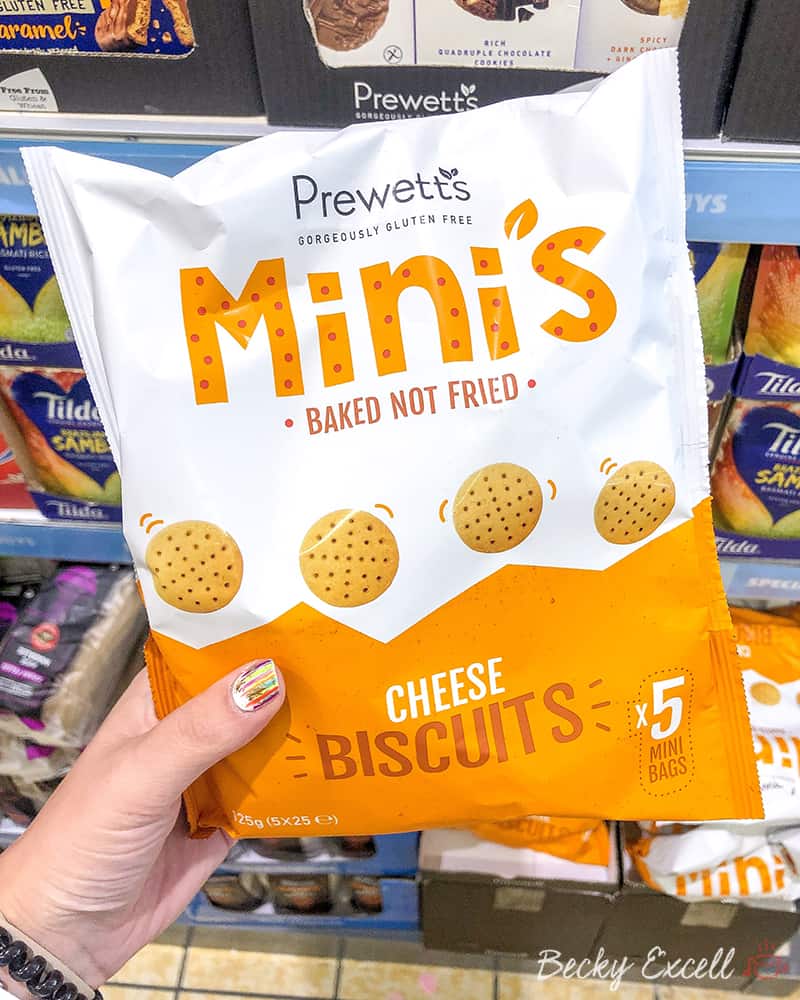 Yet another Prewetts winner – gluten free mini cheddars! I haven't actually tried these myself so let me know in the comments below this post if they're nice or not ??
15. Quinoa Bars, £1.69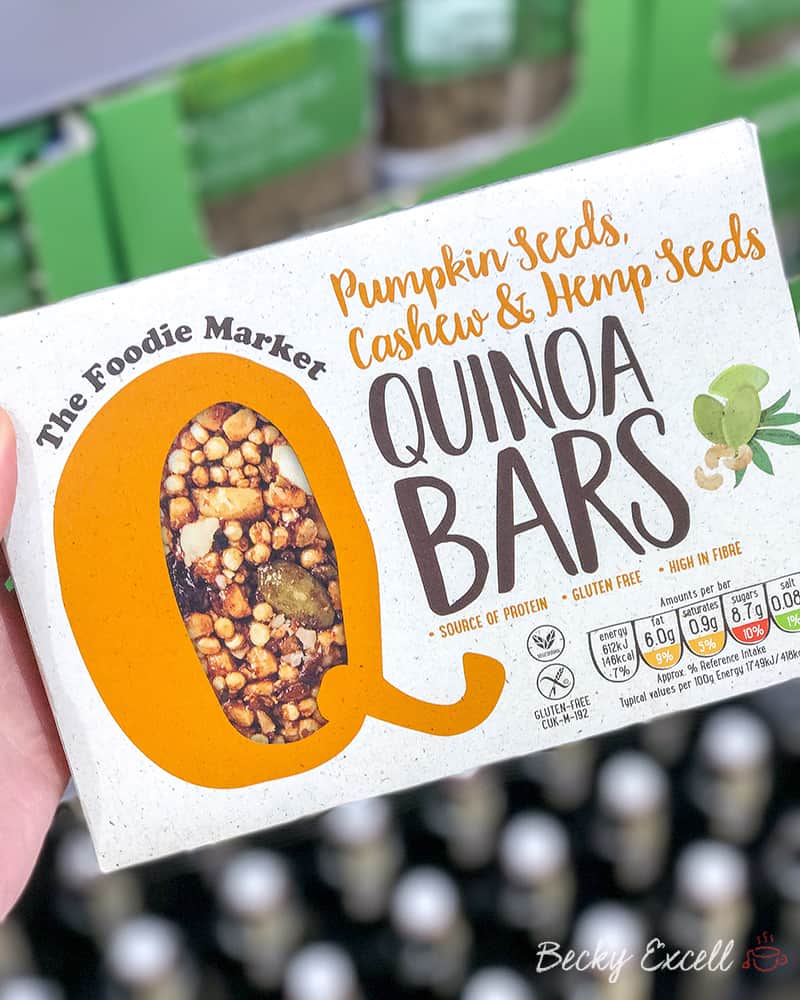 These were in Aldi a very long time ago, so it's nice to see that they're back! They had three flavours, but I can't remember what they all are ? I hope you can forgive me as there was a lot of products in my Aldi to post about today!!
16. Gluten Free Fusilli Pasta, 99p
I was soooo gutted I couldn't find this in my Aldi because it's actually quite a big deal for me as gluten free pasta is NEVER in Aldi. Usually, I can't buy gf bread OR pasta in there – I often end up having to go to two supermarkets in a day to get everything I need which is a real pain.
So if they had the gf fusilli in stock – then combined with the BFree pittas – I could actually do a full weekly shop in Aldi for once! But as I said, let me know in the comments if you find them in yours…
17. Free From Mayo, £1.29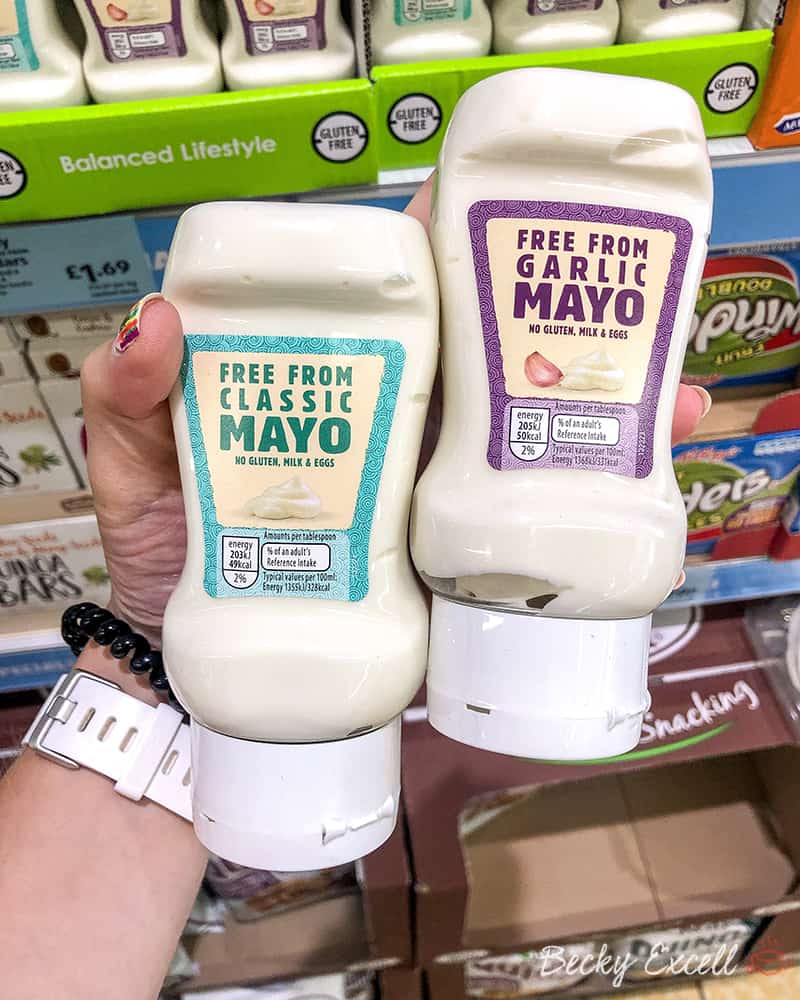 This is basically vegan mayo as I'm pretty sure most mayo is gluten free ?? (as always, check the ingredients though as you never know where you'll find pointless gluten!!) So if there's any vegan and gluten free folks reading this, I'm sure you'll be pretty happy to find these two!
18. Fresh Pesto, £1.25
I didn't find this in my Aldi – but it's basically a small pot of fresh pesto, which of course, is gluten free. I've seen the packaging online and it looks like it would belong in the chiller, but don't quote me on that!
19. Eat Natural Bars, £1.95
I didn't find these either, but again, they are listed by Aldi as being featured in their new gluten free range. You know what I'm gonna say… let me know in the comments if you find them… ??
20. Premium Pavlova, £1.29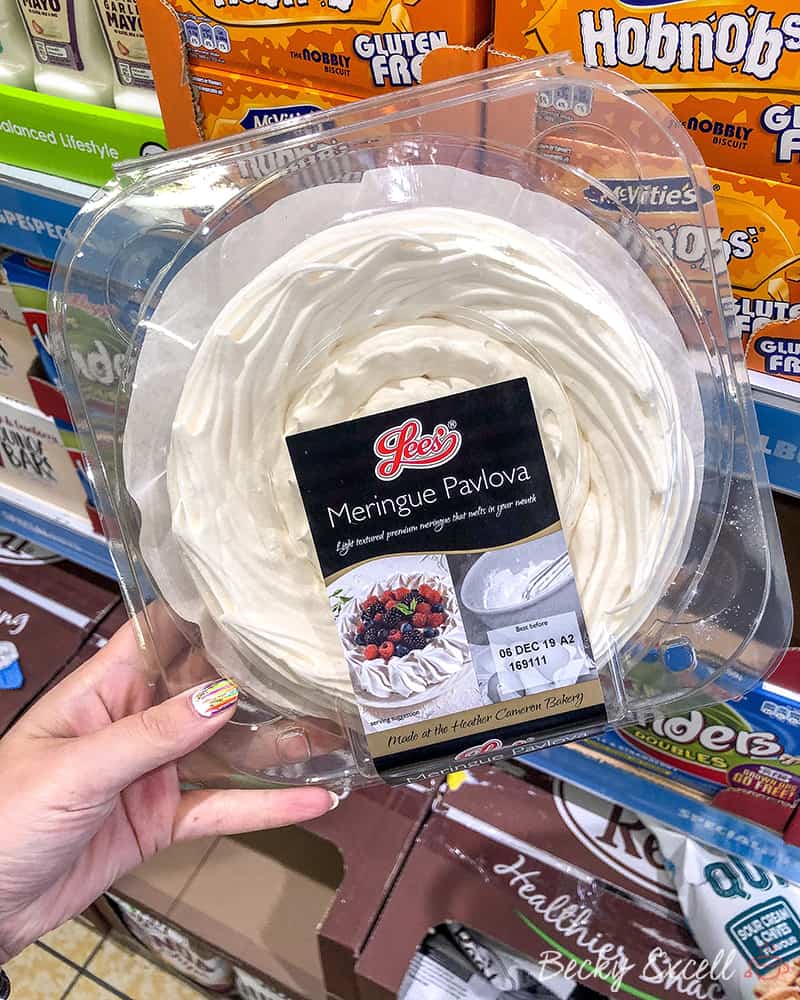 When I heard there was gonna be a pavlova, I was expecting like a fully-made pavlova with berries and cream and everything… so you can imagine my confused face when I saw basically a big meringue ?
But in all fairness, making this complete is pretty straight forward and a bargain for £1.29!
21. Gullón Dark Chocolate and Coconut Rice Cakes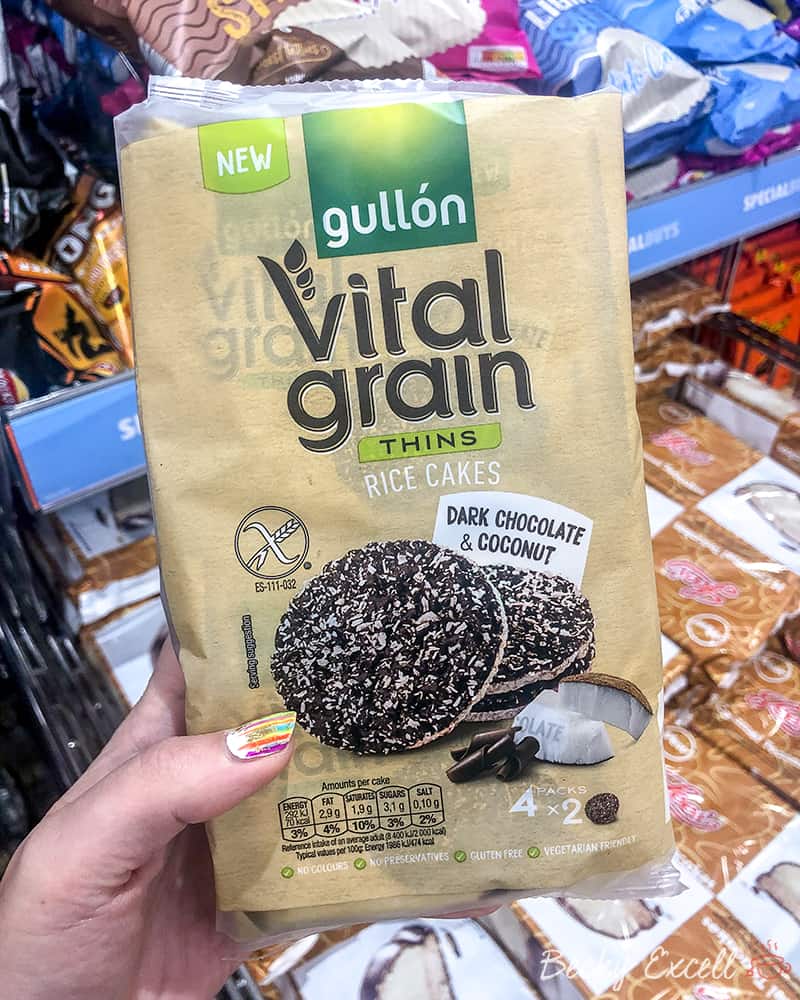 A little bit more interesting than plain rice cakes – these are dark chocolate and coconut rice cakes. Not bad a snack here and there!
22. GoFree Gluten Free Cornflakes, 99p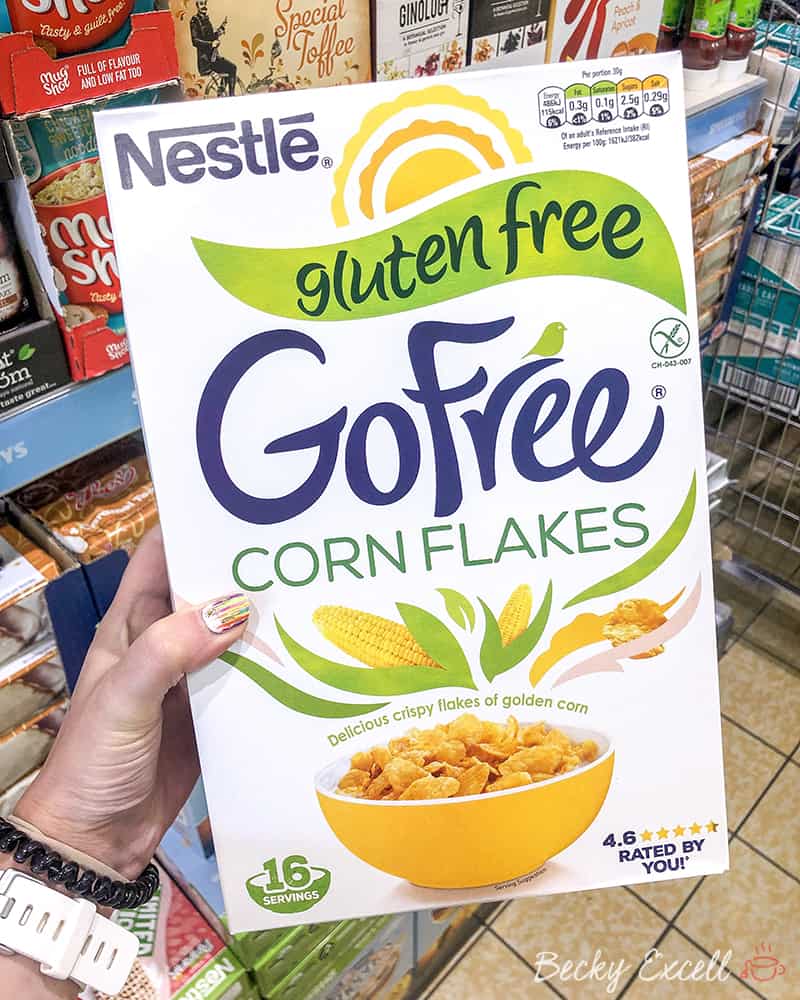 I don't think I've ever seen these so cheap – I found them for just 99p!! I almost fainted – and when I say fainted, I mean 'I almost filled my trolley with about 10 boxes'. I have a weird definition of common words apparently.
That's what's in Aldi's new gluten free range of Special Buys!
So what do you think? Is there something in that list that appeals to you? (especially since the prices are quite appealing for once!) Would you prefer if Aldi had a proper free from aisle like in the bigger supermarkets? ?
Make sure you let me know your opinion in the comments down below ??
Thanks for reading,
Becky xxx