I never thought I'd say this, but… here's my no-bake gluten free 'Malteasers' cheesecake recipe! But wait… Malteasers are definitely NOT gluten free, so how is this even possible?!
But yes – it is possible, but only by steering clear of actual Malteasers and instead heading down to the free from aisle in Asda! All shall be revealed if you read on as I share my gluten free 'Malteasers' cheesecake recipe…
(disclaimer: I have worked with Schar in the past, but this is *not* a sponsored post! They kindly gifted me the products in the post today ❤️)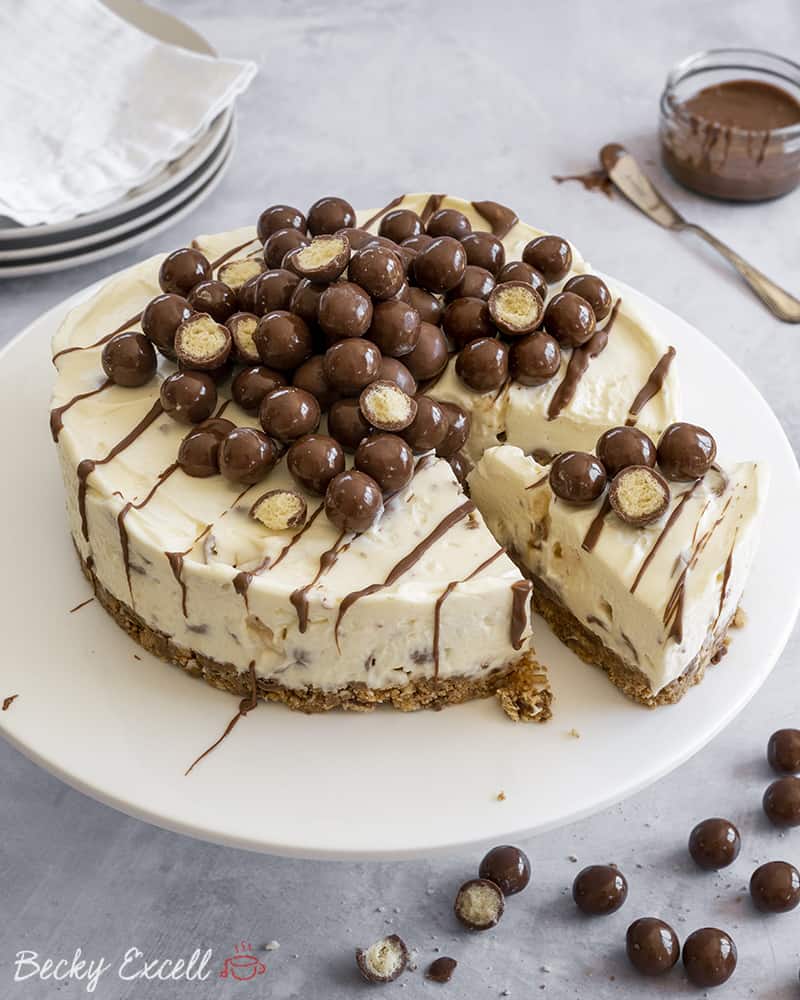 I guess that disclaimer just gave it away really, didn't it?!
(or maybe the title – I don't know how much you were paying attention ?)
Yep, good ol' Schar have started making their own gluten free version of a Malteaser… formally known as a 'Delishio' or 'Delishios' plural. I felt a bit like David Attenborough when I wrote that for some reason!
But here's the big debate… do they actually taste like Malteasers or not?!!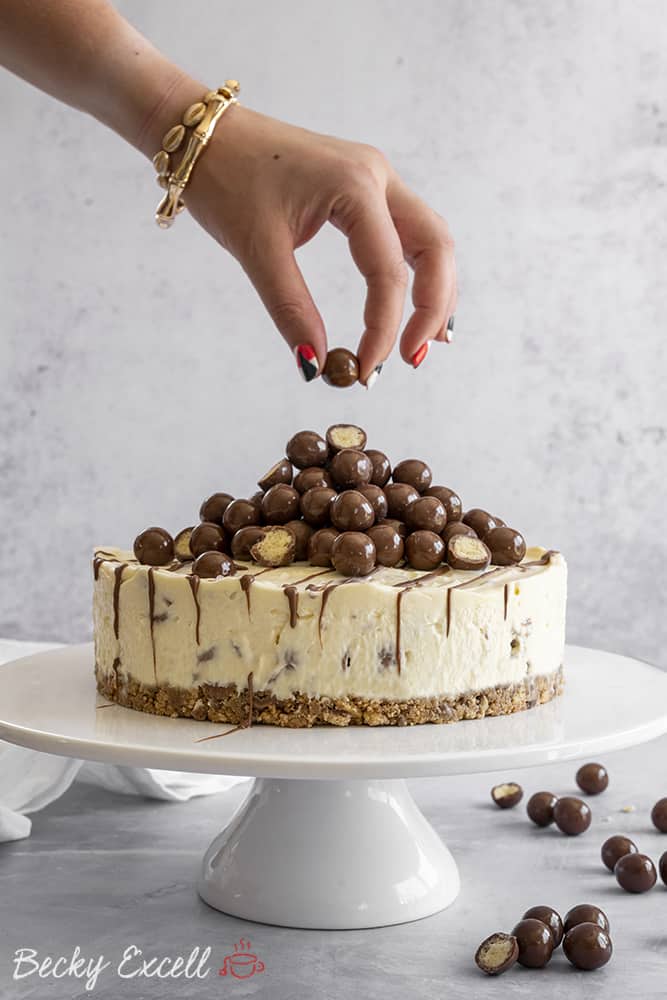 Well, the awkward thing is that when I asked a bunch of you guys on Facebook whether or not Delishios tasted like Malteasers… a lot of you weren't convinced.
However, tons of you were either totally happy with them, or just happy to take them at face value… a really tasty treat!
If you want my opinion, they're not as 'malty' as Malteasers (and thank god they aren't, because then they'd contain gluten!) but they do deliver on that crisp crunch AND a lovely, thick chocolatey exterior.
Plus, they get massive points from me because they've made my gluten free 'Malteasers' cheesecake recipe actually possible!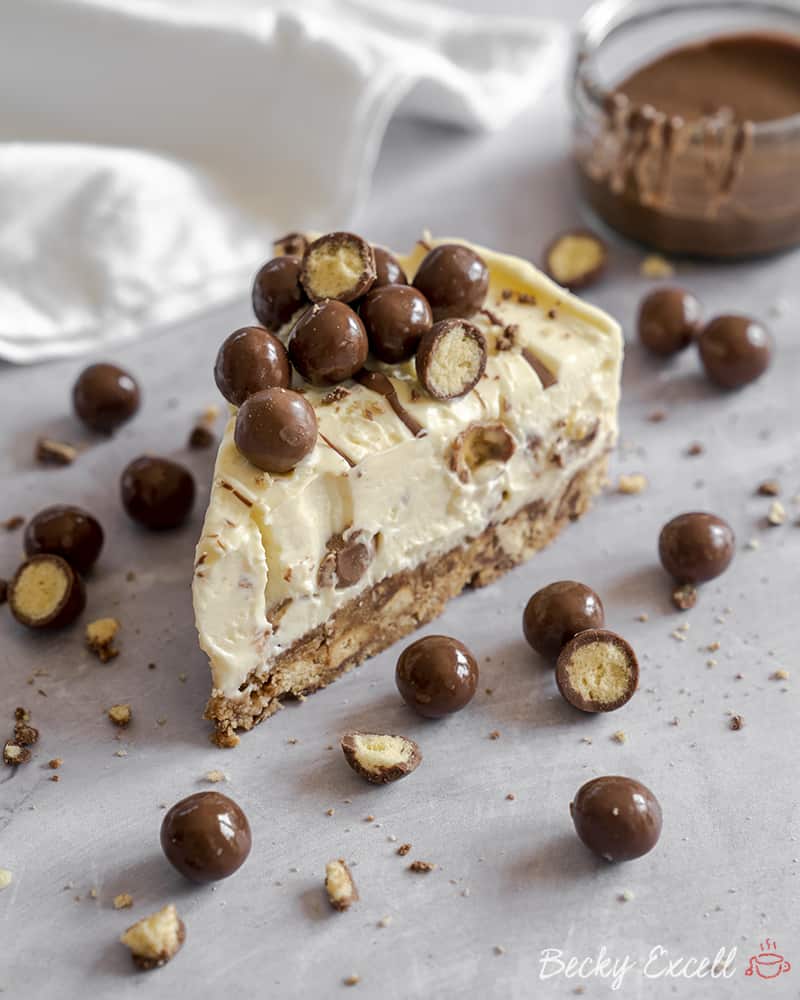 So enough of the Malteasers vs Delishios debate: what's the cheesecake like?!
Well, the base is made of crushed gluten free chocolate digestive biscuits (yes, you read that right) and then there's tons of Delishios in the filling AND on top. The filling is this lovely, thick and creamy vanilla cloud of awesome with crunchy Delishios throughout.
As a little finishing touch, I also drizzled a little melted milk chocolate over the top before constructing my epic pile of Delishios on top.
(gluten free brownie points if you add that little extra finishing touch too!)
Honestly, it's a slice of pure awesome.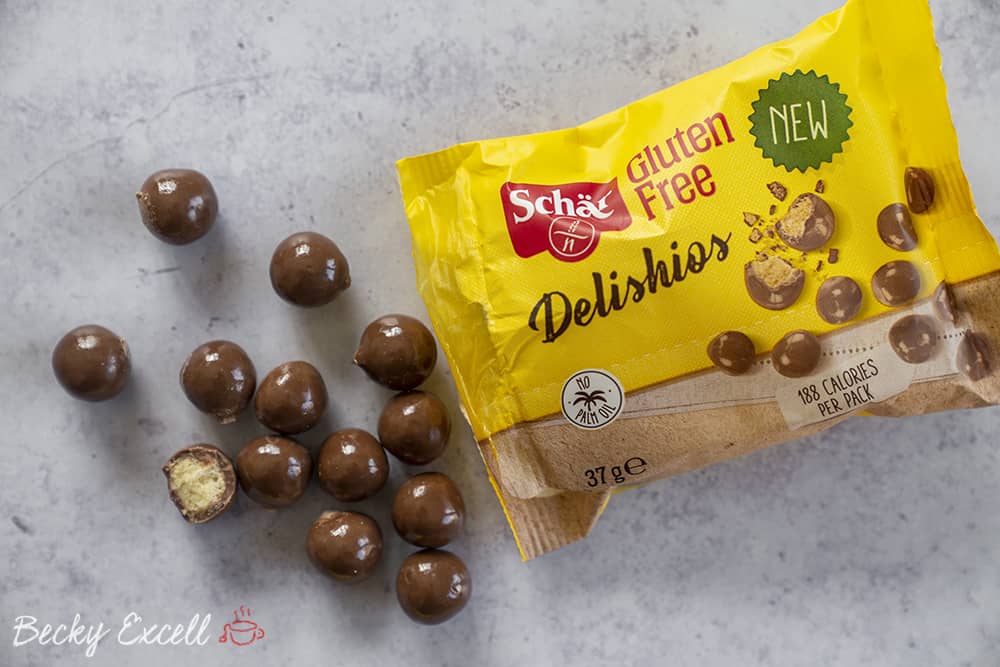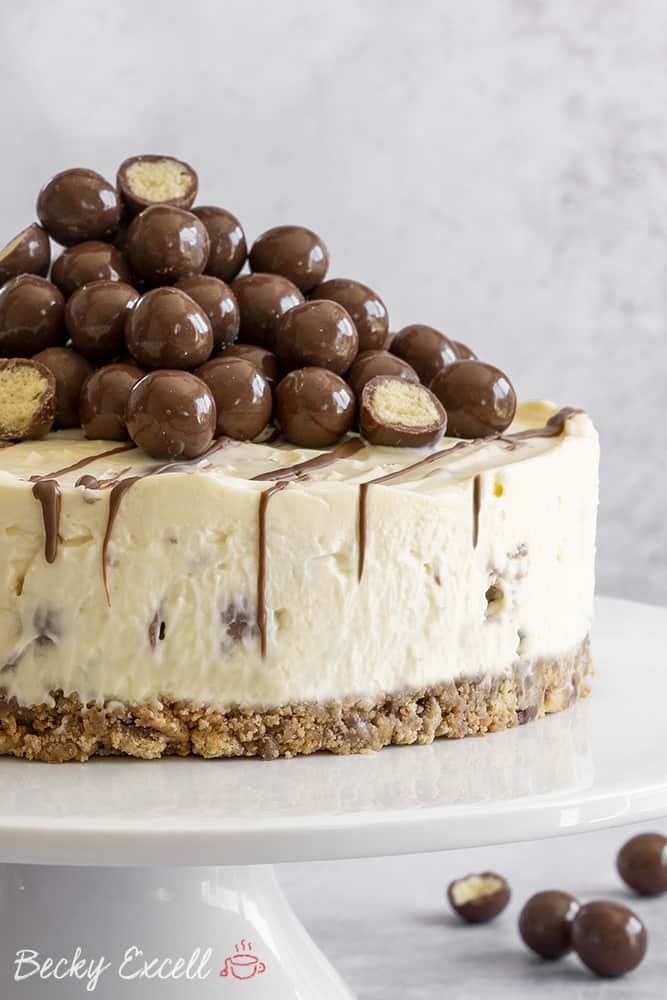 And with this being yet another one of my no-bake gluten free cheesecake recipes, it's easy peasy to make!
(when all my baking goes terribly wrong, I usually make a no-bake cheesecake to level out the victory to fail ratio ?)
Just make sure that you grab a few packs of Schar's Delishios though as you'll not only obviously need enough for the filling, but for the top too. I probably used about 4-5 packs in total.
Oh and of course, sorry that this recipe couldn't be dairy free, but Delishios aren't dairy free to begin with. If you have any requests for dairy free cheesecake flavours, please let me know in the comments below this post ??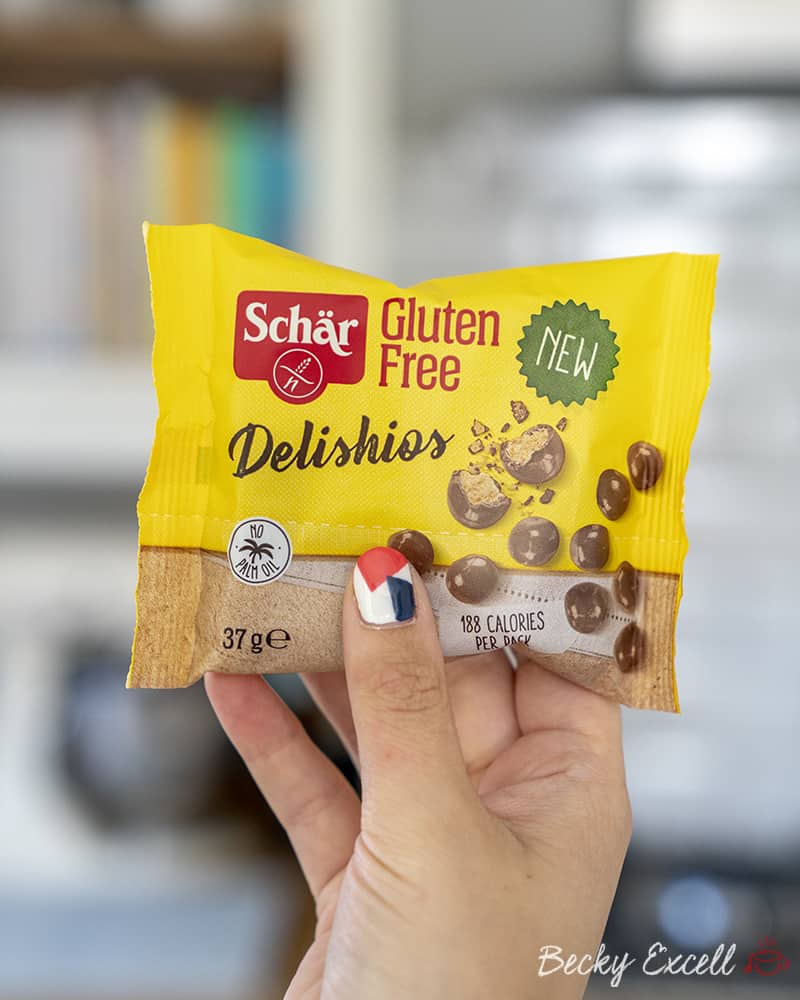 Ok so here's my gluten free 'Malteasers' cheesecake recipe ??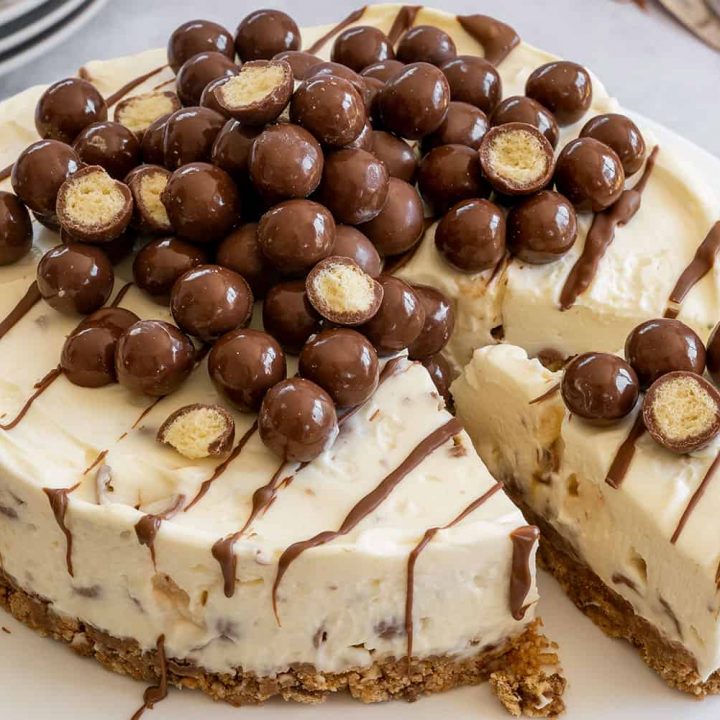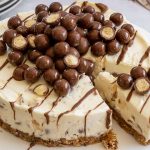 My Gluten Free 'Malteasers' Cheesecake Recipe (No-Bake) w/ Schar Delishio's
My no-bake gluten free 'Malteasers' cheesecake recipe is possible thanks to Schar's Delishio's - a gf version of Malteasers!
Ingredients
For the base
320

g

gluten free chocolate digestive biscuits

100g

butter
For the filling
560

g

cream cheese

(I always use full fat and for this one I used Philadephia)

100

g

icing sugar

1

tsp

vanilla extract

300

ml

double cream

185

g

Schär Delishios (gluten free Malteasers!)
For the topping
Schär Delishios (gluten free Malteasers!)

(as many as you want to make a tower on top - a few packets!)

milk chocolate, melted
Instructions
Crush your gluten free chocolate digestives. I place mine in a sandwich bag and hit them with a rolling pin. You can make them quite small or have some chunkier bits.

Melt your margarine or butter - I do this in the microwave. Then pour your melted margarine/butter into your crushed biscuits and mix together.

Press your biscuit mixture into the tin you are going to be making your cheesecake in. Press it down nice and firmly. Place it in the fridge to chill whilst you make your cheesecake top. (I leave mine in the fridge for at least 30 minutes)

To make your cheesecake filling mix together your cream cheese, icing sugar and vanilla extract. I use my KitchenAid to do this on a low/medium setting for only about 10-20 seconds. You could you an electric hand mixer too.

Add in the double cream and keep mixing until it firms up a little. (I had the KitchenAid on a medium setting for just under 2 minutes for this - try not to over mix though... don't let it split!)

Chop up your Delishios into halves and quarters for the filling - some can remain whole. Fold all of these into the cheesecake mixture.

Spread your mixture on top of the biscuit base and place in the fridge to set. I ALWAYS make mine the day before and leave it to chill fully overnight.

Melt a little milk chocolate in the microwave. Allow it to cool down a little. When you are ready to serve, remove the cheesecake from the tin and drizzle the chocolate over the top of the cheesecake. I did mine in lines just using a spoon. You could pipe it for a neater look.

Top with more Delishios and it's ready to eat!

Keep refrigerated if you have any left over. Enjoy!
Thanks for reading all about my gluten free 'Malteasers' cheesecake recipe! If you make it, I'd love to see how it turned out so don't forget to take a snap of your creations and tag me on Instagram!
Any questions about the recipe? Please do let me know by following me on Instagram and leaving me a comment on a recent photo!
Thanks for reading,
Becky xxx
Oh and don't forget to pin this for later!