My 5 ingredient lunchtime frittata recipe is exactly what the phrase 'fast food' should be all about. Quick, fresh and nutritious food in next to no time! Plus, it's gluten free, lactose free and low FODMAP too.
So it turns out that 5 ingredients actually goes a long way and my 5 ingredient lunchtime frittata recipe is proof! It's so much more than just a 'gluten free lunch without bread'. Once you take a bite and taste it, you'll never miss expensive gluten free bread ever again!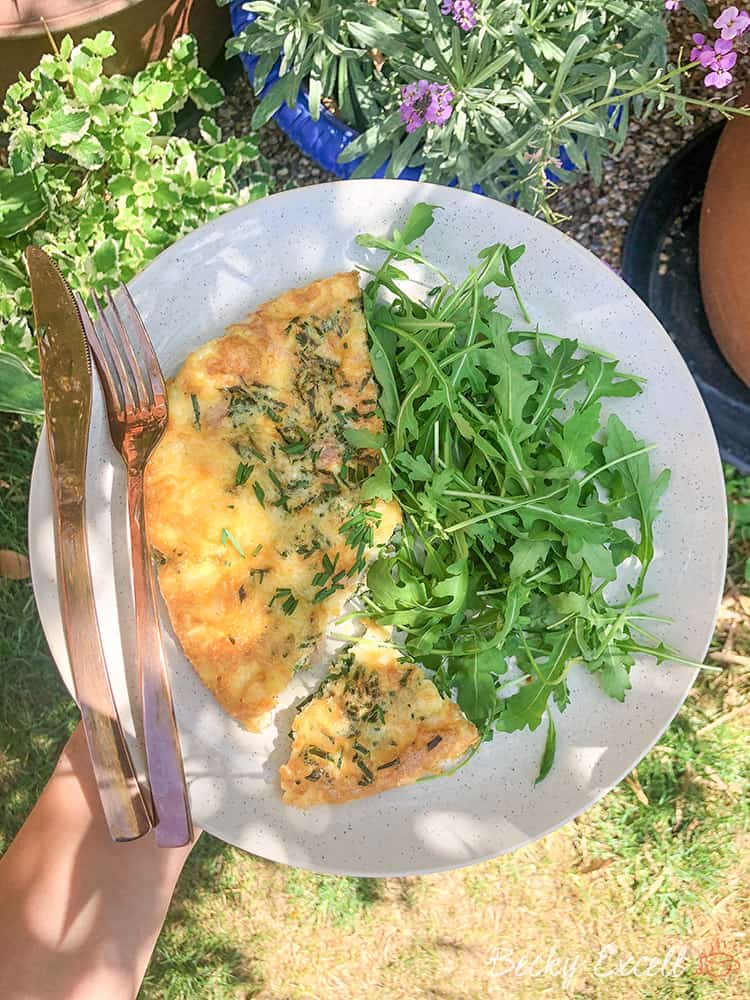 Plus, this is the perfect lunch at home or on the go because in my opinion – this tastes even better when it's cold.
So feel free to pop it in a lunchbox and enjoy it at work with some rocket for the ultimate midday refuel if you fancy!
I actually first created this recipe this summer because it's been sooooo unbearably hot. I just couldn't face eating tons of carbs and feeling heavy and tired for the rest of the afternoon.
(does anyone else fall into a food coma after lunch like I do?!)
So my 5 ingredient lunchtime frittata recipe was born…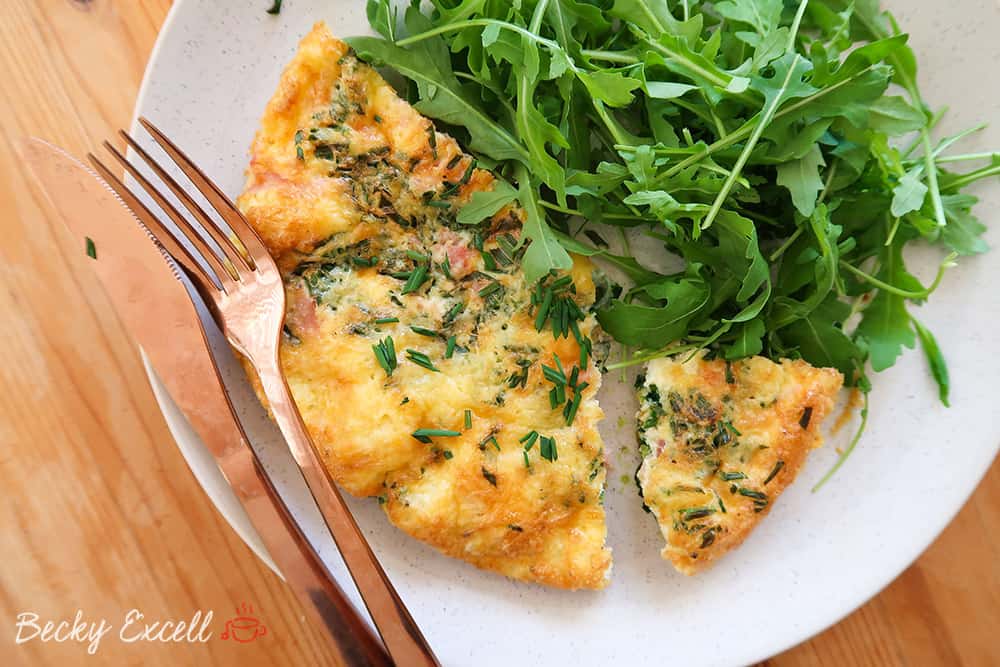 But I just couldn't face the 'naturally gluten free life' of eating salads, or using lettuce as a 'wrap' or anything remotely like that. I am a sandwich girl through and through when it comes to lunch and anything else just feels like a compromise.
I was basically faced with the question: how do you enjoy typical lunch fillings without using gluten free bread?
Then I realised the answer… frittatas! It's basically an omelette with filling that you finish off under the grill FYI – nothing too fancy.
That way, you can still enjoy all your favourite sandwich fillings by bunging them into your egg mixture. Problem solved!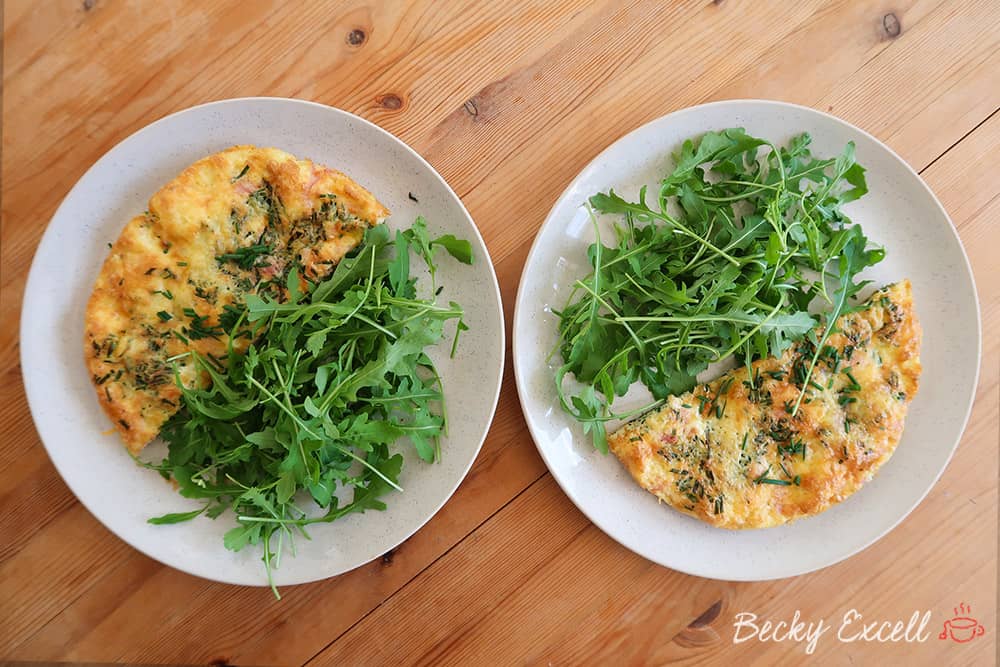 So that's a tick in the boxes for all the following:
Super fast and easy to make.
Actually really good for you.
All natural ingredients and no processed weirdness.
Actually really good value for money compared to other gluten free lunch options.
In case you were wondering, I opted to fill mine with ham and cheese (my go-to sandwich filling) and wilted spinach for some added goodness (I'm terrible when it comes to getting my 5 a day due to my food intolerances.)
But you really can throw whatever you want into it! Just imagine your fave sandwich fillings and go wild…
(wouldn't recommend making an egg mayo frittata though!!!)
Without further ado, here's my 5 ingredient lunchtime frittata recipe…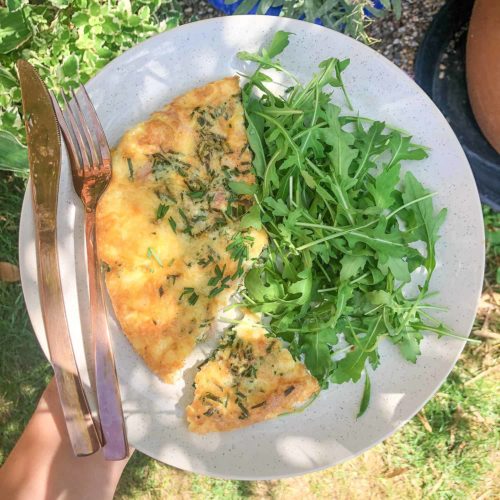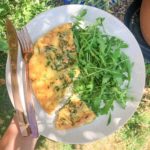 5 Ingredient Lunchtime Frittata Recipe (gluten free + low FODMAP)
Ingredients
5-6

eggs

3

slices

ham, chopped

spinach, handful

cheddar cheese, grated

(lactose free or dairy free if needed)

chives, chopped
Instructions
Heat a little oil in a medium sized frying pan (I use garlic infused olive oil but any will do).

Add your spinach and allow it to wilt down.

Crack your eggs into a jug, season with a little salt and pepper (optional) and beat together. Then pour your eggs into the frying pan.

Sprinkle your chopped ham all over the top of the frittata as well as your chopped chives. Allow it to cook until the edges start to look cooked. It will still likely look quite runny on top.

Sprinkle your grated cheese all over the top and then place in a preheated grill until the top becomes golden (it should only take a few minutes)

Remove from the oven and serve up with some salad. Enjoy!
Thanks for reading how to make my 5 ingredient lunchtime frittata recipe! If you make it, I'd love to see how it turned out. So absolutely make sure that you send me a pic using my social media links below.
If you try one of my recipes and post it on Instagram, make sure you tag me in it! The best recipe every month wins a £50 supermarket voucher of their choice. So get cooking!
Any questions about the recipe? Please do let me know by leaving a comment below or on Facebook / Twitter / Instagram!
Thanks for reading,
Becky xxx
Oh and don't forget to pin this for later!