What if you could make awesome gluten free beer battered fish and chips in your own home? Forget fish Friday, it would be fish EVERY day for me!
Making your own gluten free beer battered fish and chips recipe really isn't that difficult to pull off. But getting the batter-mix recipe right so that it's super light, bubbly and crisp definitely is. Fortunately I've done the hard part for you!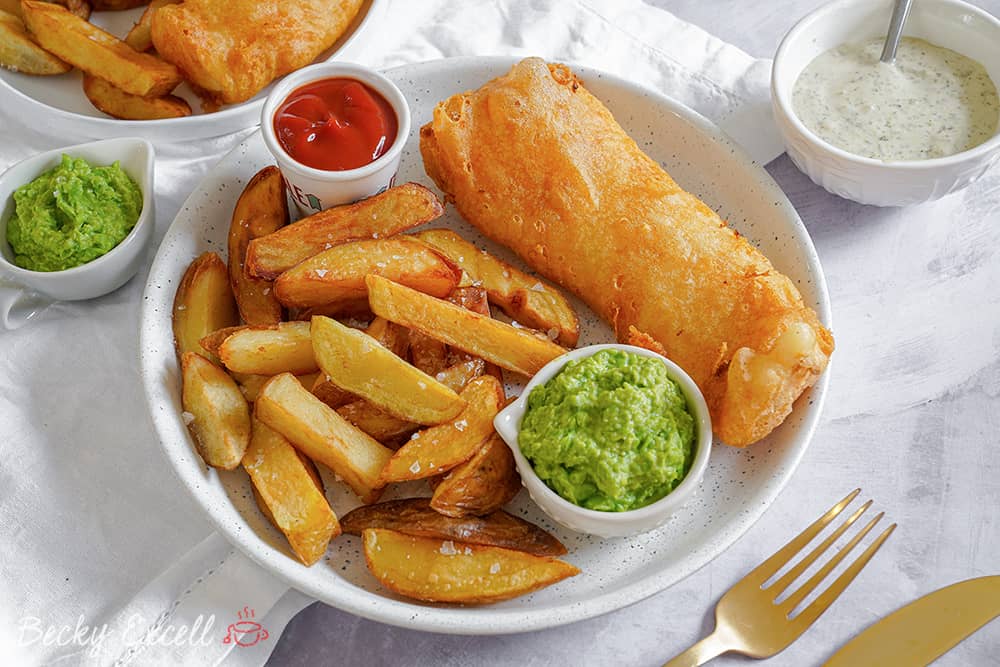 So what's the secret to a light, golden and crispy gluten free batter? Well of course, it's not much of a secret (it's in the name after all) but the first important ingredient is gluten free beer.
(also not surprisingly an important ingredient if you're gluten free and going to the pub!)
I always wondered why beer was necessary in batter since you never even taste it, but what we're after is the bubbles!
We want that batter to be super light and airy and all that fizziness in beer guarantees the perfect start to recreating my gluten free beer battered fish and chips recipe.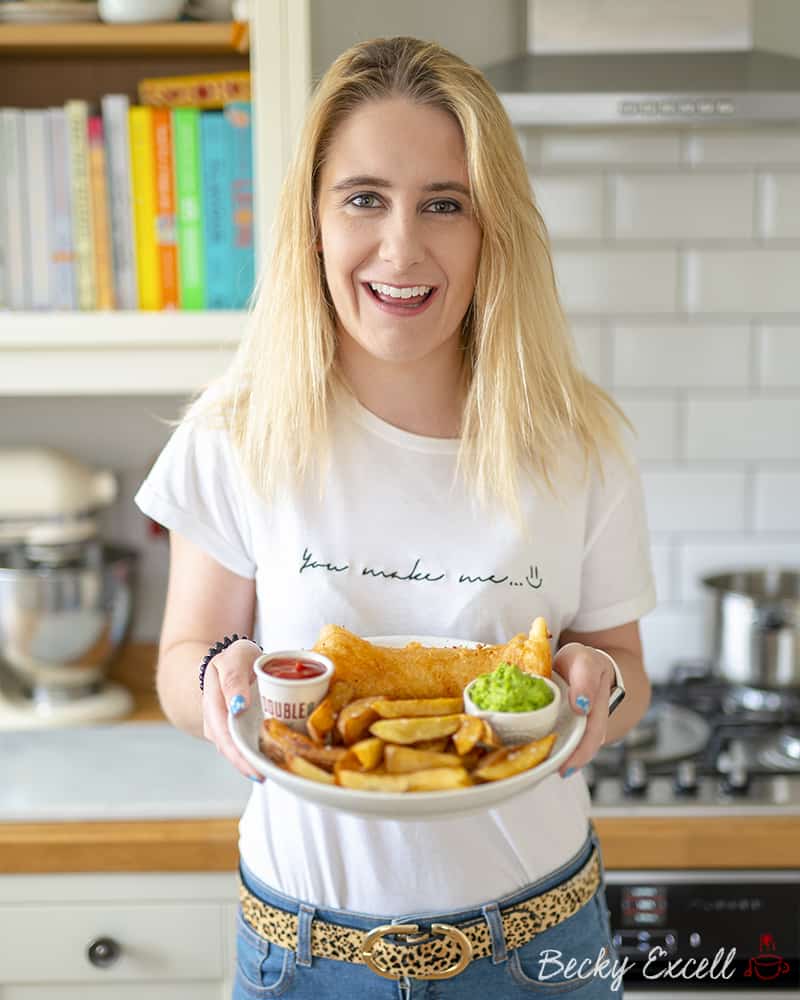 Secondly, (and I've never seen anyone else do this, so this is my secret weapon!) is to make sure that you use gluten-free self-raising flour instead of plain flour.
This was actually a happy accident that Mark discovered when making our battered sweet and sour chicken recipe.
We had run out of plain gluten free plain flour so we thought "well, this can't be any worse" and we weren't wrong. It was so much better! It always, always, always results in a batter that has so much more rise and air into it – I think there's a few more added raising agents in it.
That's my biggest secret to creating the perfect batter in my gluten free beer battered fish and chips recipe, so don't tell anyone ?
There's a few other tips too I guess though. I use a massive balloon whisk to mix up my batter, again, getting the as much air into it as possible. Also, make sure you don't open your beer too early and allow it to go flat (in or out of the mixture) for obvious reasons.
You can use any white fish for this recipe, but if possible:
Try to make sure it hasn't got any skin (the batter almost insulates the skin, meaning it often won't be as crispy as you'd like, sometimes resulting in a weird chewy texture)
Try to make sure that the fish is quite consistent in size (i.e not too thin at the bottom, then super chunky at the top) as this will ensure an even cook (I went for a skinless, boneless cod loin – perfect!)
You don't have to abide by all of these things (it'll still be mega crispy, golden and taste amazing) but trust me – if you can take these tips on board, I promise you'll have fish and chip shop standard fish!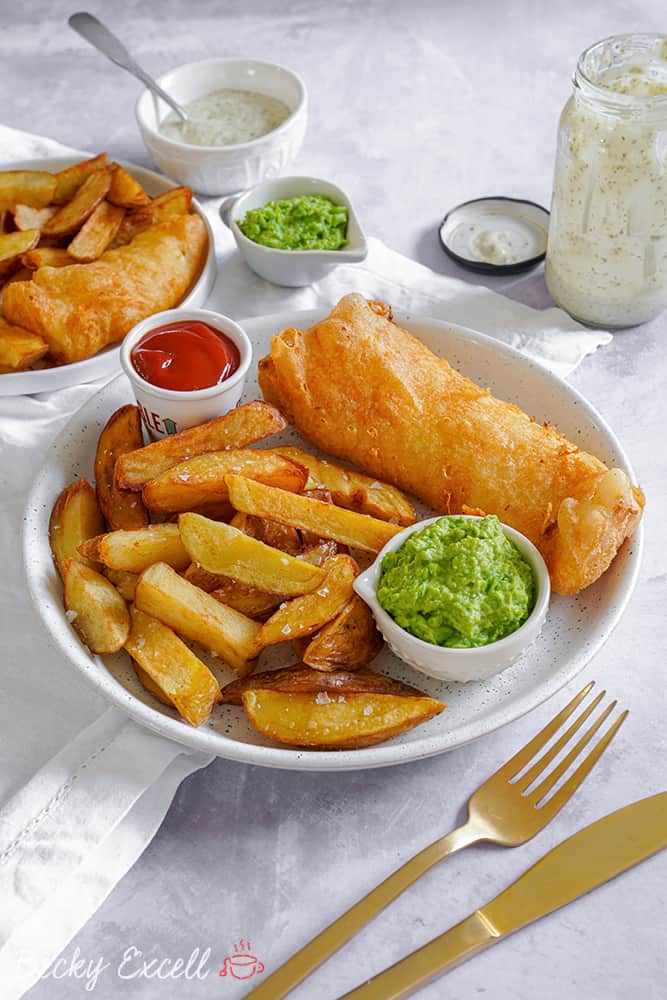 Lastly, make sure you have enough oil to deep fry your fish. You'll need about one litre of vegetable oil (a whole bottle) if you have a fairly large saucepan – I had oil, but I didn't have enough and ended up nipping to the shops just to make this!
A digital cooking thermometer works wonders if you don't have a deep fat fryer (I didn't use one for this recipe) as it helps you know when the oil is hot enough – 180-200c is perfect.
But if you don't have one, just slowly crank up the heat on your pan full of oil until you can drop in a little batter and it excitedly sizzles. Make sure you use a big saucepan and never fill it over half way – the fish will make the oil rise up a fair bit and it bubbles a lot!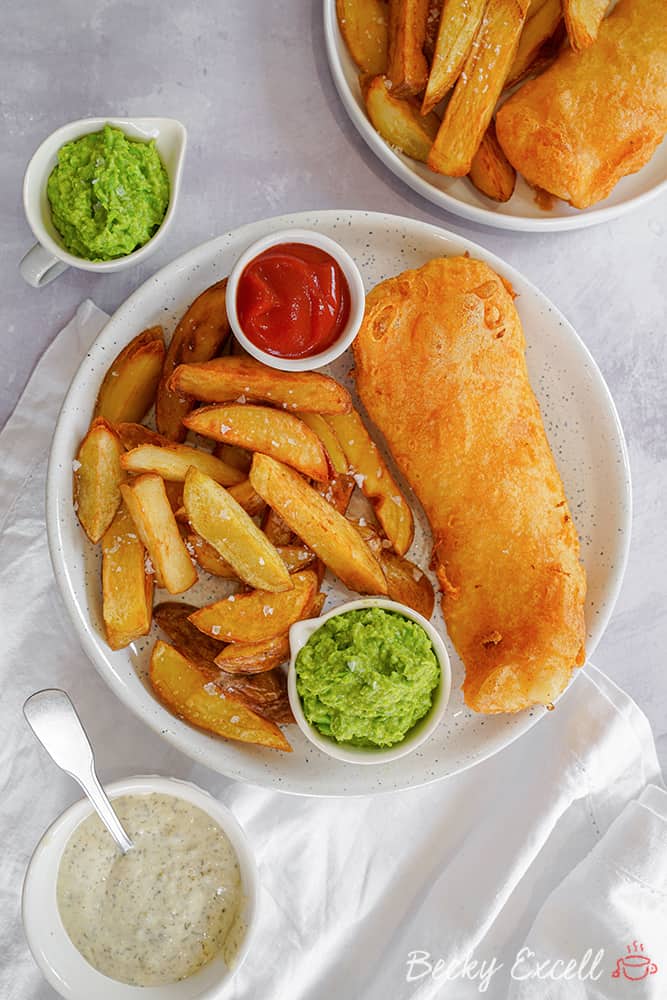 As you might have seen in the photo above, Mark and I actually cooked this recipe live in front of a bunch of lovely people at the Allergy and Free From Show 2019 this year!
So if we can manage it while tons of people stare at us, with a knife that wasn't even sharp enough to cut through ice cream (let alone a raw potato!) then I think you'll manage this recipe just fine at home ?
Anyway, here's my gluten free beer battered fish and chips recipe!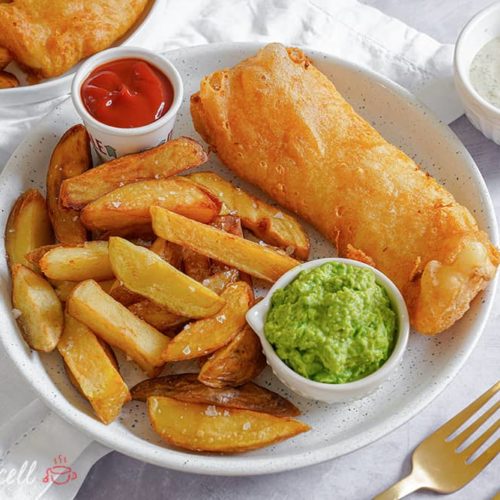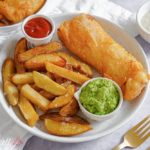 Gluten free beer battered fish and chips recipe
Say hello to my gluten free beer battered fish and chips recipe! It's golden, light and super airy, just like what you'd get from a fish and chip shop.
Ingredients
2

skinless, boneless, cod loins (80g total)
For the batter
110

g

gf self-raising flour

150

ml

gluten free beer

1/2

tsp

baking powder

1

tsp

salt

1

litre of vegetable oil for frying

A little extra gluten free flour for dusting later
For the chips
4

peeled medium-sized potatoes
For the mushy peas (this is the only non-low FODMAP part of the recipe FYI)
150

g

frozen peas

50

g

dairy-free margarine

or real butter if you can deal with dairy

7-8

fresh chopped mint leaves

Half a lemon

squeezed
Instructions
Pour 1 litre of vegetable oil into a large saucepan or casserole dish. Put this on at a medium heat and allow it to reach 180-200c. Trust me, it's worth investing in a digital thermometer for this! But if you don't have one, just drop a little batter into the oil after around 10 minutes and see if it excitedly sizzles or not. Whilst waiting for this, you can...

Start preparing your chips. Cut your peeled potatoes in half, then cut each half into 1cm strips, lengthways. Place in cold water and bring to the boil in a saucepan, then allow to simmer for 4 minutes before draining. Allow these to drain and dry on kitchen roll.

Get a big bowl and add all your dry ingredients needed for making your gluten-free batter. Crack open your beer and add 150ml to your bowl. Take a big whisk and whisk it all together, getting as much air into it as possible.

Roll your cod loins in gluten free flour (important to do this so the batter sticks!) before placing them in the batter mix. Then ensure that they're evenly coated.

Hopefully your oil has reached 180-200c by now, so slowly lower your coated cod loins into the hot oil. It might spit a little so be careful and don't drop it in in case it splashes. When the batter looks golden, it's done. This should take about 5 minutes. Remove the fish with a slotted spoon and place it on a plate with kitchen roll and allow to drain.

Next, add your chips to the hot oil for 5 minutes or until golden. Remove the chips from the oil with a slotted spoon and allow to drain on another plate with kitchen roll.

For super quick and easy mushy peas, fry your frozen peas in dairy-free margarine in a frying pan on a medium heat for 5 minutes. Add freshly chopped mint leaves, squeeze half a lemon. Mash it all up with a potato masher and that's it! If you want them really smooth, use a food processor instead... but that's more washing up!
Notes
Don't forget to buy some kitchen roll!
Consider buying a digital thermometer if you don't have a deep fat fryer. I picked up a digital thermometer for £10.
Thanks so much for checking out my gluten free beer battered fish and chips recipe! I'm quite fortunate enough to have a fish and chip shop near me that serves gluten free fish and chips cooked in a separate fryer.
But I know most of us aren't so fortunate and it's so much fun to make this at home. Trust me, you'll be mega proud that you made this yourself!
Any questions about the recipe? How did it turn out? I'd love you to send me pictures of your end result as that always makes my day! Please do let me know by leaving a comment below or on Facebook / Twitter / Instagram!
Thanks for reading,
Becky xxx
Oh and don't forget to pin this for later!