There's a million ways that you can use my gluten free Teriyaki sauce recipe (well, it's actually three if you're counting) and it only takes a few minutes to make. It's dairy free and low FODMAP too FYI.
My gluten free Teriyaki sauce recipe is perfect as a stir fry sauce, a glaze for chicken/salmon or as a saucy dip! As you can see below, I made Teriyaki prawns and pak choi with rice which was soooo tasty yet so speedy to make at the same time. It's the perfect 10 minute meal!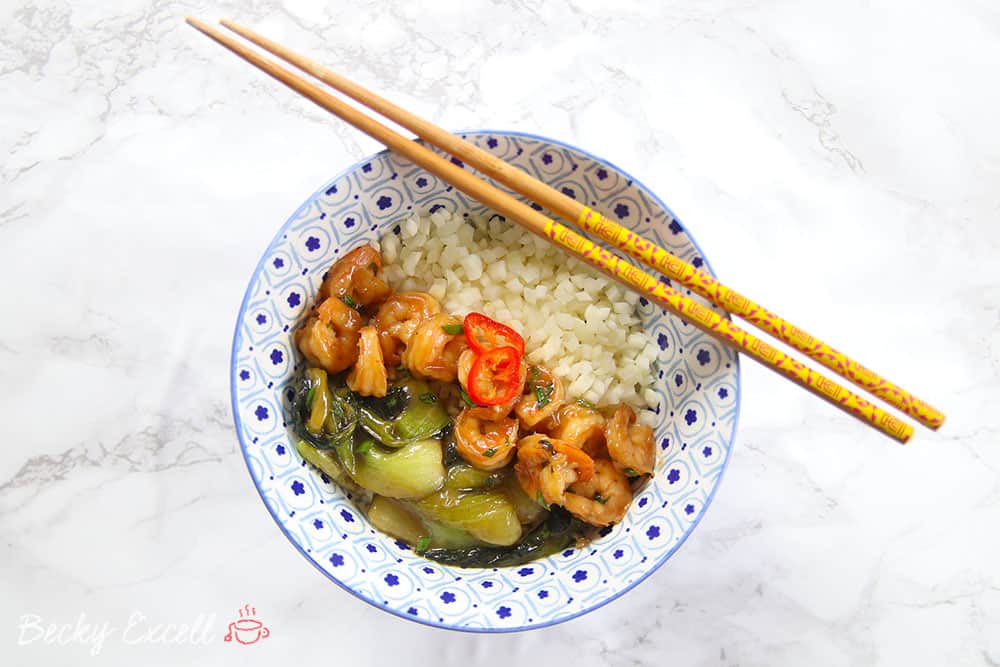 In our house, we always cook from scratch, which is great… but it's certainly not by choice! Whilst I'm avoiding gluten, Mark is lactose intolerant which means no dairy either… then we both struggle to digest onion and garlic.
A nightmare for when it comes to convenient cooking!
Needless to say, we've come to learn to embrace cooking from scratch, but sometimes, you really just need something that you can create ASAP. Like, preferably yesterday.
That's where my gluten free Teriyaki sauce recipe comes in!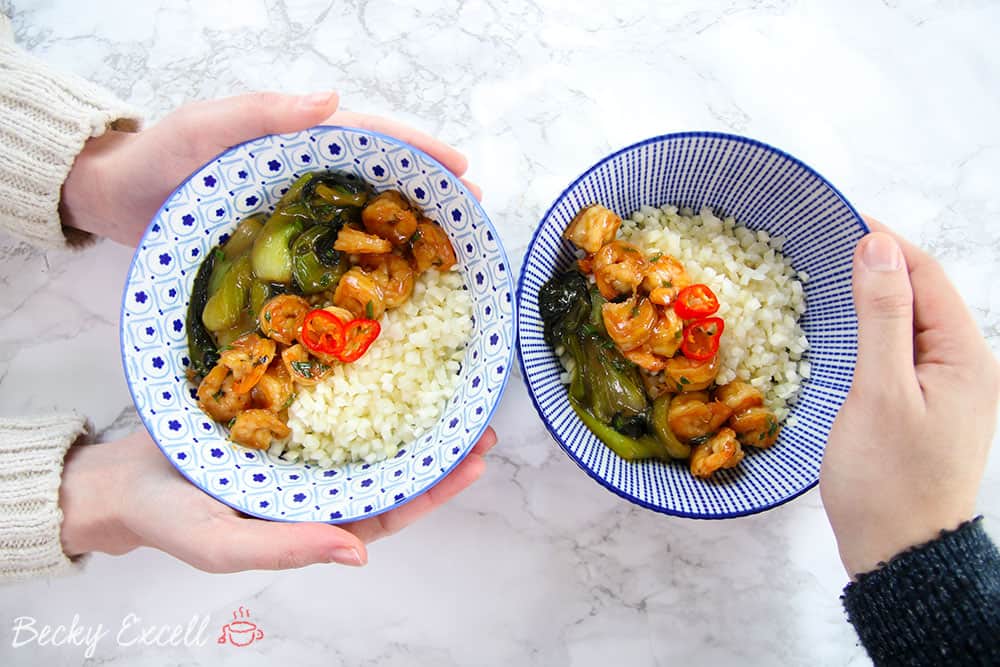 It works so well in any dish – it's full of intense, Japanese-inspired flavour with a sticky, sweet, almost smoky quality. Now this is how fast food should taste!
Start by grabbing a bowl and add your ginger, cornflour mixture, gluten free soy sauce, garlic-infused olive oil, maple syrup, ground ginger and water to a bowl and mix… then you're done!
(Well, you've still got to get it on the stove I guess)
Here's a few ways you can use my gluten free Teriyaki sauce recipe…
If you're looking for a delicious dip, then just get your mixture on the stove in a small saucepan at medium heat. Stir it occasionally until things get saucy!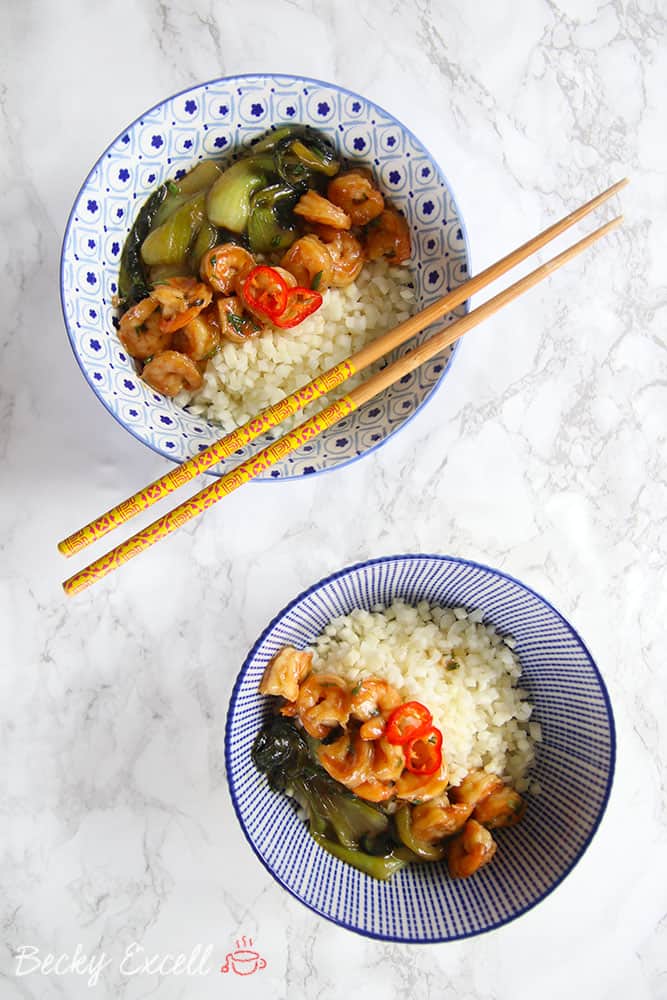 2. For a stir fry sauce, just add the unheated mixture to your wok right at the end of frying your protein/noodles/beansprouts and allow it to reduce at a medium-high heat. It should coat everything and become more sticky when it's done.
3. Looking for a Teriyaki marinade? Just whip up your Teriyaki mixture and marinate your chicken (make sure it's chopped first) or salmon in the mixture for anywhere from an hour up to 24 hours. After marinating, simply roast your salmon in the oven, or if you're using chopped chicken, fry it in a wok in a little oil.
Terrific Teriyaki every time!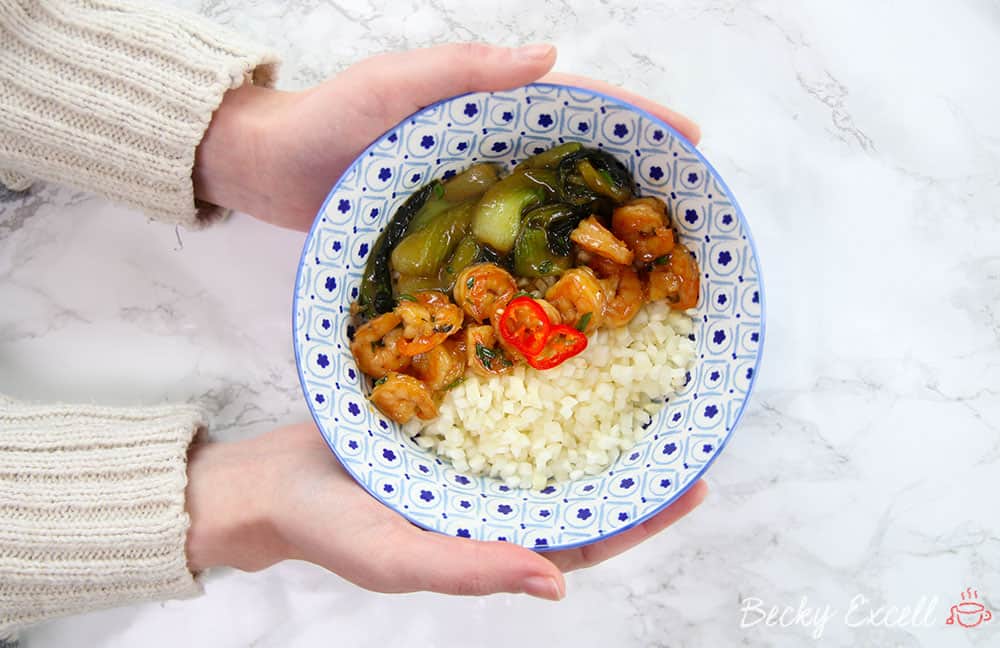 I made my Teriyaki prawns dish by simply frying my pak choi in a little garlic-infused olive oil, then adding my gluten free Teriyaki sauce mixture, allowing it to reduce, before adding raw king prawns. Cooking and prep time – less than 10 minutes!
Anyway, you've heard so much about it, it's about time you knew how to make it! Here's my gluten free Teriyaki sauce recipe…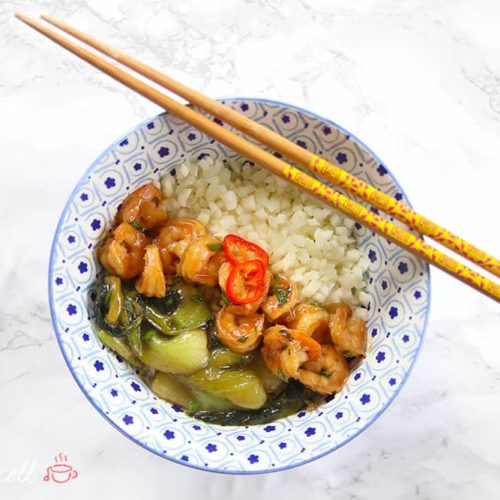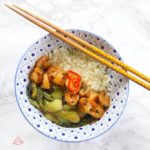 Sweet + Sticky Gluten Free Teriyaki Sauce Recipe (low FODMAP)
Say hello to my gluten free and low FODMAP Teriyaki sauce recipe. Perfect for any Japanese-inspired dish!
Ingredients
60

ml

gluten free soy sauce

1/2

tsp

ground ginger

4

tbsp

maple syrup

1

tsp

garlic-infused olive oil

60

ml

water

2

tbsp

cornflour mixed with 4 tbsp water
Instructions
Combine all of your ingredients in a bowl to create the Teriyaki mixture.

For a dipping sauce, heat the Teriyaki mixture on a medium heat in a saucepan until it reduces to your desired thickness.

For a stir fry, add the Teriyaki mixture after cooking your protein, veg, noodles and beansprouts. Then allow to reduce at a medium-high heat until it becomes a nice, sticky coating.

For marinating salmon or chopped chicken, use the Teriyaki mixture as a marinade by soaking your salmon or chopped chicken in a zip-lock bag for a few hours (or ideally, overnight.)

For chopped chicken, pour the chicken and all the Teriyaki mixture into a frying pan/wok. Fry with a little oil until it reduces and becomes lovely and sticky.

For salmon, add both the salmon and mixture into a tin foil parcel, wrap up and place in the oven at 200c for 18 minutes.
Thanks so much for checking out my gluten free Teriyaki sauce recipe!
Any questions about the recipe? How did you use your Teriyaki sauce? I'd also love to see a photo of your Teriyaki creations if you make it btw, so don't hesitate to get in touch on Facebook / Twitter / Instagram.
It seriously makes my day when I see that you guys have made my recipes so pleeeeeease share them!
Thanks for reading,
Becky xxx
Oh and don't forget to pin this for later!