My three tray salmon and roasted vegetables recipe is my ultimate easy peasy weekday meal. Just bung it all in the oven and relax! It's gluten free, dairy free and low FODMAP.
I'm a firm believer that the perfect dinner has to not only taste amazing, but it shouldn't require you to turn the kitchen upside-down and leave you with a mountain of washing up. Get your baking trays ready because my salmon and roasted vegetables recipe is exactly that!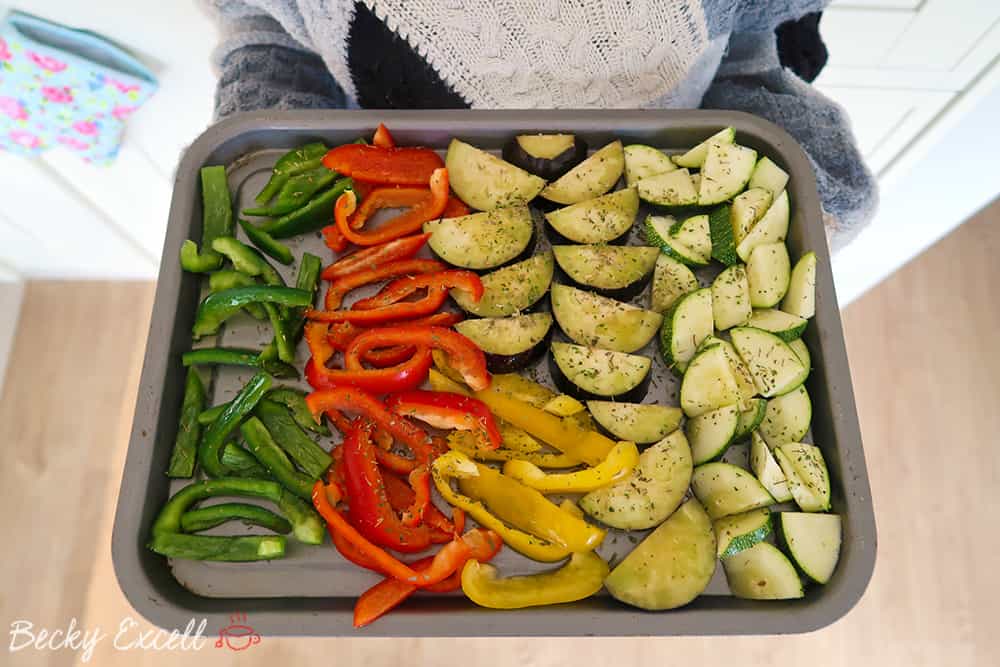 So here's what you'll need: two salmon fillets, red, green and yellow peppers, an aubergine, a courgette, carrot batons, new potatoes and cherry tomatoes. It's a rainbow of veggies and the perfect way to obliterate your five a day!
Equipment wise all you'll need is one good chopping board, three baking trays and… that's it.
Can we just take a moment of silence to appreciate having barely any washing up as we scroll past this next photo? Ok, go.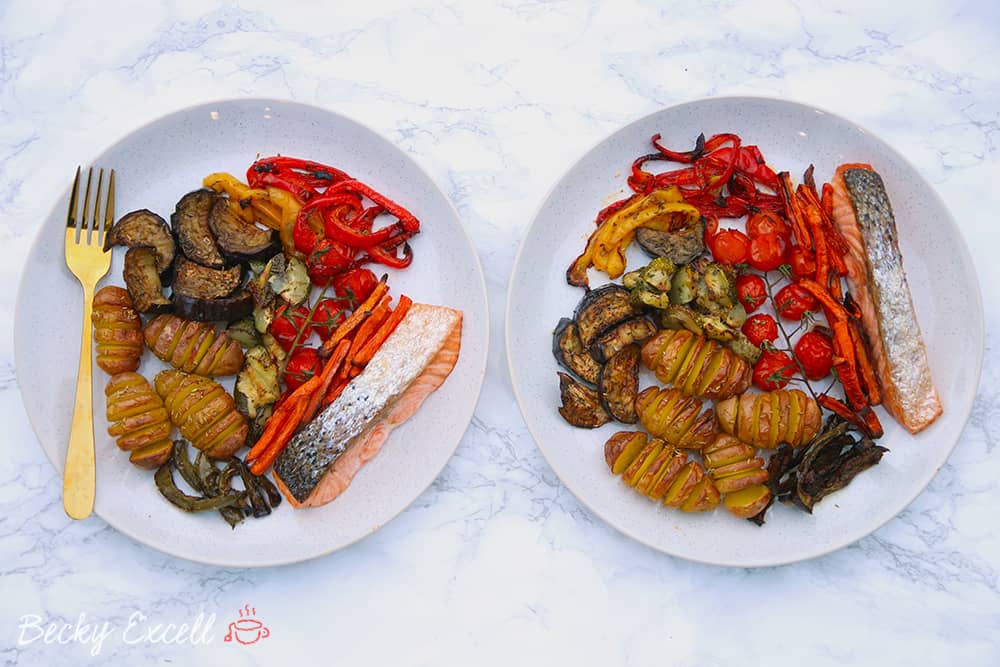 Silence over!
So here's the deal. Chop up EVERYTHING (apart from the carrots new potatoes, cherry toms and salmon – not everything I guess then!!) and place on a baking tray with a little garlic-infused olive oil and seasoning.
Wow, that's nearly the entire recipe done. Then, place the salmon, cherry tomatoes and the carrots on one baking tray on their own with a little oil, we'll call this tray number one.
Trays two and three should be filled with everything else.
So the only thing left to do is prepare your spuds and turn them into hasselbacks!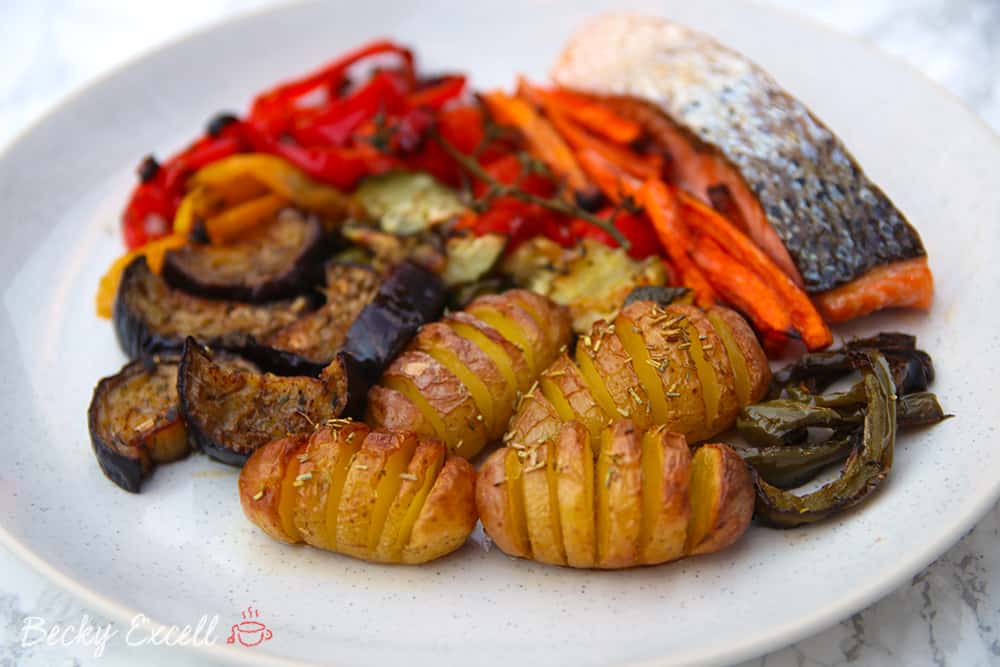 In case you've never transformed the humble new potato in an almighty hasselback potato, it's incredibly simple and quick to do.
But before you slice your hand off trying to make slits in your spuds, I've got a great tip for magnificent mini hasselbacks (no trip to A&E required.)
Take one of your new potatoes, place it into a wooden spoon and using a knife, slice across it 4-5 times. The added depth of the wooden spoon stops you from cutting the potatoes in half completely, leaving the very bottom in tact.
This means that it'll open out as it cooks and look all pretty, but also it'll make them super crispy. You won't eat new potatoes any other way ever again!
That's your hasselbacks done, put them on tray two or three and you're ready to go!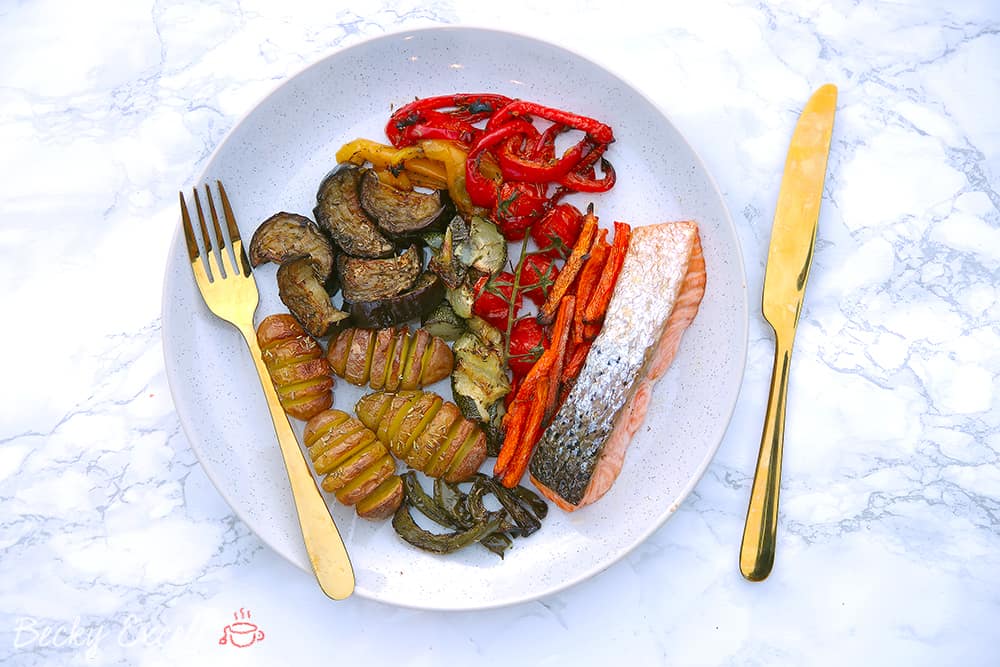 Oven nice and hot? Stick tray two and three in for 25 minutes and once 25 minutes is up, stick tray one in with your salmon, carrots and cherry tomatoes for a further 20 minutes.
Job done!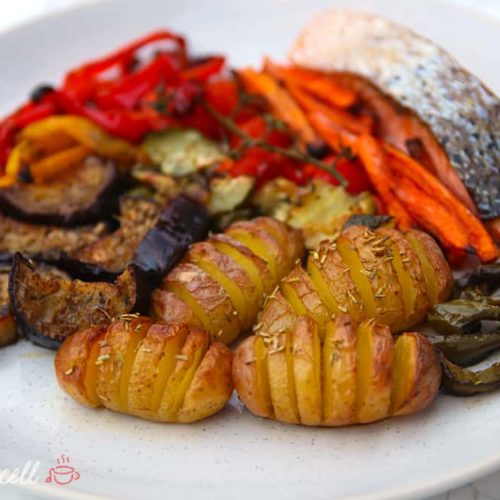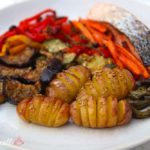 My 'Three Tray' Salmon and Roasted Vegetables Recipe (gluten free, low FODMAP)
The easiest way to eat a rainbow of veggies with perfectly roasted salmon with crispy skin.
Ingredients
2

fresh salmon fillets

750

g

new potatoes

2

carrots cut into batons

1

green

yellow and red pepper

1

courgette

1

aubergine

cherry tomatoes on the vine
For seasoning
garlic-infused olive oil

salt and pepper

dried rosemary

herbs de provence or mixed herbs
Instructions
Preheat your oven to 200c.

Chop all of your veg, leaving the new potatoes and cherry tomatoes to one side.

Next, make your new potatoes into hasselback potatoes. Place one potato at a time into a wooden spoon. Slice 4-5 times across but make sure you don't chop then in half entirely. The wooden spoon should prevent this from happening. Place them to one side.

Ok, grab your baking trays! Drizzle a little garlic-infused olive oil evenly over all three of them. On tray number one, place your salmon skin-side up (this stops the skin from sticking to the tray), carrots and cherry tomatoes onto it. Put this to one side until later.

Place everything else on the last two trays and then roll them around in the oil until well-coated. You might need to add a little extra oil after rolling them about. Add herbs de provence/mixed herbs over everything apart from the new potatoes. Add dried rosemary over those instead.

Then salt and pepper all the things and roll everything around once more. Make sure you rub all the seasoning into the slits of the hasselbacks really well. Add a little more seasoning to everything for good measure.

Place trays two and three (with all your veggies) in the oven for 25 minutes. Kick back and relax.

After 25 minutes, place tray one with your salmon, carrots and cherry toms in for 20 more minutes.

Kick back and relax once more.
Notes
The peppers can cook a little quicker than everything else, so you can always take them out a little earlier if they look over done.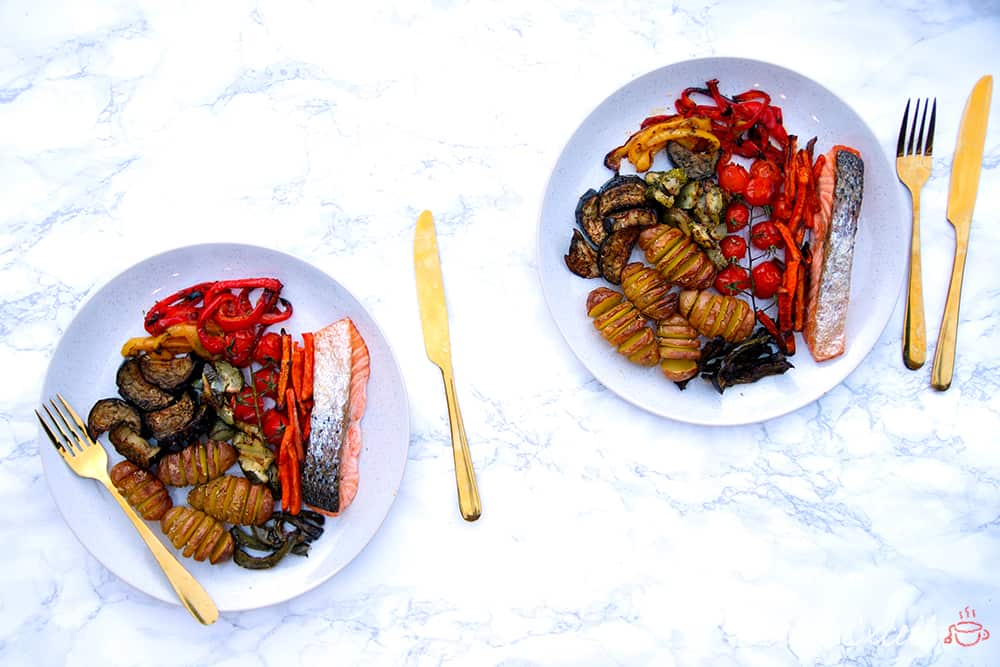 Thanks so much for checking out my three tray salmon and roasted vegetables recipe!
Any questions about the recipe? It really is such an easy way to a variety of roasted veggies and perfect crispy salmon every time. I'd also love to see a photo of your roasted salmon and veggie creations if you make it btw, so don't hesitate to get in touch on Facebook / Twitter / Instagram.
It seriously makes my day when I see that you guys have made my recipes so pleeeeeease share them!
Thanks for reading,
Becky xxx
Oh and don't forget to pin this for later!