You can thank/blame Mark for the creation of my gluten free Christmas dinner Yorkshire wrap recipe. He's seen them before, but of course, they're never usually dairy free or low FODMAP, so he can't usually eat them… until now!
Mark has been bugging me to make a Christmas dinner Yorkshire wrap that's dairy free and low FODMAP (and gluten free for me of course) all week. So let's get stuck in…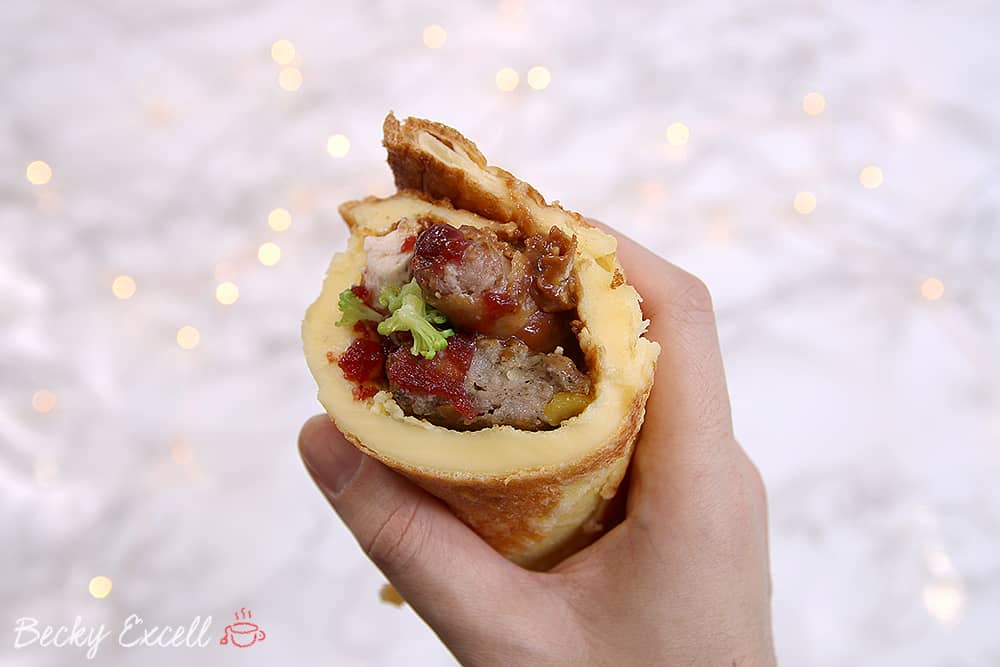 I would say that I have no idea where Mark gets these ideas from… but I know exactly where he gets them from!
If Mark isn't doing work for his PhD or some sort of other random, creative project, he can probably be found on his phone… watching food/recipe videos on Facebook. He just loves looking food, even though he can't eat most of it!
Anyway, he soon discovered that there's a market stall in London that serves Christmas dinner Yorkshire wraps. Sounds amazing, right? They looked absolutely, mind-blowingly awesome FYI.
But it's hard to get excited when you can't even eat them… that's where I step in!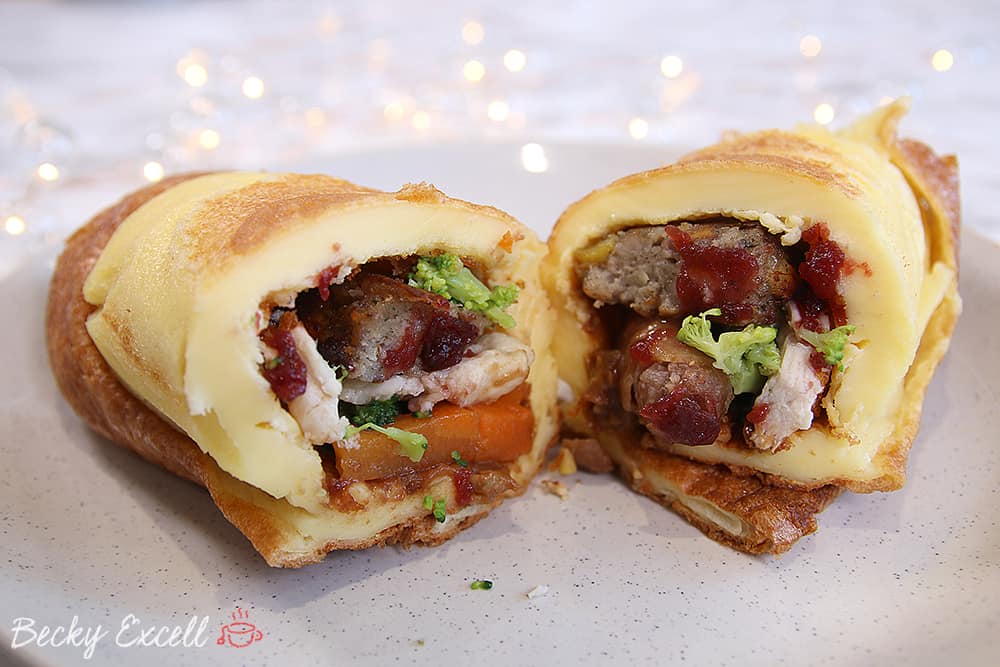 My gluten free Christmas dinner Yorkshire wrap is pretty simple when you think about it.
I started by adapting my original gluten free Yorkshire pudding recipe that you guys love so much. It's basically just half of all the ingredients in that recipe in a 9″ circular falcon dish instead of a muffin tray.
Basically, my gluten free toad in the hole recipe without the toad, just the hole!
(If you don't live in the UK, the toad part is actually pork sausages. Don't ask me why. I literally have no idea.)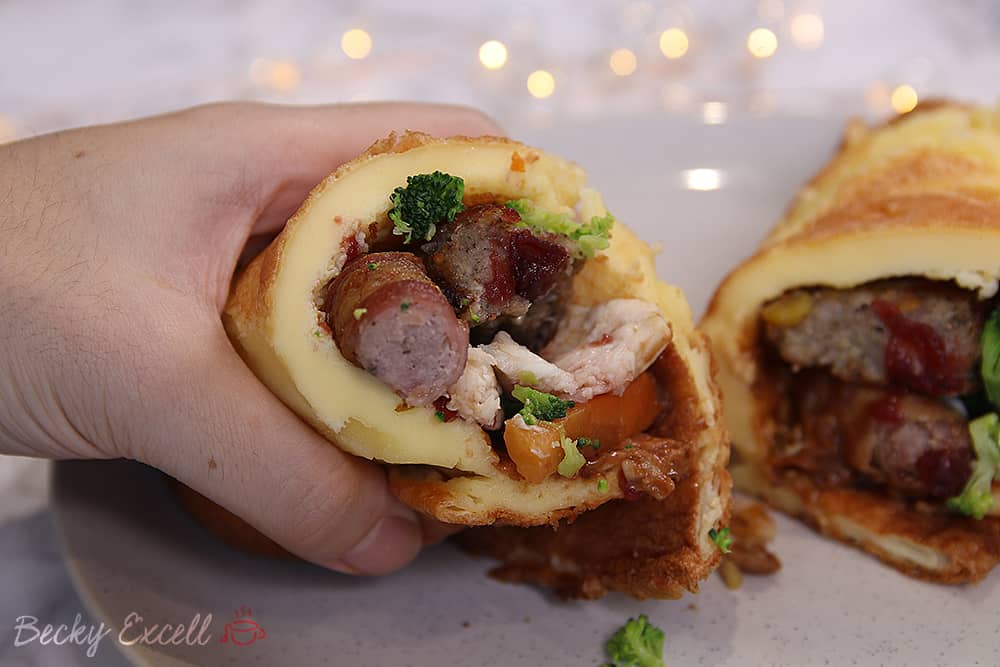 Anyway! As you know, my gluten free Yorkshire batter is absolutely perfect for huge Yorkshire puddings or a toad in the hole that rises like mad. But I was a little worried it would be too big and puffy for a wrap…
But after a few rounds with a rolling pin, it was perfect.
Then it's just a case of having your turkey and all the trimmings ready to roll. Quite literally.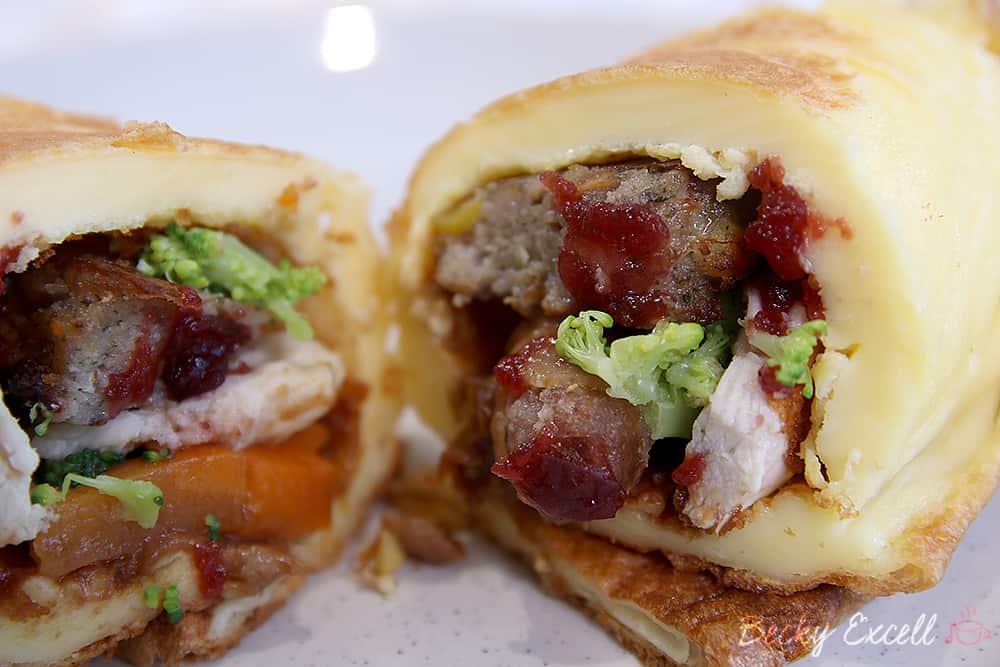 So, how do you make my gluten free Christmas dinner Yorkshire wrap dairy free and low FODMAP?
Well, any dairy free milk will do in your Yorkshire, so that's that done and dusted.
Low FODMAP stuffing is impossible to buy, but fortunately for you, I've already got an amazing low FODMAP sausage meat sage and chive stuffing recipe right here.
I picked up gluten free pigs in blankets from Tesco, which are also low FODMAP too fortunately (some contain gram flour). Low FODMAP gravy is tricky, but it is out there if you search hard enough!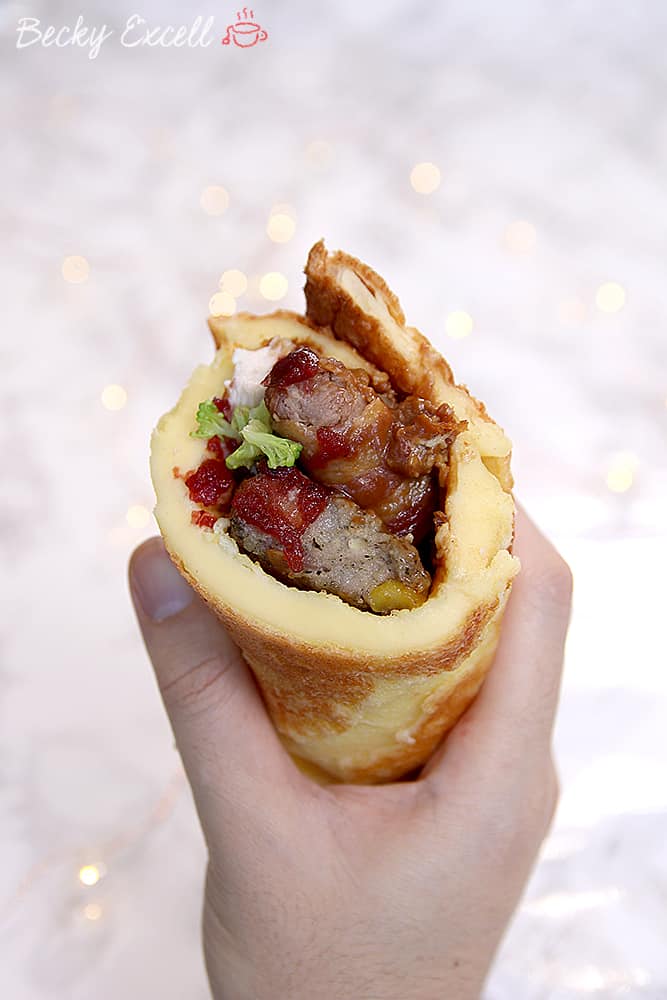 So what did Mark think of it? It was hard to understand him after one massive bite, but he seemed pretty buzzing at the time.
Gonna make one yourself? Of course you are! Here's my gluten free Christmas dinner Yorkshire wrap recipe that's dairy free and low FODMAP too…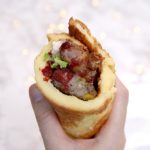 Christmas dinner Yorkshire pudding wrap recipe
The best way to eat Christmas dinner! It's gluten free, dairy free and low FODMAP too.
Ingredients
For the Yorkshire wrap
100g cornflour

3 eggs

150ml dairy free milk

3 tbsp rapeseed oil
For the filling
1-2 torn slices of roast turkey

3 gluten free pigs in blankets

2 tbsp of gluten free stuffing

shop bought or you can use my low FODMAP recipe linked above

a few small sprigs of brocolli and carrot

2 heaped tsp of cranberry sauce

50ml gluten free gravy

low FODMAP if needed
Instructions
For the filling - Make sure all the different aspects of your filling are cooked and prepared before you make the wrap.

For the Yorkshire wrap - Preheat your oven to 200C.

In an oven proof dish, add 3 tbsp of oil. Place this in the oven for 10 minutes until the oil is very hot.

Whilst the oil is heating, make your Yorkshire pudding batter mixture. Whisk your 3 eggs into your cornflour in a mixing bowl until smooth with no lumps.

Once thoroughly combined, gradually add your dairy free milk, 50ml (a third) at a time, whisking in-between. Decant this into a jug.

Quickly remove your dish from the oven and pour the batter directly into the dish. Immediately put this back in the oven. (It is very important you do this quickly as the Yorkshire pudding mixture needs to hit the hot oil asap)

Place back in the oven for about 25 minutes until the Yorkshire pudding is golden and really big! (Never open the oven during cooking to check if you can help it.)

Once cooled slightly, roll over the Yorkshire pudding with a rolling pin until nice and flat.

Get the filling for your wrap ready. Firstly, place the stuffing in a line down the centre of the wrap. Then add your other components on top of that, finishing with cranberry sauce and gravy.

Roll your Yorkshire wrap so it overlaps and serve it up so the weight of the wrap keeps it shut.

Eat with your hands, or with a knife and fork, it's up to you! Enjoy.
Recipe Notes
* Always make sure your dish is VERY hot when you pour in the Yorkshire mixture.
* I used a 9" round falcon dish to make the perfect wrap shape. A rectangular shaped dish works fine too though as long as it's not too big.
* You can use regular dairy milk if you don't need it to be dairy free.
Thanks so much for checking out my gluten free Christmas dinner Yorkshire wrap recipe! It is probably the most fun way to eat Christmas dinner, hands down. I can't imagine my entire family sitting around the table eating it like that though.
But I can imagine Mark eating it like that while everyone looks at him strangely. I can definitely imagine that one.
Did you try this recipe? Any questions? How did it turn out? Please do let me know by leaving a comment below or on Facebook / Twitter / Instagram!
Thanks for reading,
Becky xxx
Oh and don't forget to pin this for later!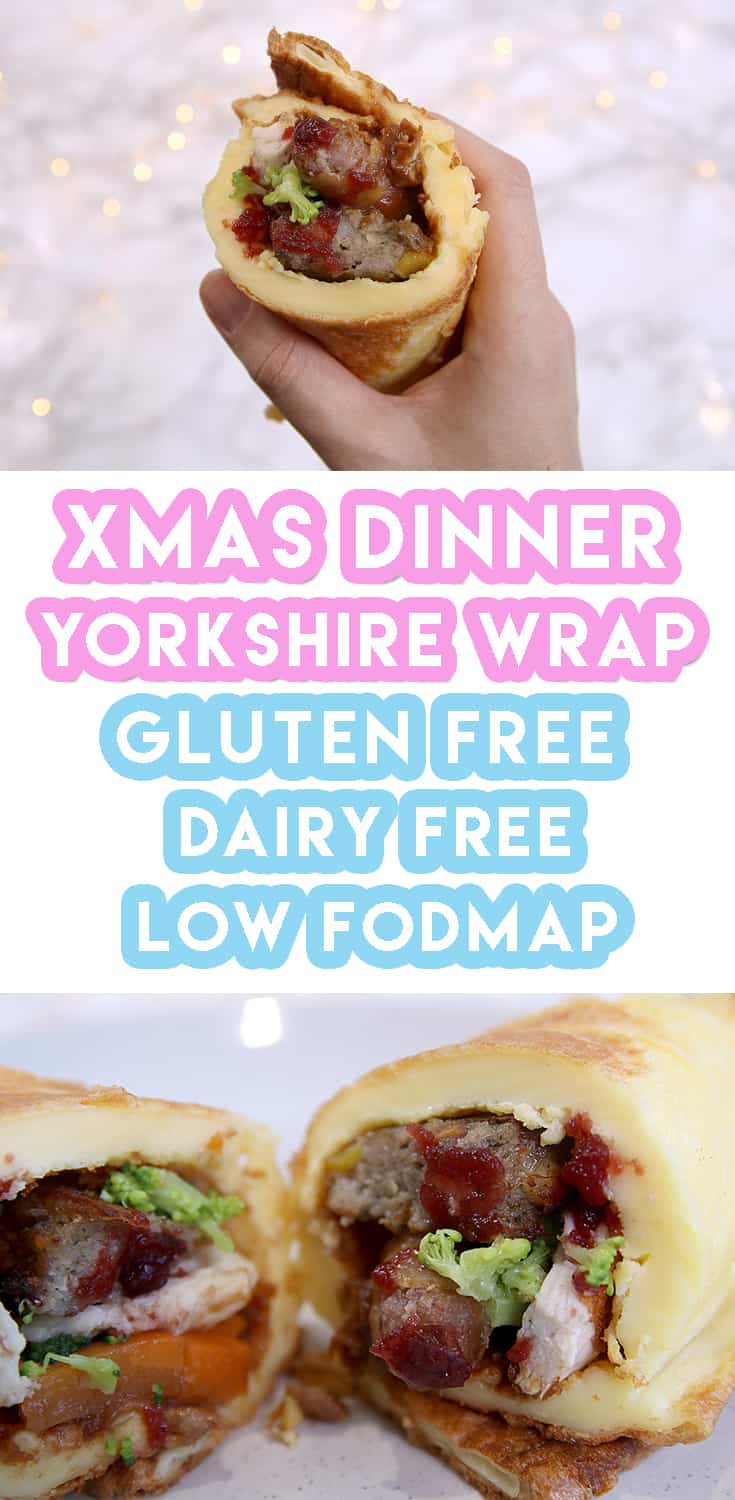 Comments