My gluten free toad in the hole is super light, fluffy and it's a recipe that's been a family favourite since long before I even remember. Plus, it's dairy free and low FODMAP too.
It doesn't get more English than a gluten free toad in the hole, does it? It's got the classic off-putting name to rival spotted dick and an appearance that only a mother could love. But that just adds to its appeal, doesn't it?
But that's exactly what my recipe is, a classic English recipe that my Mum and Grandma have used for generations. Now, I guess you can try it too!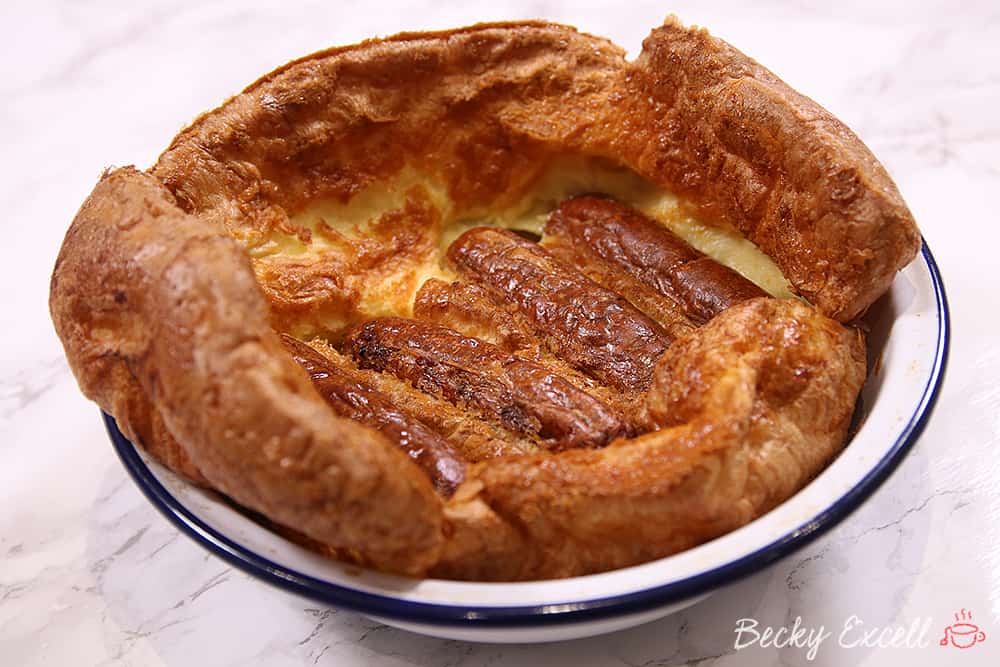 Is it the slightly off putting name that explains why you're never able to order a toad in the hole in restaurants? When's the last time you even saw a toad in the hole on a menu? I'm not sure I ever have now that I think about it.
That's probably why we're a nation famous for fish and chips and not toad in the hole. At least you know exactly what you're getting with fish and chips. Anyone brave enough to order a toad in the hole without knowing what it is first, must be either mad or just very, very hungry.
But that's exactly why I wanted to update my old gluten free toad in the hole recipe and once again celebrate this great dish!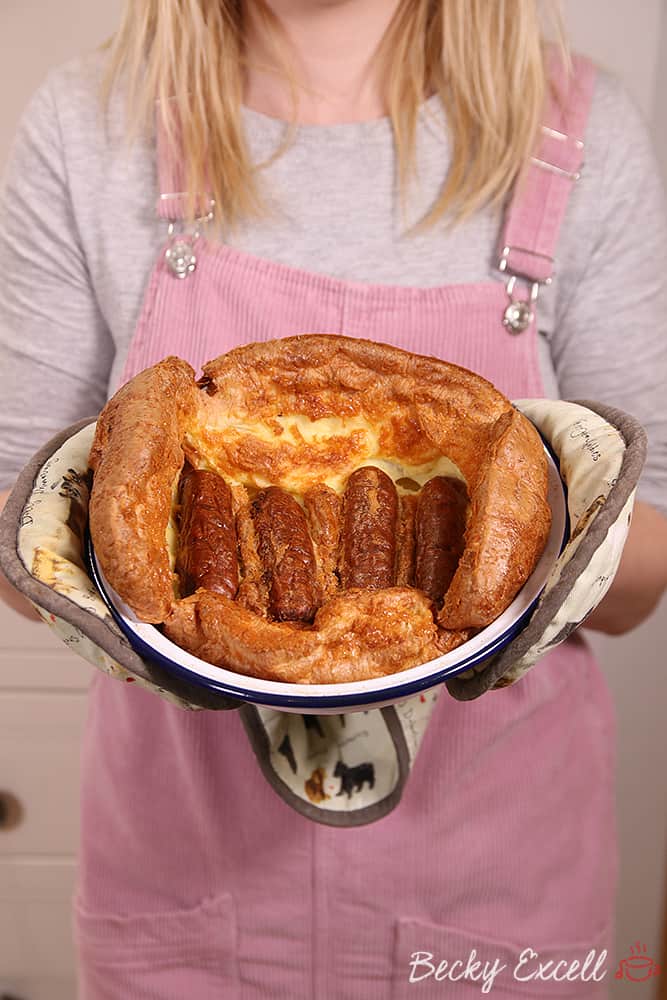 My gluten free Yorkshire pudding recipe has been a big hit with so many of you trying it yourselves at home. It makes me so happy to see so many photos of your beautiful risen puddings on my Facebook page. You guys are totally nailing it!
So basically, my gluten free toad in the hole recipe was inevitable. This one is for you guys! It's exactly the same gluten free batter, which rises up to the point where you might consider buying a bigger oven. Ok, maybe not that drastic, but you get my point!
If you keep on reading, I'll tell you the secret to getting a beautiful rise of light, fluffy, crispy heaven.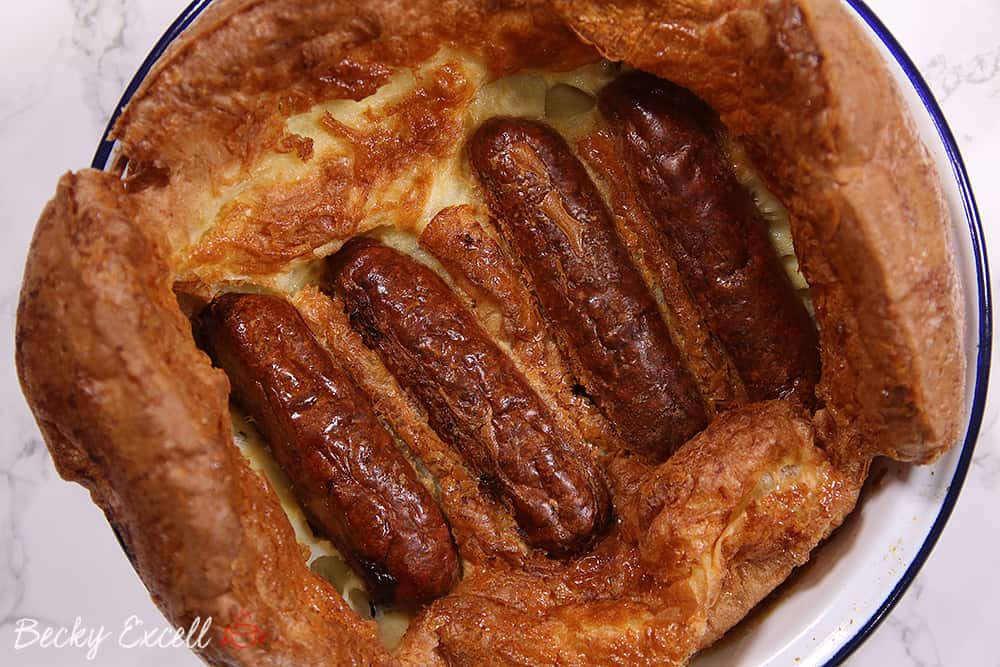 It's the power of pure cornflour! Or corn-power, I should probably say. Cornflour is just so light that once your batter is poured into hot oil, it's just a matter of cooking time before it puffs up into a crispy, golden cloud.
That's my second tip too btw, make sure your oil is super hot before you pour your batter in! You ideally want a little bit of a sizzle when you pour it into the hot oil for maximum rise, but it's no great tragedy if not. It usually still rises to the occasion regardless!
Now you know the secret to my beautiful gluten free toad in the hole recipe, how do you think the non-gluten free folk will receive it?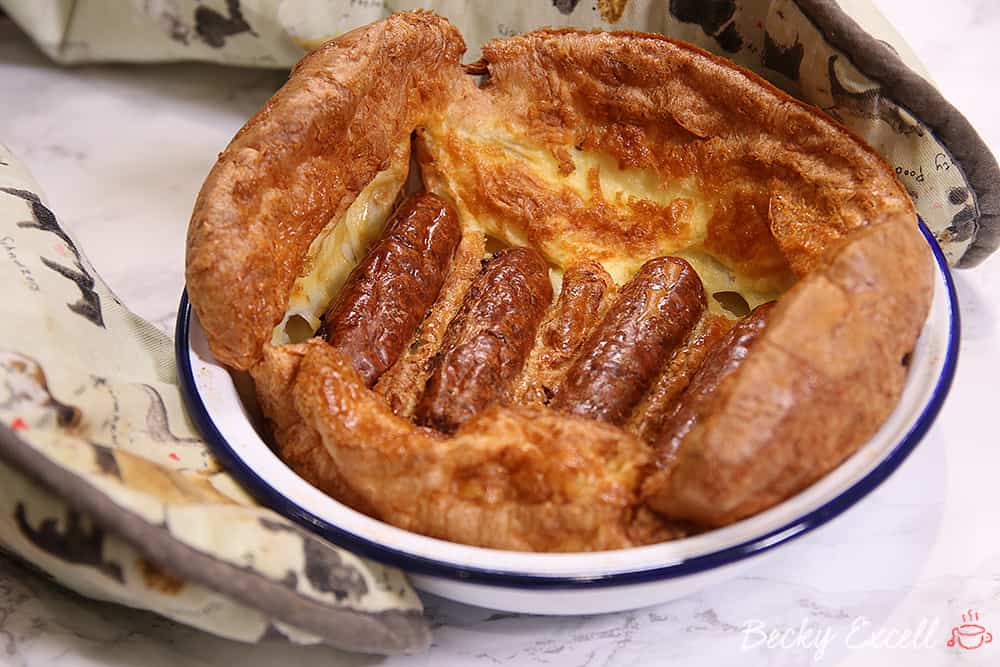 Well, you know what only using cornflour means too, right? It means that this recipe is naturally gluten free. There's zero compromise in my gluten free toad in the hole recipe and it hasn't had to be adapted or changed to be gluten free. It just is. It's exactly the same as my Mum and Grandma's family recipe and that's why it's so damn awesome.
That means that any person (gluten or non-gluten) should enjoy this recipe and there's really no need to make separate toad in the holes (hooray!) at all.
So many of you who have tried my gluten free Yorkshire pudding recipe have said that your non-gluten free family and friends have loved them too. That's amazing! I hope it helps to show everyone that gluten free food can be as good as gluten-containing food like 98% of the time!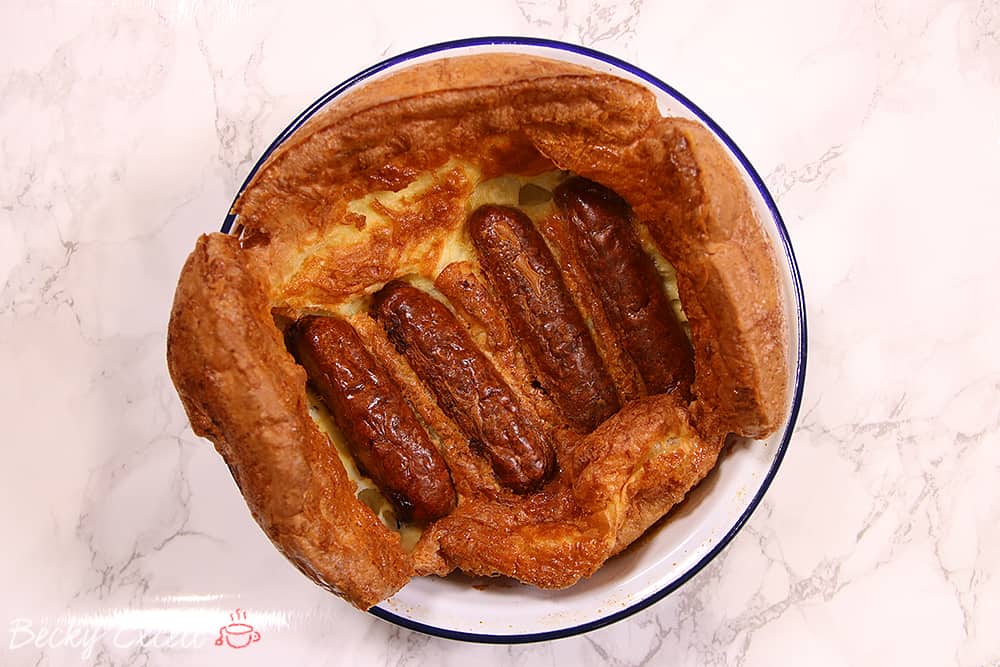 When it comes to the milk required for this recipe, any dairy free milk will do really. There's such a wide variety of dairy free milk on sale these days that I'd highly recommend experimenting and seeing what works for you. Do let me know which dairy free milk you have the most success with!
Of course, this recipe is 100% low FODMAP too, with no onion, garlic or hidden high FODMAP foods in sight. Totally IBS friendly! Just make sure your sausages don't contain any high FODMAP ingredients (onion, garlic, gluten and gram flour are the main culprits here).
My gluten free toad in the hole recipe really is so simple and quick to make. Yet when you pull it out of the oven, you'll be so proud and everyone will be mega impressed with just how much it rises! It's definitely got that wow-factor. Anyway, get stuck in!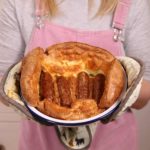 Gluten Free Toad in the Hole (dairy free)
Ingredients
100g cornflour

3 eggs

150ml dairy free milk

4 sausages

ensure they are gluten free, dairy free and low FODMAP if you need them to be

1 tbsp rapeseed oil
Instructions
Preheat your oven to 200C

In your oven proof dish add 1 tbsp oil and your sausages. Place this in the oven for 10 minutes or until the sausages are slightly browned.

Whilst your sausages are cooking make your yorkshire pudding batter mixture. Beat/whisk your 3 eggs into your cornflour in a mixing bowl.

Once thoroughly combined, gradually add your milk a little at a time. Mix together - I use a non-electric whisk for this but you could use a electric hand mixer if you like.

Quickly remove your dish from the oven and pour your mixture over the top. Immediately put this back in the oven. (It is very important you do this quickly as the yorkshire pudding mixture needs to instantly hit the hot oil)

Place back in the oven for about 25 minutes until the yorkshire pudding is golden and really big! (Never open the oven during cooking to check if you can help it)

Serve up with mashed potato, veggies and lots of gravy.
Recipe Notes
* Always make sure your dish is VERY hot when you pour in the yorkshire mixture.
Thanks so much for checking out my gluten free toad in the hole recipe! I'm super proud of it and I still can't get over just quite how much it puffs up and rises. See if you can beat mine in size and make sure you send me a snap if it does!
Did you try this recipe? Any questions? What dairy free milk did you try? How did it turn out? Please do let me know by leaving a comment below or on Facebook / Twitter / Instagram!
Thanks for reading,
Becky xxx
Oh and don't forget to pin this for later!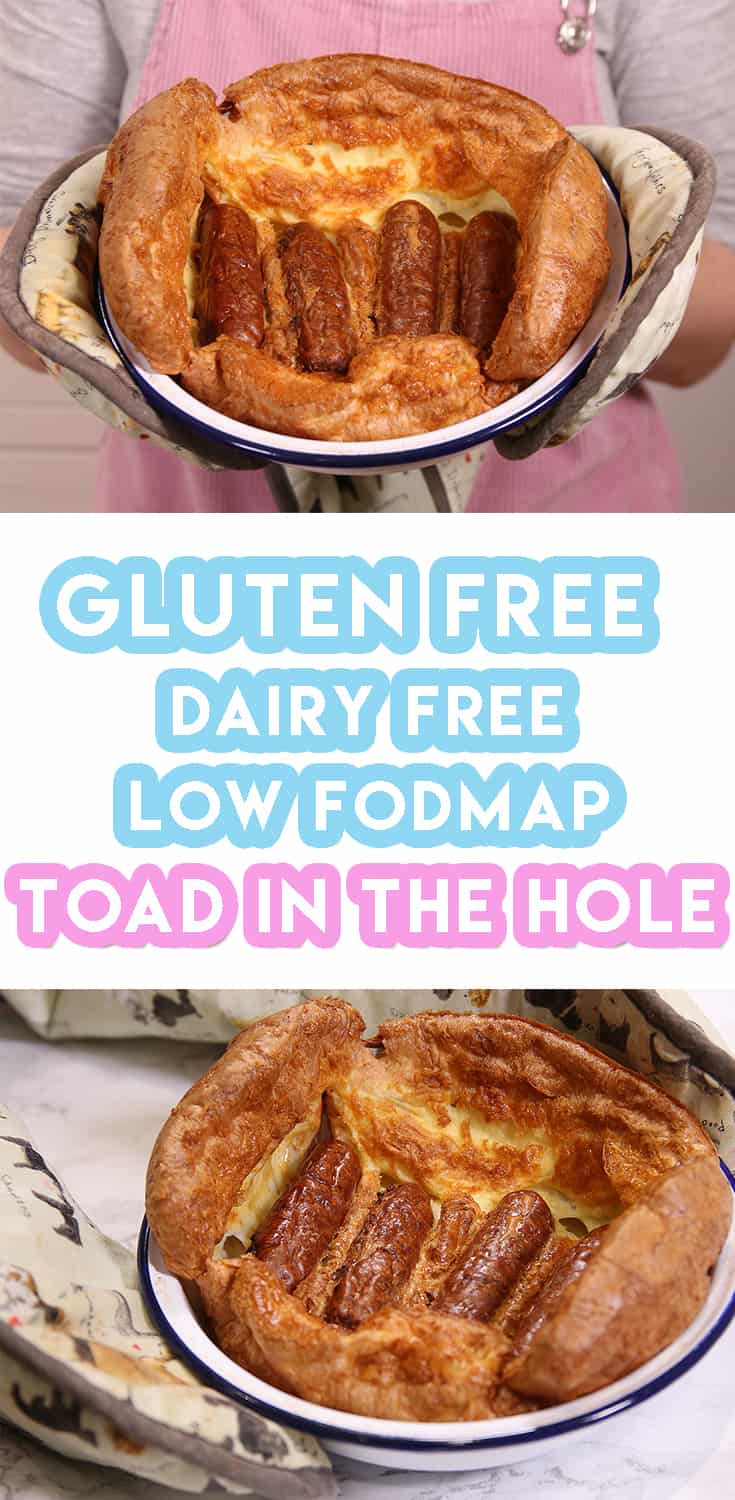 Comments