Mark and I are always on the hunt for somewhere that caters for both of us, so we decided to dine out, dairy free and gluten free at Zizzi. One important question before we start: is it Zizzi or Zizzi's? Because I always call it both!
It's tough when one of you is gluten free and the other is dairy free. We're the pair that all waiting staff probably refer to as 'the awkward ones'… but that doesn't stop us eating out!
Given that Zizzi has always stocked gluten free pizza bases and they now even offer vegan cheese, we just had to go give it a try.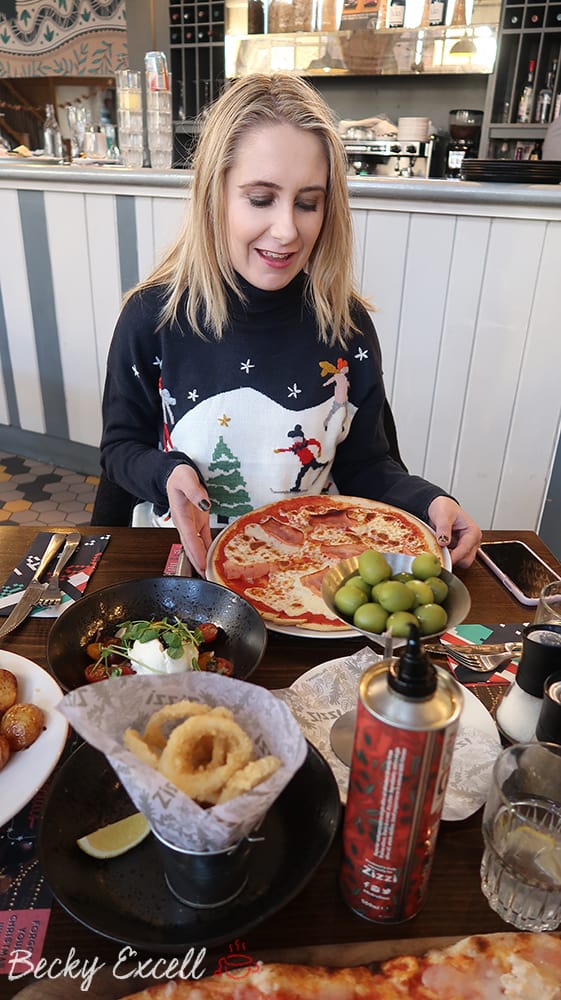 Luckily for us, Zizzi have a special dietary and allergen menu available on request which immediately put our minds at ease.
It's a menu that has all the different dietary requirement menus in one place: veggie, vegan, non-dairy and non-gluten.
The non-gluten menu for example, only has all the dishes which don't contain gluten, so it's very clear what you can and can't eat. There's no need for that whole 'can you make this gluten free?' scenario, where the waiter then has to disappear for 10 minutes to ask the chef 20 questions.
The non-gluten menu also still had a healthy amount of options on there, as you'll see in the photo below. There's a second page to the menu not entirely pictured too, so click here to check out their full non-gluten menu.
But what's the difference between phrases like gluten free and non-gluten I hear you ask?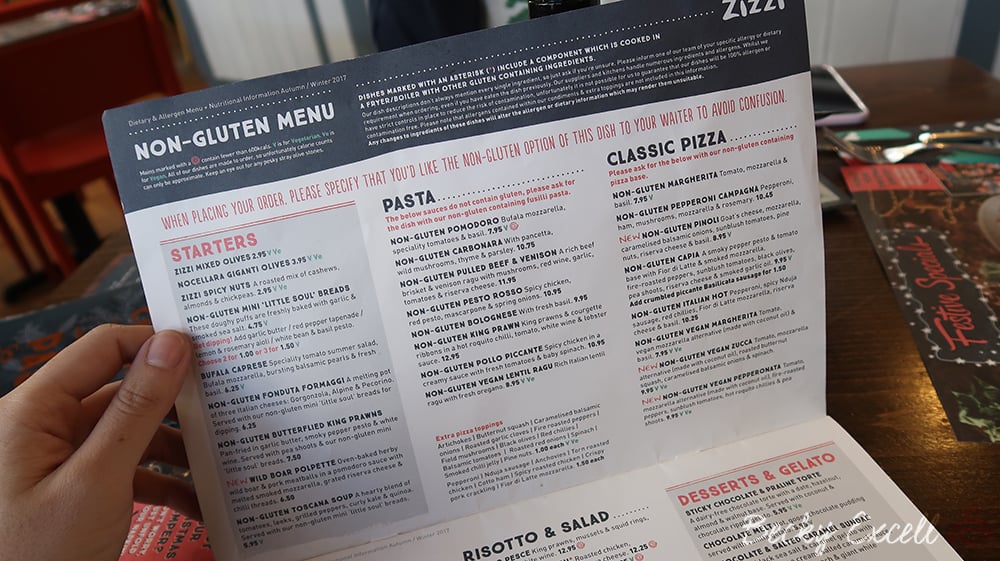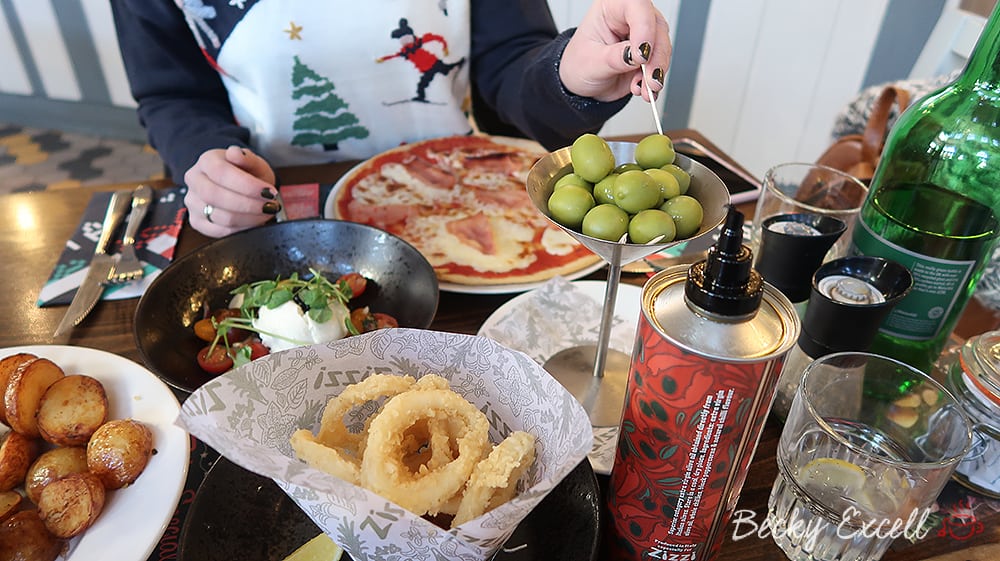 Well, because of the environment that the food is prepared in, Zizzi can't guarantee that the food will be 100% gluten free. That's where the phrase 'non-gluten' comes in.
Non-gluten means that there's no gluten-containing ingredients in the actual food you order. But as it's not a dedicated gluten free kitchen, there may be some degree of cross contamination.
As I'm gluten intolerant through IBS, this is perfectly fine for me as I don't react to trace amounts of gluten. But, this may not be the case for you. As always, do your research and make sure you're always safe when eating out!
Anyway, ordering from the non-gluten menu, I went for a non-gluten margherita with a little added cotto ham. Did you know that the pizza sauce at Zizzi is also low FODMAP too? Mind-blowing for me!
Mark ordered from the non-dairy menu and ended up going for a non-dairy magherita rustica with added shredded chicken. He also ordered some calamari from the non-dairy menu as a starter too.
Our special guest (Mark's Mum!) went for the spectacular Spiedini Prescatore which is this amazing hanging skewer of juicy prawns, salmon and veggies. Mark's Mum fortunately doesn't have our awkward dietary requirements, but you can order the same dish from the non-gluten menu too.
She also ordered a wonderful looking Bufala Caprese salad, which consists of mozzarella cherry tomatoes, fresh basil and balsamic pearls. That's a starter on the non-gluten menu as well.
The service we experienced was impeccable and the waitress was very reassuring when taking our order. We just made sure to say that we were ordering 'from the non-gluten menu' or 'from the non-dairy menu' when placing our order. It was all, thankfully, stress-free for once!
As you can see above, it was pretty mind-blowing when all of our food turned up. It was Instagrammable to say the least!
So how was the non-gluten pizza? It was out of this world as I'm sure you might have guessed. The base was thin, crispy and perfectly cooked – so much so that I could even roll it up and eat it like I always wished I could! For me, a pizza really can't get much better than this.
Knowing that I can always pick up a pizza like this just around the corner from my house is a massive game-changer for me.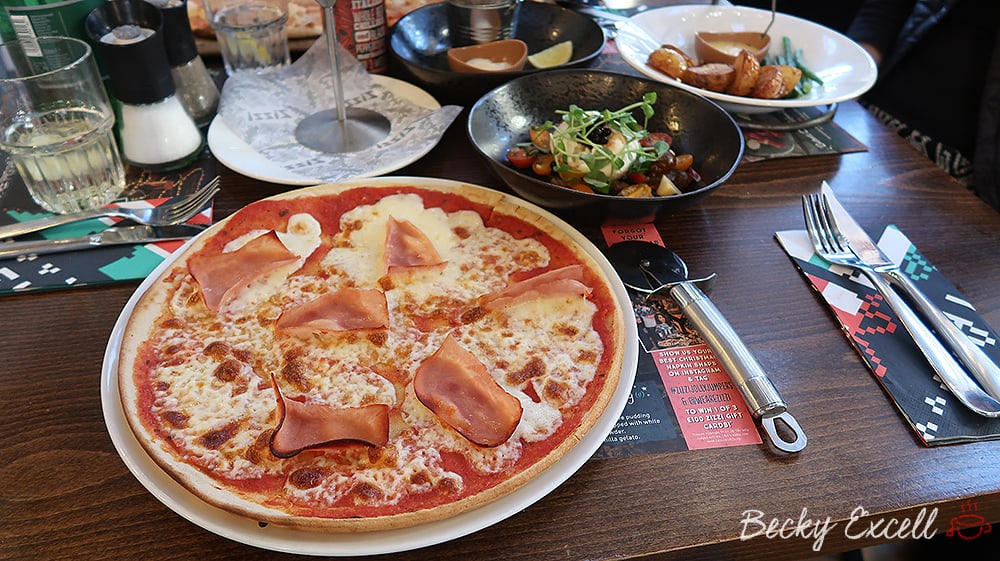 Mark absolutely loves coming to Zizzi as it's one of the few places he can order a non-dairy rustica! Sadly, it's not gluten free, but it's on a super-thin base that's rolled out to be pretty gosh-darn enormous, making it mega thin and crispy.
He said that his non-dairy cheese was "bloody awesome", which is no surprise as he's had the exact same pizza at least twice before at Zizzi!
Mark's Mum also ordered the same dish she had last time she visited, so needless to say, she absolutely loved hers too.
There's most definitely something for everyone at Zizzi.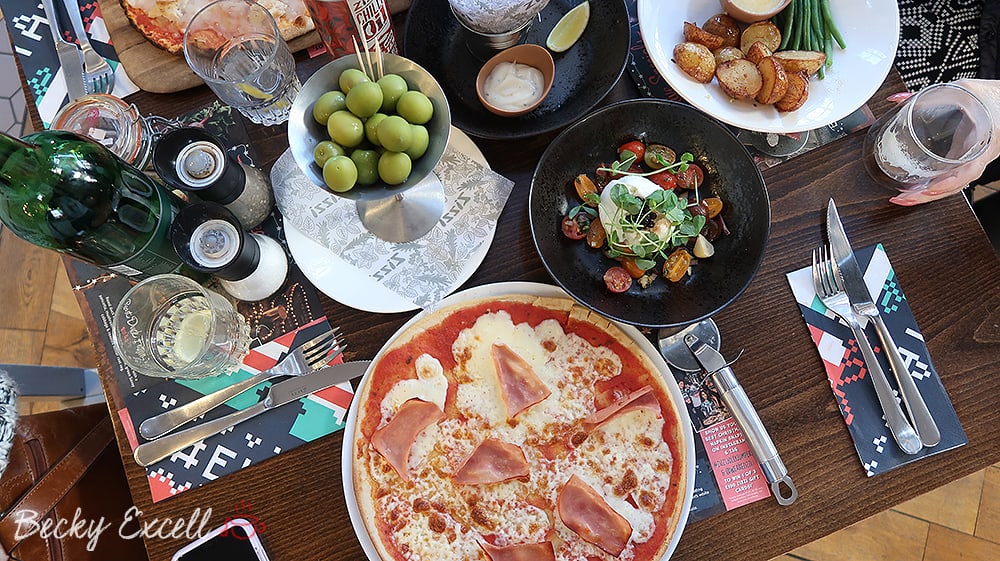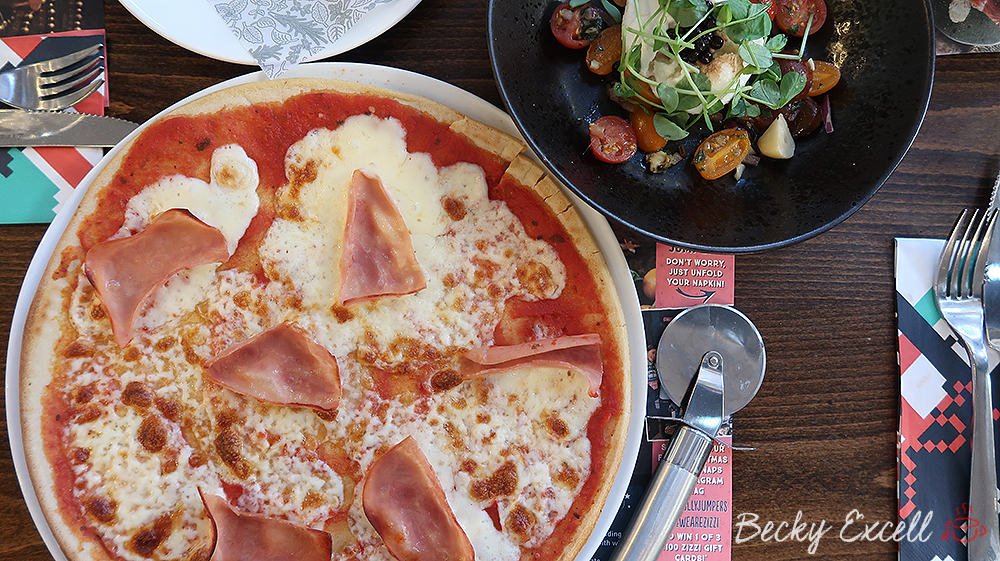 All in all, if Zizzi's expansive non-gluten menu satisfies your dietary requirements then you're guaranteed to have one of the best pizzas without a doubt.
It's so wonderful to find one more place to add to our list where Mark and I can both safely eat without stress. Needless to say, if you've got a special guests with you who don't have any dietary requirements, they'll love it too.
How has your experience been when dining out at Zizzi with dietary requirements? Please do let me know by leaving a comment below or on Facebook / Twitter / Instagram.
Thanks for reading,
Becky xxx