If you're looking for a breakfast option that is gluten free, dairy free and low FODMAP, look no further than my delicious grain free granola. You can easily make this ahead of time and enjoy it all week. It's so easy to the same breakfast every single day, and this is just the change I needed!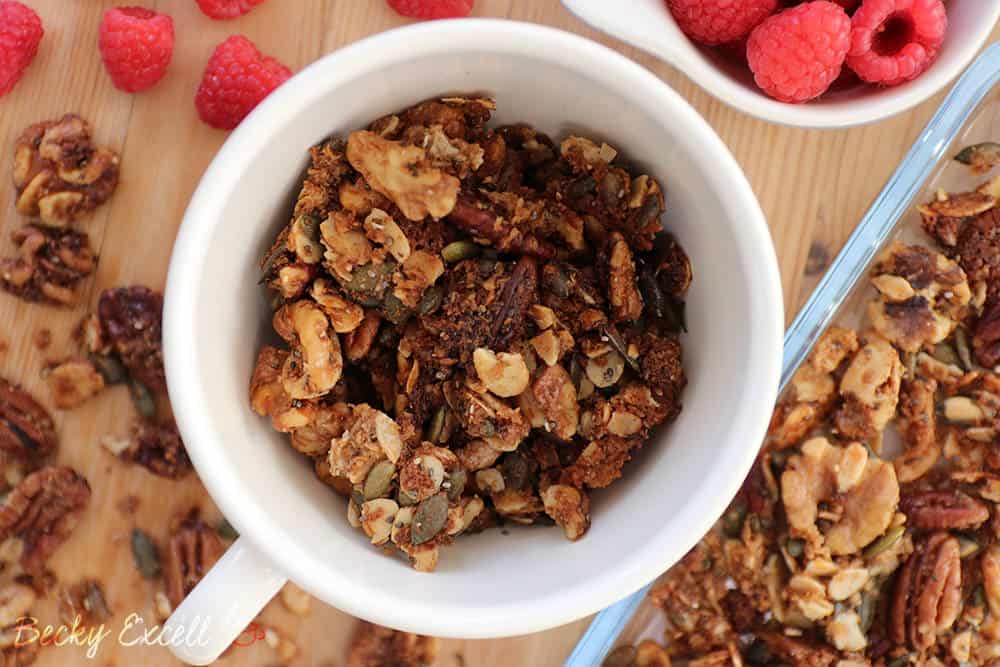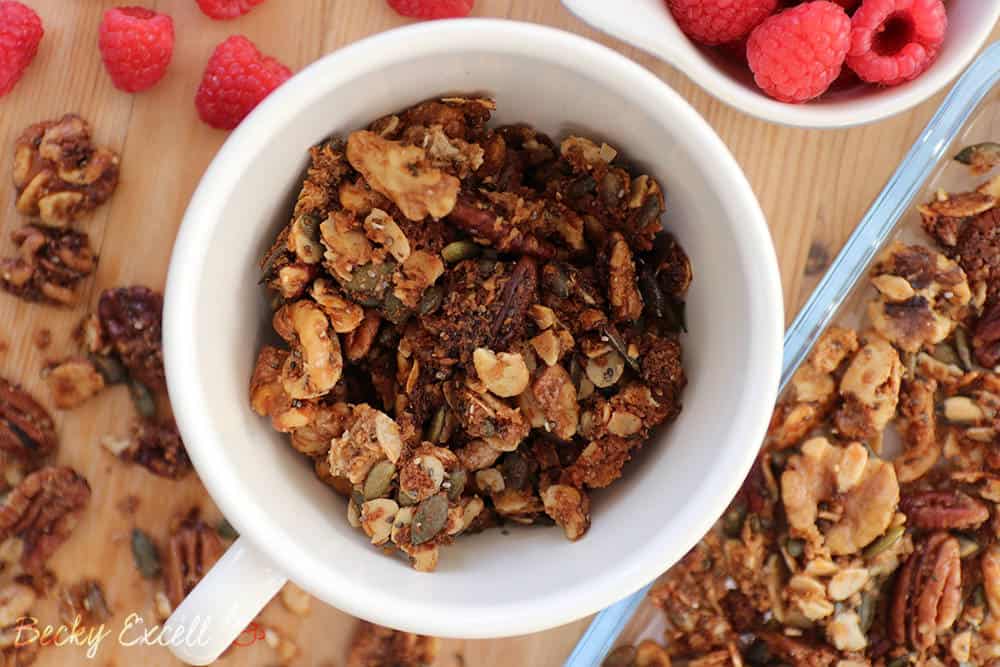 I must admit a few years ago I was most definitely not a breakfast person. I would skip breakfast every single morning and not eat until lunchtime… I'm pretty sure this just made me incredibly unproductive throughout the day even though you feel like you saved yourself extra time. So, first things first, if you are like my former self and shy away from brekkie, change your ways; breakfast is grrrr-eat (says me and Tony the Tiger)!
Anyway, these days I am all over breakfast like a hawk (which makes me Tony Hawk & Tony The Tiger). Obviously ensuring that breakfast is gluten free and low FODMAP isn't the easiest thing in the world, but I don't find it too difficult and neither will you. However, because I can't tolerate any oats and dried fruit doesn't agree with me (it's high FODMAP), I don't often get to enjoy my favourite breakfast choice, granola! That's why I decided to create my very own gluten free and grain free granola, plus it's also a dairy free and low FODMAP.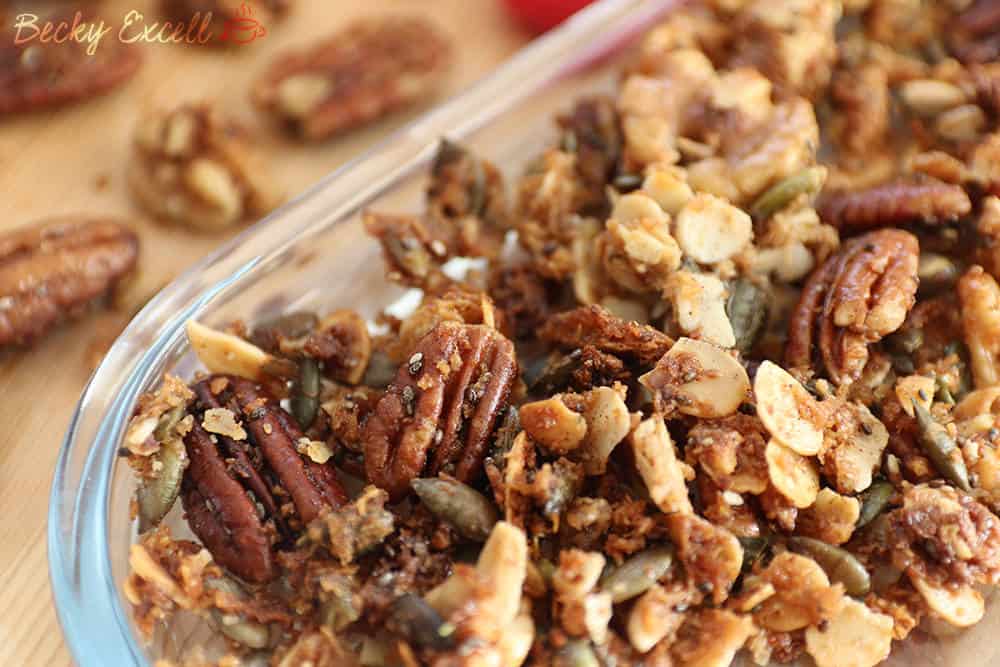 As I said, this is a grain free granola, which means no oats, rice flakes or even quinoa flakes. It's a pure delicious mix of nuts and seeds that almost caramelise when baked in the oven thanks to the maple syrup. It's the ultimate low FODMAP breakfast, it's like having dessert for breakfast really! I won't go into all the benefits of the different nuts and seeds in this grain free granola, but trust me it's a nutritional powerhouse, perfect to get you going in the morning. I will just say though, as someone who has IBS, the addition of flaxseed to my grain free granola works absolute wonders for me, I'd never leave it out.
I am a massive fan of pecan nuts and walnuts, I could literally eat them all day. I'm also a massive fan of pumpkin seeds; I used to have a delicious flapjack when I was younger that had pumpkin seeds in it… ever since then I've wanted to incorporate them more into my recipes. There is such a combination of flavours within this grain free granola, it's very far removed from your standard cornflakes and milk (I'm certainly not slating cornflakes though, I frickin' adore them too!). Of course, it isn't just it's nutritional qualities that makes this grain free granola a good wake up call, the flavour combinations definitely will get you going too!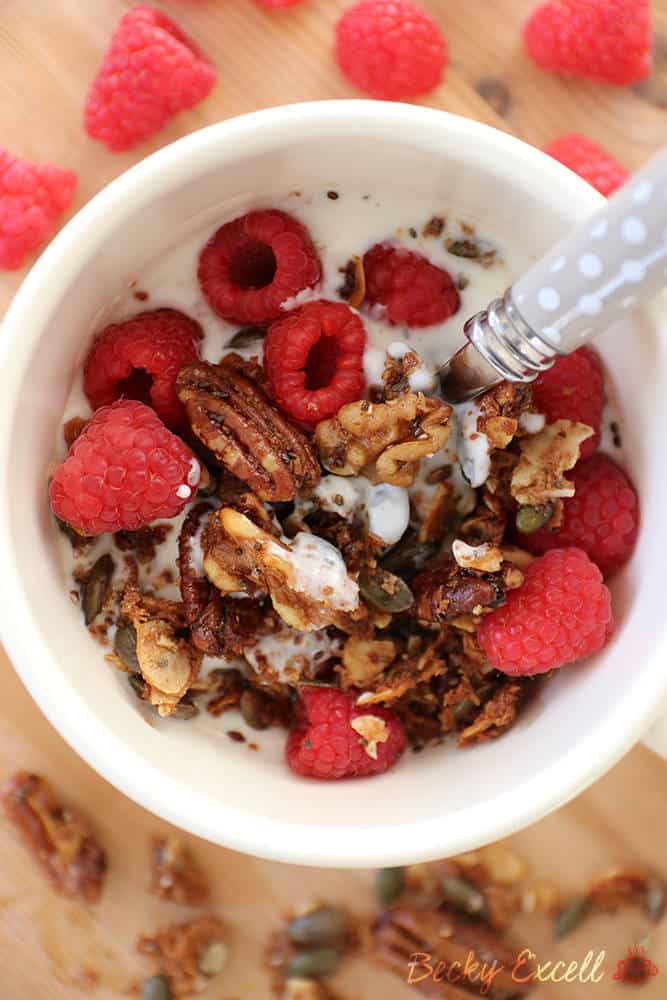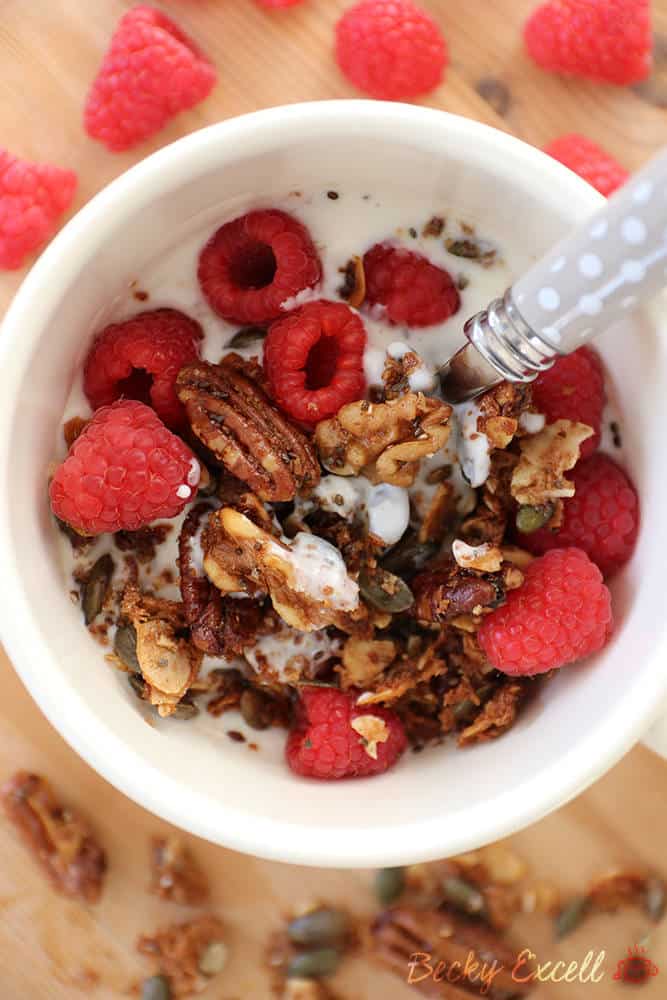 In the past I have bought gluten free granola, knowing that some of the ingredients still don't agree with my IBS stomach. That's how much I love granola! However, since those days I have been taking everything a lot more seriously ensuring that not only am I consuming gluten free granola but it must be a low FODMAP granola too. I really don't know why I didn't just make my own before, it's so simple and honestly it really does taste so much better.
One thing that is great about making your own grain free granola, is that you really can add whatever you like to it – if you wanted to add some additional seeds or a different selection of nuts (be careful if following low FODMAP though, some nuts are in fact high FODMAP!), then you can. I think my grain free granola recipe is a great base, but we all have different tastes, so feel free to play around with the recipe too! (but make sure you let me know, as I'd probably quite like to try your version as well!)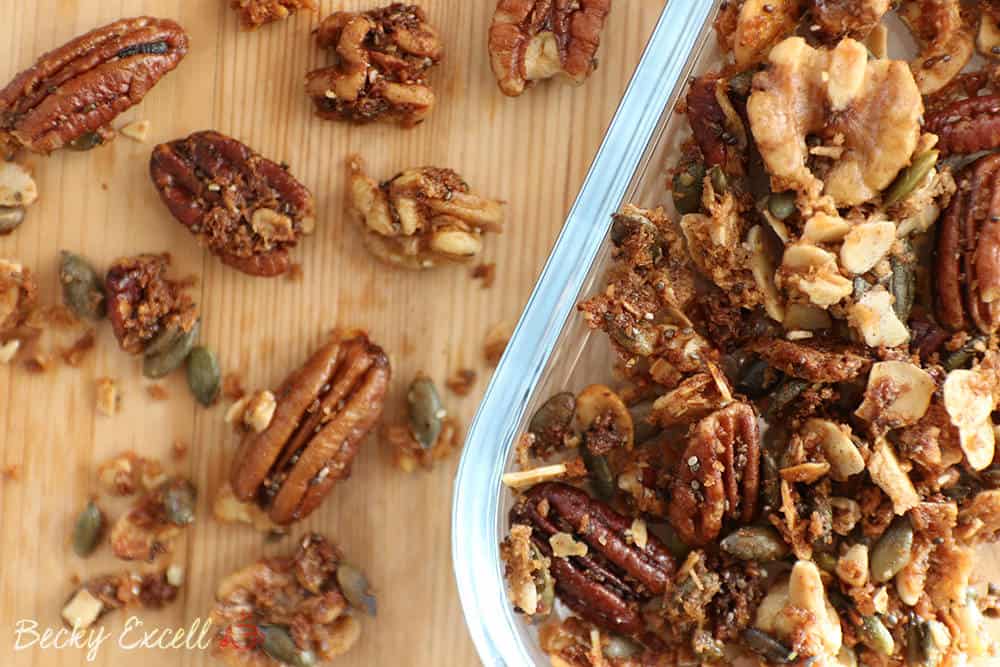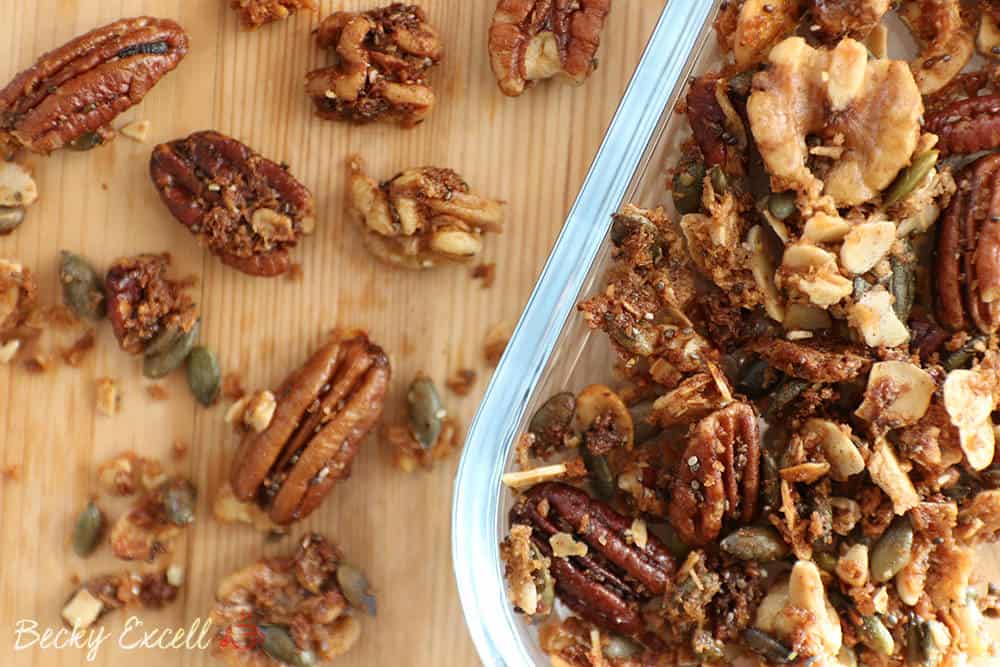 As you can see above, I like to serve up my grain free granola with some dairy free yoghurt. I tend to use natural coconut yoghurt most of the time, but I'm tempted to try it with some natural almond milk yoghurt sometime – I've seen a few new brands pop up recently! I also eat my grain free granola just with milk quite frequently, it really doesn't need much to accompany it as it so packed with flavour. When I have it with milk though I do end up sometimes eating a bit too much of it, so dairy free yoghurt is a better choice for me!
I do add some low FODMAP fruit to my grain free granola on occasions. Slightly over-ripe raspberries are my favourite – when they are overripe I find they have the best flavour! I also sometimes add blueberries and even a little banana (it depends what I've got in the house). Anyway, without further ado here is my gluten free granola recipe, my grain free granola recipe, my low FODMAP granola recipe… heck, it's just the best granola recipe around!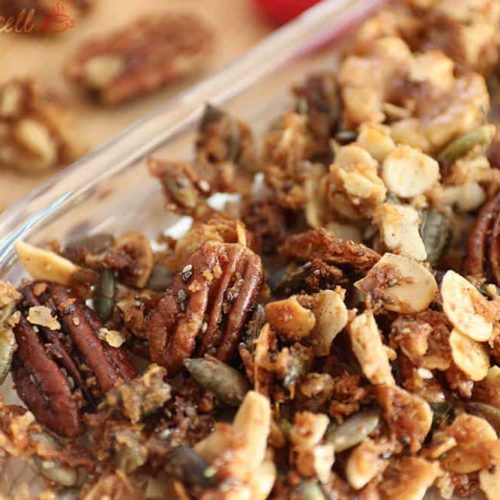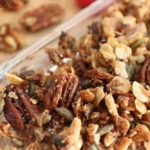 Grain Free Granola (Gluten Free, Dairy Free & Low Fodmap Granola)
Ingredients
1/2 cup desiccated coconut

1/2 cup flaked almonds

1/2 cup walnuts pieces

1/2 cup pecans

1/2 cup pumpkin seeds

1 tbsp chia seeds

1 tbsp flax seeds

1/4 tsp salt

1 tsp cinnamon

1/4 cup maple syrup

2 tbsp coconut oil
Instructions
Mix together all your dry ingredients (nuts, desiccated coconut, seeds, cinnamon & salt).

Melt over a low heat your coconut oil and maple syrup.

Pour your melted coconut oil and maple syrup into your dry ingredients mixture.

Mix together throughly so that all your nuts and seeds get coated.

Spread evenly on a baking tray.

Place in a preheated oven (160c) for around 20 minutes, until your granola is lovely and golden.

Allow your granola to cool on the baking tray before loosening your granola (I used my metal cake slicer but a palette knife would probably work well too).

Pour into an airtight jar to store, or if eating straight away I'd recommend it with yoghurt and fresh fruit (or however you eat your granola usually!).
Notes
I usually put all my measurements in grams and kilograms but for this I think cup measurements is easiest. I hope that works ok for you too!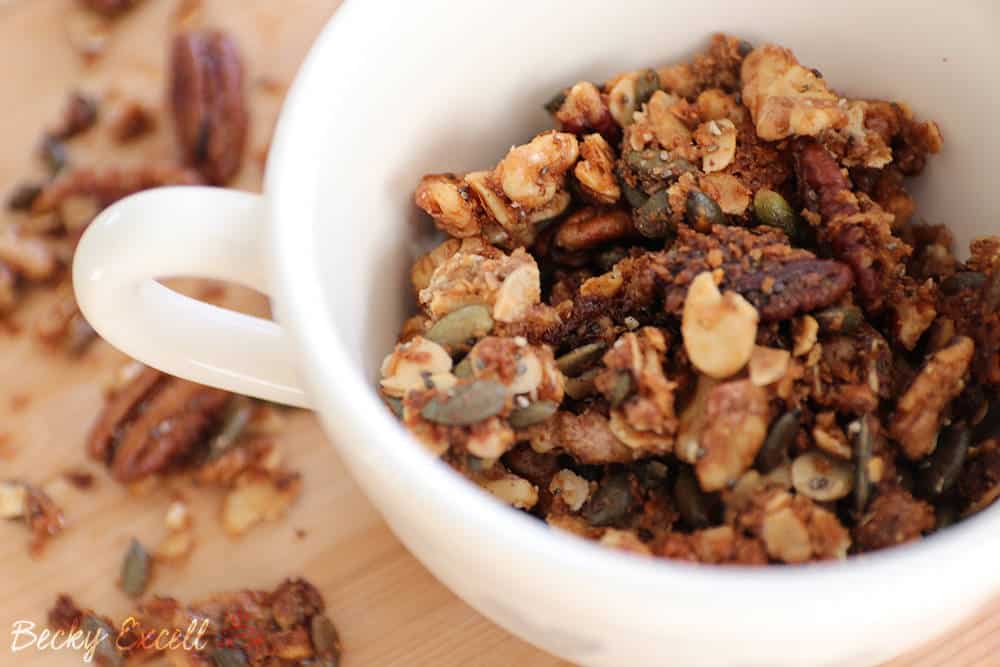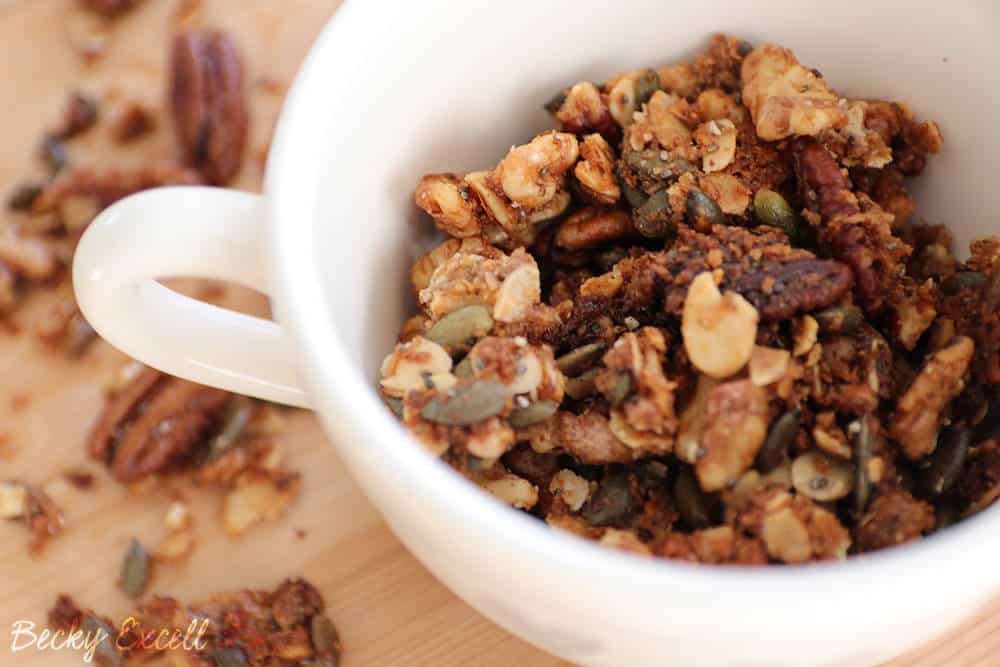 If you want to make a big batch of my grain free granola to last you a couple of weeks then obviously just increase the measurements. I'd recommend seeing how you go to start with, I know once you've tried it, you will be munching this every morning without fail (or if you are like Mark, even in the evenings!). Make sure you have an air tight container to keep it in, it will stay fresh for a good long while, though I must admit, I don't know how long as it has never lasted us that long!
Please let me know if you get the chance to give my grain free granola a go, I'd love to see your pictures and hear what you think of the taste! Just drop a comment below or on Facebook/Twitter/Instagram. It's the perfect recipe for people like me who need not only a gluten free granola, but a grain free granola (no oats please) and also a low FODMAP granola. Equally though, it's so delicious I guarantee everyone will love it and ask you for the recipe!
Thanks so much for reading,
Becky xxx
Oh and don't forget to pin this before you leave 🙂