The ULTIMATE air fryer buyer's guide… because you guys keep asking me which one I'd recommend to buy! But instead of telling you which one machine is 'best', I've included the best air fryers to suit all different sized households and budgets.
The ultimate air fryer buyer's guide wouldn't be complete without answering all your frequently asked questions, as well as explaining the benefits of an air fryer vs a conventional fan oven or deep frying, would it? So of course, that's exactly what I've included in this guide too!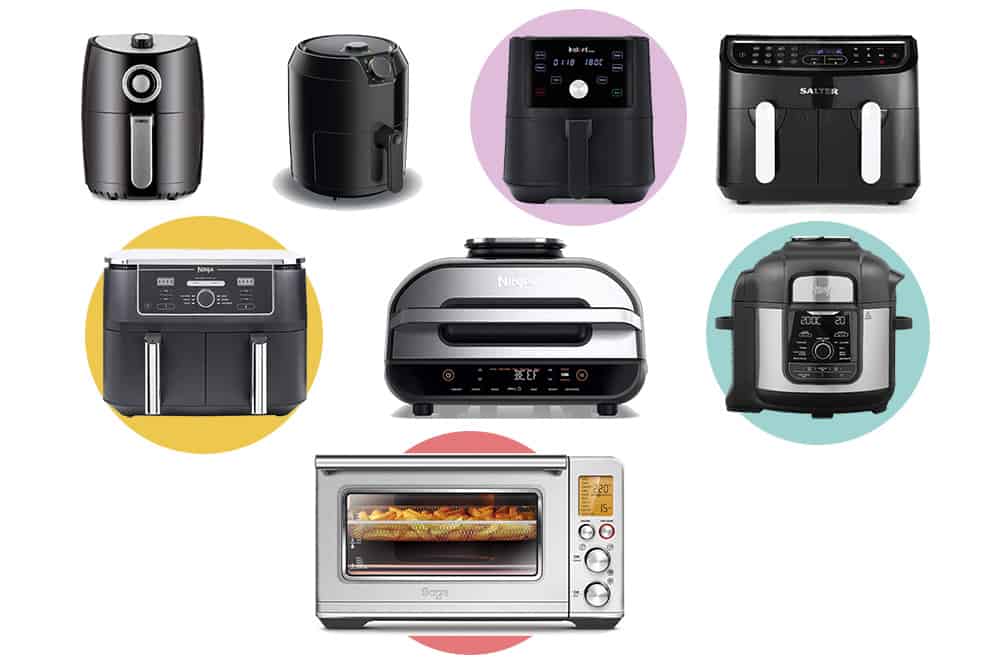 Frequently Asked Air Fryer Questions
What is an air fryer?
An air fryer is a small kitchen appliance that circulates hot air at high speeds, acting like a powerful mini convection oven. Due to its small size (compared to an oven) and when coupled with the high fan speed, it can cook food a lot quicker than an oven.
It also results in a generally 'crispier' finish on everything when compared to an oven, which makes it suitable for most recipes that you'd otherwise need to deep fry. Bear in mind, that you still need some oil to achieve a comparable finish, otherwise breadcrumbs etc. can remain very dry and pale.
How is an air fryer different to a fan oven? What are the benefits and drawbacks?
SPEED: Firstly, an air fryer is smaller than a regular fan oven which means it has less air inside to heat; this of course means it heats up much faster (most you don't need to even preheat) and cooks food quicker. So speed is certainly the first difference.
SMALLER: Of course, its smaller size allows it to heat up food quickly and preheat faster than when compared to an oven, but then again, you'll never be able to air fry your Christmas turkey in it. So for particularly busy families, you might find that you'll have to cook your food in batches or only cook one component of a meal in it, if using a smaller air fryer.
CRISPIER FOOD: This isn't something anyone ever seems to mention (but seems to be the case from my personal observations and experience) but an air fryer also blows hot air/steam out the back whilst cooking, unlike an oven where it all gets trapped inside and steams up your glasses when you open it. The less steam trapped inside, the crispier your food will emerge and from my 1 year+ of using the machine a few times a week, the air fryer undoubtedly results in a crispier finish because of this.
CHEAPER TO RUN: According to this little experiment here, an air fryer is actually around half the cost to run than a conventional oven. Depending on how much you use the oven in the first place, this could amount to a noticeable saving on your electricity bill per year.
ADDITIONAL FUNCTIONS: Many air fryers have additional functions beyond just simply air frying, depending on which model you buy. Common extra functions include a roast function, a reheat function, a grill function, or in some cases the air fryer function is part of a multi-cooker which can also pressure cook and slow cook too. So it really can be an all-in-one device that retires your oven or other small appliances entirely.
PORTABILITY: Of course, air fryers aren't super light, but they are easy to move around the kitchen or transport in the car. For example, it'd be easy for students to take a small air fryer to University with them.
Is an air fryer healthier than deep frying? Can it replace a deep fat fryer?
Yes, it is much healthier. When you deep fry you are submerging food into oil. When you use an air fryer you are using very little oil, yet can still get a lovely, crisp finish. The final product is not exactly the same as when deep fried but it comes fairly close, with the added benefit of using a lot lot less oil!
However, it cannot entirely replace a deep fryer as foods coated in a wet batter (like fish and chips coated in a traditional beer batter or tempura) will not work; either the batter will stick to the basket and you'll lose it or it'll drip off before it cooks and sets.
Wet batter is also much harder to spray with oil, if not impossible, because it'll just blast the batter off, making the batter very pale and dry. Foods coated in a wet batter only generally work in a deep fat fryer, which is why you never see these recipes cooked in an oven either. Because of this, I often just coat fish in breadcrumbs and flour instead, then spray with oil before air frying for a similar experience.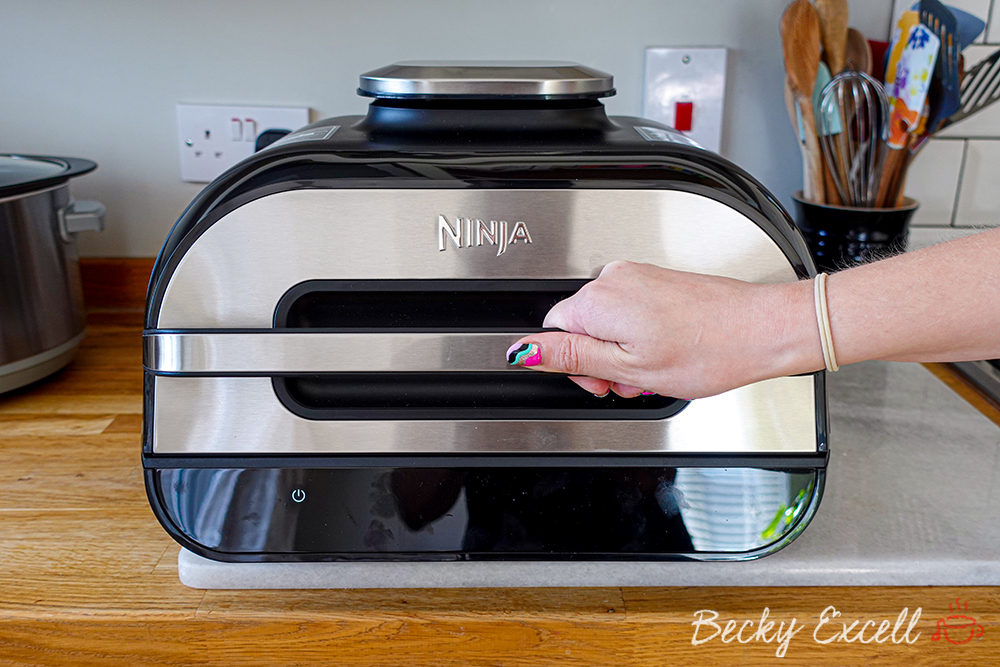 What should I consider when choosing an air fryer?
Even if you don't end up going for one of the air fryers in this guide for whatever reason, these are generally the main things you should always have in mind when selecting an air fryer:
PRICE: Prices in this guide range from £38 – £300, so of course, this is an important factor. I'll let you know later (when I specify specific machines) exactly what that extra money is getting you, so you can weigh up whether it's worth it for you or not.
CAPACITY: Air fryers come in all different shapes and sizes with different capacities, specified in litres – the air fryers featured in this guide range from 2l right up to 22l. It's a good idea to think about how many people you'll be cooking for so you know how much capacity you need; for example, a 2-4.5l capacity air fryer is fine for 1-2 people and a 4.5-10l capacity is better for 2-4 people depending on what you're air frying. The more capacity, the more food you can cook at once.
ONE DRAWER OR TWO? Some air fryers have two drawers, allowing you to cook two different things at the same time (at different timings and temperatures) so you can cook two components of your meal (ie. chicken in one drawer and roast potatoes in the other) at once, which even small households would find useful. Some air fryers like the Ninja Foodi Max don't even have drawers – they instead open up like a George Foreman grill (and that one even doubles up as a health grill!) but in general, the drawer design is more common.
WORKTOP SPACE: Whilst air fryers aren't huge on average, they do take up valuable worktop space, so it's important to get one that fits in with your space. There are lots of different sized ones available so please make sure you consider the measurements of the machine first – I might be stating the obvious, but the less drawers and capacity an air fryer has, the smaller it will be.
DIGITAL SCREEN: Some air fryers have a digital screen which can make it easier to navigate, whilst others just have two dials instead – I personally like having the screen as it makes everything very clear, but these only generally appear on more expensive models.
ADDITIONAL FEATURES: As I mentioned earlier, many air fryers have additional features in addition to being an air fryer so it's good to consider which features would be most useful to you. Whilst some have extra features such as roast, bake and reheat (which aren't life-changing by any means), some can slow cook/pressure cook and the Ninja Foodi Max even doubles up as a George Foreman Grill. There's also one by Sage that's a microwave and an air fryer, which is even more game-changing as it can replace your microwave without taking up any additional space.
NOISE: Air fryers are definitely not the quietest of appliances! They can get quite loud when they are in use which could be something to consider, especially if you have open plan living. I must admit you do get used to it though! If I had to rate the noise, I'd say that the average air fryer is quieter than a hair drier, but louder than a microwave. All air fryers generally create the same level of noise, but it's just something you should be aware of.
How much do air fryers cost? How much should I pay for one?
Air fryers are available at all different budgets, so hopefully if you are in the market for one, there should be something to suit you. At the lower end of the market you can find an air fryer for about £40 and the upper end tends to be around £200-300.
I'll definitely say this now though: you definitely don't need to spend anywhere near £300 to get a good air fryer!
If you just want to air fry chips, chicken nuggets and fillets/small joints of meat for 1-2 people, a £40-£60 2-4 litre air fryer should be enough. If you intend to get more ambitious or have a larger household, that's when I'd recommend looking at the more expensive options.
Is an air fryer worth the money?
It totally depends how much you are going to use it, like with every other kitchen appliance or gadget. Each time you use it, you're getting value out of it!
For us, it's something that we use multiple times a week and we now wouldn't be without it, so yes, for us, it's definitely worth it. But if you are happy using your oven and feel no need for another appliance in the house (or don't have the space for one) then you definitely don't need to get one.
I do have a whole range of air fryer recipes here on the blog (and growing!) which might help you instantly get to grips with it and and get better value out of it; PLUS my brand new book Quick + Easy Gluten-free gives you air fryer options for some recipes too. The more air fryer recipes you have ready to try, the more likely you are to use it!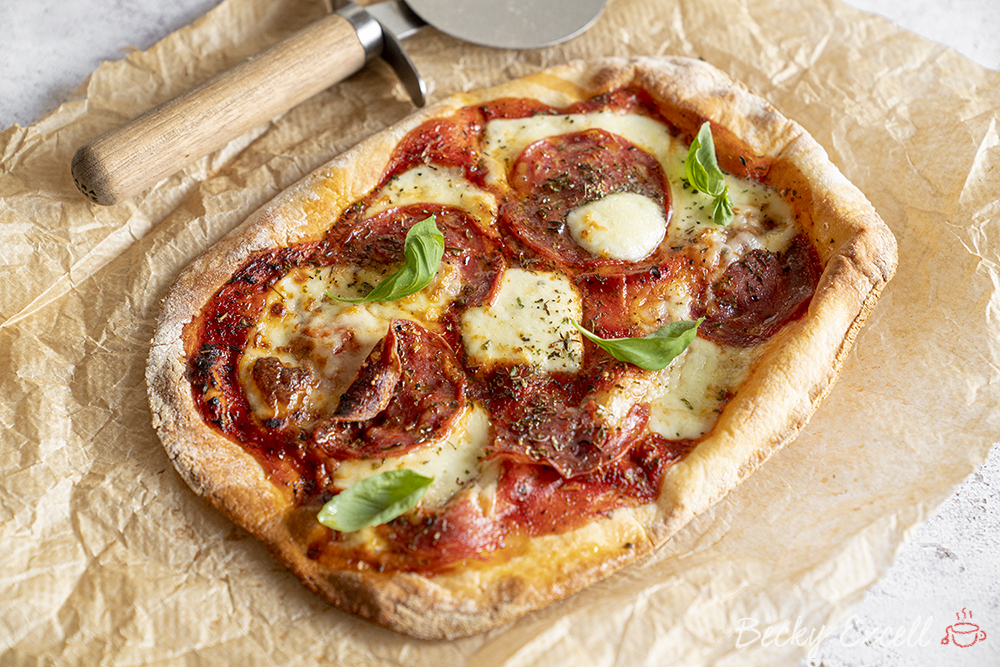 Which air fryer should I buy? My recommendations!
The big question! Of course, it depends on your budget, so I'll include air fryers that are highly revered and recommended across the Internet, including the ones I actually own and use. In case you didn't know, I actually have 3 for work purposes, so I can definitely vouch for those specifically.
In my experience, it's best to buy from a brand you've heard of as long-running brands generally have a reputation to maintain!
I'd recommend first considering the machine that fits your budget, then decide whether or not the more expensive option below it offers anything else you actually need (ie. more capacity, an extra drawer, more functions etc.) or if the cheaper one above it would actually suffice instead. Please note that these are affiliate links and prices may change or be discounted whenever Amazon feels like it!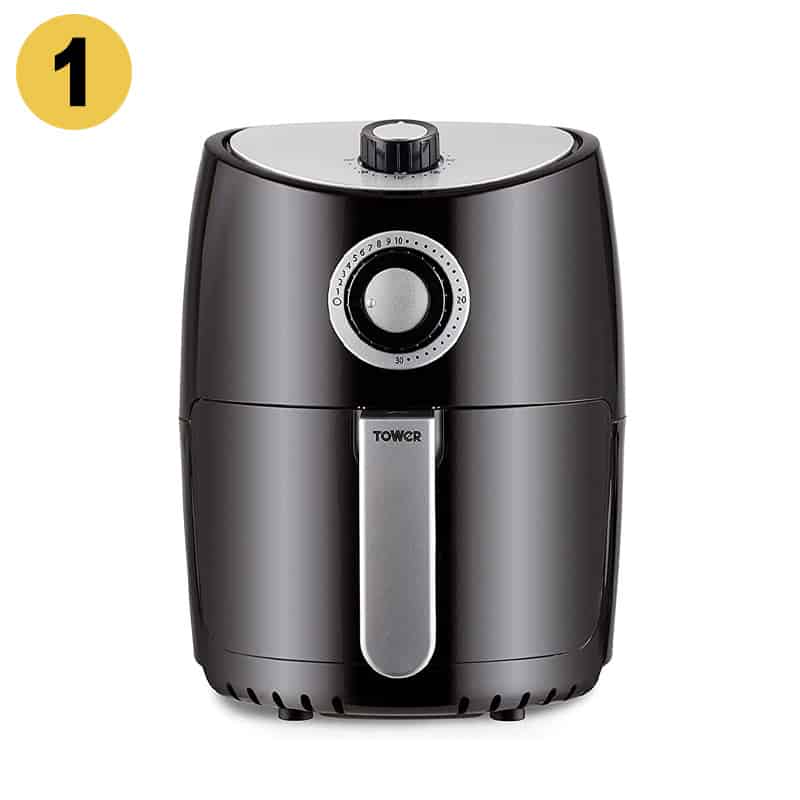 Tower T17023 (2.2l) Air Fryer (pictured) or Salter (2l) EK2817 (£38-39): These two are the perfect starter air fryers and in most 1-2 person households, will likely be all you'll ever need – get the Tower one if you can as it's a smidge bigger in capacity! Both have a drawer-style and two fool-proof dials: one for temperature and one for time. These aren't suitable for larger families at a 2.2l capacity on the Tower and 2l on the Salter, but both have more than enough space for air frying one component of your meal. If you only intend to cook chips, nuggets/goujons, fish fingers or fillets/small joints of meat, then either will be all you'll ever really need. There's also a larger version of the Tower air fryer here (4.3l) and here (4l) which almost doubles the drawer capacity.
Tefal Easy Fry Classic (4.2l) EY201840 (£58): Like the two larger Tower air fryers I just linked, this is almost double the capacity of the cheapest air fryers in this guide. Out of this Tefal air fryer and the two larger Tower air fryers, just get whatever is cheapest at the time as the difference in their capacity is almost negligible. Currently, the cheapest option is out of stock for 1-2 months, so bear that in mind.
Instant Pot Vortex (5.7l) 4-in-1 Air Fryer (£99): As we're at more than double the price of the cheapest air fryer, what are you getting for that extra cost? Firstly, a digital screen that you won't want to live without after having one, a very large capacity drawer (5.7l) which is more than double the cheapest option as well as roast, bake and reheat functions. Also, the bump in quality is undeniable! There's also a fancy one here (same capacity) with a glass front and inside light with 2 extra functions for an extra £20.
Salter® (8.2l) EK4548 Dual Cook Pro Air Fryer (£134): Here's another drawer-style air fryer (8.2l capacity – each drawer is 4.1l), but this time with two of them. The reason this costs more than some of the cheaper options is that, with two drawers, you can air fry a whole small chicken in one drawer and air fry chips in the other at completely different temperatures and timings. You can even sync the two drawers so that they finish cooking at the exact same time. Perfect for larger families, though needs more space on your worktop.
Ninja Foodi (9.5l) Dual Zone MAX (£179): This is another double drawer-style air fryer that I bought recently with a massive 9.5l capacity (each drawer is 4.75l). Apart from being larger, yet having all the functionality of the Salter machine above, it also has roast, max crisp, bake and dehydrate functions too. I got this recently and can confirm that it is awesome!
Ninja Foodi (3.8l) MAX (£198): Don't let the capacity size fool you – this was the first air fryer I ever got and I still love it! It's perfect for pizzas and getting the crispiest finish on food as it has the largest surface area of any air fryer out there, despite only having a 3.8l capacity. How? Well, it's a clamshell-style air fryer (opens like a George Foreman gril) that's wide and flat, allowing you to spread food out more (for a crispier finish) instead of the drawers where food piles up and ideally needs to be mixed about a bit periodically during cooking. It also has a 'George Foreman' health grill attachment and digital temperature probe, both of which are unique to this machine and very easy to use – the health grill aspect is great for cooking steaks and all the fat drips through to the bottom tray!
Ninja Foodi (7.5l) MAX Multi-Cooker (£199): Fancy getting an air fryer than can replace your slow cooker and pressure cooker? This is the ultimate option for anyone short of worktop space, yet still wants the functionality provided by a slow cooker or pressure cooker… which none of the above can offer. The only downside is that you need to switch the lid to air fry (and need space to store the extra lid) but other than this, this type of machine works wonders in the kitchen. It also offers a whopping 7.5l of storage for big stews or a lot of air frying. There's also a smaller version (6l capacity) over here too.
Sage SOV860BSS4GUK1 (22l) Smart Oven Air Fryer (£329): If you want the best of the best, then Sage are here to provide exactly that. Not only does it have 10 functions (toast, crumpet, grill, roast, warm, pizza, air fry, reheat and slow cook) and the best user-friendly screens and menus, but it also has a whopping 22l capacity and multiple shelves just like an oven. This makes it easy to use that massive capacity to cook multiple components of a meal at once. Without a doubt, this is the best for large families and the best looking machine, but if you're going with a machine of this size, then don't forget that they also have an air fryer that can replace your microwave too. How crazy is that?
I'm confused! Which one should I actually buy?
Of course, it depends massively on your budget, worktop space, needs and household size – that's why I've provided options to suit all of the above so you can (hopefully) choose yourself.
But if you still can't choose, I'd say options 2, 3 and 4 will suit most average people who cook fairly regularly. Option 1 is perfect for 1-2 people who don't need to air fry large amounts in one go and the higher end options are for air fryer enthusiasts who will use it very regularly (ie. you regularly eat 'air fryer friendly food' like chips, roast potatoes, wedges or anything breadcrumbed already) or simply just want 'the best of the best' whenever you buy an appliance.
I own options 4, 5 and 6 and can personally vouch for them very highly if that helps!
How much capacity do I need in my air fryer?
If you're confused about capacity and how much you'll need, then remember this: I can cook a whole medium chicken (about 1.7kg) in a 4.75l air fryer drawer (with next to no space left). With that visual in mind, hopefully you'll have some idea of how much food you can expect to fit in the above air fryers – that would be a lot of chips!
In my mind, it's better to have a little more capacity than you need because, if you get really into air frying like I did unexpectedly, you'll be able to do more without feeling the need to replace an already very new machine. Here's my general rule when it comes to air fryer capacity:
2-4.5l capacity air fryer: Comfortably serves 1-2 people
4.5-10l capacity: Comfortably serves 2-4+ people
10l+ capacity: You're basically ready for anything!
Of course, this depends on what you're making and is just a rough idea!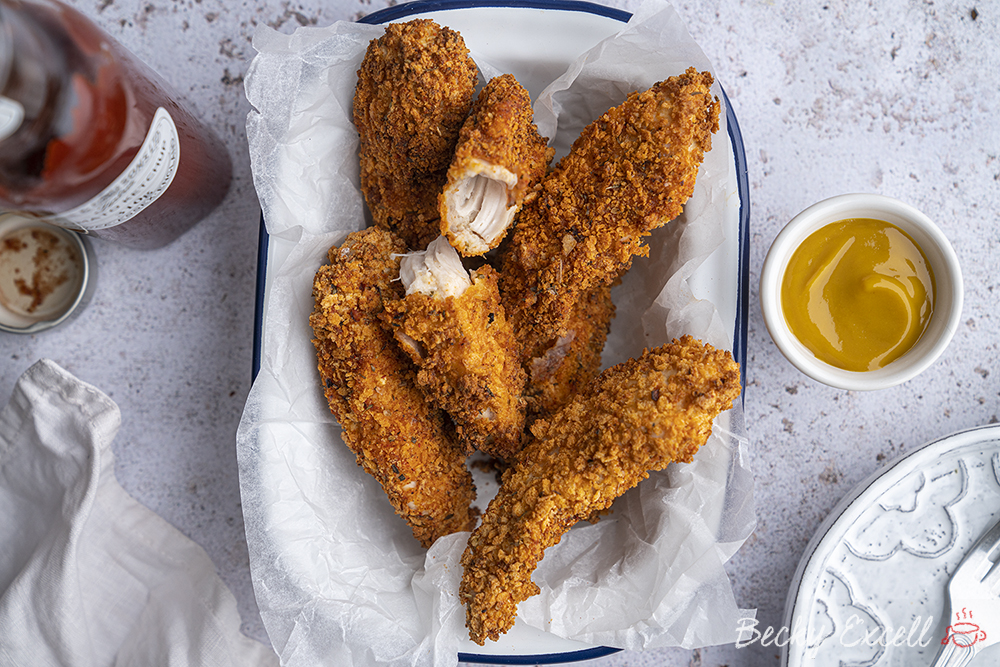 Other questions I often get asked about air fryers
What can I make in an air fryer?
You can make so many different things from chips, wedges and roast potatoes, to air frying whole chickens, pizza (depending on the dimensions of the base of your air fryer drawer/basket) and anything breadcrumbed. You can also bake in an air fryer (a baking function helps but isn't always required) to create wonderful cakes and cookies. The possibilities are endless and I definitely haven't explored them all yet but I will in time.
Here's a few to get you started:
I've also created an air fryer recipe series over on TikTok and Instagram which you'll get for free (including the full recipes) simply by following me over there! The recipes will be posted each day on my feed on those channels.
Can I cook gluten-free and non-gluten-free items in the same air fryer?
No! In an ideal world, I would recommend that for us gluten-free folks, your air fryer should be 'gluten-free food only' at all times, if possible.
Because of how everything flies around in an air fryer due to the fan speed, there is a very real risk of cross contamination. And whilst the basket is very easy to clean, the inside of the machine can be tricky to clean depending on the make and model of your air fryer.
Is an air fryer suitable for a big family?
Air fryers come in all different shapes and sizes as I mentioned before, however if you are a particularly large family, then even the average large air fryer (8-10l) would potentially not be big enough to cook an entire meal in one batch, solely in the air fryer. However, you would likely be able to make 1-2 components of a dish in the air fryer (such as crispy chicken/fish in one drawer and air fryer roast potatoes in the other) whilst you boil your veg on the hob, for example; or you can always cook in batches.
How easy are air fryers to clean?
It totally depends on your make and model, but in my experience, they're very easy to clean. With the Ninja Foodi Max (clamshell-style design), I can simply throw the basket and tray into the dishwasher, no problems.
But with the drawer machines, you shouldn't really put the drawer in the dishwasher as it'll likely degrade the plastic and handle on the front of the drawer over time. With the Ninja Foodi Dual Zone (which has two drawers) the instructions say you can put the drawer in the dishwasher, but it's 'not recommended for the longevity of the machine'. So basically, that's a no to me!
But of course, everything is non-stick so it's quite easy to wash up in the sink with washing up liquid anyway. Don't neglect to remember to clean the inside of the machine from time to time either (check the instructions on your machine for proper guidance though) as there is always some splatter when cooking.
That's all air fryer folks!
Thanks so much for reading my ultimate air fryer buyer's guide – I hope it helped you to make your mind up!
Thanks for reading,
Becky xxxx