One-pot sausage tomato pasta recipe – here's yet another super easy 30 minute recipe you can make entirely in one pot! Of course, it's gluten-free and Coeliac-friendly as always.
One-pot sausage tomato pasta recipe – nothing beats a creamy, perfectly spiced tomato sauce, packed with red pepper and sausage. It's the kind of meal that'll be in your meal plans for years to come!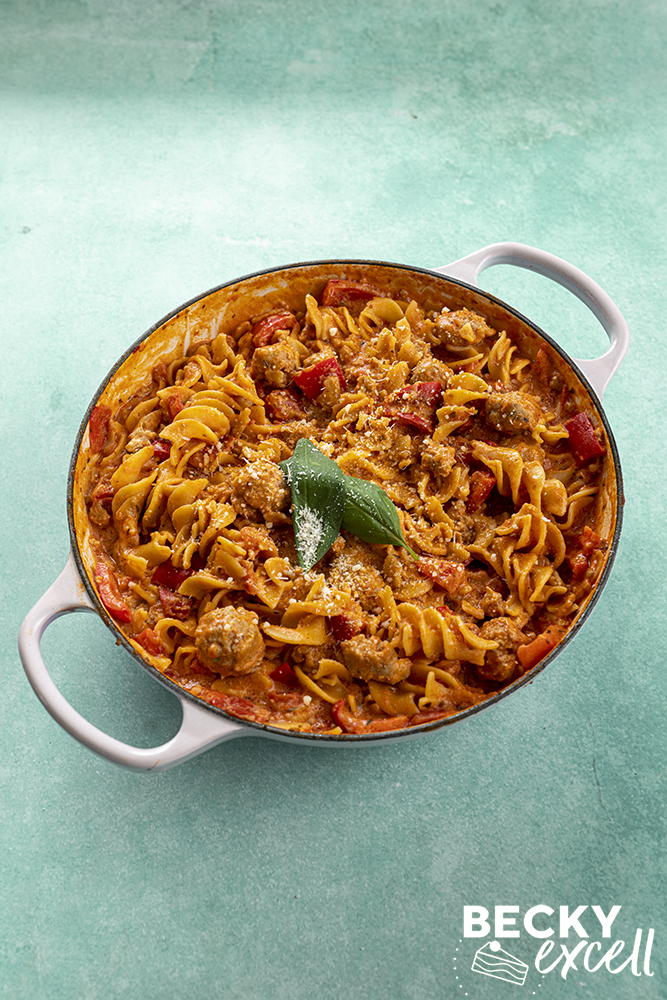 In case you hadn't noticed, I've dedicated a lot of my recent recipes (any many more to come!) to creating quick and easy gluten-free meals. And in most cases, these recipes are healthier (see the FAQ section for more healthy swaps) and incredibly affordable too.
Of course, I'll always love baking and throw in a good measure of cakes, bakes and sweet treats here and there, but these dinner recipes are the kind of ones you can use every week… not just every once in a while!
And whilst adapting your average 'muggle' dinner recipes can be so easy that you sometimes don't need a special 'gluten-free' recipe for it (ie. just swap pasta for gf pasta), I hope you'll agree with me on one thing…
And that one thing is this: having a well of dedicated gluten-free dinner recipes that have all been tried and tested using gluten-free products is never a bad thing! And that's exactly what you'll find here on the blog!
One-pot sausage tomato pasta recipe recipe: What you'll need…
Garlic-infused oil: An instant injection of wonderful garlic flavour – no chopping or pre-frying of fresh garlic required. And if your garlic oil doesn't have any bits of actual garlic floating in it, then it's low FODMAP too.
Gluten-free sausages: In case you didn't know, not all sausages are gluten-free as some contain wheat flour as a bulking agent. I used Heck sausages that I picked up in Tesco.
Red (bell) pepper: Any colour of pepper will do here, but red is my personal preference in terms of flavour and aesthetics in this dish.
Spices: For this recipe you'll need smoked paprika, fennel seeds, dried oregano and dried chilli flakes from the spice cupboard.
Chopped tomatoes: Even the cheapest tin of chopped tomatoes works wonders here, so feel free to get whatever's cheapest.
Gluten-free stock: Any stock cube will do, as long as it's gluten-free! These are stocked with all the regular stock cubes and often clearly labelled as gluten-free. I used a ham stock cube for this recipe as it adds a lovely smoky flavour.
Tomato puree: This helps to thicken the tomato sauce so it's velvety smooth and not too thin. It also boosts the tomato flavour a bit too.
Gluten-free pasta: I used Garofalo gluten-free Fusilloni which is amazing, though a little on the expensive side and hard to find. In reality, any gluten-free pasta from the free from aisle will do just fine!
Cream cheese: This adds a welcome creamy flavour to the sauce which works so well in this recipe – plus it helps to thicken the sauce too.
Parmesan: A little of this goes a long way in adding so much flavour, making it my cheese of choice for this recipe. Extra mature cheddar comes in at a close second.
Salt and pepper: These matter more than you think, so don't forget these!
Fresh basil: This is just to scatter on top at the end.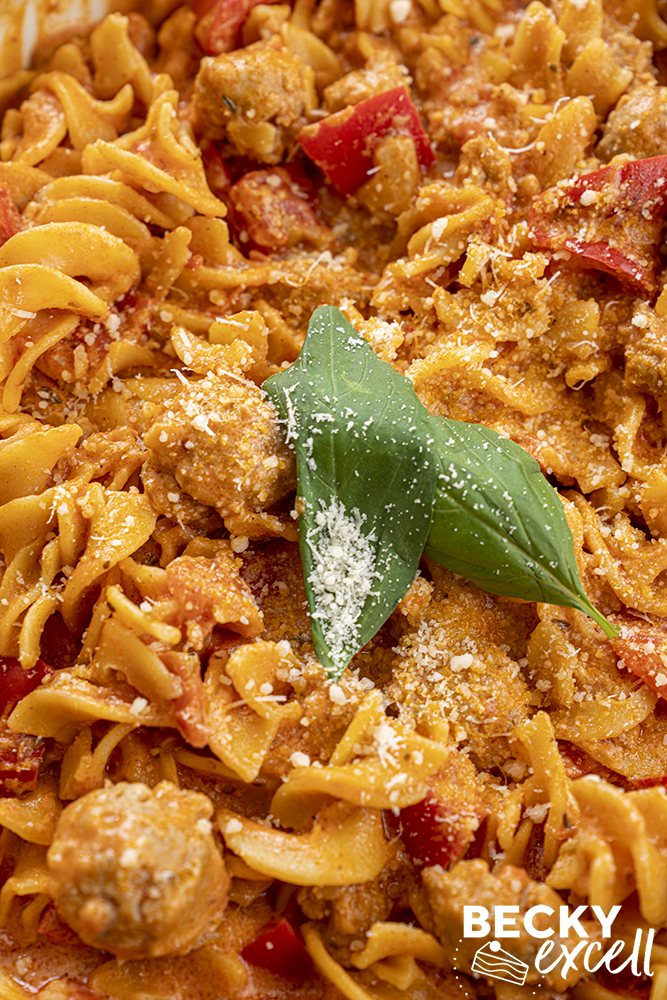 So, what does my one-pot sausage tomato pasta recipe taste like?
This tomato sauce is one of my favourites – it's creamy, packed with flavour and the fennel adds a unique flavour that works so well with the red pepper and pork sausages.
By removing the sausage from their casings, you basically get mini pork sausage meatballs! This dish as a whole is something that I never get tired of eating, plus it's incredibly easy to switch up the spicing, protein or veg to truly make this your own.
One-pot sausage tomato pasta recipe: Frequently Asked Questions
Can I make this recipe gluten-free? Is it suitable for Coeliacs?
It is gluten-free, though nobody would know just by tasting it – trust me!
Bear in mind that minimising cross-contamination is hugely important if you're Coeliac or making this for someone who is. Here's some tips from Coeliac UK on minimising the risk of cross contamination.
Also, make sure that all ingredients used don't have any gluten-containing ingredients. Then make sure that they also don't have a 'may contain' warning for gluten, wheat, rye, barley, oats (which aren't gf), spelt and khorasan wheat (aka Kamut).
Here's some more info from Coeliac UK on identifying safe gluten-free products.
Can I make your one-pot sausage tomato pasta recipe dairy-free?
All you'd need to do is use a dairy-free cream instead of cream cheese and a smoked dairy-free cheese instead of parmesan.
Can I make your one-pot sausage tomato pasta recipe veggie or vegan?
Of course! If you're vegan, follow the dairy-free advice above first, then for both veggies and vegans, simply:
Swap the sausages for gluten-free veggie sausages (no need to remove from their skins if making this swap)
Use gluten-free veggie stock
Is this recipe low FODMAP?
It can be – see the guidance below! With these changes made, one serving of the finished dish would be a safe low FODMAP serving size:
Ensure your garlic-infused oil doesn't have any actual bits of garlic floating in it (the one in Tesco is safe, but sadly the one in Aldi is not, for example)
Use a low FODMAP stock cube
Use lactose-free cream instead of cream cheese
Omit the tomato puree
Serve no more than 43g of red pepper per person OR use green peppers instead and serve no more than 75g per person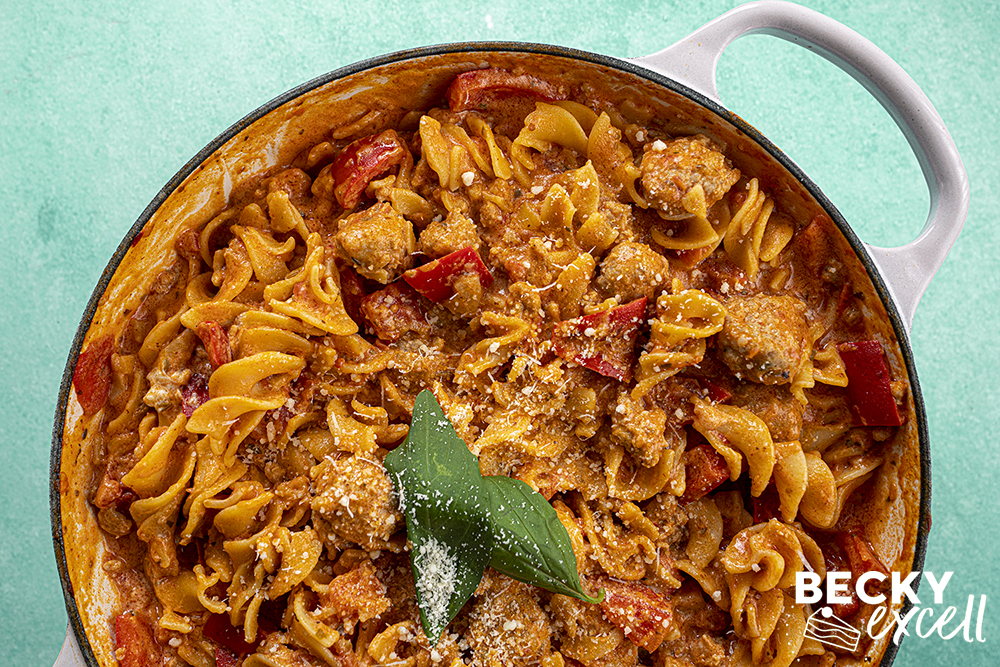 Can I use veg other than red pepper?
Yes, this really is a recipe you can make your own! Here's a few other veg swaps you could make:
Onion
Mushrooms
Courgette
Broccoli florets
Frozen peas
Is this a healthy recipe?
You guys requested more healthier, every day gluten-free dinner recipes so that's exactly what I'm going to make!
If you want to make it even healthier still, you can always:
Use low-fat cream cheese
Use light mozzarella instead of Parmesan
Use a low-calorie garlic-flavoured spray instead of garlic infused oil
Can I freeze your one-pot sausage tomato pasta recipe?
Yes! Once cooled, simply portion into airtight containers and freeze for up to 2-3 months.
To reheat from frozen, defrost in the fridge overnight then reheat in the microwave until piping hot in the middle.
You can also store this in the fridge for 3-4 days and microwave until piping hot too.
One-pot sausage tomato pasta recipe: Tips for quick and easy prep + cooking
Get your spices and seasoning out and make the spice blend before you start, so it's ready for when you need it. Trust me, it makes cooking feel a lot easier!
Adjust the amount of dried chilli flakes to suit your spice preference. The amount specified in the recipe (1/2 tsp) results in a mild heat, but you can always double it for a medium-hot spice level depending on your preference! Bear in mind that black pepper can also increase the spice level too, so don't forget to balance it with however much of that you put in!
Ensure you have a pot or pan with a lid. It's more than possible to make this anyway without the lid, but popping the lid on will speed up the cooking process a lot!
Once the pasta is done (try a bit to see if it's hard or not) don't cook it for any longer than you have to. Gluten-free pasta has a bad habit of easily falling apart when overcooked, so don't leave it cooking with the lid on for any longer than the recipe states. Wise people will also check the pasta's 'doneness' a few minutes before the recipe says it should be done by!
You can always roughly chop a handful of basil and stir it in with the cream cheese. This adds yet another flavour dimension to the sauce and in my opinion, is a little more enjoyable than leaves on top!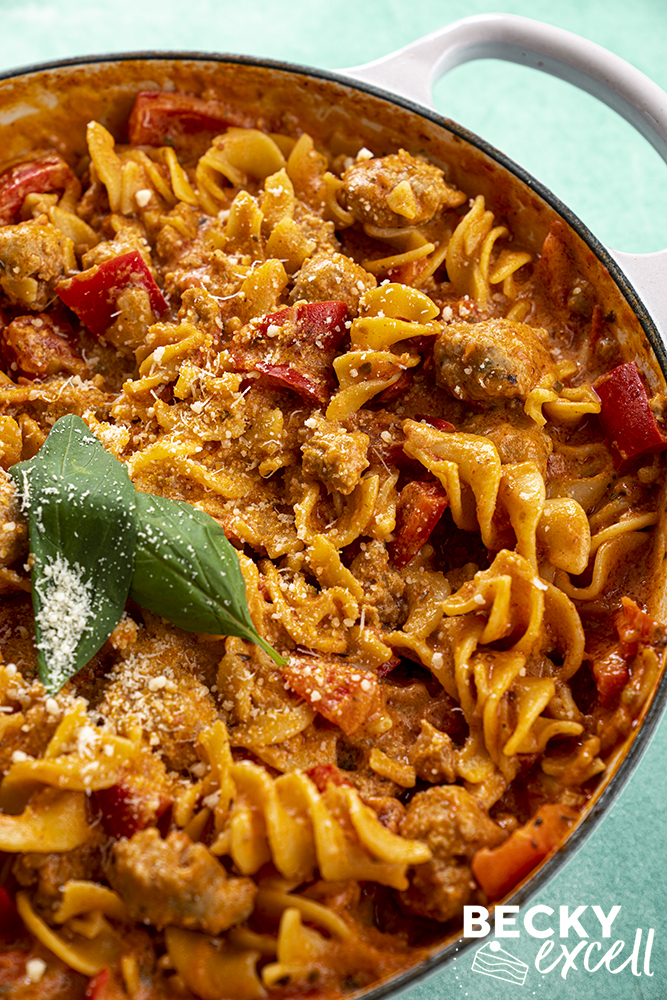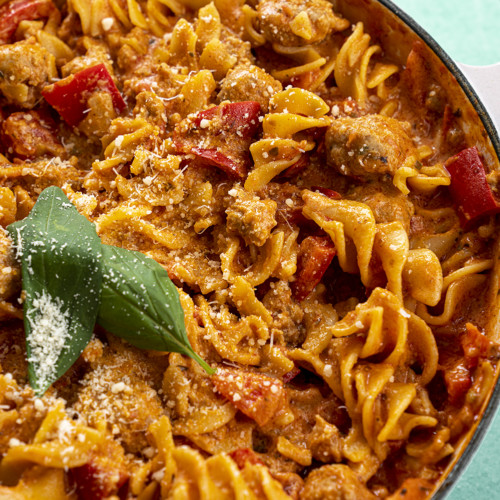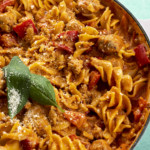 One-pot Sausage Tomato Pasta Recipe
One-pot sausage tomato pasta recipe – easy to make in just 30 minutes using one pot, which means less washing up!
Ingredients
2

tbsp

garlic-infused oil

400

g

gluten-free sausages

1

red pepper

chopped into chunks

1

tsp

smoked paprika

1

tsp

fennel seeds or ground fennel

2

tsp

dried oregano

1/2

tsp

dried chilli flakes

400

g

tin of chopped tomatoes

500

ml

gluten-free stock

1

tbsp

tomato puree

250

g

gluten-free pasta

2

tbsp

cream cheese

2

tbsp

parmesan

pinch

salt and pepper

tiny handful

fresh basil
Instructions
Remove the sausages from their skins and break into smaller chunks.

Heat the garlic infused oil in a large pan over a medium heat.

Add the sausage chunks and red pepper to the pan and fry until slightly browned (5 minutes should do it).

Stir in the smoked paprika, fennel seeds, oregano and chilli flakes and cook for a couple of minutes more.

Pour in the chopped tomatoes, stock and tomato puree, mix it all around and then add in the pasta.

Bring to a simmer, pop the lid on the pan and allow to cook for around 12 minutes until the pasta is cooked.

Spoon in the cream cheese and parmesan and stir through to get a creamy thicker sauce.

Season with salt and pepper, stir in, then finish with some fresh basil.
Nutrition
Calories:
704
kcal
|
Carbohydrates:
63
g
|
Protein:
24
g
|
Fat:
40
g
|
Saturated Fat:
12
g
|
Polyunsaturated Fat:
5
g
|
Monounsaturated Fat:
19
g
|
Trans Fat:
1
g
|
Cholesterol:
85
mg
|
Sodium:
1032
mg
|
Potassium:
700
mg
|
Fiber:
4
g
|
Sugar:
6
g
|
Vitamin A:
1610
IU
|
Vitamin C:
49
mg
|
Calcium:
108
mg
|
Iron:
3
mg
Thanks for reading all about my one-pot sausage tomato pasta recipe! If you make it, I'd love to see how it turned out so don't forget to take a snap of your creations and tag me on Instagram!
Any questions about the recipe? Please do let me know by following me on Instagram and leaving me a comment on a recent photo!
Thanks for reading,
Becky xxx
Don't forget to pin this for later!