Slow cooker creamy chicken pepperoni pasta recipe – here's another one of those 'throw it all in' recipes that results in next to no washing up! Nobody would ever know its gluten-free and Coeliac-friendly.
Slow cooker creamy chicken pepperoni pasta recipe, anyone? This one takes just 5 minutes of effort – then you can put your feet up while it bubbles away in the slow cooker! No need to serve with anything else – it's all in there!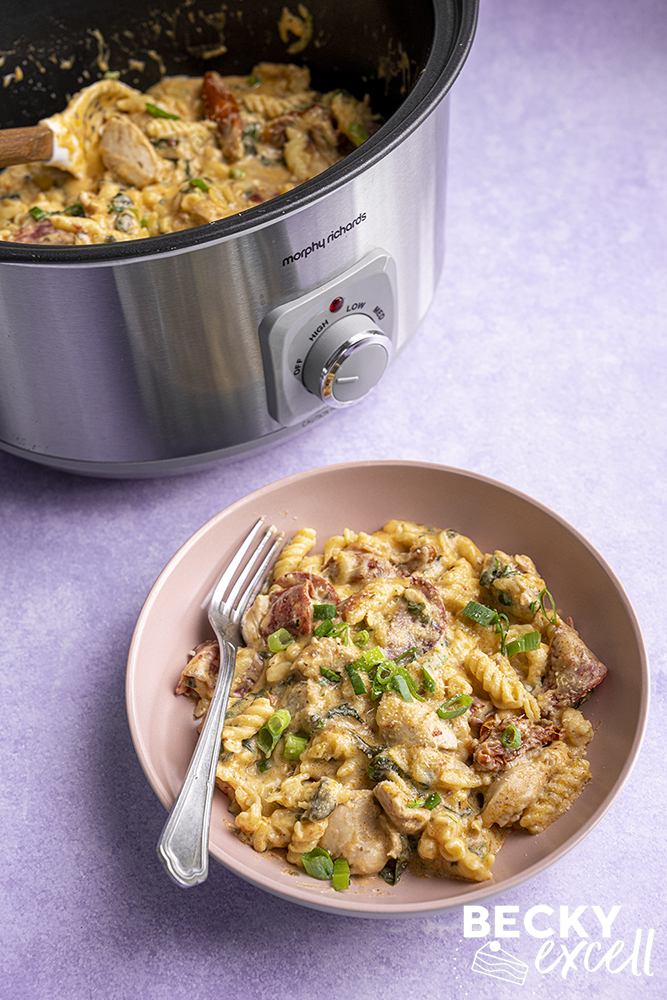 This is the second recipe to be plucked right from my slow cooker mini series over on Instagram and TikTok.
As I'm sure you've heard me say by now, being gluten-free automatically means more cooking from scratch… out of necessity! It's not like we have the widest range of ready meals/affordable convenience foods or takeaway options to choose from, is it?!
But that certainly doesn't have to mean that we need to spend hours slaving in the kitchen… and that's why your slow cooker (and this recipe!) is your best friend.
This meal sums up everything that a slow cooker can do for you, so why not give it a go?
Slow cooker creamy chicken pepperoni pasta recipe: What you'll need…
Boneless, skinless chicken thighs: Perfect for the long cooking time in a slow cooker as they won't dry out.
Garlic-infused oil: An instant injection of wonderful garlic flavour – no chopping or pre-frying of fresh garlic required. And if your garlic oil doesn't have any bits of actual garlic floating in it, then it's low FODMAP too.
Sun-dried tomatoes: You'll find these in jars in supermarkets around the jarred pickles and olives etc.
Pepperoni: I use pepperoni here, but any gluten-free chorizo would work too. The choice is yours!
Red pesto: Red pesto works so well with the sun-dried tomato and is pretty much the flavour base for this creamy, bold sauce.
Dried oregano: Here's my herb of choice for this dish, though the following work too in its place: Italian seasoning, mixed herbs, herbs de provence.
Smoked paprika: And of course, a little smoked paprika works wonders here too, adding an extra dimension of flavour to the sauce.
Gluten-free chicken stock: Gluten-free stock cubes are usually clearly labelled as being gluten-free in supermarkets – you'll find them with all the regular stock cubes. Not all stock cubes are GF, so choose carefully.
Gluten-free pasta: Any dried pasta from the free from aisle works in this recipe, just be sure not to overcook it. Once gluten-free dried pasta becomes overdone and saturated, it begins to fall apart.
Spinach: Spinach works really well here, is good for you, wilts incredibly fast and adds a welcome element of colour to the dish.
Cream cheese: Stir this in at the end for a wonderful creamy finish to your sauce.
Cornflour: When mixed with water, this will almost instantly thicken the sauce after a minute or two of simmering.
Spring onion greens: Simply chop the green parts nice and finely, then sprinkle on top of your finished dish.
Parmesan: Sprinkle a little on each serving for the ultimate finishing touch!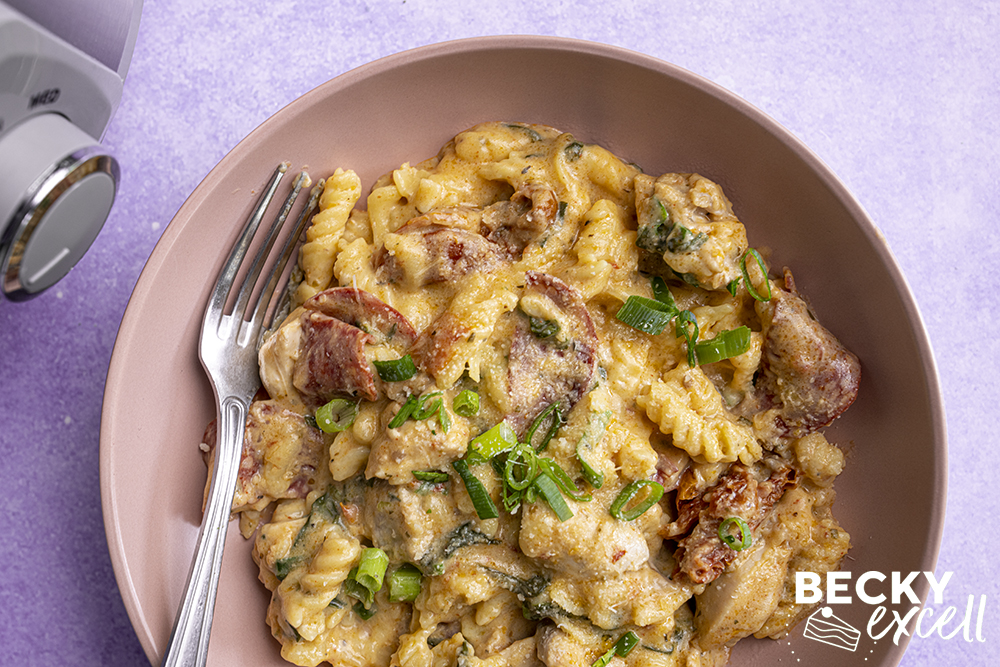 So, what does it taste like? You wouldn't believe how much flavour is in this dish… honestly, it's unlike anything you've ever tried before!
Of course, the sauce is lovely and creamy, but it's also flavoured by those bold pepperoni flavours, smoked paprika, oregano, red pesto AND chicken stock. Plus, it's a little cheesy thanks to the cream cheese too!
Then, you've obviously got lots of tender chicken and shredded pepperoni throughout, with that one-of-a-kind sauce coating perfectly cooked gluten-free pasta.
Honestly, it's a flavour sensation that tastes way too good for something that took just 5 minutes of effort!
Slow cooker creamy chicken pepperoni pasta recipe: Frequently Asked Questions
Can I make this recipe gluten-free? Is it suitable for Coeliacs?
It is gluten-free, though nobody would know just by tasting it – trust me!
Bear in mind that minimising cross-contamination is hugely important if you're Coeliac or making this for someone who is. Here's some tips from Coeliac UK on minimising the risk of cross contamination.
Also, make sure that all ingredients used don't have any gluten-containing ingredients. Then make sure that they also don't have a 'may contain' warning for gluten, wheat, rye, barley, oats (which aren't gf), spelt and khorasan wheat (aka Kamut).
Here's some more info from Coeliac UK on identifying safe gluten-free products.
Can I make your slow cooker creamy chicken pepperoni pasta recipe dairy-free?
Yes! Simply follow the three bullet points below:
Use dairy-free red pesto
Use dairy-free cream instead of cream cheese
Use a smoked dairy-free cheese instead of Parmesan
Can I make your slow cooker creamy chicken pepperoni pasta recipe veggie or vegan?
Of course! If you're vegan, follow the dairy-free advice above first, then simply:
Swap the chicken for 400g button mushrooms, sliced
Swap the pepperoni for a 400g can of chickpeas (drained)
Use gluten-free veggie stock
If you're vegetarian, then simply follow the above bullet points and use a veggie-friendly red pesto and use extra mature cheddar instead of Parmesan.
Is this recipe low FODMAP?
To make this recipe low FODMAP, you'd need to:
Ensure the garlic oil doesn't have any bits of actual garlic visibly floating in it when shaken
Ensure the pepperoni is free of onion and garlic
Use a low FODMAP pesto (green) or omit if unsure
Serve no more than 8g of sun-dried tomatoes per person and ensure they don't contain garlic
Use lactose-free cream cheese
Use only the green parts of the spring onions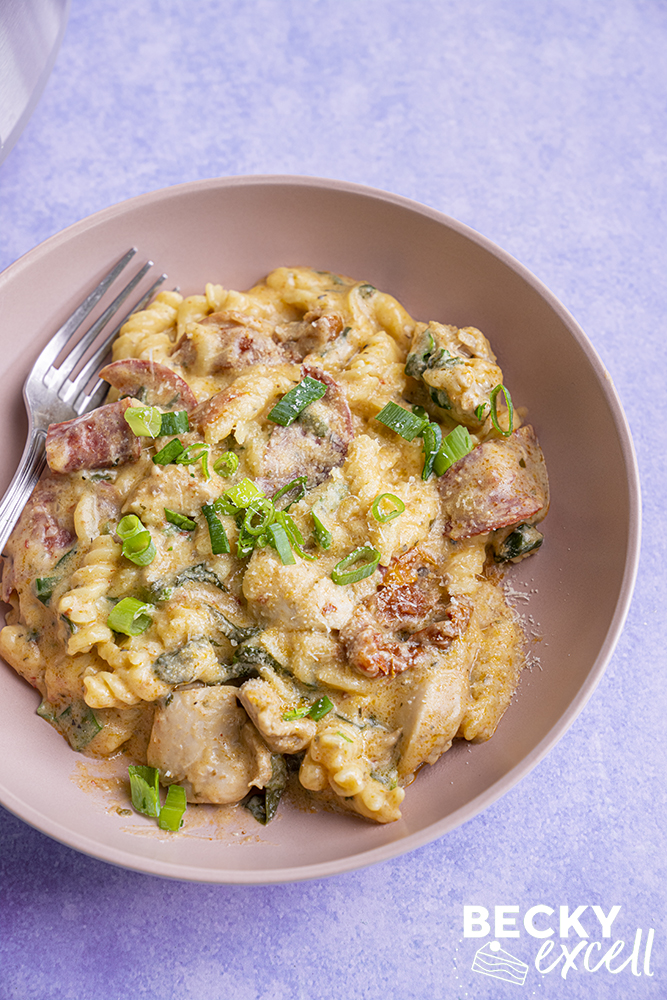 Can I cook this in a pot on the stove?
Yes! Simply use a dutch oven or a large lidded casserole dish. Place on the stove on the lowest heat and follow the timings as in the recipe.
How can I make this healthier?
If you want to make it even healthier you can always:
Use a low calorie garlic-flavoured cooking spray instead of garlic oil
Use chicken breast instead of chicken thighs (chop into large chunks or they'll dry out too fast)
Omit the pepperoni or use half the required amount
Use low-fat cream cheese
Omit the parmesan added at the end or use a low-fat cheddar cheese (grated) instead
Which slow cooker do you use?
I use the Morphy Richards 6.5l 'Sear & Stew' slow cooker (pictured below) that I picked up in Sainsbury's. It's big enough to make food for four people or more. We've had it for a couple of years and it's super easy to use and still going strong.
They also do a smaller version here for 2-3 people. In the future I'm gonna get one of these, but I'm saving up my pennies first!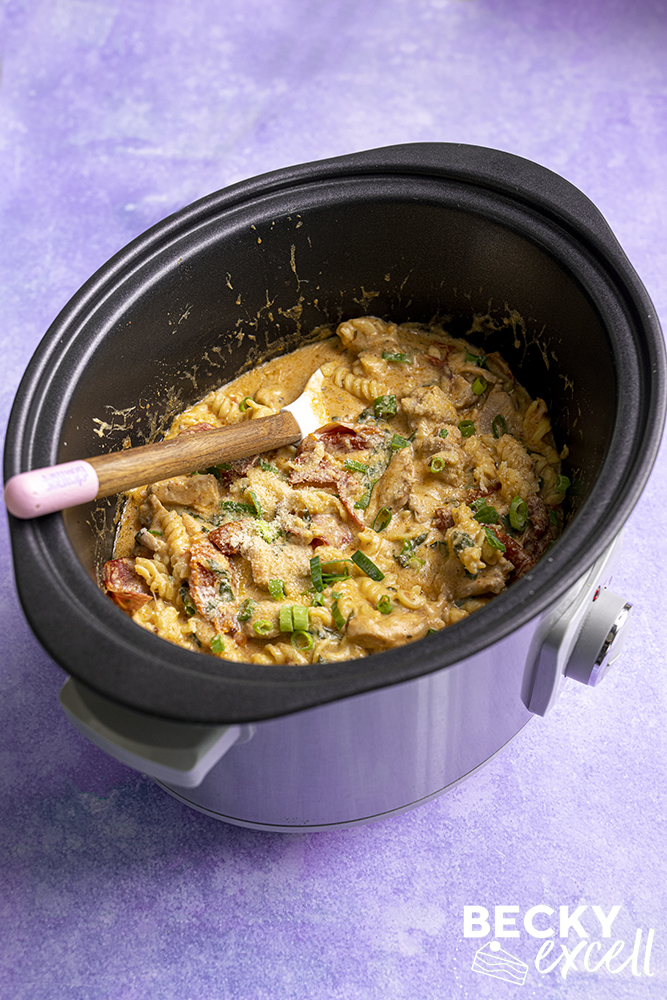 Slow cooker creamy chicken pepperoni pasta recipe: Tips for quick and easy prep + cooking
You're more than welcome to use gluten-free chorizo instead of pepperoni if you prefer. I can't eat chorizo because of onion/garlic, but if you can, then it'll ramp up the flavour even more!
To cook this on a low heat setting, simply set your slow cooker to 'low' and cook for 4 hours instead, then add the pasta, spinach and the rest of the stock. Once you've added those, I'd recommend switching to a high heat (then wait 10 minutes) and following the rest of the recipe as shown in the recipe card to finish.
Once the pasta is done (try a bit to see if it's hard or not) don't cook it for any longer than you have to. Gluten-free pasta has a bad habit of easily falling apart when overcooked, so don't leave it cooking with the lid on for any longer than the recipe states. Wise people will also check the pasta's 'doneness' a few minutes before the recipe says it should be done by!
The cornflour mixture should instantly thicken the sauce, once added. It's there to thicken the sauce ASAP, so you don't end up having to simmer for ages in order to thicken it, which would of course then overcook the pasta.
You can always roughly chop a handful of basil and stir it in with the cream cheese. This adds yet another flavour dimension to the sauce.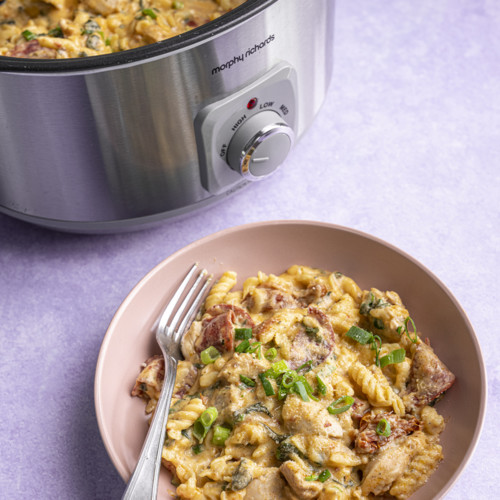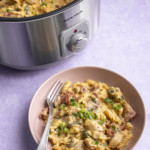 Slow Cooker Creamy Chicken Pepperoni Pasta Recipe
Slow cooker creamy chicken pepperoni pasta recipe – a lazy way to the ultimate comfort food with almost zero effort! Coeliac-friendly and gluten-free.
Ingredients
650

g

skinless, boneless chicken thighs, diced into bite-sized chunks

1

tsp

garlic-infused oil

100

g

sun-dried tomatoes

50

g

pepperoni or chorizo, roughly chopped

2.5

tbsp

red pesto

1

tsp

dried oregano

1/2

tsp

smoked paprika

1l

gluten-free chicken stock

300

g

gluten-free pasta

2

handfuls

spinach, roughly chopped

2

tbsp

cream cheese

1

tbsp

cornflour, mixed with 2 tbsp water

small handful

spring onion greens, finely chopped

1

tbsp

Parmesan
Instructions
Place the chicken thighs into the slow cooker, then add the pepperoni, sun-dried tomatoes, pesto, garlic oil, oregano, paprika and half of the chicken stock (500ml).

Pop the lid on and cook on high for 1 hour, then add the pasta and spinach, followed by the rest of the stock. Mix it in and allow to cook for about ten minutes with the lid on.

Just before the ten minutes is up (when the pasta is ALMOST cooked) stir in the cream cheese and cornflour mixture.

Finish optionally with grated parmesan and spring onion greens.
Nutrition
Calories:
657
kcal
|
Carbohydrates:
79
g
|
Protein:
43
g
|
Fat:
19
g
|
Saturated Fat:
6
g
|
Polyunsaturated Fat:
3
g
|
Monounsaturated Fat:
7
g
|
Trans Fat:
1
g
|
Cholesterol:
176
mg
|
Sodium:
512
mg
|
Potassium:
1397
mg
|
Fiber:
5
g
|
Sugar:
11
g
|
Vitamin A:
1968
IU
|
Vitamin C:
14
mg
|
Calcium:
99
mg
|
Iron:
5
mg
Thanks for reading all about my slow cooker creamy chicken pepperoni pasta recipe! If you make it, I'd love to see how it turned out so don't forget to take a snap of your creations and tag me on Instagram!
Any questions about the recipe? Please do let me know by following me on Instagram and leaving me a comment on a recent photo!
Thanks for reading,
Becky xxx
Don't forget to pin this for later!