Gluten-free Jubilee trifle recipe! A quicker and easier version of the now famous lemon swiss roll and amaretti dessert that won the Platinum Pudding competition. Nobody would ever know that it's Coeliac-friendly and wheat-free, promise!
Gluten-free Jubilee trifle recipe – the perfect dessert that's fit to celebrate the Queen's platinum Jubilee. Not only is it gluten-free, but I've made it quicker and easier to make too – you only have to make the gluten-free lemon swiss roll and amaretti biscuits, then layer up. No need to make the lemon curd, jelly or custard from scratch with my recipe!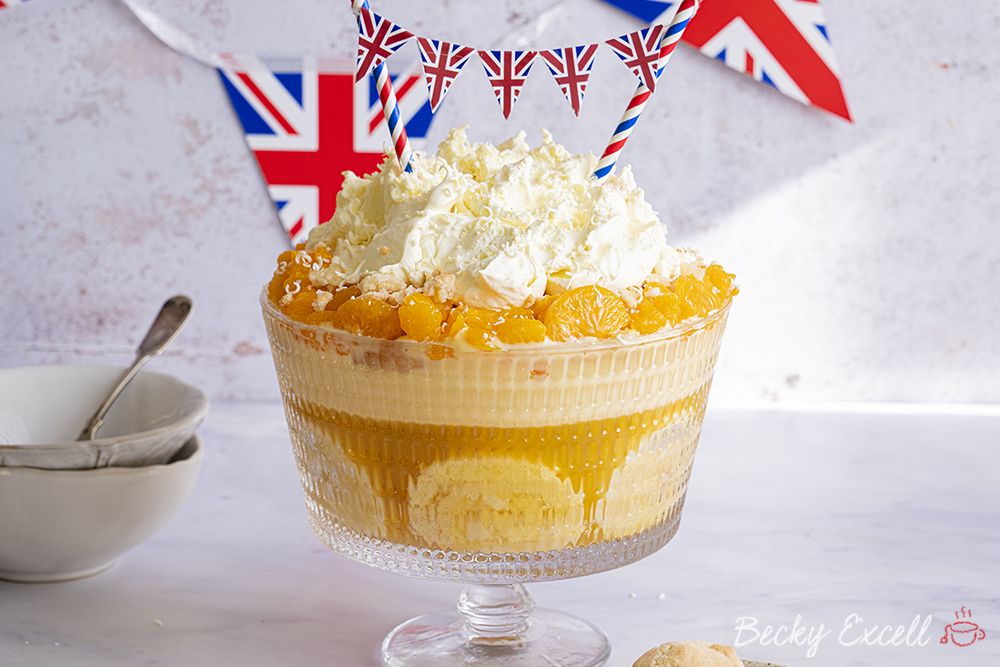 The Queen's Platinum Jubilee trifle is a great example of why I started making gluten-free recipes in the first place.
Suddenly, the entire country seems to be enjoying and making something for a special occasion and without some sort of divine intervention, us gluten-free folks suddenly become spectators to the whole affair yet again.
But that's definitely not happening on my watch! That's right, I've adapted the winning entry of the Platinum Pudding competition (Jemma from Southport's Lemon Swiss Roll and Amaretti Trifle) to be entirely gluten-free.
Not only that, but I've made it quicker and easier to make, so consider this my cheat's version of the famous lemon swiss roll and amaretti trifle. Here's all the simple supermarket ingredients you'll need to make it possible:
Gluten-free Jubilee trifle recipe: What you'll need…
Medium eggs: Eggs are an important part of this recipe as they're integral in a swiss roll sponge and in the amaretti biscuits too.
Caster sugar: This isn't just for sweetness – sugar plays a key role in ensuring that your swiss roll and amaretti biscuits turn out the way I intended, so I wouldn't recommend altering the amounts given in this recipe.
Vegetable oil: A little vegetable oil is needed for the swiss roll sponge – any neutral flavoured oil will do.
Milk: I used semi-skimmed, but whole or skimmed will do here too.
Lemons: You'll need the juice and zest of lemons for this recipe.
Gluten-free plain flour: I use a simple commercial blend from the free from aisle in the supermarket. If you can't find a blend like this where you live, you can always make your own using my gluten-free flour recipe.
Xanthan gum: This is super important in a swiss roll so that it has the strength to roll – it's essentially a gluten-replacer that you can find in supermarket free from aisles.
Lemon curd: You're more than welcome to make your own, but I used store-bought lemon curd for ease here.
Ground almonds: You can't make amaretti biscuits without ground almonds, so make sure you have this to hand.
Almond extract or amaretto: Either is perfect for securing that distinct almond flavour in the amaretti biscuits.
Icing sugar: You'll need this to dust your baking paper and a little for the double cream.
Ready-made custard: Of course, you're welcome to make your own but this helps to save a lot of time (and washing up!)
Lemon and orange jelly blocks: Why make your own jelly from scratch using gelatine leaves when you can just add hot water to store-bought jelly blocks?
Tinned mandarins: A key part of the penultimate layer of this trifle, this layer helps to offset that sweet, sharp lemon flavour.
Double cream: This is purely for whipping for the final layer, adding a light and fluffy flourish.
White chocolate: Instead of the creating the jewelled white chocolate bark shards in the original recipe and waiting hours for it to set, I find that a little grated white chocolate more than does the job here.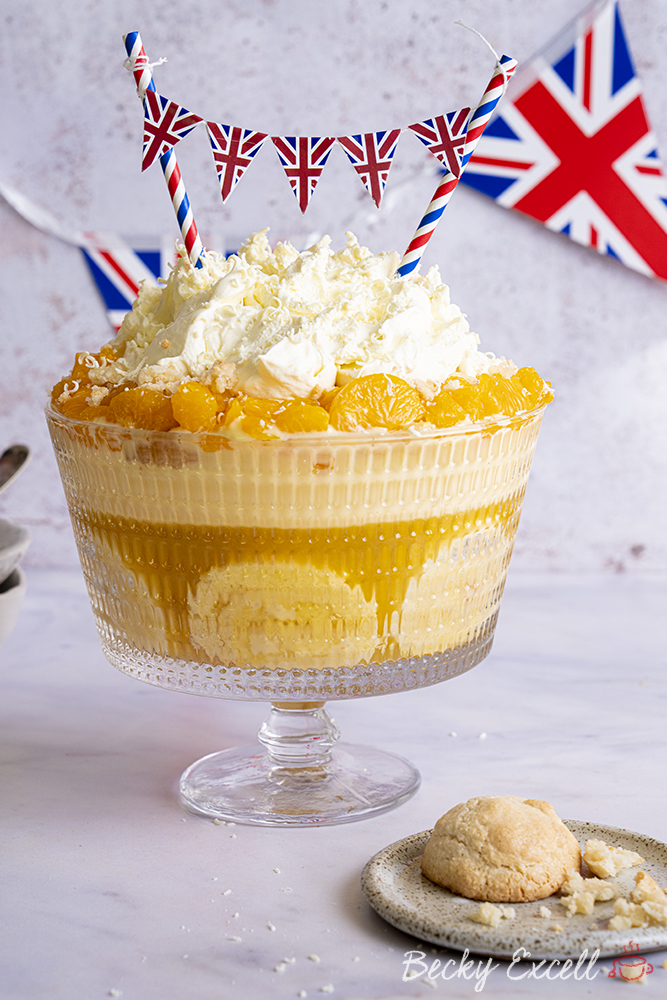 So, what does my gluten-free Jubilee trifle taste like? Well, exactly like the real deal of course!
The bottom layer is a tribute to all things lemon, packed with a homemade lemon swiss roll, swirled with lemon curd, embedded in a layer of orange and lemon St Clements jelly.
Then, it's topped with the best thing to ever happen to any dessert: cold vanilla custard. That's followed by a layer of crunchy, chewy, almond amaretti biscuits and chunky, juicy tinned mandarins.
And who could forget about all that lovely, fluffy whipped cream and grated white chocolate on top? It tastes every bit as good as it looks! Here's a few frequently asked questions before we get started:
Gluten-free Jubilee trifle recipe: Frequently Asked Questions
Can I make this recipe gluten-free? Is it suitable for Coeliacs?
It is gluten-free, though nobody would know just by tasting it – trust me!
Bear in mind that minimising cross-contamination is hugely important if you're Coeliac or making this for someone who is. Here's some tips from Coeliac UK on minimising the risk of cross contamination.
Also, make sure that all ingredients used don't have any gluten-containing ingredients. Then make sure that they also don't have a 'may contain' warning for gluten, wheat, rye, barley, oats (which aren't gf), spelt and khorasan wheat (aka Kamut).
Here's some more info from Coeliac UK on identifying safe gluten-free products.
Can I make your gluten-free Jubilee trifle recipe dairy-free?
Easily! Here's the swaps you'd need to make:
Can I make your gluten-free Jubilee trifle recipe vegan?
Unfortunately, as there's so much egg involved in this recipe (which are very important in a swiss roll, amaretti biscuits and lemon curd) this isn't an easy one to make vegan.
It's definitely possible, but by the time I'd adapted this to be vegan, it would be almost an entirely different recipe! However, if you'd like me to make this vegan anyway, just let me know.
Is this recipe low FODMAP?
It can be! Simply:
Which trifle dish did you use to make your gluten-free Jubilee trifle recipe?
I used this exact trifle dish from Waitrose/John Lewis which is 20cm in diameter and has a 1.9l capacity. This is a lot smaller than the original recipe which asks for a 3.5l capacity trifle dish.
A bigger dish would be fine using the measurements in this recipe, but any smaller and you'd definitely struggle to fit it all in. You might like to change up the ratios too, if you like more custard, use more, if you don't much like jelly, use less. The choice is yours!
Your recipe uses ready made custard and store-bought jelly and lemon curd – can I still make my own like in the original recipe? What about the jewelled white chocolate bark?
Though for a special occasion, I really wanted to bring this recipe down to Earth and make it easier and quicker to make for everyone. So it does differ from the original recipe slightly.
However, if you still want to make the custard and St Clements jelly from scratch like in the original recipe, feel free to go right ahead! The jelly, curd, custard and amaretti biscuits are all gluten-free in the original recipe.
So feel free to use this recipe to show you how to make the lemon swiss roll, then you can follow the original recipe for the rest – it just involves a lot more of making everything from scratch!
What is the Queen's platinum jubilee?
On 6th February 2022, the Queen of the United Kingdom (Queen Elizabeth II) became the first British Monarch to celebrate a Platinum Jubilee, marking 70 years of service to the people of the United Kingdom, the Realms and the Commonwealth.
The Queen has ruled for longer than any other Monarch in British history. You can read more about it here.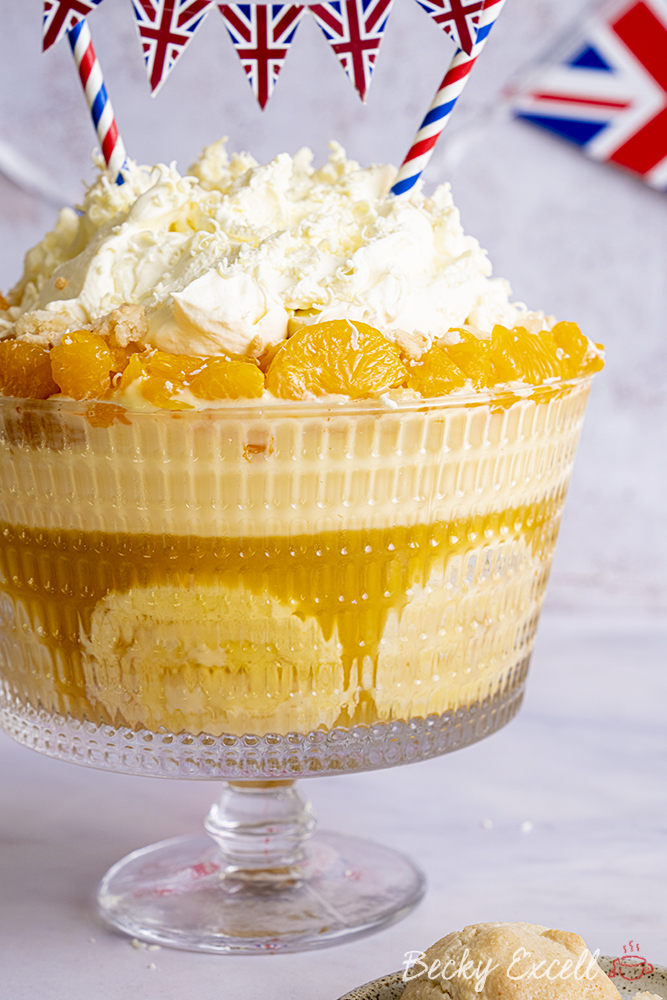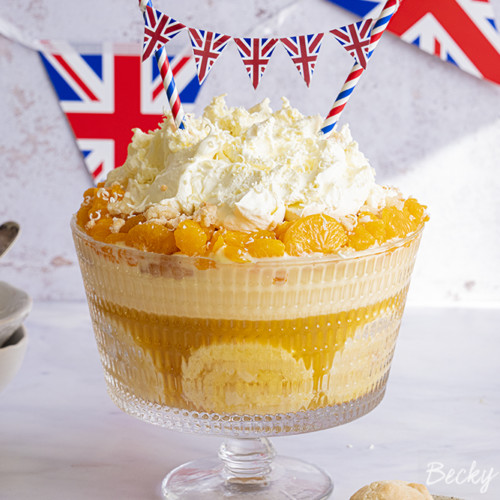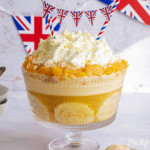 Gluten-free Jubilee Trifle Recipe – Lemon Swiss Roll and Amaretti
Ingredients
For the swiss roll:
4

medium eggs

separated

100

g

caster sugar

2

tbsp

vegetable oil

2

tbsp

milk

zest of 1

lemon

1-2

tsp

lemon juice

60

g

gluten free plain flour

1/4

tsp

xanthan gum

150

g

lemon curd

shop bought or homemade
For the amaretti biscuits:
2

egg whites

large or medium

170

g

caster sugar

170

g

ground almonds

1

tbsp

almond extract or amaretto

3

tbsp

icing sugar

for rolling – optional

3

tbsp

caster sugar

for rolling – optional
For the rest:
500

ml/g

ready made custard

half a packet of lemon jelly

(this was 67.5g of a Hartley's Jelly block)

half a packet of orange jelly

(this was 67.5g of a Hartley's Jelly block)

2

tins mandarins segments, drained

(the tins not drained weighed were 298g each)

450

g

double cream

2

tbsp

icing sugar

50

g

white chocolate

grated
Instructions
For the swiss roll:
Preheat your oven to 180°C fan / 200°C. Lightly grease your Swiss roll tin and line with non-stick baking paper.

Separate your eggs into two small bowls – egg whites in one and yolks in the other.

In a large mixing bowl, add your egg yolks and half the caster sugar (50g). Whisk together until combined, then add your lemon juice, lemon zest, milk and oil and whisk once more. Sift in the flour and xanthan gum, and mix in until well combined, thick and glossy.

In a separate bowl, whisk your egg whites (using an electric hand whisk or stand mixer ideally) until they start to turn white and frothy. Gradually add the remaining caster sugar (50g), whisking until you have medium peaks.

In three stages, add your egg white mixture to your egg yolk mixture, folding it in carefully between each addition using a silicone spatula. Once all the egg white mixture is fully folded in, pour your mixture into your prepared tin. Spread it out gently to make sure it's nice and even and bake in the oven for 10–12 minutes until cooked through.

Place a piece of non-stick baking paper on your work surface and dust it with the icing sugar.

While your sponge is still warm, loosen it from the tin and flip it out onto the baking paper. Peel off the baking paper on top that once lined the tin – don't worry if you lose the outer layer of the cake because it sticks to the paper as you peel it off, that's totally normal. Using your baking paper, roll the sponge up from the short end – the paper should be inside it as you roll. Try to roll fairly tightly, then leave the sponge to cool fully while rolled up. I prop something up against it to stop it from unrolling itself.

Carefully unroll your sponge and remove the baking paper. Fortunately I never find the sponge cracks using my recipe, but if it does a little, it doesn't matter – it will all be covered in icing – just be delicate!

Spread a layer of lemon curd on the unrolled sponge (I leave about a half cm gap around the edge). Carefully roll the sponge back up and place seam-side down. Do this as tight as you can for the best swirl. If a little oozes out don't worry.

Dust the swiss roll with plenty of icing sugar and then slice carefully into 2cm pieces to go around the edge and bottom of your trifle dish.
For the jelly layer:
Make the jelly as per the instructions on the packet and allow to cool but not set in a jug in the fridge. Before it sets, pour it over the swiss roll base, just so it goes above the swiss roll (you might have lots of leftover jelly depending on the size of you dish etc) and pop in the fridge for about 4 hours to fully set.
For the custard layer:
If using ready-made custard pour a layer over the top of the set jelly and spread it out. Remember you still have amaretti, mandarins and cream to come so don't overfill!
For the amaretti:
Preheat the oven to 160C fan / 180C. Lightly grease a baking tin and line with non-stick baking paper.

Beat the egg whites until more firm, medium peaks. Then fold in the caster sugar, ground almonds and almond extract / amaretto. You should have a paste like dough.

Take heaped teaspoon amounts of the mixture and roll into balls. Then roll the balls firstly into a plate with the 3 tbsp of caster sugar on, followed by the 3 tbsp of icing sugar. Place slightly spaced out on the prepared baking tray.

Bake for about 15-20 minutes they should be slightly cracked and golden beneath the sugar. Allow to fully cool.

Once cool, place a layer of the biscuits on top of the custard.
For the mandarin layer:
Strain the juice off of a couple of tins of mandarins and put them on top of / between the amaretti biscuits in any gaps. To me this is the least necessary layer and if you wish to not to do it you totally can!
For the whipped cream onwards:
Pour the double cream and 2 tbsp icing sugar into a large bowl and whip until it forms soft peaks. Don't over whip or it will become hard to spread on top!

Spoon the cream on top of the trifle, you can do this however you like.

Finish with a hefty grating of white chocolate and crumble any leftover amaretti biscuits on top too.

Serve straight away once the cream layer has been added and keep leftovers in the fridge.
Notes
Remember that depending on the size of your dish you might need more or less of some of the layers. Also you might want to change the amount in each layer just based on preference e.g. loving custard but not wanting so much jelly!
Thanks for reading all about my gluten-free Jubilee recipe! If you make it, I'd love to see how it turned out so don't forget to take a snap of your creations and tag me on Instagram!
Any questions about the recipe? Please do let me know by following me on Instagram and leaving me a comment on a recent photo!
Thanks for reading,
Becky xxx
Don't forget to pin this for later!