Gluten-free mushroom carbonara recipe – a 5-ingredient veggie meal that only costs around 75p per portion! Nobody would ever know its gluten-free and Coeliac-friendly.
Gluten-free mushroom carbonara recipe, anyone? You can easily make this in under 25 minutes and it'll make enough to serve 4 people. A veggie version of the classic carbonara in my first book!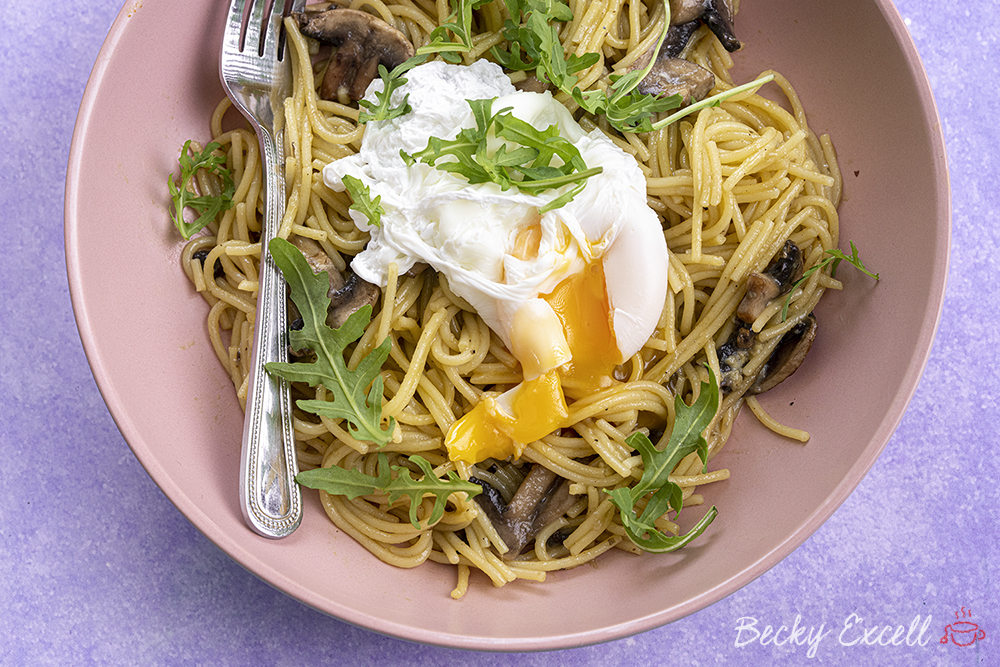 This is yet another budget meal from my '5 meals for the week from a £25 shop at Aldi' series over on Instagram and TikTok.
Yes, there's no denying that being gluten-free can mean a more expensive shop for the week. But it doesn't have to cost the Earth and that's why I've been creating budget meals like this that everyone can enjoy – gluten-free and muggles alike.
And at just 75p per person, per portion, this recipe most definitely fits the bill!
Here's the 5 simple ingredients (plus a little salt and pepper) that you'll need to make it possible:
Gluten-free mushroom carbonara recipe: What you'll need…
Gluten-free spaghetti: I found mine in the free from aisle – nothing special here, just a supermarket own-brand product! If you're wondering, I believe Asda has the cheapest gluten-free spaghetti out of all the main supermarkets.
Eggs: A hugely important part of any good carbonara! You'll need 4 for the sauce and an additional 4 if you'll be serving it up with a poached egg on top, which I highly recommend that you do!
Extra mature cheddar: Traditionally, I'd use Pecorino for this recipe or even Parmesan, however for cost effectiveness, extra mature cheddar works really well too.
Salt and pepper: Whilst I don't count these as one of my 5 ingredients (as nobody else seems to!) these are hugely important in a dish like this when it comes to flavour.
Garlic-infused oil: An instant injection of wonderful garlic flavour – no chopping or pre-frying of fresh garlic required. And if your garlic oil doesn't have any bits of actual garlic floating in it, then it's low FODMAP too.
Mushrooms: Any mushrooms will do, but I used closed cup mushrooms in case you were wondering.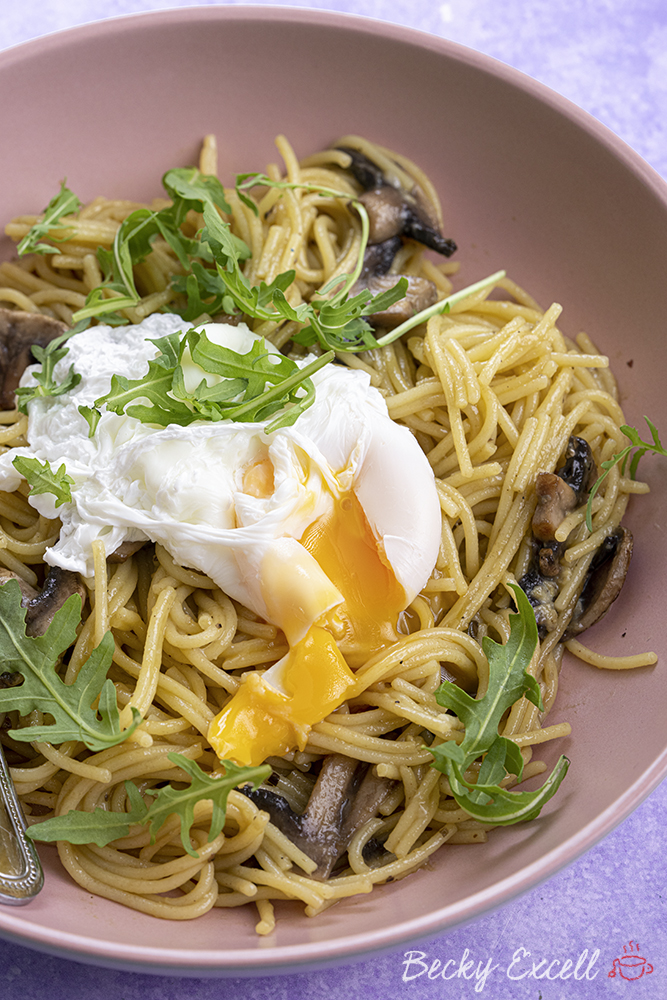 So, what does it taste like? This is a veggie take on a classic Italian carbonara that's coated in a cheesy, rich, egg-based sauce as opposed to a thick creamy white sauce, which you'll also spot when you're in supermarkets.
As this recipe uses mushrooms into of the more traditional pancetta or Italian sausage, I've opted to use a little garlic oil to turn them into garlic mushrooms – the oil also helps to flavour the spaghetti too.
When finished with a poached egg, the entire experience is something totally out of this world – certainly not a veggie compromise over meat at all!
Here's a few frequently asked questions before you get started:
Gluten-free mushroom carbonara recipe: Frequently Asked Questions
Can I make this recipe gluten-free? Is it suitable for Coeliacs?
It is gluten-free, though nobody would know just by tasting it – trust me!
Bear in mind that minimising cross-contamination is hugely important if you're Coeliac or making this for someone who is. Here's some tips from Coeliac UK on minimising the risk of cross contamination.
Also, make sure that all ingredients used don't have any gluten-containing ingredients. Then make sure that they also don't have a 'may contain' warning for gluten, wheat, rye, barley, oats (which aren't gf), spelt and khorasan wheat (aka Kamut).
Here's some more info from Coeliac UK on identifying safe gluten-free products.
Can I make your gluten-free mushroom carbonara recipe dairy-free?
You can easily make this dairy-free using a good, smoked dairy-free cheese.
Can I make your gluten-free mushroom carbonara recipe veggie or vegan?
Unfortunately, this carbonara is heavily egg based so it's not easy to make a simple swap and make it vegan. However, if you use extra mature cheddar, then this recipe is veggie-friendly, however.
Is this recipe low FODMAP?
It can be! To make this recipe low FODMAP, you'd need to:
Use oyster mushrooms or king oyster mushrooms instead of closed cup mushrooms
Ensure the garlic oil doesn't have any bits of actual garlic visibly floating in it when shaken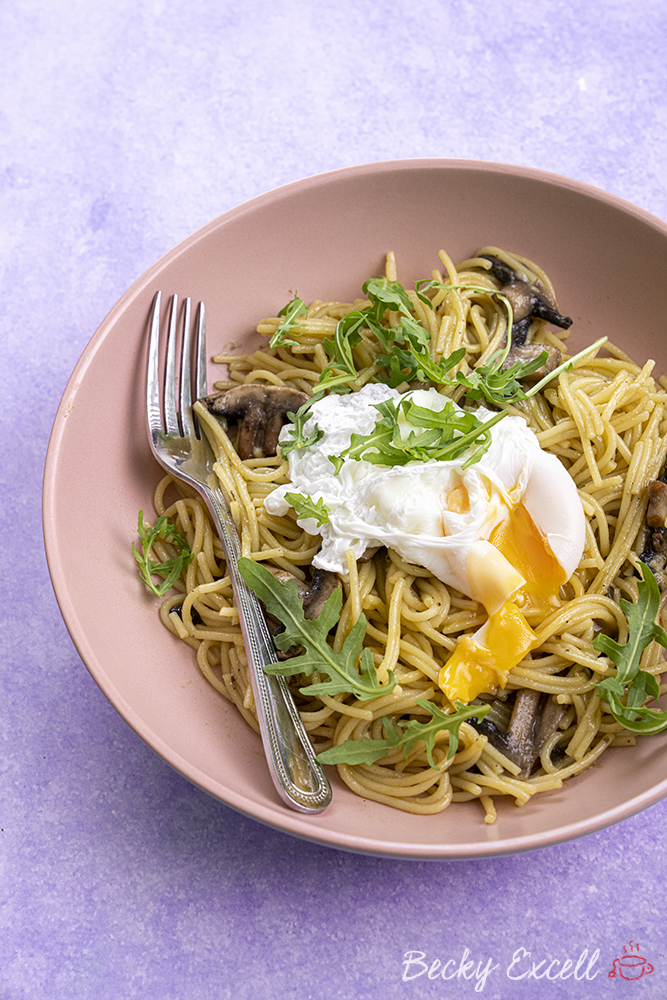 My sauce has turned out more like scrambled eggs! What did I do wrong?
That can happen if your pan is too hot when you add the cheese and egg mixture, so make sure your pan is at a very low heat before you add it.
How can I tell if the egg in my sauce is cooked?
It should essentially just disappear – that's how you know if it's done or not.
If you still see gloopy raw egg then continue to keep stirring everything until it's gone – the egg will safely cook in the residual heat from the pan.
How do I poach an egg?
Whilst I've provided instructions in the recipe, you can't beat watching someone do it, can you?
So why not watch Gordon Ramsay make one here? You don't necessarily need to put it in an ice bath after poaching, especially as it wouldn't be nice to eat a cold poached egg if you aren't serving them up immediately.
Honestly, it's not hard to make them at all – the only hard part is not bursting them when you plate them up!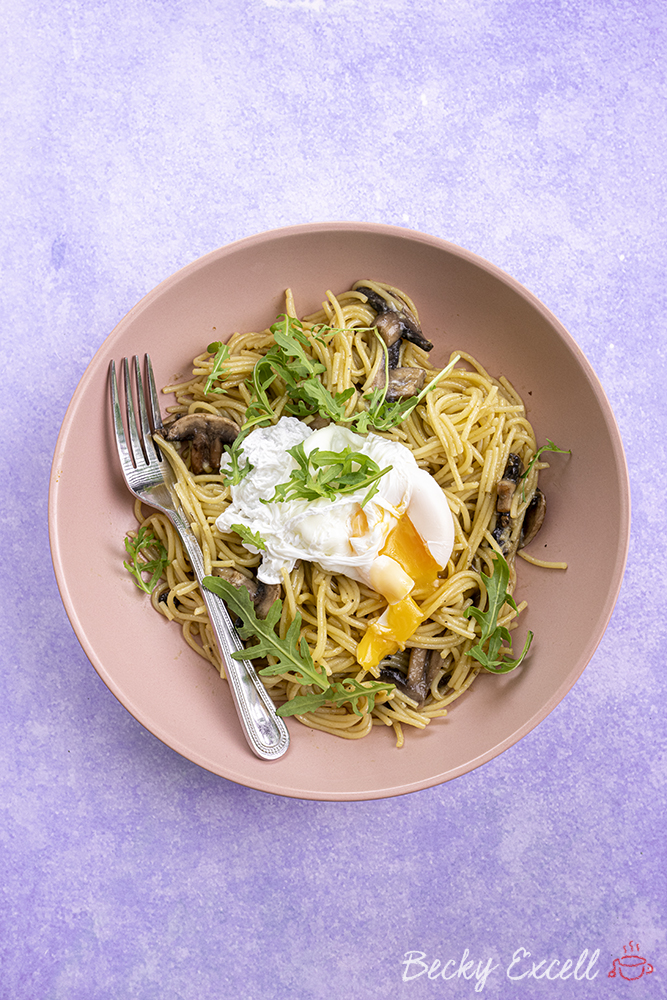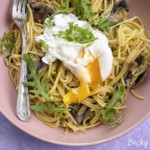 Gluten-free Mushroom Carbonara Recipe
Gluten-free mushroom carbonara recipe – a 5-ingredient veggie meal that you'd never know was Coeliac-friendly and wheat-free.
Ingredients
300

g

gluten-free spaghetti

4

medium

eggs

plus 4 extra for poaching

90

g

extra mature cheddar, grated

or Pecorino/Parmesan if you're not vegetarian

1

tsp

salt

1

tsp

black pepper

3

tbsp

garlic-infused olive oil

300

g

closed cup mushrooms, thinly sliced
Instructions
Prepare the gluten-free spaghetti according to the packet instructions. Drain, reserving 2 tbsp of the pasta water for later, then set aside.

Bring a saucepan of water to the boil and add a tsp of vinegar to it. Crack an egg into a small bowl. Stir the boiling water and immediately add the egg from the bowl, whilst the water is still swirling. Cook for 1-2 minutes or until all of the egg white is clearly cooked (no gooey see through bits around the yolk). Use a slotted spoon to remove from the water and transfer to a plate lined with kitchen paper. Repeat with the remaining 3 eggs. If you're not confident poaching eggs, feel free to use fried eggs instead!

Whilst the pasta is cooking, crack the other 4 eggs into a jug and then add in your grated cheese. Season with salt and pepper. Beat with a fork until combined.

Heat the oil in a large pan over a medium heat. Add your mushrooms and fry for 4-5 minutes or until the mushrooms are browned and a little crispy. Then turn the heat down to low.

Add the spaghetti to the pan and briefly stir so the mushrooms are evenly dispersed.

Next, remove the pan from the heat completely and add in your 2 tbsp of pasta water. Then pour in your egg and cheese mixture.

Make sure you keep moving the egg mixture around and toss the spaghetti to coat it evenly. It's important the heat isn't on or your eggs will scramble!

Plate up and serve each with a poached egg on top and optionally, a little fresh rocket scattered on top.
Thanks for reading all about my gluten-free mushroom carbonara recipe! If you make it, I'd love to see how it turned out so don't forget to take a snap of your creations and tag me on Instagram!
Any questions about the recipe? Please do let me know by following me on Instagram and leaving me a comment on a recent photo!
Thanks for reading,
Becky xxx
Don't forget to pin this for later!