Mini Egg tiffin recipe – an Easter treat that's packed with crispy cornflakes, crunchy biscuit, chunky Mini Eggs, chewy raisins and lots of chocolatey joy. Nobody would ever know it's also gluten-free, promise!
Mini Egg tiffin recipe – a super simple no-bake recipe that doesn't even require you to switch the oven on! Whip it up in just 20 minutes, then chill in the fridge to set.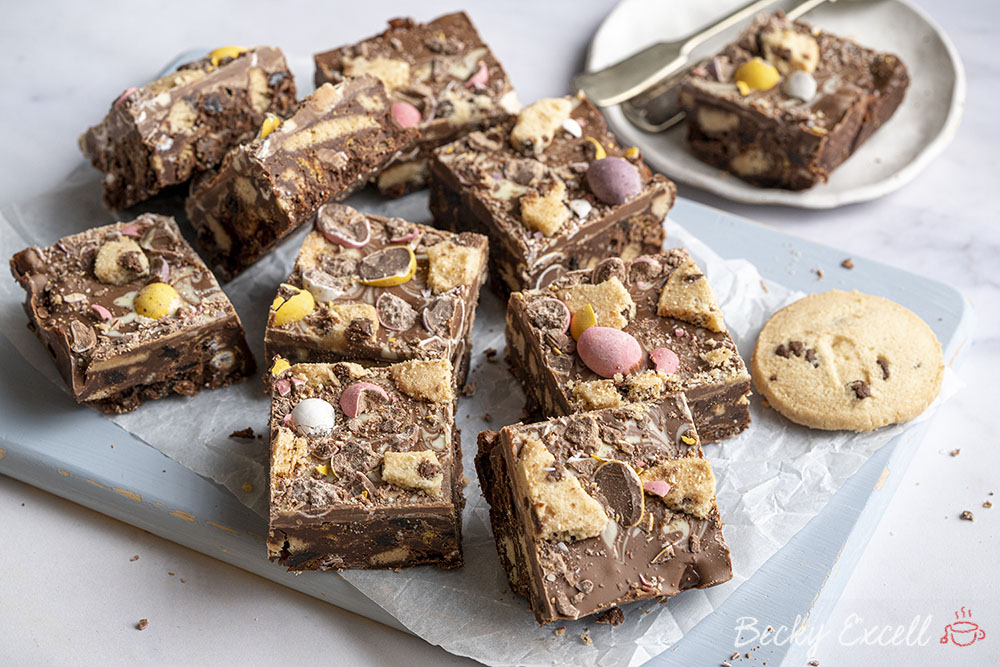 If you've got any leftover Easter treats lying around, then this recipe is a perfect excuse to use them all up.
Though this is a Mini Egg tiffin recipe, in reality you can use almost any of the smaller gluten-free Easter treats out there – check out this post for more ideas.
Best of all, it can be sliced into up 25 pieces, making a real crowd-pleaser that actually goes very far!
So here's all the simple supermarket-friendly ingredients you'll need to make it possible: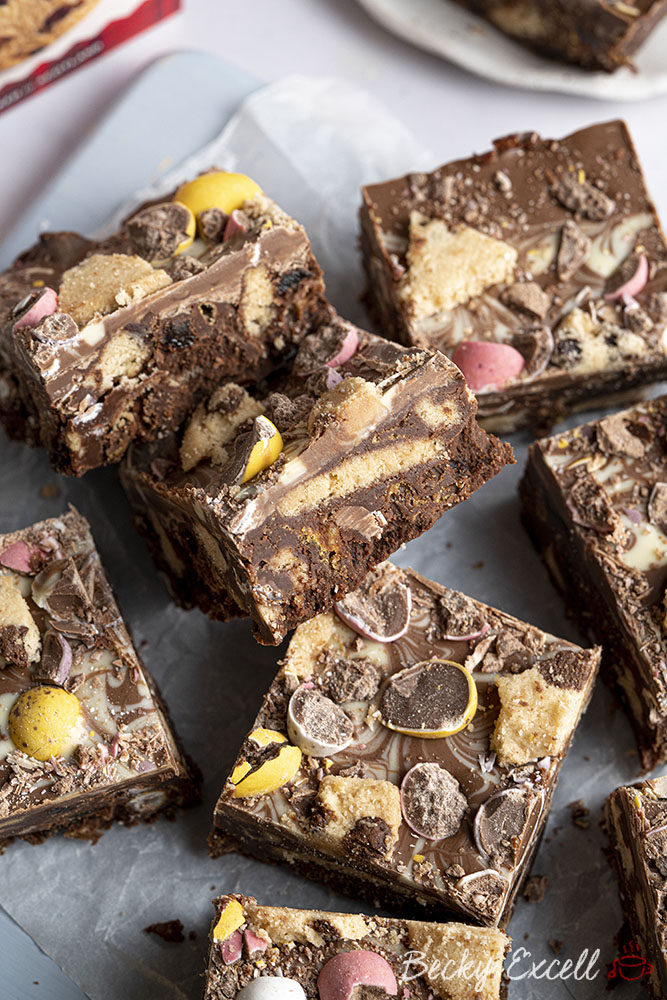 Mini Egg tiffin recipe: What you'll need…
Golden syrup: This classic British syrup has the perfect thickness and stickiness to help bind the tiffin together. You'll find it in the baking section of supermarkets.
Butter: As we'll be melting the butter, you can use either cold (straight from the fridge) or room temperature (softened) butter. Salted or unsalted is fine too.
Milk, white and dark chocolate: Whilst you could happily use one of these instead of all 3, you'll certainly taste the benefit of using all 3! The white is just for decoration on top.
Gluten-free shortbread biscuits: You can find these down the free from aisle in nearly all supermarkets, but here's a link so you know what you're looking for. I actually used chocolate chip shortbread, but plain works fine too.
Raisins: These add a lovely chewy texture amongst all the other crunchy or chunky treats hiding inside your tiffin.
Gluten-free cornflakes: This adds a lovely crunch and as cornflakes are super crisp, they don't lose that texture even whilst the wet mixture sets in the fridge.
Mini Eggs: Yes, they're gluten-free here in the UK! You'll find them down the seasonal Easter aisle in supermarkets. You can happily use whatever small Easter egg chocolate you have leftover too.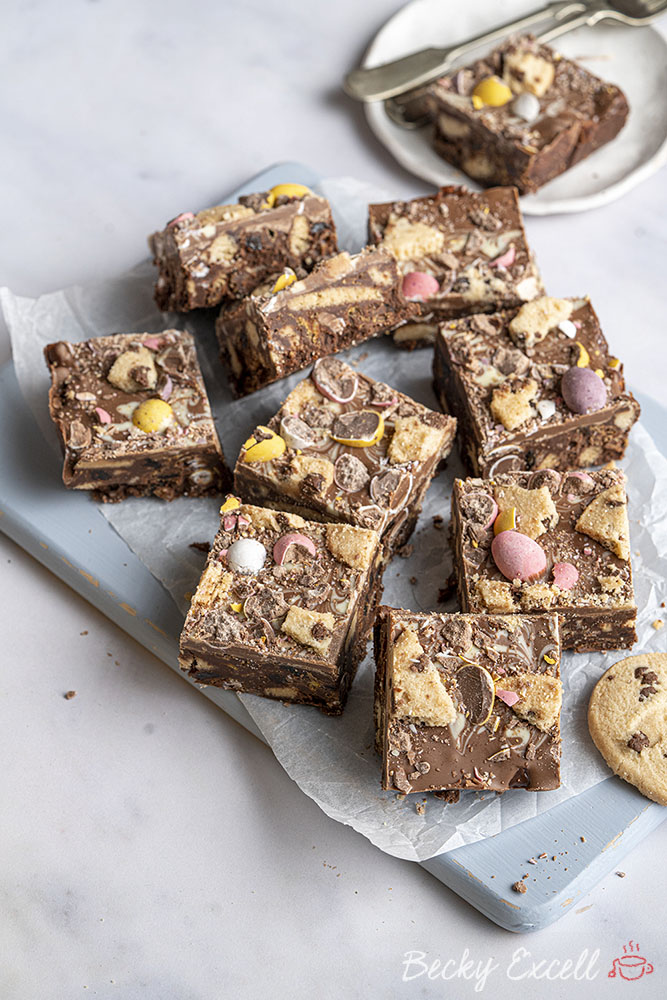 So, what does it taste like? Each bite is chunky, chewy, crunchy and chocolatey, crammed with lots of different elements designed to give it a wide range of textures.
Thanks to the combo of milk, white and dark chocolate, there's a wonderful harmony of flavour that definitely won't go unmissed.
Best of all it's so dangerously easy to make!
Here's a few frequently asked questions before we get started…
Mini Egg tiffin recipe: Frequently Asked Questions
Can I make this recipe gluten-free? Is it suitable for Coeliacs?
It is gluten-free, though nobody would know just by tasting it – trust me!
Bear in mind that minimising cross-contamination is hugely important if you're Coeliac or making this for someone who is. Here's some tips from Coeliac UK on minimising the risk of cross contamination.
Also, make sure that all ingredients or products used don't have any gluten-containing ingredients. Then make sure that they also don't have a 'may contain' warning for gluten, wheat, rye, barley, oats (which aren't gf), spelt and khorasan wheat (aka Kamut).
Here's some more info from Coeliac UK on identifying safe gluten-free products. Don't forget to check my gluten-free guide to Easter treats too to ensure you select something safe, if using something other than Mini Eggs.
Can I make your Mini Egg tiffin recipe dairy-free?
Easily! (with some very specific swaps you can easily find in supermarkets) Stick to these swaps and you'll be enjoying a gluten-free AND dairy-free Easter tiffin in no time!
Can I make your Mini Egg tiffin recipe vegan?
Follow the steps above to make this dairy-free and you've only gone and made a gluten-free, dairy-free AND vegan Easter tiffin!
Is this recipe low FODMAP?
Unfortunately, as this recipe relies on products that are high in lactose, this isn't an easy one to make low FODMAP. It's definitely possible if you can find the right products, so let me know if you'd like me to make a low FODMAP version!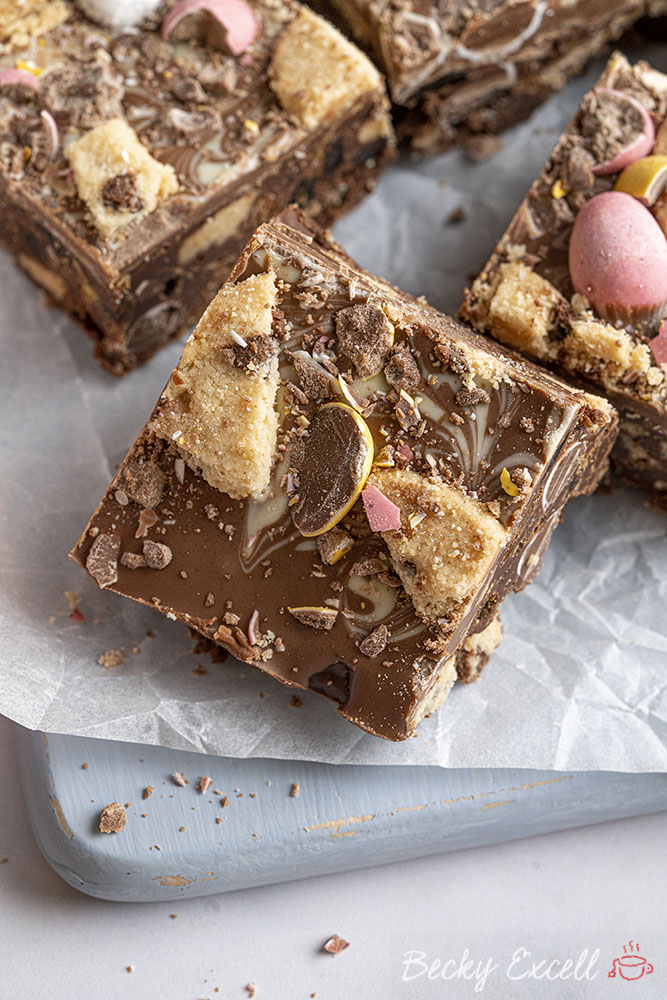 How do I crush Mini Eggs?
Simply pop them into a zip-lock bag, place on a hard work surface and pound with a rolling pin. This is my preferred method as they can actually be quite solid!
Definitely don't try placing them in a bowl and pounding them pestle and mortar style as they'll definitely ping out everywhere!
How do I melt the chocolate for the topping?
Whilst you won't actually need to melt the chocolate that's in the tiffin itself as it'll melt in the residual heat of the syrup and butter mixture, you will for the topping.
Either melt them in separate heatproof bowls set over a half-filled saucepan of boiling water or melt in short bursts in the microwave. If using the microwave method, ensure you mix well between the 20-30 second bursts until melted or the chocolate will burn – especially white chocolate!
Do I need any special equipment to make this?
Just a 9″ square baking tin I'd say. Bear in mind that if your tin is smaller, you'll end up with thicker, taller tiffin or if your tin is larger, you'll end up with thinner tiffin.
Fortunately, thicker or thinner doesn't really matter but in my opinion, using a 9″ tin makes them perfect!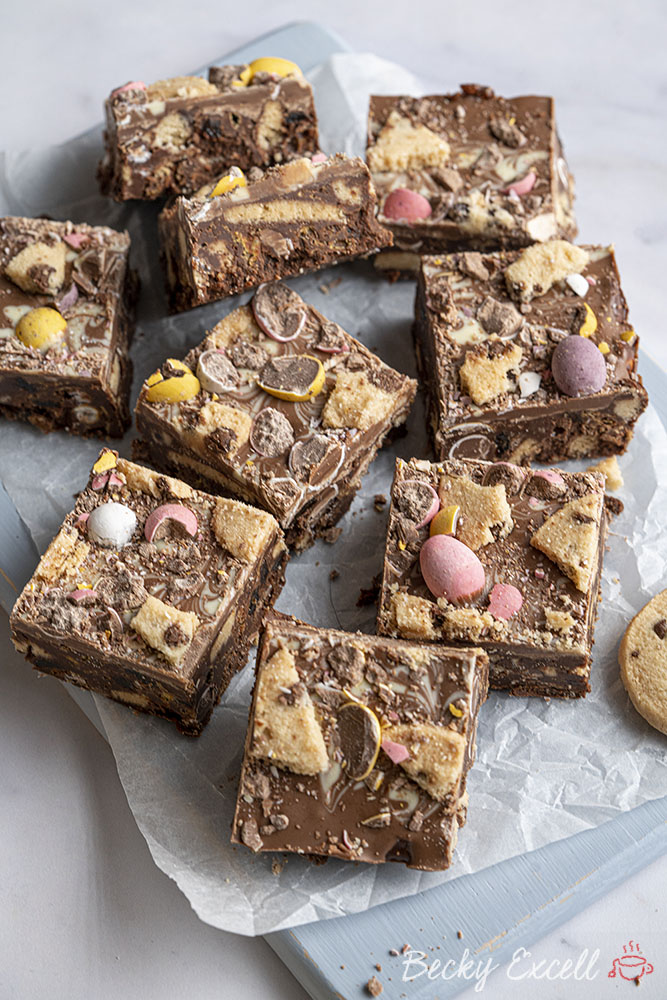 Mini Egg Tiffin Recipe
Mini Egg Tiffin Recipe – an easy no-bake recipe that's a perfect Easter treat. Gluten-free and Coeliac-friendly.
Ingredients
150

g

golden syrup

125

g

butter

200

g

milk chocolate

chopped

200

g

dark chocolate

chopped

200

g

gluten-free shortbread

broken up into chunks (I used Walker's)

100

g

raisins

90

g

gluten-free cornflakes

200

g

mini eggs

crushed
For the topping:
200

g

milk chocolate

melted

30

g

white chocolate

melted

2-3

gluten free shortbread biscuits

broken into pieces

Handful of mini eggs

whole and crushed
Instructions
Prepare a 9 inch square baking tin by lining it with non-stick baking paper.

Melt together the butter and golden syrup, either in the microwave or in a bain marie.

Immediately add in your chopped dark and milk chocolate, stir it to help it completely melt.

Add your broken up gluten free shortbread, raisins, cornflakes, and crushed mini eggs. Mix so everything is dispersed and well coated.

Spoon the mixture into your prepared baking tin. Press it down so its even.

Pour the melted milk chocolate over the top and spread it out. Then drizzle the white chocolate on top and swirl it around with a skewer to make a pattern. 

Whilst the chocolate is still wet, cover with extra chunks of the gluten free shortbread and more mini eggs.

Allow to set in the fridge for 2-3 hours until completely firm and the chocolate has set. Remove from the tin and use a sharp knife to cut into 16 squares.
Thanks for reading all about my Mini Egg tiffin recipe! If you make it, I'd love to see how it turned out so don't forget to take a snap of your creations and tag me on Instagram!
Any questions about the recipe? Please do let me know by following me on Instagram and leaving me a comment on a recent photo!
Thanks for reading,
Becky xxx
Don't forget to pin this for later!